If you've stared blankly at a floor plan, wishing for some miracle to understand this strange new language, you aren't alone! These 2D or 3D drawings are packed with information and it takes a bit of practice to get comfortable with deciphering what they mean. That's why we reached out to interior designer Sushritha Surya P.S. to guide us on how to read a floor plan design.
First, What Is a Floor Plan?
A floor plan is a 2D or 3D drawing of a building, drawn to scale, commonly used in architecture and building engineering. Floor plans are drawn to give you a  top view of a house's layout and provide basic insights about it, such as the areas of each room, traffic patterns, and the like.
A brief study of a floor plan drawing will help you understand if an apartment or house is suited to your requirements. With an architect or interior designer's help, you can also chalk out the right furniture and layout for each room, and identify essential civil changes as well. 
Read on to understand the various aspects of a building plan.
What Are the 3 Types of Floor Plans?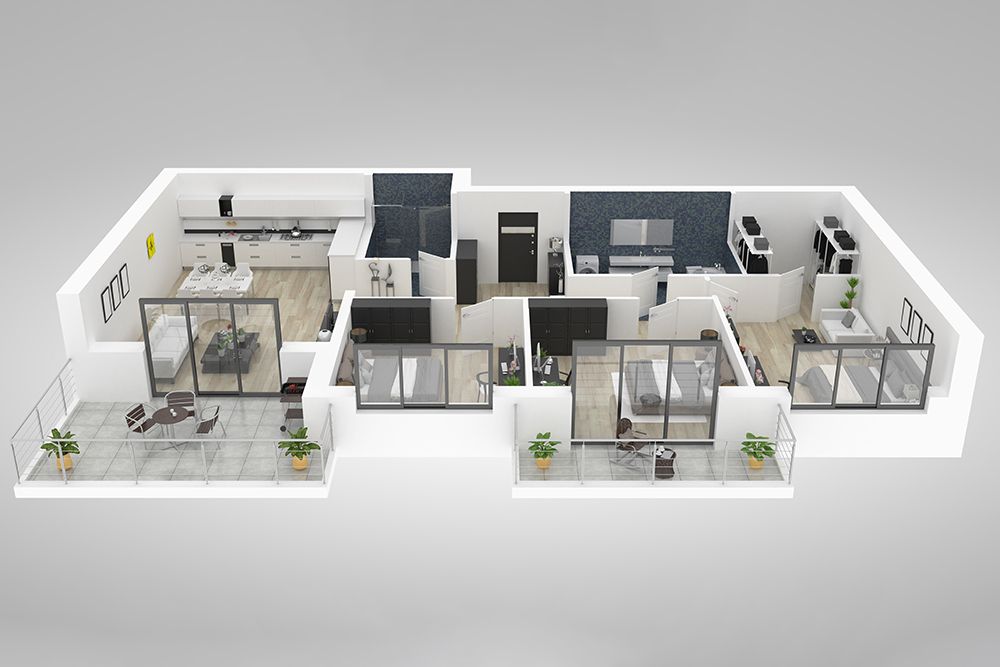 There are 3 main types of building plan designs:
2D Floor Plan: A 2D house floor plan is a flat representation that features the different measurements of your home as well as other technical information
3D Floor Plan: As the name suggests, a 3D house layout plan comes with a 3D view. This type of plan includes complete furniture and furnishings, decor, as well as exterior features in order to provide a realistic perspective
Live 3D Floor Plan: This is the most realistic house plan with dimensions. Here, the client gets a virtual tour of the completed home
Also Read: How to Budget for Your 2BHK Interior Design: A Step by Step Cost Guide
Characteristics of a Good Floor Plan
Here are some important characteristics of a good home layout design that your floor plan should have:
Size: Take into consideration the number of people and size of the home
Flexibility: Rooms serve different purposes and your floor plan drawing should reflect this
Layout: The layout should serve its purpose and a good building plan design should include this
Lifestyle: Your floor plan and subsequent home design should take into consideration your lifestyle, likes and preferences
Benefits of Floor Planning
So is a floor plan absolutely necessary? Here are the main advantages of a house plan with dimensions:
Gives you a visual view of your home before it's built/designed
Ensures there are fewer errors
It helps you understand your interior space and thereby better plan your design
Serves as a guide to plan your entire construction and interior design process
How Do You Draw a Floor Plan With Dimensions?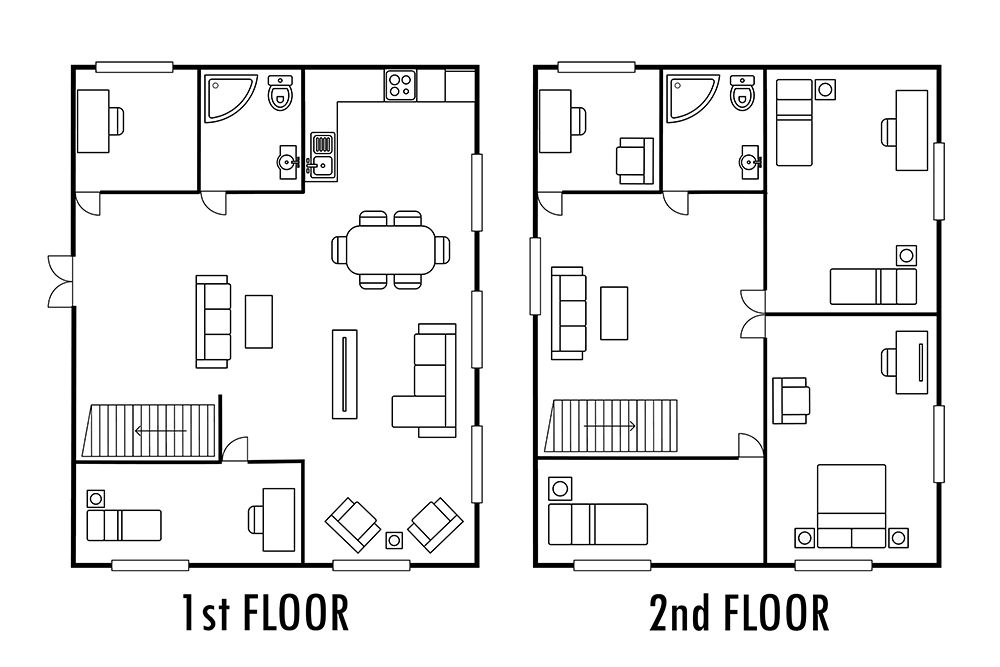 An interior designer comes with the requisite experience to help you design a building sketch. Such a plan will have all the technical information that can help you design your home. However, if you want to DIY it, you can opt for an online floor plan creator.
How Do I Design My Own House?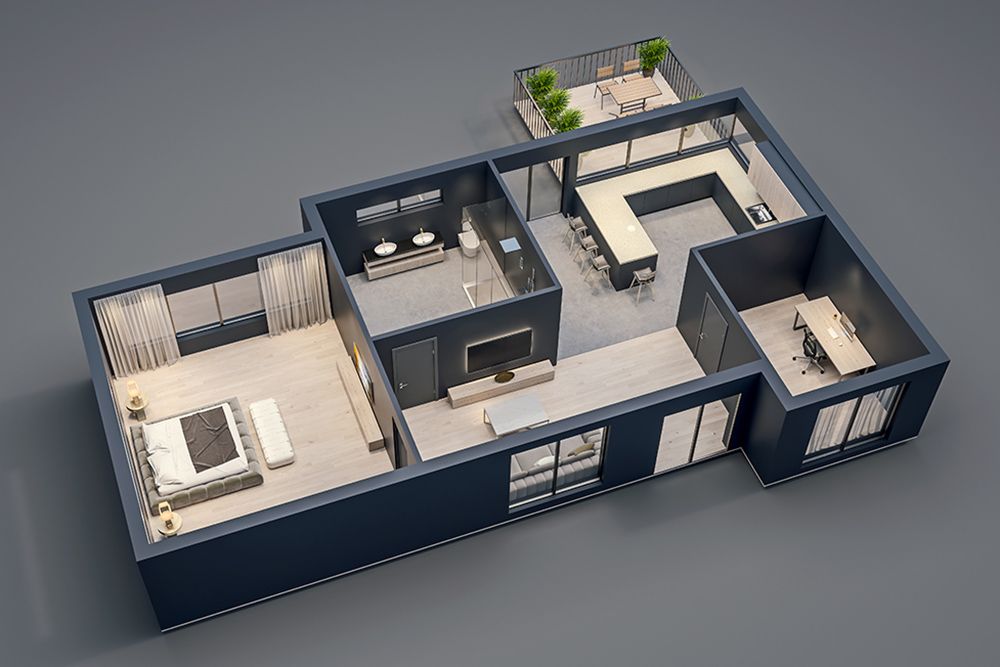 The first step towards designing your own home is the plan. Once your floor planning is done, you can move onto doing the groundwork for your furniture, furnishings, design style and decor. However, all these tasks can be quite challenging, especially for someone who doesn't have the experience. As such, hiring an interior designer is the easiest option for you.
How to Read a Floor Plan and Room Dimensions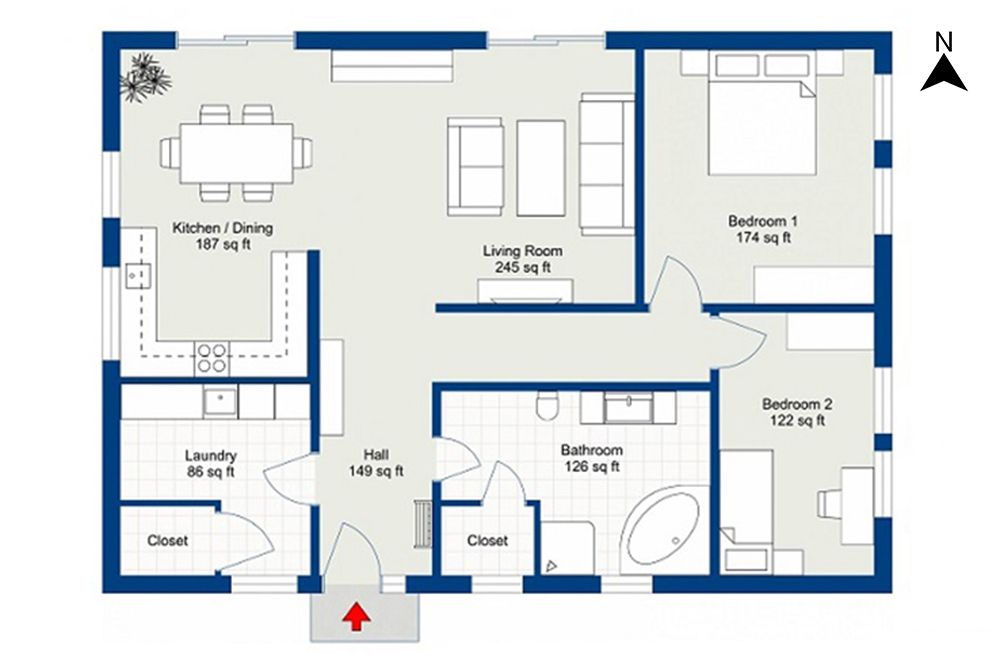 The house blueprint design is drawn to scale in keeping with the original dimensions of the home. In addition, it demarcates each room and mentions the dimensions of each area. The 2D room drawing mostly shows the length and width of the room. Additionally, on some occasions, you might come across the entire area of each room. 
The Direction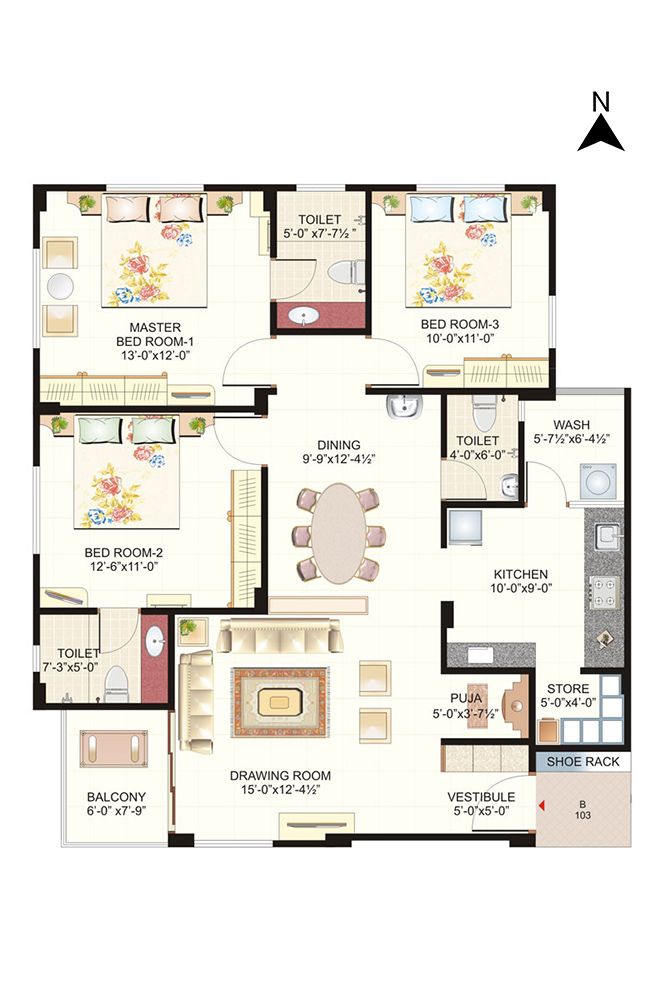 A floor plan usually comes with an arrow symbolising the north. This allows you to understand the relative placement of each room and the direction of each entrance. In addition, a small arrow in the layout plan marks the main entrance of your home, and signifies the direction of entry.
How Does This Help?
Understanding the direction of your home via a floor plan with dimensions will help you look further into the amount of sunlight your home will receive. Coupled with the placement of the windows, you can find out if the house is well ventilated. For example, a home with windows in the south avoids harsh daylight and enjoys the softer light of the sun. Knowing this, you can either plan civil changes to make your home brighter and airier, or look for homes more suited to your requirements.
Symbols or Motifs in a Floor Plan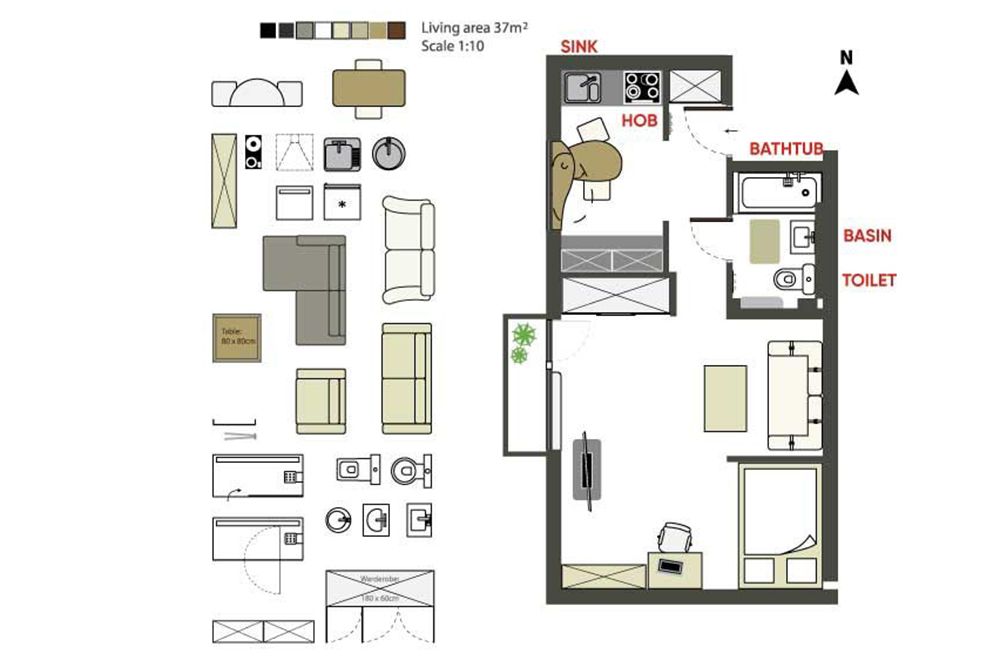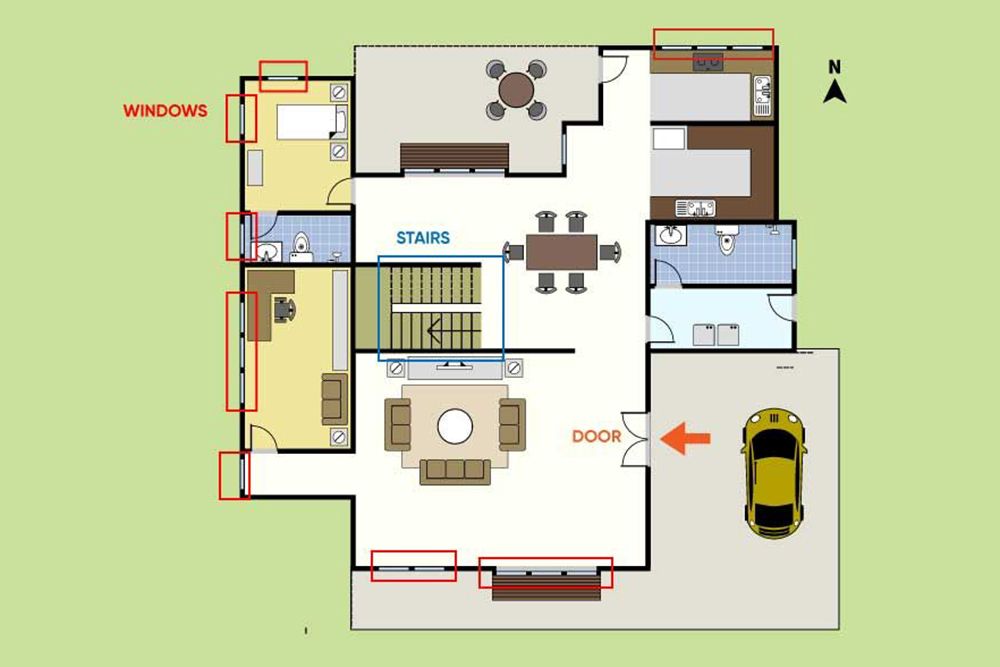 Basic floor planning comes with the outline of each room. 
For windows: They are represented by gaps or dotted lines. 
For doors: This is represented as an arc that signifies the space the door takes while swinging open. A door always opens towards the wall, so you can accurately note the position of each door in your home.
For the kitchen: The sink and hob have easily identifiable motifs. Dotted lines above base cabinets indicate wall cabinets. The typical wall cabinets are half the width of base cabinets, so that you can use the countertop with ease.
For the bathroom: The basin and toilet come with motifs you can't help knowing. In a detailed floor plan, you can also see water inlets and outlets.
Also Read: Everything You Need to Know About 3BHK Interior Design Cost: A Complete Guide
Furniture Layout in Floor Planning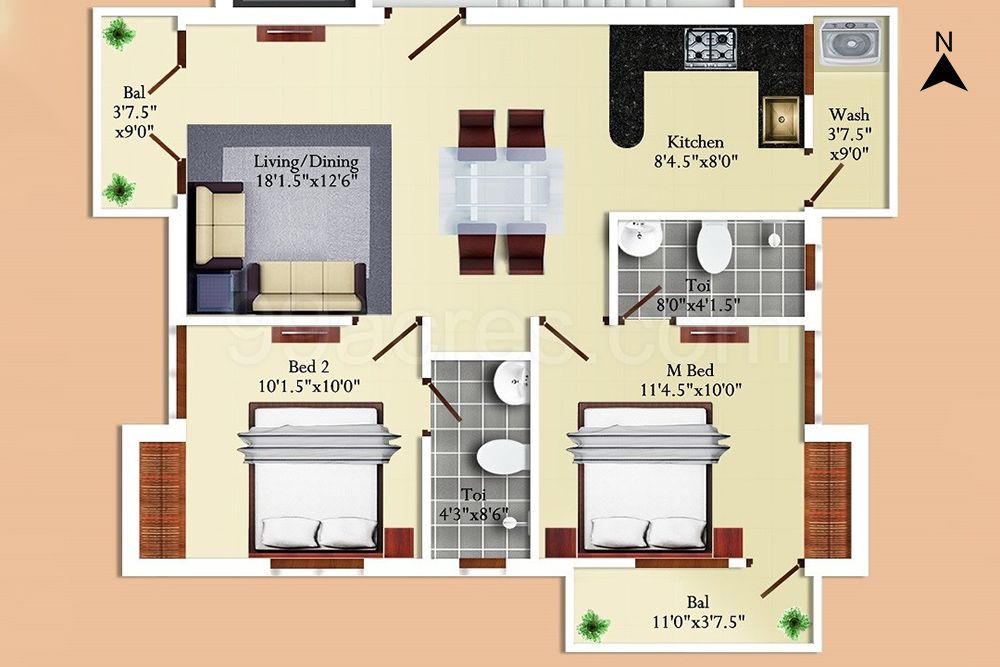 The floor plan comes with clear markings of different rooms in the house. Therefore, an interior designer can also use the floor plan of a house to plan the layout and arrangement of furniture.
How Does This Help? 
With the help of floor planning, you can start purchasing furniture for your new apartment and make accurate estimates about how they will be positioned so that you can utilise space best.
Furniture layout is the initial step of planning. If this step goes right, then everything will fit in appropriately. Proper breathing space is the primary thing to keep in mind while planning the layout.

—Sushritha Surya PS, Livspace Interior Designer
What Can You Do After Reading a Floor Plan?
Understand the amount of sunlight your house is getting. If it's not enough, you can start planning civil changes to improve this
When you know the placement of your hob and sink as well as the amount of storage space in your kitchen, you can start planning how to arrange this space. Moreover, you can also demarcate different kitchen zones
If you're taking old furniture into your new apartment, you can experiment with different layouts to see what works best for your home
Also Read: 1BHK Interior Design Cost: What's Included in Your 1BHK Interior Design Package?
Bonus Tip: How Can You Use Floor Plans to Determine Vastu?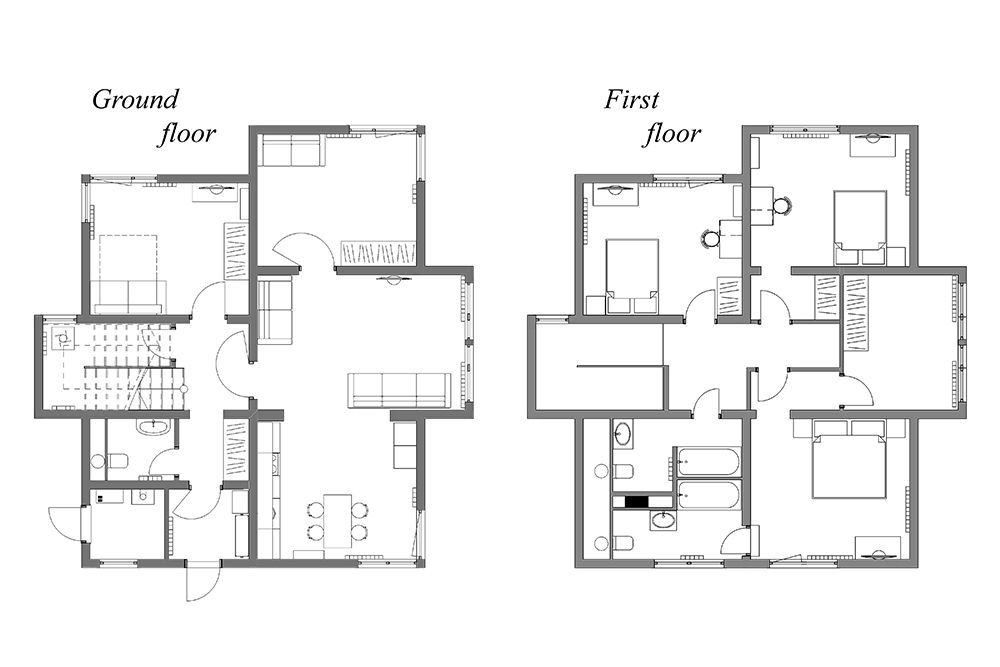 So, you've zeroed in on the apartment complex, but don't know which flat to opt for? If you want a vastu-approved home, this is a good time to consult an expert to find out what works best for you and choose your flat accordingly. In case you are building an independent house and were wondering what direction each room should face, or what's a good place for the septic tank, we've got all the vastu essentials!
With a floor plan in hand before your apartment is ready, you can use it to make your future home more vastu-appropriate! Often, once your home is ready to move in, making allowances for vastu-related concerns becomes difficult. But if you have a west-facing home or a south-facing one, you can start preparing for a vastu-appropriate space ahead of time!
Want a quick tutorial on what we've covered?
If you want to stay on the right side of vastu, we've got you covered! 
How Can Livspace Help You?
We hope this guide helped you understand how to read a floor plan. For more in-depth understanding of floor plans and how to use them to design your home, book an online consultation with Livspace today. To know how our customers feel about working with us, check out these Livspace reviews for more details!
Have any thoughts or suggestions you'd like to share with us? We're all ears! Drop us a line at editor@livspace.com.
FAQs
1. Can I Design My Own Floor Plan?
Yes, you can use an online floor plan creator to design your own plan. However, it's advisable to take the help of an interior designer.
2. How Do I Design My Own Floor Plan?
A floor plan creator or an interior designer are your best bets in order to create a floor plan.
3. How to Create Building Designs for Free?
There are several online tools that can create free plans for you.
4. What Are the 3 Types of Building Plans?
The 3 types of plans are 2D, 3D and live 3D.
---
Popular Services:
Modular Kitchen Designs | Wardrobe Designs | Bathroom Designs | Master Bedroom Designs | Living Room Designs | Pooja Room Designs | TV Unit Designs | False Ceiling Designs | Kids Bedroom Designs | Balcony Designs | Dining Room Designs | Foyer Designs | Guest Bedroom Designs | Window Designs | Flooring Designs | Wall Decor Designs | Wall Paint Designs | Home Wallpaper Designs | Tile Designs | Kitchen Cabinet | Home Office & Study Room | Home Interior Designs
Popular Locations:
Interior Designer Bangalore | Interior Designer Mumbai | Interior Designer Pune | Interior Designer Chennai | Interior Designer Hyderabad | Interior Designer Gurgaon | Interior Designer Delhi | Interior Designer Ahmedabad | Interior Designer Vadodara | Interior Designer Kolkata | Interior Designer Thane | Interior Designer Navi Mumbai | Interior Designer Coimbatore | Interior Designer Lucknow | Interior Designer Patna | Interior Designer Nagpur | Interior Designer Chandigarh
Popular Stories:
2 BHK Interior Design | 3 BHK Interior Design | 1 BHK Interior Design | Interior Design Cost In India | Painting Cost Per Square Foot | False Ceiling Cost | Bathroom Renovation | Sofa Design Ideas | POP Design for Hall | House Paint Colours | Main Door Design | Granite Countertops | Vastu For Home | Cool Wallpapers | Types of Kitchen Layout | Types of Flooring | What Is Plywood | Pooja Room Vastu | South Facing House Vastu | Which Plants Are Good for Home Vastu | Vastu Tips for Home