Everybody dreams of owning a house of their own. The size of that dream home may have decreased in scale from that fairytale palace you wished for as a child, to a more logical, low budget simple house design. However, that wish of having your own house and doing it up the way you want is most likely as strong now as it was when you were five.
A Few Simple Low Budget House Designs
In today's times, though, buying a home is expensive – and designing it, more so. But everybody deserves to get their dream home, irrespective of budget. So, we got in touch with our experienced designers, Heny Savla and Shubhi Mehrotra for some low cost, low budget simple house design tips for first-time homeowners. And here they are!
Points to Consider Before Getting Your Unique Low Budget Simple House Design
Do not just create or steal the blueprints from other people's homes. Analyse your house plan too. Otherwise, the plan might backfire.
People have the misguided notion that it would be a good idea to construct big homes with several rooms for a small family. Get a low cost, low budget simple house design that suits the needs of your family.
Make sure that the chosen products for your simple house design are conveniently accessible because shipping things from one location to another is not a wise financial decision and will cost you more money.
Visit nearby shops and ask about the cost of the products and services, as well as the cost of a transport facility, before you start construction. Buying low-quality goods to save money is not a prudent decision.
10 Tips to Get Simple House Design on Low Budget
#1: Refurbish Old Furniture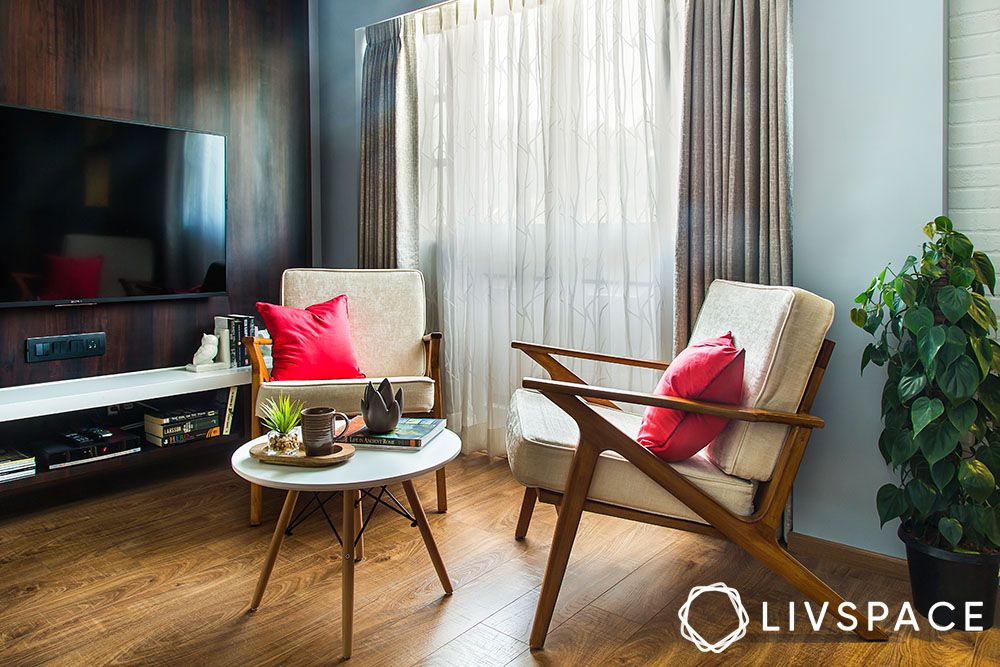 In Heny's words, "Bring in memories with the help of furniture that holds some sentimental value." We all have an old piece of furniture that is dear to us, be it a bed or a small table. Refurbishing old furniture instead of buying something new is a great way to keep your budget low when designing your home. While you can go ahead and retain the traditional look of old furniture, you can also give it a complete makeover for a more contemporary look.
#2: Add Good Lighting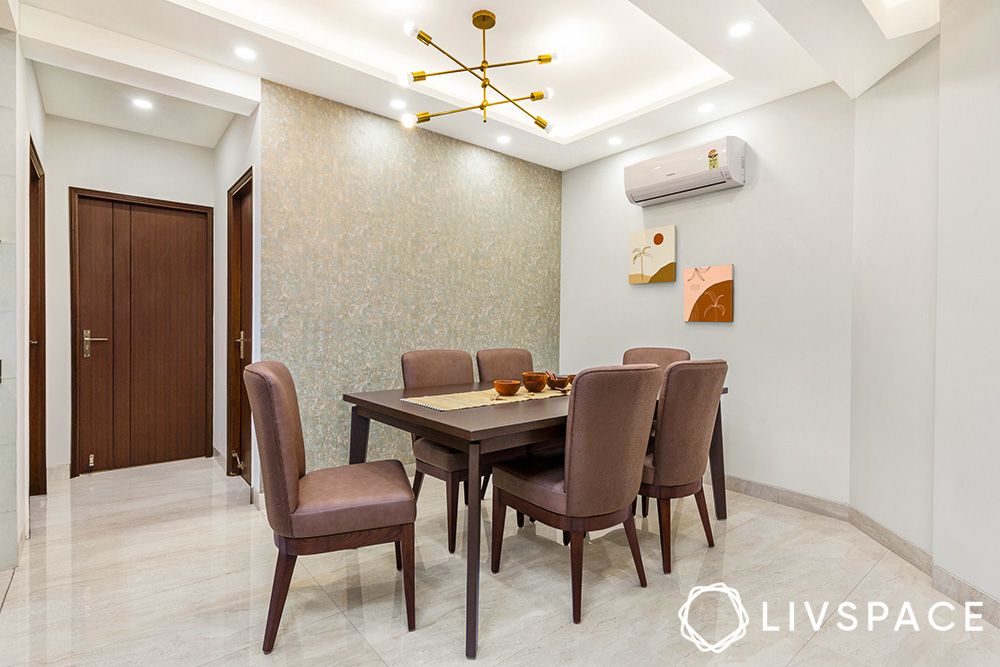 A low-cost hack that our designers swear by is ample lighting. Just like good lighting can make your selfies amazing, proper lighting in your home can make it go from blah to wow. And the best part? It can be as low budget as you want it to be! Opt for budget options like pendant lights, table lamps and simple chandeliers. And trust us when we say that this low-cost hack will make your home look great!
Also Read: 7 Natural Low Budget Simple House Designs That Will Win Your Heart
#3: Opt For Accent Walls and Wallpapers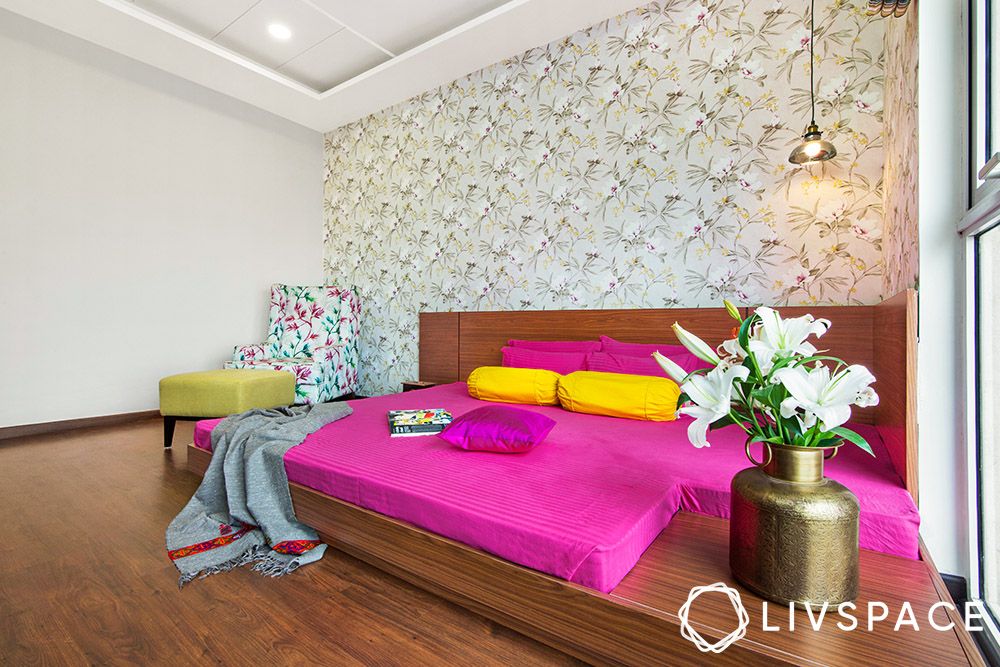 Walls make or break the look of your home. Not everyone is satisfied with plain and simple paint. If you want that extra something to add to the overall design, then accent walls and wallpapers should be your go-to design hack! Wallpapers are a very cost-effective option if you want a patterned or textured look for your walls but within a tight budget. Similarly, instead of throwing all your money into doing up all four walls, create an accent wall and keep the other three walls bare. 
#4: Splurge Only on Things You Use the Most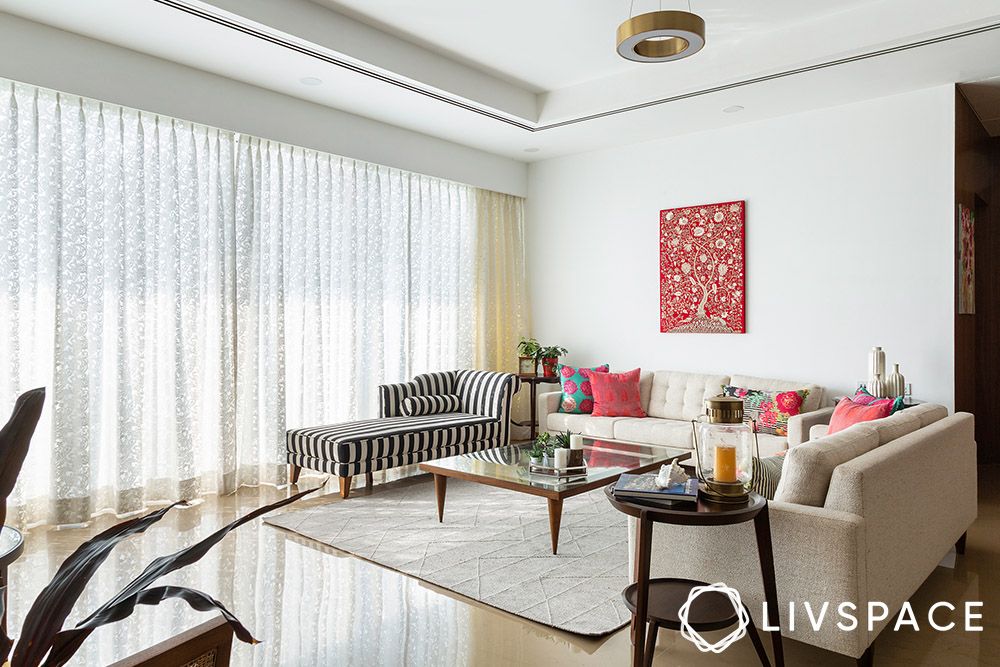 One of the smartest simple house design low cost hacks is to know where and how much to spend. You need to know where to splurge and where to save your money. Our designers say that it's okay to spend on things that you use a lot. Think of it as an investment. So spending a little extra on your bed, sofa or wardrobe makes sense. But save on other aspects like decor and lighting, which typically serve decorative and short-term purposes.
#5: Pick Up Decor Items From Thrift Shops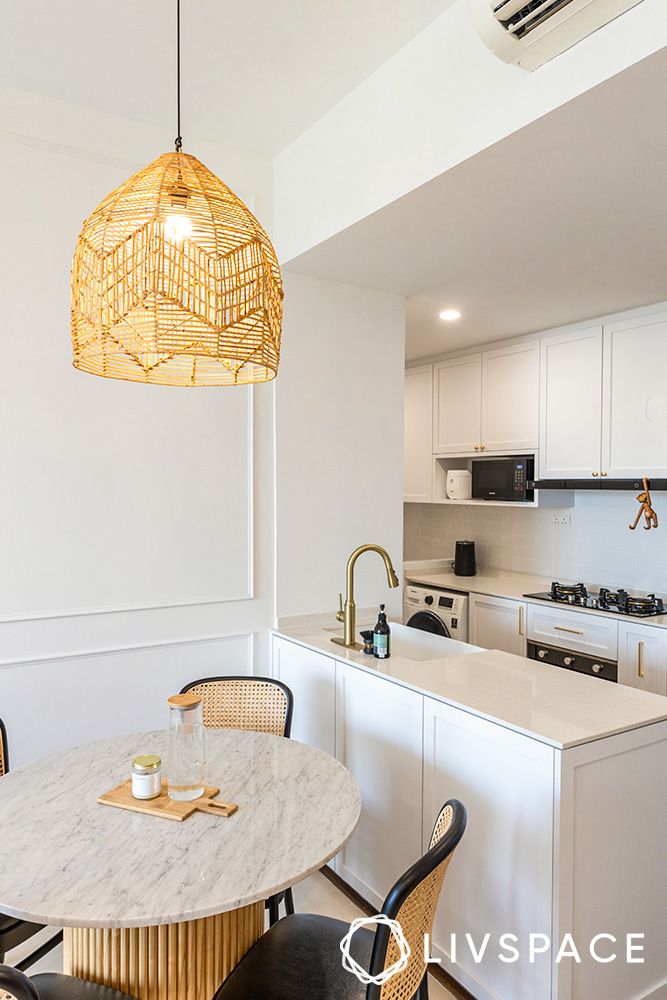 A home is more than just furniture, walls and wardrobes. The decor is what transforms an apartment into a home. But classy, elegant decor can be expensive. One workaround for this is to refurbish and reuse old decor or rattan items. The other option is to visit thrift stores. Thrift and antique shops often have stunning and unique decor pieces at very low rates. Add to it some unbeatable bargaining skills, and you can be the proud owner of statement and antique items for as low as ₹100!
#6: Keep It Minimal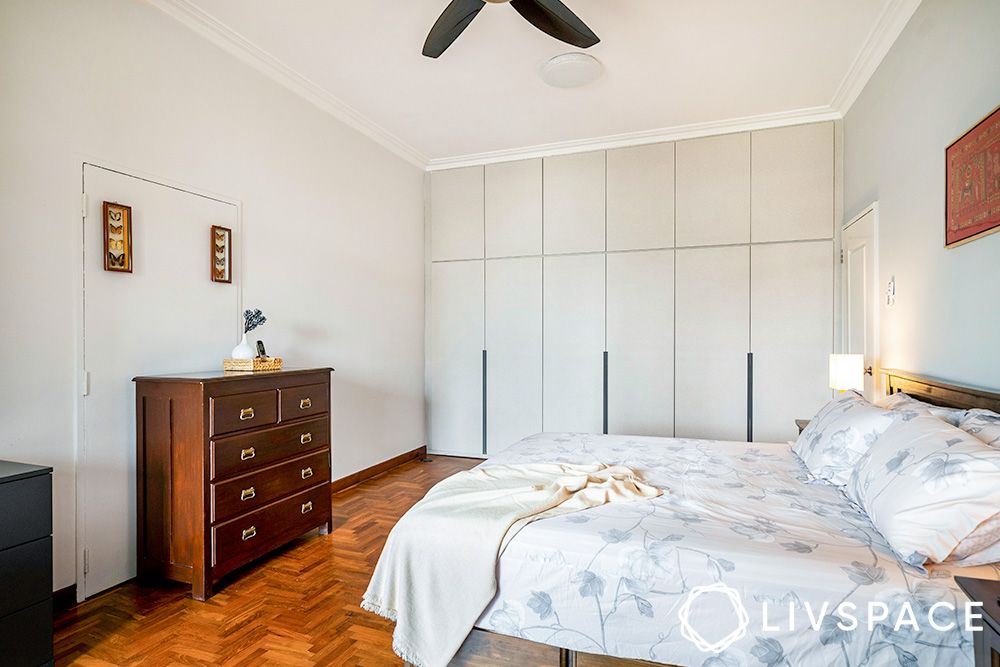 One mistake that most first-time homeowners make is to overdo things. Overdecorating your home not only looks inelegant, but can also be unnecessarily expensive. A simple way to avoid this is to follow the minimal design style. Keep your home design clutter-free and stick to the basics. This is especially important if you have just bought a new home, as you should leave room for future mementoes and decor items.
#7: Use Modular or Customised Furniture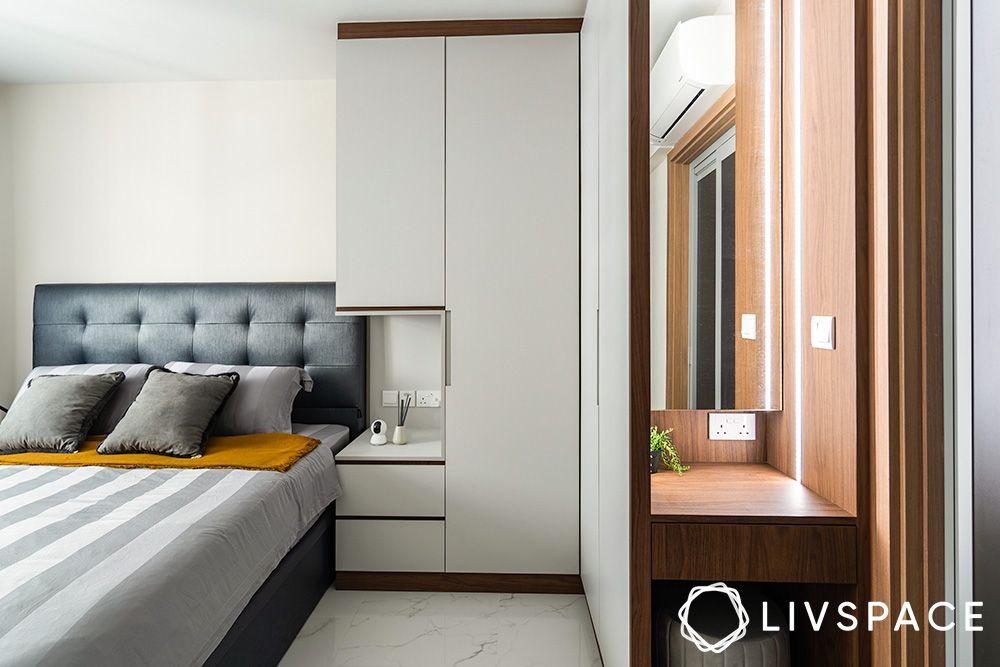 Furniture can take up a large chunk of your total interior design budget. Heny's natural low budget simple house design tip here is to opt for modular furniture, which is a cost-effective solution. Another thing you can adapt from this home is the use of eco-friendly furniture materials. Available in a wide variety of colours and designs, modular kitchen cabinets, wardrobes, storage units and other furniture can ensure that you can stick to your budget without compromising on the look that you desire.
Also Read: Top 5 Affordable and Stunning Homes Designed by Livspace
#8: Add Rugs for a Plush Look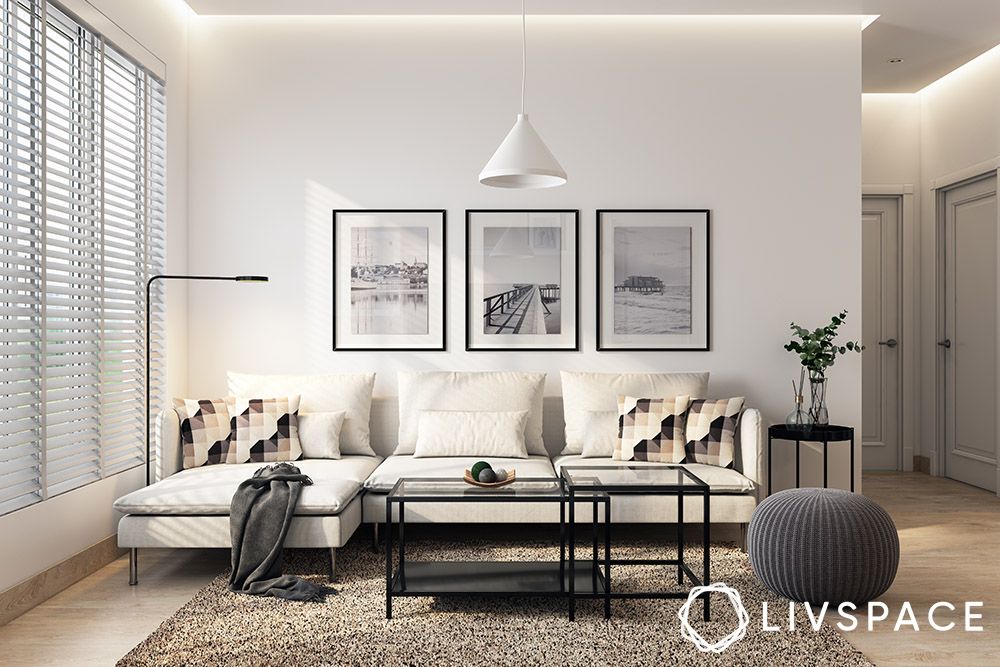 The flooring is often the most overlooked part of a home. But it is one you should pay good attention to if you want a low budget interior design. If you look at hotels and celebrity homes, most of them have luxurious marble flooring with plush rugs. While marble may not be something you want to splurge on, a rug would definitely be within a reasonable price range! You can transform the entire look of your home by placing a fuzzy, luxe rug on the floor.
#9: Avoid Using Panelling or Ceramic Tiles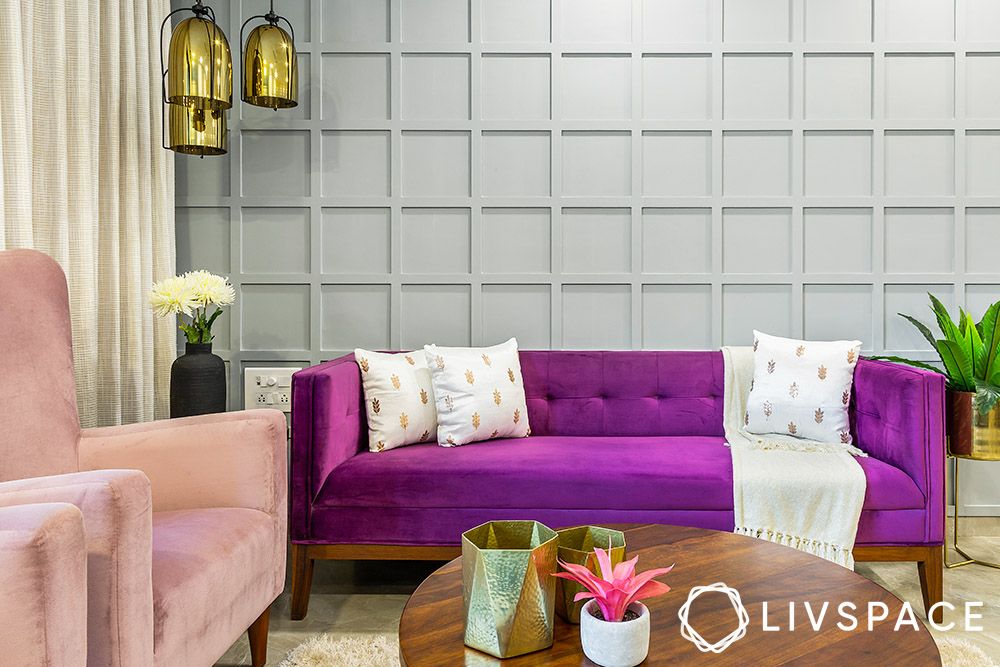 Shubhi's natural simple house design low cost tip for first-time homeowners is to avoid excessive panelling. There are different types of wall panelling available in the market, like board and batten, shiplap, beadboard and more. However, while wall panelling looks elegant, too much of it can push up your interior design budget. Her hack is to play with wall paints instead. This will help you achieve the look you want without the added cost.
#10: Mix and Match Materials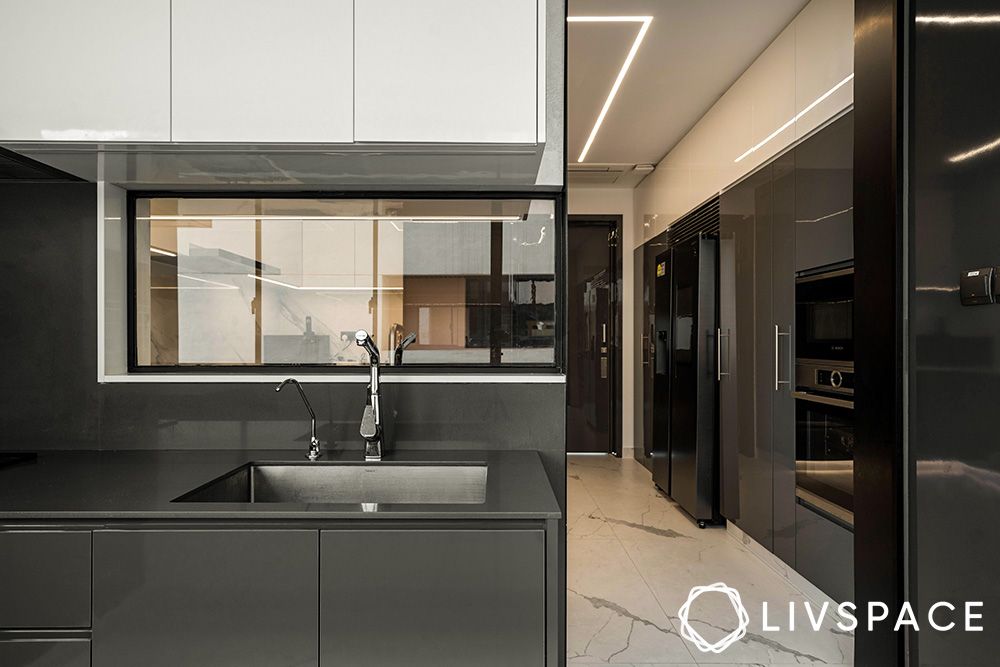 The material you use for your cabinets and furniture plays a pivotal role in your total home design budget. While you can definitely opt for low-cost alternatives like laminate, Shubhi's tip is to mix and match materials. By doing so, you can ensure that even luxurious design is affordable. 
Buying and designing a home can be a daunting task for first-time homeowners. We hope that these natural low budget simple house design tips from our designers help make the process easy and enjoyable!
Also Read: 5 Things You Should and Shouldn't Argue With Your Designer About
How Can Livspace Help You?
We hope you found our ideas about unique low budget simple house design ideas useful! If you want your home to be just as beautiful, then look no further. Book an online consultation with Livspace today. Delivering safe home interiors has been our No. 1 priority. Click here to find out how interiors are being delivered following all safety protocols. 
Let us know what you think in the comments or send us an email at editor@livspace.com.
FAQs
1. How Do You Plan a Low Budget House?
There are 10 tips to plan a low budget house:
a. Refurbish old furniture
b. Add lighting
c. Opt for accent walls and wallpapers
d. Splurge only on things you use the most
e. Pick up decor items from thrift shops
f. D-I-Y method also makes your cost to be lower
g. Use cement walls rather than ceramic tiles to cut down the home renovation costs.
h. Keep it minimal
i. Add rugs for a plush look
j. Mix and match materials
2. What Is the Cheapest Design of House to Build?
If you want a low budget simple house design, stick to a square or rectangle floor plan. If you need extra space, you might want to think about designing a multi-storey home because building a storey up is less expensive than creating a huge one-story home.
3. How Can I Build a House in a Small Area?
To build a house in a small area, you need to manage space in a better way. A few tips to manage space in a house with small area:
> Declutter your home.
> Make the most of your wardrobes.
> Mount everything to the wall.
> Invest in modular furniture.
> More light should be allowed inside.
4. How Can I Build a Low Budget Simple House Design in India?
To build a simple house design low-cost house in India, use the following tips:
> Use multifunctional or modular furniture
> Go for a simple house design.
> Prefer concrete walls
> Employ recycled products to keep your low-cost home design affordable and environmentally-friendly