Tired of the same look of your home and contemplating a redesign? With hundreds of ideas for house design out there, it is indeed an exciting project to take on. But there is no denying that redesigning can get overwhelming, especially if you are on a tight budget.
The question "is it worth it?" might haunt you. But hear us out; redecorating doesn't have to be expensive when you know where to splurge and save on. And to help you in your endeavour, we've listed a few decor items where you can and need not spend.
#1. Back to the basics— walls
Splurge:
Paint: ₹12 – ₹28 per sq ft

Save:
Decals: ₹99 onwards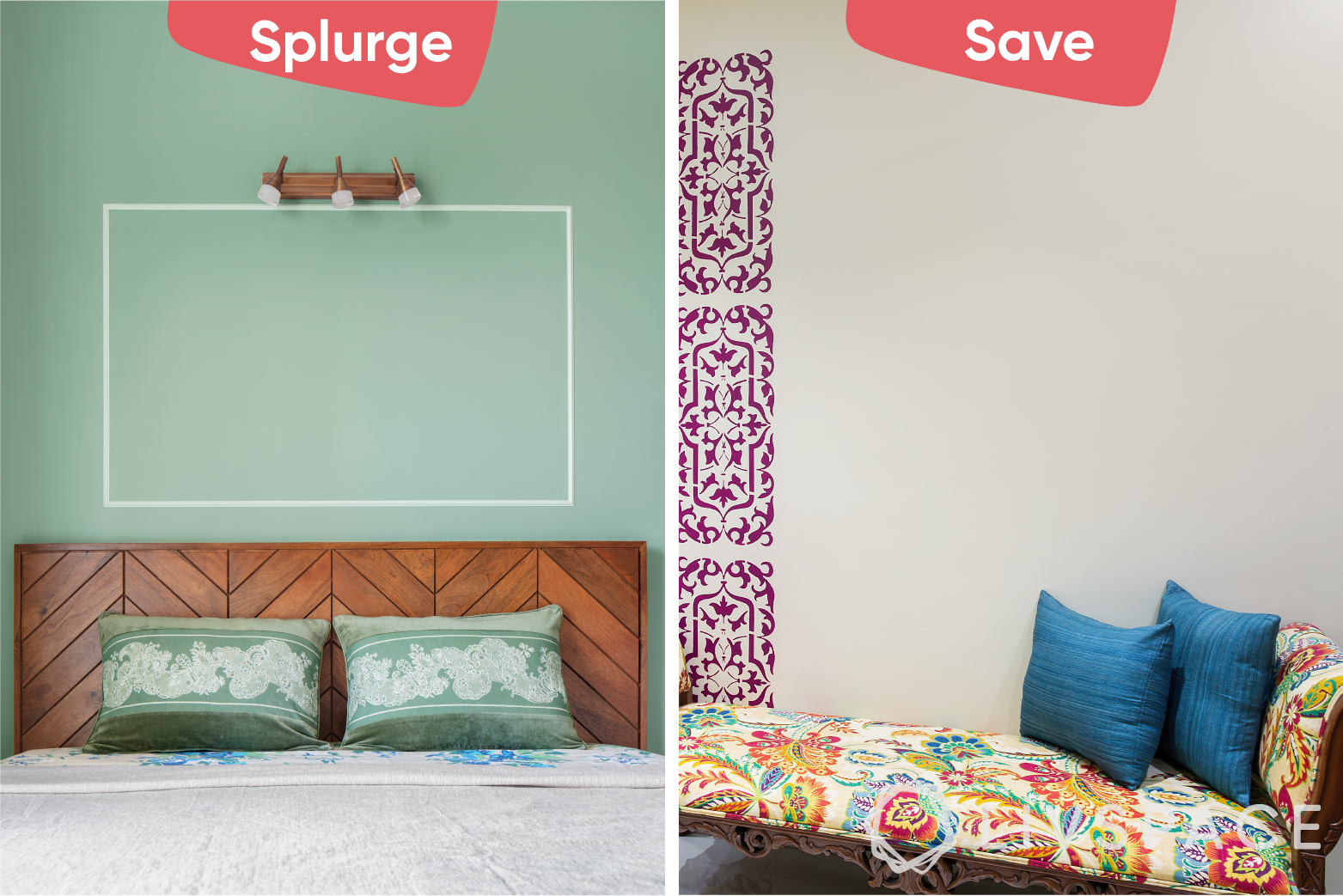 If repainting is on your mind, invest in a good mid to high-end paint to ensure durability and longevity. As we all know, paint is susceptible to environmental changes; choosing cheap paint can be damaging to the walls as well as your pockets.
Do you also want to make your walls pop out without spending a fortune? Well then, consider decals. They are cheap, easy to use, and you can change them whenever you like.
#2. Seating arrangement
Splurge:
Sofas and chairs: ₹15,000 onwards
Save:
Floor seating: ₹650 onwards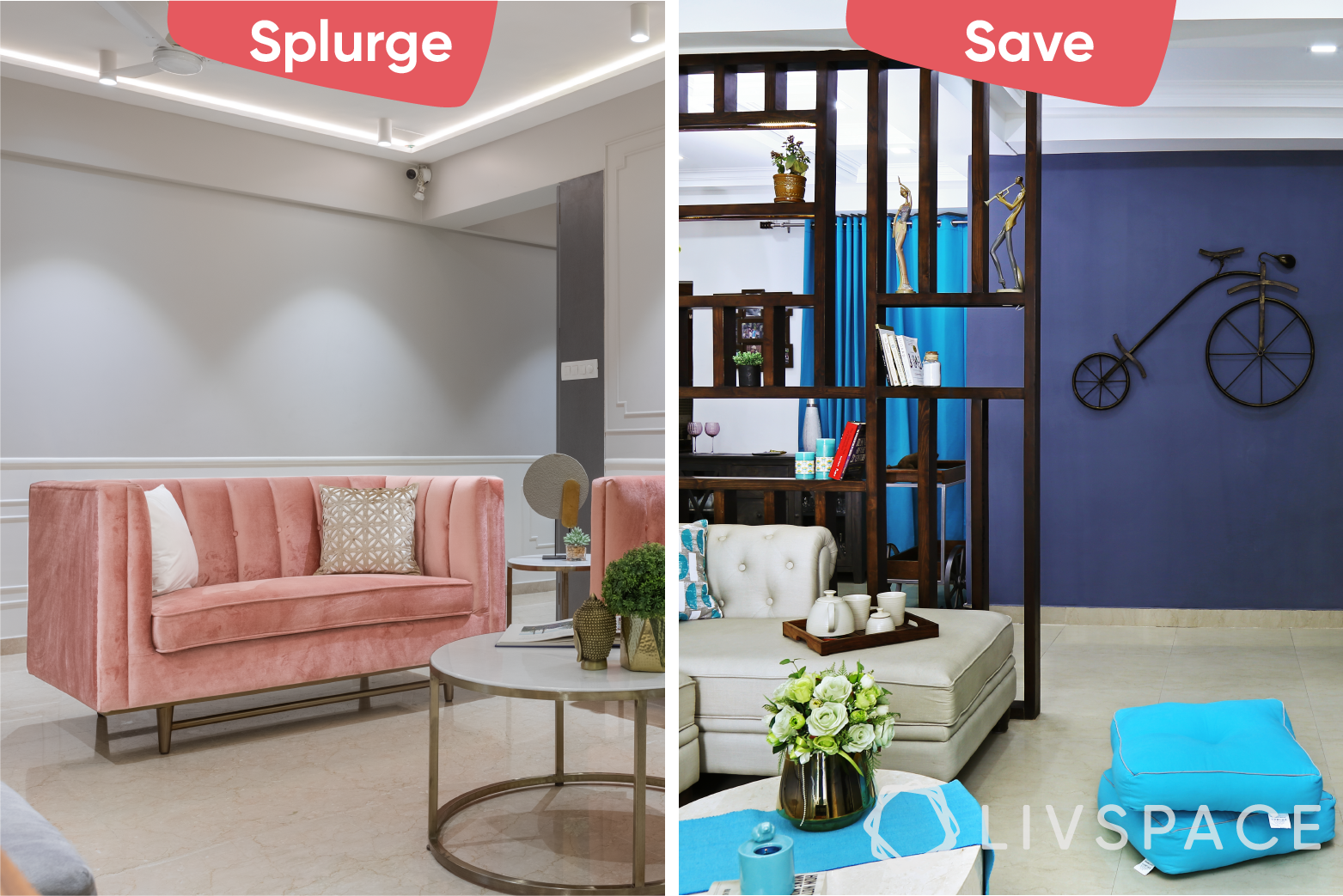 Undeniably, a sofa set is the most used furniture in a home. It is in for the long run and is the focal point of a living or drawing room. So it is only logical that you invest big on a functional sofa that is comfortable as well as stylish.
On the other hand, floor seatings such as pouffes, futons, ottomans, etc., are not something one might use regularly. Yes, accent seatings are one of the most sought after ideas for house design, but be assured that these affordable, simple and lightweight sets work just as well. Just move them around your sophisticated sofa whenever you need sprucing up.
#3. Soft furnishings
Splurge:
Curtains: ₹1,000 onwards
Save:
Linens and throw pillows: ₹250 onwards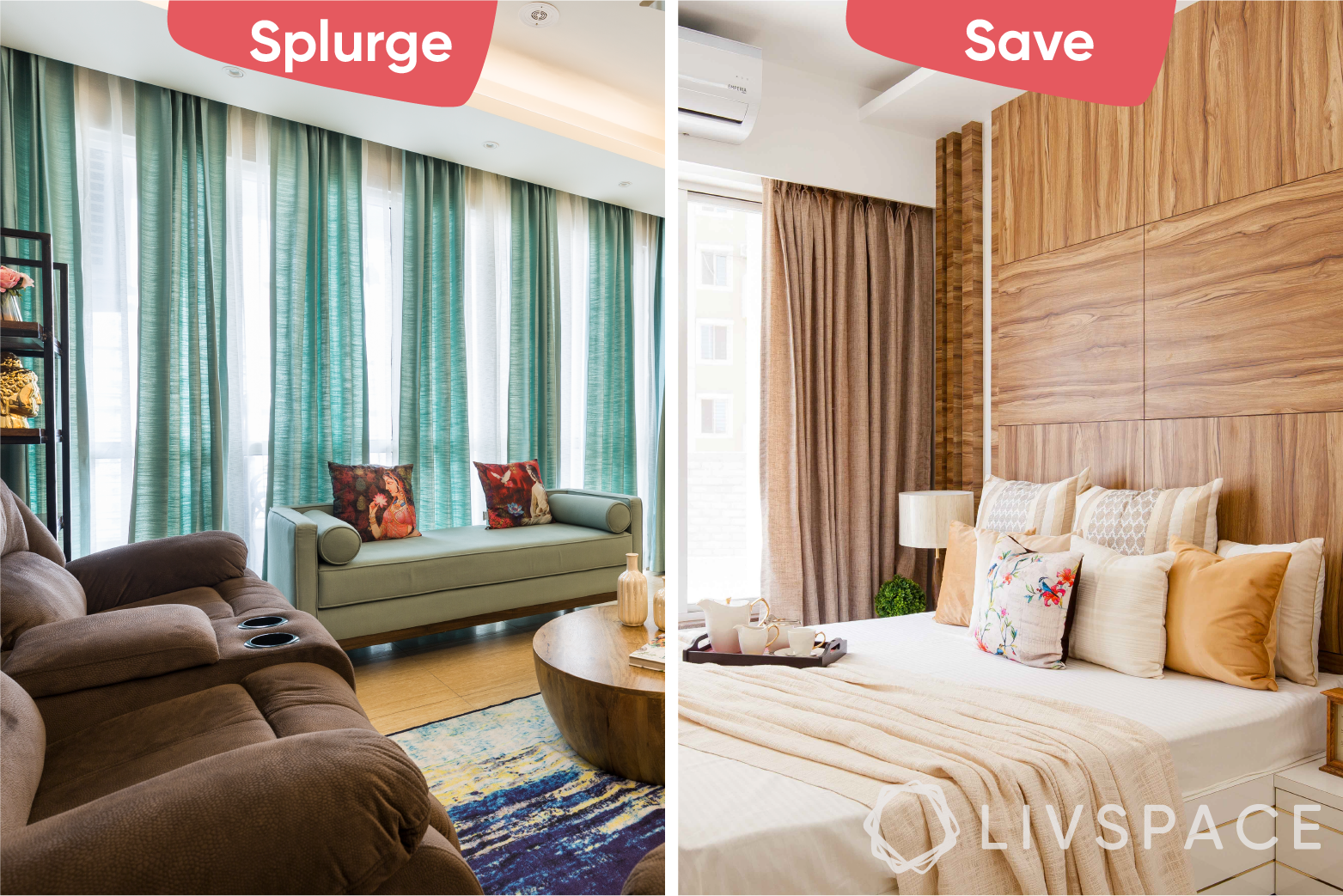 Window treatments should be carefully selected. Custom-made draperies or shades are for the win as not all windows come in standard sizes. Don't think twice to splurge on window treatments— good quality materials are required to achieve that posh look.
Specificity should not be a hurdle when it comes to choosing basic sheets, towels and cushions. You can save big on linens and cushions as they can be purchased on the go. Just keep a check on online and offline sales.
#4. Lights up
Splurge:
Pendant lights and chandeliers: ₹2,000 onwards

Save:
Tables and floor lamps: ₹500 onwards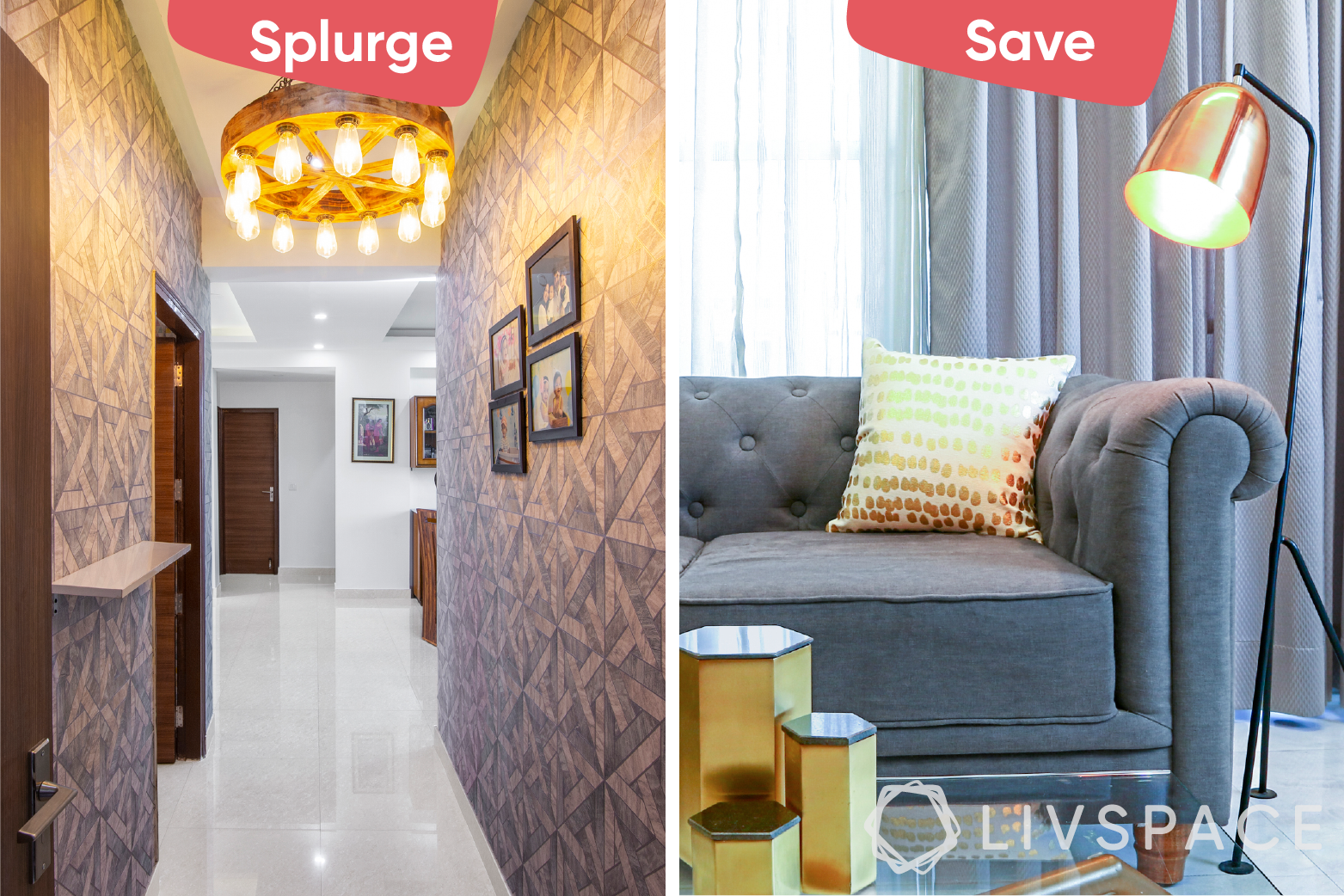 Suspended lights are at the top of the list of ideas for house design. Pendants, chandeliers not only light up the room but also work well as statement pieces. Going extravagant here is encouraged as they can spruce up the whole space.
Table and floor lamps have stood the test of time and can blend with the room flawlessly. Yet, it does not command attention. If you are keen on having a table or floor lamp, or both, go for something functional with a subtle design rather than a lavish one. Keep an eye out for clearance sales; you can find pocket-friendly options there.

#5. For the home office
Splurge:
Desk chairs: ₹5,000 onwards
Save:
Desks: ₹2,000 onwards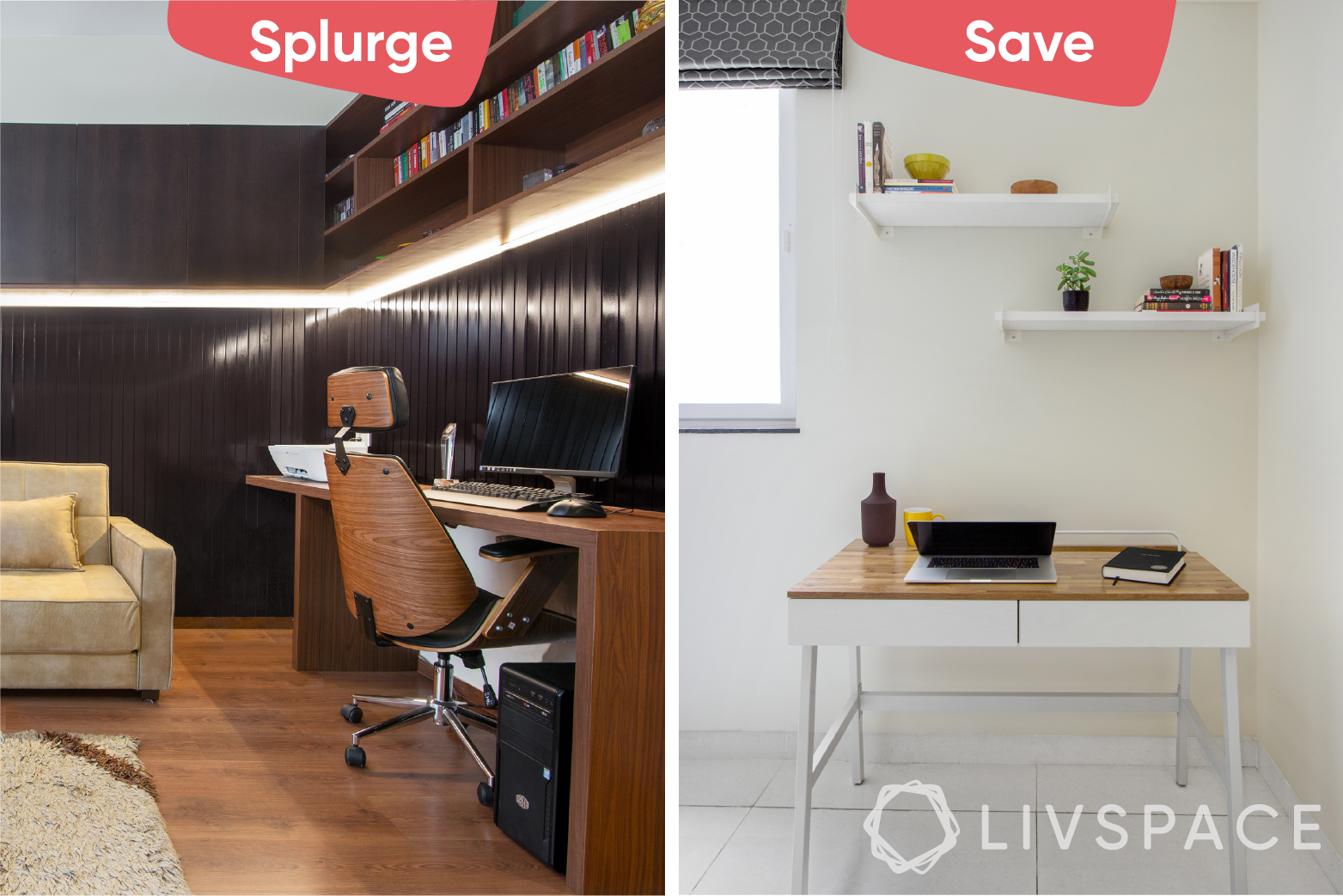 Do NOT turn a blind eye to office chairs. They are indispensable to our current work-from-home lifestyle. Considering the time we spend seated while working, a high-quality, durable and ergonomic chair is what you must invest in. Besides, splurging on office chairs allows you to pick a stylish one.
A desk is as important as an office chair. But there is no reason why you must spend thousands on one— a good quality second-hand desk works just as well as a new expensive one. Dimensions, material, quality and aesthetic are the things to bear in mind while purchasing a desk. In the case of a used desk, go for solid wood as it will last longer. A sturdy desk that fits perfectly in the space is what you need, while you can find ways to work around the aesthetic.
#6. Home is where the art is
Splurge(ish):
Art: ₹500 onwards
Save:
Accessories: ₹200 onwards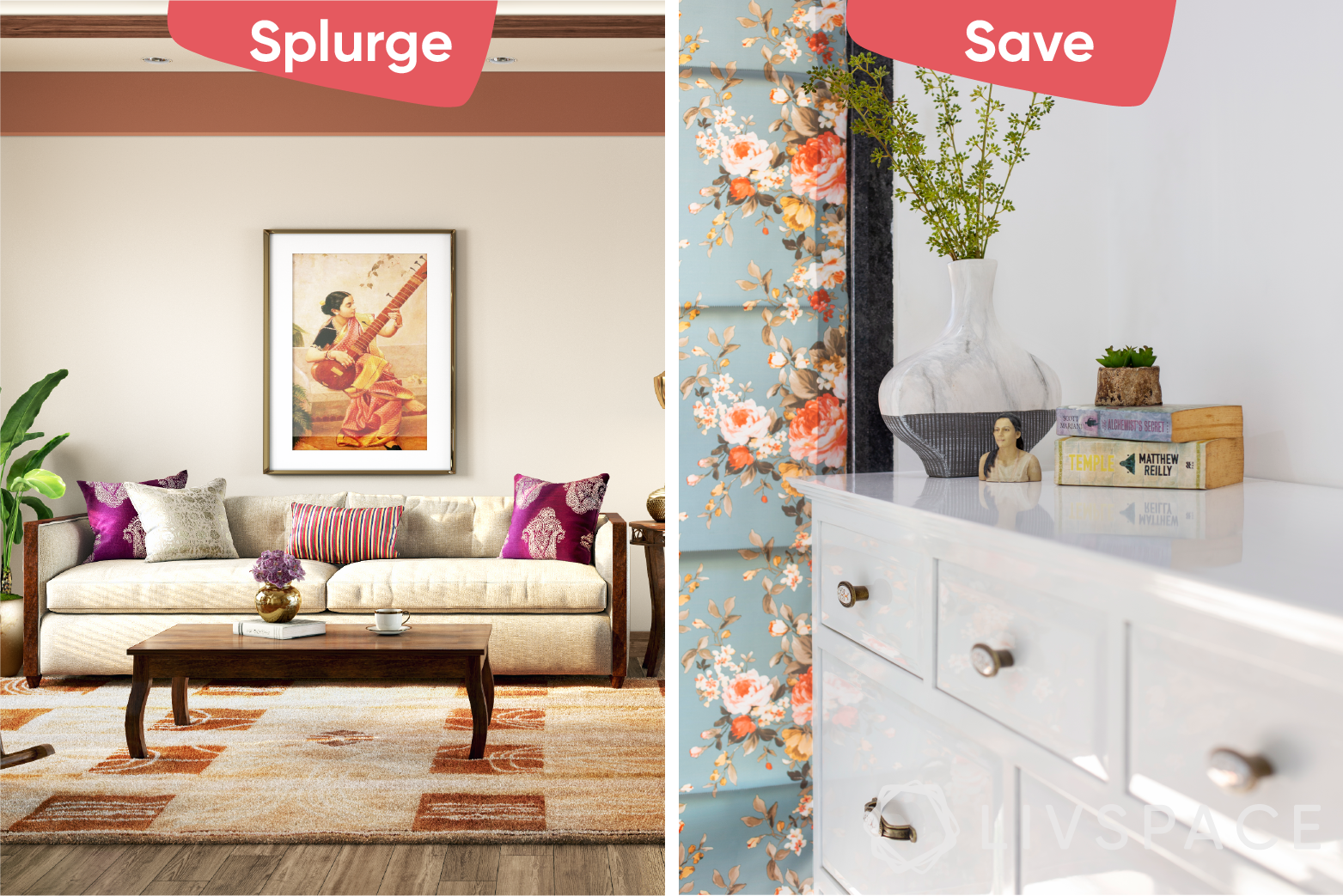 Incorporating artwork is one of the uber-cool ideas for house design. If you're a collector, buying and commissioning expensive artwork would make sense. But if it is only to elevate the look of the space, inexpensive ones do the job just as well. You can purchase affordable artworks from markets or online.
When it comes to accessories, work with the ones you have at home— books, plants, etc. If fresh pieces are what you want, shopping at thrift stores and flea markets helps you stay within your budget and match your aesthetics.
Ideas for house design need not break your bank. If you splurge on one thing, remember to save on something else. A simple rule— splurge on items that you'll use frequently and for a long time, and save on those that are used occasionally.
Want to know more before you start on your ideas for house design? Check out 8 Creative Hacks to Cut Down the Cost of Home Interiors.

We love hearing from you! Write to us with your comments and suggestions at editor@livspace.com