The COVID-19 pandemic has been tough on everyone, more so this year. The lockdowns and safety concerns have prevented many from getting their homes designed. Luckily, interior designers can work remotely, and most aspects of the design process have become virtual with the help of technology. But, given that it is a tactile process, is house designing online effective? Very much so! We designed over 2,143 homes during lockdown and handed over post lockdown last year!
We chatted with Pallavi Goel and Payal Bagzai, who comprise the leadership of Livspace's design team to help understand how this works.
#1. Where to start?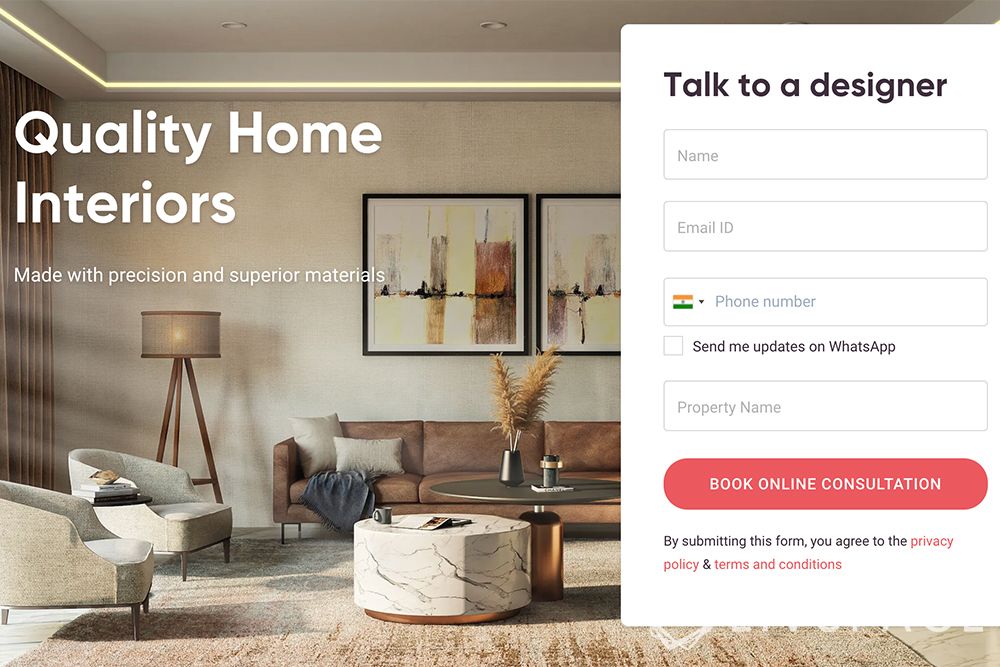 To book a Livspace designer, all you have to do is fill this form. Once you're done, we'll assign an interior designer to you based on your requirement and location.
#2. What is the process?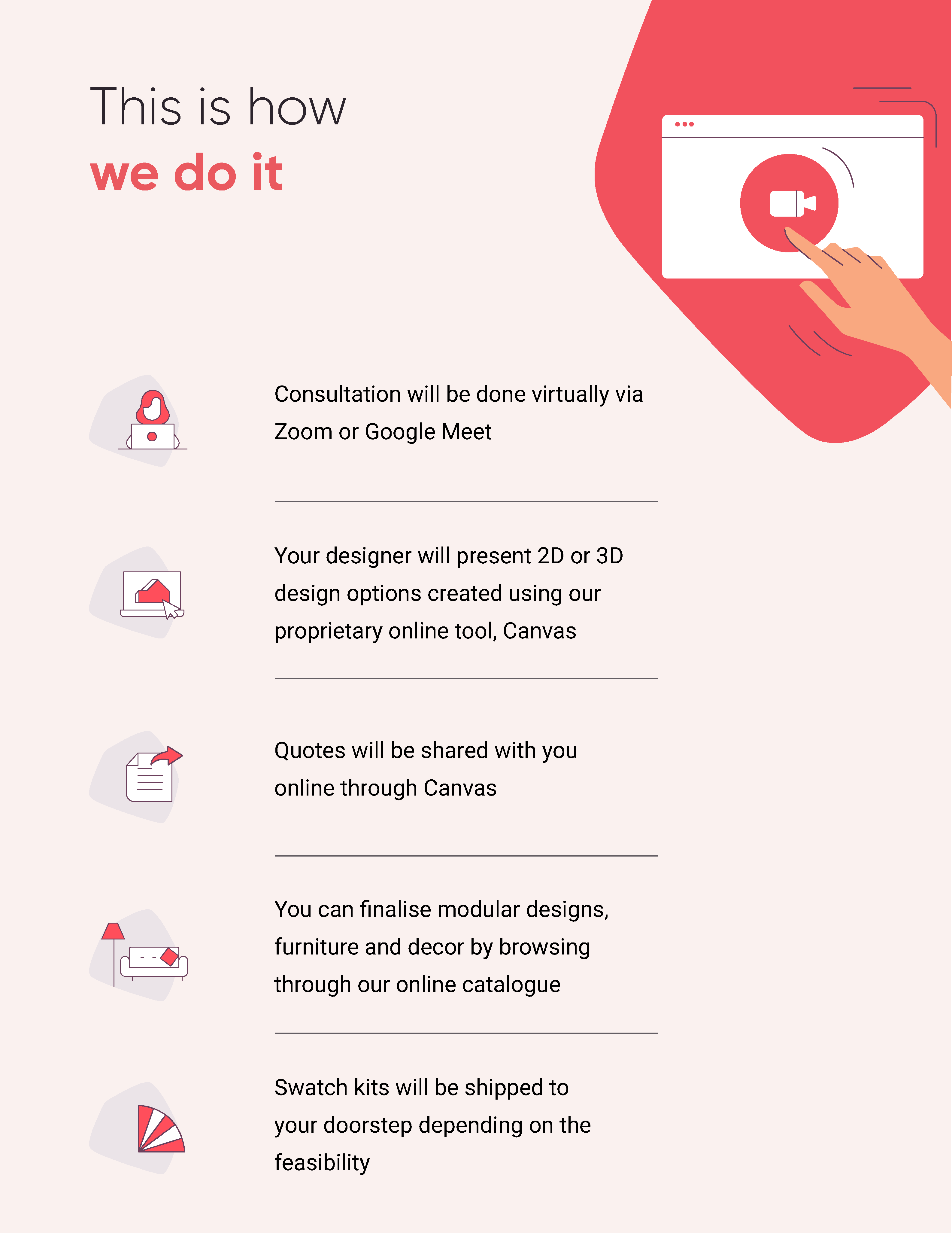 Pre & post-Covid process: Previously, there were many points of physical interaction between the customer and designer. Now, all the meetings happen virtually, except for the site visit for measurement and installation.
Speak to the designer: After booking a free consultation, the designer will give you a call to understand your requirements and the floor plan.
Design, finalise concept & review: They will follow it up with multiple video calls for presenting and discussing the concept, reviewing, pricing etc.
Material selection: Bagzai says that this is the hard part of the process. So, what they do is share a comprehensive PDF on the material and colours which clients can peruse at their convenience. If you want to touch and feel the material, the swatch kits can reach your home (depending on the feasibility), or you have to visit one of Livspace's Experience Centres (ECs).

(Note: ECs are not an option during lockdowns.)
Once you give the go-ahead on the plan and sample materials, the production work starts, taking all the necessary precautions. When everything is ready, your designer will share a comprehensive project plan on the execution and logistics of the on-site process. The civil work and installation will take place, following all safety precautions only when the lockdown ends. With this, your house designing online process can be expedited.
Check out the 9 Easy Steps to Get Your Exclusive Home Interiors.
#3. How is Livspace functioning when all ECs are shut?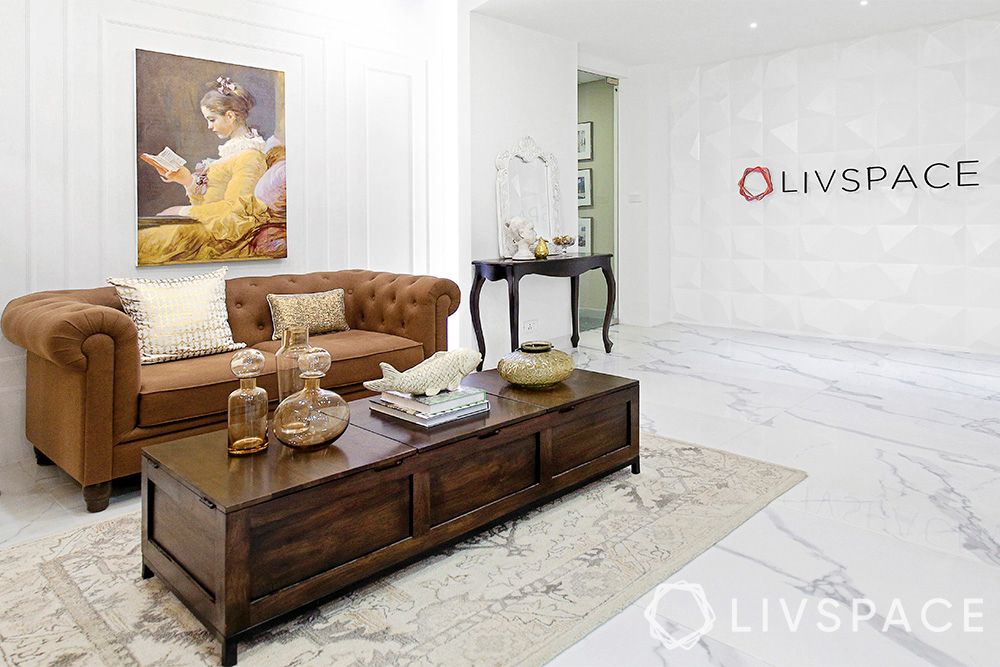 Our ECs were an integral part of the design process before the lockdown. Under normal circumstances, you would be invited to an experience centre in your city to experience the interiors and learn how they operate. If ECs are shut due to lockdowns or you prefer not to go, our designers can take you on a virtual tour or present 2D or 3D designs to help you understand the plan well. You can browse through our online catalogue for designs too!
#4. Is house designing online effective?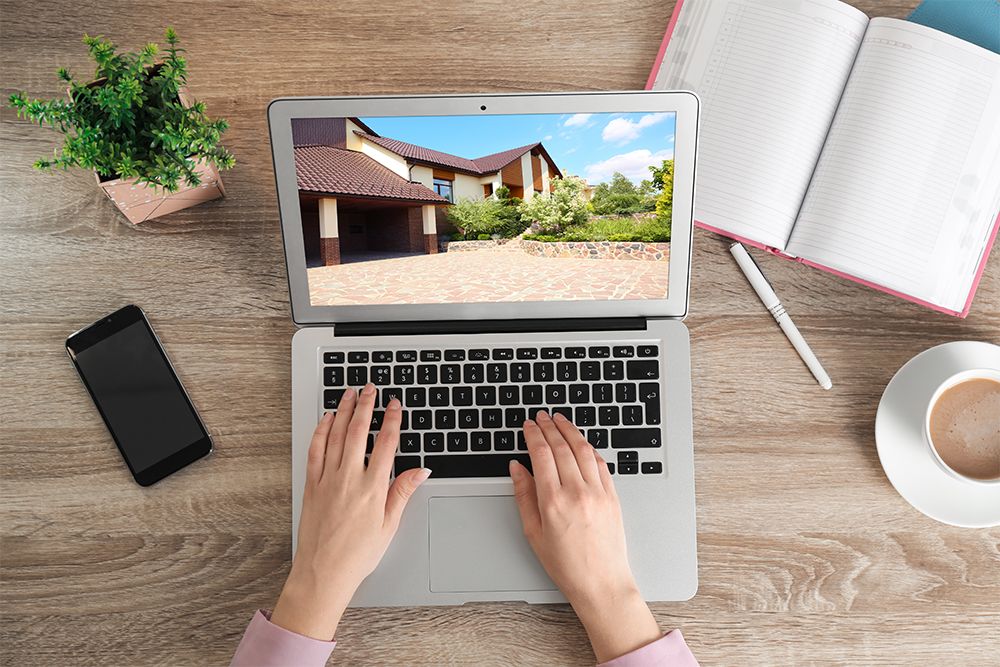 Bagzai and Goel unanimously agree that house designing online has been effective and no compromises have been made on the quality. Since last year's lockdown, Livspace has delivered over 2,143 homes, proving the effectiveness of house designing online.

#5. Will my home interiors be completed on time?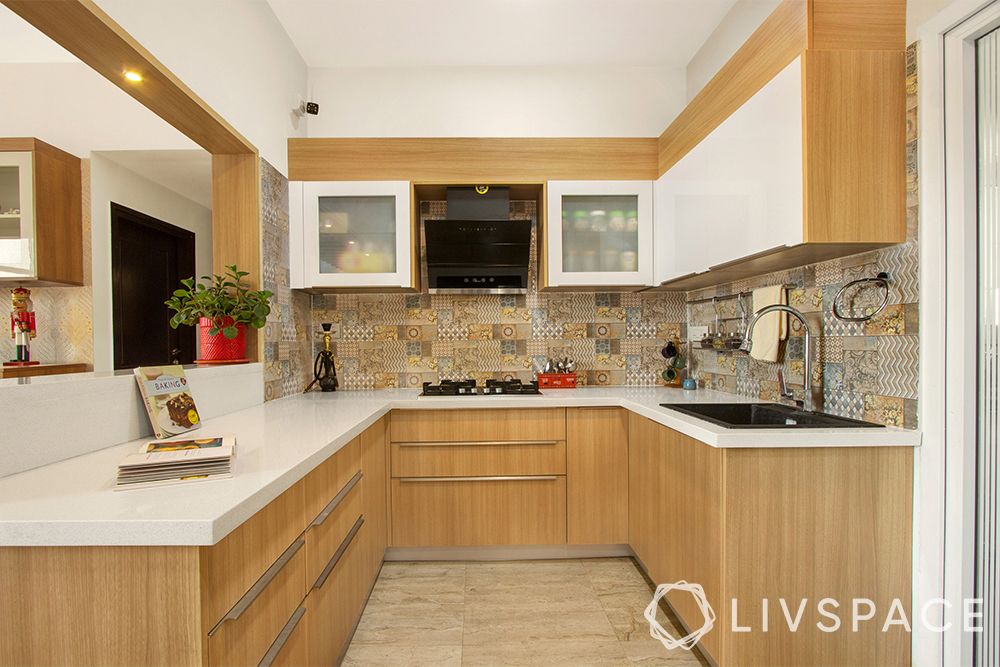 We'll need more time only when externalities like lockdowns, building permissions etc., are involved.
#6. How do I prepare to get my home designed remotely?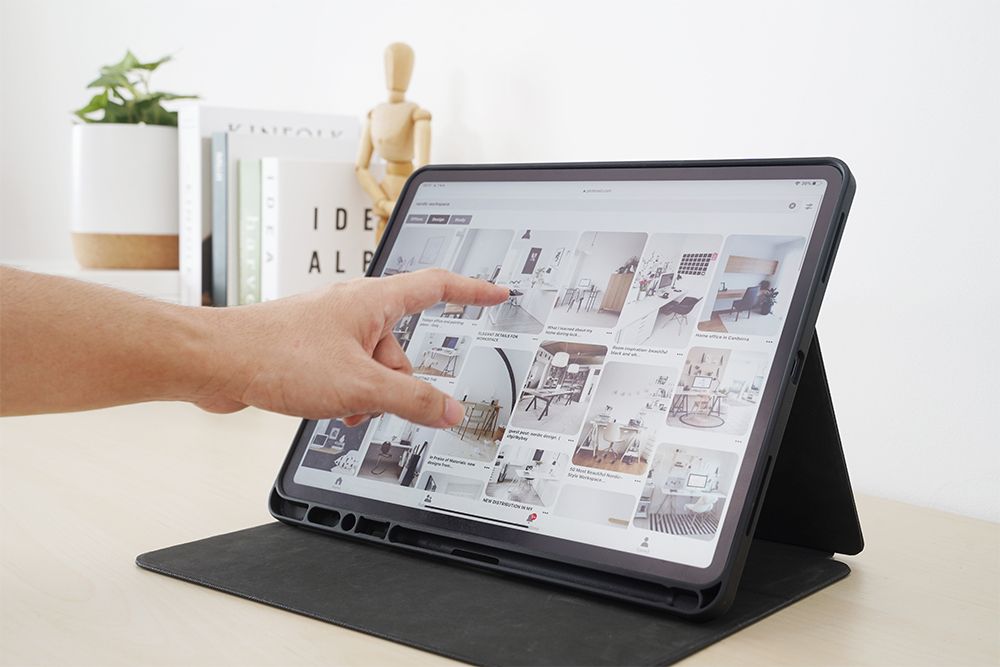 You do not require any technical knowledge about design. Our designers will help you understand every tiny detail. But some things that you need to keep in mind are:
Expect delay: The unpredictability of the current situation can cause a delay in some stages like installation. As mentioned before, this can happen only when external factors are affecting the process.
Be clear: Know what you want beforehand (in terms of furniture, use, budget, etc) and make clear decisions on the aspects such as functionality, materials and look. Try to not make a lot of changes to the finalised plan as it could be time-consuming.
Communicate: It would help the designers if you are frank about your taste and sensibilities, as it is hard to gauge what you feel when house designing online.
"
"We used to go to their space and understand their lifestyle to develop a concept that works for them. But it is not happening anymore given the situation. It will help if the customers are more vocal about these aspects."

Payal Bagzai

Design Head, Livspace
"
Many enthusiastic homeowners use Pinterest and Instagram for design inspiration and share them with our designers, which can be helpful. You can also give the designer a virtual tour of your current home to give an idea of what you want to keep and what you want to change.
Give time: Also ensure that you invest time in the discussions. The more aware you are of structural and aesthetic requirements, the faster and smoother the project can go.
#7. What are the latest trends in home interiors to help you prepare?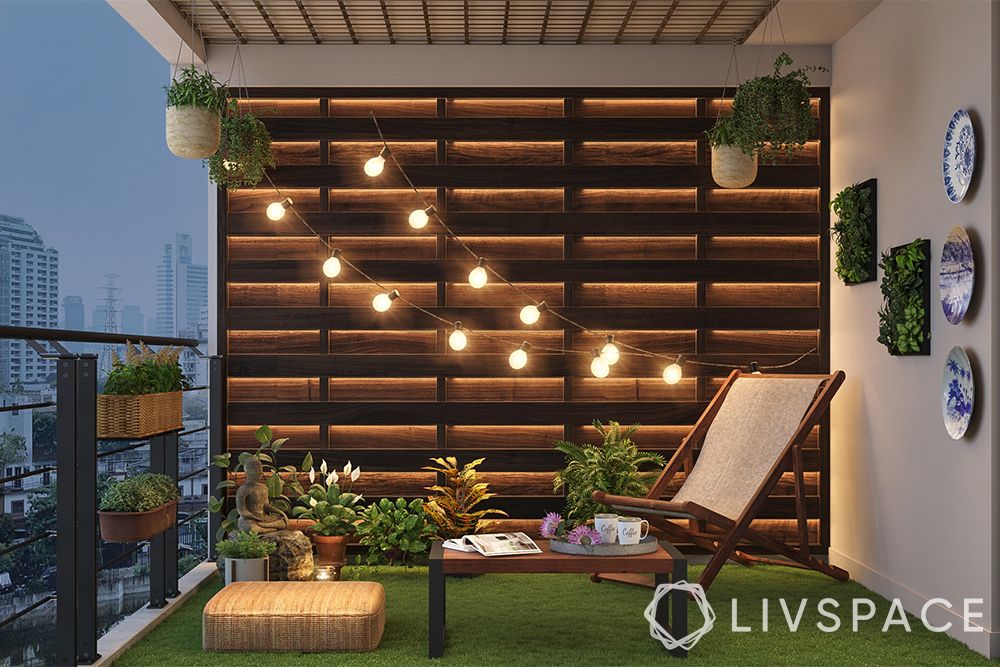 Our designers also spilled some details on the designs trending since 2020. As the time we spend indoors has increased, the top spaces that clients want have been:
An 'Instagram-mable' corner for online sessions
And the most sought-after design is biophilic designs, i.e. introducing natural elements to your homes.
"People are really open and want to have a space for themselves now. They are thinking more about interiors as it has become a necessity."

Pallavi Goel

Studio Head, Livspace, Mumbai
Interiors indeed have become a necessity. Therefore, whether the design process is traditional or remote, Livspace aims to deliver excellence. So don't think twice about house designing online. You've got the best minds at work to design your home.
Need some inspiration? Have a look at the Top 5 Affordable and Stunning Homes Designed by Livspace.
Write to us with your comments and suggestions to editor@livspace.com