What is interior design? How much does it cost? Is it necessary? If you've ever found yourself asking these questions, this article is for you! In this holistic guide, we've answered 20 commonly asked questions to help you navigate the world of interior design. Let's start with the basics!
#1: What Is Interior Design?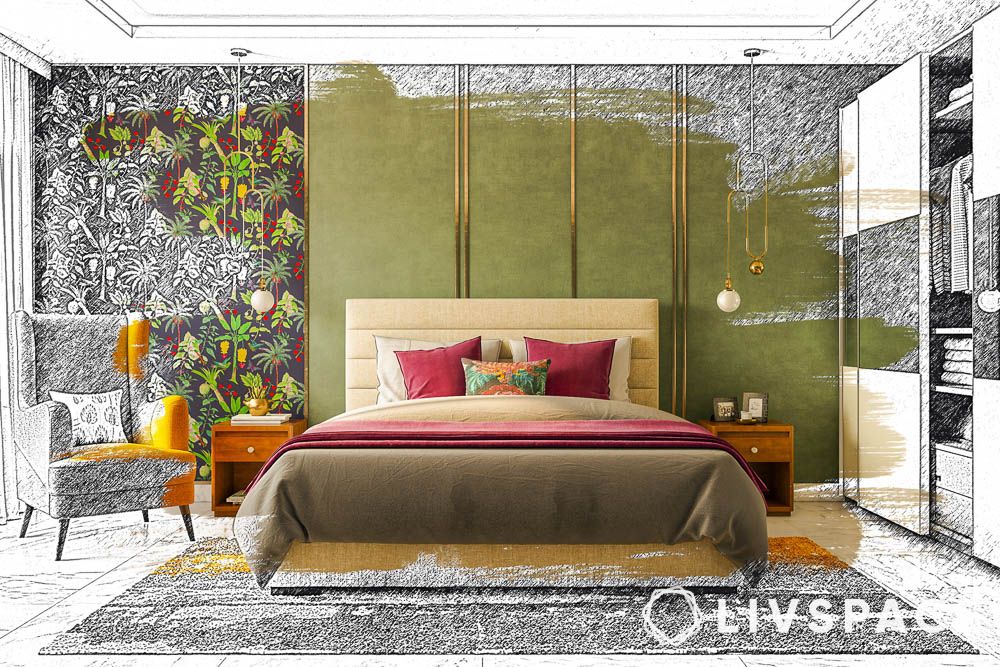 From planning to creating beautiful functional spaces, interior design covers everything for your home. Additionally, it combines aesthetic art with science, to ensure that your home is both stunning and comfortable.
#2: Who Is an Interior Designer?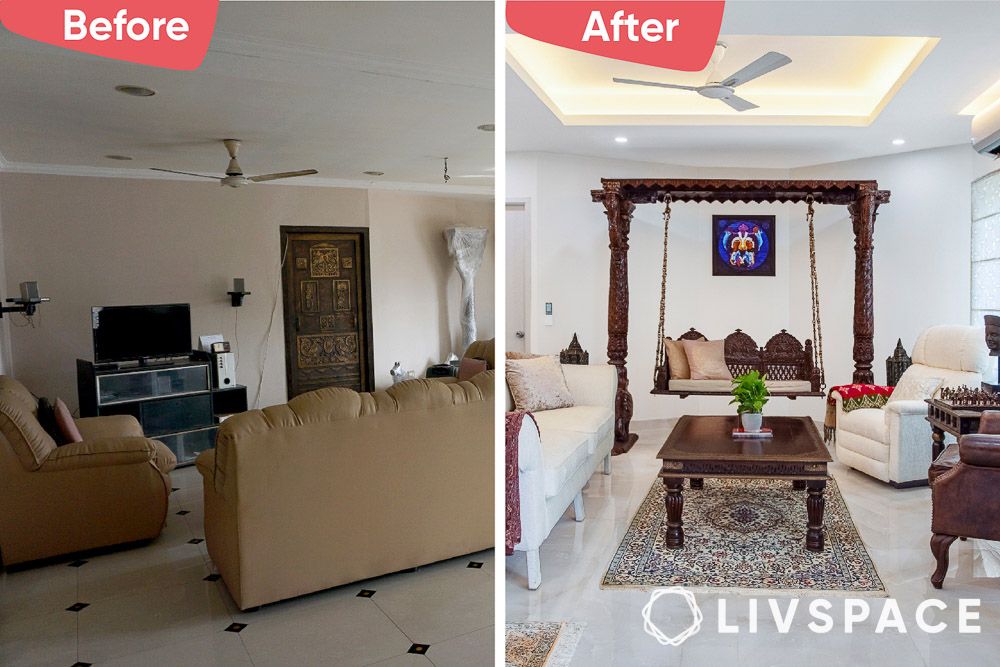 An interior designer is someone who manages, coordinates, plans and executes an interior design project. The role of a designer is to ensure that the homes they design not only meet the needs of the homeowners but are also aesthetic, functional, safe and comfortable spaces.
In addition, interior designers also offer support throughout the execution process and oversee the construction and overall project management.
#3: What Are the Interior Design Styles Popular in India?
The following interior design styles are popular in India:
Interior Design Style
Distinctive Features
Livspace Stylist Tips
Indian Traditional
— Vibrant colours
— Solid wood furniture
— Handicrafts and folk art items
— Use wood-carved
furniture
— Rich colours
Minimalism
— Clutter-free
— Neutral colour palette
— Concealed storage
— Uncluttered space
— Monochromes
— Use colour as
an accent
Contemporary
— Natural light
— Neutral scheme with few pops
— Statement walls and clean design
— Mix different
textures and
materials
Bohemian
— Variety of patterns
— Low seating
— Curios and refurbished furniture
— Free-spirited
approach
— Curation and
layering of
multicultural textiles,
artworks, decor
Scandinavian
— Understated style
— Light furniture
— Natural light
— Natural textures
— Artwork as
focal points
Mid-Century Modern
— Simplicity and functionality
— Organic forms
— Iconic decor pieces
— Function over ornament
— Use of teak, oak,
rosewood and metal
Transitional
— Mix of old and new designs
— Clean lines
— Neutral colours with subtle patterns
— Modern materials
— Clean lines
— Decorative detailing
Eclectic
— Neutral + accent colour
— Decor should have some commonality
— Gallery wall
— Use objects you love
— Handmade items
— Statement decor
Art Deco
— Deep wall colours
— Arched windows
Sunburst patterns
— Geometric designs
as ornamentation
— Rich materials and
textiles
— Ornamental
light fixtures
Industrial
— Neutral colours
— Warehouse look
Exposed brick walls
— Raw, natural and edgy
— Unfinished walls
and exposed pillars
— Steel and
wood beams
Also Read: 11 Popular Design Styles You Need to Explore for Your Home
#4: How Much Does Interior Design Cost?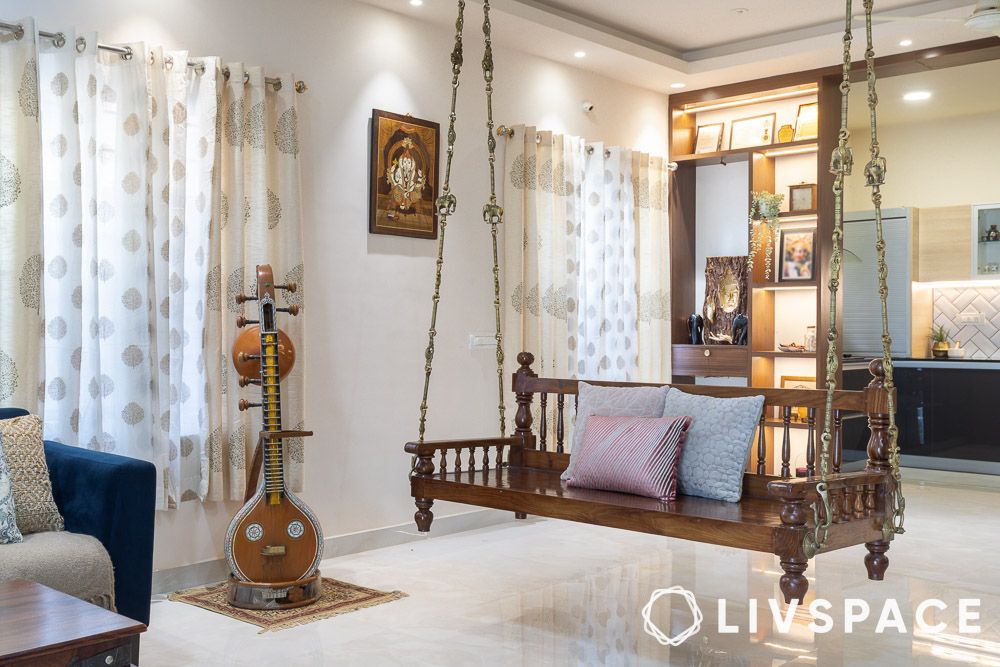 The cost of interior design will depend upon multiple factors like location, size of your home, scope of the project and materials used among other things. However, in general, the interior design cost can range between ₹5,00,000 to ₹25,00,000*.
*These Livspace interior design costs per square foot are for reference only; exact costs might differ according to the nature of your requirements, size of home and location. Talk to our designer to get a free quote today.
#5: The Big Question: Should You Invest in Hiring an Interior Designer?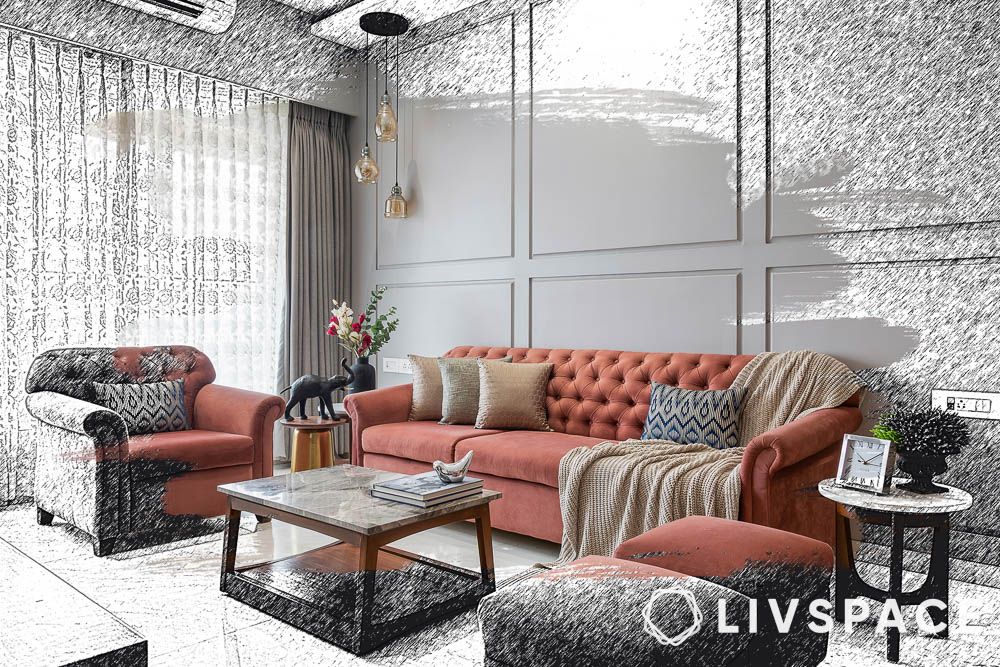 If you lack the professional and technical expertise to carry out the mammoth task of designing your abode, we recommend you opt for designer services. It will help you:
Prevent costly mistakes: Your designer will be aware of high-quality products that fit your budget. They will help ensure there are no hidden costs that sneak in at the last minute.
Save time: Getting interiors through several people can be stressful, tiring and time-consuming. A designer will work efficiently to ensure everything finishes on time, thereby creating a hassle-free experience for you. Moreover, this will also help in getting high-quality interiors with minimum effort
Get quality assurance: Since interior designers know how to pick the right products and services, your home will certainly have the edge in terms of quality! Additionally, at Livspace, we provide 146 quality checks
#6: What Does the Design Process at Livspace Look Like?

#7: How to Prepare for Your First Meeting With an Interior Designer?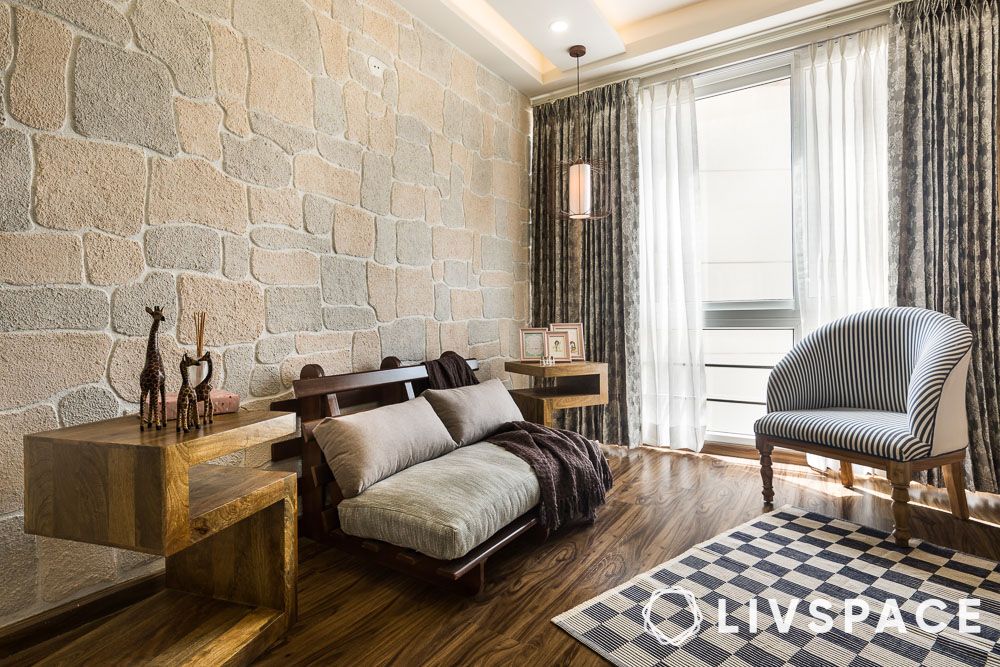 It helps to do a little homework before meeting with an interior designer. Here's what you can do:
Bring the floor plan: This can give the designer a better visualisation of the place. Additionally, you can also note down the room-wise dimensions
Define the scope of work: Give them a brief of all the changes you need in your home. You don't have to give them a complete plan, even a rough idea will do
Tell your budget: Give your designer a range. This helps them calculate expected expenses. Moreover, this also helps in selecting products quickly
Talk about your style: Colours, elements, design style—give them a brief of your preferences. This helps them design your home according to your taste
Also Read: Easy Checklist to Help Prepare for Your First Designer Meeting
#8: What Is the Difference Between Interior Design and Interior Decoration?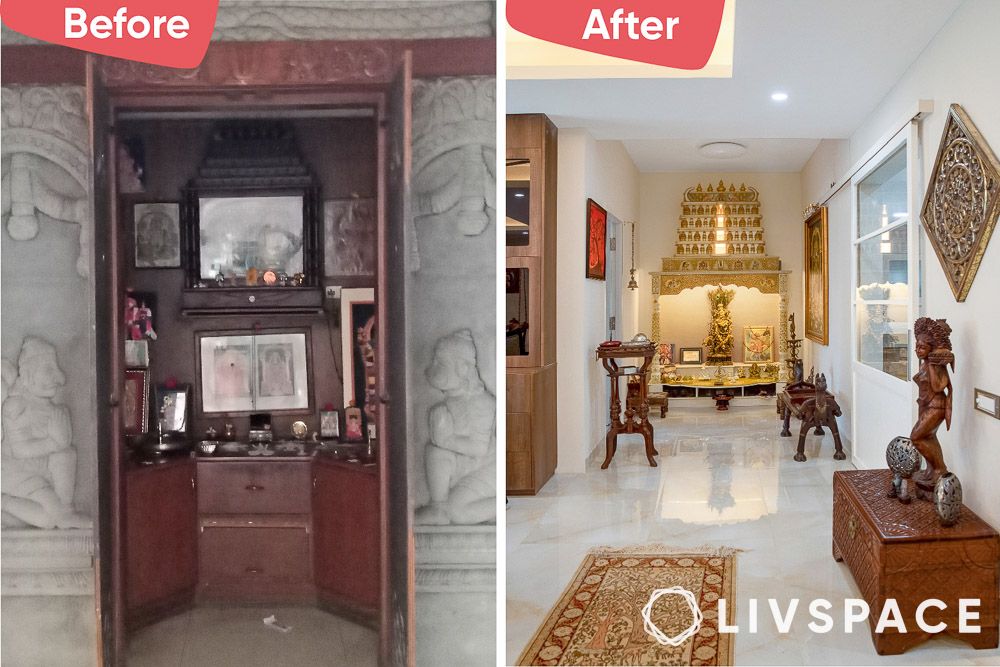 Interior design refers to the art and science that goes behind creating the interiors of a home. This process involves creating a space that is not only aesthetically pleasing but also functional. Moreover, interior design takes into account various technicalities of your space as well. On the other hand, interior decoration refers to adding decor to a space and adorning it so that it matches a specific aesthetic.
#9: What Are the 7 Elements of Interior Design?
Here are the 7 elements of interior design:
Elements
Description
Space
The space to be designed
Form
The shape of features
or objects in a space
Line
The lines of features
in a space
Light
Natural and artificial light
Colour
Colour schemes
Pattern
Designs and patterns used
Texture
Tactile surface or finish
#10: What Are the 5 Concepts of Interior Design?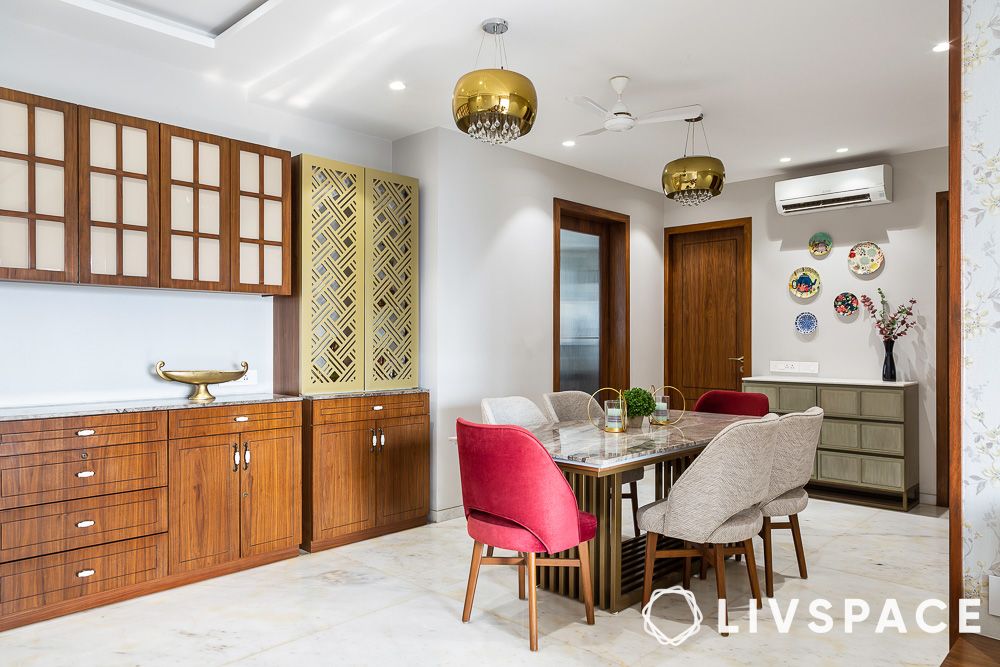 The five concepts of interior design are:
Balance – Ensuring a room is visually balanced. Additionally, ensuring the balance of visual weight in a room
Harmony – The home should be thought of as a single unit and not separate space. Moreover, the design of every room should be in harmony with other rooms
Focal Point – This helps to create a striking impression on the viewer
Rhythm – To create an organised look in a room with the help of repetition. In addition, design continuity and transition also helps in creating a rhythm
Details – Paying special attention to minute details
How Can Livspace Help You?
With 146 quality checks, we promise high-quality and durable materials
We have delivered over 50,000+ happy homes
Our experienced designers can design your dream home
If you want your home to be as beautiful as Livspace homes, then look no further. Book an online consultation with Livspace today.
We love hearing from you! Write to us with your comments and suggestions at editor@livspace.com