"Mumbai meri jaan, par chota hai mera makaan!" If this sounds like you, you are not alone. We all know that Mumbai is big on heart, but short on space. Given that it also does not have many open grounds or parks, most people who live in this dynamic city wish they had at least one balcony, even if small and compact, in their house and are looking for a small balcony design for Mumbai homes.
If you're a Mumbaikar who loves some peace and quiet after the rush of the day, we are sure you would love to make the most of your small balcony and do it up the way you would enjoy it. Here are some small balcony designs for Mumbai homes to inspire you to take up the challenge of creating a beautiful outdoor space. Non-Mumbaikars, psst, you can totally steal these small balcony design ideas if you too are short on space! And yes, we also have a few suggestions for those with a little more room in their balconies. 
Balcony Ideas for Tiny Spaces in Mumbai
#1: Rustic Charm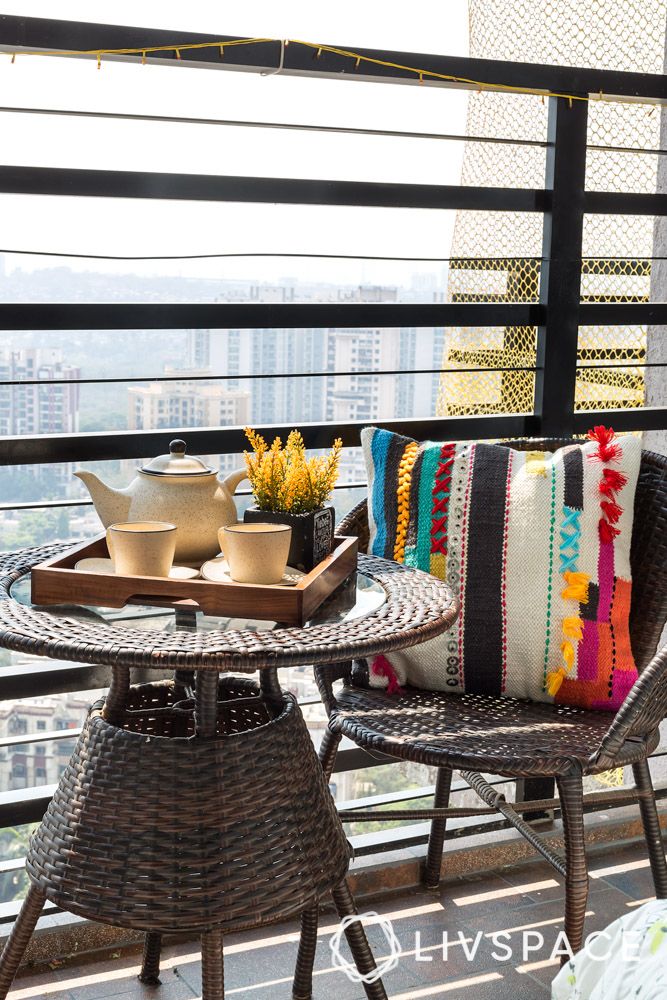 This is one of the best small balcony designs for Mumbai homes. A stunning view of the city, cutting chai, comfortable rattan furniture — this is something you can look forward to every morning and evening!
Also Read: 5 Beautiful Jhoola Designs Your Balcony Will Absolutely Love
#2: Cosy Niches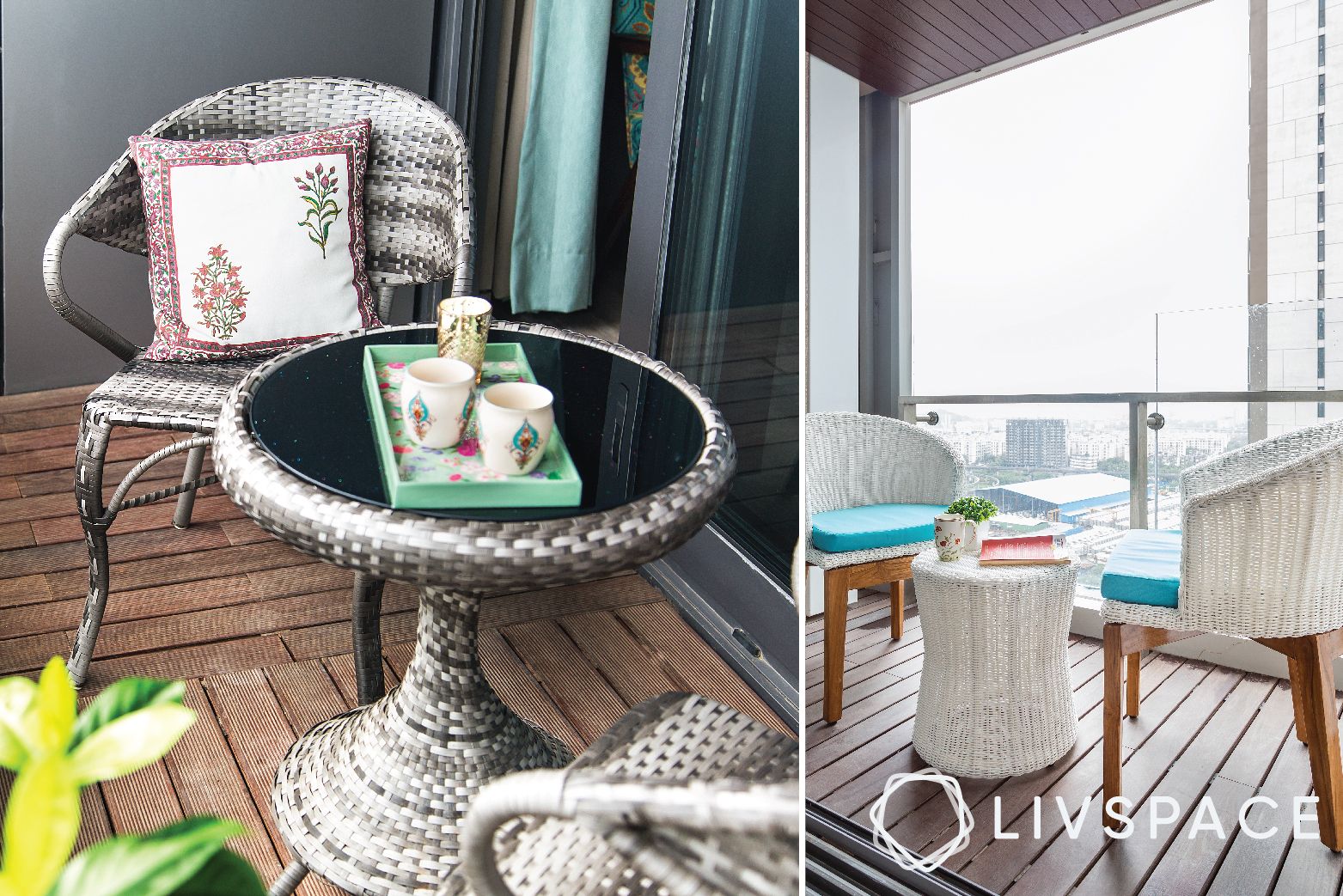 Take your pick from these two small balcony designs for Mumbai homes. The rattan furniture and pockets of green in the left balcony create a warm and inviting look, while being eco-friendly. In contrast, the toned-down look of the right one may appeal to those who love starkness.
#3: Back to Basics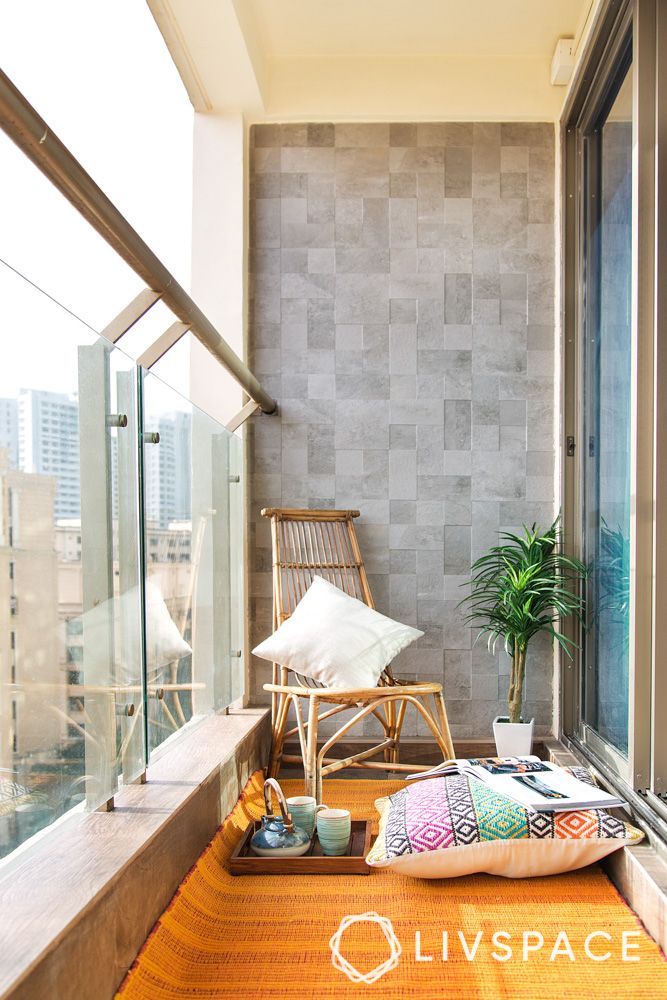 This easy-to-implement small balcony design for Mumbai homes requires little effort on your part. Just add a vibrant mat on the floor, throw in some pillows and you have great balcony seating. You can also fit a compact chair to lounge and relax.
#4: Little Warm Corners
Paint your balcony in a bright colour for an intriguing design. Also, having hanging plants instead of using up your floor space might be a smart choice for a small balcony design in Mumbai.
#5: Sunshine and Rainbows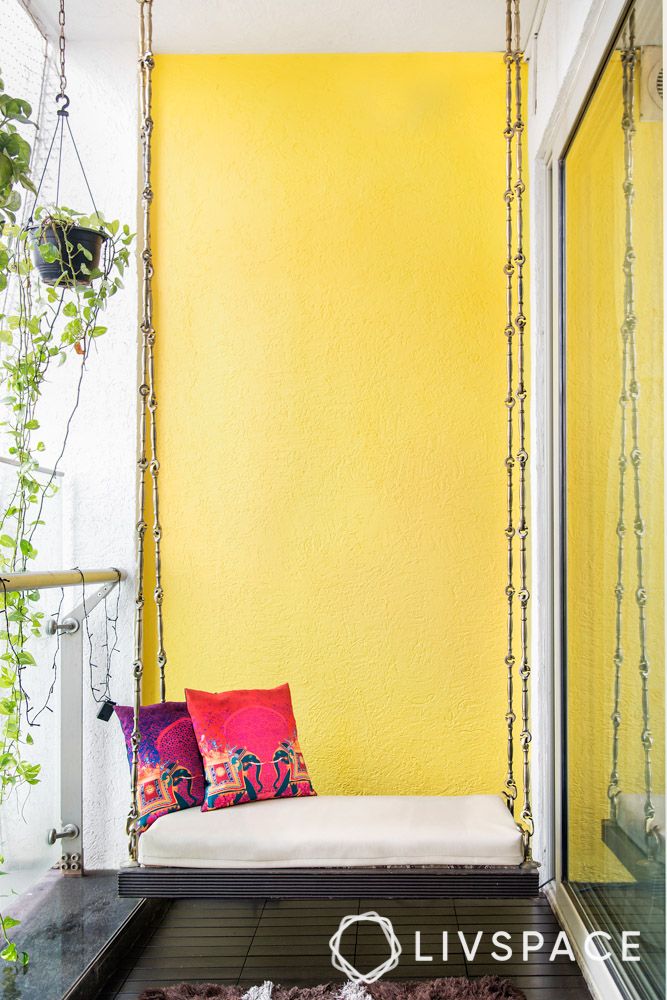 Need a corner at home that's both cheery and quiet? This small balcony design for Mumbai homes places a cosy swing against a bright yellow wall and adds more colour with vibrant throw pillows. Make yourself comfortable on the swing as you sip your coffee or read a book.
#6: A Sliver of Space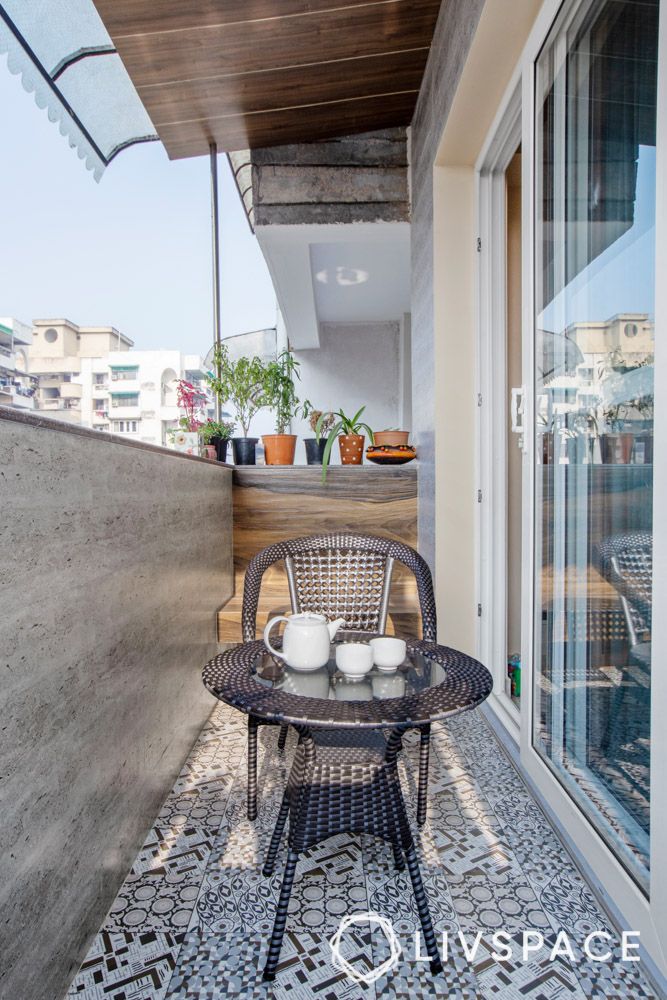 Even simple solutions can turn around your balcony space. Take cues from this Mumbai apartment balcony idea with patterned tiles and minimal wicker furniture. Cosy, isn't it? It has also managed to fit in a small seating arrangement on one of the walls and some plants to add a dose of green.
#7: Go Green!
If you are looking for casual, chic Mumbai apartment balcony ideas, add a grass mat and some benches made out of reclaimed wood. Wall and railing planters will add to the look while keeping the vibe minimal.
#8: Lounge on Bean Bags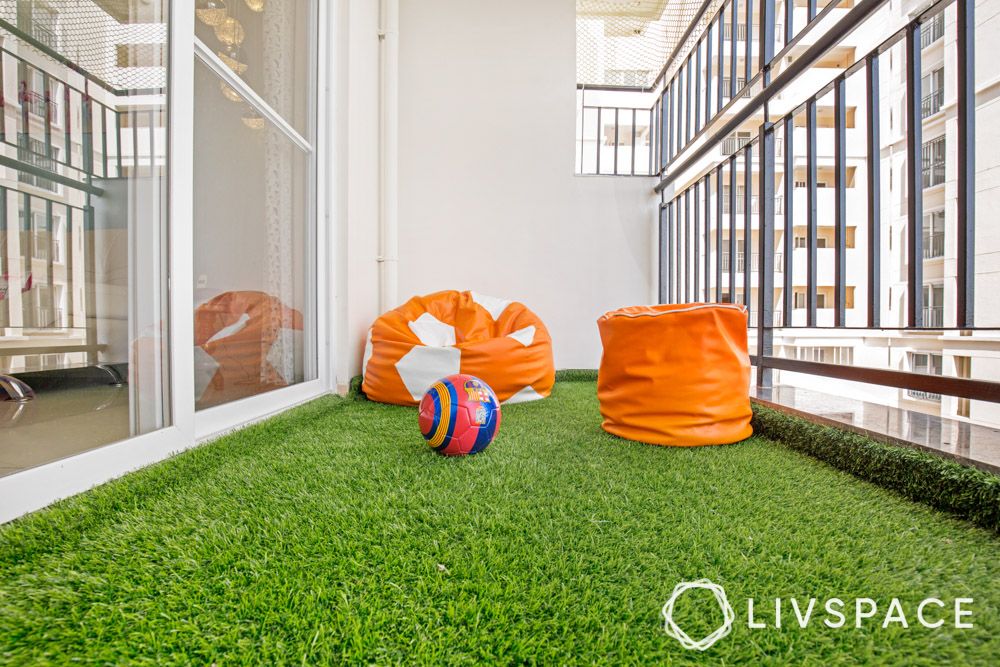 This is one of the simplest Mumbai apartment balcony ideas. Lay down some turf, throw in a few brightly coloured bean bags and it's done! You now have a cosy spot ready for binge watching the latest series or a cricket/football match.
Balcony Ideas for Small Spaces in Mumbai
If you have a slightly bigger balcony in Mumbai, we continue our list with even more great ideas.
#9: Two To Tango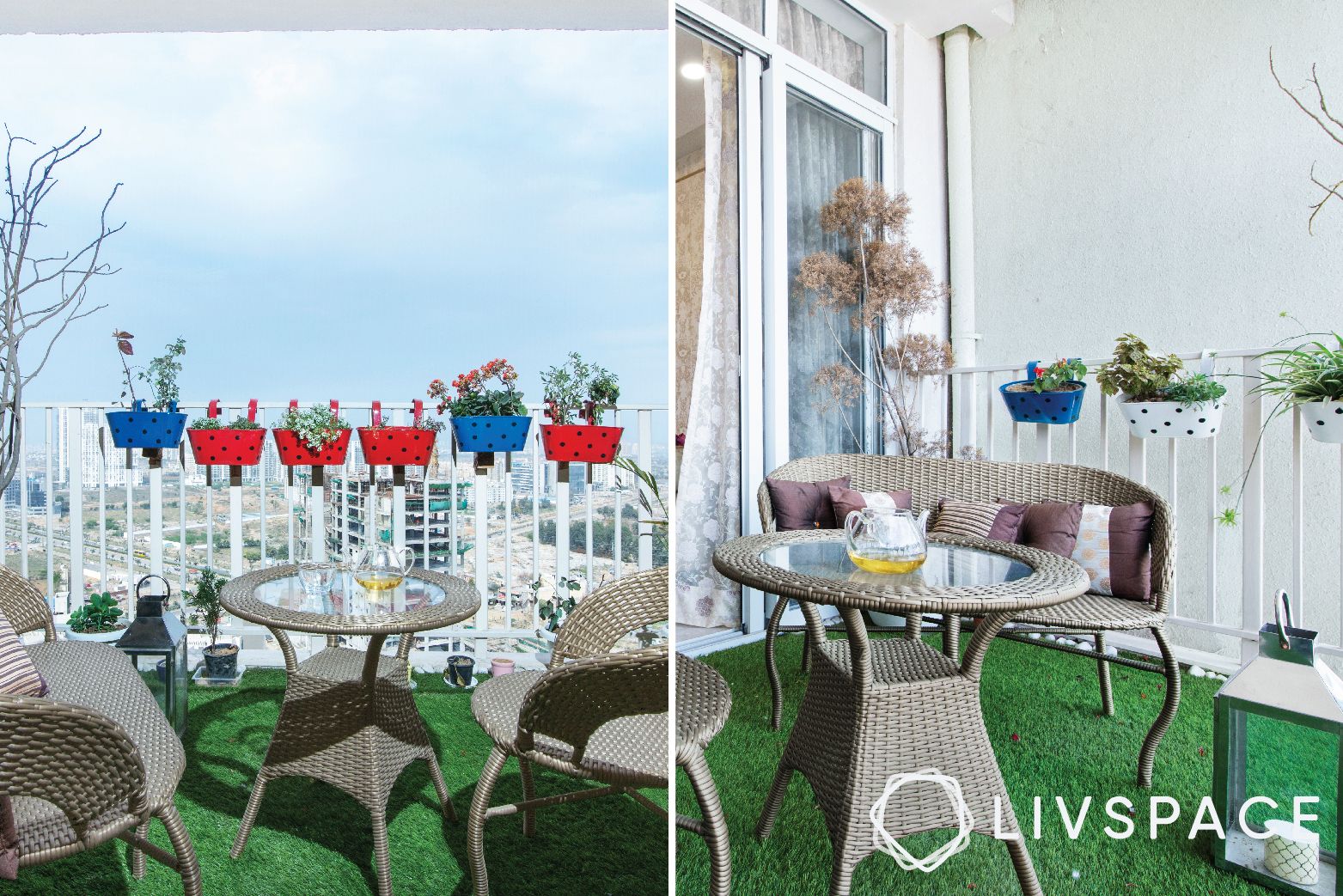 This small balcony design for Mumbai homes is ideal for couples who like to start their day together, drinking their favourite beverage, and soaking in some Vitamin D. Wicker chairs, a coffee table, artificial grass mats and cute planters — and you are all set.
#10: Four's a Family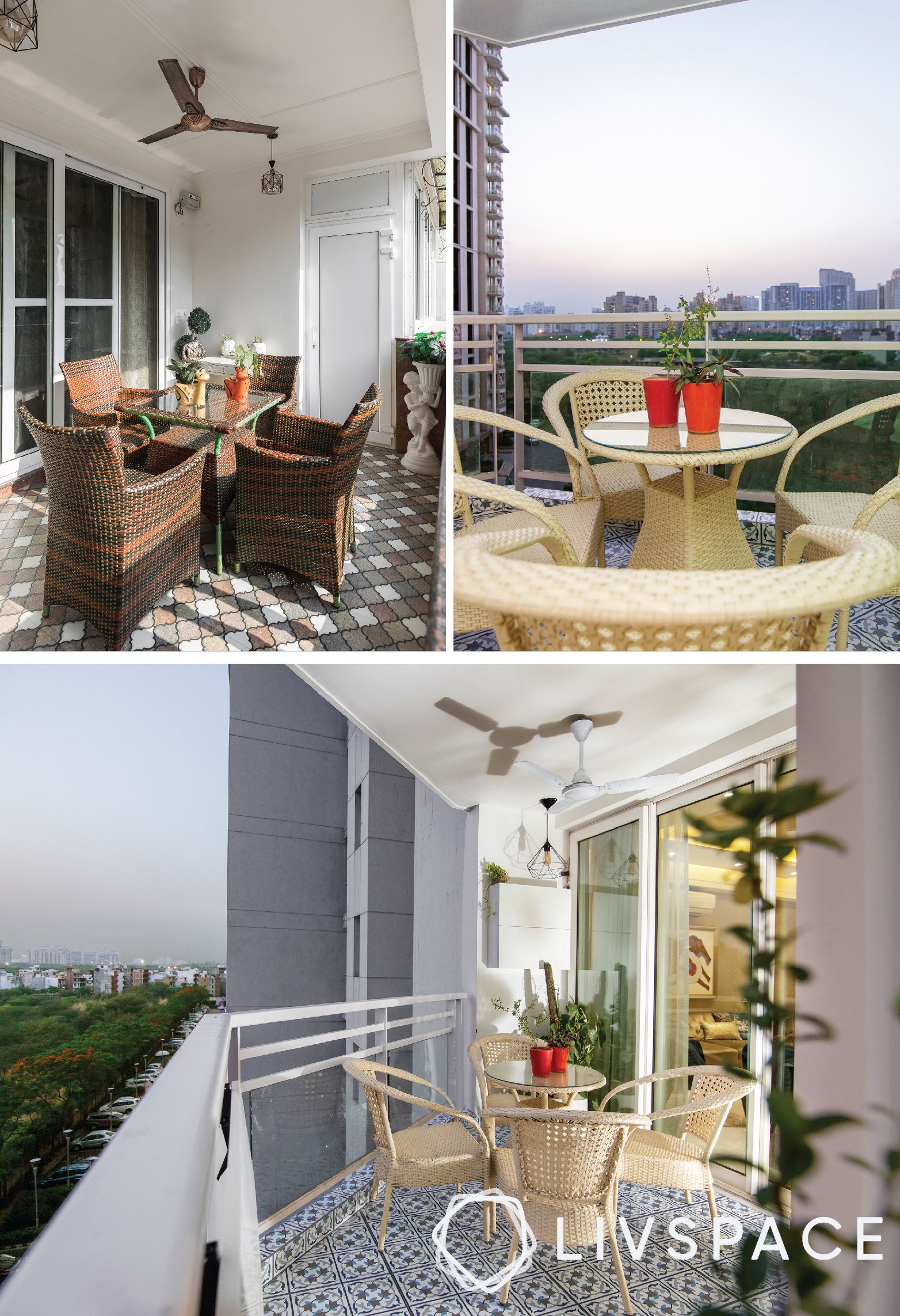 If you have kids, here are two good small balcony ideas for your Mumbai home. Cosy chairs, a small coffee table, mosaic tiles, some greenery, and a view complete the picture. You can add quirky planters and other décor items to make it interesting.
#11: The Sky Bar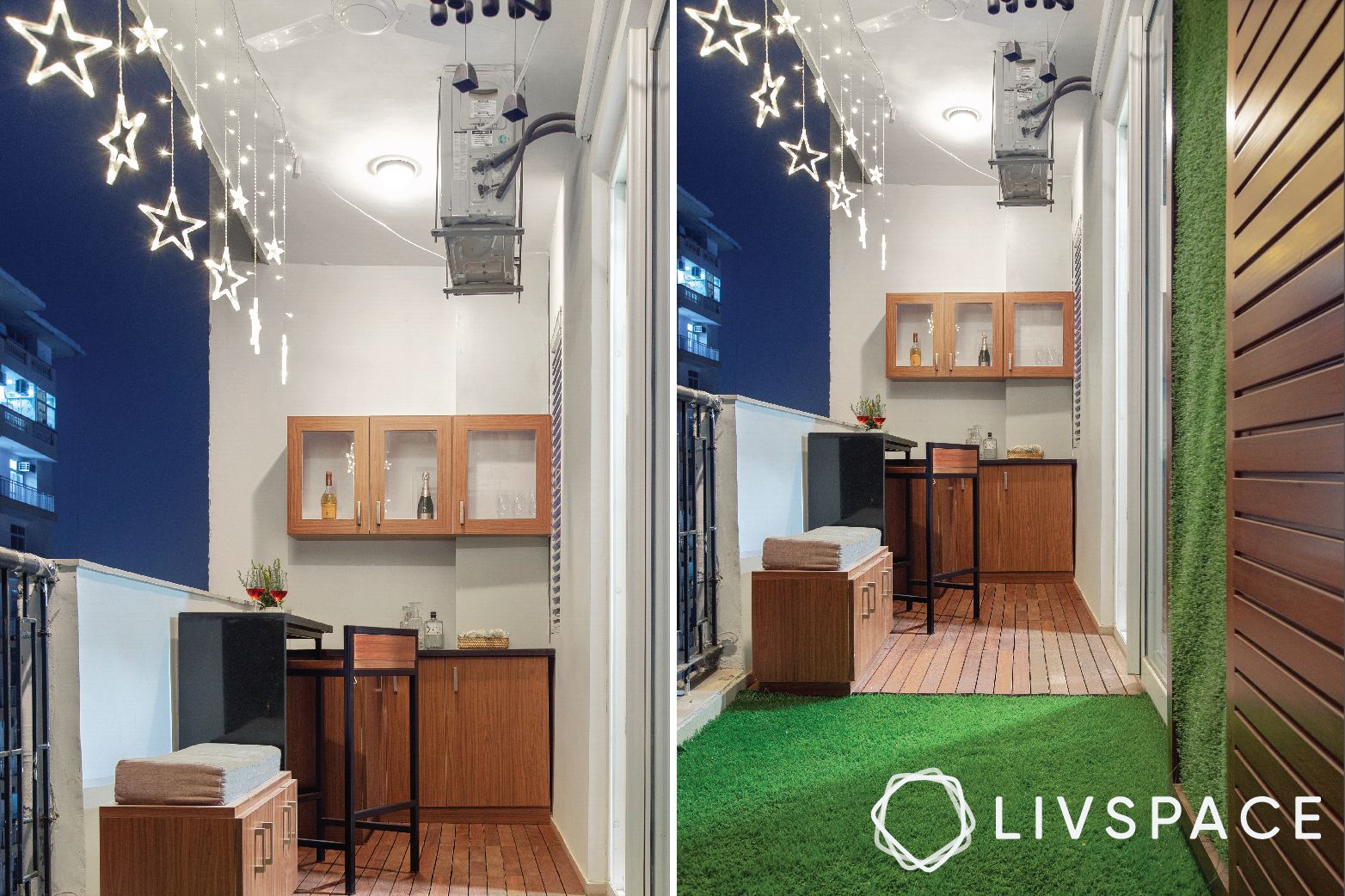 If you enjoy a drink or two, but don't like heading out to a bar in the crazy Mumbai traffic, this one's for you. Whether it's the cushioned bench or the mounted shelf and base units, this is amongst the best small balcony design for Mumbai homes you could go for. Notice how it has created ample storage for all the bar essentials by using the vertical space?
#12: A Green Nook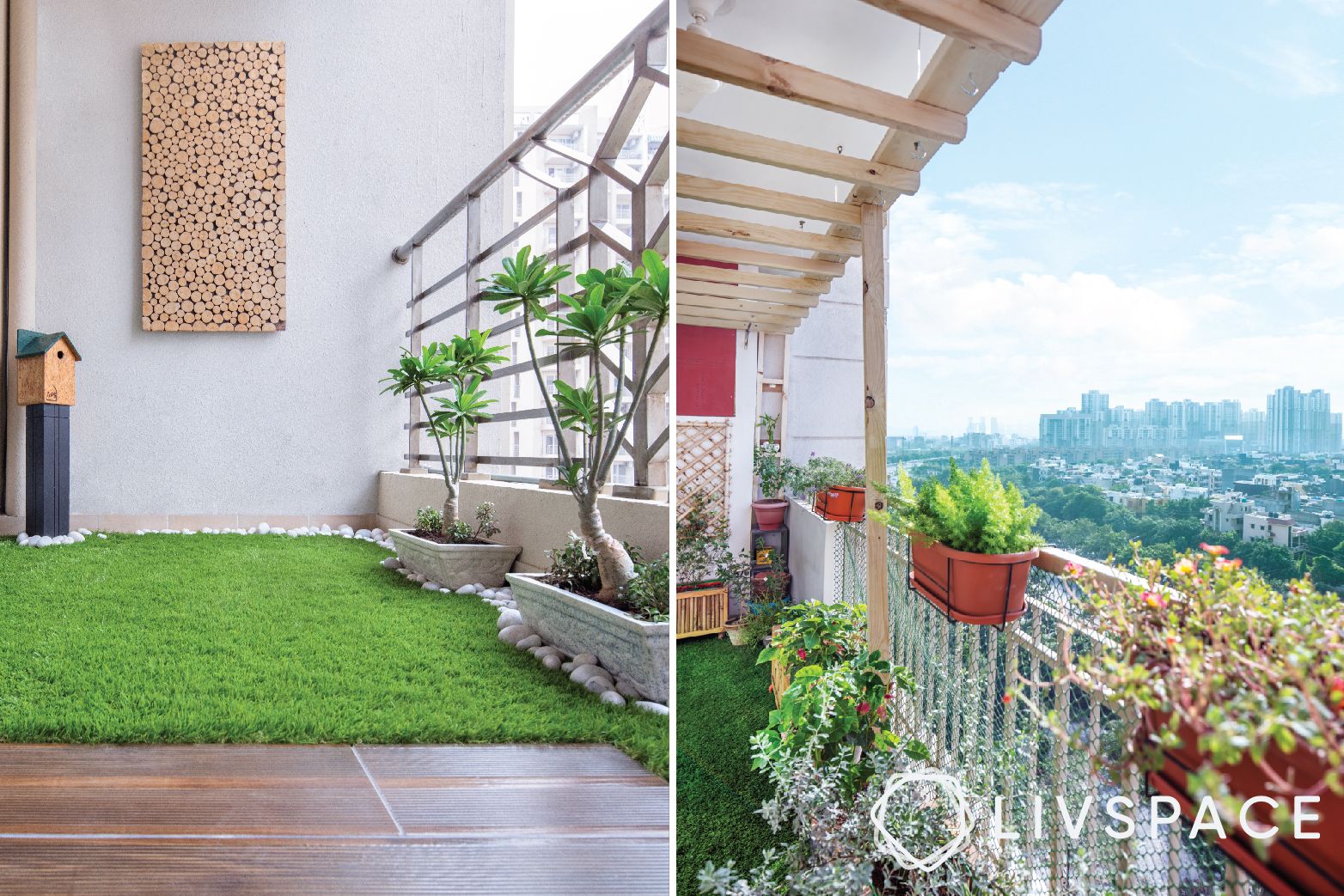 This small balcony design in Mumbai is done up with wooden flooring and rafters, green turf, a lot of plants and a whole lot of love. An upcycled hanging of wooden corks finds its place on one of the walls. We're sure the ambience is perfect to enjoy a cup of tea or grab a drink!
#13: A Pocketful of Sunshine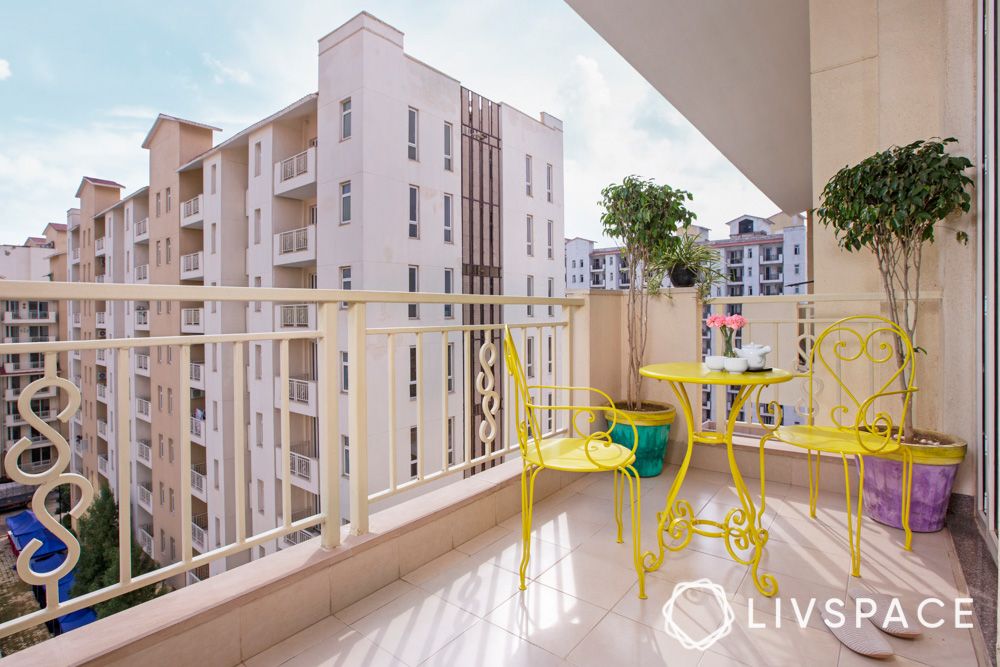 This Mumbai apartment balcony idea is so simple. The balcony gave us visions of perfect lazy afternoons spent there: clear blue skies, a hot cuppa, a nice book and you perched atop the sunshine chair. Oh, and the cherry on the cake? The furniture is all-weather-resistant! Take that, Mumbai rains!
#14: A Dash of Red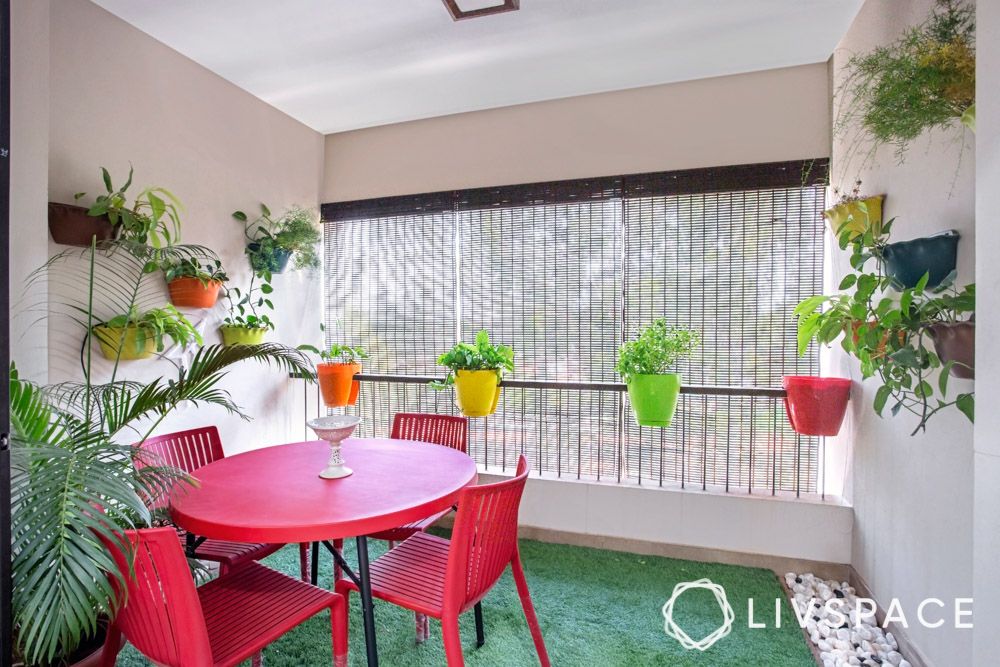 This small balcony design in Mumbai thrives on colours — red furniture, colourful planters, a mix of indoor plants, green turf and pebbles. The balcony has been netted to keep out pigeons while still letting in fresh air. What a refreshing cocoon!
#15: A Curtain of Freshness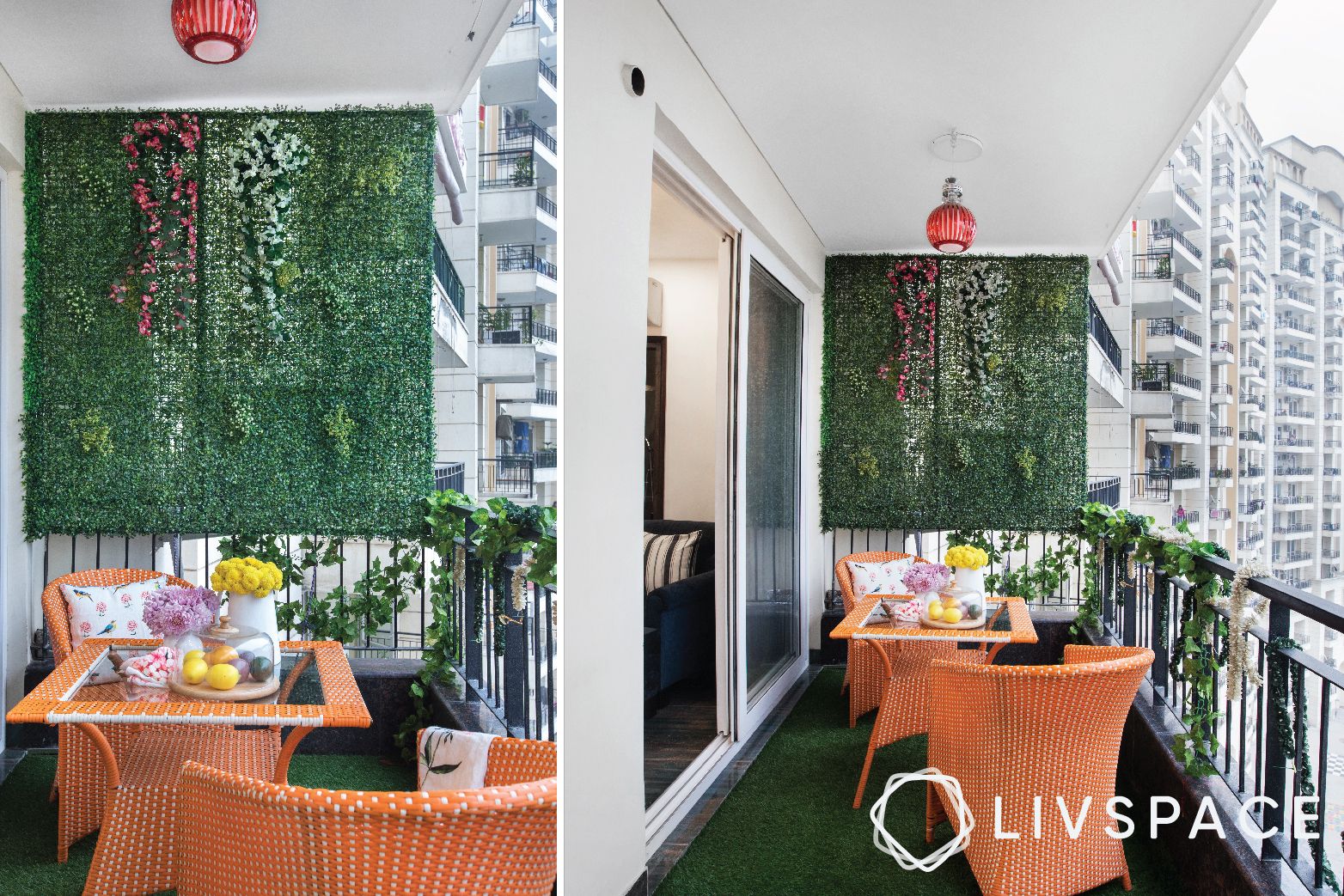 Who knew a grass curtain could work so well as a partition screen? While it ensures privacy, it also gives this small balcony design for a Mumbai home a fresh appearance. The orange furniture adds a pop of colour to keep things interesting.
#16: Swing It
Having a swing as part of your small balcony design in Mumbai can help you relive your happy childhood memories. A great small balcony idea for Mumbai is to use a wide swing, wooden rafters across the ceiling, interesting tiles on one side of the railing and a coffee table just for essentials.
#17: A Vertical Garden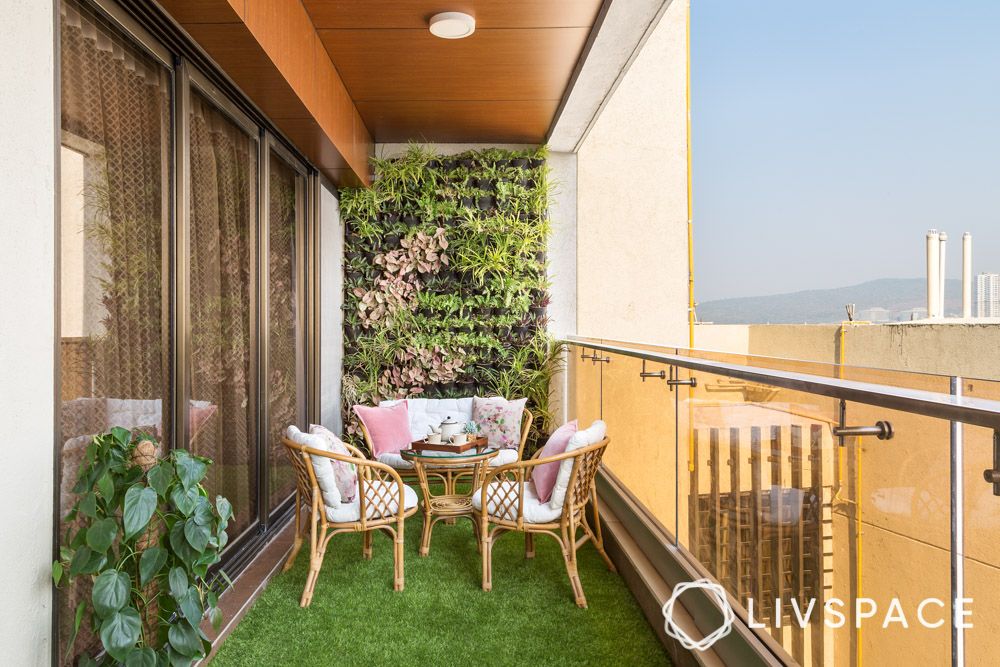 This one's for all those with a green thumb. You can easily fit this wonderful, vertical garden into your small balcony design in Mumbai. We would love to see more people adopt this idea. After all, we all know how precious green pockets are in a city like Mumbai. 
#18: The Kids' Corner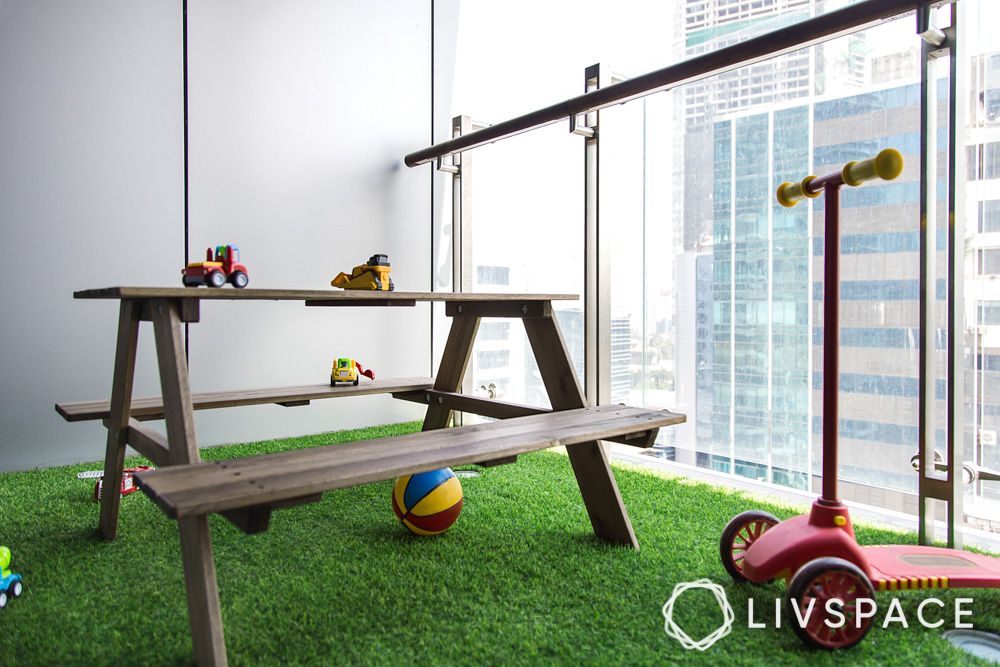 We're sure your kids will thank you for such a wonderful Mumbai apartment balcony idea. You too can join the fun at this lovely picnic table cum playground. This is also a safe place for your kids to have fun when they are stuck at home due to the rains.
#19: Cosy and Colourful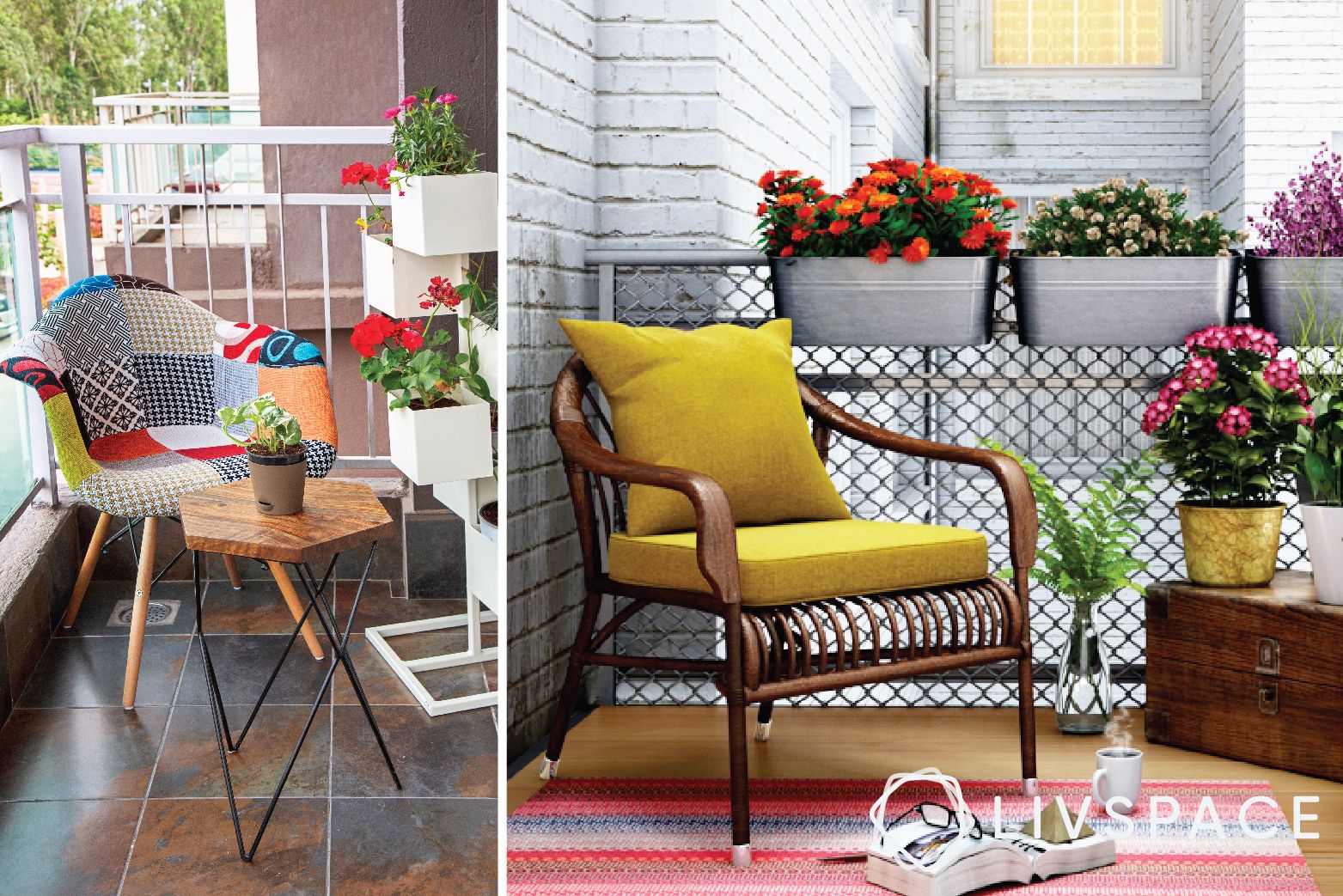 Need a small balcony design for Mumbai homes that is also colourful? Use a patchwork or a monochrome armchair, a vibrant rug or coloured tiles and beautiful flowering plants, and your Insta-worthy balcony is ready.
#20: Curl Up With a Book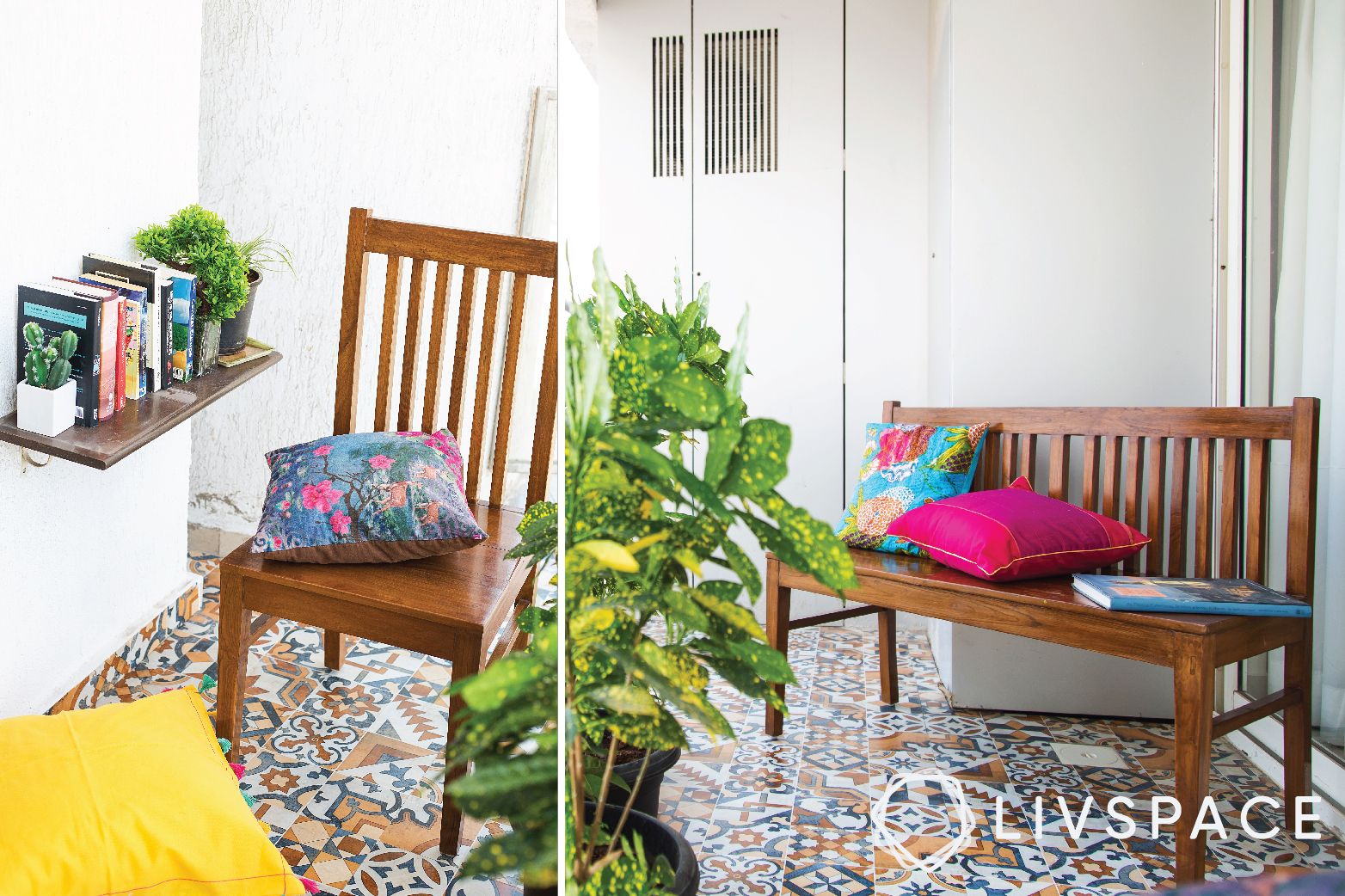 If you are someone who just cannot do without a book wherever you go, this balcony idea for small spaces in Mumbai is just for you. Look at that tiny rack in this balcony design. Isn't it lovely? The throw pillows and the mosaic tiles add just the right pop of colour.
#21: Stargazing Moongazing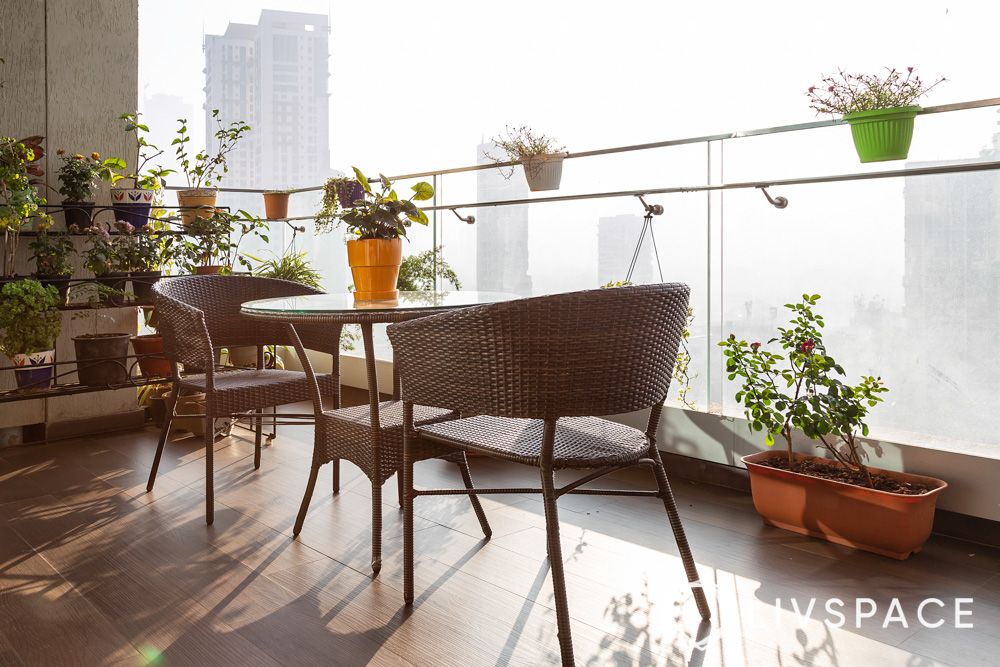 Stargazing may not be possible in the city that never sleeps, but hey, the moon's out every night. Include a few chairs and a table in the small balcony design for your Mumbai home and then sit back and enjoy the moon's nightly parade. You can also throw in some colourful planters to have an equally beautiful view during the day.
#22: A Meditative Spot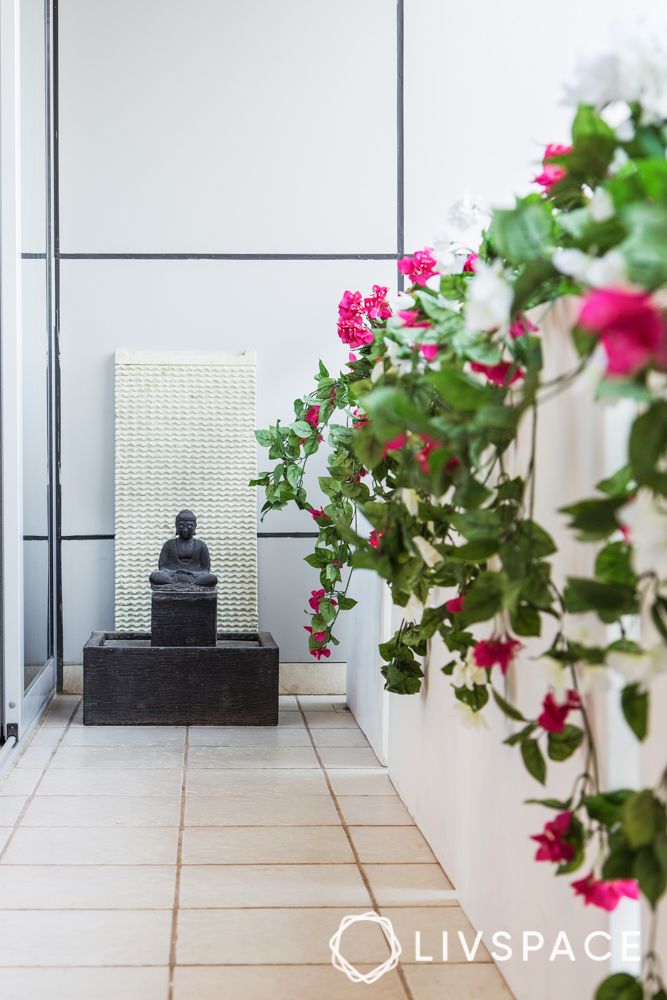 Your small balcony design in Mumbai can also include a space for relaxation and meditation. Place a Buddha statue and add some ambient lighting and greenery. Your very own meditation/yoga spot is ready in no time.
#23: Burst of Yellow or Blue?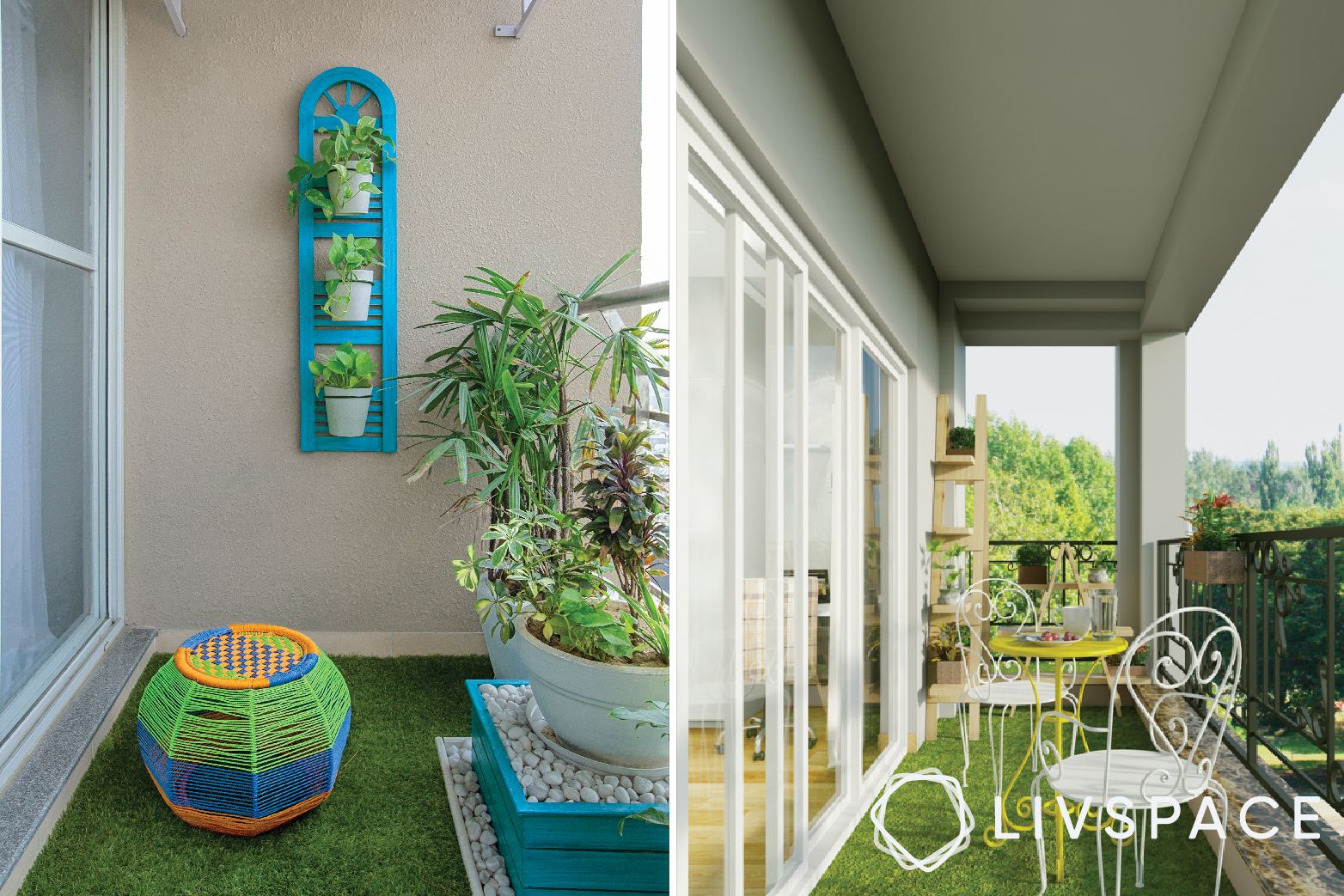 A little bit of colour goes a long way in adding some zest to a small balcony design for your Mumbai home. Bright, beautiful colours and fresh air are all you need to perk you up every morning.
#24: An Oasis of Calm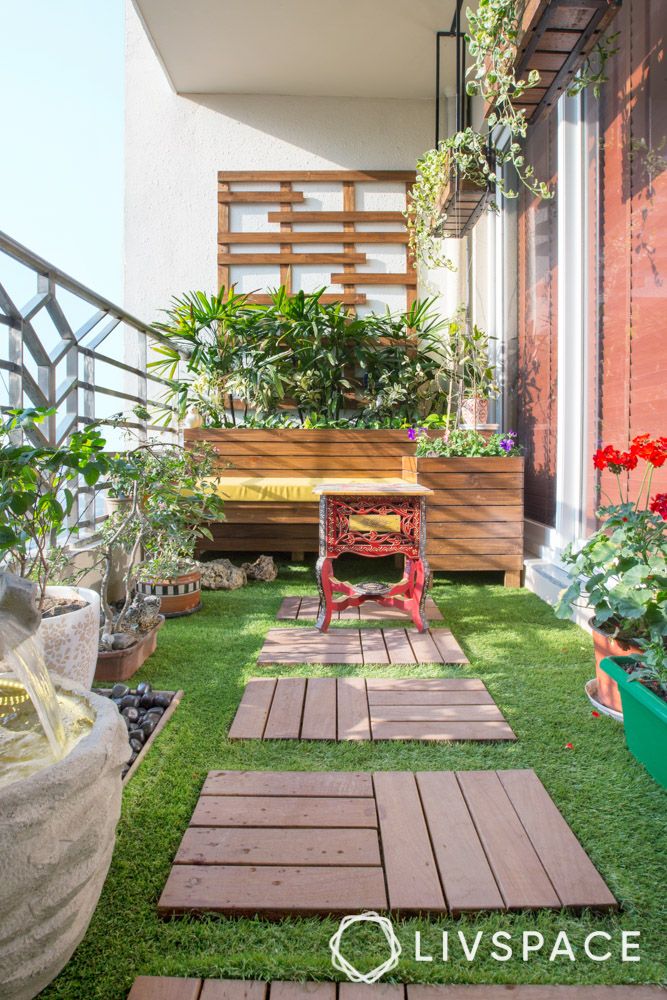 Want to create a miniature garden complete with a walkway, a stone water fountain, some greenery and cosy seating, but can't figure out how to fit ALL of that in your small balcony design? We hope this image helps!
#25: The One With the False Ceiling and a Flying Car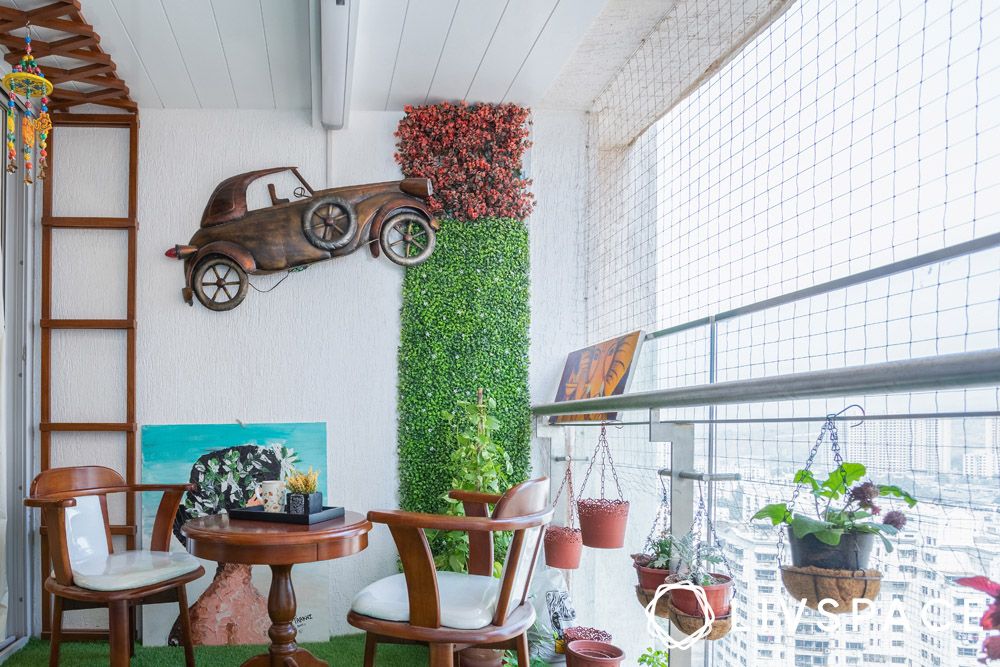 Who says you can't do anything with a small balcony but dry clothes? Get chairs and a small table, use the walls for some quirky décor and you are all set for intimate coffees with your S.O.
Now, there's every chance that you have a bigger balcony in your Mumbai apartment and want to look at some ideas on decking that up. We have that covered as well.
Balcony Ideas for Bigger Spaces in Mumbai
#1: The Deck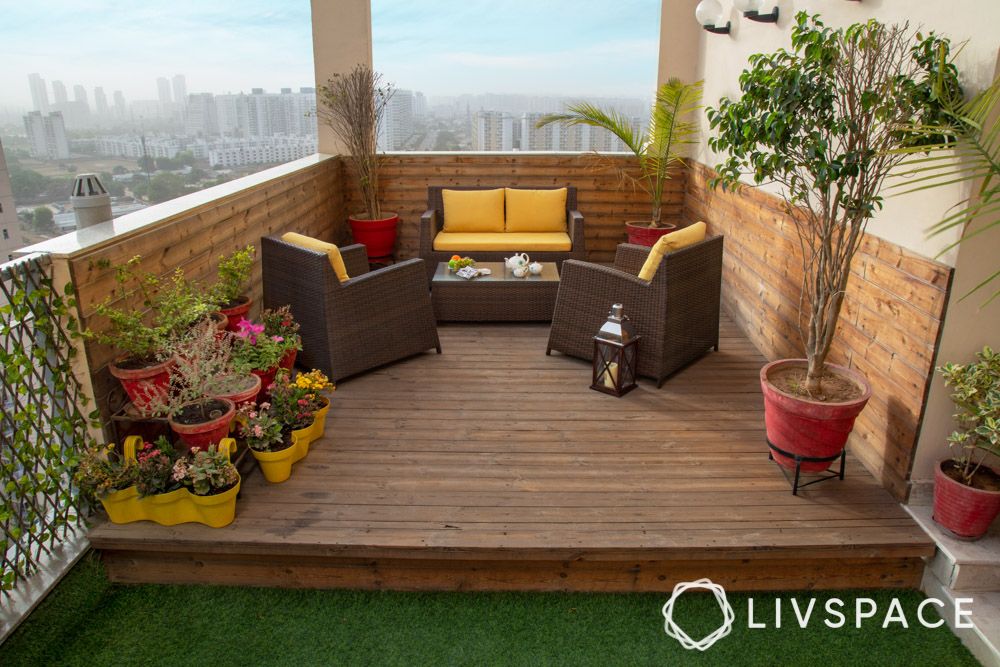 This is one of our most unique Mumbai apartment balcony ideas! With a pinewood deck, rattan furniture and added height to enjoy the view, this balcony surely makes a powerful statement. We love how the space is sprinkled with splashes of colour as well.
#2: A Breath of Fresh Air!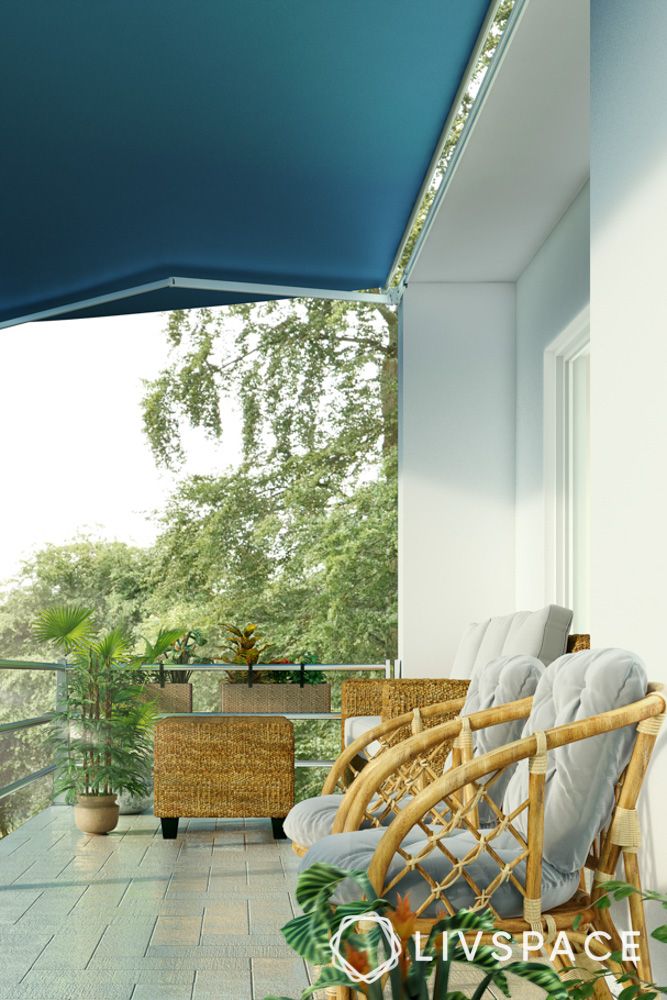 Want to keep it simple? Some balcony designs require no effort, really. Just find good old cane furniture that can be teamed with plants for a comfortable newspaper reading time with the missus! And there's also a beautiful blue awning to protect you, come Mumbai rain or shine.
#3: A Fairytale Setting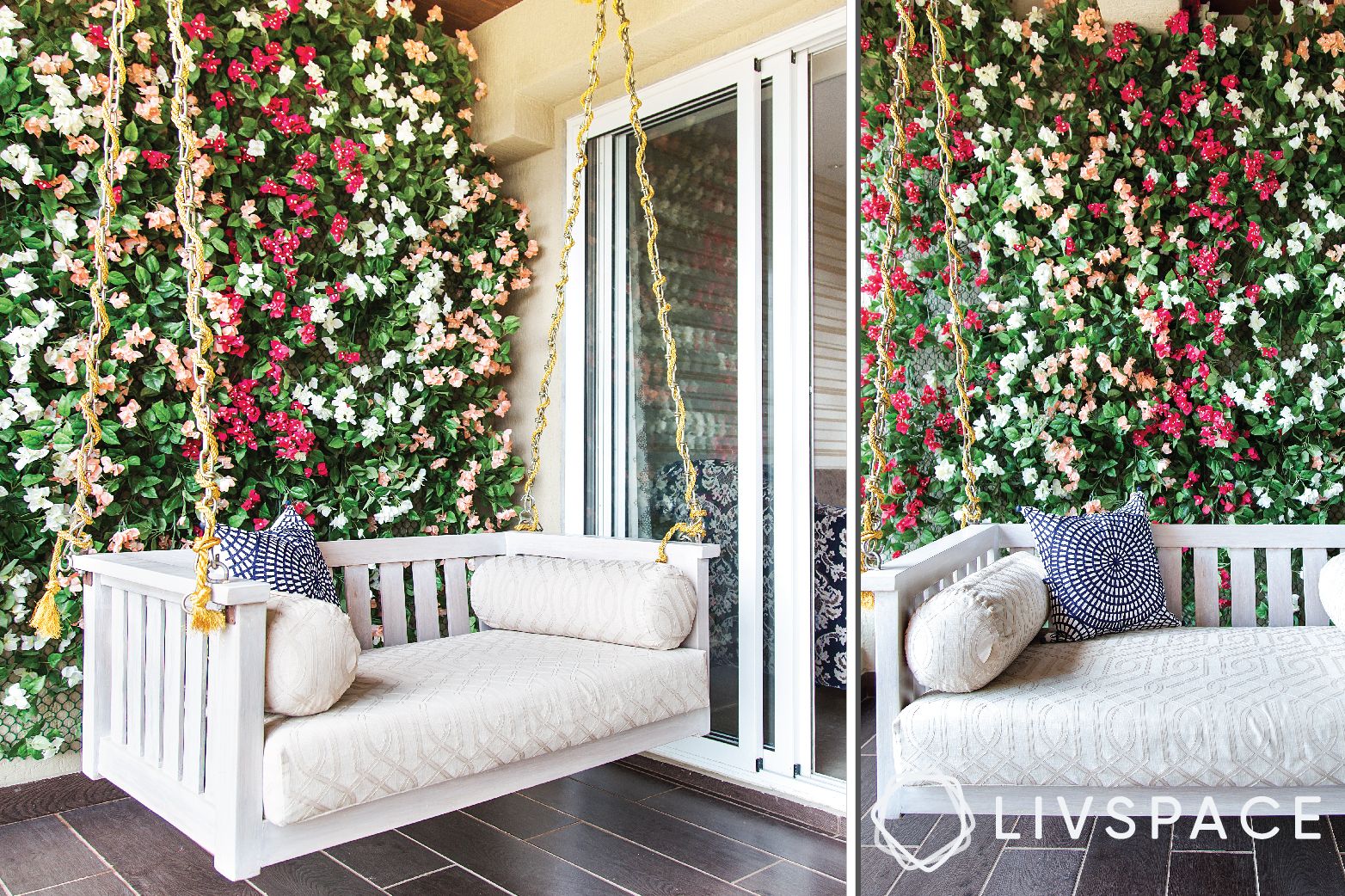 Love to take pictures? This Mumbai apartment balcony idea offers the perfect spot. A vertical garden for the balcony is a great option. The white and pink bougainvillaea with fresh green leaves add vibrancy and life to this space that's also furnished with a swing.
#4: With Different Types of Seating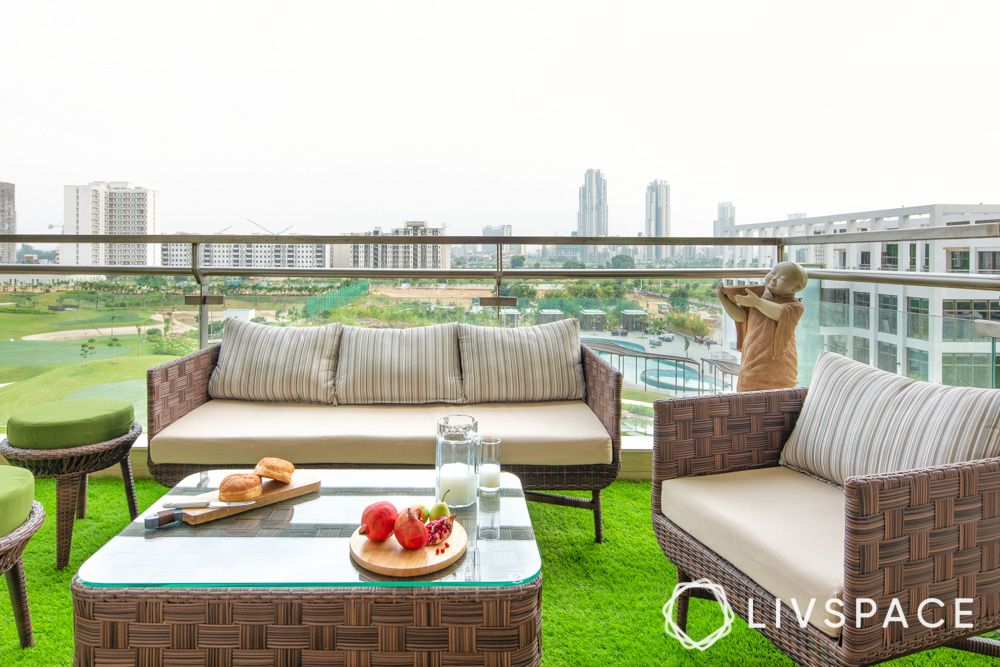 How dreamy does this balcony design look? With a comfy wicker sofa, bar stools and a table perfect for brunch days, the space certainly is the highlight of any conversation. Throw in a faux grass patch and you are all set!
#5: And They Were All Yellow…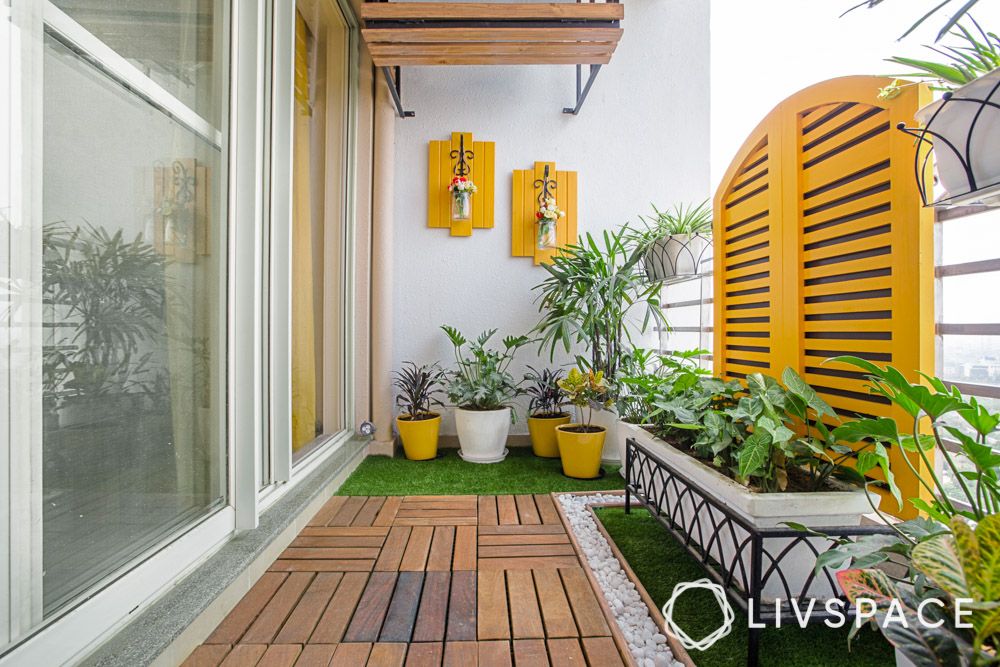 This balcony design looks so vibrant with the brilliant pops of yellow used in the planters and décor. The wooden floor tiles make the space look like something out of a catalogue!
#6: Out in the Open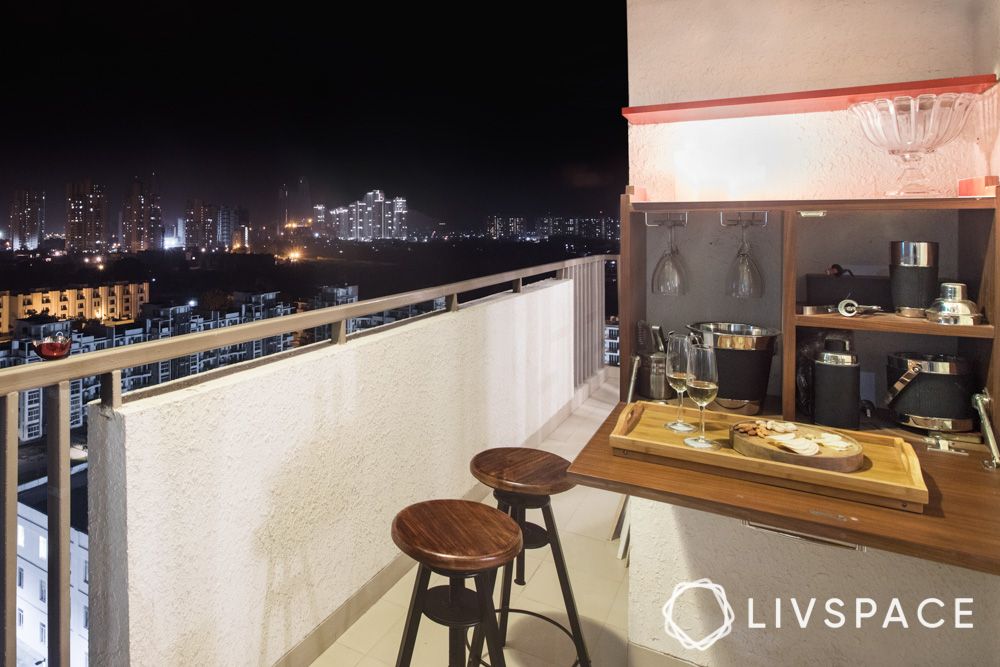 Have enough space in your Mumbai home for a balcony design with a gorgeous view? Take advantage of it with a sleek bar unit. The cabinet door doubles up as a table when it's pulled down.
#7: Truck-Inspired Bar Unit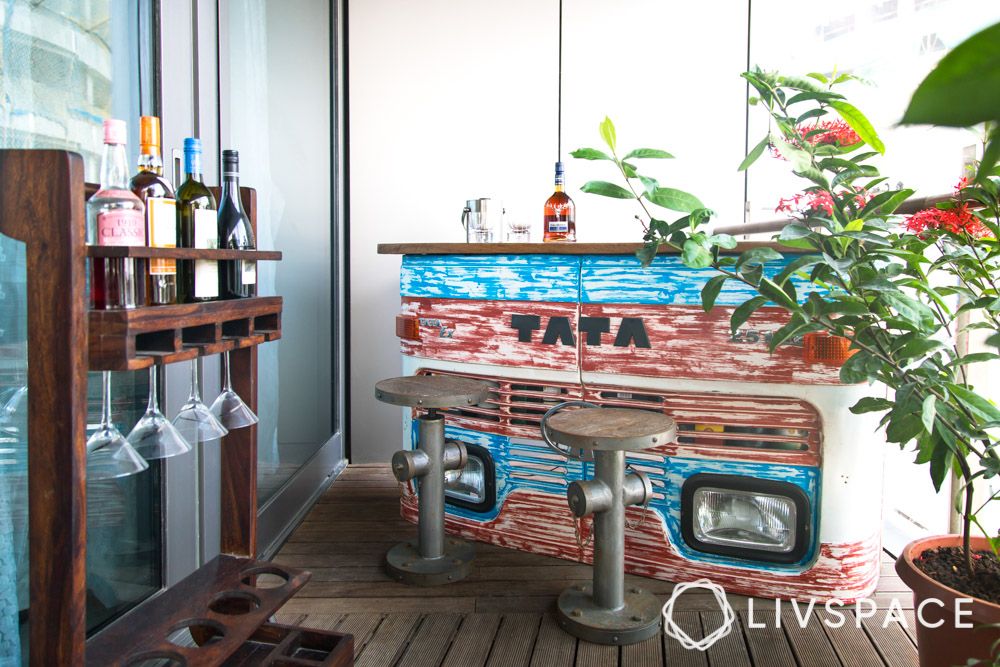 Calling all party folks! Cheers to a wonderful bar unit upcycled from a Tata truck front mask in this Mumbai apartment balcony idea. We're sure you'll look forward to lively weekends with this adorning your balcony.
#8: Playing It Safe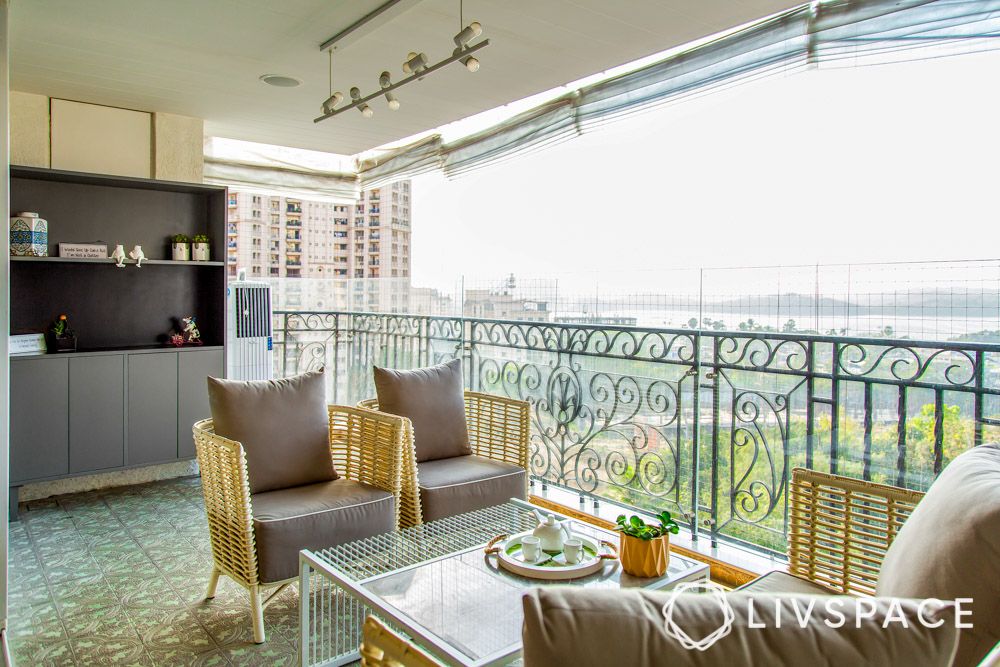 You can install vertical blinds, a safety net and polycarbonate sheets to enhance safety, like in this Mumbai balcony. The patterned tiles, the balcony grill design and the white false ceiling add interesting design elements to the mix. And there's also space for an air cooler to beat the Mumbai heat!
#9: Killing It With Minimalism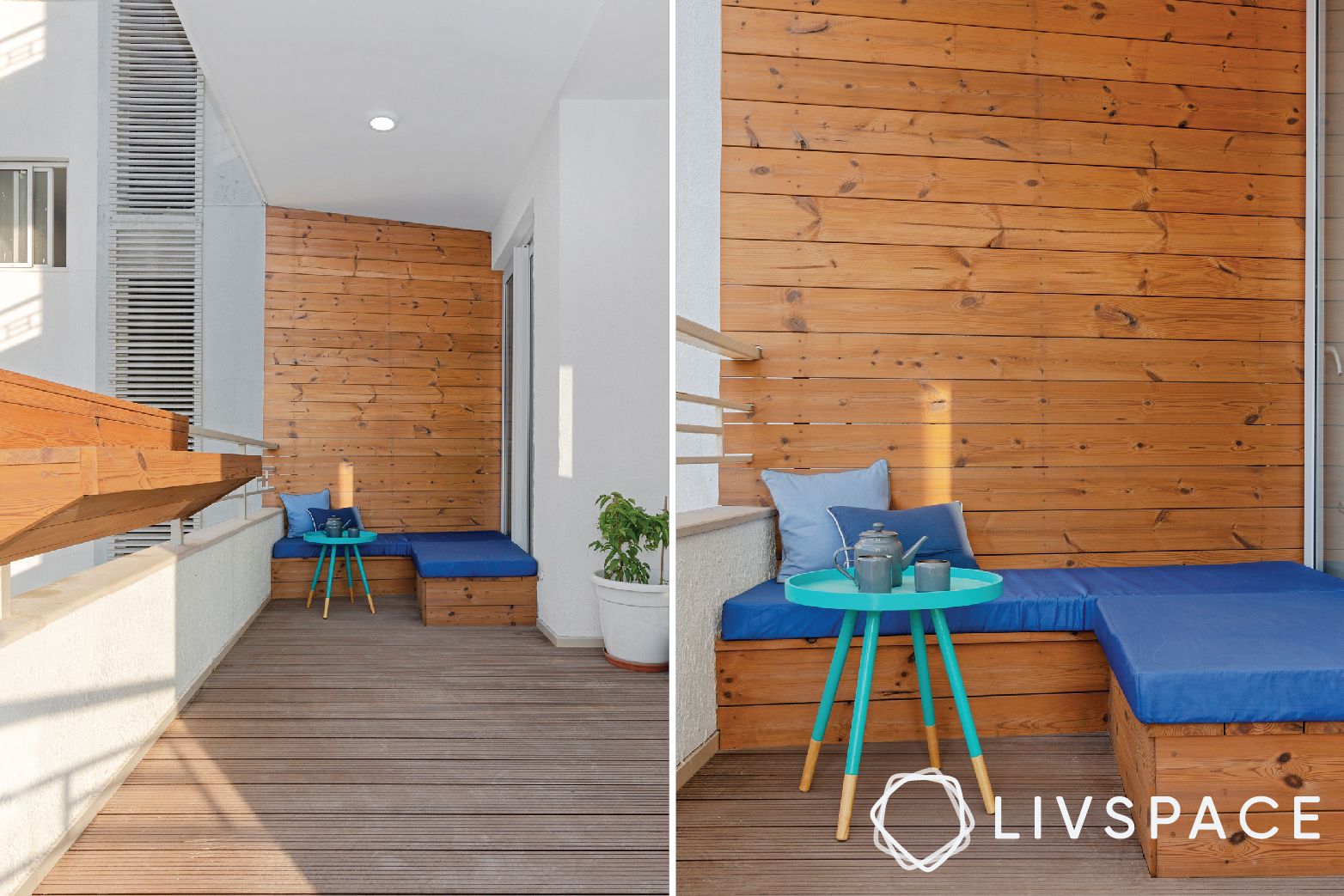 This Mumbai apartment balcony idea is for you if you believe in keeping things simple. An L-shaped seating arrangement, a ledge attached to the railing that can double up as a standing desk, and a few potted plants complete the décor.
#10: Bombay Blues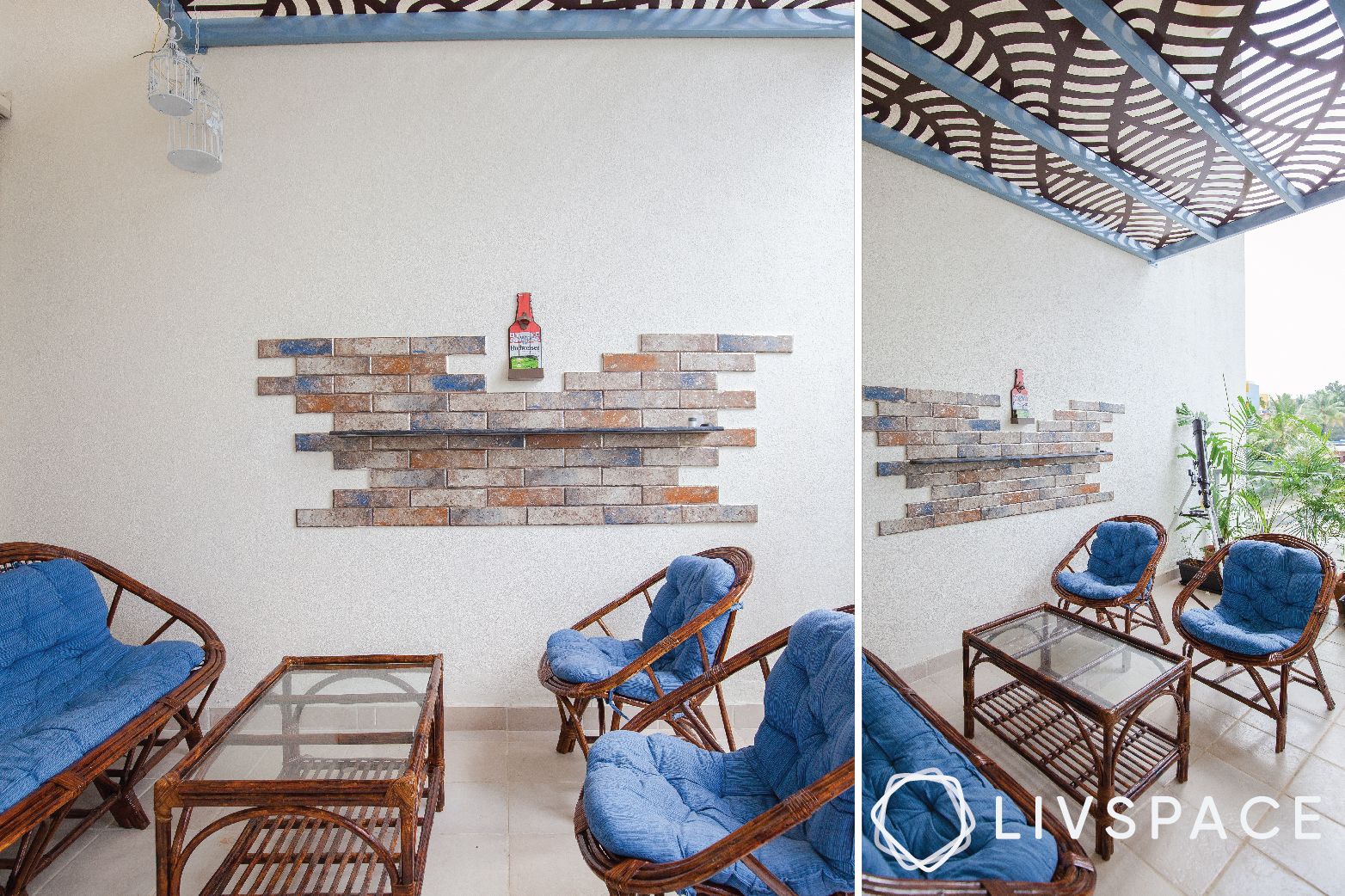 This balcony looks so warm and inviting with its smart use of blue on brown. The decorative ceiling, the wall sticker of stone cladding and the beer bottle coaster holder add to the charm of this balcony design.
We hope by now you have found enough inspiration to deck up the small (or large) balcony in your Mumbai home. Here's to spending more relaxing moments on your lovely balcony after a hectic day at work.
How Can Livspace Help You?
If you want stunning interiors, then look no further. Book an online consultation with Livspace today. Delivering safe home interiors has been our No. 1 priority. Click here to find out how interiors are being delivered following all safety protocols.
Wondering how our customers feel about working with Livspace? You can check out the Livspace reviews here!
Have some amazing balcony design ideas? Share them with us at editor@livspace.com.