If you are lucky enough to have a little private space in the sky, then you should be drawn to setting it up and making the most of it. These high-rise home balcony design ideas are sketched out for all activities. Despite its size, you can give yourself a party deck, a meditation corner or both! Just throw in a few of our ideas and you are good to go.
Take cues from our list of fun balcony interior designs that are making their way into our Livspace homes.
Home Balcony Design #1: Designed With Wooden Panelling & Minimal Seating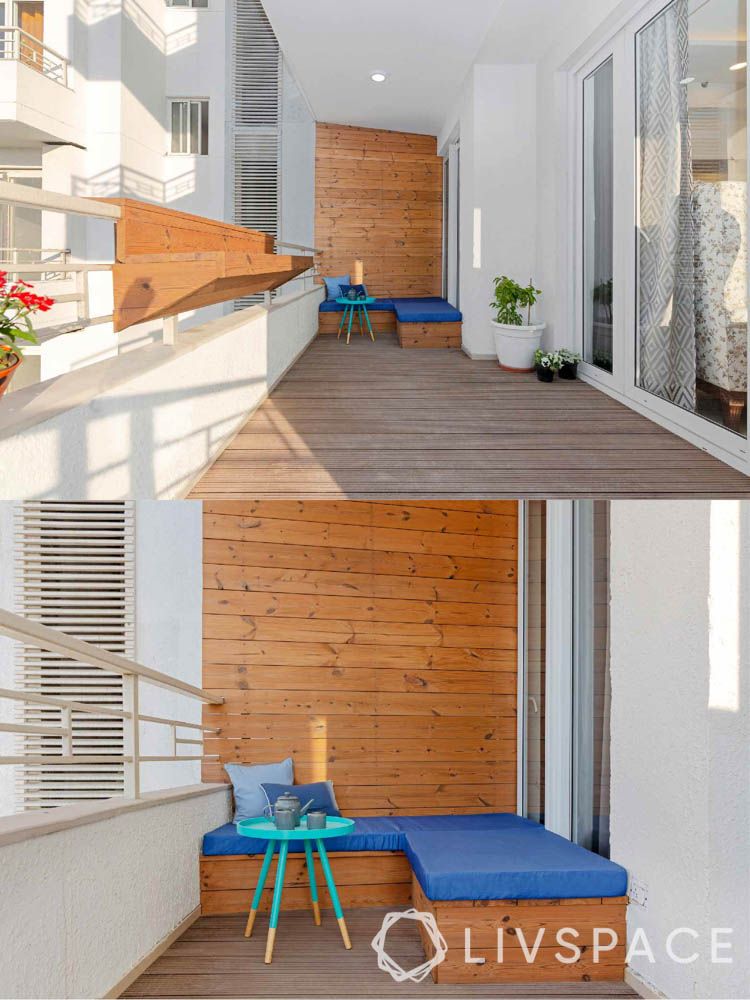 If your balcony receives a lot of footfall and is constantly buzzing with activity, opt for smart flooring and seating. Here we have opted for minimum seating in the corner. The wooden panelling is a good insulator of heat and works for extreme temperatures.
Home Balcony Design #2: Flooring Designed With Moroccan Tiles
Every home deserves a peaceful corner for some birdwatching or maybe, some quiet self reflection. Moroccan tiles in a monochromatic design steal the focus in this balcony. Moreover, the pergola designs and metal seating makes this balcony the perfect escape from a bustling city life.
Home Balcony Design #3: Build a Bamboo Roof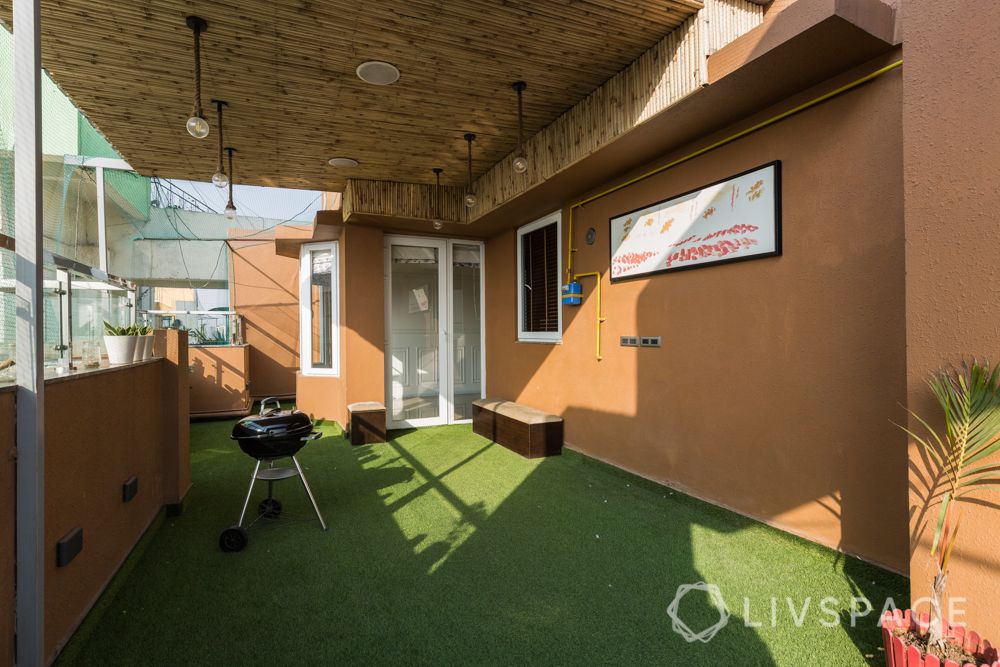 Gathered the entire family for a barbeque brunch but the harsh sun is ruining everything? A treated waterproof bamboo roof can keep your balcony cool in summers and dry in monsoons. This eco-friendly option can last you 3-5 years.
Home Balcony Design #4: Enhance With Potted Plants and Artificial Turf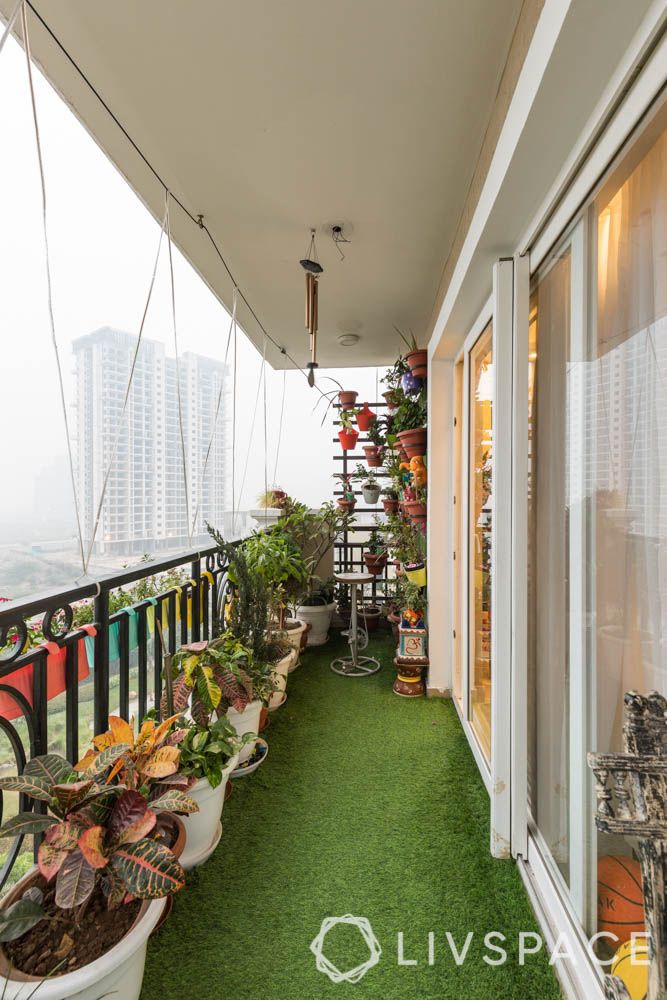 A living room with an attached balcony makes for the perfect party hub. Don't you agree? Keep it comfortable and festive all year round with artificial turf and colourful flower pots. For a narrow balcony, bar stools are a great choice.

Home Balcony Design #5: Hanging Planters and Plant Rack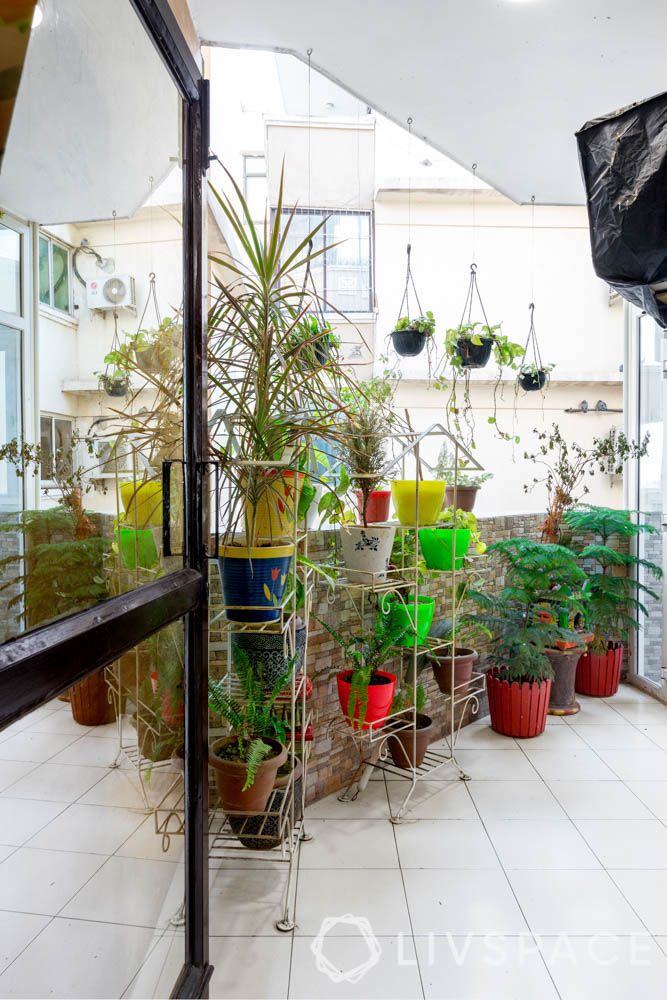 For the passionate cook in you, turn your balcony into a vegetable and herb garden. Accommodate more plants with a plant rack and hanging planters that acts as a great space-saving hack.
Home Balcony Design #6: Transform a Balcony into a Deck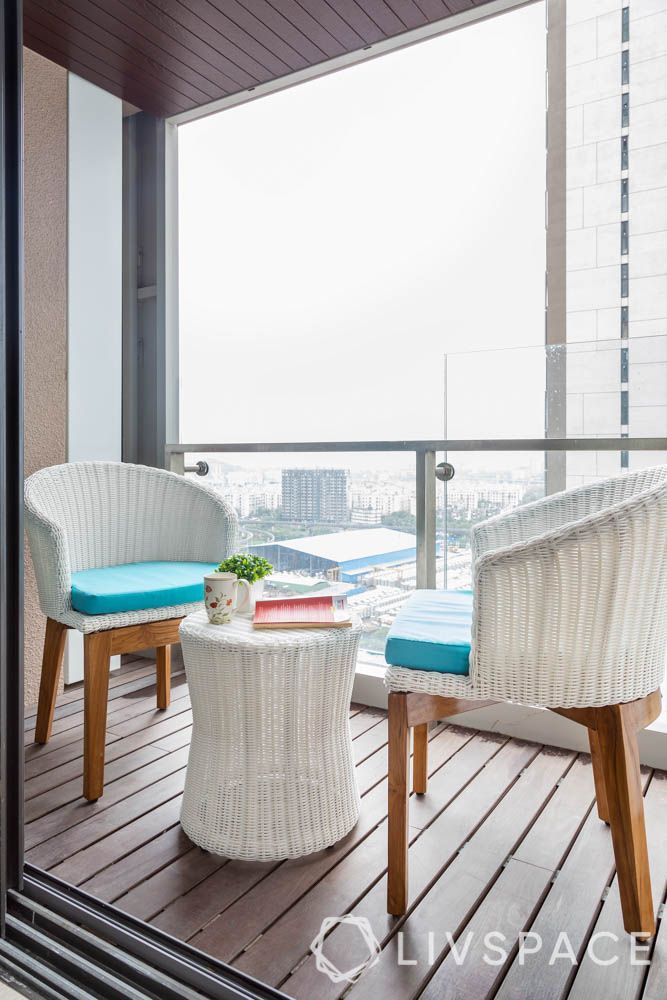 Turn your high-rise balcony into a reading deck with wooden roof and flooring designs. Lastly, throw in some stylish wicker furniture. Here, the rattan wicker furniture comes in set with a white coffee table and makes for a perfect spot to enjoy a cup of chai in the Mumbai rains.
Home Balcony Design #7: Install a Decorative Jaali Roof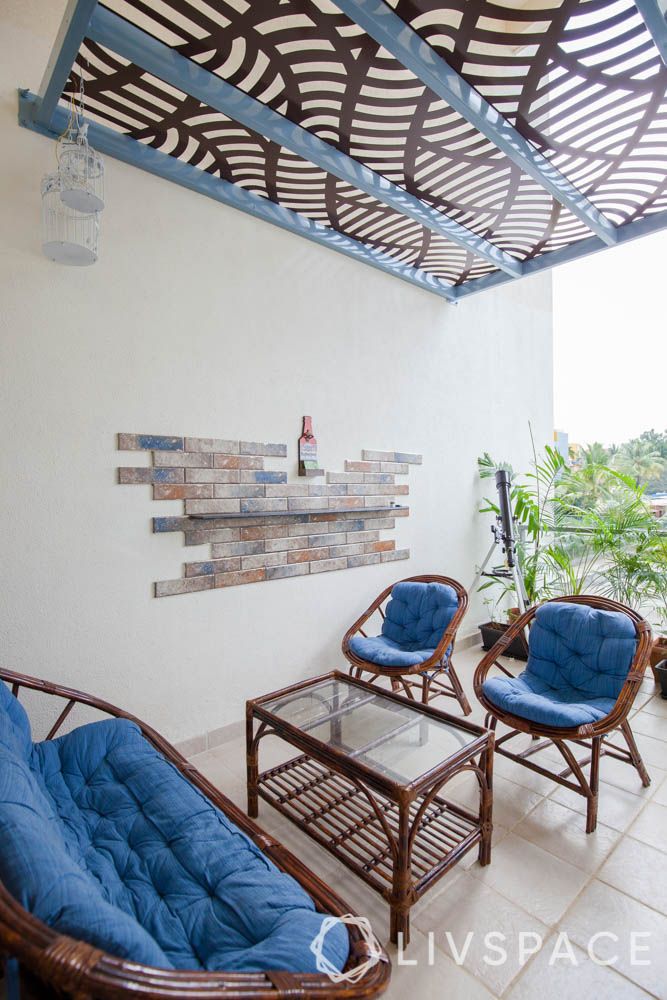 Nothing ends a fun game night like a fight over a game of UNO. Take your gatherings outside with a full set of furniture. Moreover, this false ceiling is made of metal rafters and a laser cut CNC sheet. The myriad patterns in this ceiling are perfect for a kaleidoscopic play of light.
Home Balcony Design #8: Opt for Rattan Wicker Furniture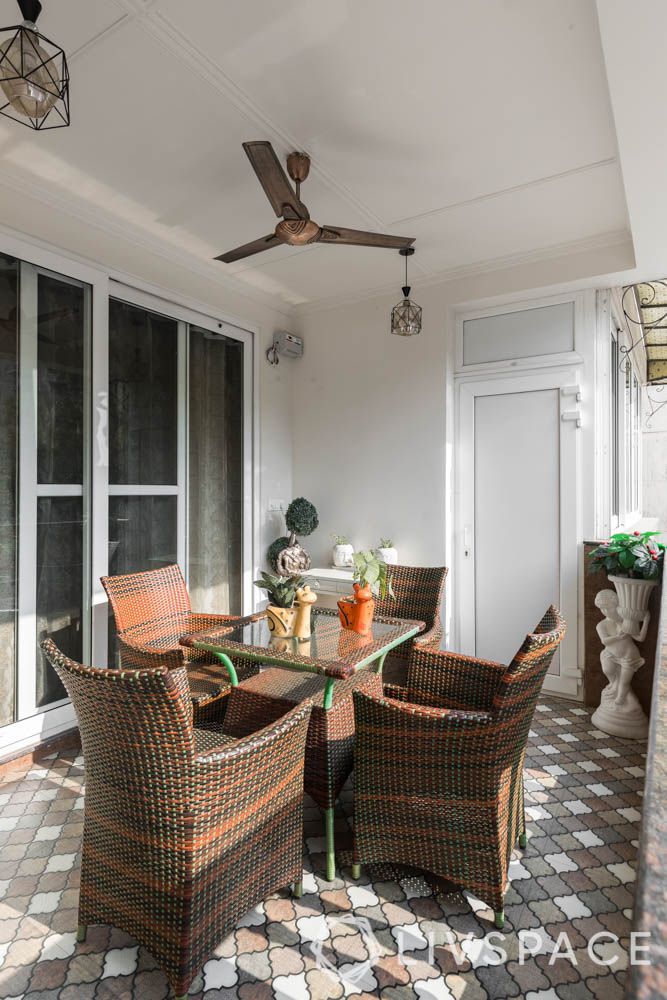 Wicker makes for the perfect outdoor furniture as it is waterproof and durable. The brown wicker dining set. This space flaunts lovely moroccan tiles on the floor and pergolas that deck up the space. Pretty planters add to the greenery.
Home Balcony Design #9: Place a Chair Swing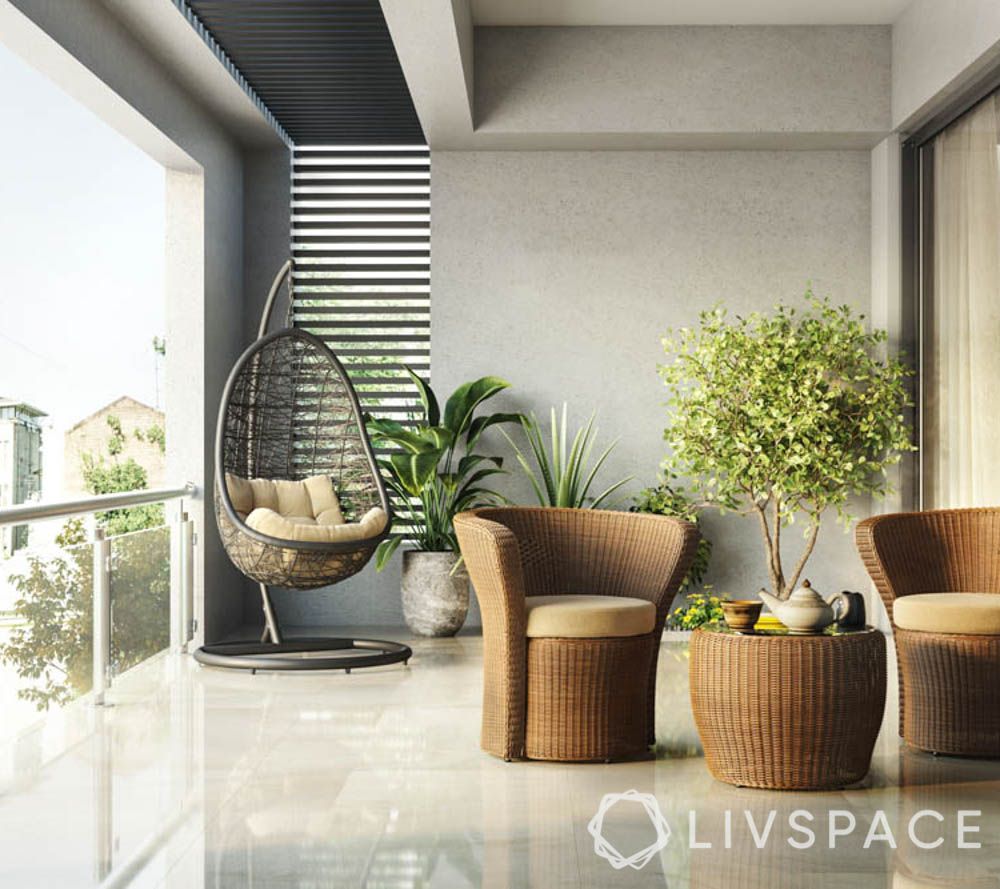 If you have a spacious balcony, you have limitless decor options. With a balcony as big as this, you can opt for fun seating options like hanging chairs and plenty of potted plants.
If you liked these balcony designs take a look at, Starting a Balcony Garden is Easier Than You Thought
If you loved this and are looking for some balcony seating ideas, go here!