A breathtaking view, refreshing air and a relaxing setting are all reasons why we insist on getting a home with a balcony. So wouldn't it be a crime if you didn't do it up with good seating? We have a few balcony seating ideas that suit modern balconies. Sit back and enjoy the view as you lounge comfortably.
Balcony Seating Ideas #1: Swing it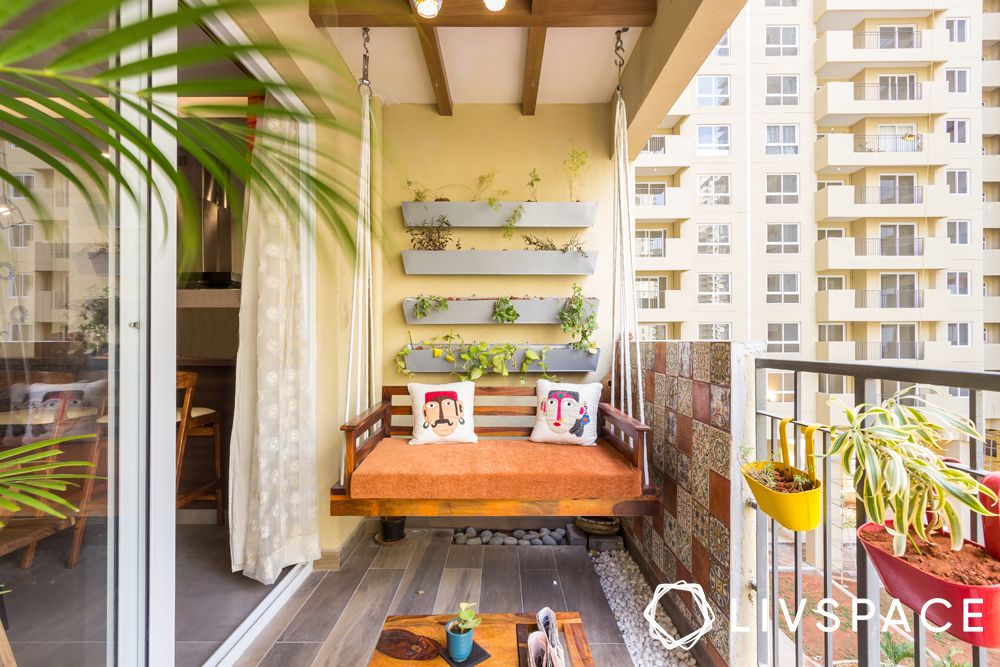 A sleek swing paired with a coffee table will fit into a compact balcony and provide plenty of seating for when you want to enjoy a cup of coffee with your significant other. Using the space optimally, this setup is ideal for varying moods while it provides a nice deck to enjoy the sunset.
Balcony Seating Ideas #2: Cheers to Tranquility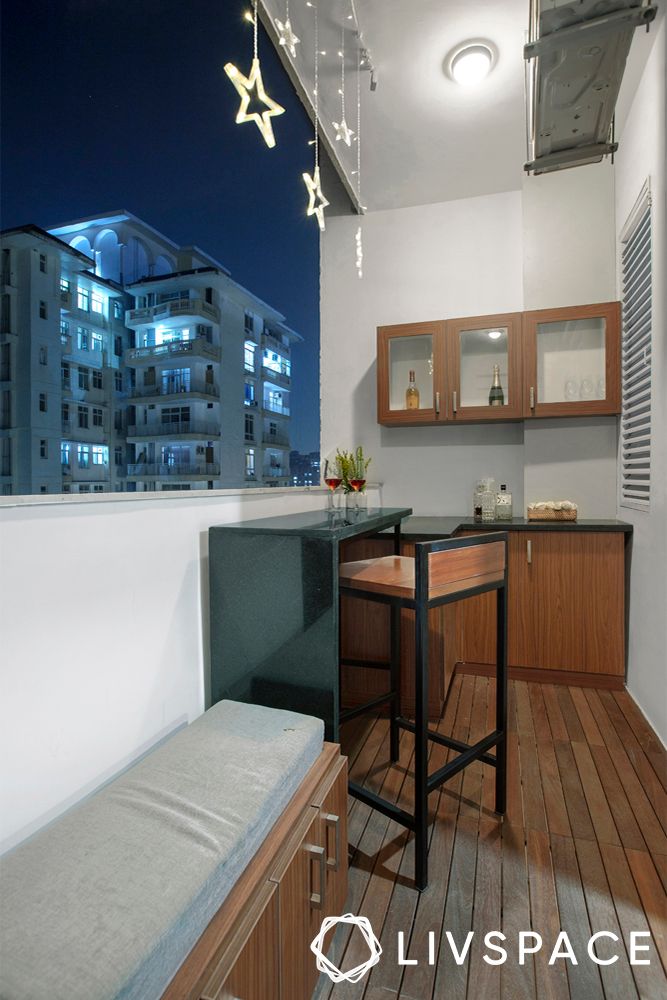 While many might not prefer to have a bar unit in the balcony, this home designed by Livspace features an open bar with a serving table. The high chair fits the bar to a T and there is a cushioned bench as well. Let this inspire a balcony makeover in your home!

Balcony Seating Ideas #3: Weave them Together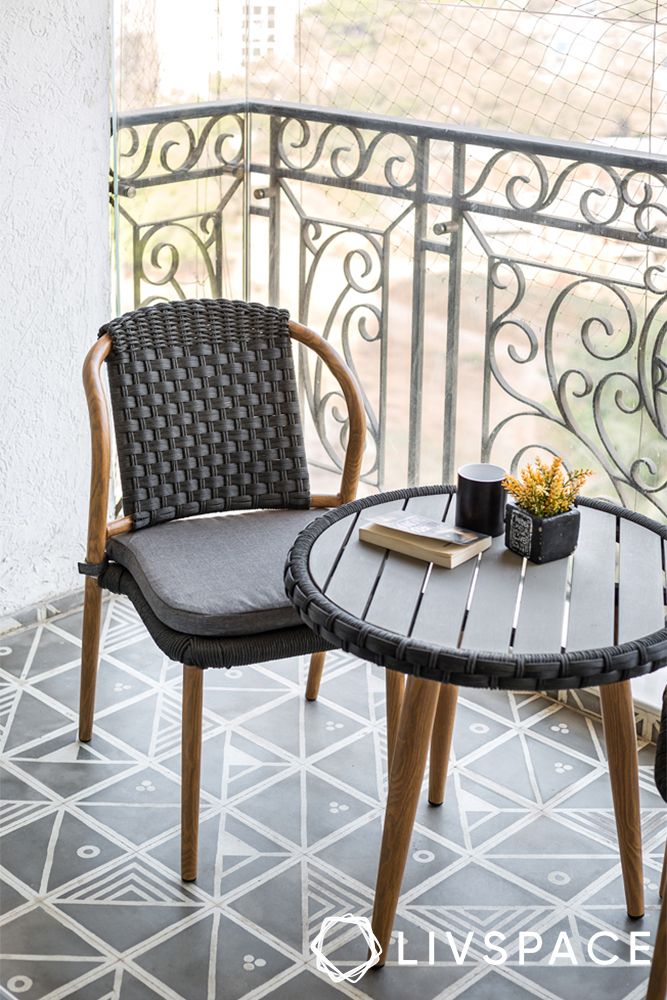 Hand painted tiles like this could make all the difference to a tiny balcony. Add a couple of wicker chairs and a coffee table. Now you can enjoy your mornings out on the balcony with a cup of coffee and a book to go along.

Balcony Seating Ideas #4: Pack for a Picnic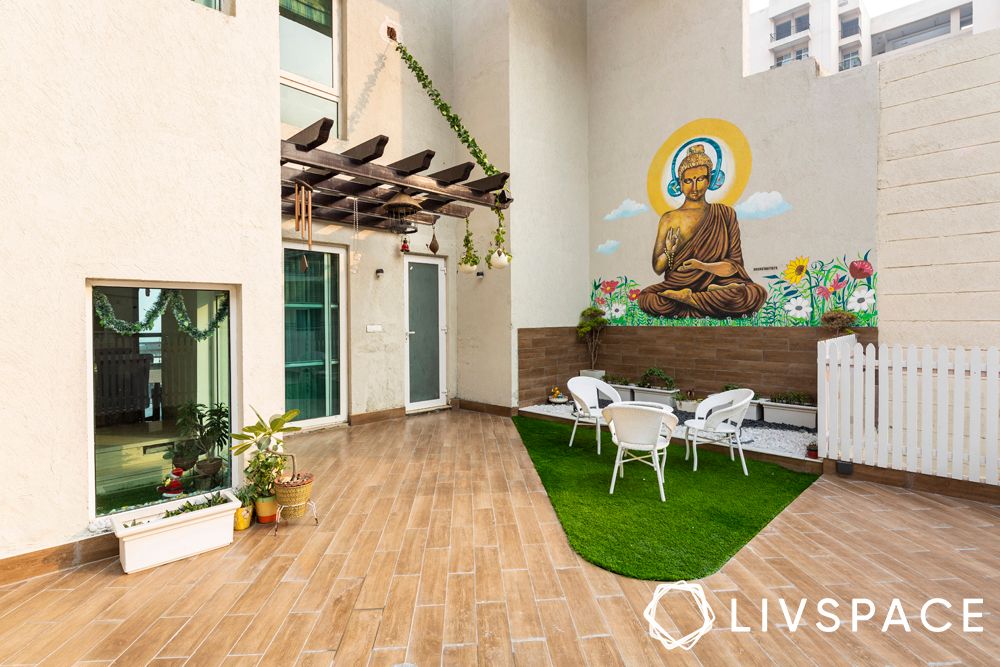 Bring in the feeling outdoors with a fun picnic table with chairs. Add an artificial grass carpet to complete the look. This not just is suitable for snack time, but can also be an excellent spot for kids to play and hangout.
Balcony Seating Ideas #5: Go Old School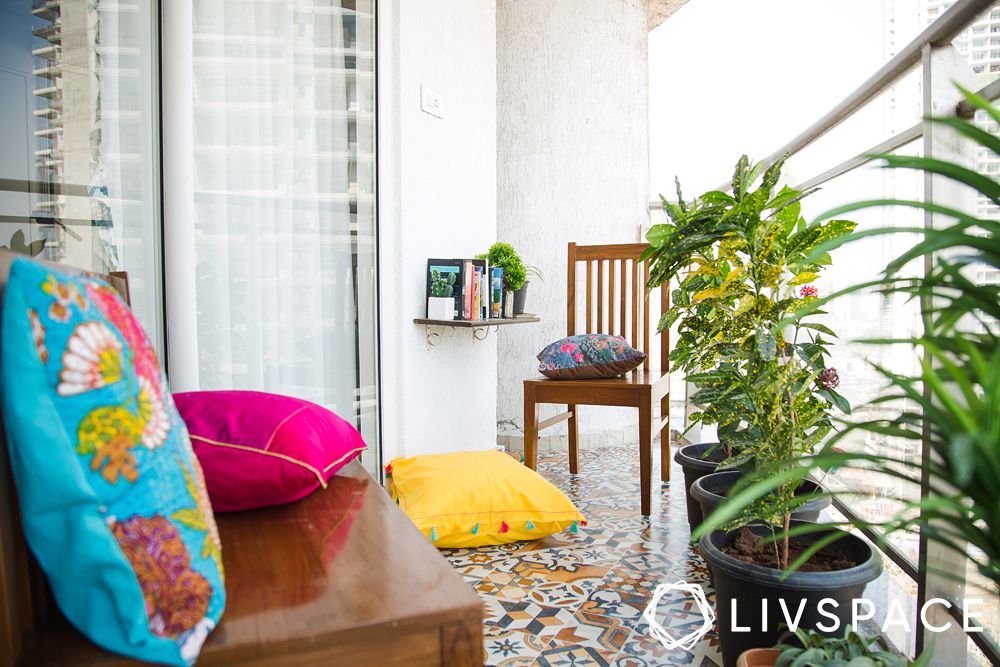 Adding warmth with wooden tones, an old school bench or a chair can add personality to your balcony. It's comfortable and lets you reminisce. Plenty of balcony furniture is available in the market right now; you can have your pick based on what fits your balcony size.
Balcony Seating Ideas #6: Curl up in Comfort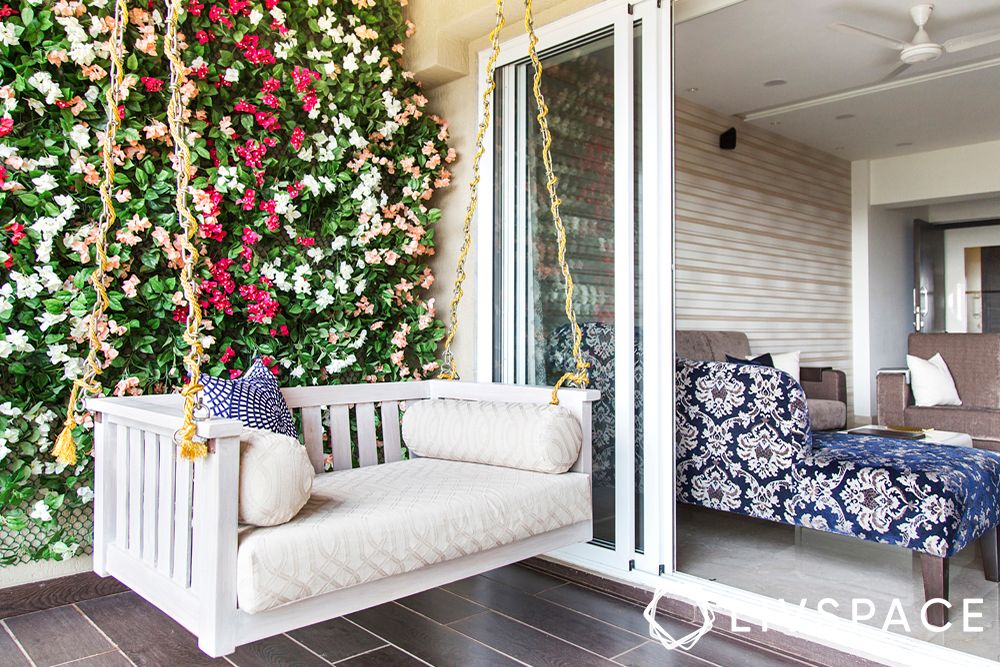 A nested swing is ideal where you don't want to take the trouble of putting in hooks on the ceiling. This swing lets you cocoon in peace and catch up on the latest bestseller.
Balcony Seating Ideas #7: Outdoor Living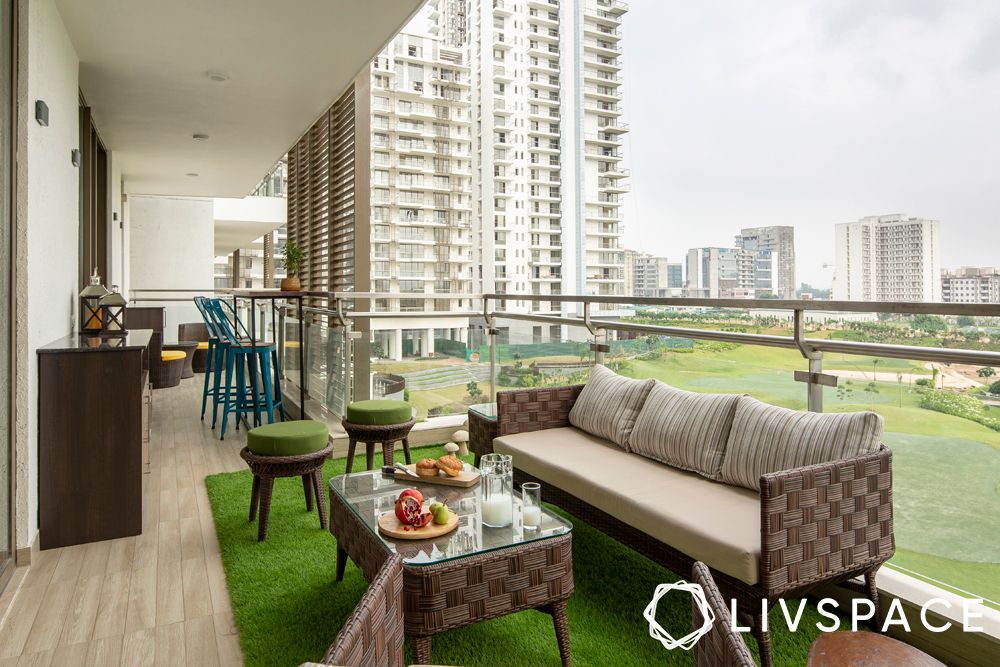 If you have a long and spacious balcony like this one, you can turn it into an outdoor living room of sorts. Add a rug, a console and centre table with a variety of seating arrangements. So you can have cushioned stools and ottomans as well as high chairs to enjoy a bird's eye view. Also, it is important to keep the furniture light, so go for a wicker sofa and chairs.
Balcony Seating Ideas #8: Garden Seating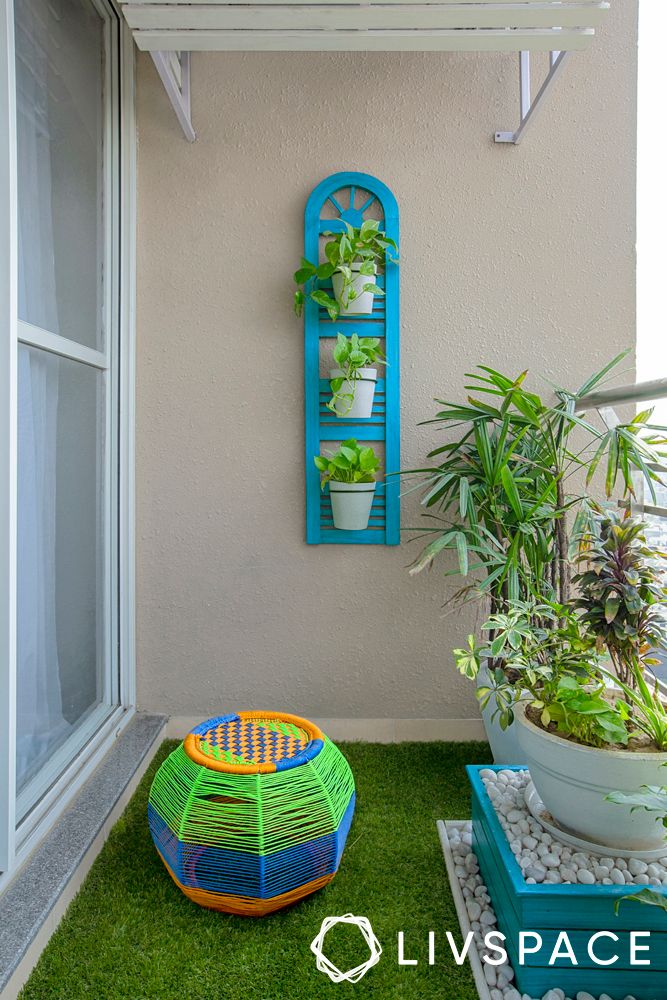 When space is scarce and you want to make your balcony as green as possible, go for poufs and stools. These seating options come in vibrant colours and are easily movable. So you can allot the maximum amount of space to growing plants in your balcony and carry a pouf or stool out whenever you want to enjoy sitting in your personal garden.

Balcony Seating Ideas #9: Flexible Setting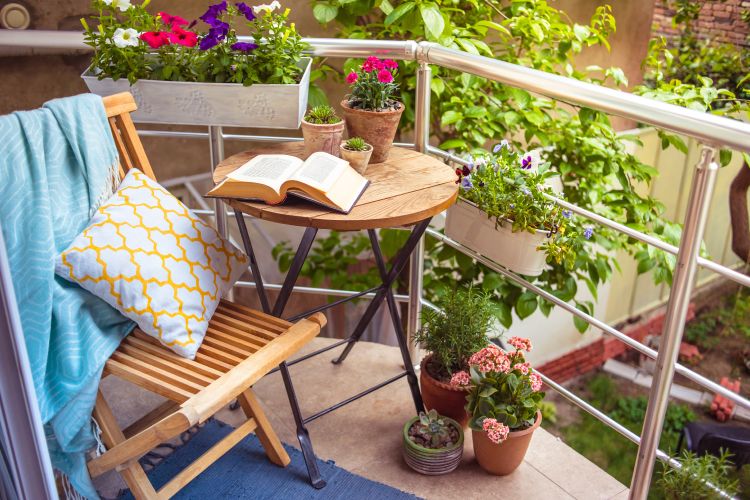 If you're not comfortable leaving furniture on your balcony or are scared of exposing it to the rain or sun, opt for foldable seating. You can choose to rearrange them depending on your need and don't have to worry about space constraints as it can be stacked away easily.
Balcony Seating Ideas #10: Lay it down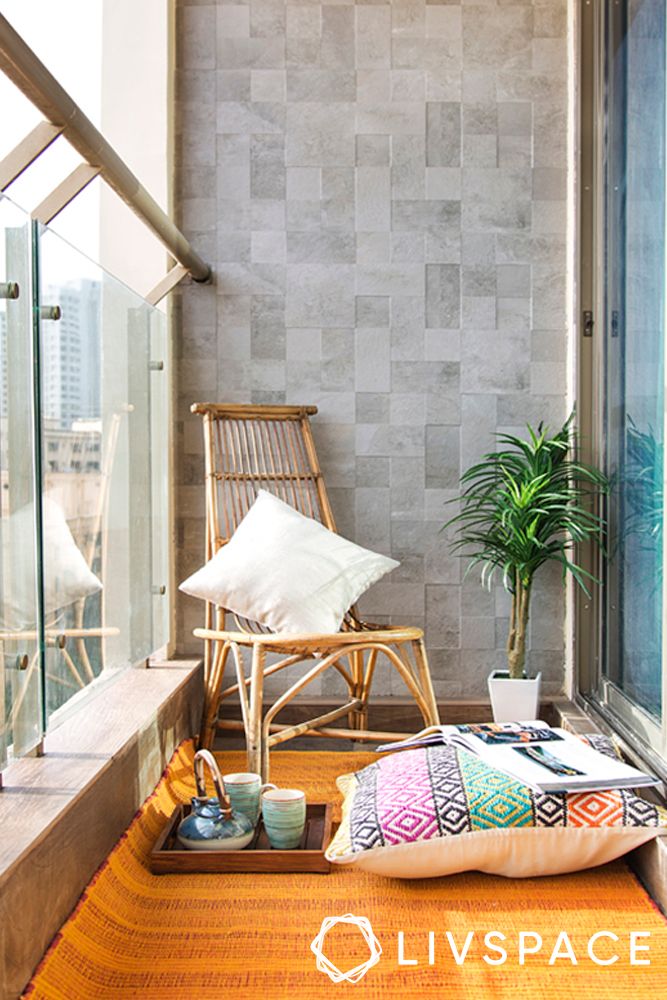 For more compact balconies, you can use a carpet or artificial grass that can comfortably seat you. You can add some floor cushions too for comfort. This way you won't have to struggle with furniture and still spend quality time lounging on your balcony. Here's a new spot for you to do those Suryanamaskars or for your kids to play.
Balcony Seating Ideas #11: A Comfortable Wooden Deck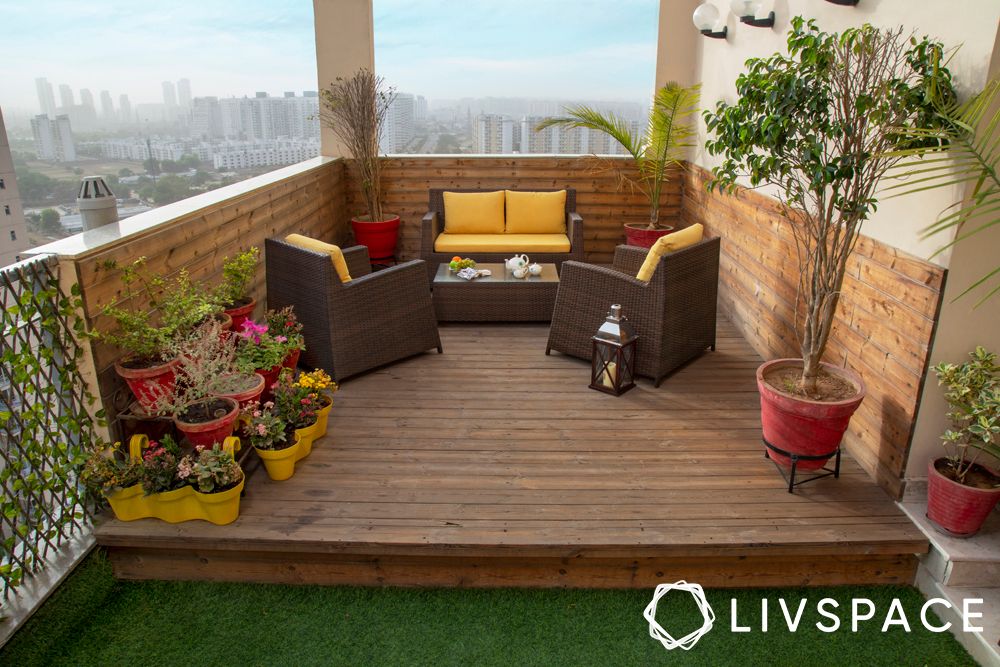 Your balcony can double as a chilling zone where you can just sit back and relax. Create a wooden deck and throw in some comfy sofas and greenery – you're all ready to zen out!
Types of Balcony Chairs
We all love sitting back in our balconies and just enjoying the fresh air outside. But how can you truly enjoy yourself if you do not have proper balcony chairs? So here are some balcony chairs that you must have!
Balcony Chairs #1: Rocking Chair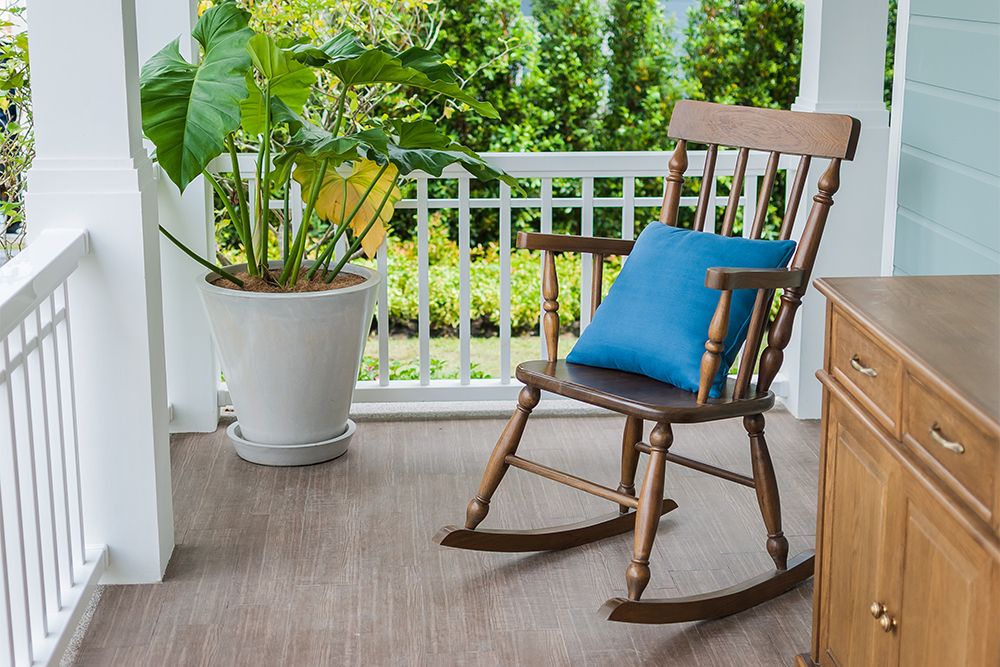 Nothing spells nostalgia like a rocking chair. So why not get yourself a rocking chair for your balcony. Add a bright and soft cushion and we promise that you will be spending all your time in your balcony!
Balcony Chairs #2: Swinging Chair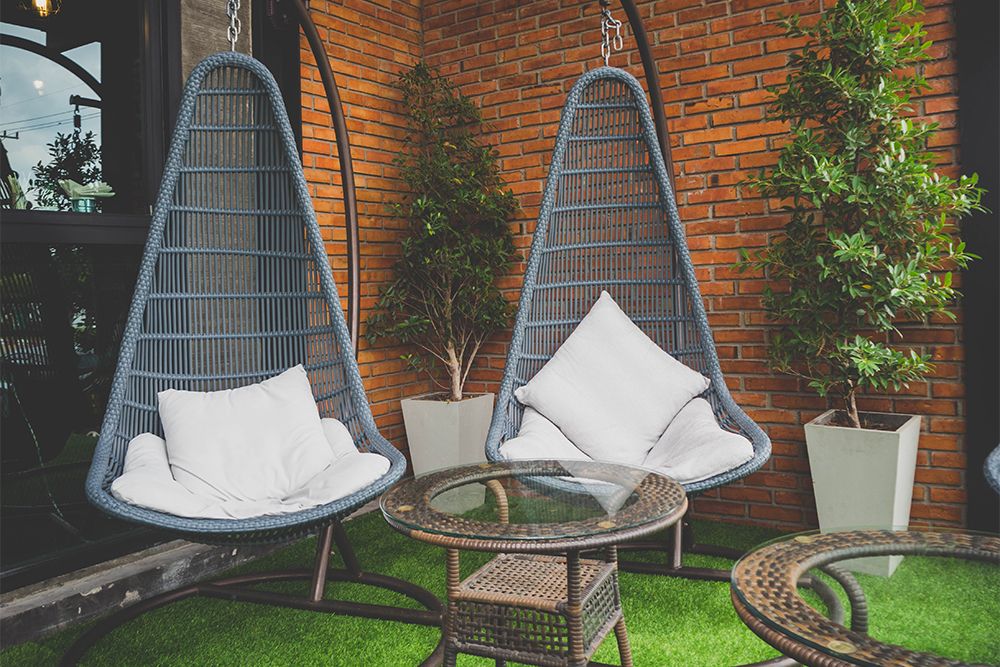 If you are looking for balcony chairs, then a swinging chair is a great option for you. Not only does a swinging chair look and feel amazing, it also takes up minimal space.
Balcony Chairs #3: Metal Chairs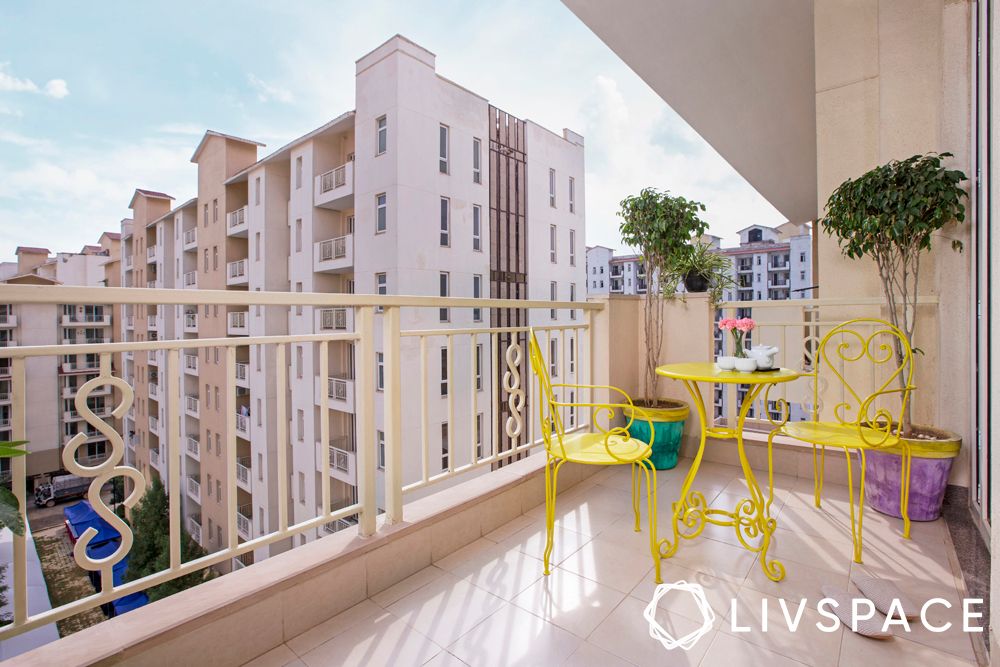 Prefer something simple yet unique? Get some metal balcony chairs in a bright colour to add some cheer to your balcony!
Balcony Chairs #4: A Traditional Wooden Chair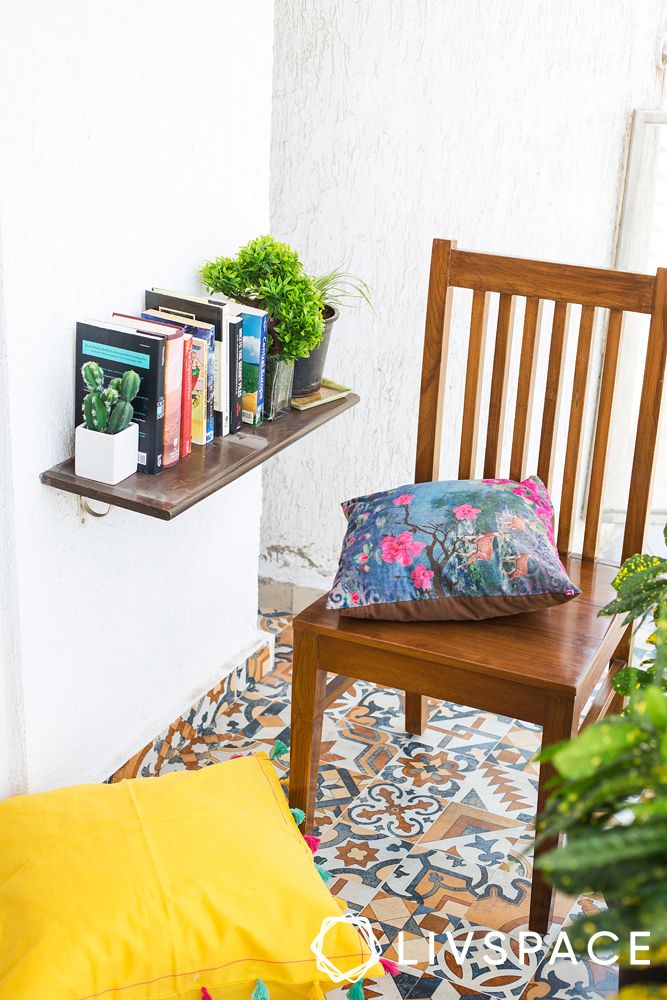 Nothing beats the simplicity and elegance of a traditional wooden chair. Create a reading nook in your balcony with a wooden chair, some bright cushions and your favourite books.
With careful planning, even the most compact balconies can turn out to be comfortable and breathtaking. Let us know which of these are your favourite seating option.
If you're looking to remodel your balcony, take a look at Flooring Ideas to Steal from #LivspaceBalconies.
We love hearing from you! Write to us at editor@livspace.com