Balcony design has always held a special place in our hearts—these small spaces act as a welcome respite in all homes. With the right kind of balcony tiles' designs and flooring options, even a modest balcony can be transformed into a spot of solitude, a flourishing garden or an entertainment zone. Tiles have a decisive role to play in determining the functionality as well as the aesthetics of the space.
Take your pick of the best balcony flooring ideas from these #LivspaceHomes depending on how you intend to style your balcony.
#1: Artificial Turf for a Garden Effect
Artificial turf or grass is basically laying down a cosmetic layer of grass as your balcony flooring. It's easy to maintain, unlike real grass turf, and also not very expensive. So, you can have your green acres and keep them, too! Besides, this type of flooring is easy to change from time to time.
Also, if you're wondering here's how you can select the best types of tiles for your home.
#2: Moroccan Balcony Tiles for Sheer Vibrance
Did you think that you can use Moroccan tiles only in the kitchens? Think again. These tiles with their delicate patterns and vibrant colours can turn your balcony flooring into a work of art.
#3: Wooden Balcony Tiles Texture for Subtle Style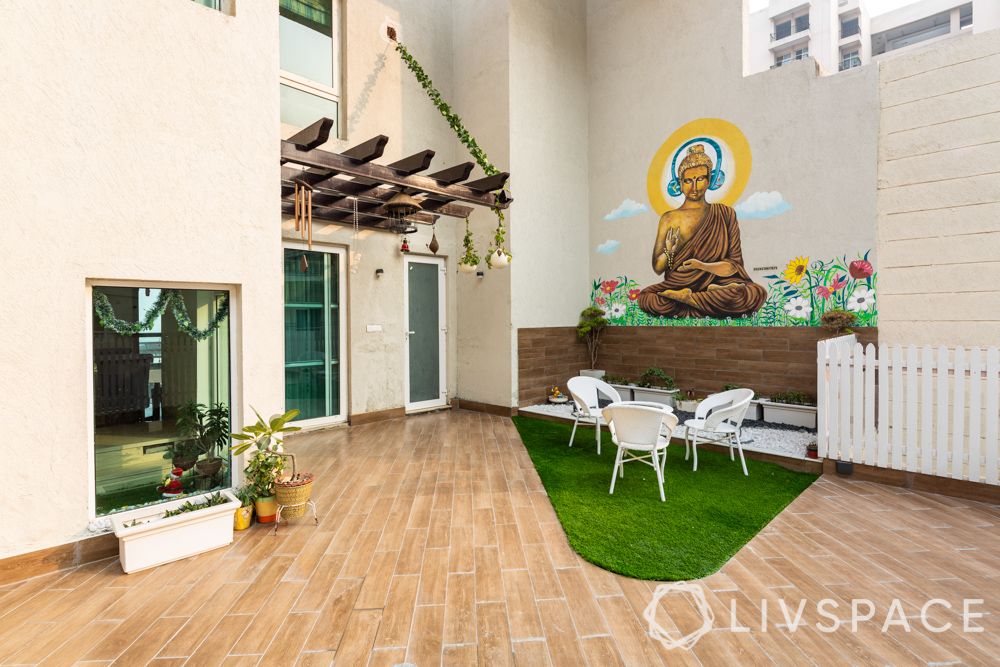 Wooden balcony tiles' texture provides a neutral backdrop for furniture and other embellishments. Also, if it's a large balcony where kids might play, wooden tiles offer baby-proofing solutions as well.
#4: Soft Wooden Tiles for Balcony for a Neutral Backdrop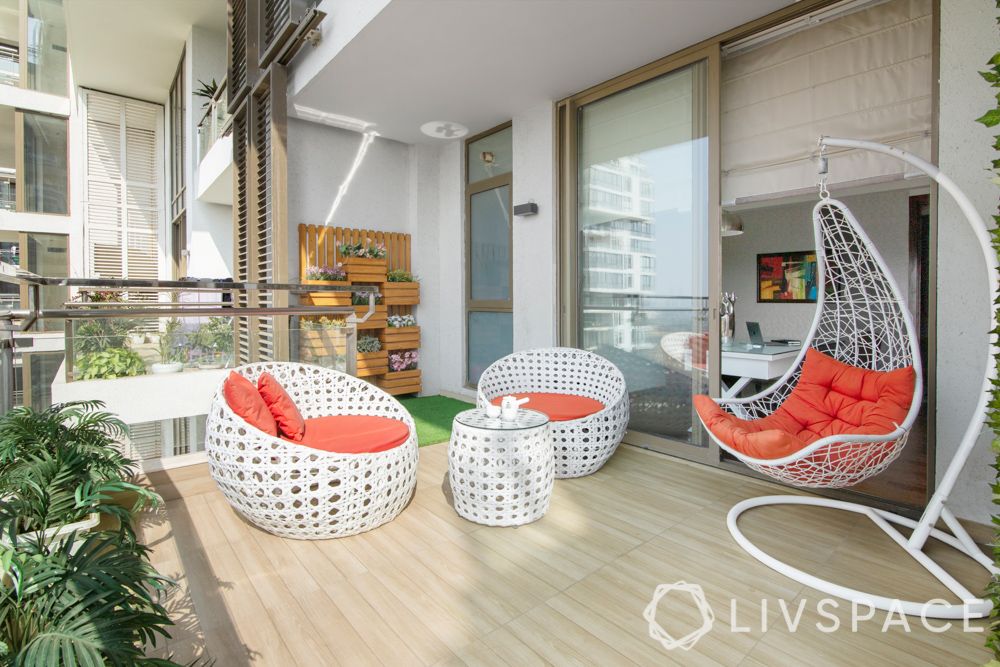 These tiles for balcony floors in India are larger versions of textured tiles and smooth to touch. If you plan to use bright-coloured furnishings on your balcony, soft wood tiles are an excellent option.
#5: Wenge Panelling for Vintage Elegance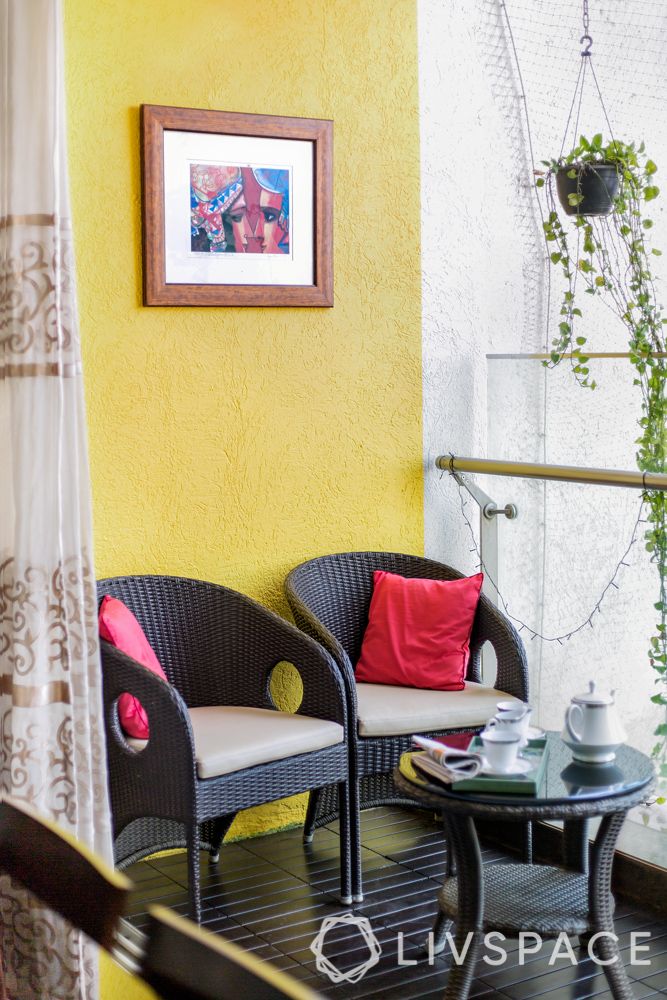 We call this shade of dark wood the wenge, and it instantly takes us back to the Victorian times. The log cabin style panelling gives a very vintage vibe to a balcony.
#6: Pinewood Deck for Outdoor Parties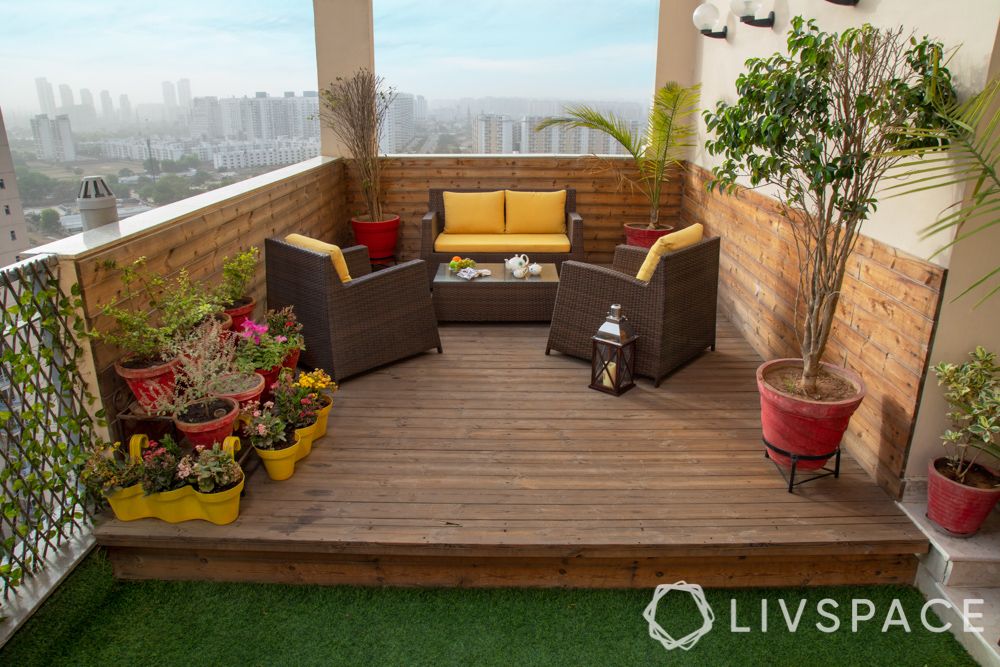 Pinewood is a type of softwood that can be used as a wooden flooring for balcony. It is also exceedingly durable if maintained well. Its best feature is its aesthetic value, making it perfect for open-air party decks like this one.
#7: Mosaic Balcony Tiles Ideas With Vivid Patterns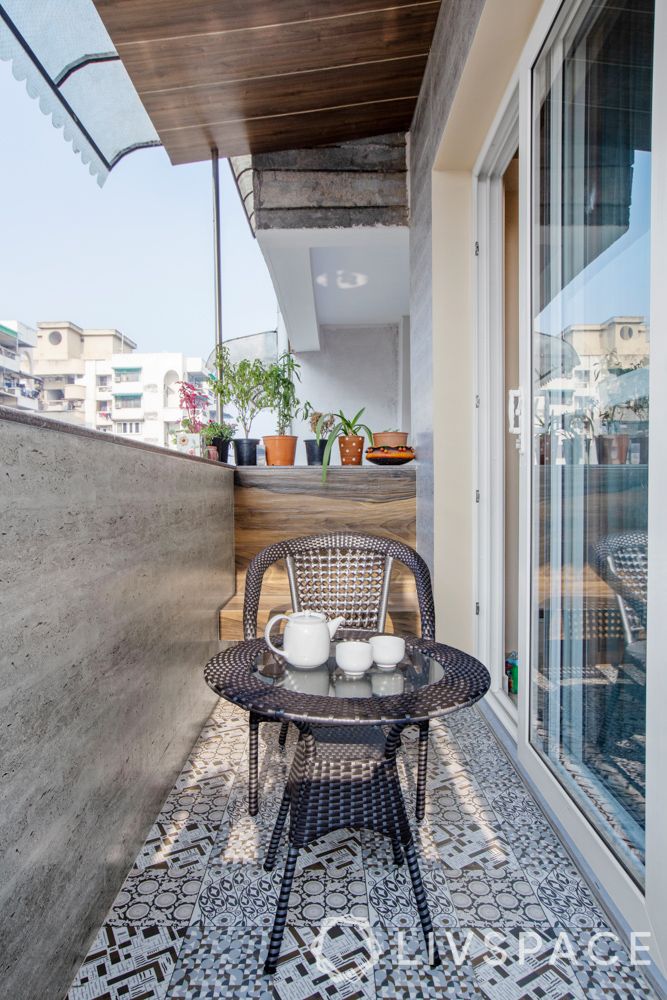 Mosaic floors used to be fairly common in India before different kinds of porcelain and vitrified tiles stormed the market. Mosaic tiles are a budget-friendly option too. But the best part about using mosaic is the choice of numerous patterns and playful colours that can brighten up your balcony.
#8: Etched Balcony Tiles Designs for Subtle Class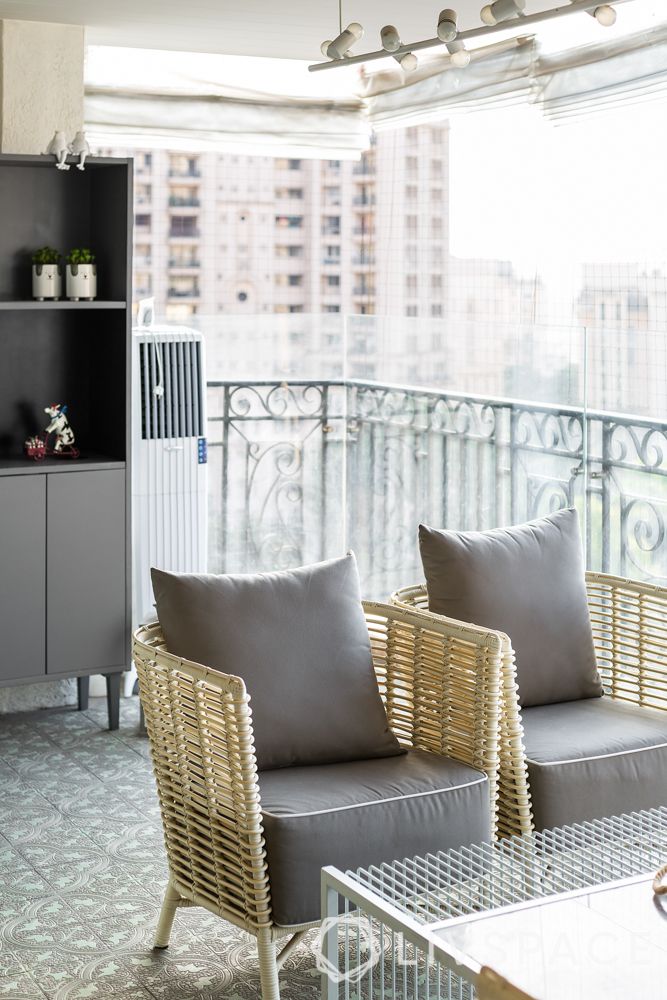 Etched tiles are basically regular ceramic tiles engraved or etched with a laser. They have a raised surface and are often used in wet areas like bathrooms. These tiles provide a textured flooring option that also helps ensure that people don't slip and fall in case the balcony is wet. It might be necessary in homes where there are elderly family members.
#9: Hand-Painted Tiles for Rustic Beauty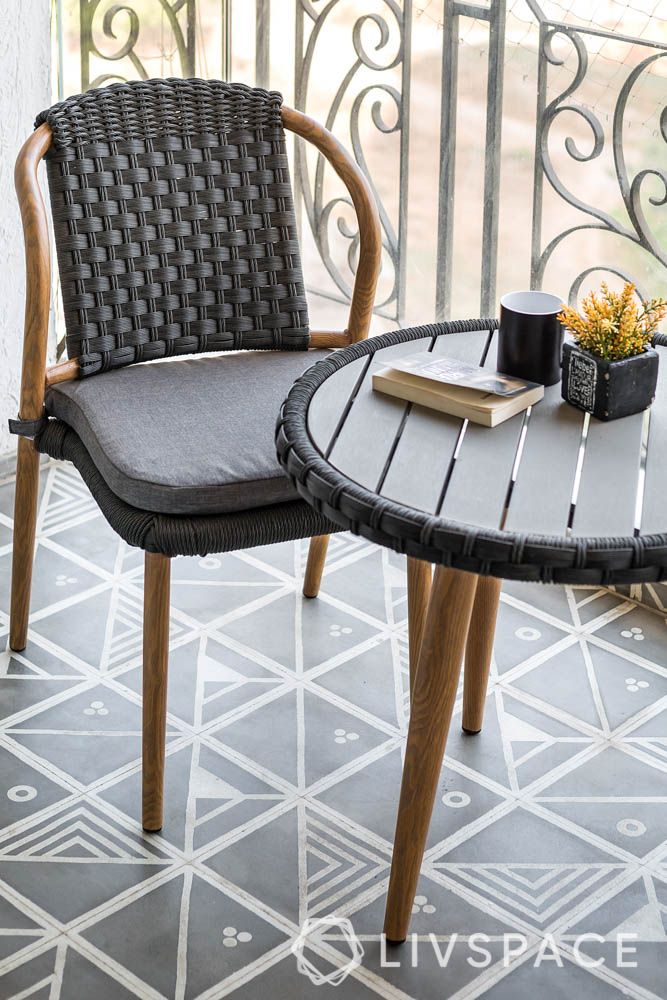 Hand-painted tiles are a work of art by themselves. They lend a rustic charm to balconies but must be maintained carefully. For example, these dot and dash geometric patterned tiles definitely have us swooning!
#10: Landscaping With Pebbles & Wooden Flooring for Balcony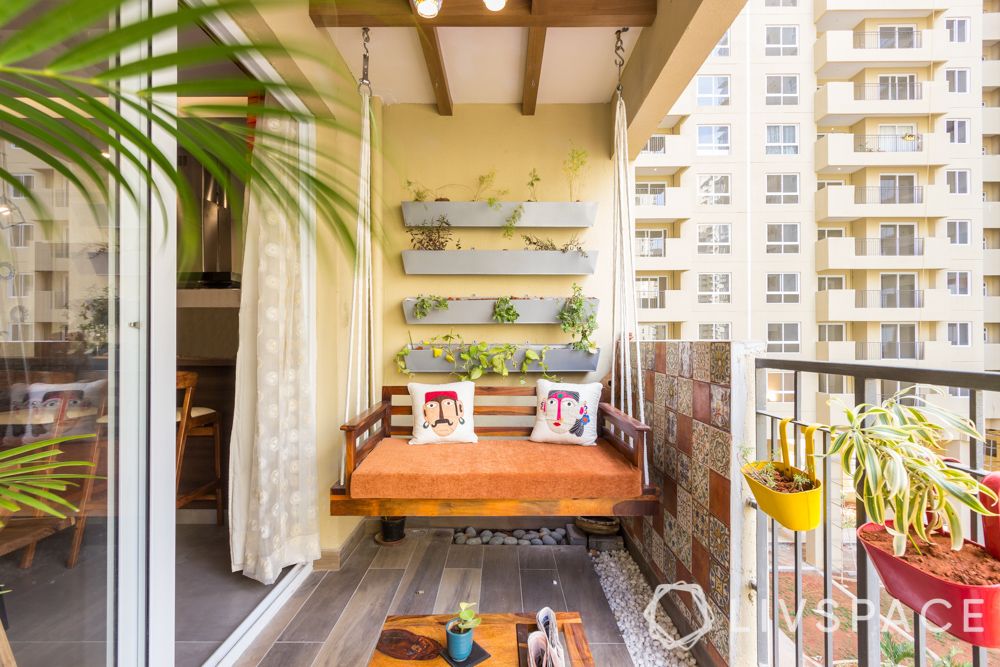 Landscaping in balconies is a trend that's catching up. Dry landscaping with stones and pebbles is a Japanese concept: we often refer to it as the 'zen garden'. This type of landscaping takes up some parts of the flooring in the balcony. Wooden flooring for balcony compliments zen gardens for a perfect balance of energy.
#11: Indian Tiles for Ethnic Patterns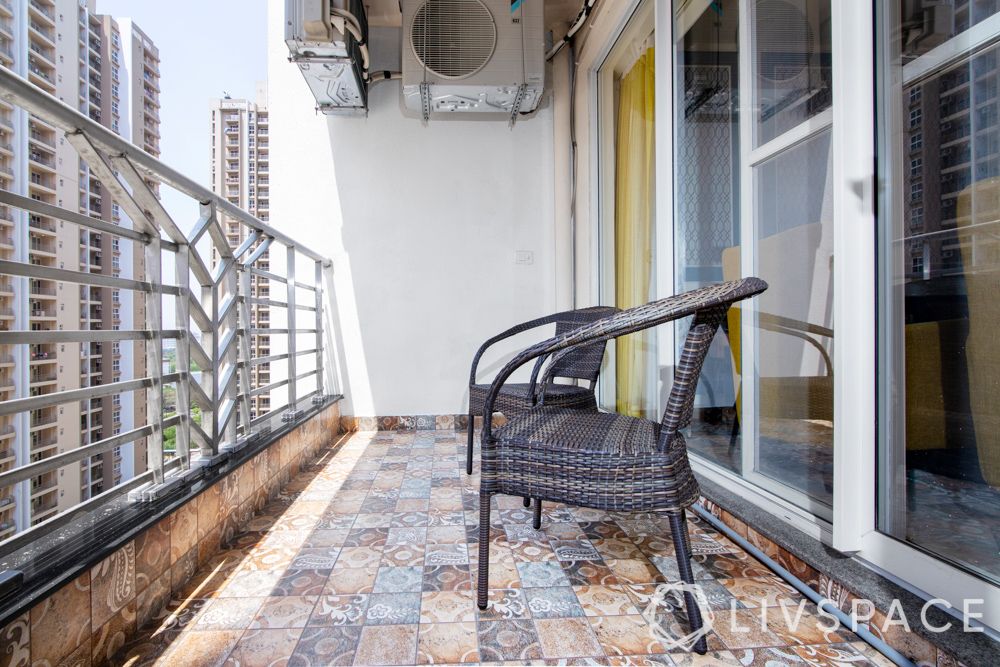 Ethnic Indian patterns cast in ceramic tiles make a great pick for balconies. Earthy colours are best suited for this type of balcony tiles. You can use a mix of dark and light-shaded balcony floor tiles to give the balcony floor a textured finish.
#12: Mangalore Tiles for a Touch of Tradition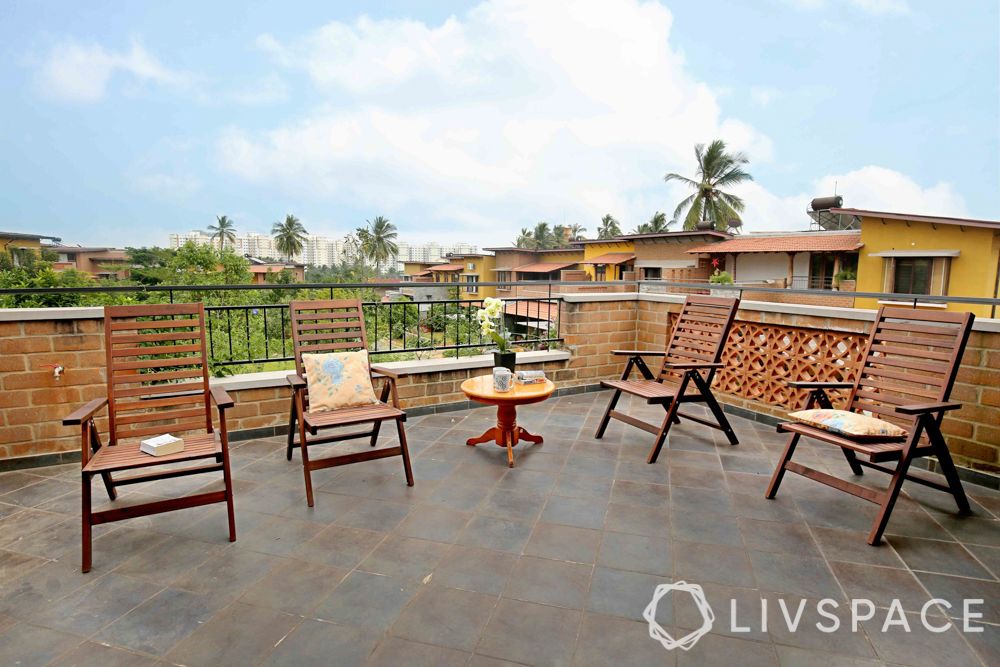 The deep red Mangalore tiles, made of a special clay, are scented with history and cultural references. Apart from being eco-friendly and sustainable, these tiles offer a generous dose of aesthetic nostalgia.
#13: Decorative Ceramic Tiles for Effortless Style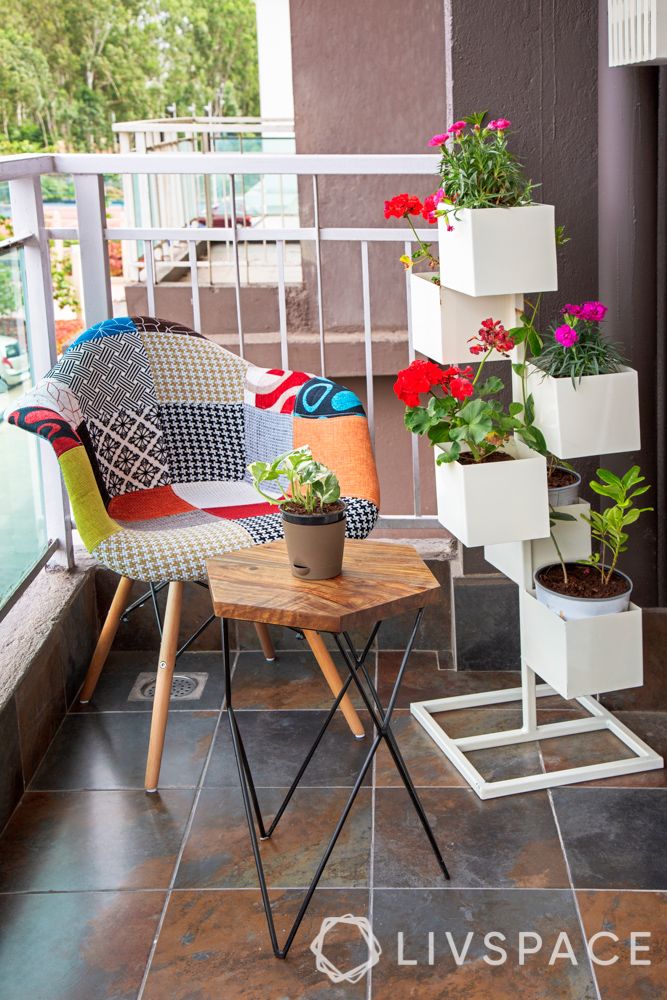 Shaded tiles are composed of darker and lighter gradients of the same colour. They could be made of ceramic, granite, or clay. So instead of being a homogeneous shade, the balcony floor tiles designs can have a smattering of two different shades.
#14: Regular Ceramic Tiles for a Casual Vibe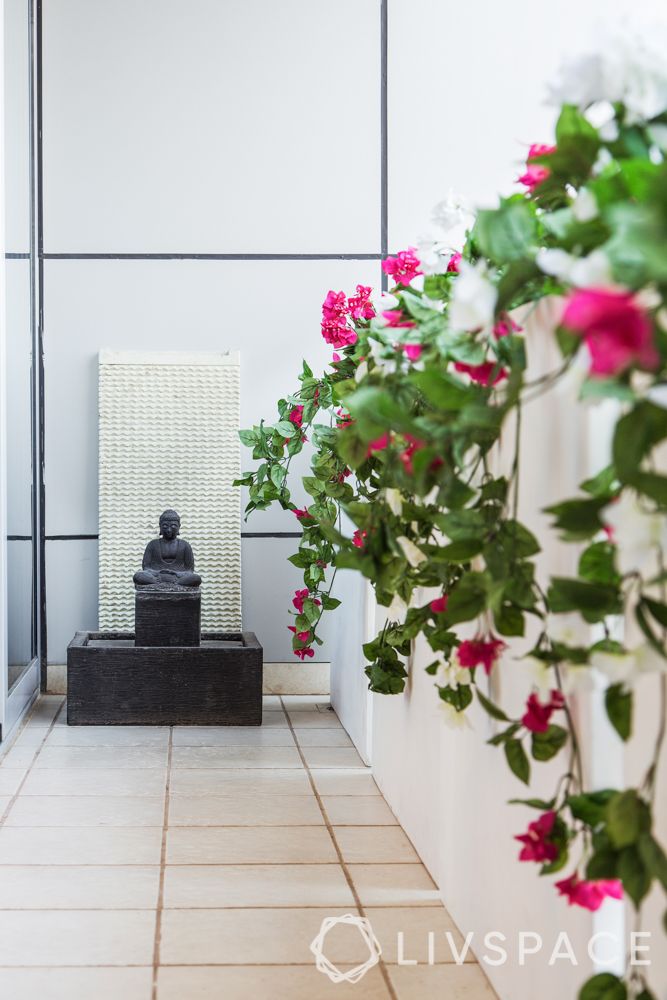 Simple and unpretentious, the regular ceramic tiles that we use in our homes can be both budget-friendly and easy to maintain. You can do up the balcony with plants and props as well.
How Can Livspace Help You?
We hope these balcony flooring ideas helped you understand the different types of flooring for balcony in India that you can opt for. If you found this piece on balcony floor tiles designs interesting, also read Seating for all Types of Balconies and balcony wall tiles designs.
We can also help you with balcony wall tiles designs. Book an online consultation with Livspace today. If you have any thoughts and suggestions you'd like to share with us, we're all ears! Drop us a line at editor@livspace.com.