If you have been considering making over your balcony, now's the time to do it! There's nothing quite like creating a reading corner, meditation zone or even a relaxing spot for your sunny sunday afternoons in your little outdoor space under the sky.
There are a number of ways you can decorate your balcony to reflect your lifestyle and interests. Moreover, in times like this, spending time at home while feeling like you're outdoors makes the idea even more tempting. Let us tell you how you can do more with your balcony!
#1: Create a yoga and meditation zone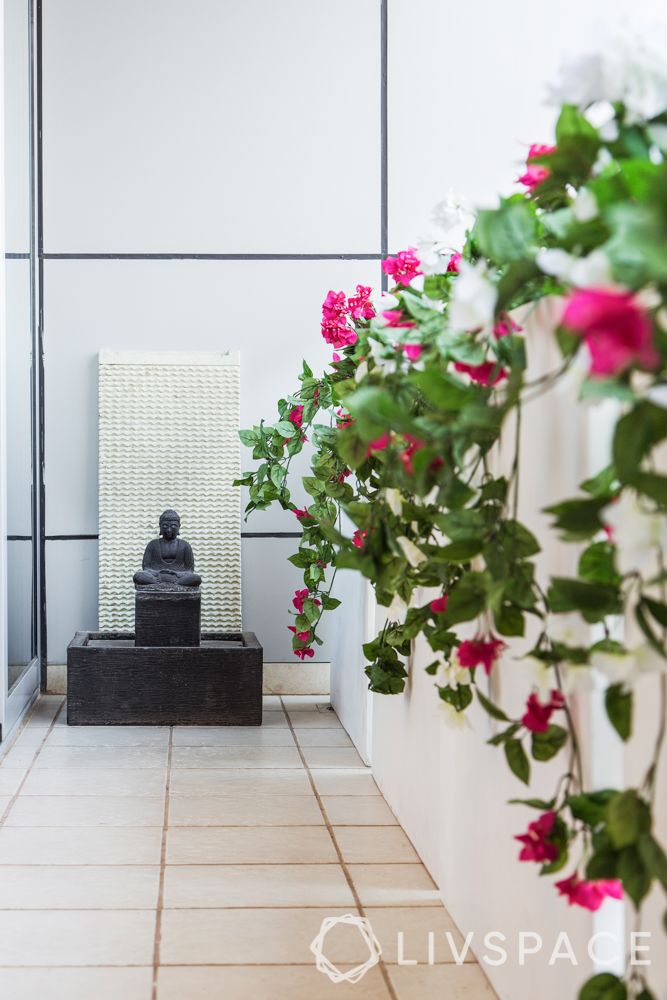 If you are looking for a space in your home that is dedicated to being tranquil and peaceful, you might want to transform your balcony into a yoga studio or meditation zone. We recommend keeping it simple so that it provides you an opportunity to recharge your body and mind. Therefore, depending on your interests and the space available you can decorate your balcony to either get one or both of them.
There are no specific rules while designing your balcony, we suggest the following tips to create a zen-like space.
Declutter the space: First and foremost, declutter your balcony. Keeping away from distractions is key to creating a zen zone. Therefore, clear out your balcony of any extra pots, lights and seating that is not in use or taking up space.
Maximise sunlight: Steer clear of privacy screens or balcony blinds to ensure that you get the maximum amount of morning sunlight.
Opt for space-saving planters: If you have a 6×6 balcony then you're working with a compact space so opt out of large terracotta pots for your plants. Instead opt for space-saving plants like creepers that can grow on walls, just like we have done above.
Make space for your yoga mat: Yoga and meditation enthusiasts often start their day with light stretches or breathing exercises. Therefore, dedicate a permanent spot for your yoga mat.
Add on decor: Opt for a buddha statue or small water body to enhance the positive energy.
#2: Create your own greenscape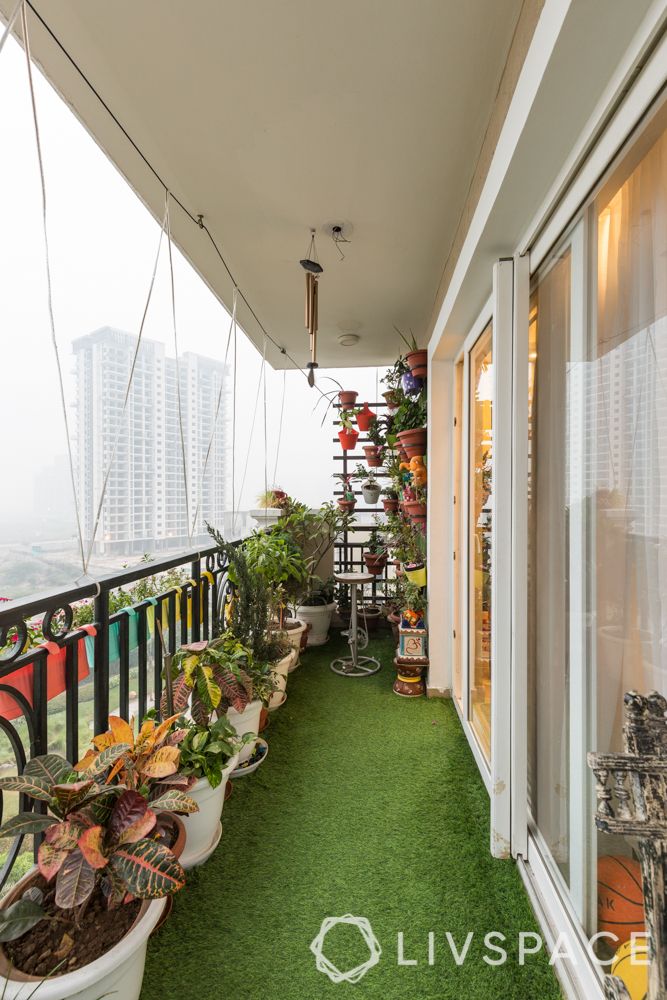 If you have a balcony in your home, especially one attached to the living room, you have probably thought about turning it into the most stunning garden ever!
Look no further, here's how you can create your very own greenscape or follow these simple tips!
Get some plants: A balcony garden is incomplete without a herb or vegetable garden. Tomatoes and bell peppers are some easy plants that you can grow here.
Pick up fancy planters: Don't just opt for regular plastic pots, get a variety of planters for your balcon. You can opt for a vertical screen, hanging planters, railing planters, etc.
Upgrade the flooring: Give your garden the ultimate garden-like look with artificial turf. This low-maintenance flooring option will make it look like a freshly mowed lawn.
Lighting is key: Opt for minimal lighting like fairy and pendant lights in a compact balcony. Let the plants steal the focus.
#3: Style a corner for that cafe-like feel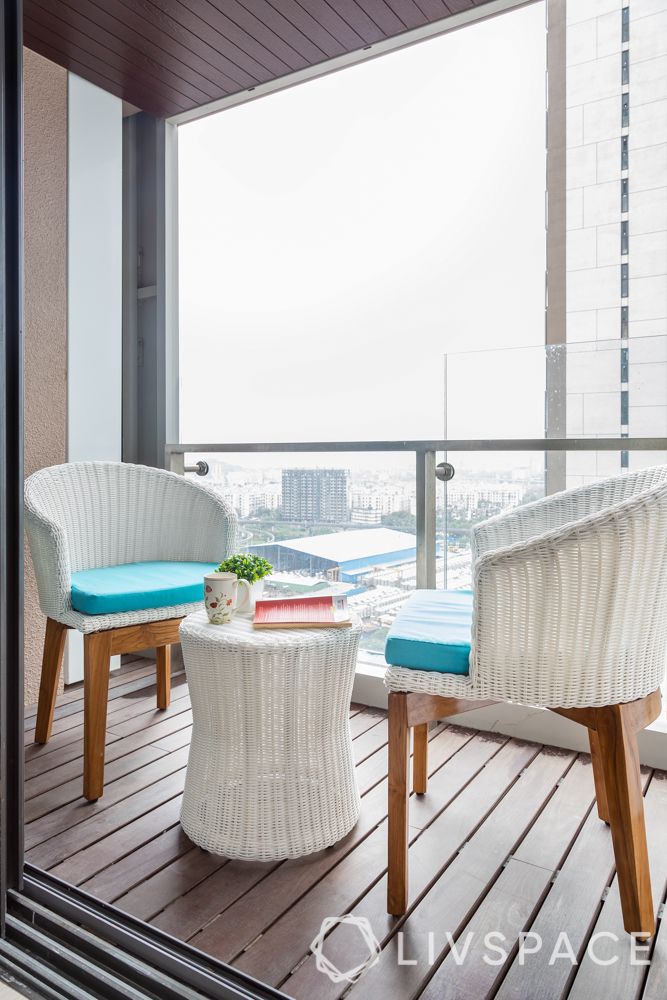 If you have a veranda or covered balcony, this one's for you! Designing a covered balcony can be a tricky challenge especially if this space doesn't receive enough sunlight for plants to grow. However, don't let go of this space. If you focus on seating for your balcony you can transform this space into the perfect coffee corner while enjoying the outdoors. Here's how!
Opt for a weatherproof coffee table set made of rattan. Although rattan is not waterproof, it's the ideal option for furniture that is not exposed to direct sunlight and rain.
Add a minimal wooden bench and coffee table. You can also decorate this set with colourful cushions.
Think outside the box with an upholstered or cushioned swing set.
#4: Create a sky bar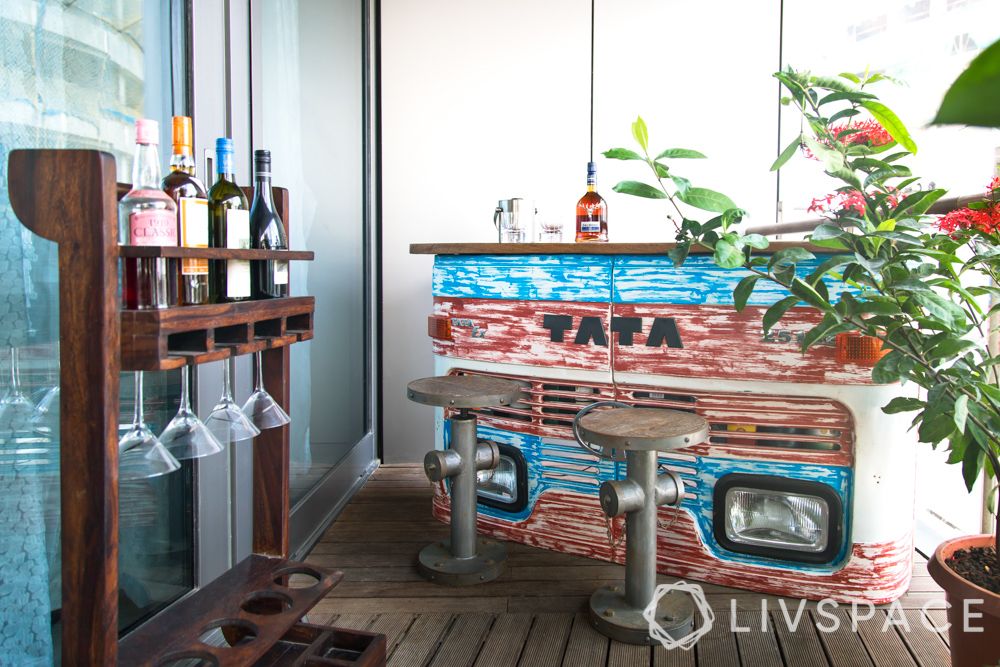 There are numerous ways to decorate a spacious balcony and one fun way to do that is by creating a sky bar. Here we have designed this balcony with a unique bar counter resembling a truck with industrial-style seating. The wooden flooring along with the wooden wine rack adds a rustic touch to the whole set up.
#5: Take a break in your balcony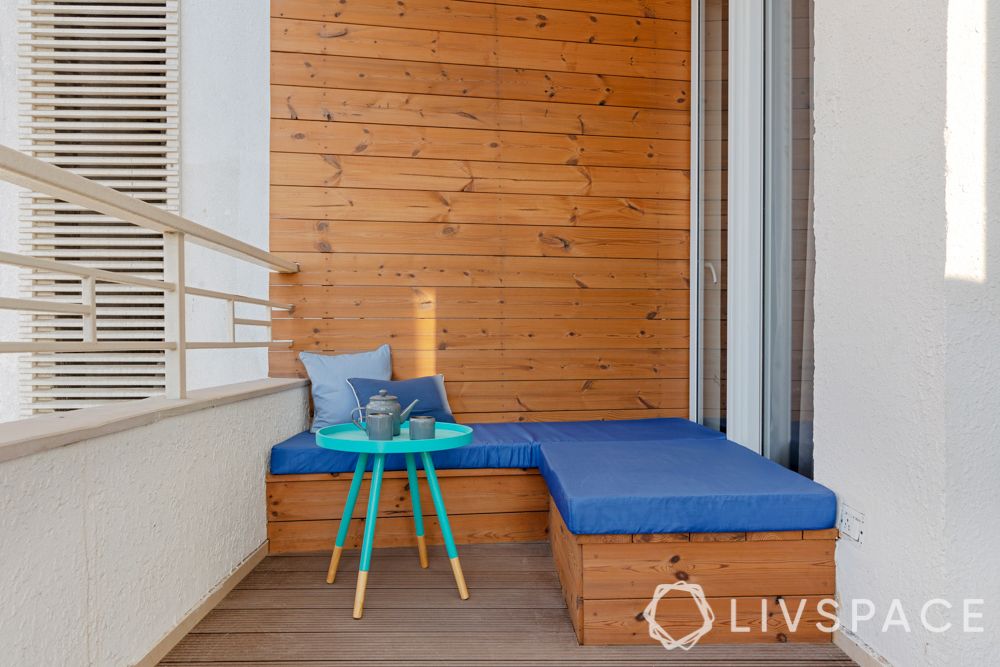 We know working and studying from the same spot can get pretty boring! While working out of your balcony may not seem like the best idea on a sunny day, it is the perfect way to take a break and soak up some sun. Now you can take your laptop out and still finish up that report!
Here are some easy tips to give your balcony a stylish look:
Opt for cushioned seating if you plan on spending longer hours in your balcony
Choose seating with a backrest
Add a table to place your laptop on it
Keep decor to a minimum to avoid any distractions
If you're wondering how to set up a stunning balcony that's low on maintenance, take a look at this guide.
#6: For a utilitarian design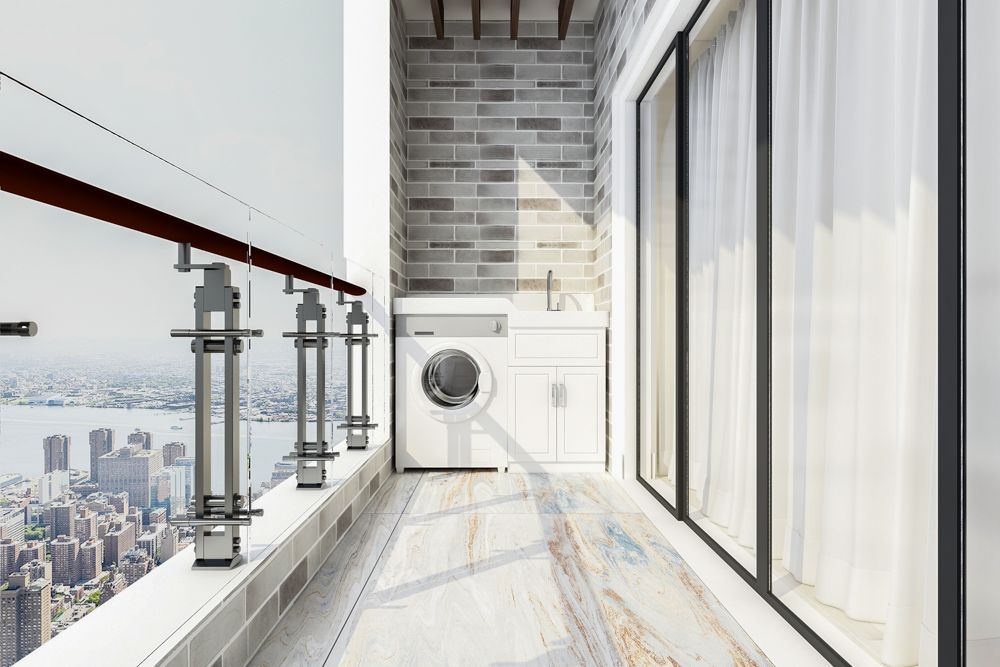 For a more functional idea specifically for compact apartments, design a utilitarian balcony. Skip out on all the plants and lights to make this the most useful space by installing your washing machine here. Most balconies come with plumbing and drains that make it perfect for washing clothes. The balcony also happens to be the ideal spot to dry clothes. Therefore, go ahead install a ceiling cloth drying rack for convenience.
#7: Design a safe and fun play area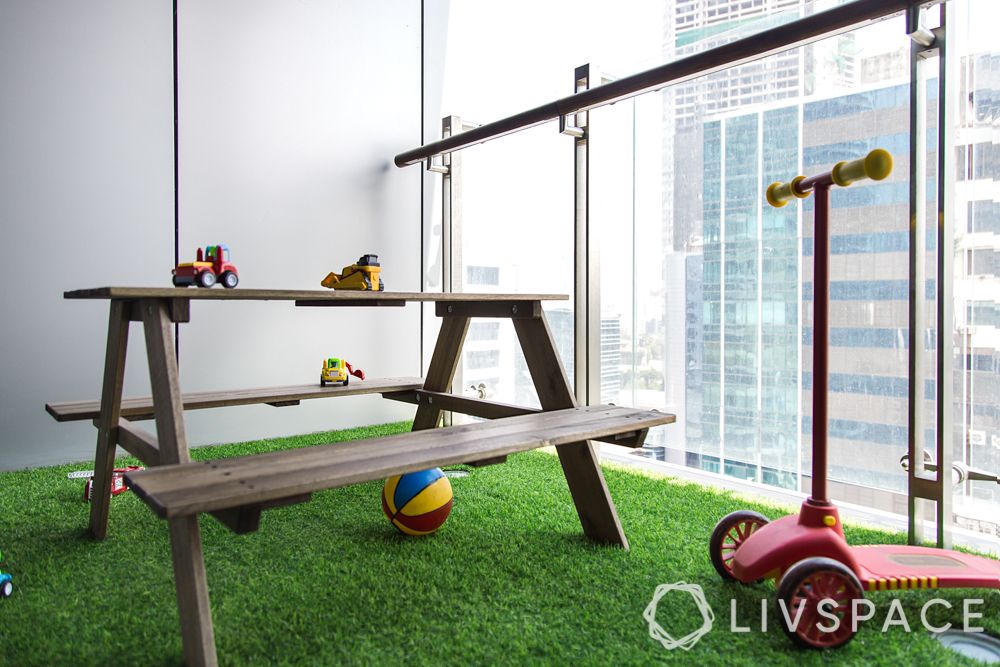 If you have kids or live in a home with children, you probably know how important it is for kids to play outdoors for their physical and mental health. However, in times like these, your best option is to adapt to the circumstances. One way to keep this going, is by creating a play area in your balcony. We recommend these 3 tips to design a safe and fun play zone!
The minimum height of a safe balcony railing should be 3ft. Design a play zone only if your balcony railing does not have a ladder like design to avoid children from climbing up on them.
Pick out minimal and safe furniture like a park bench. This creates a fun space for art and crafts, puzzles and snack time.
Don't leave your flooring bare with regular tiles. Choose artificial turf or rubber mats as a safe and shock absorbing option.
Take a look at 27 unique designs for your balcony from Livspace homes!
#8: Design a party deck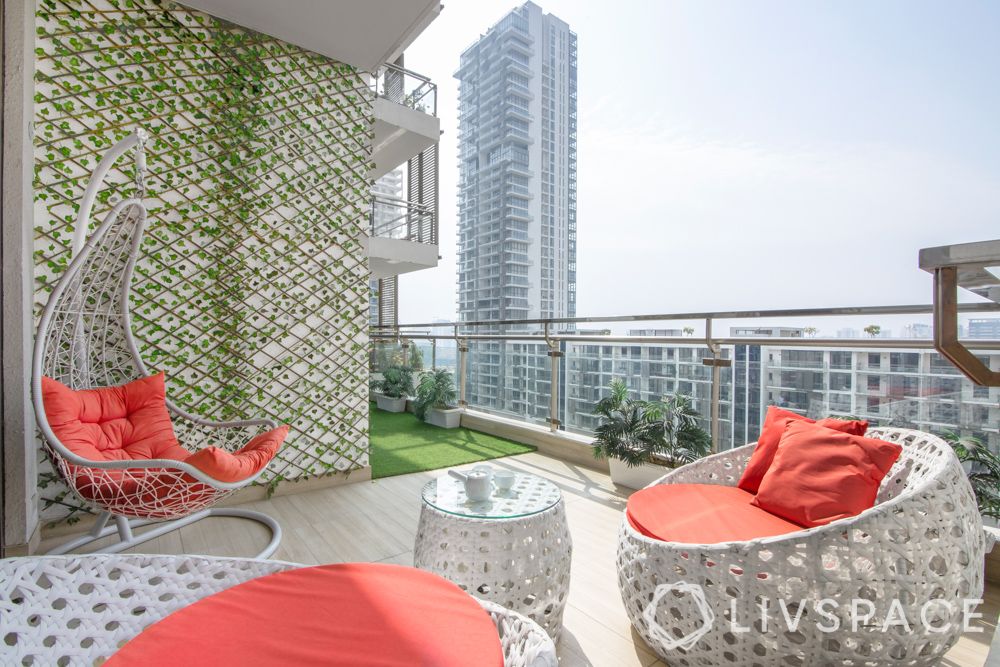 If you've picked out any of the above designs, take it a step further and create a space for your balcony soirées.
If you have the space and love entertaining guests here are a few tips to design a party deck!
Choose high-quality outdoor furniture. The seating should be stylish enough to host guests. Create a zone that gets everyone excited to sit down and relax.
However, nobody likes sitting on uncomfortable seats. Therefore, pay attention to cushioning, back support and armrests.
Lighting is always important for a set-up like this. Opt for a combination of candles, lanterns and sconces for the perfect ambient lighting.
Keep decor and plants to a minimum for more floor space
Take a look at popular designs for your personal outdoor space in the sky for more ideas!
#9: Decor for a balcony soirée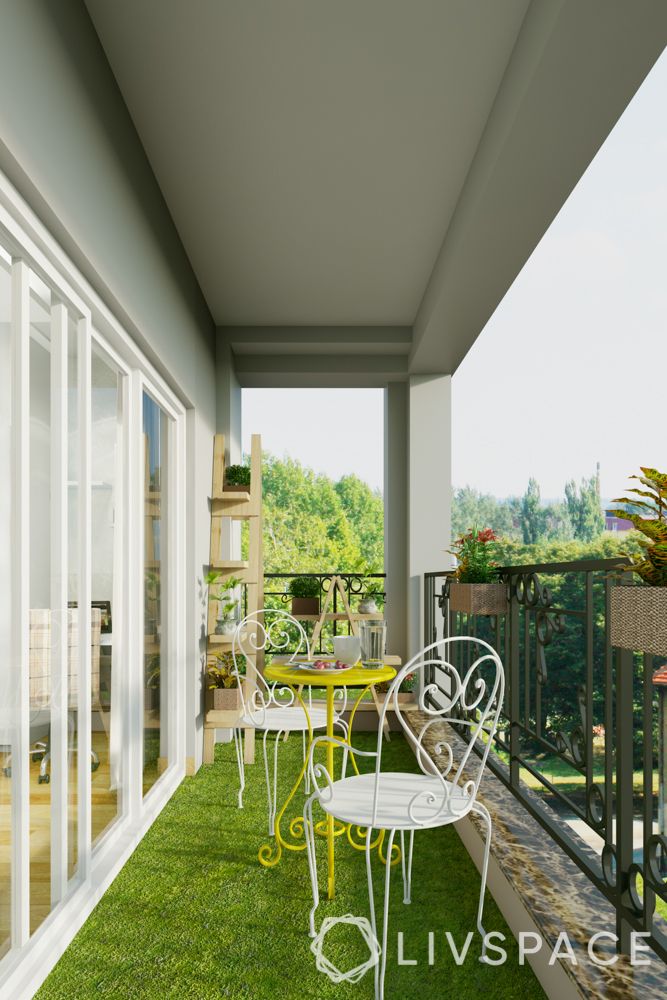 If you're looking for something more intimate and cosy for a smaller space, take a look at these ideas! A tea room doesn't have to be a luxury you can't afford. From a detailed chinese tea house to a boho-chic tea setting with floor seating, there are a number of tea room designs that you can opt for. For this home, we have given the balcony a classy British tea room look.
Here's how you can design your own tea room in your balcony:
For seating, iron and wrought iron high chair sets give the balcony a Victorian look.
Pick out decor that includes lace tablecloths and curtains, linen napkins and china tea sets.
For plants, focus on adding planters to the railings while keeping the floor space empty.
If you found this article helpful, take a look at how 5 simple ways to transform your balcony in a jiffy.
Send in your thoughts and suggestions to editor@livspace.com.