Love a balcony and its benefits but too lazy (like me) or too busy (also me!) to take care of it? We feel your pain. What you need is a house balcony design that is low on maintenance and weatherproof. When it's made of durable materials and designed cleverly, what you'll have is a long-lasting home balcony design. And there's no reason this can't look pretty too!
We called on the experts to help us walk this fine line between form and function. Livspace designer Shamala KR assures us it's possible with a bit of planning. "It's imperative that you look into the layout and how much sunlight it receives," she says. You should also look at how much you're willing to spend. This, we believe, is a good place to start.
What do we mean by low maintenance?
A balcony design is low-maintenance if it is
Easy to clean
Weather-proof
Long-lasting
Requires less effort.
Before you consider living al fresco, here are the steps you need to follow:
Step 1: Identify your balcony type – is it closed or open?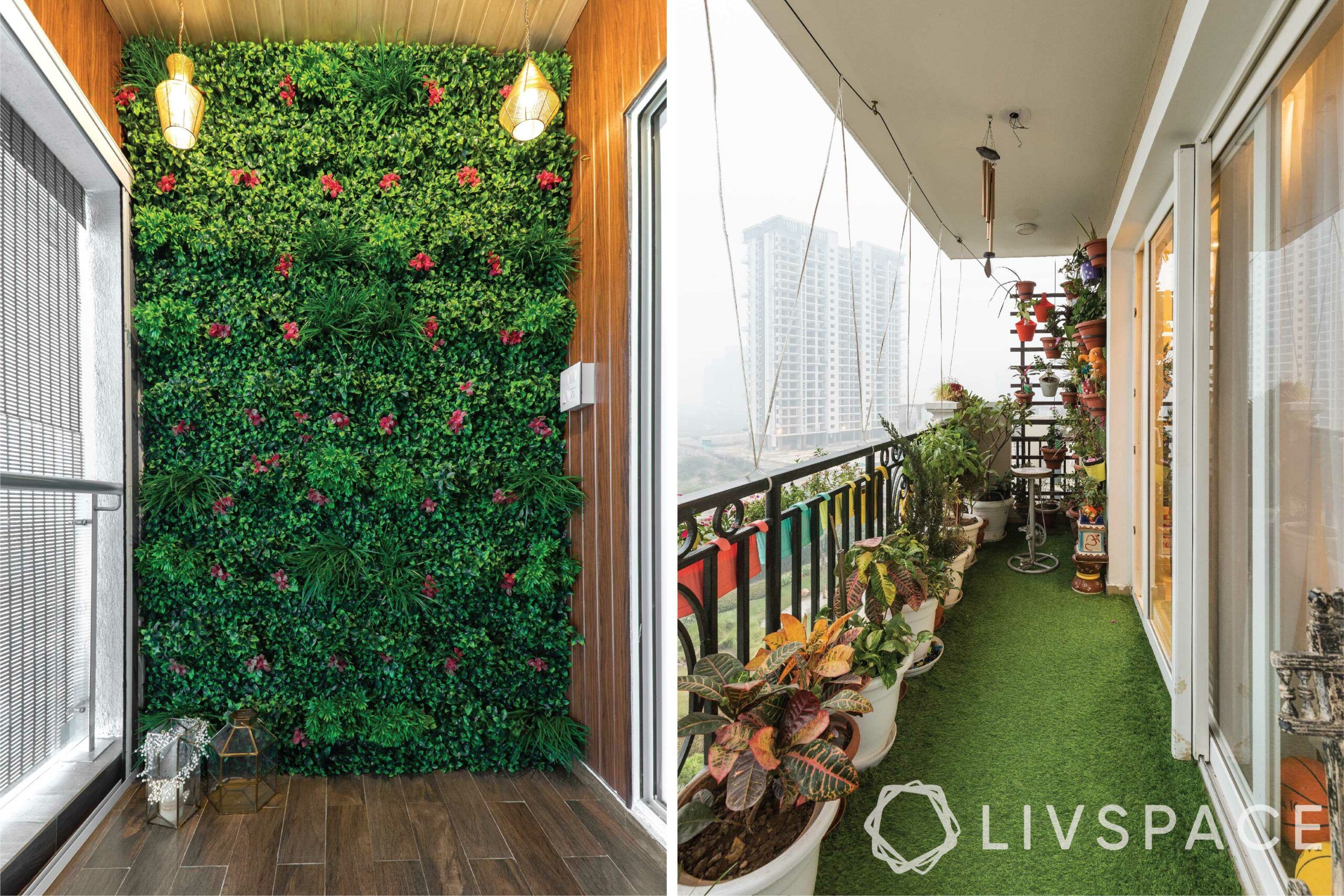 While most homes come with open balconies, homeowners have the option to close the space. Study your surroundings before deciding. Keep in mind:
1. A closed balcony design may restrict sunlight and ventilation, but works great when buildings are close to each other and privacy is an issue. Moreover, closed balconies are easy to clean as weather conditions and dust don't add to the maintenance of the space. If your city witnesses harsh winters or scorching hot summers you can enjoy a closed balcony all year round.
2. Open balconies, on the other hand, can be exposed to noise from the surroundings that can cause irritation and be disruptive. Shamala says, "These spaces need to be designed carefully keeping weather conditions in mind. They collect more dust and require regular maintenance. Materials used in open sit out design should be water-proof and weatherproof. It can be put to use as a coffee corner, a reading nook with a swing chair, a garden or even a play area for kids." And depending on the size of the balcony, it can be all four!
Step 2: Have a Clear Budget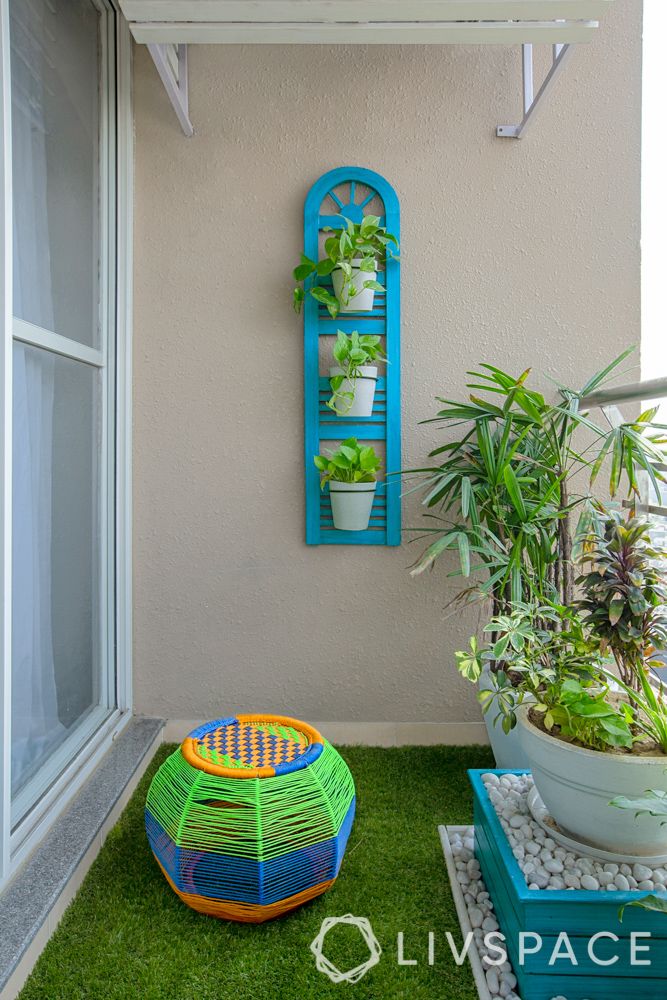 While every space is designed keeping in mind specific requirements and needs, Shamala gives us an insight on how to allocate your budget for a house balcony design. "A few aspects that cause a variation in the cost are flooring materials like artificial grass, wood, WPC or tiles. When it comes to balcony wall design, it could just be texture paints, mosaic tiles or WPC. Furthermore, keeping furniture in mind, it could include wood, plastic, wicker and aluminium," Shamala says.
Step 3: Consider sunlight and wind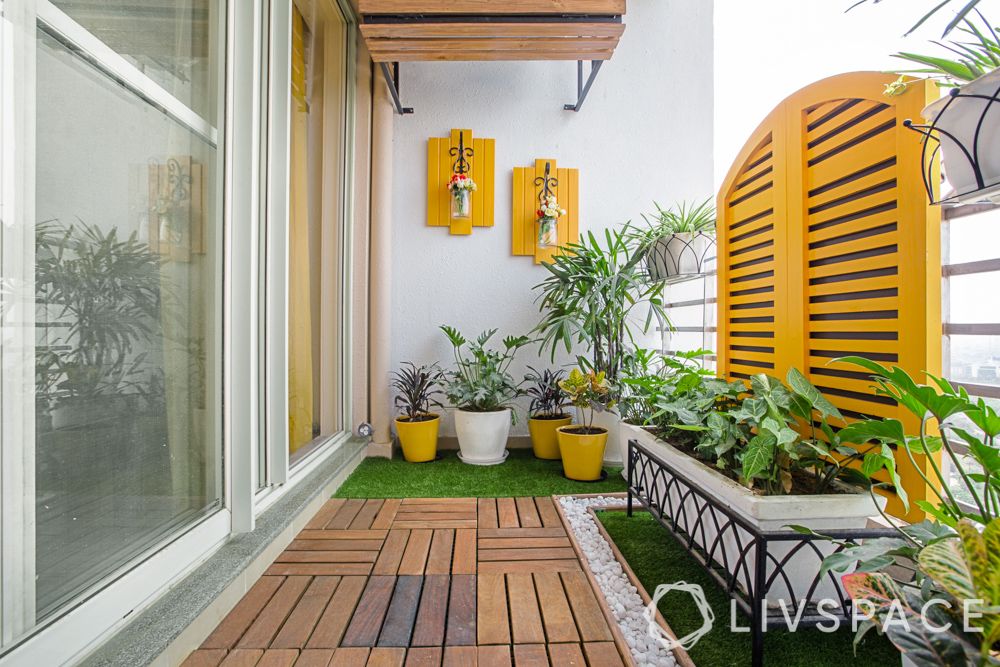 Irrespective of the season, shading is important all year round. According to vastu, the best direction for a house balcony design is the north, east or north-east as it receives the most sunlight during the day. However, balconies that are situated in the south-side and west-side of the home are not vastu-compliant.
Design tip: East and west-facing balconies require more shading from heat and glare and require blinds for protection from the morning and evening sun.
Homes on higher floors are exposed to strong winds that make it difficult for people to enjoy the outside space. If your balcony is not a recessed one (semi-closed with an extended roof), there here are some windbreaker options:
Tall plants and shrubs
Wooden lattice panelling
An extendable or cantilevered canopy with full height glass
A fabric balustrade (mesh type for railing)
Step 4: Good drainage can help you keep the balcony clean and dry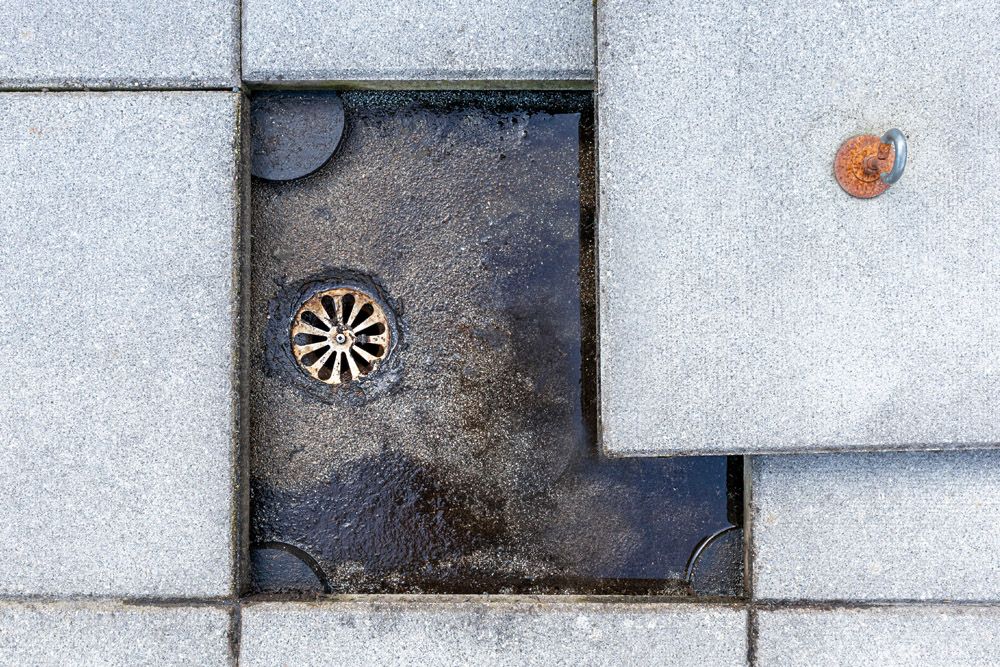 Oftentimes ignored, the drainage system can determine the longevity of a home balcony design. The drainage and piping outlets are set during the construction phase and therefore modifications are restricted.
"If there is any sink placed in the balcony, the outlet needs to be joined with the other outlets of the house, never leave it open to the direction of the slope in the balcony. The drain at the slope comes handy when the balcony is washed or during rains," says Shamala.
Clogged balconies can cause water seepage and major damage to the walls.
Faced with no drain and water clogging?
Don't clean it with a hose. Instead, mop it or vacuum it
Make sure your pots have saucers, in order to avoid mud stains that require major cleaning
Always keep a water floor mop handy to get rid of clogged rain water immediately
Step 5: Opt for waterproof and weather-proof furniture
While most outdoor furniture is water-resistant, you need to ensure that it is waterproof and weather-proof. Your best options include:
Wicker sets
Cast iron and wrought iron benches
Acrylic cushions
Cedar, eucalyptus and teak furniture coated with exterior varnish
Step 6: Railing Options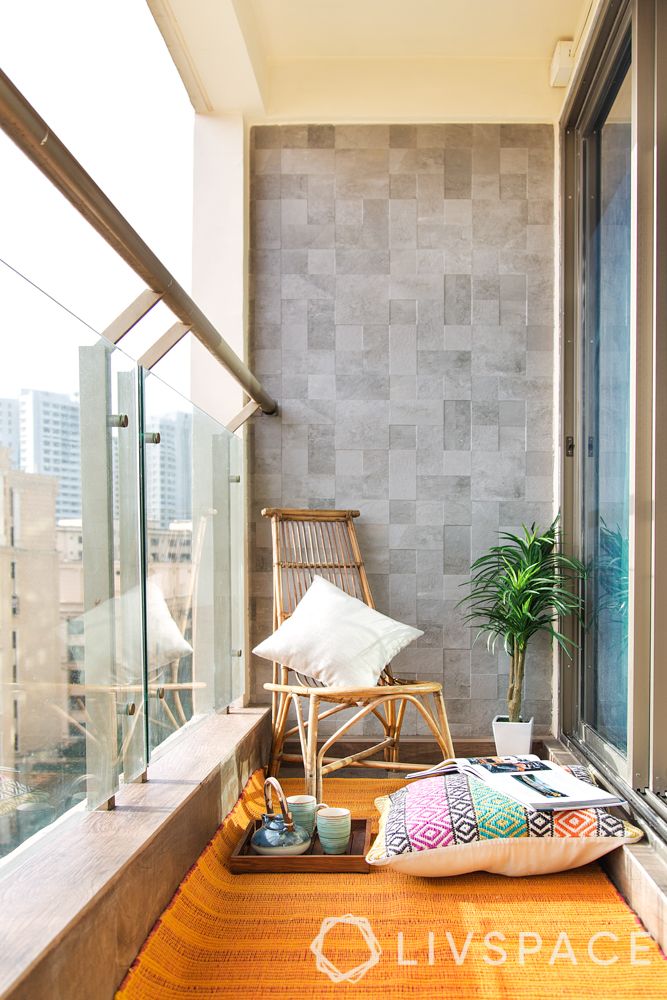 In most cases, the railing not only provides safety but also determines the style of the balcony. Shamala points out that popular balcony railing designs include grills made of stainless steel or powder-coated mild steel, glass and aluminium. Other options that add to the aesthetics of this space include cast iron and wooden railings.
Step 7: Flooring Choices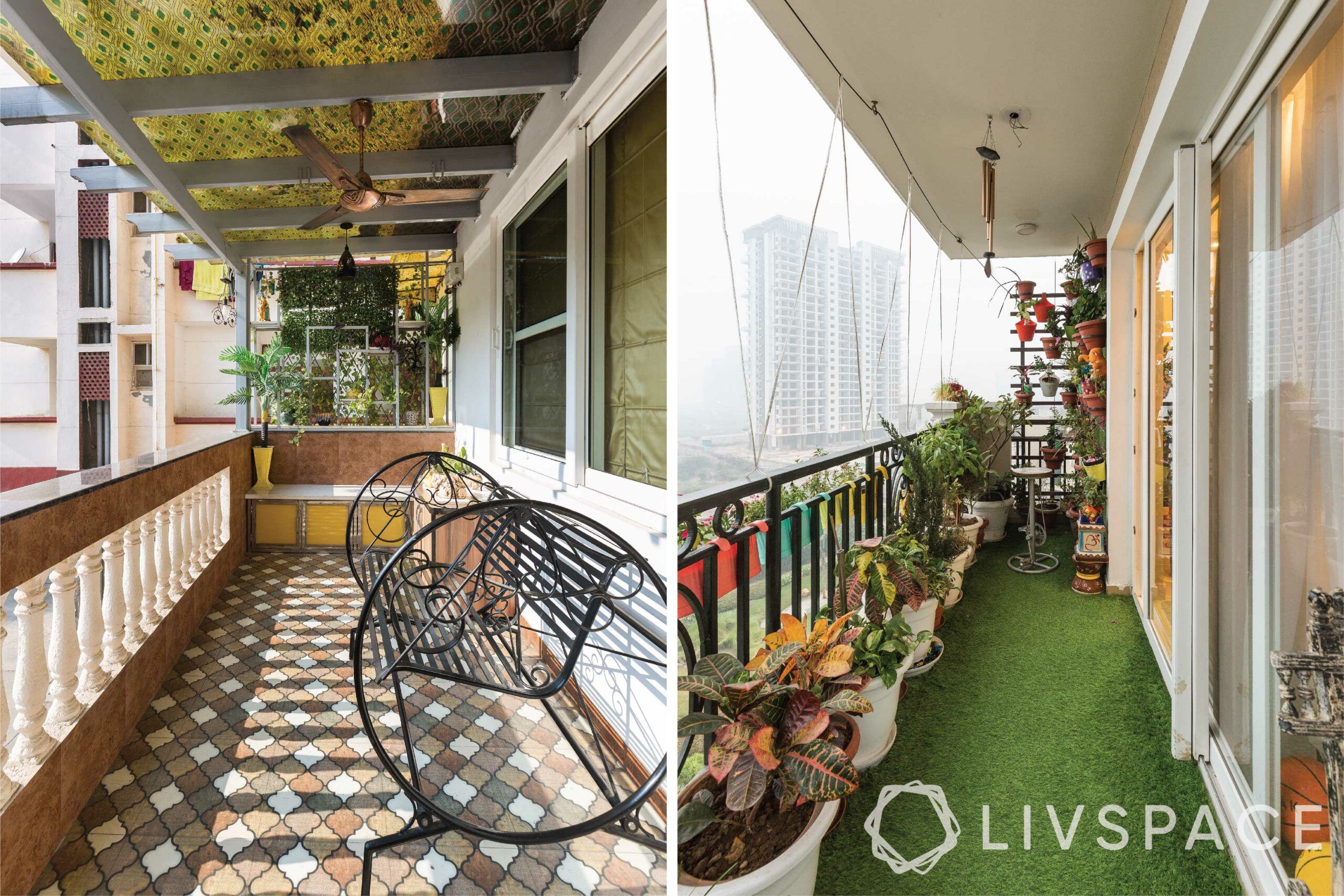 Shamala recommends you opt for low-maintenance flooring like artificial grass or tiles. While the turf is easy to hose down and clean, porcelain and ceramic tiles can be simply wiped. These tiles are built for plenty of footfall and happen to be a cost-effective option, too. Furthermore, other durable flooring choices include concrete for an environment-friendly option and brick flooring for a slip-resistant option.
Step 8: Decorate according to the space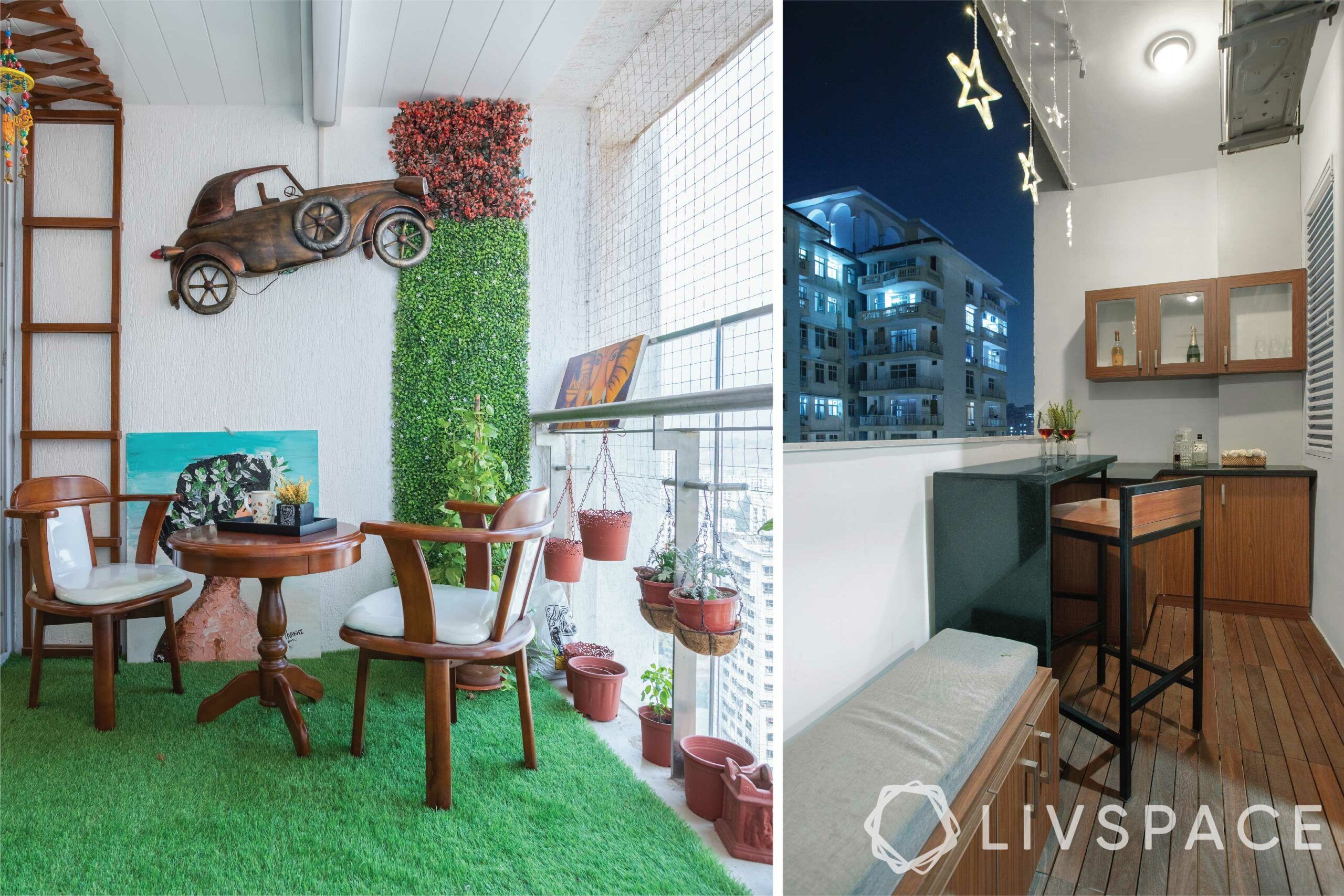 Shamala points out that due to the lack of space in metro cities, apartments and residential units are becoming smaller, resulting in smaller and more compact balconies. The average width of a balcony is 4 to 5ft, while some independent homes can have balconies that extend to 5ft or more.
Low-maintenance plants:
All you need to complete your house balcony design are low-maintenance plants! From snake plants to ferns, these green friends require minimal upkeep and can thrive indoors as well. Moreover, these plants are known for purifying the air and adding to the home's warm aesthetic.
Take a look at these Top 10 Low Maintenance Plants that you should get right now!
Lighting Options:
"When it comes to lighting, closed balconies can have some accent lights like fairy lights or other decorative options. Whereas, open balconies should preferably have ceiling hung lights or wall hung lights where rains wouldn't affect them," Shamala explains.
Step 9: We've got ideas for rented homes too!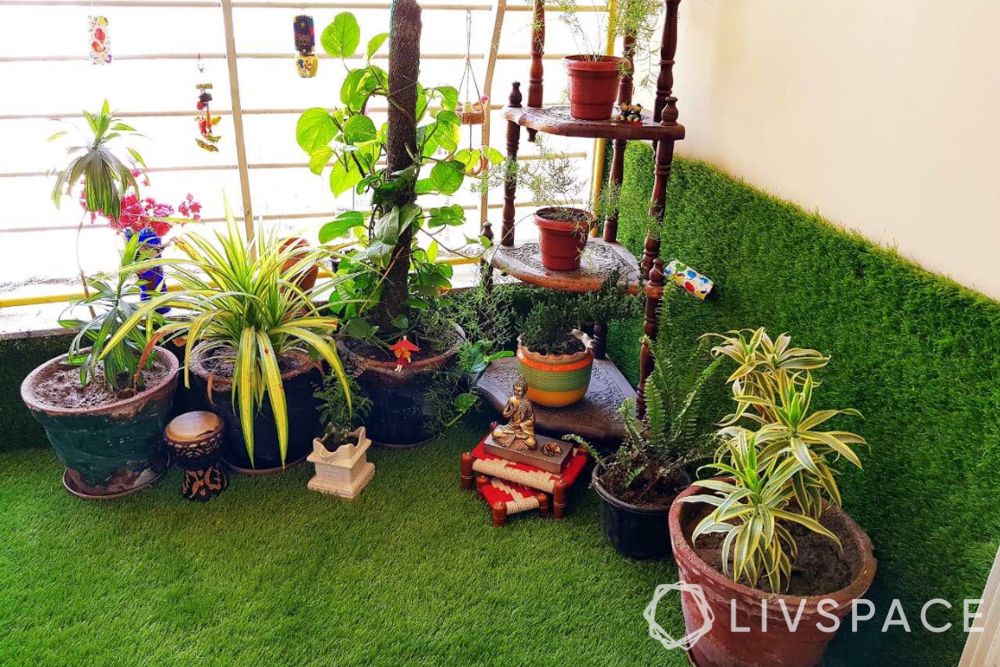 If you reside in a rental home, that might imply restrictions on drilling holes, painting or making other changes. Don't worry, we've got you covered! Shamala shows us how you can create a relaxing space to unwind in!
Load up on planters that can rest or hang on the balcony railing
Opt for a swing chair with a base instead of a traditional swing
Decorate with fairy lights instead of pendant lights
Opt for no-drill hooks that can hang on doors and railings
Get a multi-level display shelf into the balcony to show off your plants
Add artificial lawn grass that is easy to remove and reuse when you relocate
Alternatively, if you have a closed sit out design, you can opt for a rug
Install a vertical garden without drilling holes into the wall by attaching it to the back of a bench or build your very own movable one with this tutorial:
Source: Lowe's Home Improvement
How can Livspace help you?
If you need help with balcony set up ideas, then seek Livspace's expertise. Our talented designers will help you create a beautiful house balcony design. Book a consultation to get quality and safe interiors. Learn more about our COVID-19 safety protocols here.
To help you get started, here are some Popular Designs for Your Personal Outdoor Space in the Sky.
Send in your comments & suggestions at editor@livspace.com