There are a number of reasons why a balcony can do you good. You can start a herb garden, master the surya namaskar, or even star gaze. However, almost every home comes with a bare and boring balcony. It's up to you to make it into a wow-worthy space with balcony decoration! Transforming an ordinary balcony into a cosy oasis is possible with a little time and effort.
If you live in a rental home, you can also opt for online buys that we recommend. We have got you covered with this step by step guide to help you replicate this stunning balcony design.
Start by getting a good look at your balcony. Measuring the dimensions will help you decide on furniture and decor. Here, we have a standard 6×6 balcony that can accommodate 3-4 people.
Step 1: Start by giving your walls a coat of wall primer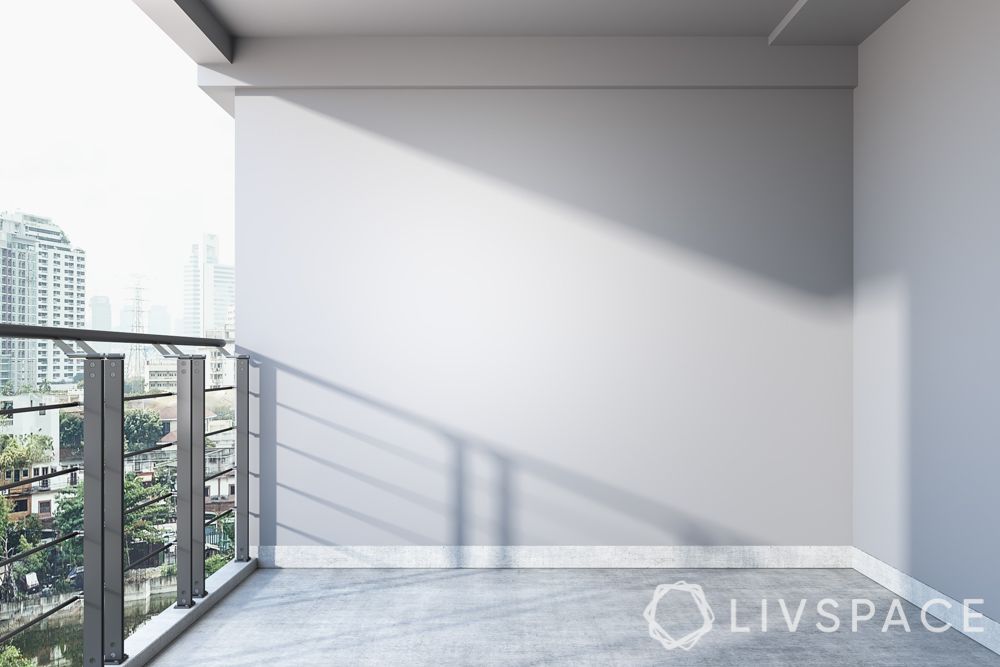 As DIY home painting gains popularity, you can opt to paint your balcony on your own. Always remember to add a primer to your walls before you get to painting your walls. This helps give the paint a longer life and is important for outdoor spaces that are exposed to sunlight, rain and dust. Moreover, a wall primer will ensure that your paint colour is bright and opaque.
Step 2: Paint the walls in a neutral colour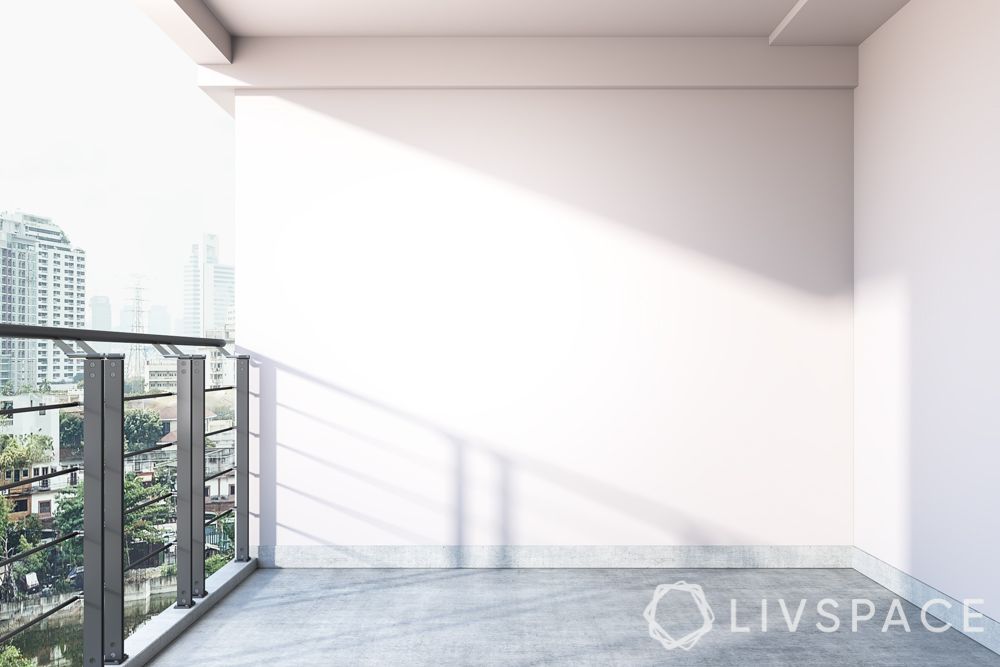 When it comes to painting the walls, we recommend a neutral colour like beige, baby pink ivory or any pastel colour. This will let your decor and plants stand out and steal the focus.Searching for something vastu-compliant? You could pick yellow, blue or green that acts as connection to the outside environment.
Step 3: Install a wire or metal mesh ceiling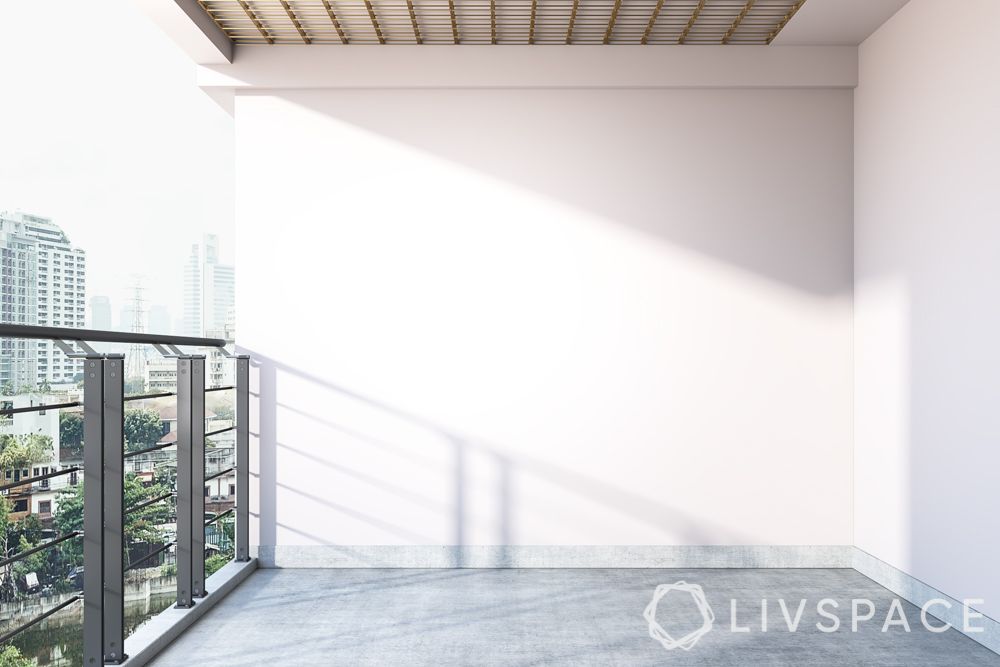 While you kick back to watch the sunset on your balcony, don't let the ceiling spoil your view. Here, we've installed a decorative mesh ceiling for ceiling creepers.This green canopy look will give your balcony a secret garden feel.
Step 4: Pick out quirky ceramic tiles or artificial turf for the flooring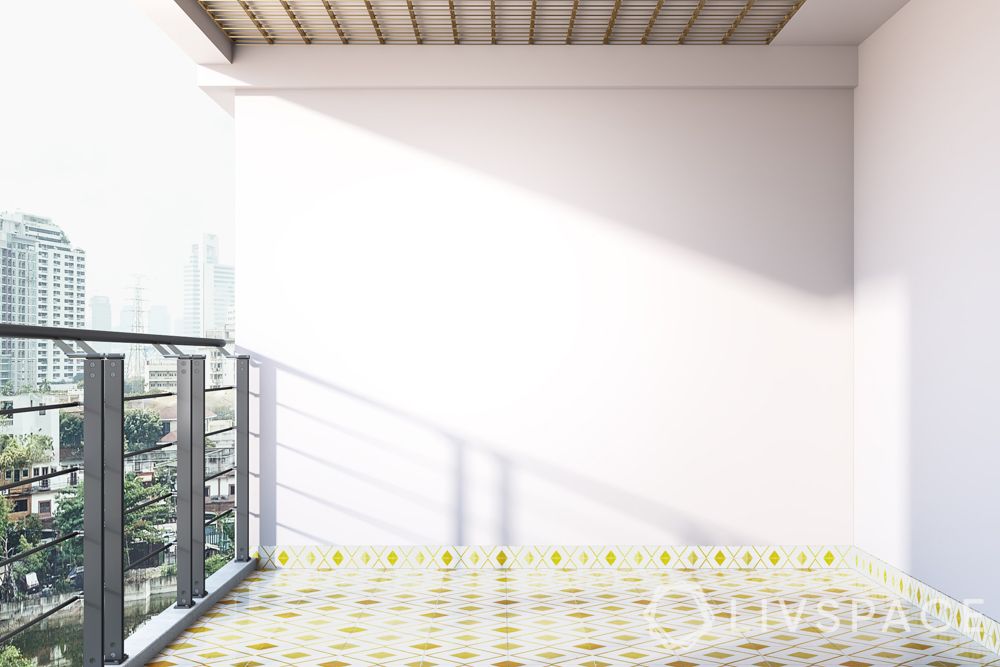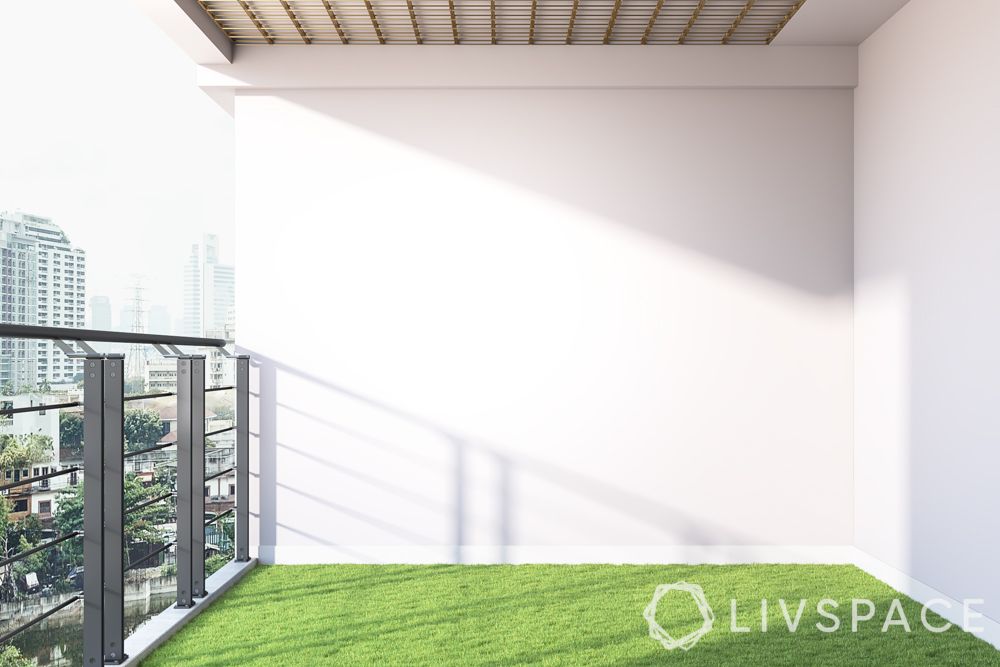 Moving on to the flooring, opt for patterned ceramic tiles or artificial turf. While ceramic tiles are durable and easy to maintain, artificial turf is the perfect shock absorbing material for children who use this space.
Affordable alternative: You can also purchase adhesive tiles to add an economical yet stylish lift to the design.
Step 5: Do up the walls with wooden panelling for texture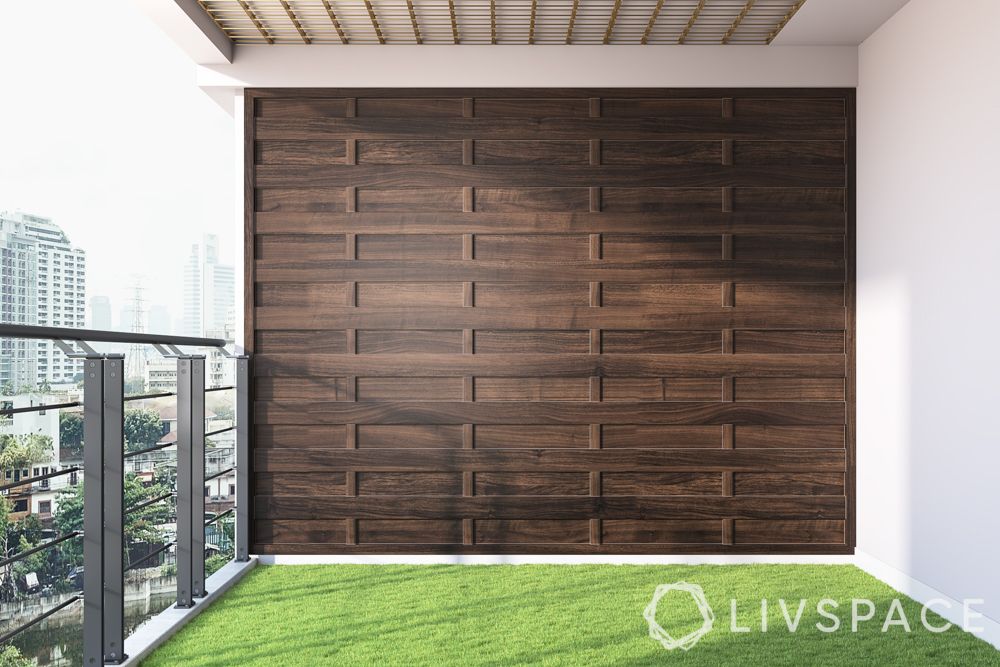 To give this space a grand element, you can choose from a number of wall treatments like wooden panelling, stone cladding or even an exposed brick wall. We have picked out this beautiful custom made wooden design for one of the walls here.

Step 6: Select a space-saving folding chair or hanging chair for the corner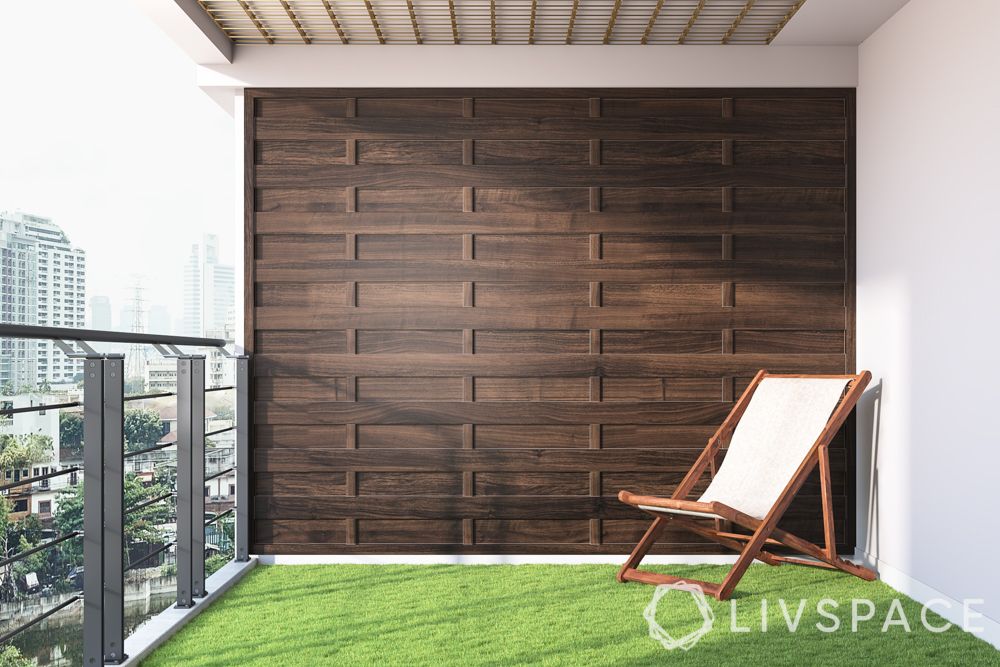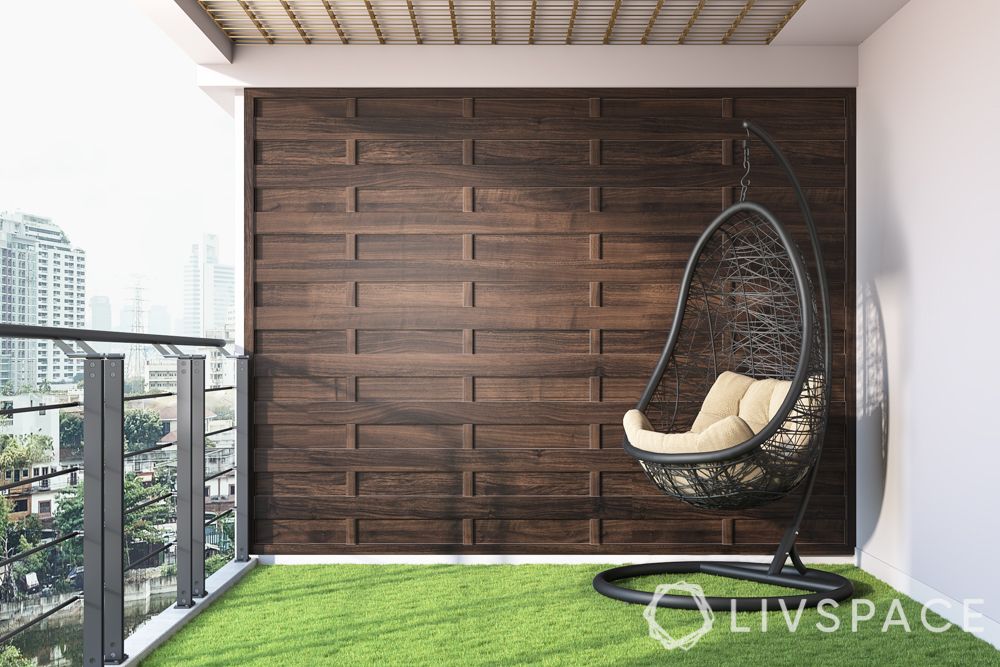 For seating, you can opt for something stylish and comfortable. Here, we have picked out a range of our favourite outdoor seating from the Livspace catalogue. You can pick from a minimal folding chair to a hanging chair.
Affordable alternative: This folding chair is a great buy and comes in different patterns and colours.
Step 7: Create a Zen garden in the corner with a Buddha statue, plants and floor seating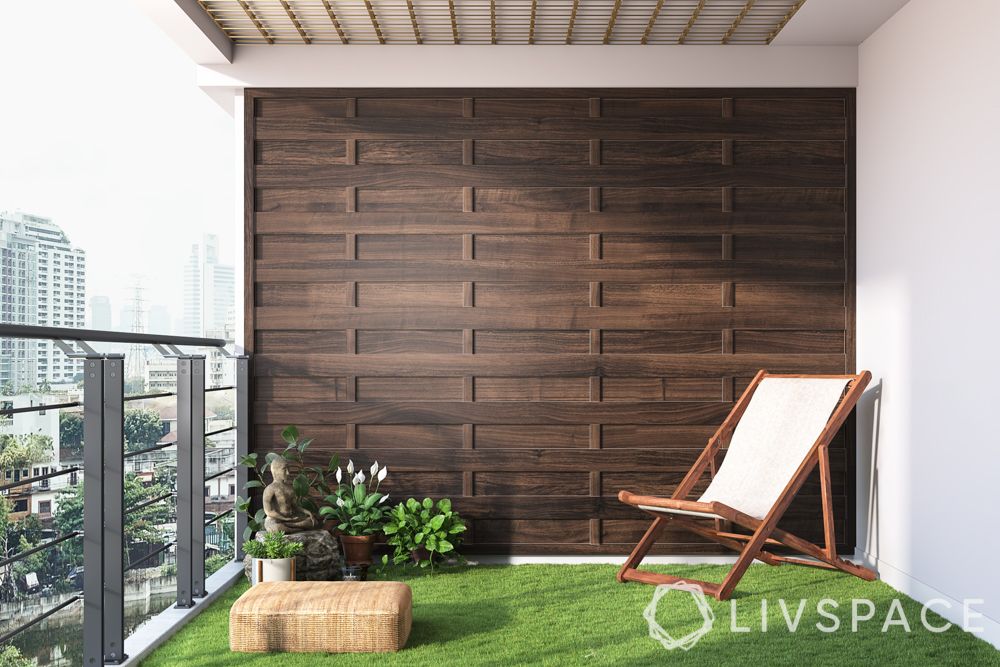 Most balconies are perfect for early morning yoga and meditation sessions. Assign a small corner to make your own personal zen space here. We have used a buddha statue and a square floor cushion for this balcony decoration.
Affordable alternative: Another great option for a zen zone is this Buddha Mural from Asian paints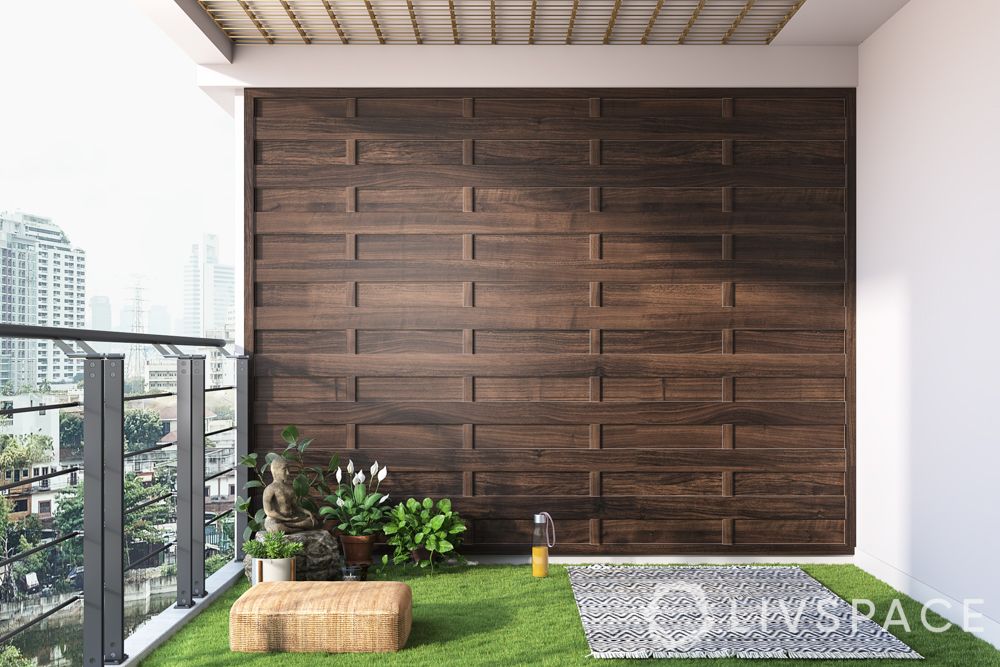 If you want to go all the way with your zen zone, you can also find a permanent spot for your yoga mat here.
Step 8: Anchor the space with a minimal coffee table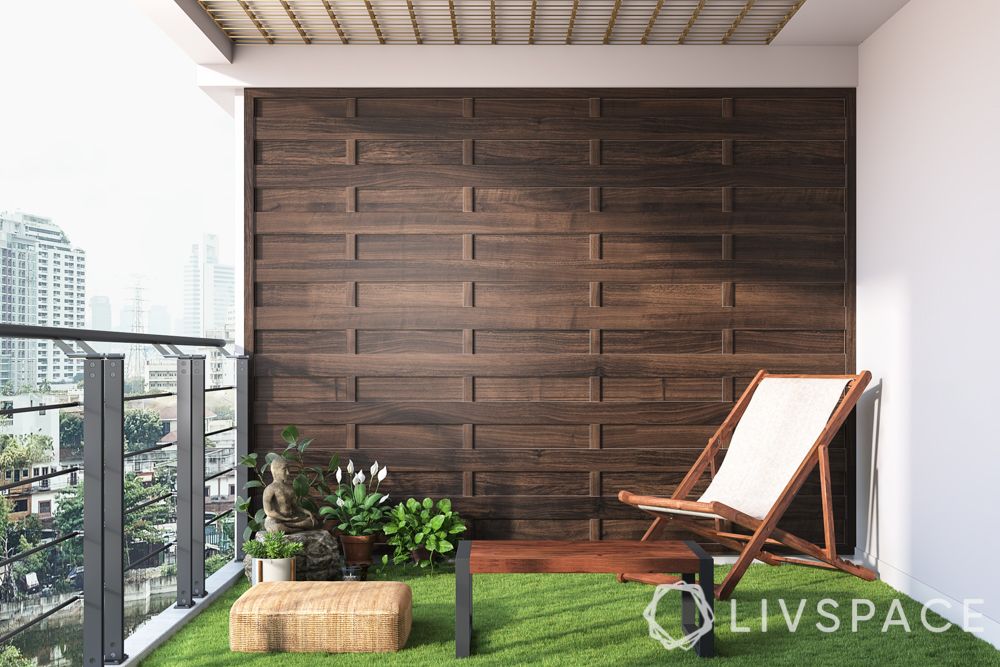 Find a coffee table that is minimal and does not take up too much space. Keep in mind that the furniture should be weatherproofed if it is kept out.
Affordable alternative: This Sheesham Wood Folding Table can be a stunning addition to any balcony design.
Step 9: Add railing planters to grow your own herbs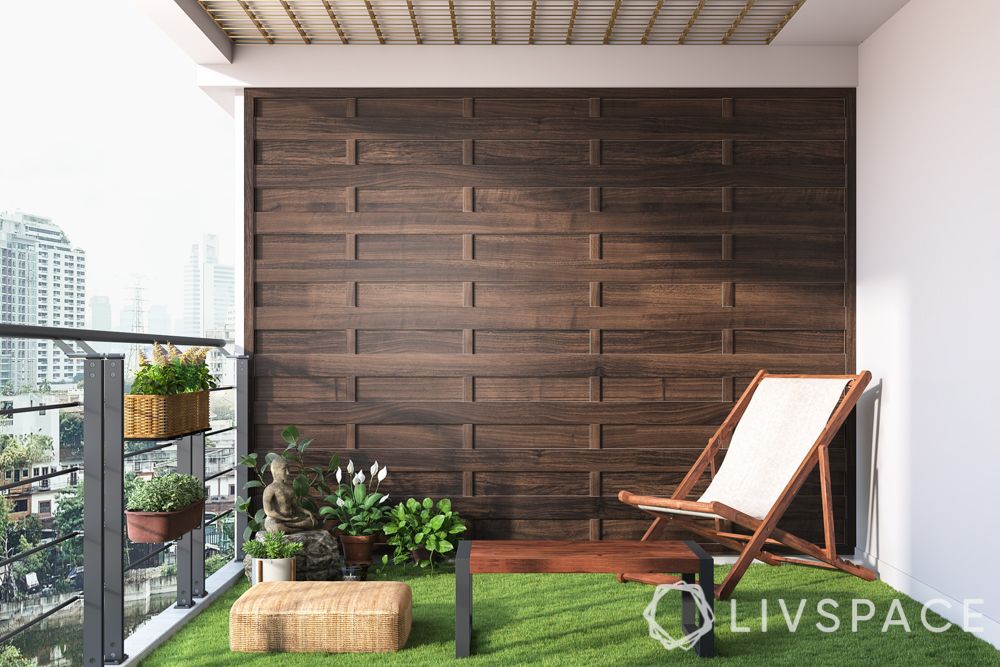 A balcony is incomplete without plants. However, a must for every home is a mini herb garden. You can fix planters to your railing for a decorative look.
Affordable alternative: These well designed planter are perfect and easy to install to your railings as balcony decoration.
Step 10: Take it a step further with hanging and framed planters
A balcony may still look bare without a few of your favourite plants. Get these Wall frame planters and hanging planters to complete your garden.
Affordable alternative: You can also make your very own framed planters for a fun DIY project
Step 11: Hang up decorative plates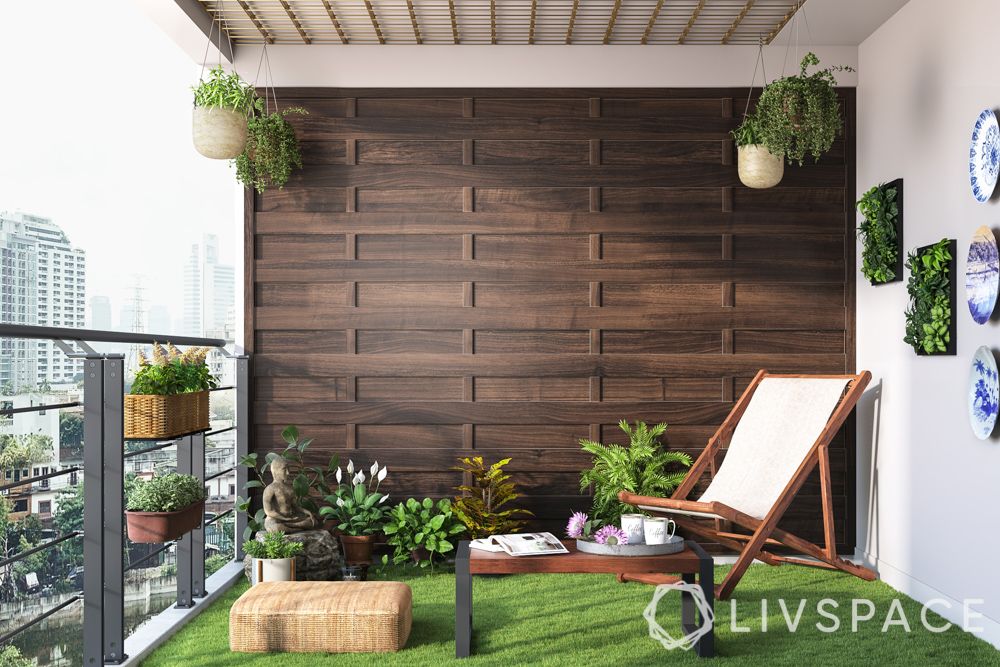 Decor can make or break the design. Therefore, opt for simple balcony decoration that you can hand-pick posters, photos and wall-mounts to make this space as personalised as possible. Here, we have hung up collectibles from around the word like these elegant Turkish plates.
Affordable alternative: If you're looking to build a decorative plate collection you can start with these Block Décor Real Art plates.
Step 12: Light up the space with fairy lights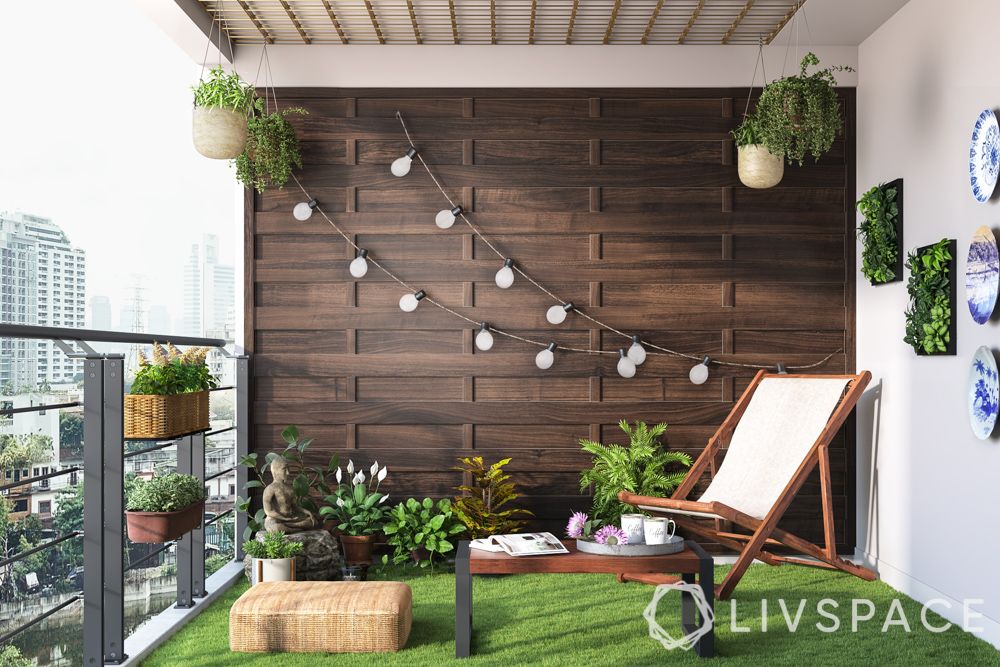 Lighting is crucial for balcony decoration. Not only is it an essential element, it can create the perfect ambience once the sun sets. A popular ambient lighting option is tp o put up fairy lights.
Affordable alternative: You can find the same lights we have picked out for this design for your balcony, too.
And voila!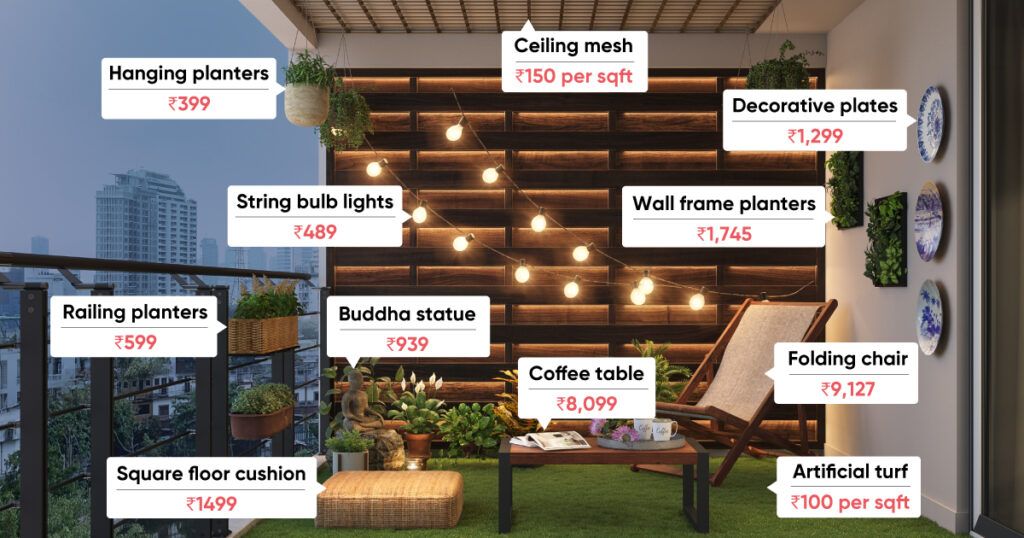 You can now enjoy your personal space just the way you like it!
If you liked reading this article, find out how to set up a stunning balcony that's low on maintenance.
Send in your comments and suggestions editor@livspace.com.