An unloved balcony, no matter its size, can be spruced up to become a cosy yet chic spin-off of the rest of the house. This means more than putting out a deck chair and assume its a wrap, though. There are a plethora of creative ideas just waiting to transform your tiny balcony into a beautiful nook!
In fact, a small balcony is the perfect canvas for a cosy setup. You can splurge with fancy balcony wall treatments or you can just add a few things for a instant glam makeover. Here's what you need to do!
Small Balcony Ideas #1: Add a Planter Wall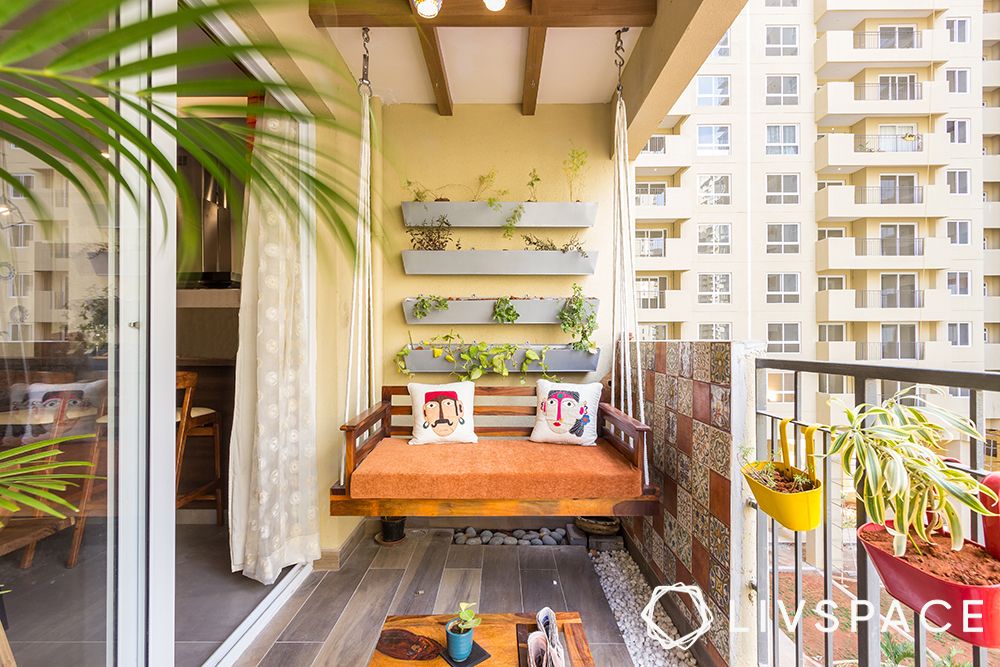 As far as obvious design ideas go, this one takes the cake. But planters can give small balconies an almost unrecognisable facelift, especially when they're artfully arranged on a wall. This idea is also clever in that it doesn't need too much floor square footage and makes use of available vertical space. For an all-year festive look, hang up some string lights or fix spotlights to the wall. This changes the look of the space and also makes for a pretty sight when looking at the balcony from inside or outside the apartment.
Small Balcony Ideas #2: Replace Boring Pots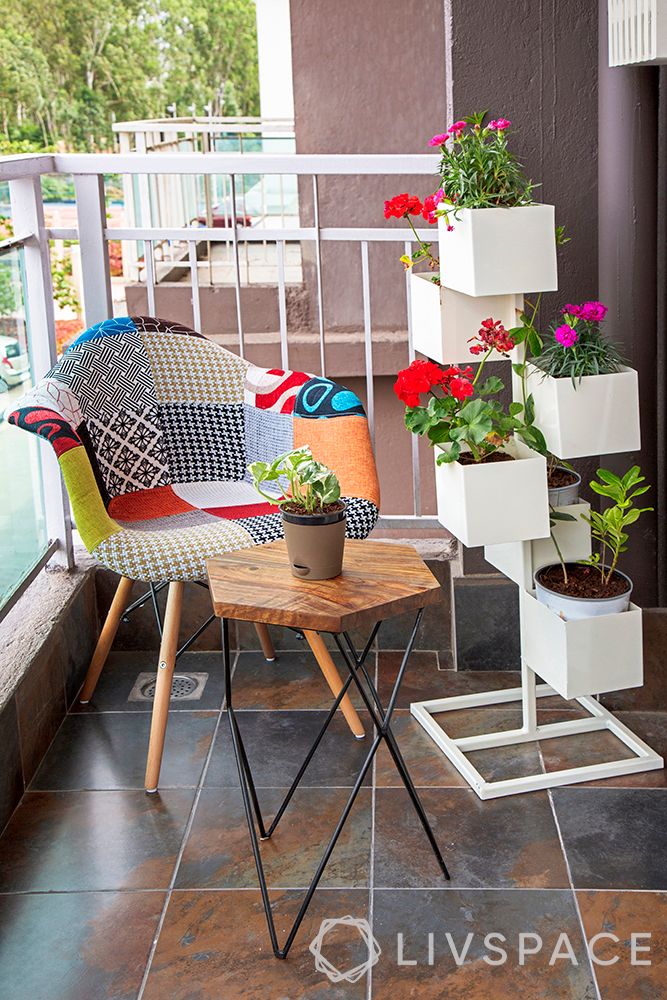 If you've got a bunch of plain terracotta pots lined up against the railing, it's time for a refreshing upgrade. Replace these ho-hum pots with bright and colourful planters in a variety of shapes and sizes. Don't forget to make use of vertical space by adding hanging planters and creeper vines. If you've got a sturdy railing, use a row of planters filled with flowering plants to add a charming touch and detract from the otherwise compact nature of the space.

Small Balcony Ideas #3: Add a Bar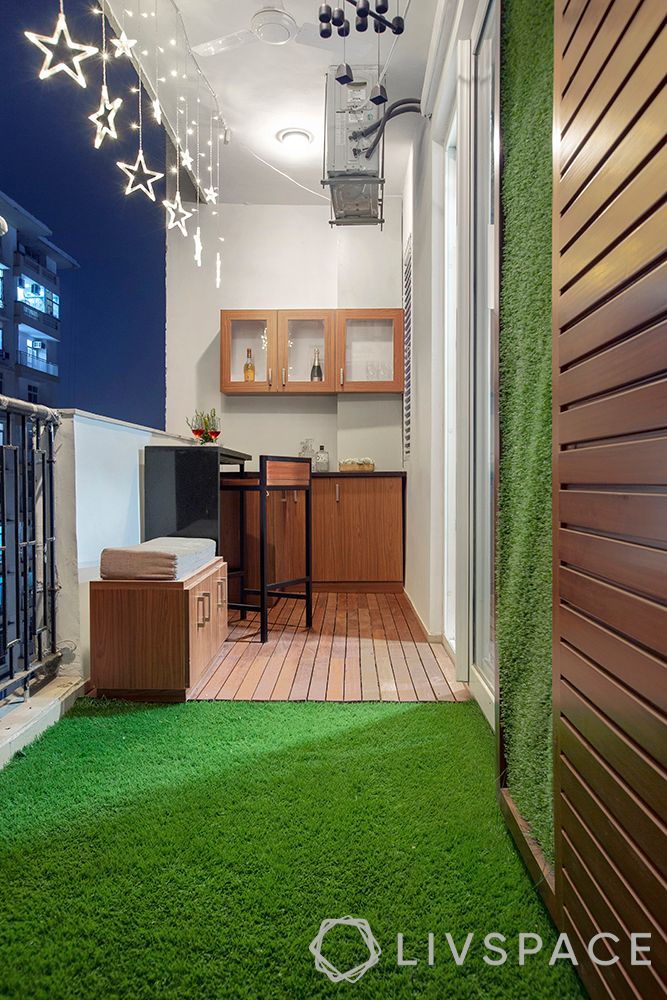 If there are stunning views on the other side of your balcony that you're not taking advantage of, this tip is for you. Consider converting this space into a cosy place where you can relax and unwind, while catching a glimpse of the stars!
Small Balcony Ideas #4: Choose the Right Furniture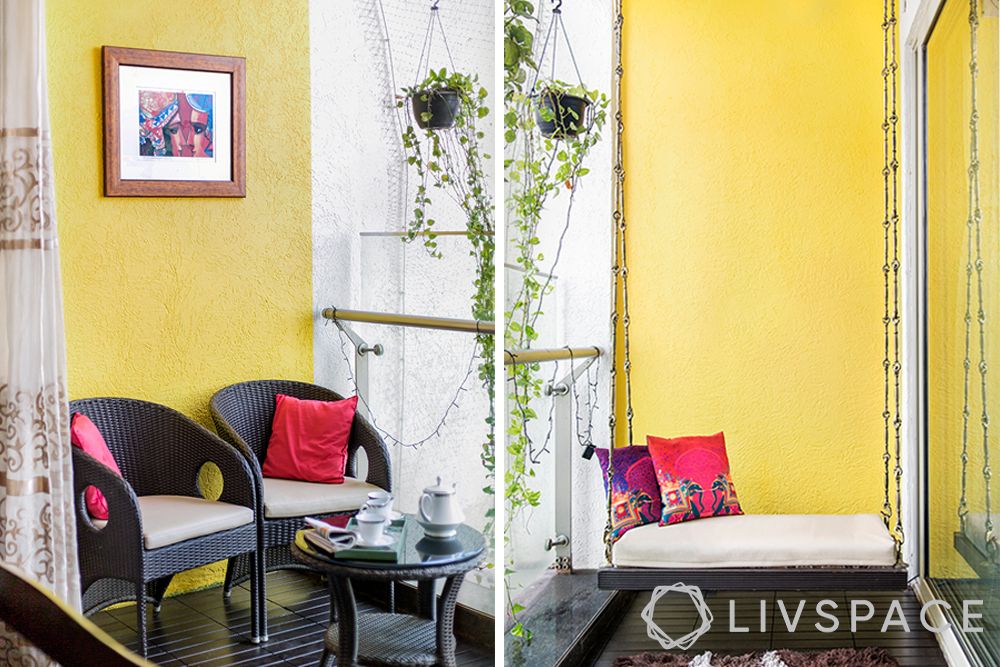 Furniture that is too big for a space can make the latter look even smaller than it is. To battle this illusion, think carefully before you choose your patio furniture. Instead, add some throw pillows or a hammock. Lightweight swings, wicker chairs and floor mats are great ideas for this space. If you're going down this route, take care in picking floor pillows and beanbags that are water- and weather-proof. They'll keep for longer and can just as easily be thrown in the wash.
Small Balcony Ideas #5: DIY a Zen Garden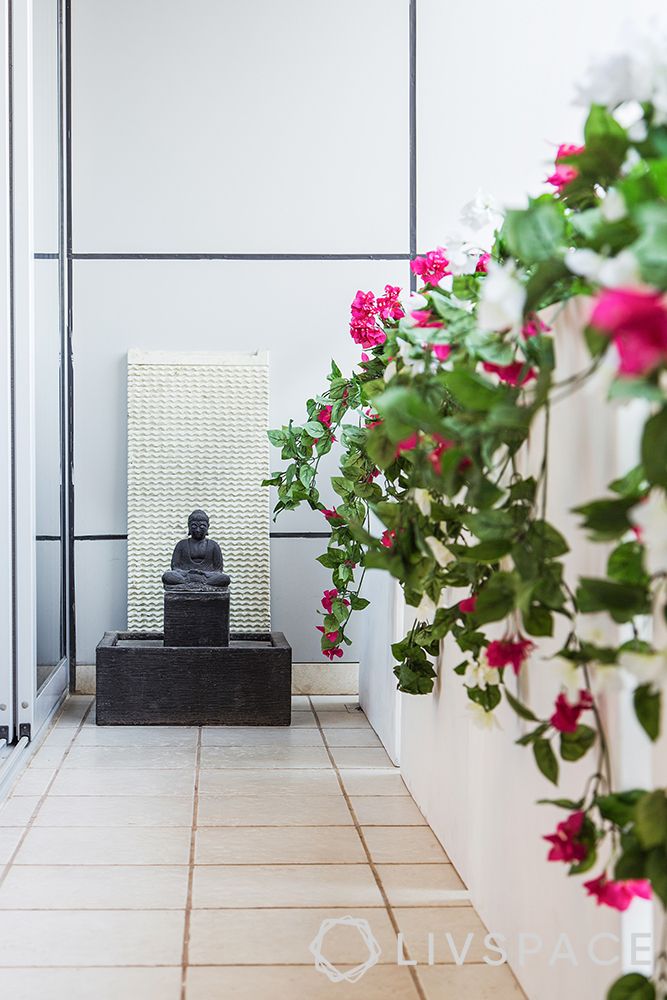 Zen gardens have much aesthetic and spiritual appeal because they ease the mind of stress and create a protective bubble to relax in. They're also easily DIY-ed! To create a zen space in your small balcony garden, put down a shallow box and fill it with gravel or coloured sand. Arrange some natural stones for an authentic feel, or add geodes for a more magical look. Place some air plants or cacti and you're all set.
Small Balcony Ideas #5: Or Throw in These Easy Peasy Options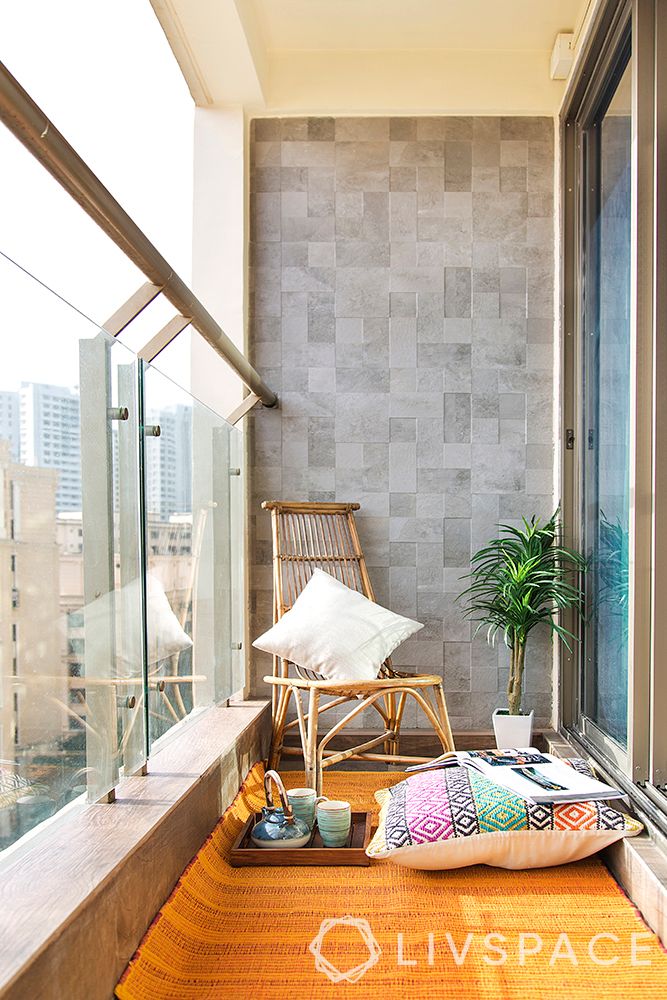 Are you looking for something quick and effortless for an instant makeover? Put in large floor pillows to create a boho chic vibe. Look out for patterned options for an extra touch of oomph. Add large potted plants to complete the look.
When it comes to seating without taking too much floor space, a sturdy folding chair and a hammock are great choices. There are dozens of options available on Amazon. Another instant tiny balcony idea is to lay down intriguing flooring. We recommend using these interlocking flooring water resistant deck tiles to your personal outdoor space for an expertly designed look. P.S. It's also a fun weekend project!
With these small balcony ideas, you can make even the most compact of balconies look charming and relaxing, so flex your creative muscles! So, take on the Budget Balcony Makeover Challenge and transform this space.
Send in your comments and suggestions to editor@livspace.com