Are you still just looking up decor inspiration online and basing all your interior design decisions solely on them? Why not get a look and feel of your future home in-person? Influenced by this touch and feel concept, we at Livspace, offer you a unique opportunity to get a glimpse of your future home within a store. Our Livspace Experience Centres allow you to conceptualise your dream home like never before.
Finding a Livspace Experience Centre Near You
….is easy! You can find a Livspace Experience Centre in more than 30 cities across India. With a total of 35+ Livspace Experience Centres, we want to continue to bring the ultimate design experience within your reach.
How to locate the nearest Livspace Experience Centre near you?
Scroll down to the Find us here section
Click on the city you are in
Find the address listed on your right
Get map directions and available timings
That's it! We are ready to welcome you
Can't find the time to drop by? No worries! We have curated a special video tour of our Livspace Experience Centre so that you don't miss anything.
What Goes On Inside Our Livspace Experience Centres?
Unless you have already taken the special video tour, you might be wondering what happens when you visit a Livspace Experience Centre? Moreover, why should you even visit a Livspace Experience Centre?
To explain simply, you get to take a tour of beautifully designed rooms, and also get a sense of different interior design materials, finishes and accessories. Additionally, you get a live-demo of a modular kitchen or wardrobe and explore endless options of all things – interior!
I. Discover Styles for Every Room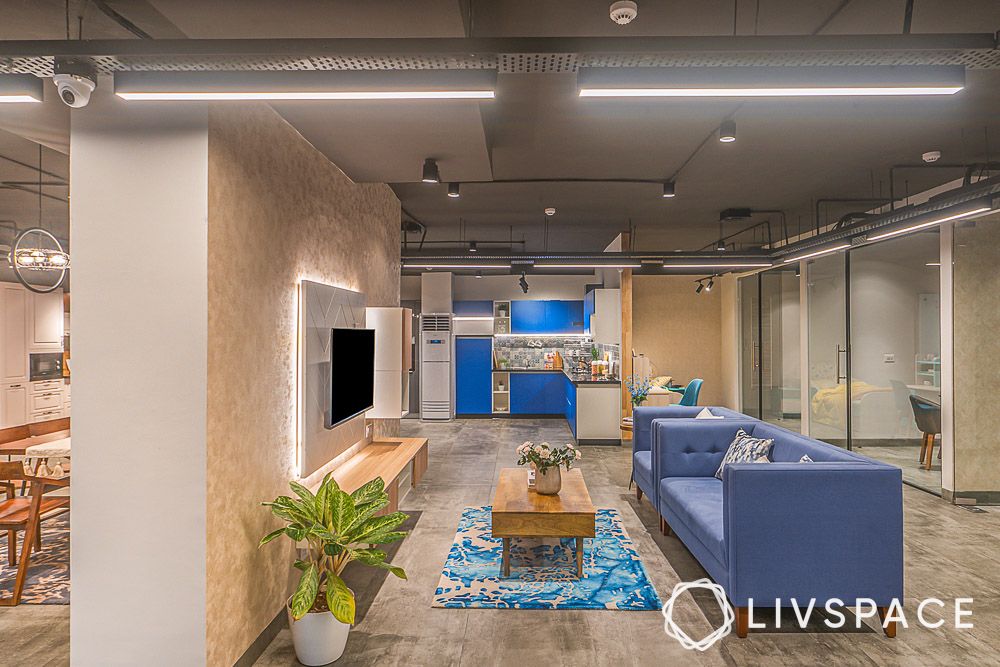 A Livspace Experience Centre is designed to provide you with a glimpse of how your home can look and feel. We have curated a variety of room designs and stunning styles to give you ample design inspiration for living and dining rooms, bedrooms, modular kitchens and everything in between.
Note: The furniture in the centre is only for display and not for sale.
II. Explore Material & Finish Options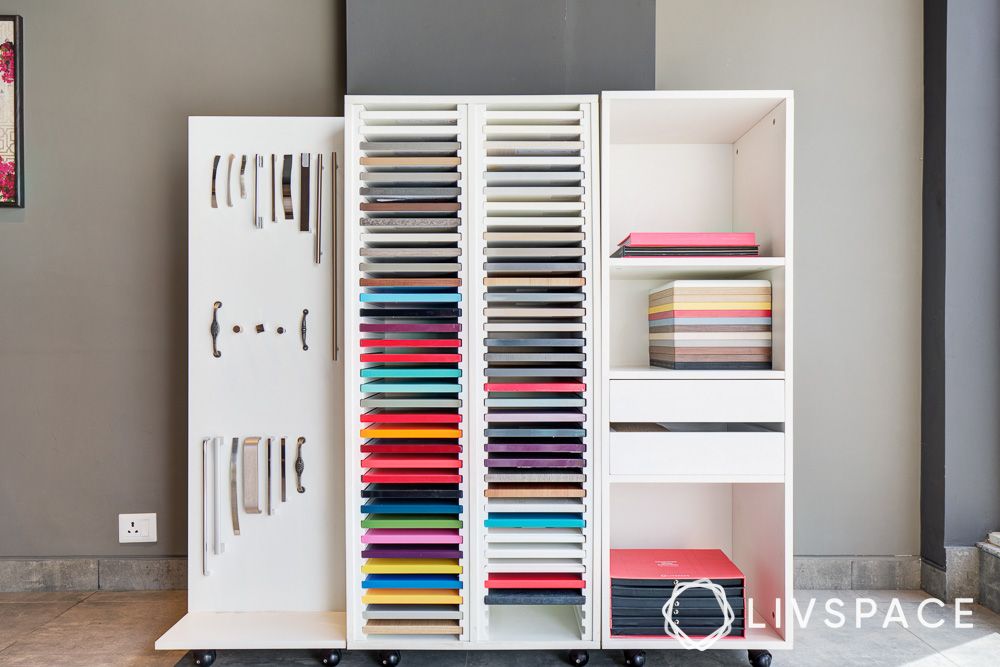 We have a different approach than external contractors when it comes to interiors. So, you will never find us imposing a material or finish option on you. Instead, we have swatches of the different materials and finishes you can try.
Our materials go through 146 quality checks and are powered with precision-engineered technologies like AquaBloc, DuraBuild and AntiBubble. The first protects modular products from water, the second gives you sturdy cabinets, while the third ensures seamless finishes and no air bubbles.
So, pick from a wide range of finishes, materials, wallpapers, and more! Like something? With us, you get to pick it yourself and see how it feels.
III. Experience Our Products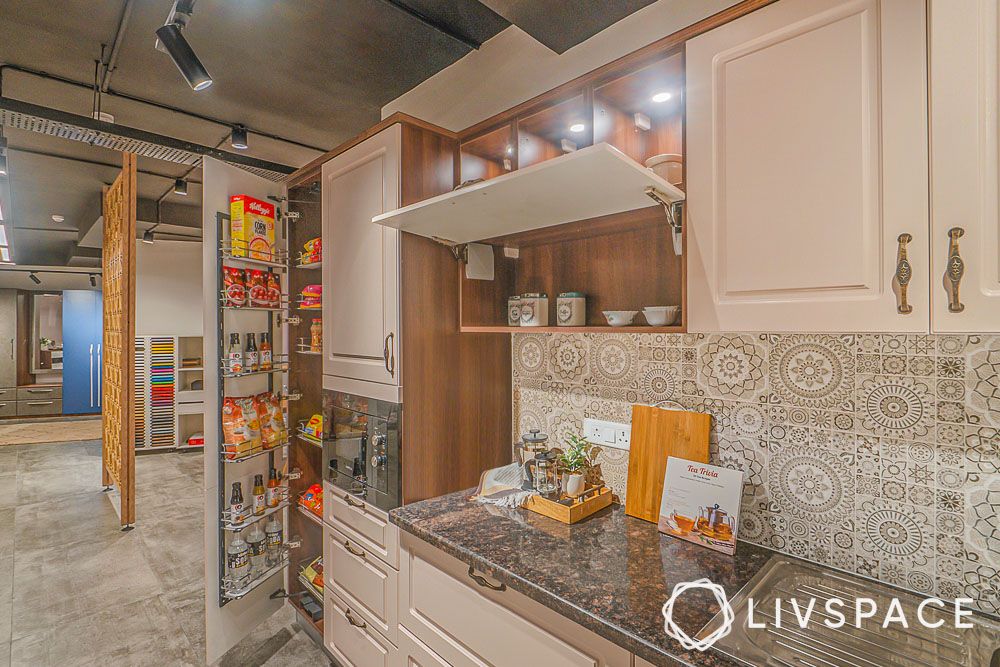 We don't just have furniture; we have conceptualised how a room can look in reality. So, the whole setting is styled with furniture, furnishings and decor in a variety of colour combinations and themes. In fact, you can sink into a sofa or check out the spacious wardrobes on display.
All this is done to help you decide what suits your lifestyle best.
Because, at Livspace, seeing is believing.
IV. Get an Expert Design Consultation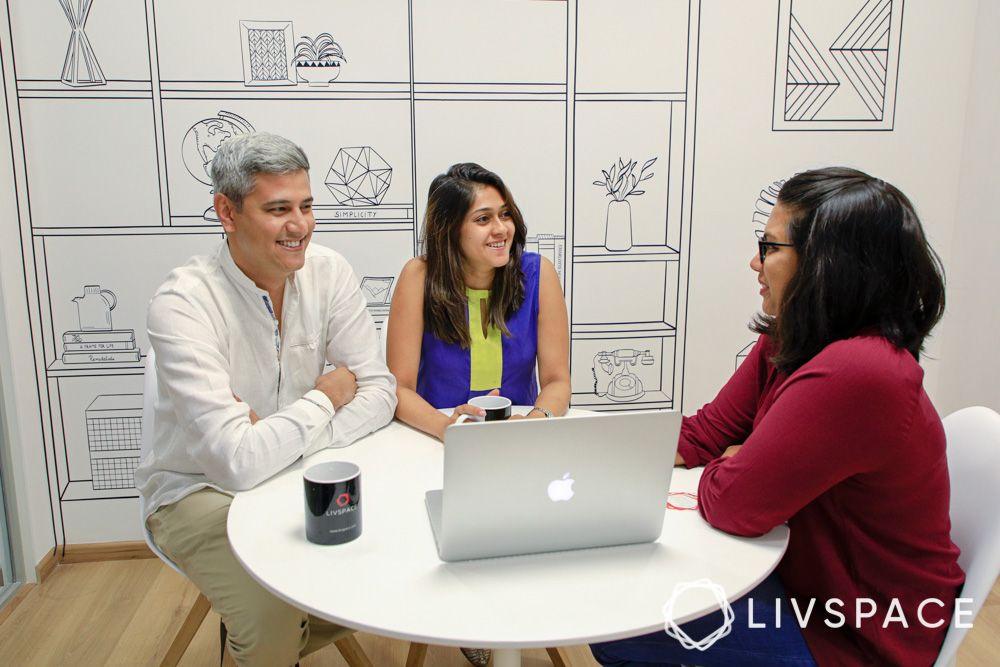 During your visit, our Livspace Experience Centre managers will be delighted to show you around.
We always have interior designers to help curate and create your home. However, if you would like to book a prior appointment, you can do that too by talking to a designer.
Visiting a Livspace Experience Centre? Here's What to Expect
We guide you through the different designs at the centre, while also offering you a glimpse of our catalogue and completed projects. We have meeting rooms where you can easily view the concept presentation our designer has put together for you.
In case your kids accompany you, we have toys and puzzles to keep the little ones busy. If you need a booklet or catalogue to browse through designs, simply ask your designer!
How Can Livspace Help You?
You will get personalised designs with 3D renders of the existing floor plan
In addition to an interior designer, you will also be assigned a project manager who will help you with execution, every step of the way
You will receive dedicated after-sales support throughout the warranty period
To get your home designed by the best-in-industry professionals, book a free online consultation with Livspace today.