When it comes to home interiors, breakfast counters are a great family-friendly and sociable component of designs. In simple terms, they serve as soft buffer zones between our living areas and kitchens. And subtly, these breakfast counter designs also benefit home management by shifting the burden of daily maintenance from the dining area to the kitchen. Read on to find out more of their features that make them utilitarian.
Peninsula Breakfast Counter Designs
#1: A Simple Eclectic Design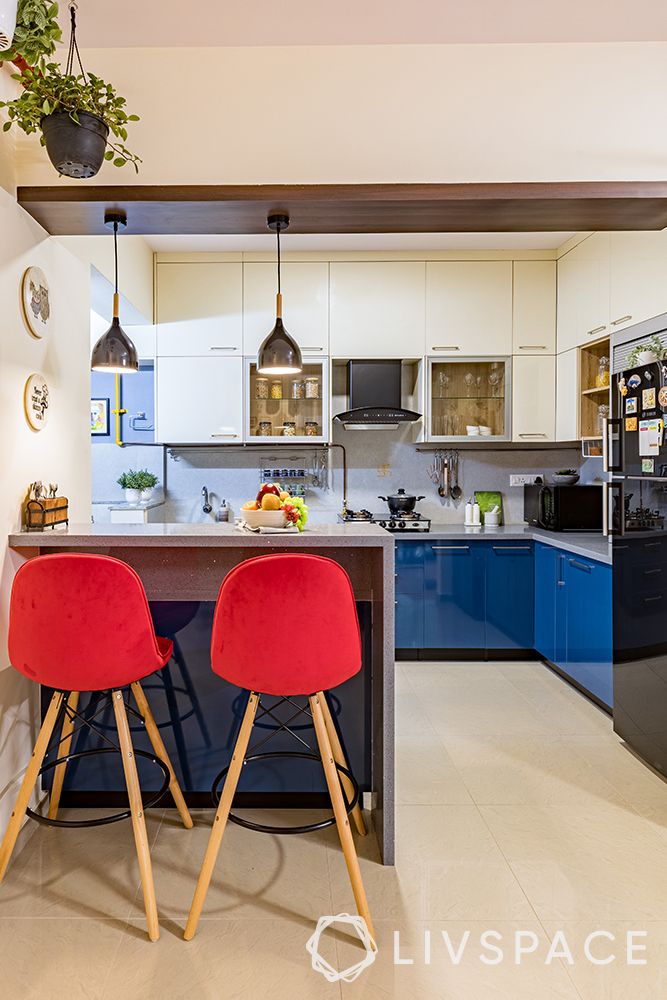 The advantage of such a design is that it can effortlessly become a part of your existing kitchen. If your house follows a particular aesthetic or colour scheme, then we recommend you stick to it. But otherwise, this eclectic breakfast counter in the kitchen is trendy, functional and practical to begin with. The minimal table echoes the colours in the kitchen and the Scandinavian chairs add contrasting focal interest. The industrial hanging lights above the counter also supplement the decor on the side wall. Since most flats these days have a solid kitchen architrave, this is the most flexible and space-saving breakfast counter idea for Indian homes.
#2: A Modern Minimal Design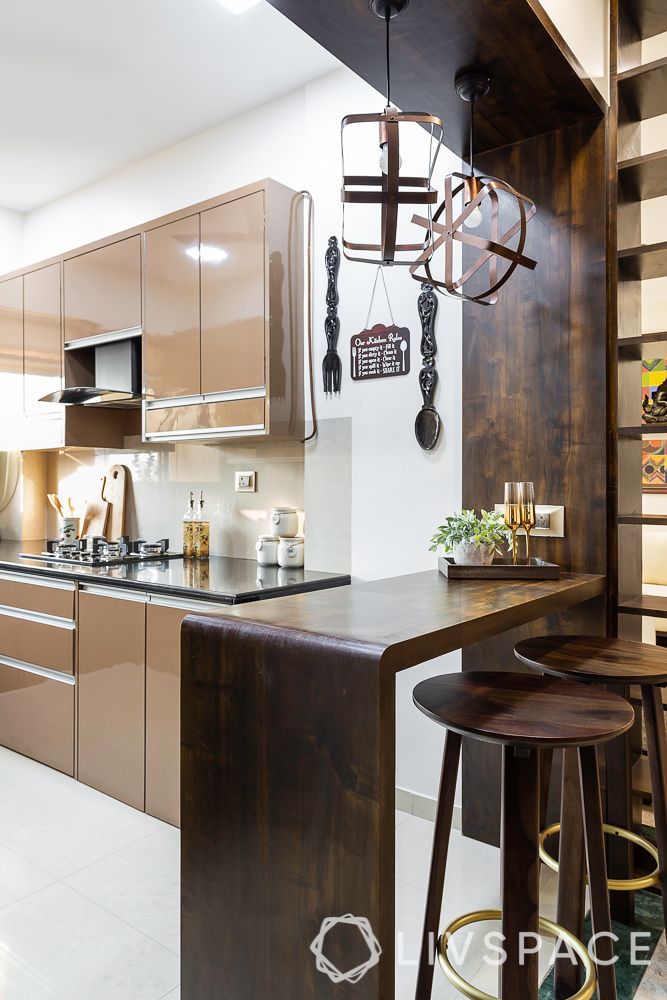 Like we said before, it is best to adhere to the existing aesthetics or colour scheme of your house. And this modern breakfast counter in the kitchen shows you how you can achieve it. Since the cabinets are set at a bit of a distance from the kitchen entrance, the architrave is laminated to mimic a gateway. And taking advantage of that lamination is the minimal breakfast counter idea. It also showcases beautiful metallic details that add lavishness to the design.
#3: A Scandinavian Design with a Hob and Chimney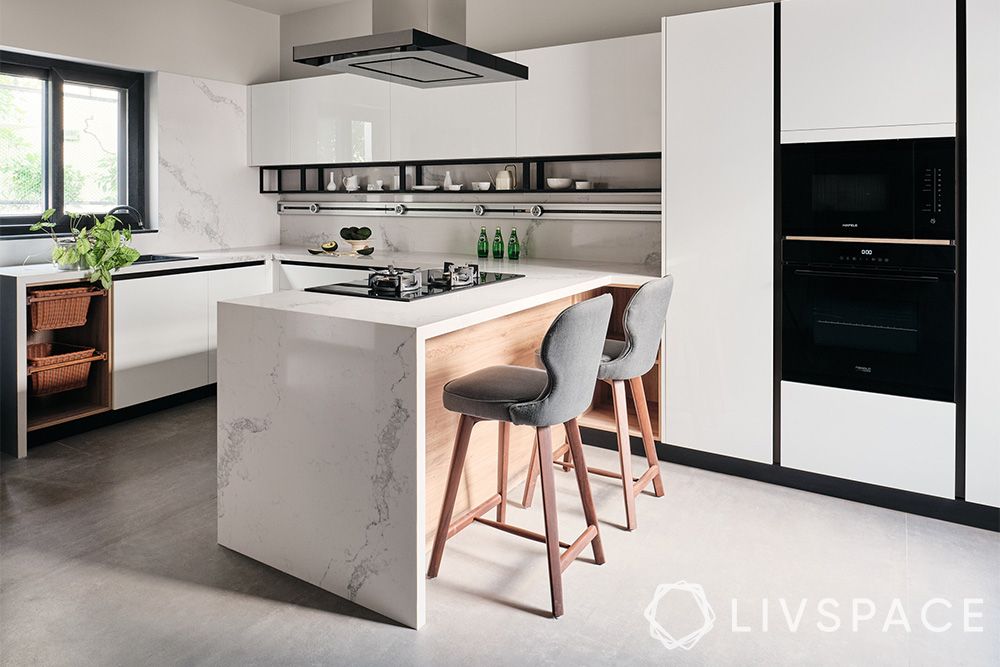 The Scandinavian style never ceases to go out of fashion because its elements effortlessly merge with other designs. The counter in the above picture is made more constructive by the hob as it safely allows the user to be more involved in activities taking place outside the kitchen. A parent can keep an eye on their kids while cooking, or be more present socially. But the use of the hob has restricted the breakfast counter height to that of the typical kitchen workstation. So if you're attached to the idea of high breakfast counters in the kitchen, then keep reading for creative solutions by Livspace.
#4: A Contemporary Counter with Shutter Storage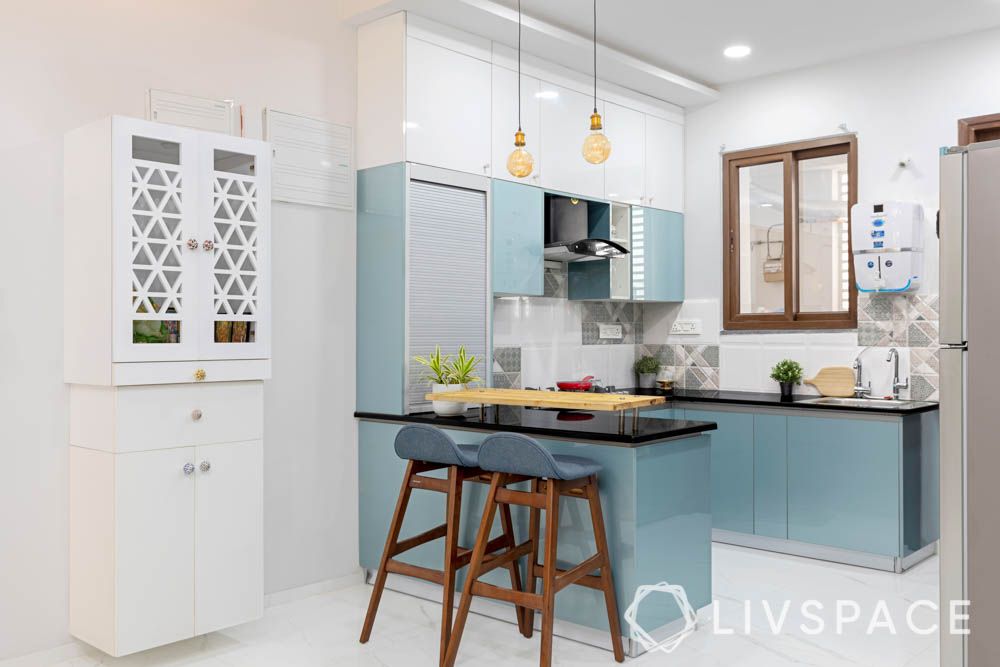 One quick fix of low breakfast counter height is to add a raised plank. Choose materials wisely to make the platform work in the room. Apart from this, the design also features the rolling shutter unit for kitchens to store appliances. This added storage can do wonders for small, compact spaces. After all, there is no reason why your counter should serve only one purpose.
Island Breakfast Counter Designs
#1: A Spacious Scandinavian Style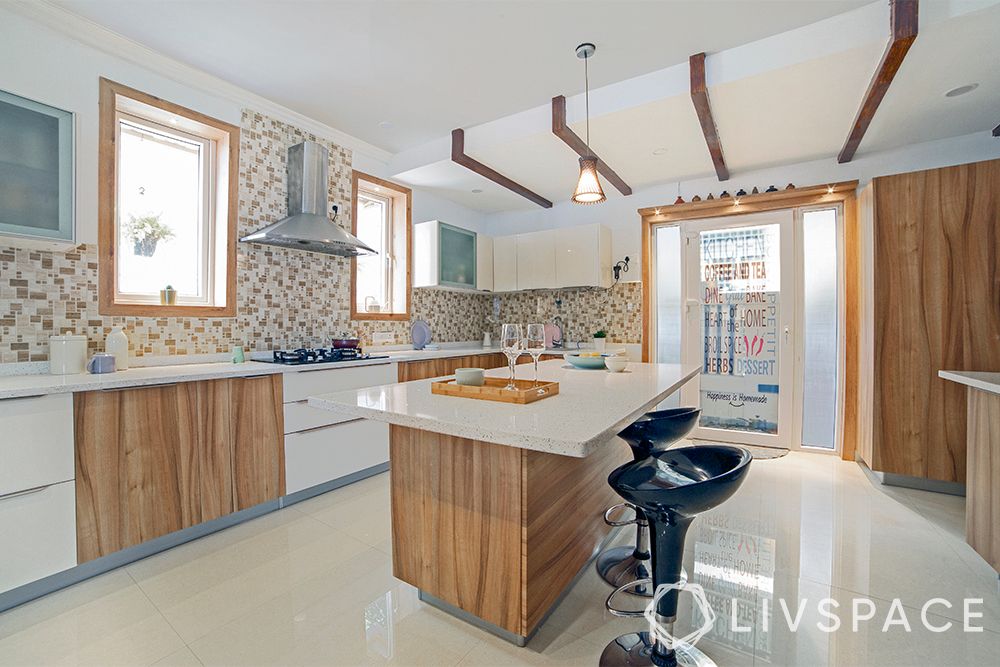 Kitchen islands generally serve as extra storage and workstations but as breakfast counters they tend to make our kitchens even livelier. Even while entertaining guests or throwing a party, since the crowd usually breaks up into smaller intimate groups, it helps to have seating provided in the kitchen. Again here, the breakfast counter height is lower than the standard 42 inches.
#2: A Promising Modern Style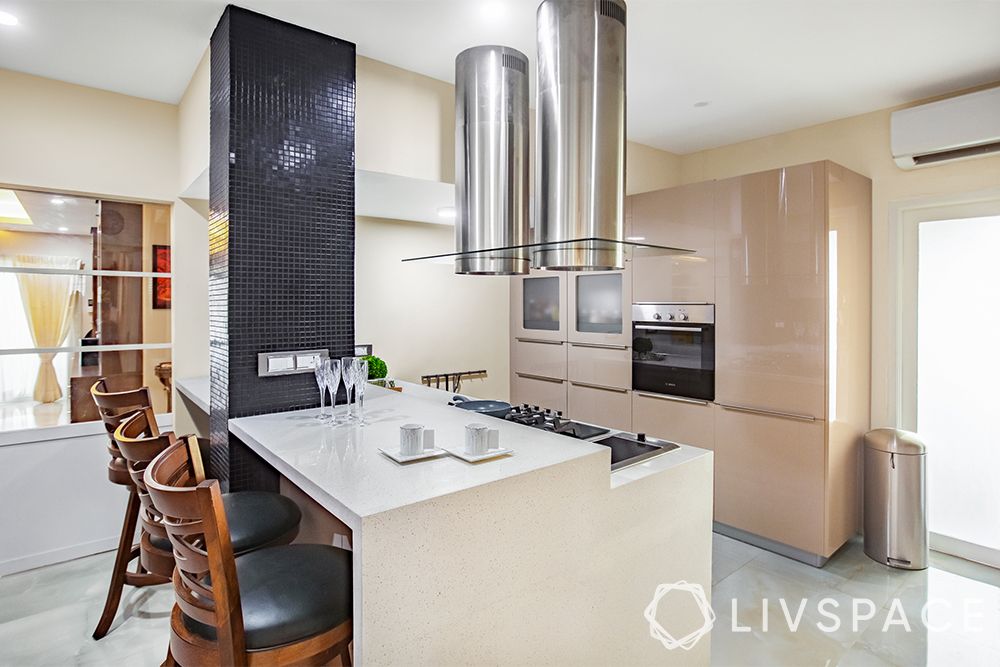 This winning counter design has storage, seating and a hob, and faces the living room to ensure there is a connection between the person working in the kitchen and those in the living area. The breakfast counter height is raised from the kitchen platform to give an authentic experience. This also provides protection to the person sitting on the counter from the cooking splatter. One can quickly serve breakfast during the morning rush in the house.
Unconventional Breakfast Counter Designs
#1: A Flexible Scandinavian Style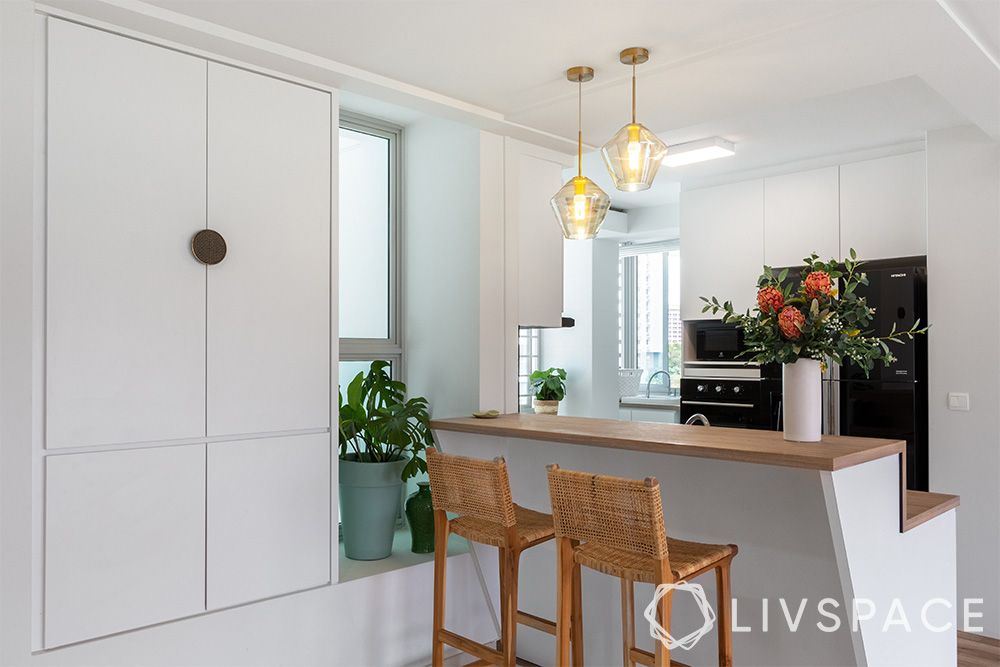 Design needs to keep evolving as does our style and thus bold, unconventional furniture is becoming popular nowadays. These user-centric designs are tailored to humans' needs after understanding their habits and behaviours. Take a look at this breakfast-cum-bar counter that takes advantage of a potential storage space behind the kitchen workstation. It is in the form of an attached, raised breakfast counter at the rear of the workstation and continues the colour scheme from the kitchen and the hall.
#2: A Fun Contemporary Style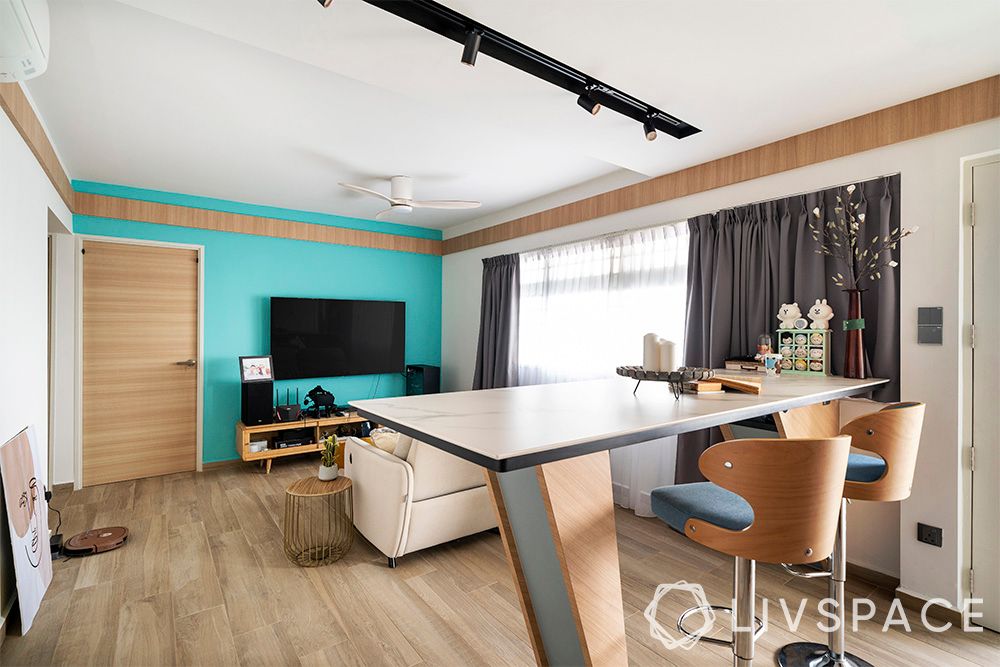 Another way to accommodate your lifestyle is by placing your breakfast counter in the living room. It acts as an informal seating and also doubles as a bar counter during parties. Its affinity to the entertainment area (the living room) makes it multifunctional and fit for the new lifestyles. It sells well because of the convenience it provides.
We hope you enjoyed our gallery of breakfast counters that are meant for Indian homes and their evolving designs. You may even want to look at 10 Brilliant Interior Design Ideas for Small House from This Dreamy 3BHK.
Check out this stunning kitchen design:
Send in your comments and suggestions to editor@livspace.com
How Can Livspace Help You?
We hope you found our ideas useful! If you want beautiful interiors for your home, then look no further. Book an online consultation with Livspace today. Delivering safe home interiors has been our No. 1 priority. Click here to find out how interiors are being delivered following all safety protocols.