Kitchen design, like every workspace demands a certain layout that increases productivity, inspires and improves efficiency. Considering that kitchens are where most culinary masterpieces are created, designers have spent perfecting the basic kitchen layouts for decades! The foundation of it all is the concept of the Golden Triangle. Learn about it here.
We've moved from traditional kitchens to modular ones, upgraded kitchen cabinets, developed new materials, hardware, accessories, colours and finishes. However, the kitchen layout is your starting point and the one factor that directly influences the efficiency of your kitchen. Here, we take you through the basic layouts that could fit your new home.
Kitchen Design Layout #1: Straight Line Kitchen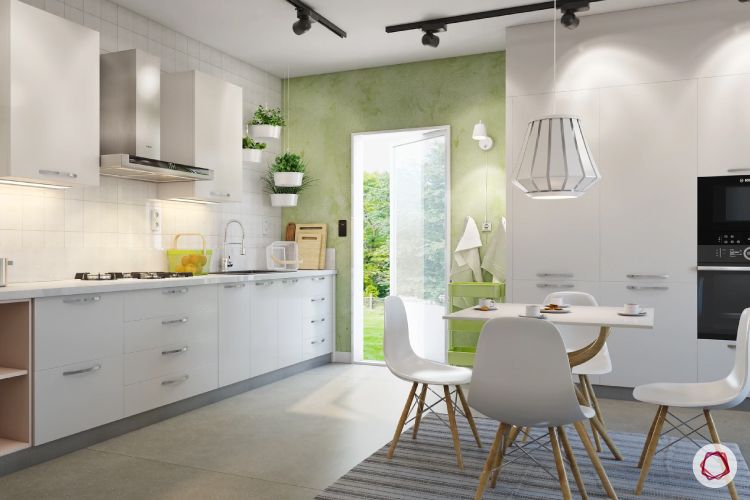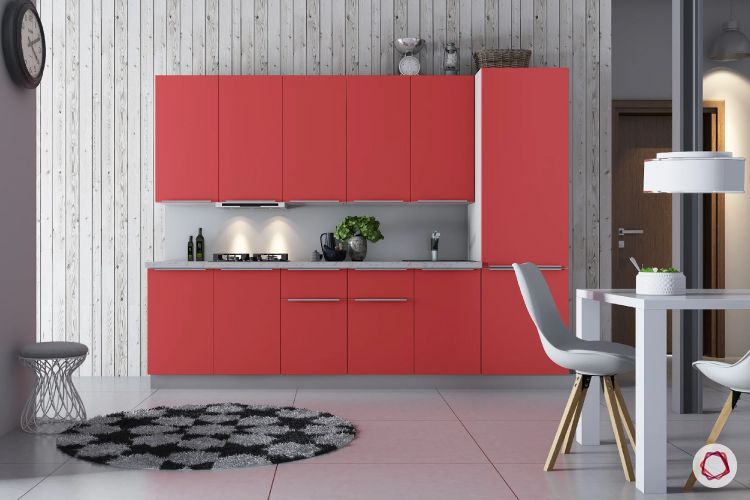 Also known as one-wall or Pullman kitchens, they have just one linear counter with cabinetry. This design is a space saver for small and studio homes, making it the ideal choice for the single and urban folk out there. However, for a family, this layout might be insufficient in terms of counter space.
Of late, even larger homes with open layouts have starting adopting the one-wall kitchen.
Pro Tip: We recommend not having a counter over 12-15 ft as it might make moving around a bit tiresome.
Kitchen Design Layout #2: L-Shaped Kitchen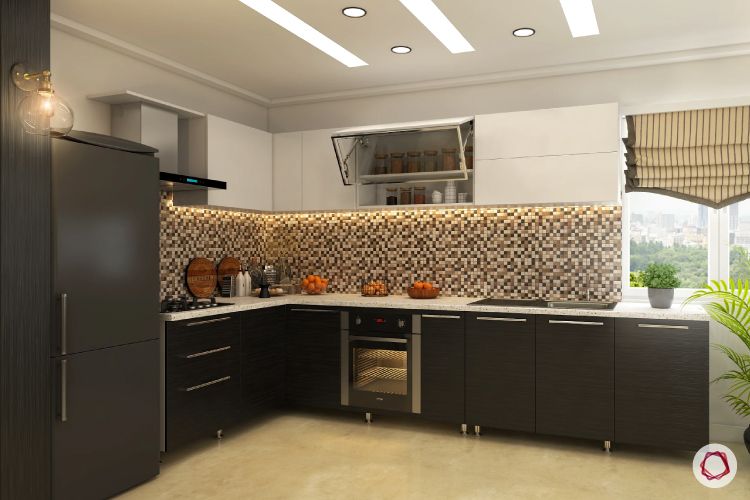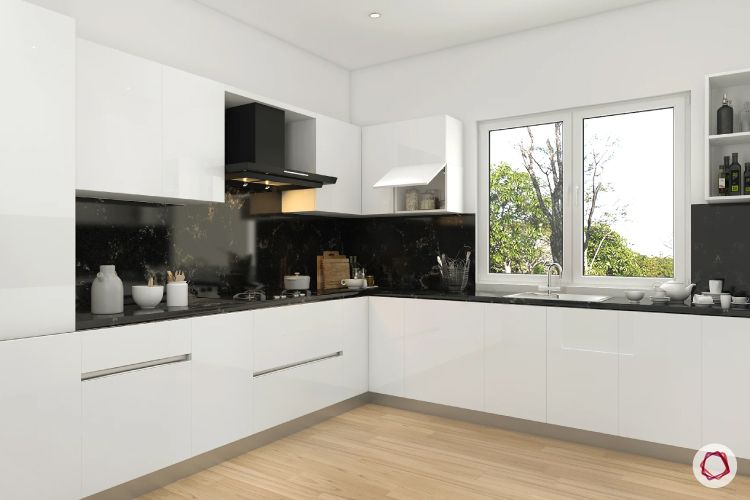 Many Indian homes traditionally have the L-shaped kitchen which works great for large families. You can maximise workspace without compromising on an open kitchen setup. With ample counter space to spare, this kitchen works wonders when you have many hands in a cooking session.
You can use space to its maximum extent and also provide a lot of floor space for easy movement. Its L-shape provides enough space for multiple work zones and handles traffic easily.
Pro Tip: If you have top and bottom cabinets installed for more storage, consider installing some lights under the top cabinets so that no part of the kitchen turns into a dark zone.
Kitchen Design Layout #3: Parallel or Galley Kitchens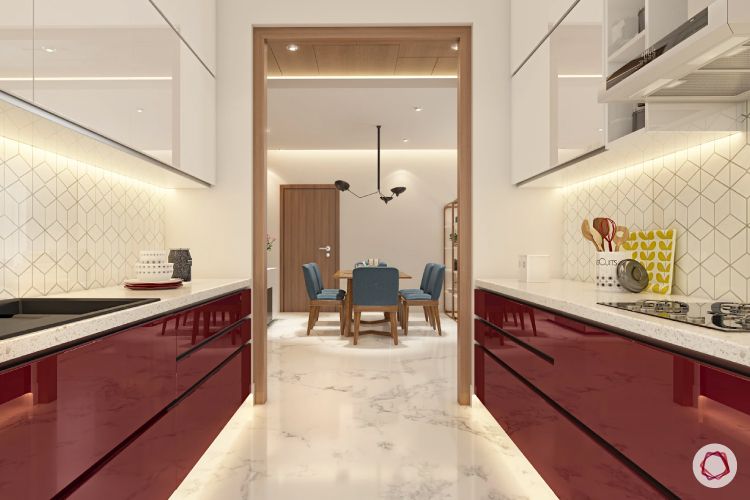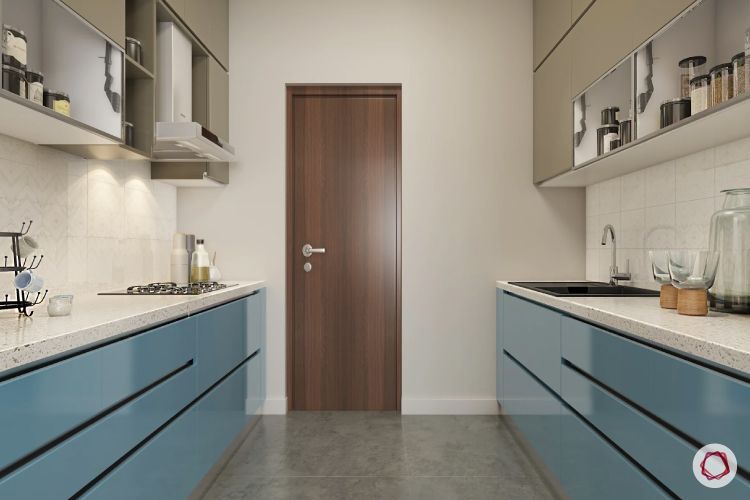 The most efficient kitchen layout is the parallel kitchen when you have space to accommodate it. With two-sided counters and ample storage options, this layout doesn't have to deal with corner-unit optimisation.
When you love to cook and have to use a lot of counter space to stack your dishes or the prep work this layout is ideal. Even for a large family, this layout is a perfect fit. If you're not happy with a crowded feel, you can skip adding upper cabinets on one side.
Pro Tip: It's recommended that the wall length is at least 12 ft long so that the cook top, sink and refrigerator have adequate distance between them.
Kitchen Design Layout #4: U-Shaped Kitchens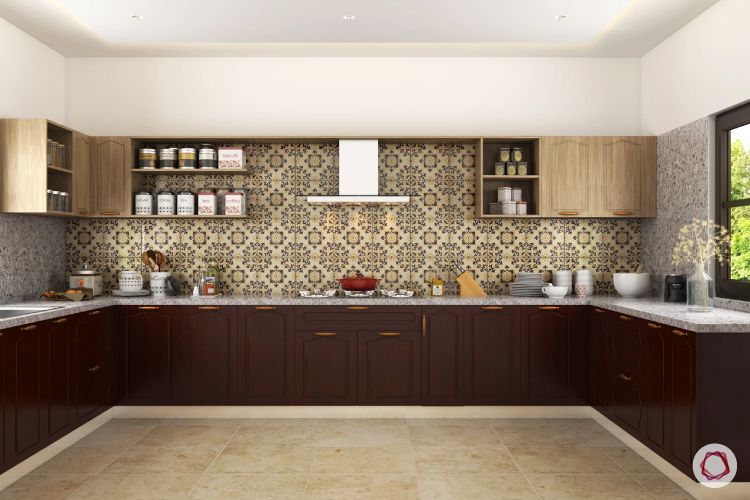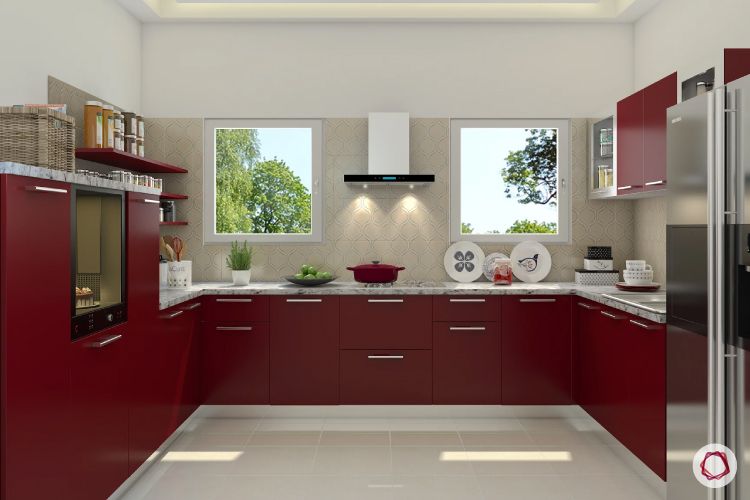 Have a large space for the kitchen, and want to make optimum use of the floor space? Then go for a U-shaped kitchen design. The spaced-out feel is ideal for a large family and for a kitchen that hosts one busy cook or many cooks.
The design allows them to work independently with minimal disruption. The U-shaped kitchen can also work for a compact space but if it is handled by a single cook.
Pro Tip: Don't waste corner space with ordinary shelves. Get it fitted with a corner basket, swivel basket or rotating trays to optimise space usage.
Kitchen Design Layout #5: Island Kitchens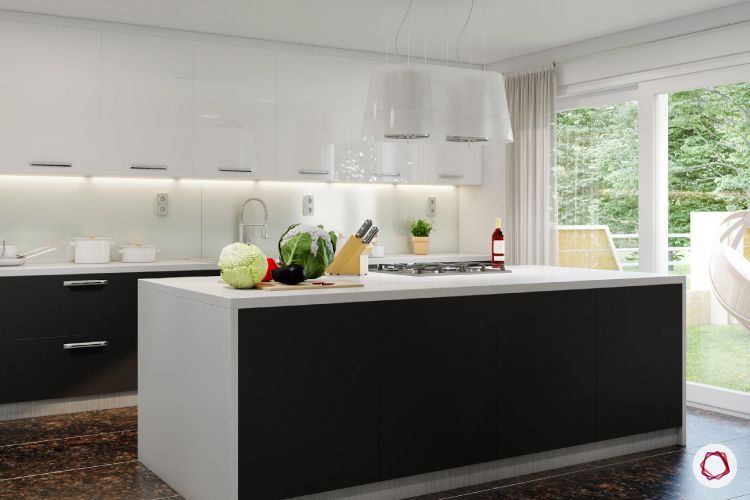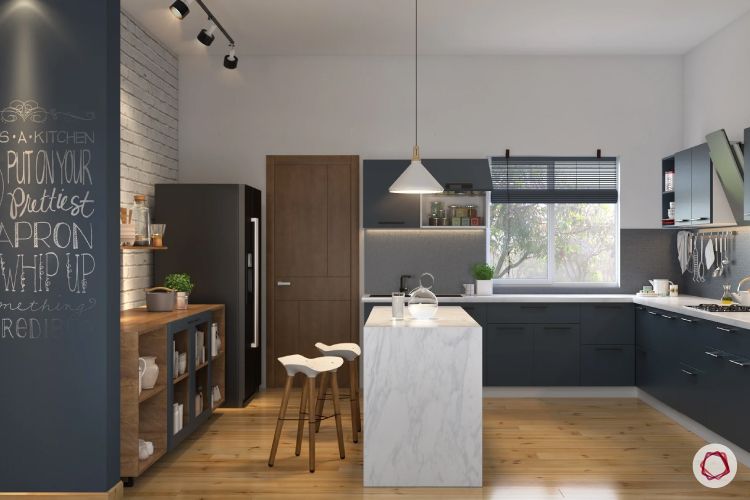 If you have a straight, L-shaped or U-shaped kitchen layout, and have plenty of space for movement, you can add an island counter. This counter can serve as a prep-work station, a breakfast counter or even a counter to lay out your dishes. Island counters are currently trending. However, this style doesn't suit every kitchen. Placing an island which disturbs free movement is not recommended at all.
Pro Tip: Ensure the island complements the rest of the cabinetry. You can also install cabinets below the counter for more storage space.
Kitchen Design Layout #6: Peninsula or Breakfast Counters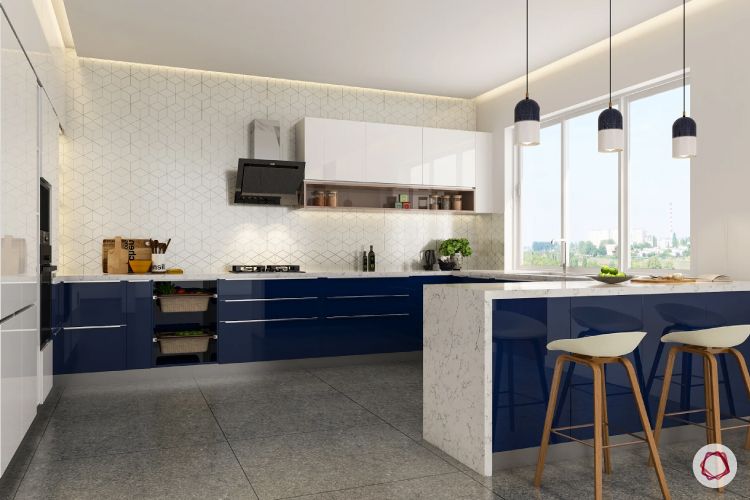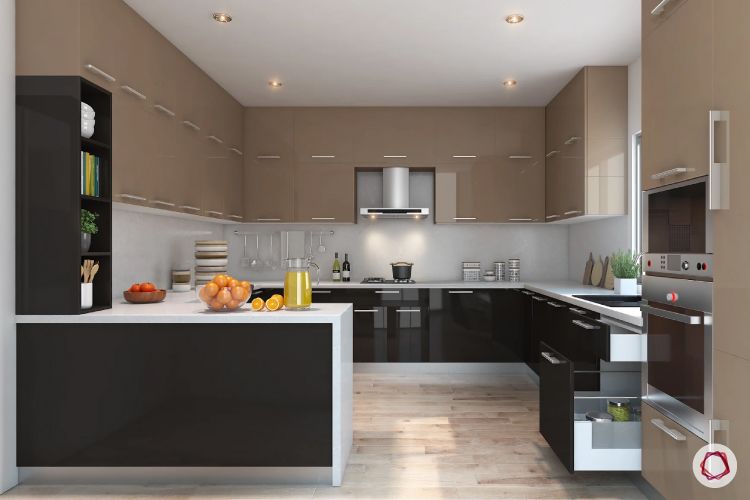 You might have come across many other kitchen shapes, but that is prominently because they add a breakfast counter to it. Peninsulas are basically islands attached to walls. Thus, giving your kitchen extra counter space and a space to sit.
The only difference is that movement is not as free as the island kitchens. This is ideally done when an island obstructs free movement, if placed in the center of the room.
Pro Tip: You can turn this peninsula into a breakfast counter or add a bar cabinet below with some fancy lights to turn it into a home bar.
Kitchens are the heart of the home. Before you decide on colours and finishes, it is essential to know your kitchen better.
To set up a beautiful kitchen that works for your lifestyle with design expertise, contact us here.