Encouraging a good flow of work in the kitchen are L-shaped kitchen designs, the most popular layout in urban homes. It works stunningly well for compact spaces and comes highly recommended for being ergonomically apt. If your kitchen has an L-shaped layout, take a look at some of our stunning designs, that will inspire a makeover or come in handy if you're building a new home.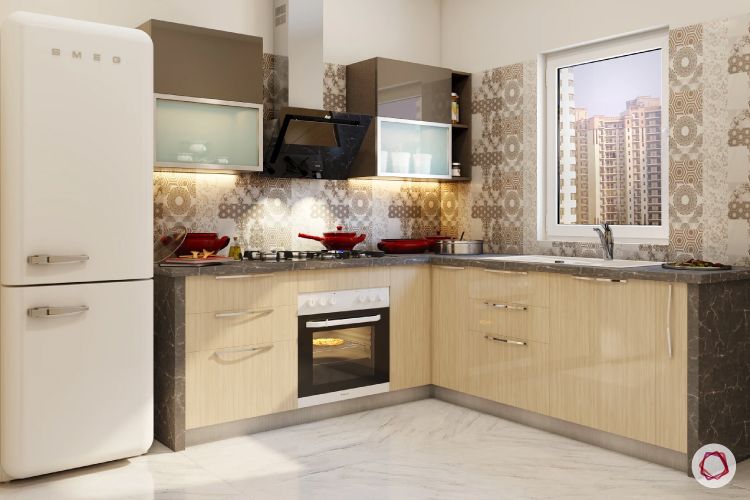 Perfect for one or two people, this kitchen is built to be warm and welcoming while being highly practical in design. With space for everything you need, the neutral colours and patterned backsplash will certainly catch your eye.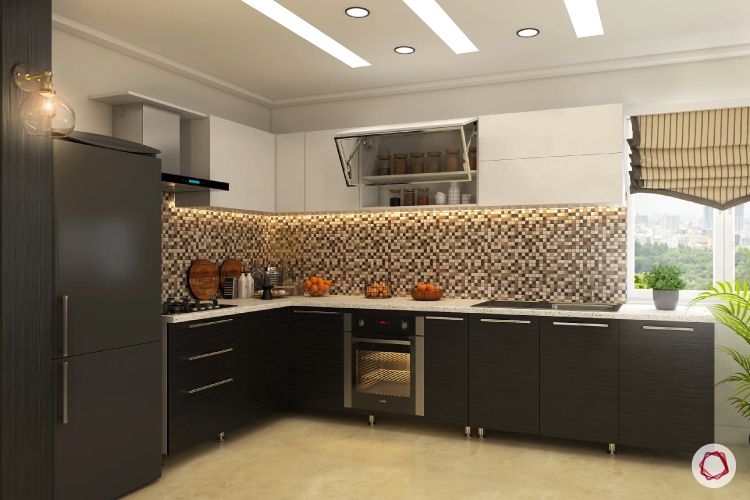 The black and white contrast in a suede finish is quite impressive. Make the most of a view and add some more light if you want to make the most of this contemporary kitchen design. It's simply stunning, don't you think?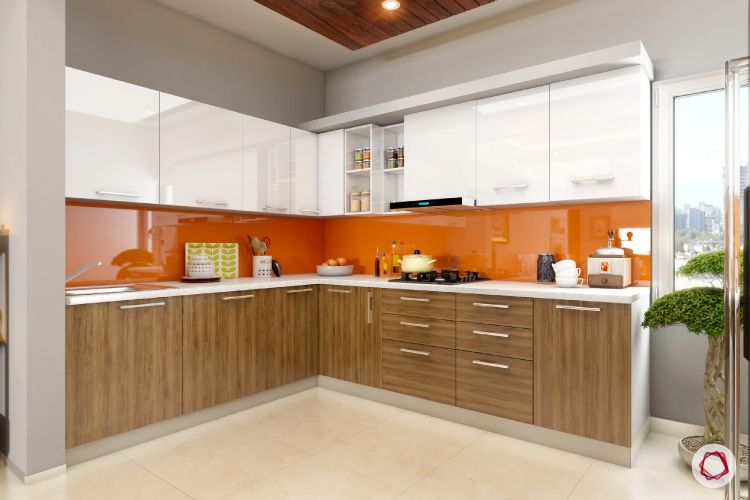 This one's for all those who like a pop of colour in their interiors. It's funky and super functional. The white, brown and orange seem to blend seamlessly. The glossy finish on the white cabinets makes maintenance a breeze!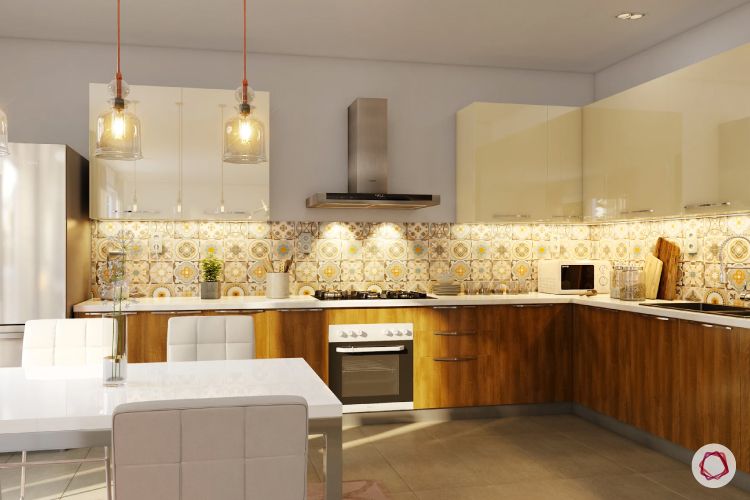 While the choice of colours for the cabinets is rather conventional, the star here is the backsplash with intricately painted tiles in the same colour combination. Brings the whole look together, doesn't it?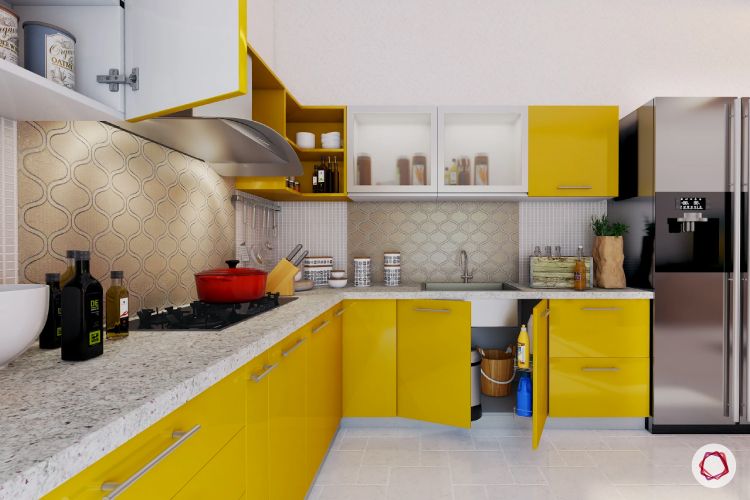 Space can be an issue if you don't design the kitchen well enough to hold everything you need in your culinary pursuits. This kitchen, while being eye-catchy, is also equipped with plenty of storage!
Another stunning monochrome kitchen, it's sleek and space-efficient too. This one's great for urban homes with couples on-the-go. Easy to use and maintain, we recommend this design.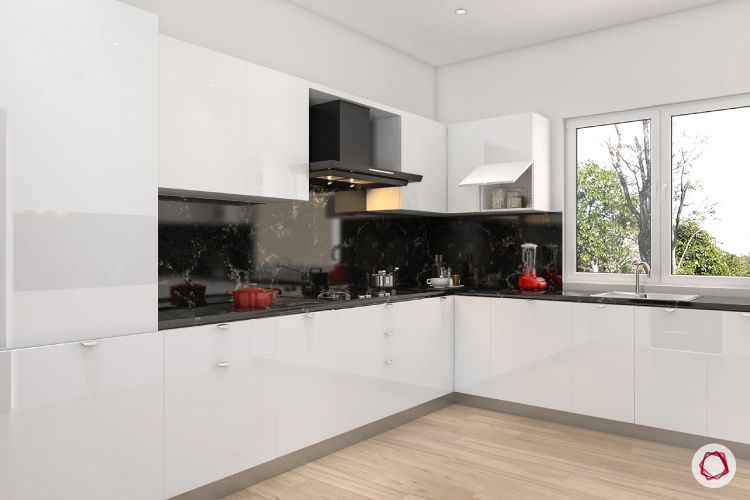 Now, if you're into whites, we absolutely adore this pristine kitchen. Despite the myth, we assure you that with regular care, white kitchens are easy to maintain. You can tone it down with a black backsplash and counter and turn it into a flawless marvel.
Highly unconventional, but bold, a purple kitchen can be stunning. When you pair it with white and baby pink, it lends a spectacular finish to the space. Add to it spacious cabinets and a breakfast counter, it becomes super functional too. If you have an open kitchen layout, we recommend this style.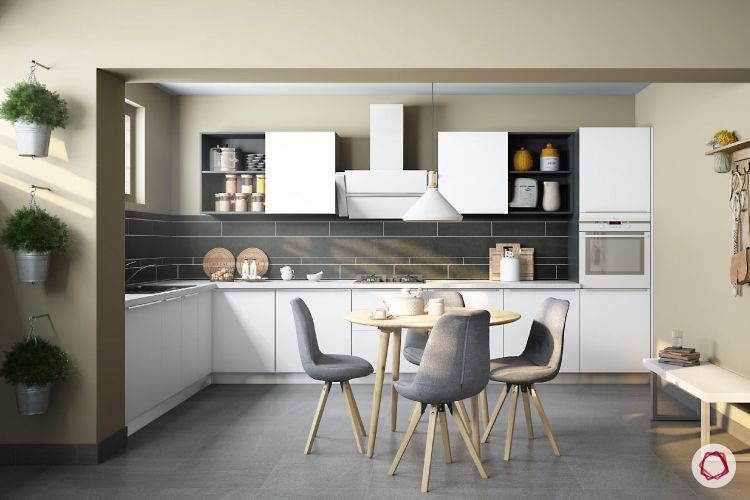 Pair white cabinets with grey for a Scandinavian look. These minimalist kitchens are all the rage now. Also get yourself a little breakfast table and you're good to go. White kitchens for the win!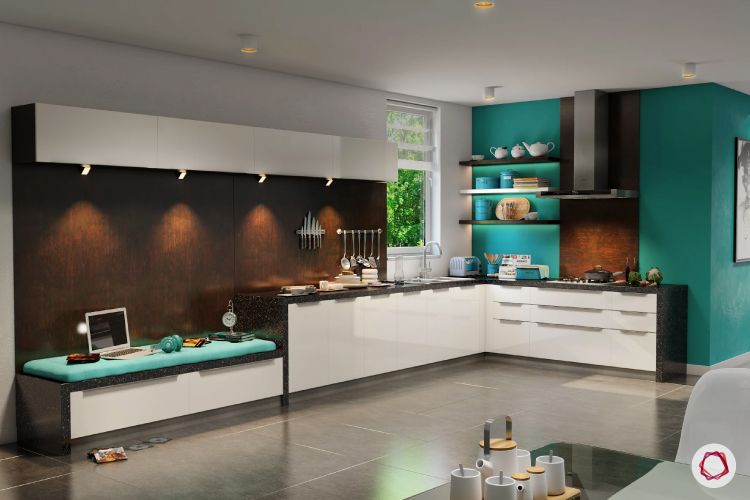 We've featured this delightful kitchen before and you can see why it's a popular choice! The pop of teal just makes cooking so much fun! It's also easy to see how well the space has been utilised!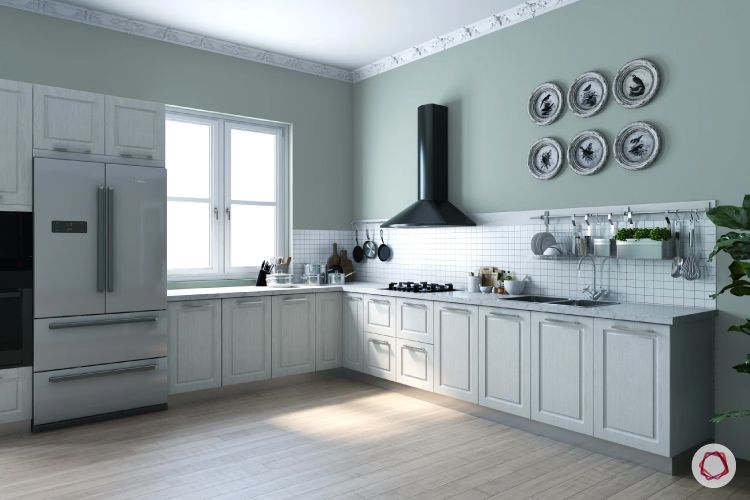 Minimal, muted and simply marvellous, this L-shaped kitchen is one for the books. The muted shades and structure simply give it a retro feel that we love!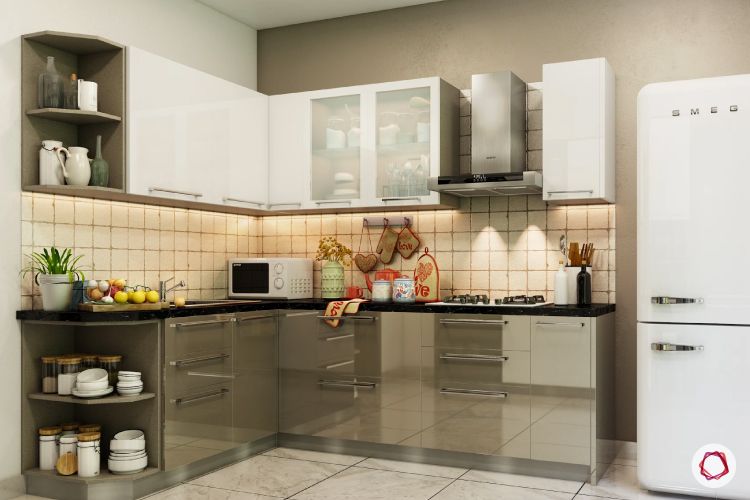 Small and stunning, this layout can prove to be a versatile option for your home. This design is great for smaller apartments and for those who are on-the-go. High on storage, low on maintenance, this one's a keeper!
If you loved this gallery of kitchens, you'll find everything you need to know about setting up and maintaining kitchens here.
— editor@livspace.com