Kitchen designs depend on the layout of each home. For well-thought-out layouts, a U-shaped kitchen design is quite popular and can give you plenty of storage space. Take a look at these U-shaped kitchens we've curated for you:
1. A White U-Shaped Kitchen Design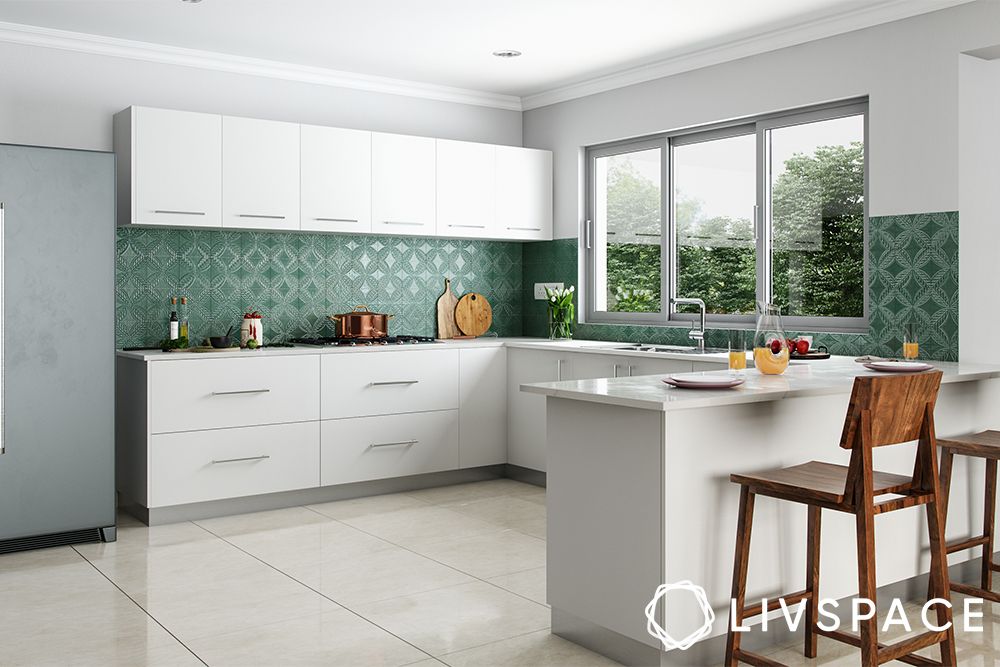 If you're more of a minimalist, this U-shaped kitchen design would suit you. Done up in white and grey, the green backsplash adds a splash of colour. There's space for all your needs, including a breakfast counter, to grab a quick bite.
2. U-Shaped Kitchen Layout With Wooden Finishes
We love the wooden grains in this kitchen. That's because it suits almost every design sensibility. Also, the dedicated zones for appliances, vegetables and frequently accessed condiments are to die for! In fact, don't miss the ultra-modern white cabinets in this U-shaped modular kitchen and the Moroccan backsplash.
3. Modern U-Shaped Kitchen Design With a Hint of Blue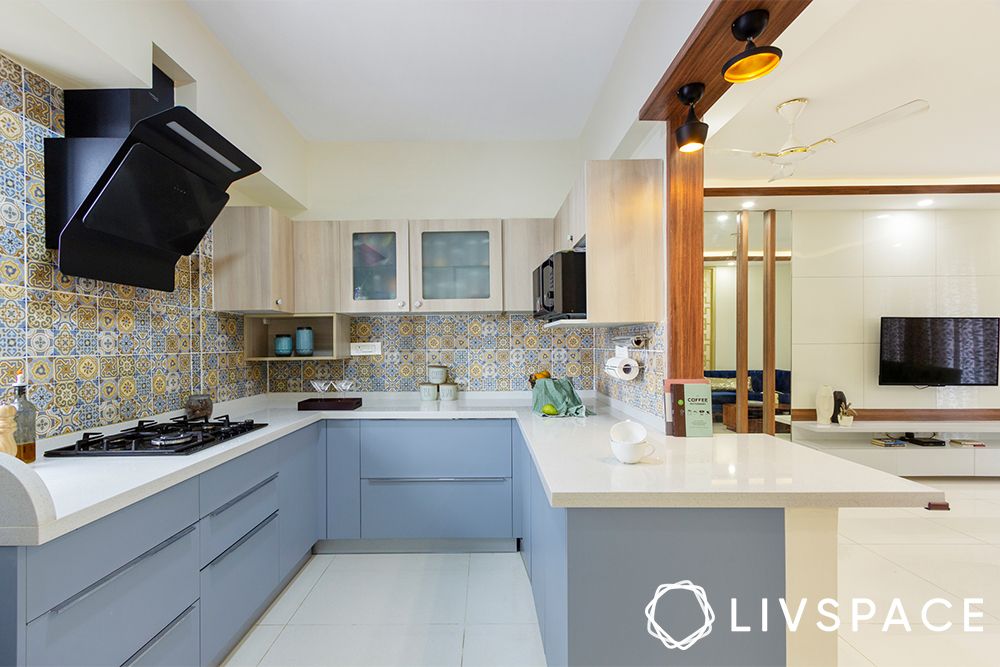 With plenty of counter space for your culinary experiments, and dedicated zones for every storage need, modern U-shaped kitchen designs like this one is a must-have! So, what are you waiting for?
4. Brown U-Type Kitchen Design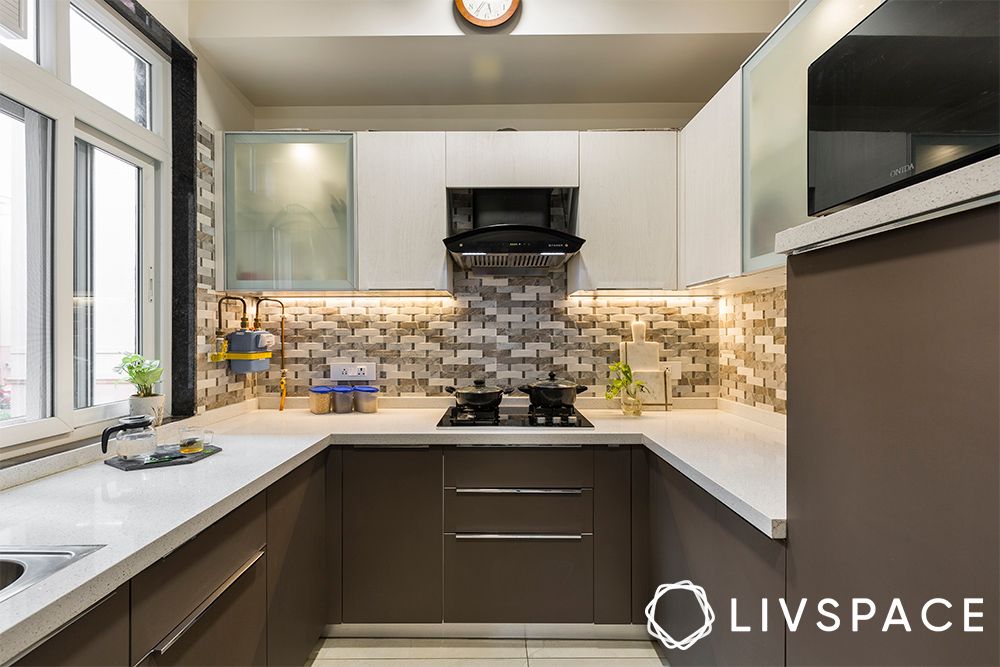 This U-shaped stylish modern kitchen design is compact, but highly functional. So, you'll find space for all your condiments and appliances in this U-shaped kitchen layout.
5. Modern U-Shaped Kitchen in Black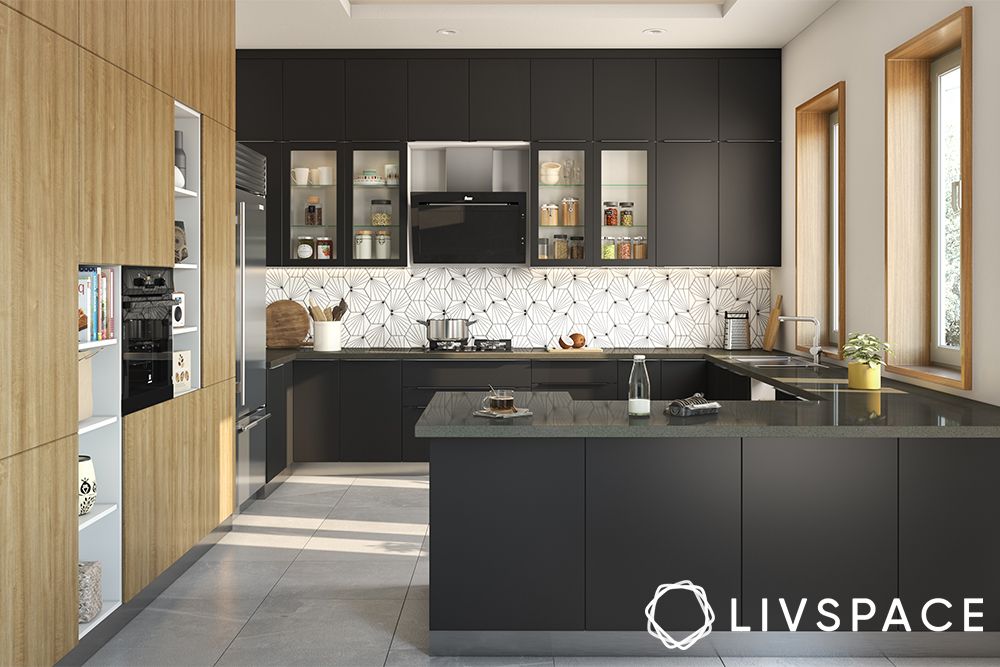 This spacious U-shaped modern modular kitchen design makes the most of natural light and is easy to maintain. In fact, there is plenty of space with the overhead and bottom cabinets in this beautiful black layout.
6. Compact Kitchen Layout With Modular Interiors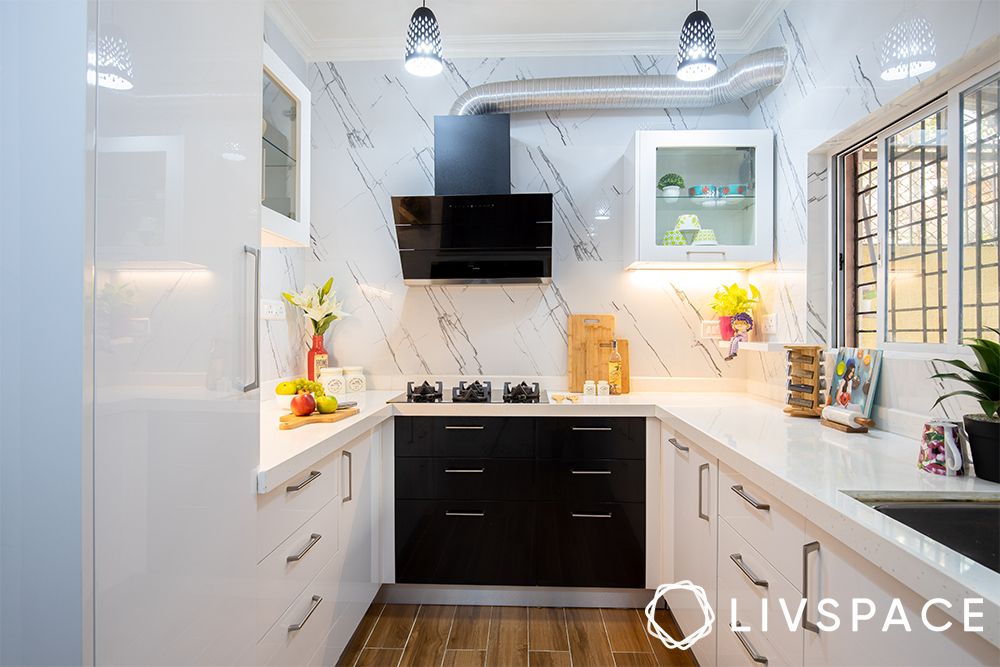 This is a highly practical design, while being warm and welcoming. Built on the principle of the more (cabinets), the merrier, this kitchen layout is compact but storage intensive.
7. Spacious Modular Kitchen Layout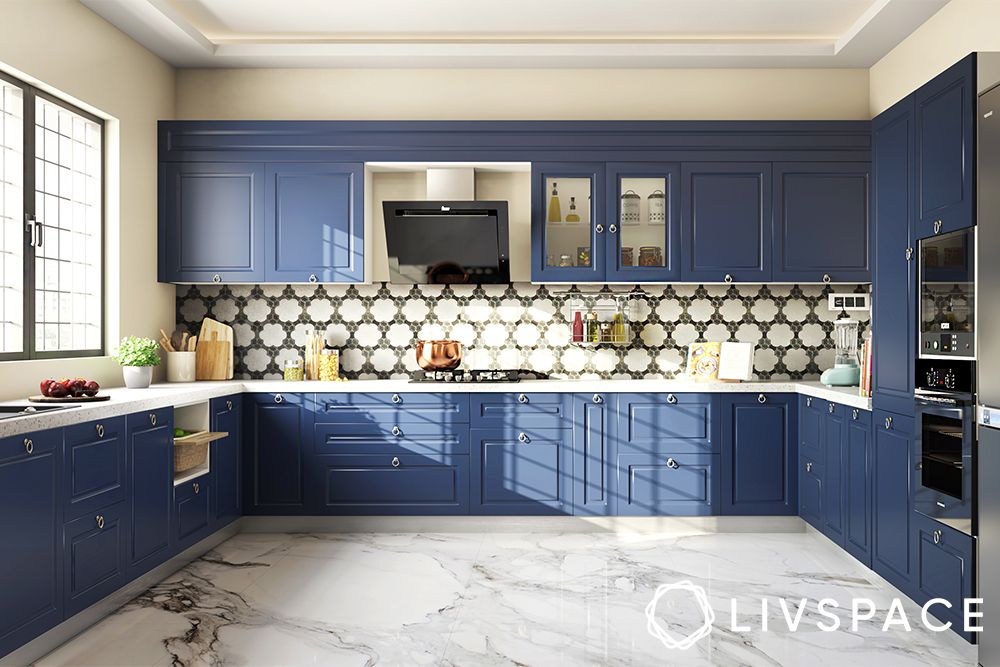 The beautiful blue colour would look good in any home! Filled with closed cabinets, this U-type kitchen design makes your storage options flexible.
8. U-Shaped Stylish Modular Kitchen Design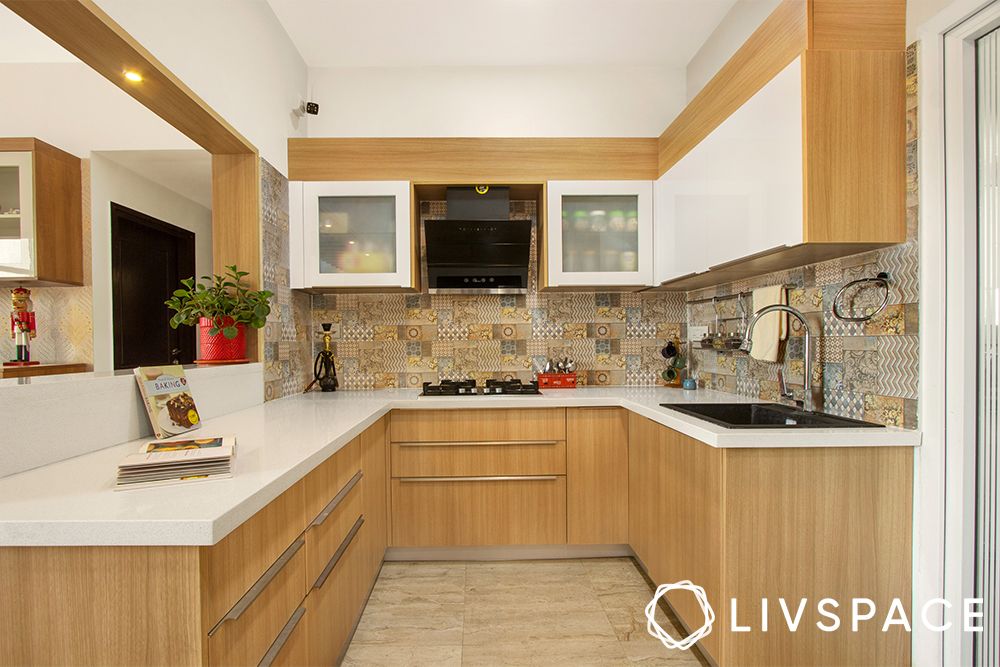 Equipped with plenty of counter space for prep work, this kitchen in wooden shades keeps the vibe airy and light. It also plays with white and the Moroccan backsplash adds vibrancy!
9. Blue U-Shape Modular Kitchen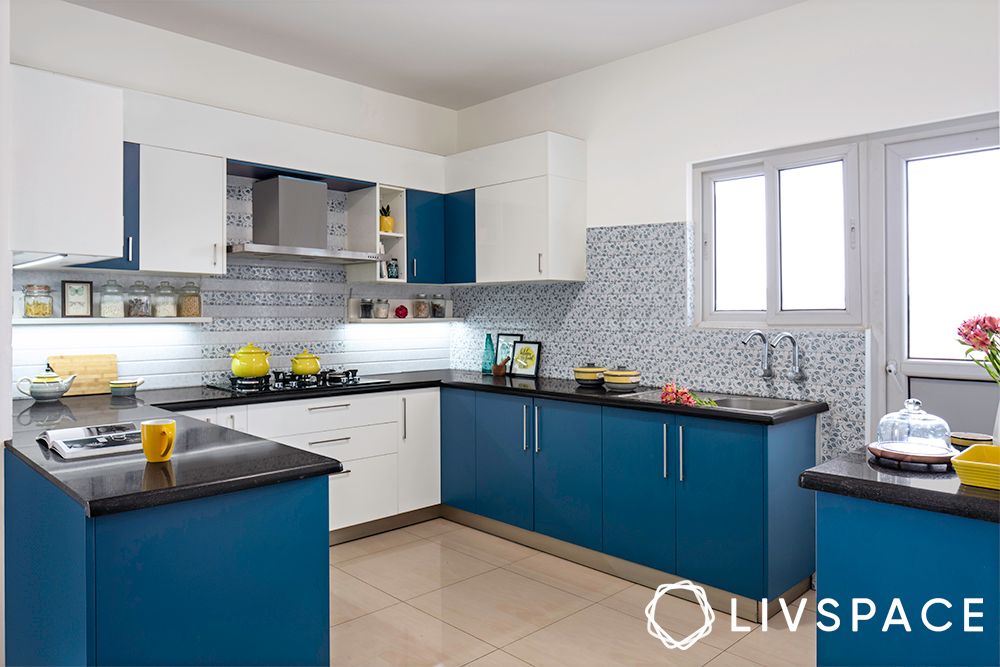 The complementary cabinet shades create a stunning effect along with the backsplash design. Needless to say, there's plenty of space for prep work and all the things you need to stow away. Also equipped with an island, it has enough space for a serving station/breakfast counter.
10. Modern Kitchen Layout With Island
This U-shaped modular kitchen design brings together the joy of cooking and enjoying a cosy meal. It has been fitted with ample storage with closed cabinets. Moreover, this U-type kitchen design keeps everything tucked away neatly.
11. Bold & Beautiful U-Type Kitchen Design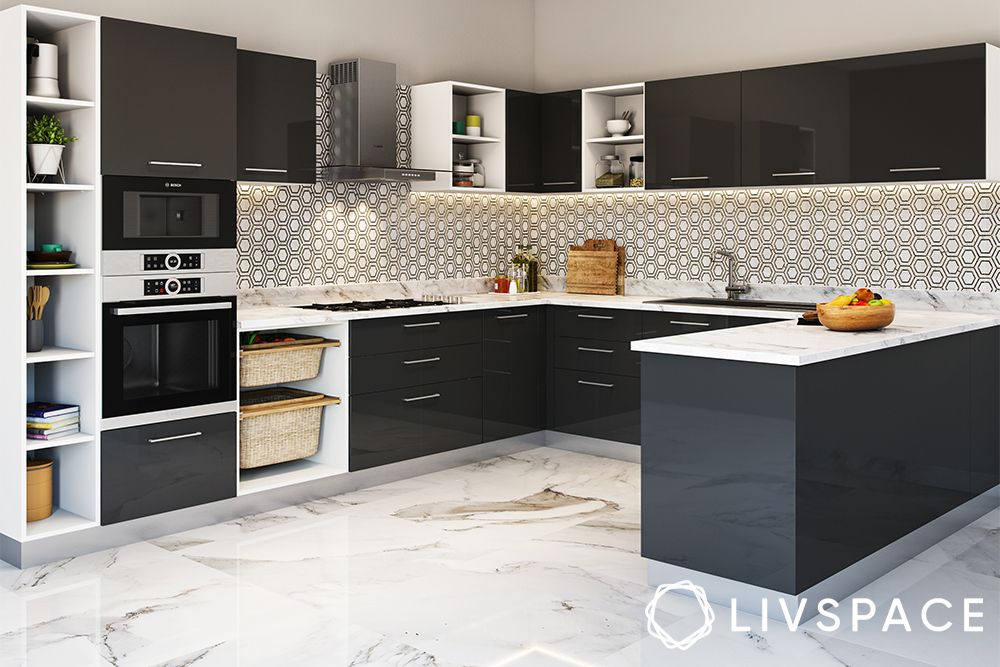 Do you like a contemporary U-shaped kitchen design with an uncommon pop of colour? Then this one will be pleasing to your eyes and aesthetic sense. There are also plenty of storage options with closed and glass shuttered cabinets.
12. Neon Green U-Shaped Kitchen Design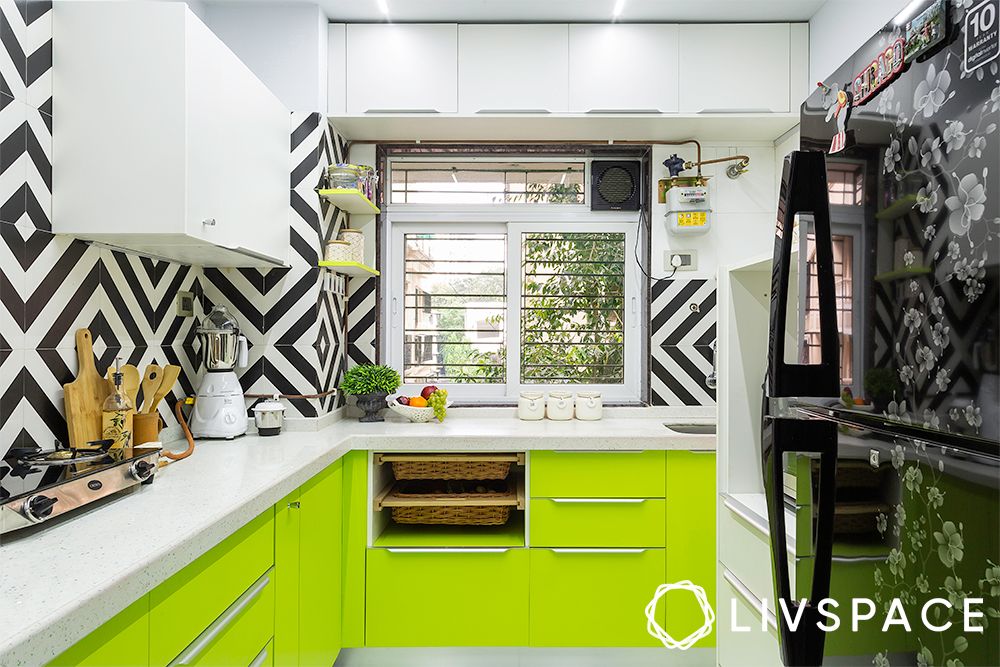 This is a compact U-type modular kitchen design with space for everything! So, take a look at the wicker baskets for vegetables and the cabinets that make this kitchen storage intensive. In fact, this can pack in a punch!
For more kitchen designs, check out:
How Can Livspace Help You?
If you want beautiful interiors for your home, then look no further. Book an online consultation with Livspace today. Also, if you have any thoughts and suggestions you'd like to share with us, drop us a line at editor@livspace.com.