We can only imagine how hard it must be working in a kitchen that gets in your way while cooking. Kitchens are functional spaces, equipped to deal with heavy use in most Indian homes. Thus, more and more homeowners are opting for their kitchens to be renovated. Honey Gupta from New Delhi shares his U-shaped kitchen renovation story with Livspace to make us understand why modular kitchens are a homeowners' first choice.
Who Livs Here: Honey Gupta with his family
Location: Sarita Vihar, New Delhi
Size of kitchen: 90 sq. ft.
Design team: Livspace Interior Designer Kumari Hemlata with Manager Irshad Khan
Livspace service: Kitchen renovation
Budget: ₹₹
---
Brief

To make a practical kitchen within the homeowner's budget

What We Loved?

How the designer was able to renovate the kitchen without any huge structural changes

Look Out for:

– The matte finish laminate cabinets
– Wooden finish tiles
– U-shaped layout with definitive zones

Biggest Indulgence

Quartz kalinga stone countertop that gives the kitchen durability

Smart Buy:

The under cabinet lights that enhance the warmth of the kitchen
Assisting him in each and every step was Livspace designer Kumari Hemlata. Understanding that the kitchen needed no structural changes, and she had to follow a budget, she began creating the Guptas' dream kitchen. Hence, what you see is a U-shaped kitchen remodel under a budget. Learn how you can do the same.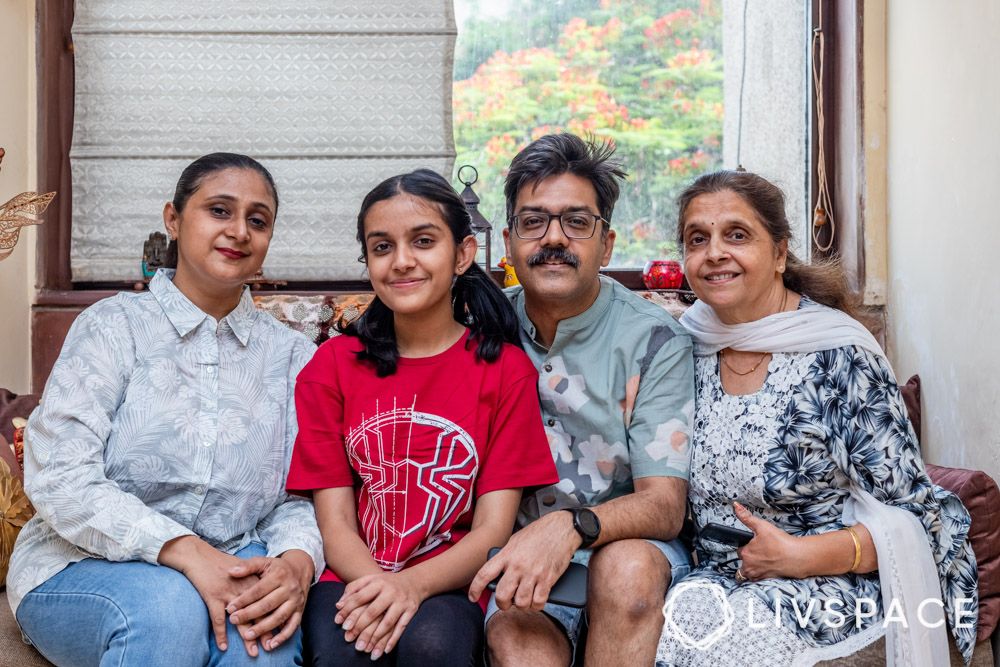 #1: The Nitty-Gritty of This U-Shaped Kitchen Renovation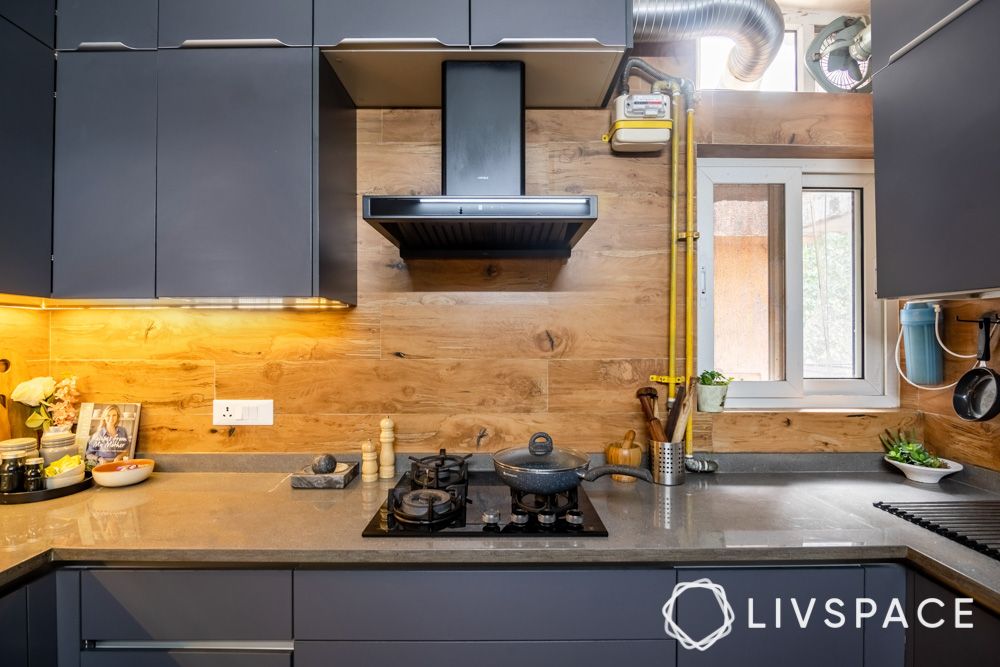 This U-shaped kitchen makeover has quite a few stunning details to talk about. Let's start with the striking colour palette. Finished in dark grey laminate, this matte finish kitchen has a rich vibe to it. Matte laminates are ideal for Indian homes as they are scratch resistant and easy to maintain. Honey Gupta also opted for a handleless kitchen, which explains the seamless look of the kitchen.
We love the countertop of the kitchen, a silver-grey Kalinga stone countertop. The client had already picked this element out, so the Livspace team decided to work around the same. Kalinga quartz stones are known for their durability and heat-resistance. In fact, this kitchen derives its polished look from the countertop.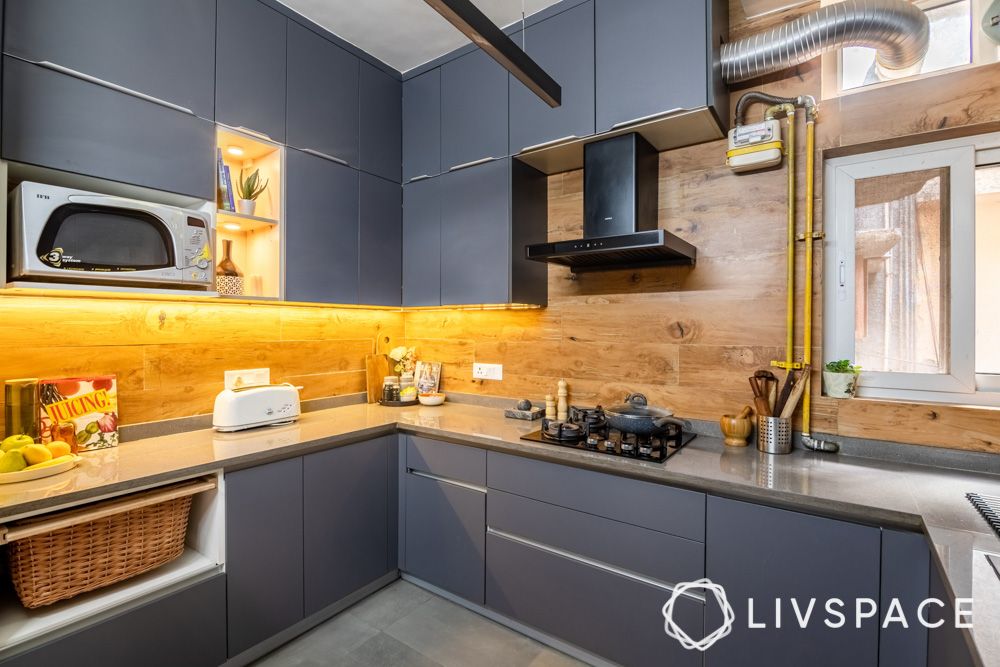 The backsplash is easily the main attraction of this kitchen. The unique wooden finish tiles impart warmth to this kitchen. Coupled with the dark matte laminate, this U-shaped kitchen makeover is all about exuding that rich, luxe vibe. To ensure the space does not get dark and dingy, Hemlata installed warm under cabinet lights that serve to light up the kitchen aptly.
#2: Seeing the Big Picture of This U-shaped Kitchen Renovation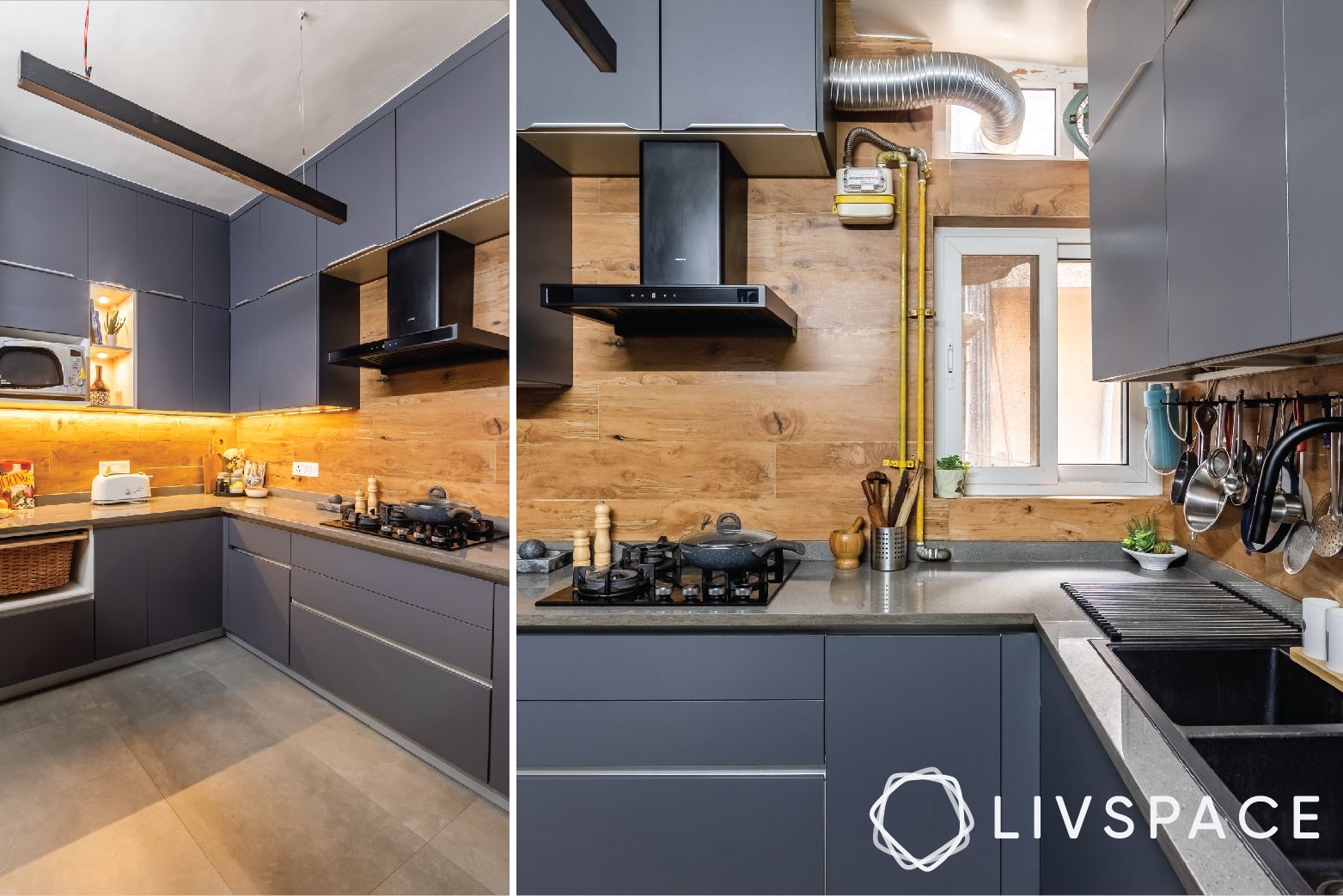 Now that the details are jotted down, you can take the final look at this kitchen. Notice how the wires and pipes are so well hidden in this U-shaped kitchen makeover. Hemlata hid the pipes and wires to go with the seamless look of the kitchen. Also, look closely to find defined work zones to make this kitchen a functional space.
The left side of this U-shaped kitchen renovation is the wet zone. The sink and other water pipes go here. On the other hand, the right side is reserved for storage and has a tall pantry there. The longest countertop has the stove, indicating that this is where the family preps and cooks their meals. Multiple countertops work quite well for this family of four. It allows more than one person to stand and work in the kitchen.
Thus, Hemlata did not suggest any layout changes in the U-shaped kitchen renovation. If you notice, on the right is a window that Hemlata worked around. Thus, it accommodates the upper cabinets around this structure. In fact, in most cases, the family uses the window to air out smoke.
How to Calculate the Estimated Cost for a Kitchen Renovation?
Can you believe that this U-shaped kitchen renovation was done under ₹2.5 lakhs? Here are some tips that will help you understand how you can save up on your next renovation:
Opt for materials that give you durability under budget. For example, this kitchen remodel U-shaped design is made with HDMR and laminate.
Refurbishing helps a lot. This U-shaped kitchen makeover cost was cut down because Honey Gupta made no major structural changes to his kitchen.
Renovation does not mean that you let go of important details. The Kalinga quartz stone is a splurge, but in the right place. Thus, splurge with caution and on the right things.
Opt for modular instead of custom. It helps to keep your budget on track.
Reuse your appliances. A kitchen remodel does not mean getting rid of everything you have. Even if you want to change the appliances, understand that they can be changed later as well.
Talk to your designer and work out a budget. What Hemlata did was sit on various sessions with Honey Gupta and work out a budget.
We, at Livspace, have an in-house team that helped with this U-shaped kitchen renovation. And, we can do the same for yours. Reach out to us today!
How Can Livspace Help You?
We hope you found our ideas useful! If you want beautiful interiors for your home, then look no further. Book an online consultation with Livspace today. Have any thoughts or suggestions you'd like to share with us? We'd love to hear you out. Write to us at editor@livspace.com.