This 3 BHK in Bangalore decided to kick-start the journey to getting their dream interiors by getting the perfect storage solutions. Check out what they liked!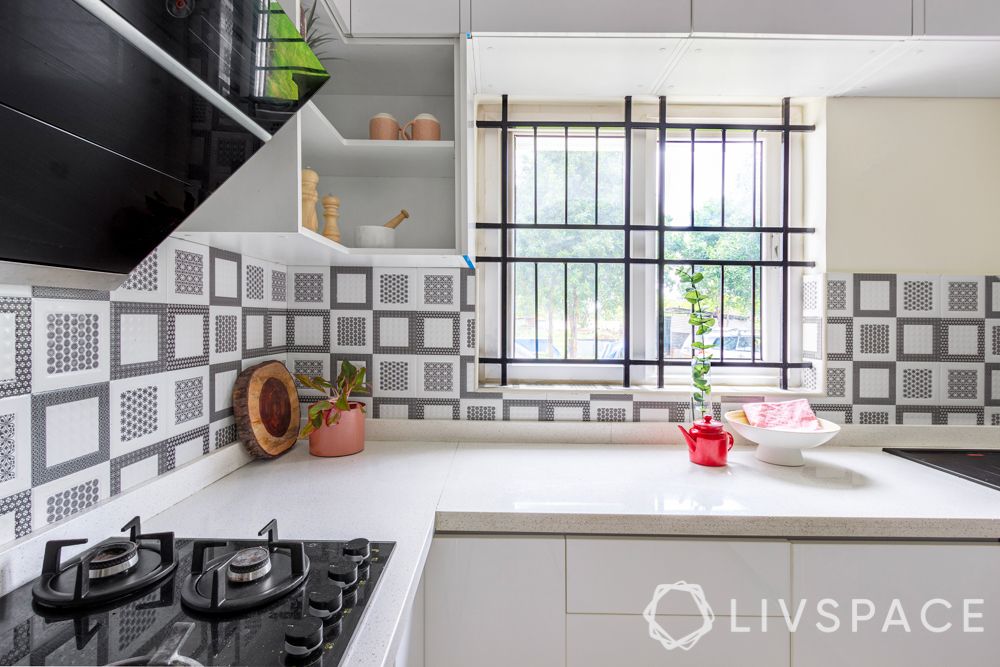 ---
Who livs here: Chaitanya and his wife Joshna, and their children Jessi and Ansi
Location: Celebrity Serenity, Bangalore
Size of home: 3BHK
Design team: Interior designer Deepa Srinivasan with Project Manager Raghavendra H
Livspace service: Kitchen and Wardrobes
Budget: ₹₹₹₹₹
---
What does your dream home look like? Have you thought of the colour palette, or the furniture? Few of us really think of the kind of storage we want – but it is a vital requirement! That's why this family from Bangalore decided to get a headstart on bringing their dream home together by starting with the storage options. Chaitanya and Joshna approached Livspace seeking the perfect kitchen and wardrobes for their home. And that's what we gave them! From an all-white kitchen to a bright wardrobe, this family got exactly what they wanted. Let's peek into this home to check it out!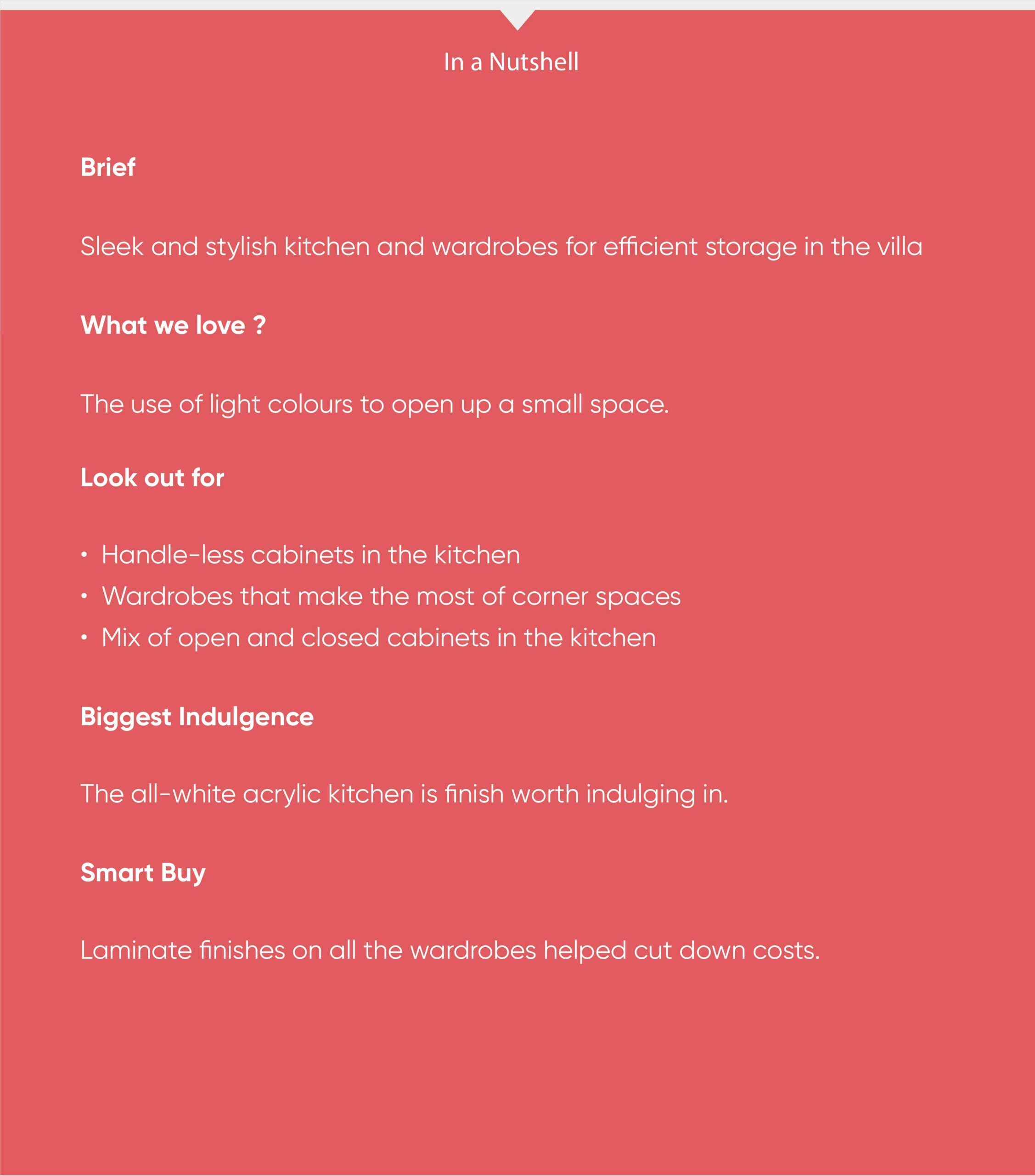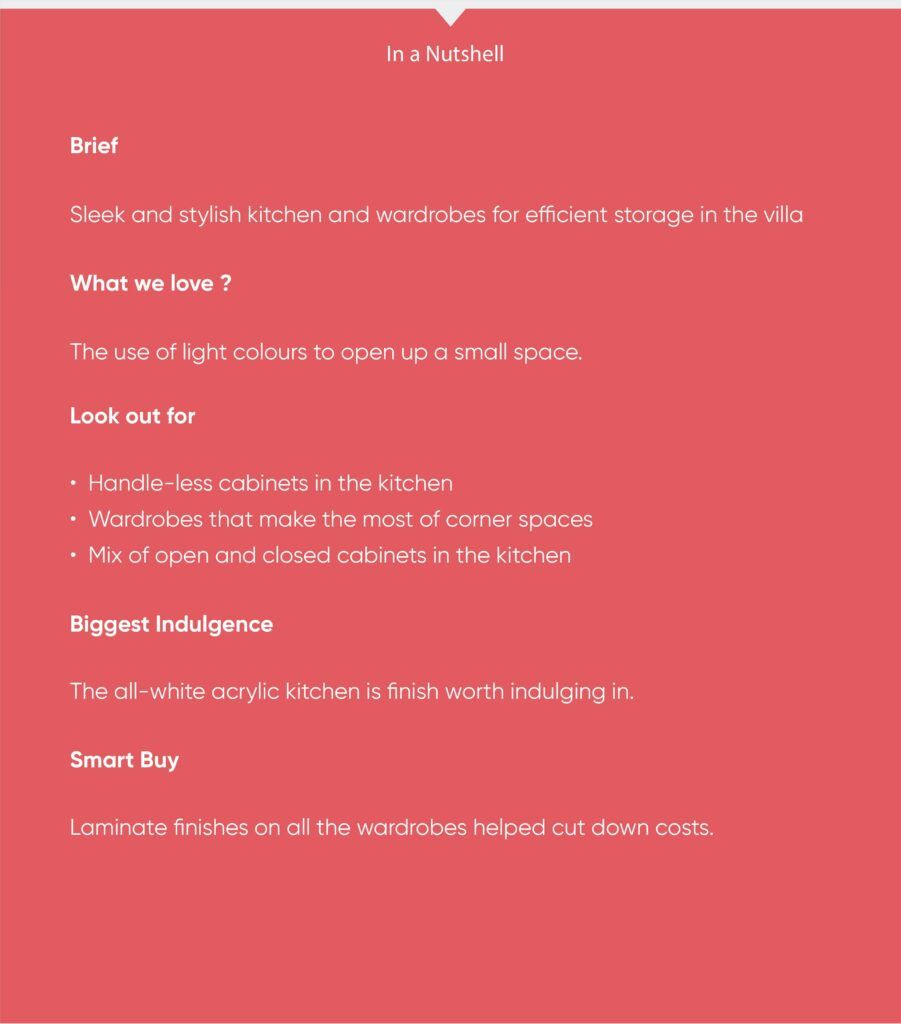 Making the most of a compact kitchen at this 3 BHK in Bangalore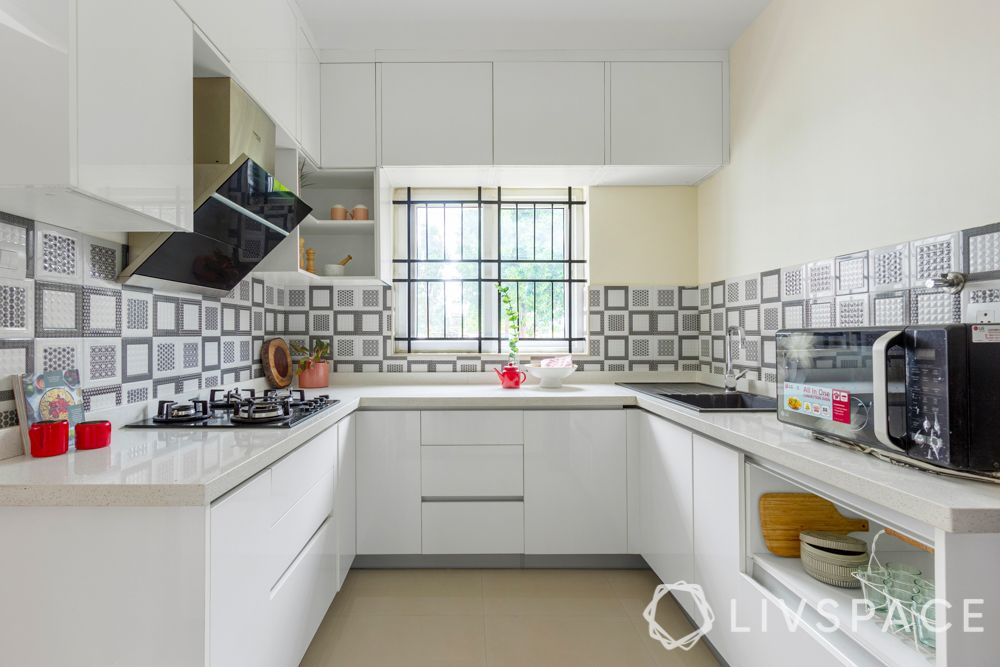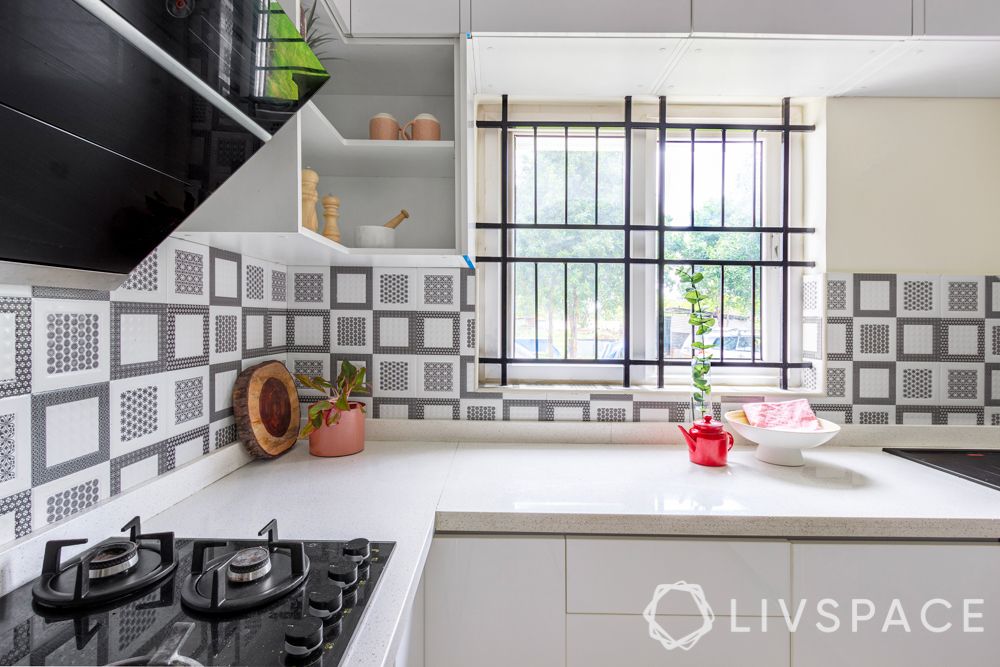 Deepa tells us that when Chaitanya and Joshna approached Livspace, she was certain she wanted an all-white kitchen. Even as Deepa and Chaitanya suggested alternate colours, she stuck to her choice. So Deepa gave Joshna her dream kitchen – an all-white acrylic kitchen with a U-shaped layout to make the most of the compact space. The push-to-open lofts add to the storage space while ensuring that the kitchen looks seamless.
Designer Tip
We have all used white in opening up compact spaces, but how do you maximise both countertop space and storage options in the kitchen? A U-shaped kitchen provides the most counter space, but if you provide both wall and base cabinets on all sides of the kitchen, the space will feel cluttered. So take a cue from this kitchen and opt for wall cabinets from the wall above the hob in an L shape. You can also use lofts for more storage!
Making distinct zones within the kitchen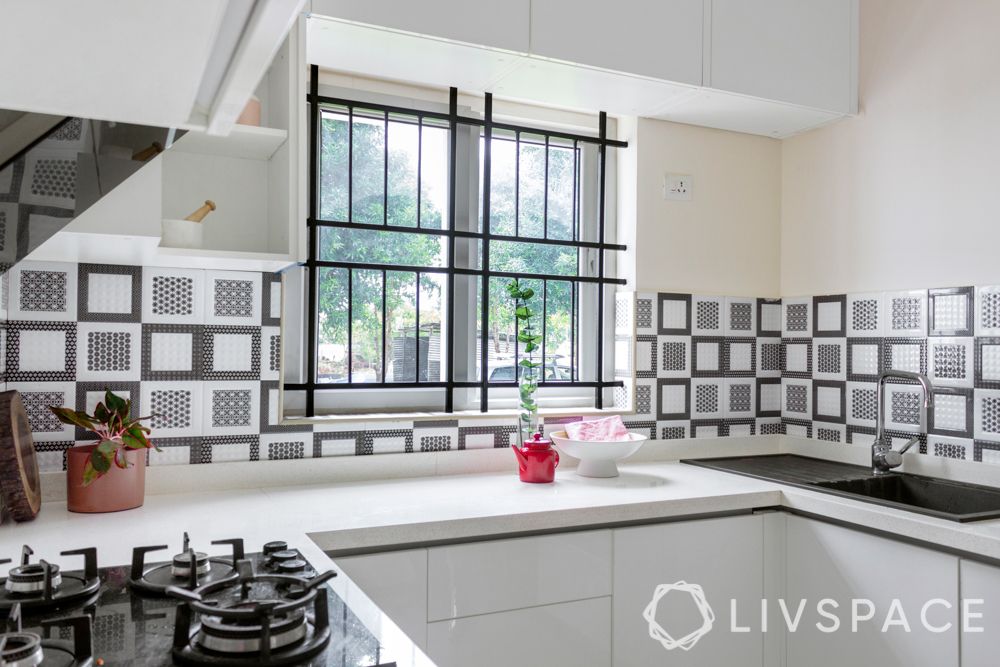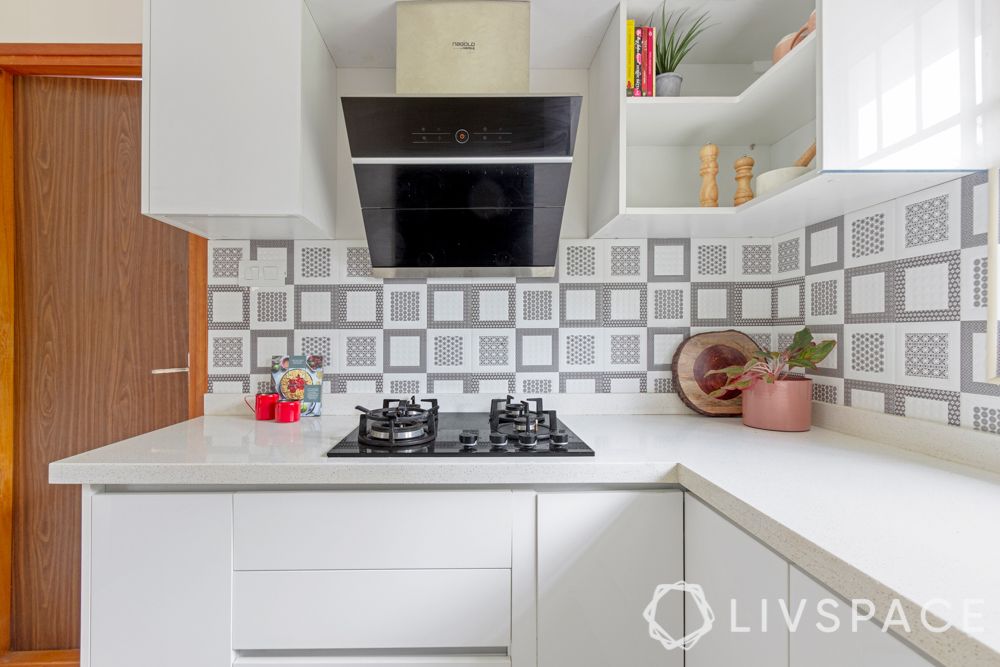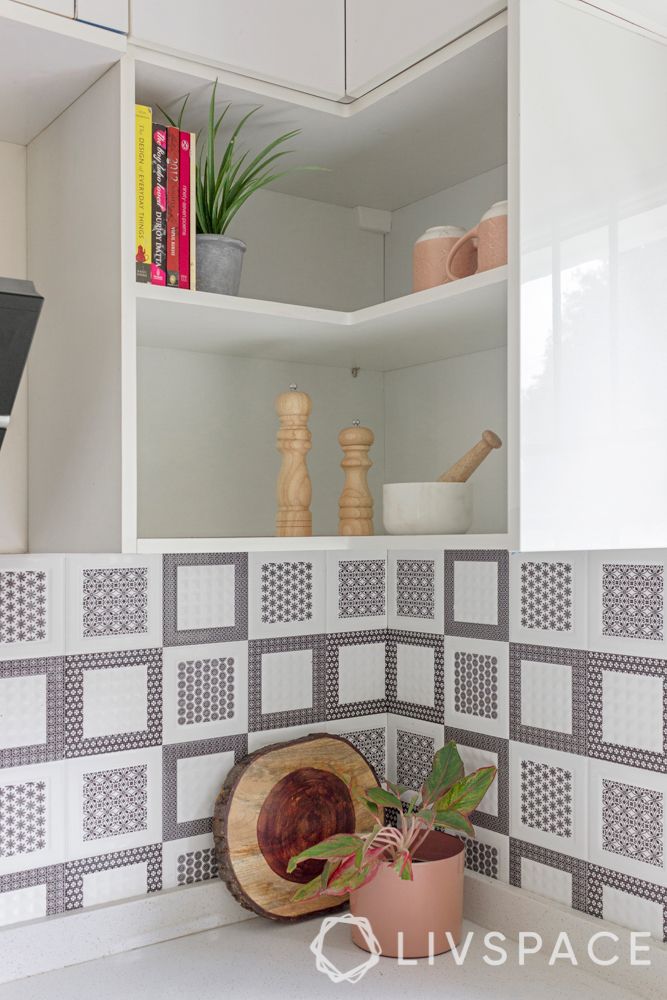 This U-shaped kitchen comes with a window, so Deepa decided to make the most of it. She ensured that the counter space below the window remains empty, and placed the hob on one side while the sink and microwave oven go on the opposite side. Since Joshna and Chaitanya wanted some open units on the wall, Deepa provided the same near the hob. In this way, the daily essentials stay within easy reach, making the process of cooking easier!
The master bedroom got a dual-coloured wardrobe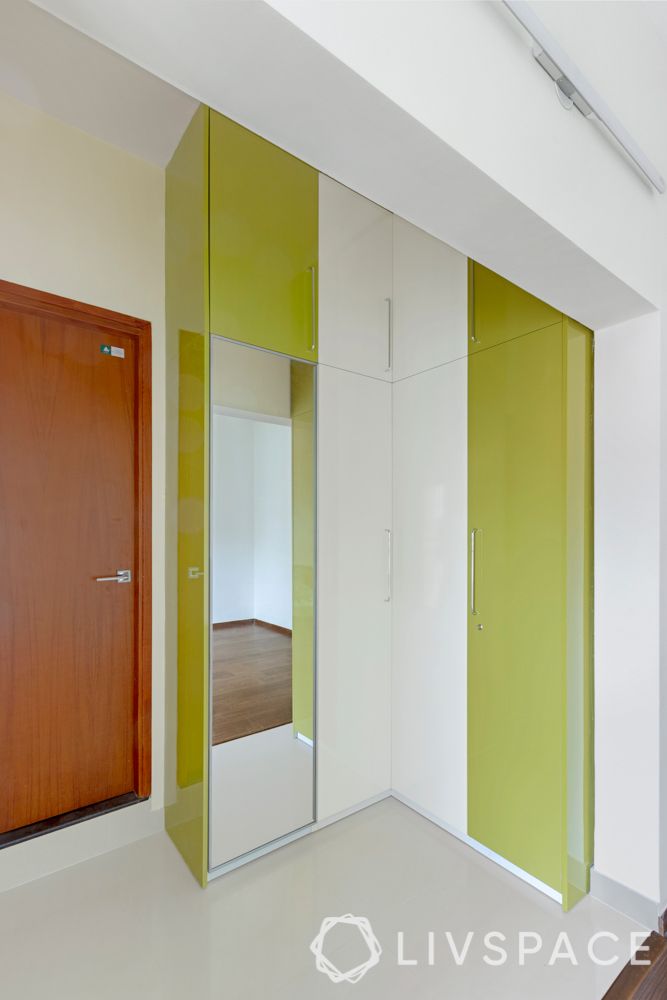 In the master bedroom, Chaitanya and Joshna were certain that they wanted a combination of white and another colour for their wardrobe, and they finally settled on this shade of dark citrus. Deepa had already identified a nook that was perfectly suited for the placement of a wardrobe. "And our modular wardrobe fit into the nook like a Lego block," Deepa told us! This way, the L-shaped wardrobe takes up minimal floor space, but still allows for ample storage!
And the wardrobe in the children's room is as bright as can be!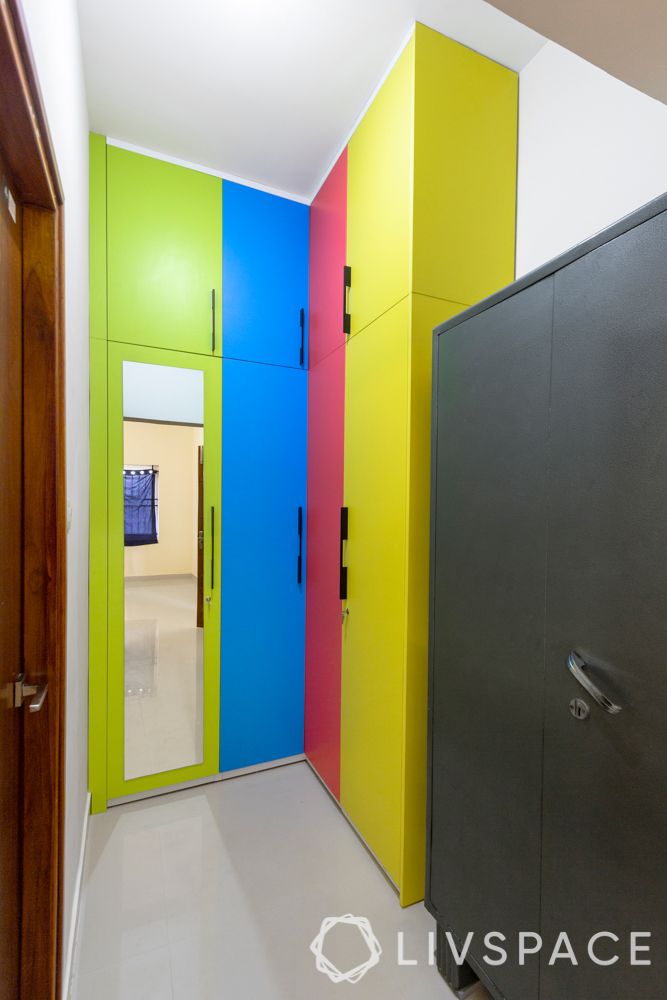 Joshna wanted to fill her children's room with colour, and as a first step, she wanted a bright and cheerful wardrobe. However, she wanted to keep the siblings' room as open as possible! So what did Deepa, one among the top home interior designers in Bangalore, do? For starters, she decided to give them a rainbow-coloured laminate wardrobe. And to use minimal space without compromising on the storage, Deepa suggested an L-shaped wardrobe that fits perfectly into a corner!

Designer Tip
"If you can find the perfect corner or niche, place your wardrobe there! That way, your room looks less cluttered but you still have all the storage you will ever need!"
This 3 BHK in Bangalore has a slider wardrobe in the parents' bedroom, too!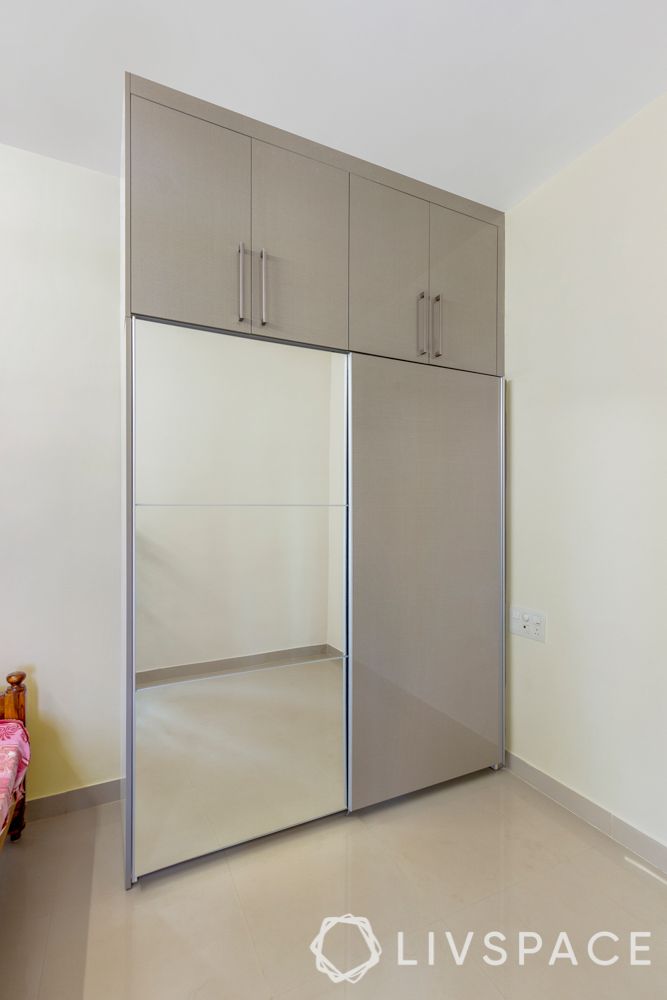 Since Chaitanya's parents visit them at their 3BHK in Bangalore quite often, Joshna and Chaitanya decided to decorate a dedicated bedroom for them. So when they approached Livspace, which has some of the top home interior designers in Bangalore, they fell in love with this greige sliding wardrobe with lofts. It also has a mirror panel on one side, so that prepping for the day becomes easier!
"When Chaitanya and Joshna came to us, they already knew the colours they wanted for each room. We gave them kitchen and storage options that tied in with their plan for the interiors of their home, and I was thrilled that it came out just as we imagined!"

Deepa Srinivasan, Interior Designer, Livspace
Looking for more kitchen designs in Bangalore? Start by checking out this one: Compact & Efficient Kitchen on a Budget.
Send in your comments and suggestions.
Disclaimer: All contents of the story are specific to the time of publication. Mentions of costs, budget, materials, finishes, and products from the Livspace catalogue can vary with reference to current rates. Please get in touch with a designer for more details on pricing and availability.