Vibrant, modern and cosy are the three words that come to our mind when we describe this 2BHK interior design under ₹8 lakh in Bangalore. This brand-new home with its warm and earthy colour tones is the ideal spot to unwind after a hard day's work. While being practical, the interior design for this SBR horizon flat exudes an old-world charm with all its traditional decor elements. In fact, don't miss this tour if you're looking for a 2BHK design inspiration for a small family.
Come, let's take a tour of this cosy and endearing house without much ado. Grab a notepad to jot down some suggestions for designing a modest home interior design.
---
Who Livs here: Mr. Sumit Kumar with his family
Location: SBR Horizon in Bangalore
Design team: Interior Designer Shruthi Kurdimat
Livspace service: Full home renovation
Budget: ₹₹
---


In a Nutshell

Design Brief
A modern and cosy interior design for SBR horizon flat that also exudes traditional charm

What We Loved
The seamless installation of storage throughout the home

Look Out for
— The laminate finish
— The smart storage and appliances
— The biophilic elements throughout the space
— The home's traditional decor


A Modern Living Room That's High on Functionality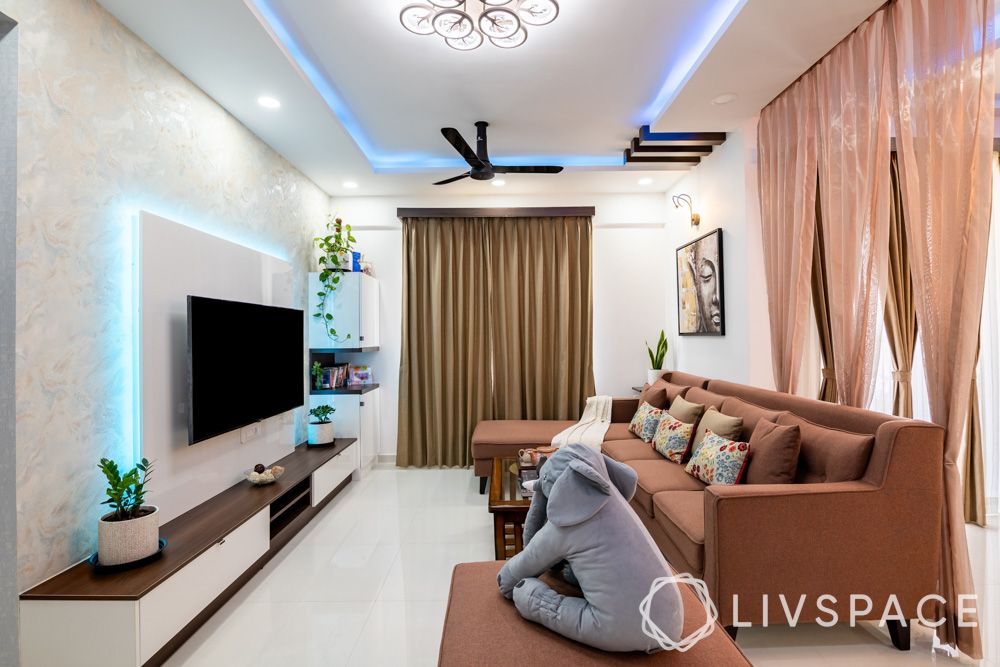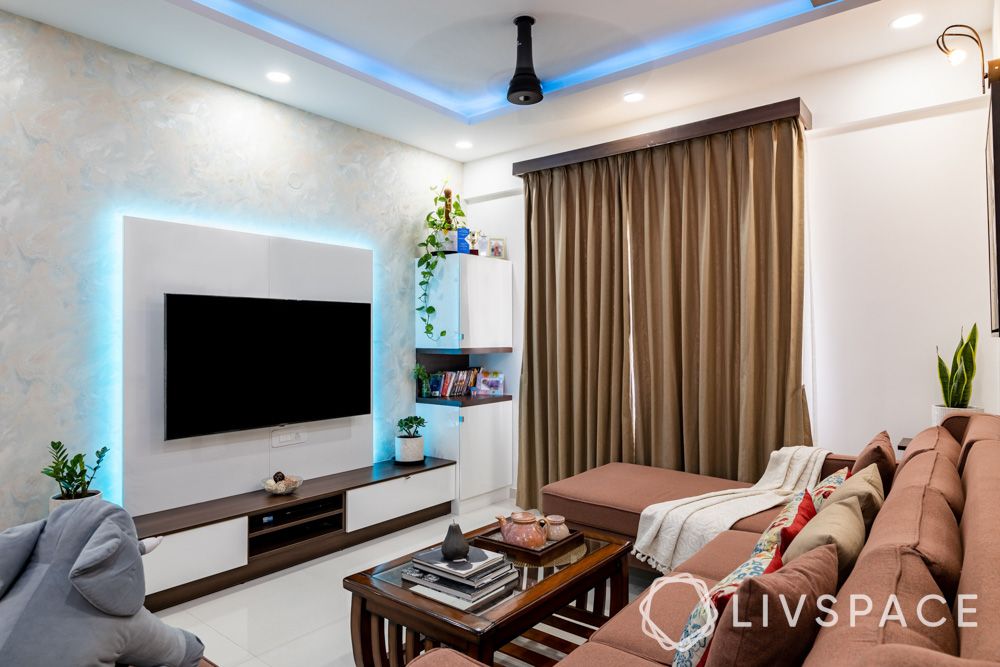 Let's start with the tour of the living room. Contrary to what you see now, this living room used to be dull, and it lacked any sort of interior design. As a result, the room looked really cluttered before. A small, cluttered home is nobody's favourite. Our designer Shruthi figured out ways to make the living room bright and spatially arranged.
This living area has a straightforward and practical design. Also, it's elegant with a backdrop of neutral colours. The wooden TV unit with storage and beige sofa goes beautifully with the white marble flooring. Moreover, the wooden coffee table elevates the room's ambience perfectly.
Take note of this living room's lighting as well. The false ceiling's recessed lights and the strip lights behind the TV unit help enliven the area. The plants on the TV unit and the wall-mounted storage units give the living area a dose of much-needed freshness. If you ask us, one of our top suggestions for a small 2BHK decor is to hang paintings in the living area to give it a sense of panache.
Also Read: 10 Best 2BHK Interior Design Ideas by Livspace to Steal for Yourself
Decor Elements Where Tradition Meets Modernity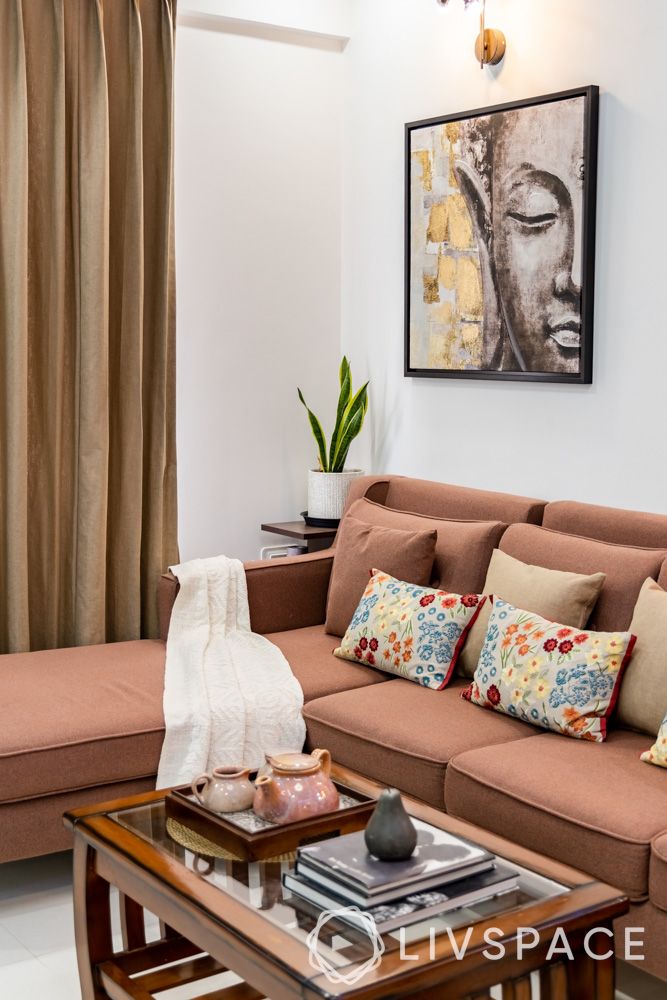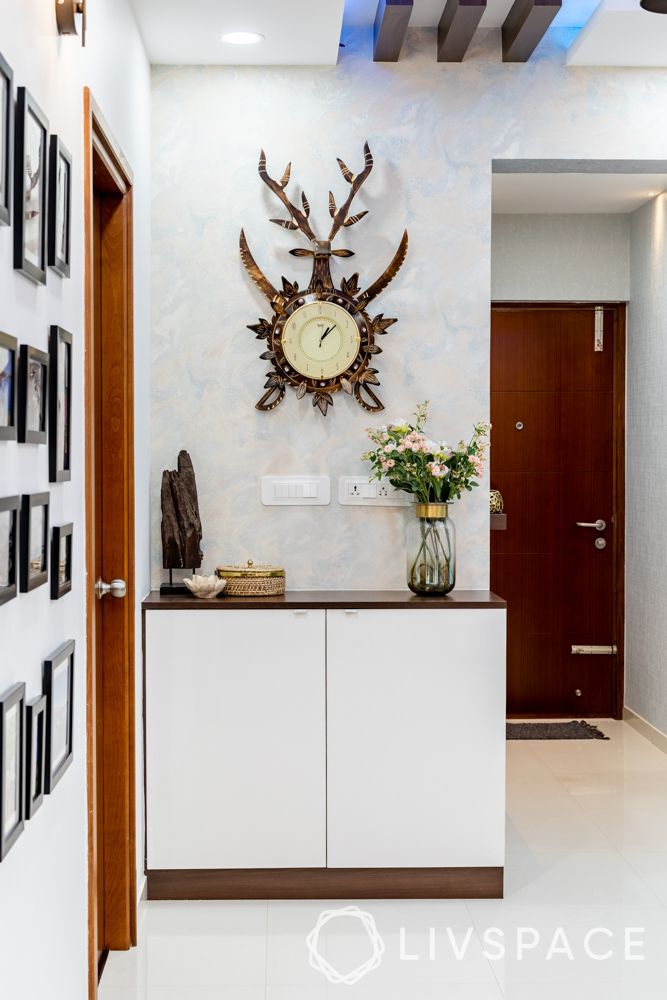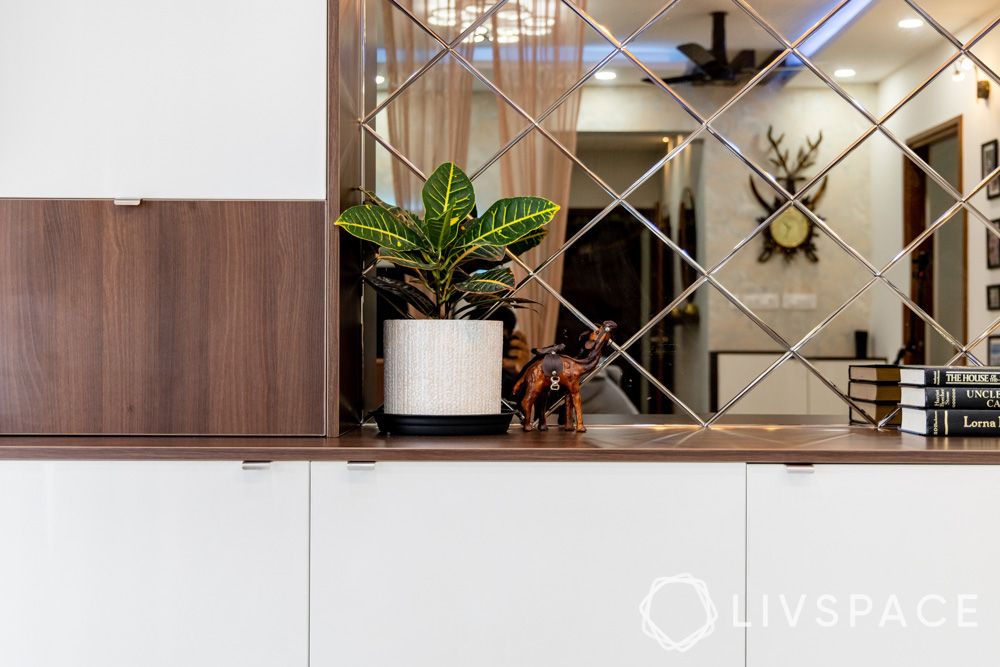 In recent years, the growing popularity of westernisation has had a deep alienating effect on Indian traditions and rituals. So, we've to go out of our way to keep our children aware of Indian traditions. Keeping this in mind, the homeowners wanted to incorporate traditional decor elements in this 2BHK interior design in Bangalore under ₹8 lakh. They also wanted to add a touch of luxury and royalty to their interior design.
Our designer Shruthi incorporated an antique clock, a couple of paintings and wall artworks throughout the home to add a traditional and royal touch to the home. Did you look at the wall of frames? You can use it to assemble and showcase your memories.
L-Shaped Kitchen With Seamless Cabinet Designs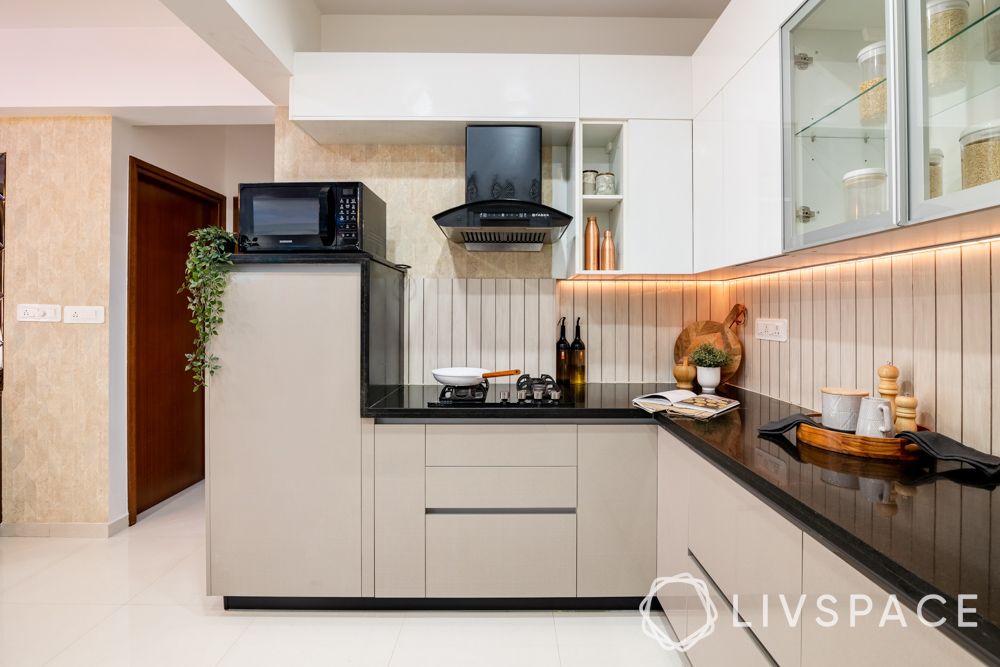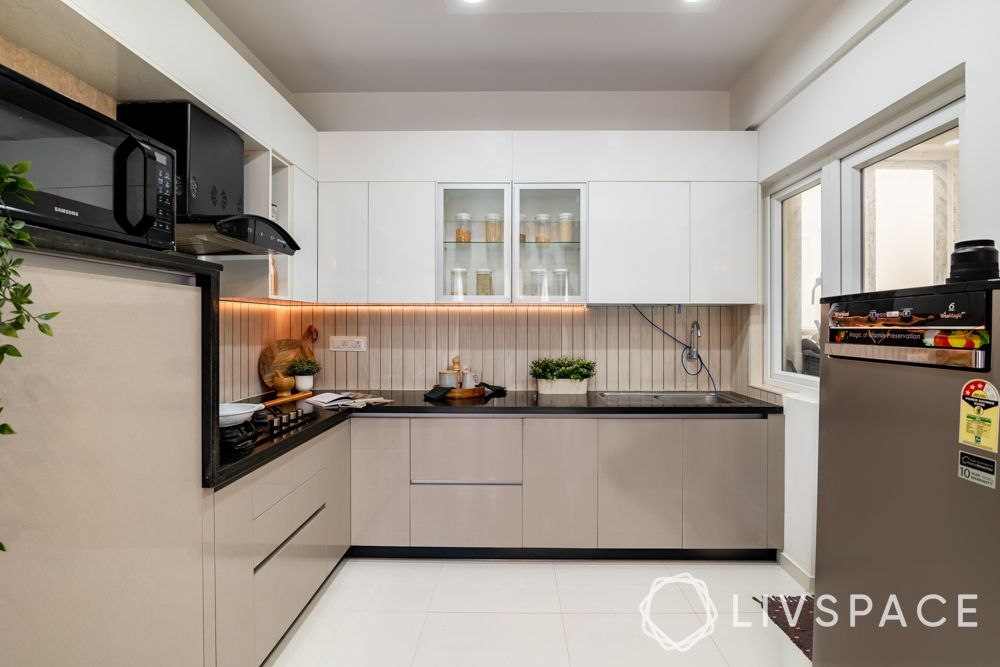 The previous kitchen of this SBR horizon's 2BHK home interior design was really cluttered and dull. No proper storage, no cabinet designs and scattered appliances made this kitchen impractical. In fact, the kitchen also lacked functionality.
As a result, our Livspace designer Shruthi came up with an L-shaped kitchen design, which is quite efficient for corner spaces and small kitchens. She also made practical use of the available space by incorporating pull-out drawers, cabinets, skirting drawers, and oil pull-outs. To produce enough storage, she has used a mix of both top-closed and bottom-closed cabinets. Even smart appliances have been placed at easy-to-reach places to make the experience of cooking an absolutely hassle-free one.
A Highly-Amped Master Bedroom Decor With Maximum Storage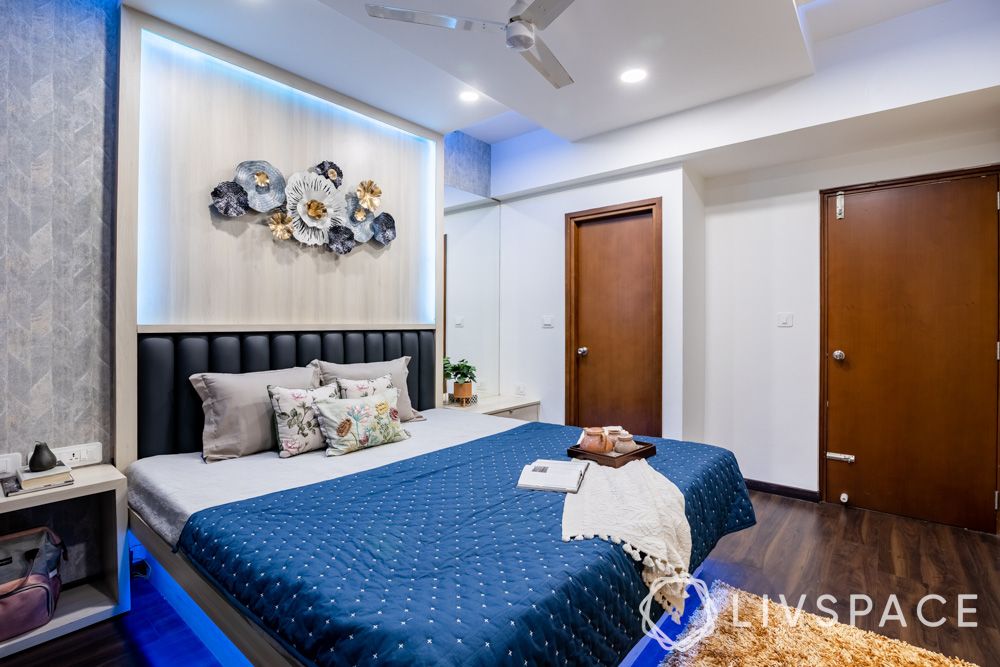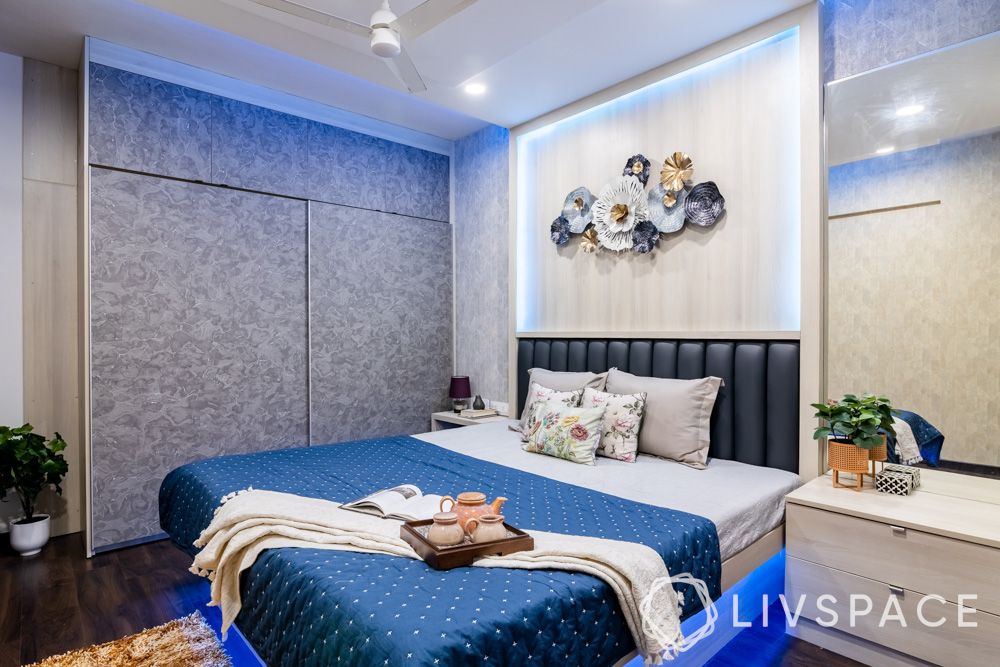 The problem with this master bedroom, just like every other bedroom, was less storage and a lack of aesthetic. The bedroom was low on storage and didn't have any source of natural light.
The picture after the renovation is quite different. Despite its compact size, this bedroom has been equipped with the necessities, including a hardwood bed with a headboard, a nightstand, and a closet. Also included is a small dresser with drawers. Sliding wardrobe doors are a wonderful idea because they save space in a compact room. To make the room bright, a combination of recessed lights and strip lights have been used.
The focal point of this room is the wall art behind the headboard. We also adore how this SBR horizon 2BHK home interior design maintains a sense of continuity in design. The bedrooms have a darker wood vinyl flooring that add to the overall aesthetic appeal and ambience.
Also Read: 21 Iconic Bedroom Design Ideas That Every Indian Will Love!
Daughter's Bedroom With Sliding Wardrobes to Make the Most of the Space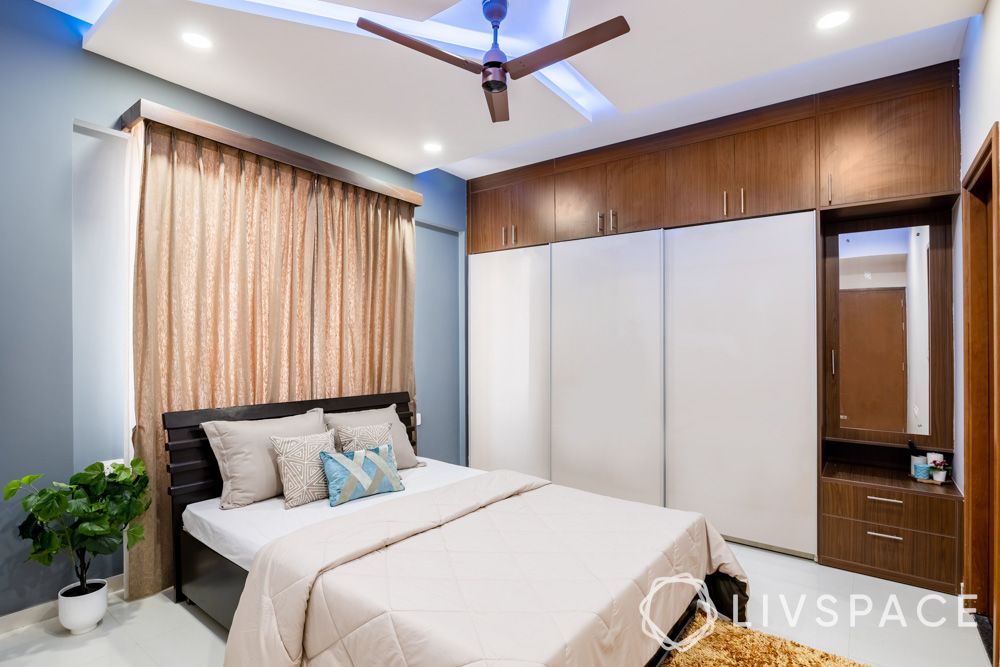 Growing children always need as much storage as possible, just like the daughter in this family. But it becomes a problem when you've a compact home with limited space.
To overcome this problem, our designer opted for a sliding wardrobe to help save space. The dressing table has also been included with storage. The colour scheme is neutral and the white flooring complements the room's aesthetic. The plants in the room help circulate fresh air, while also adding to the decor.
What Did the Homeowners Say?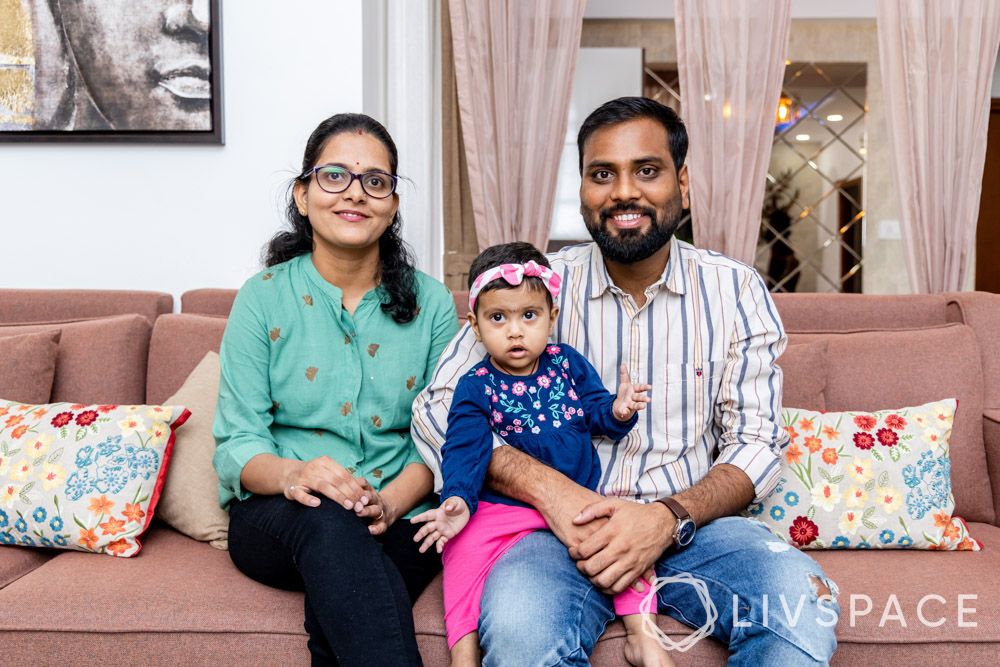 "We were happy with the design alternatives Livspace came up with to make the interior design for our 2BHK apartment in SBR horizon cosy, modern and practical. They also helped in adding a traditional essence to our home decor."

-Livspace Homeowner
How Can Livspace Help You?
We hope you found these ideas from 2BHK interior design under ₹8 lakh in Bangalore useful! If you want beautiful interiors for your home, then look no further. Book an online consultation with Livspace today. Also, if you have any thoughts and suggestions you'd like to share with us, we're all ears! Drop us a line at editor@livspace.com.