Over the years, real estate requirements have changed drastically. As people transitioned from big, joint families to smaller, nuclear units, there was a shift from large houses to more compact 2BHK and 3BHK flats. Additionally, in cities like Mumbai where there's a significant space crunch, compact 2BHKs are always the winner. If you have just bought your own 2BHK flat (or plan to buy one), you must be on the lookout for 2BHK home interior design tips and tricks. So, take a look at these 10 2BHK homes by Livspace from different cities and steal some tips.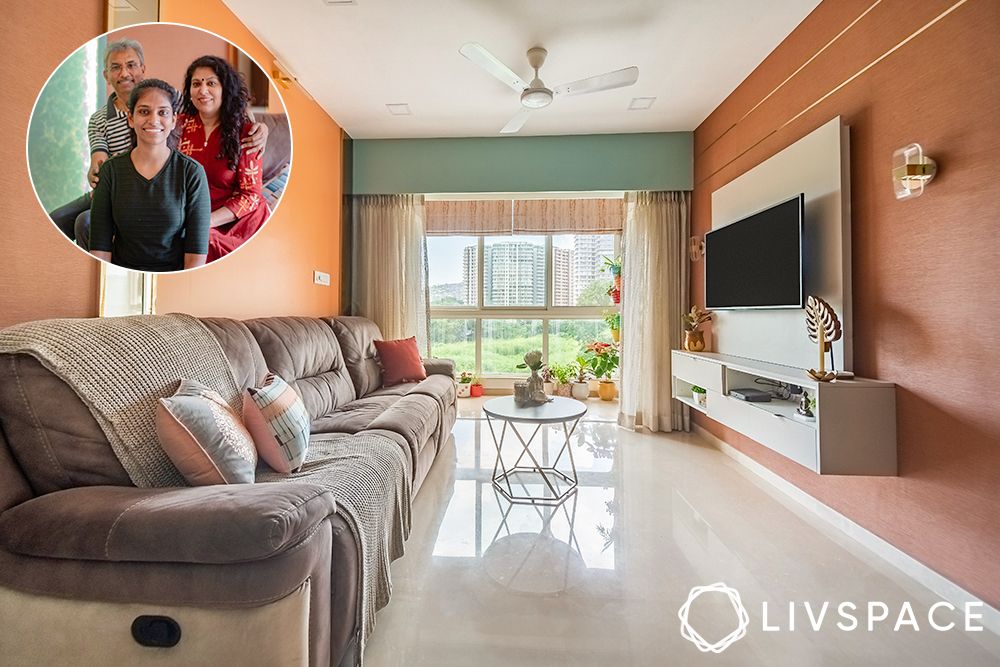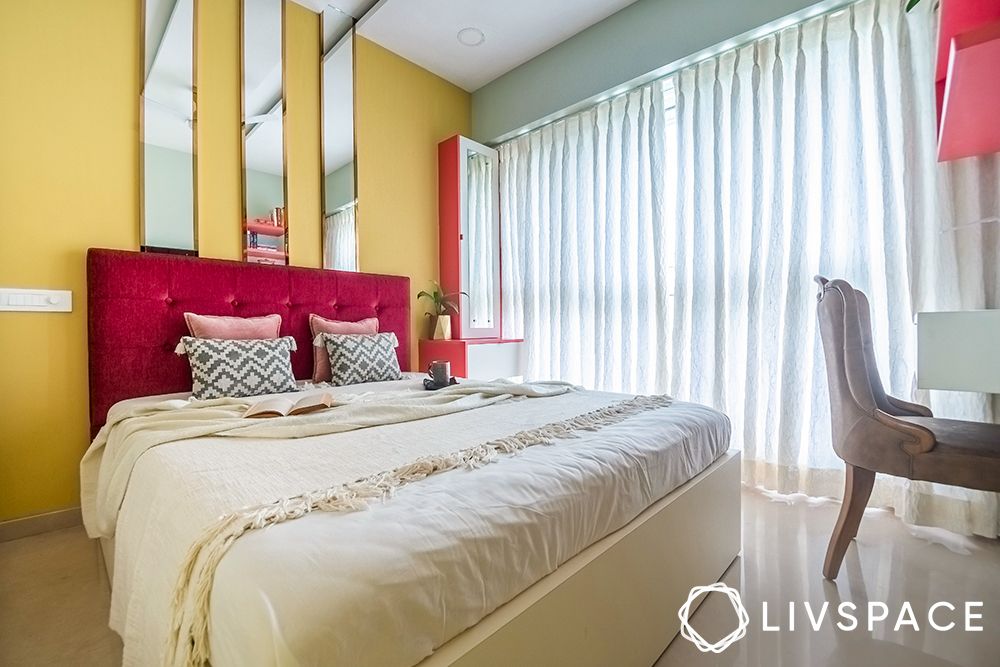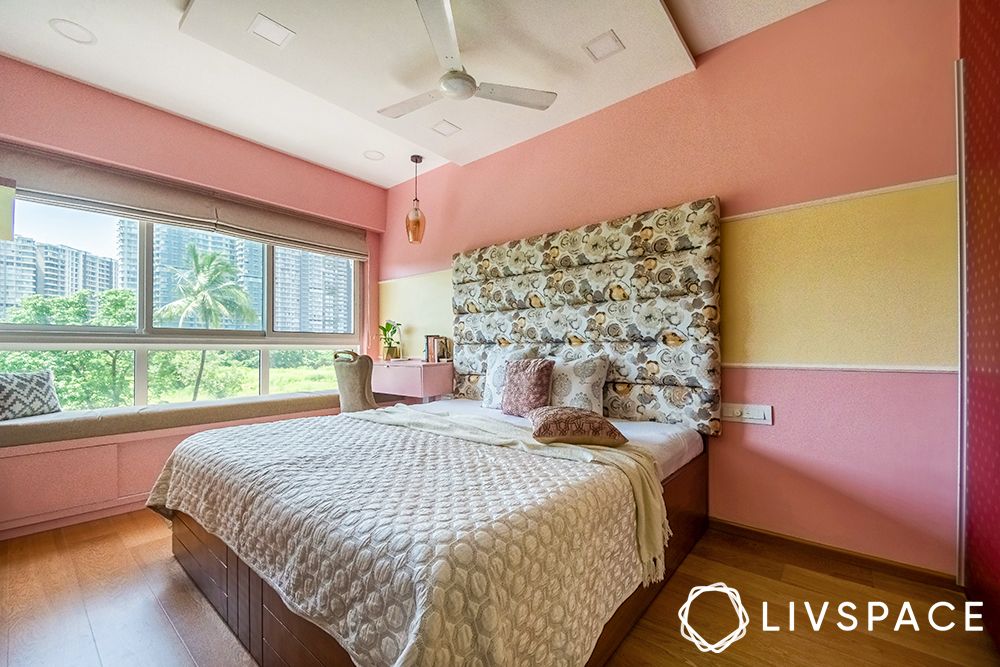 Who Livs here: Arun Jaiswal with his family
Location: Mumbai
Size: 620 sq. ft. approx.
Budget: ₹₹₹₹₹
In India's maximum city, Mumbai, a 620 sq. ft. 2BHK is quite a regular affair. While designing such a small 2BHK, it's important to keep several things in mind, like its aesthetics, space optimisation and storage solutions. But with some smart design hacks, even a compact 2BHK home interior design can look spacious.
Design Hacks You Must Steal
Use mirrors to create the illusion of space
Make the most of vertical storage
Opt for a soft and neutral colour palette to open up the space
Convert unconventional spaces into seating, like a bay window seating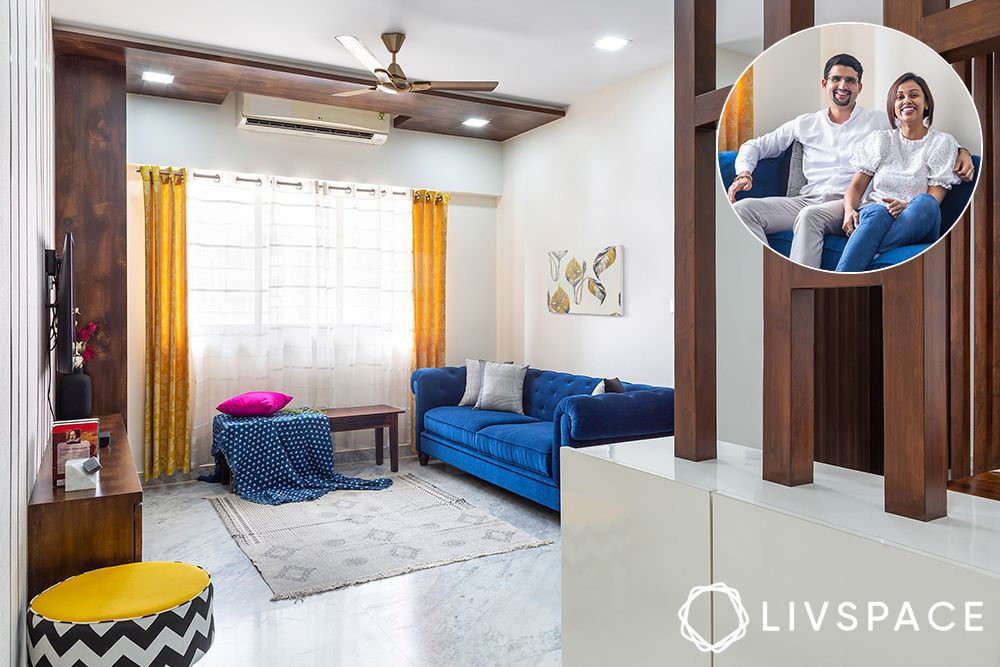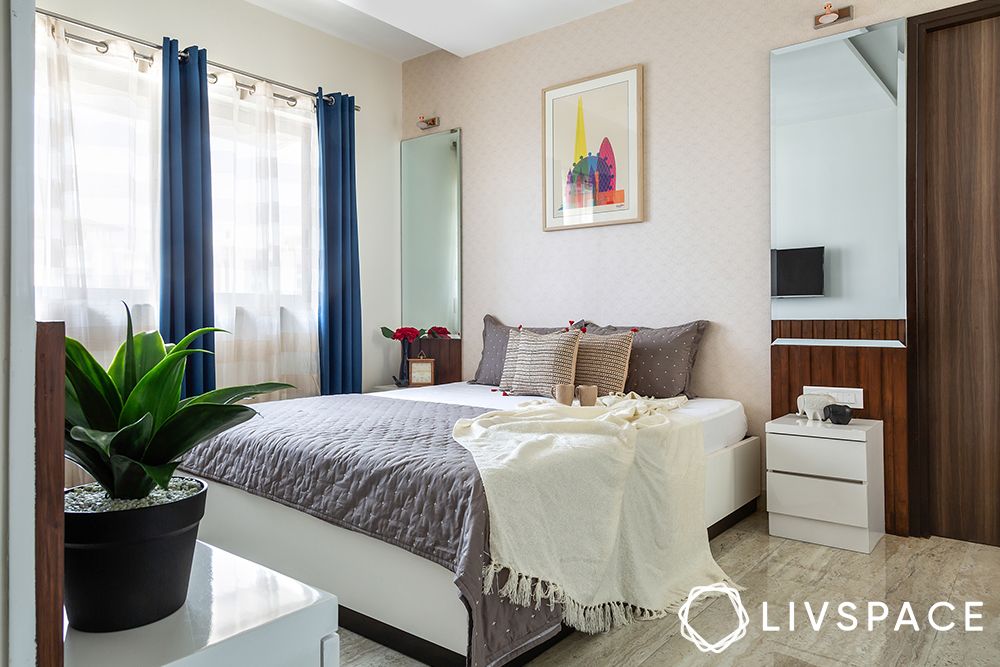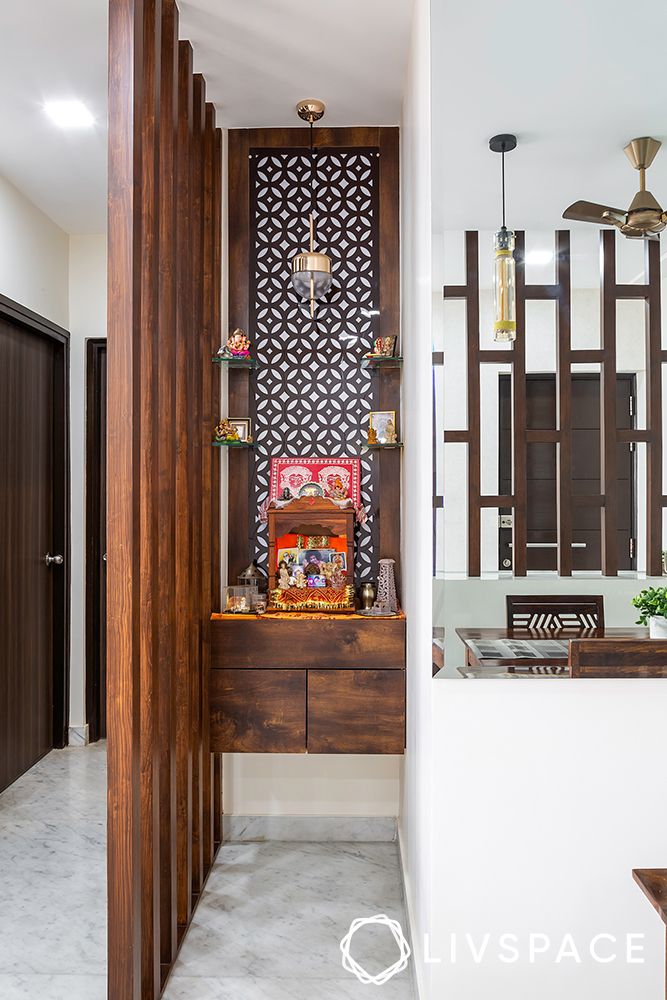 Who Livs here: Meghna Duarah and Nikhil Pande
Location: Mumbai
Size: 850 sq. ft. approx.
Budget: ₹₹₹₹₹
Young, 30-something-year-olds no longer seem to be waiting to live their dreams! More and more millennials are buying their dream home in their 30s, and the interior design style that's most loved by this generation happens to be the contemporary one. Here's how to get the perfect contemporary 2BHK home interior design for millennials.
Design Hacks You Must Steal
A fuss-free and functional design where everything serves a purpose
Couches, cosy nooks and comfy elements
Easy-to-clean and low-maintenance surfaces
Space-saving designs
Ample space for growth
Experiment with colours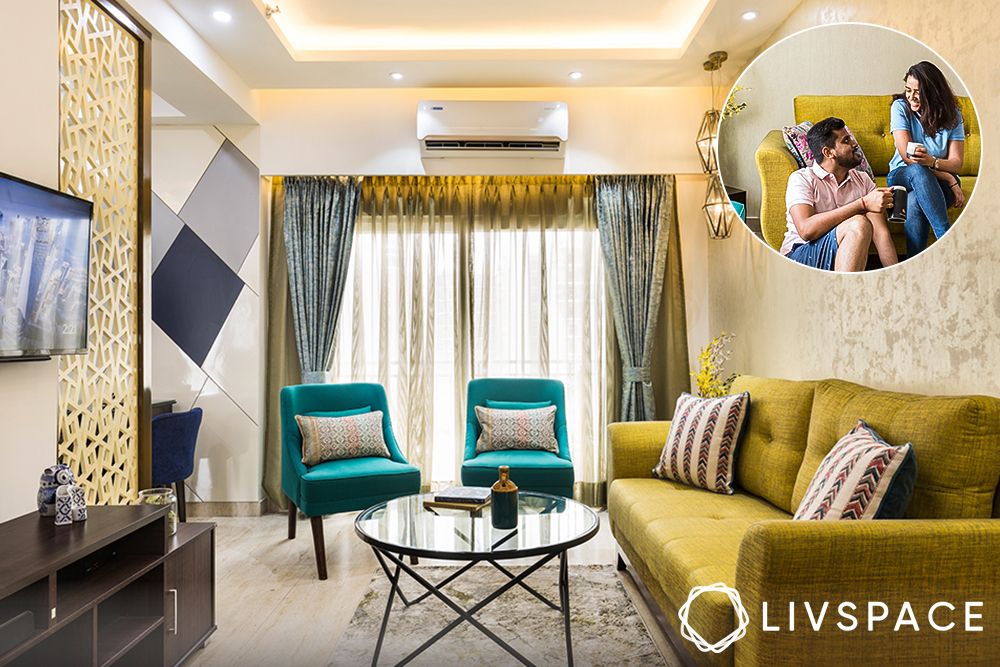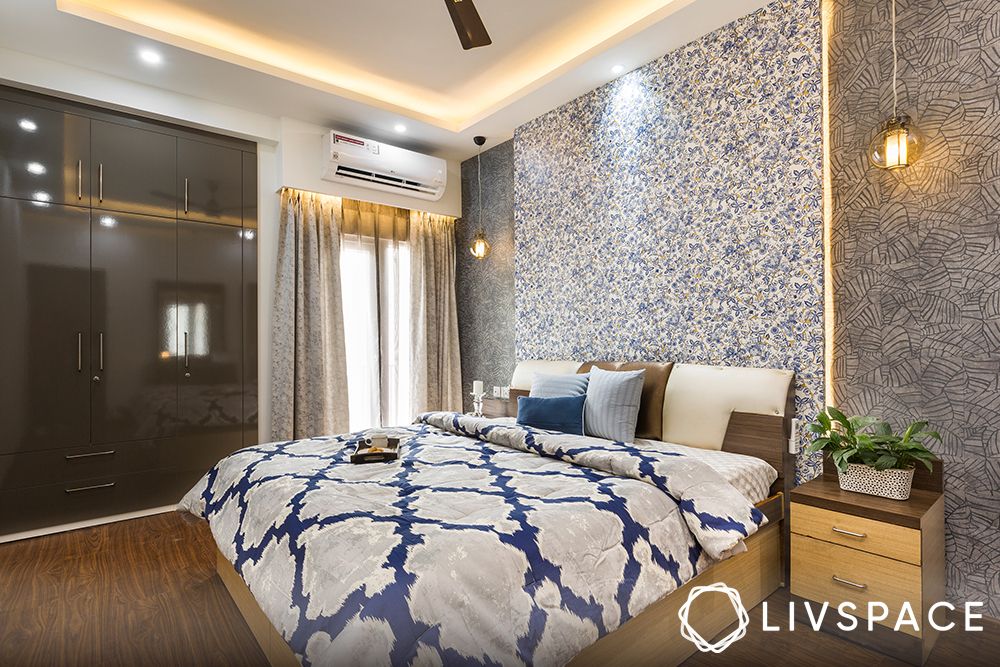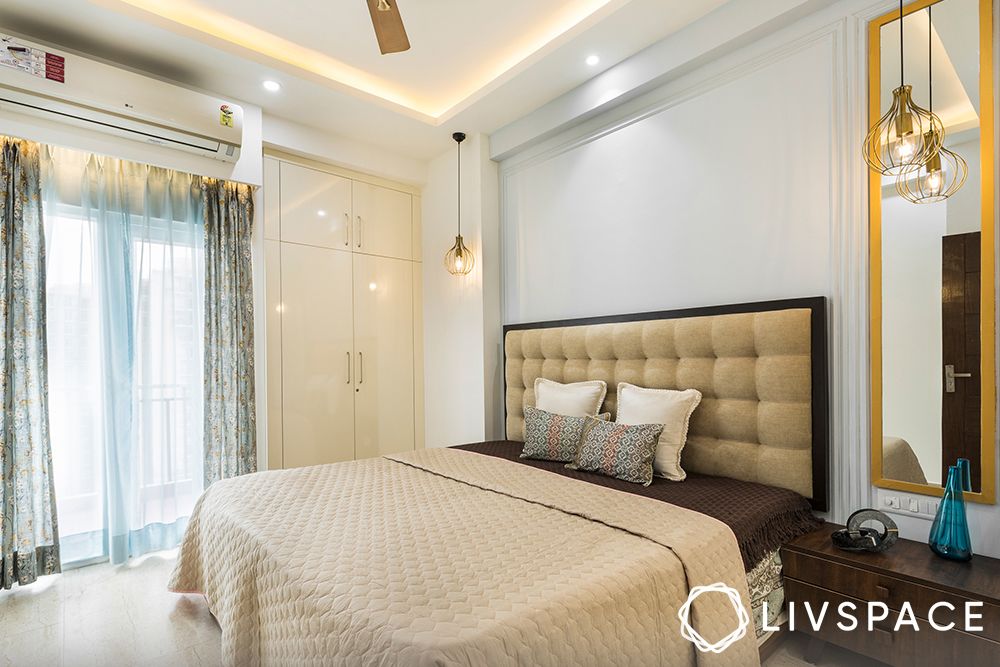 Who Livs here: Aditya Gupta and Swati Ahlawat
Location: Noida
Size: 1000+ sq. ft. approx.
Budget: ₹₹₹₹₹
Something colourful, something soothing and something within budget—these were the three things that Aditya and Swati wanted for their 2BHK home interior design. We love how zesty, vivid and elegant this home is – and it's all within budget!
Design Hacks You Must Steal
Use lighting like pendant lights and LED strip lights to amp up the look on a budget
Opt for pretty wallpapers that bring down the cost while making your room look vibrant
Use a mix of bold and neutral colours so as not to overpower the look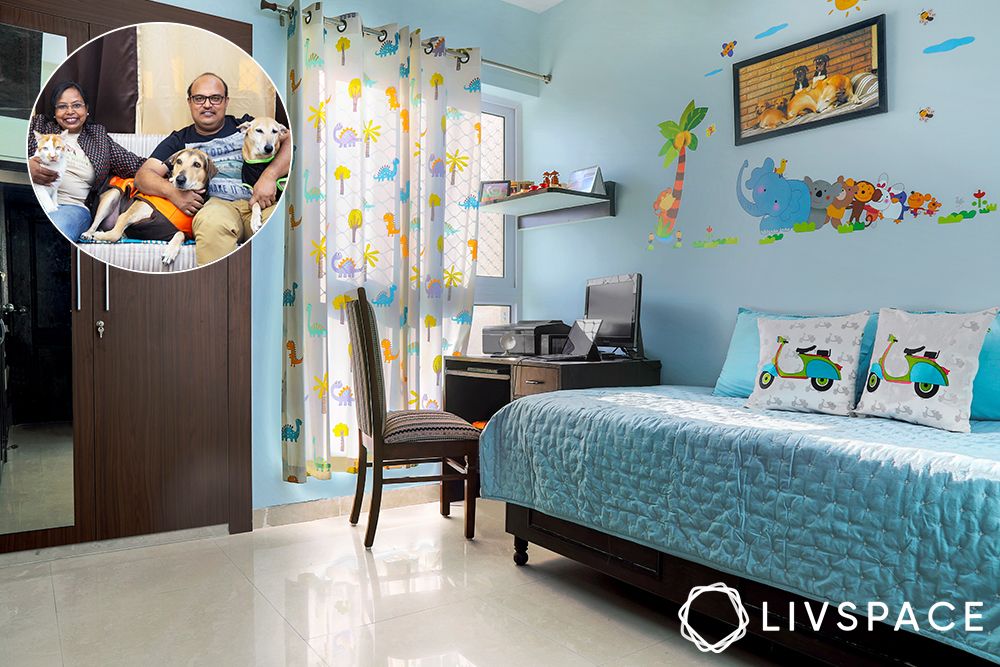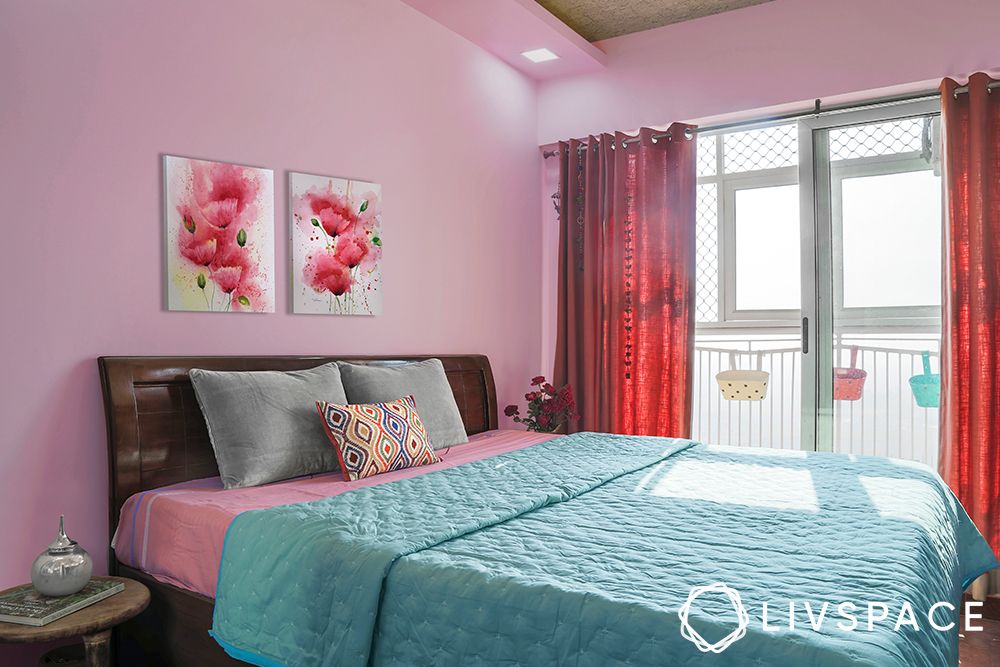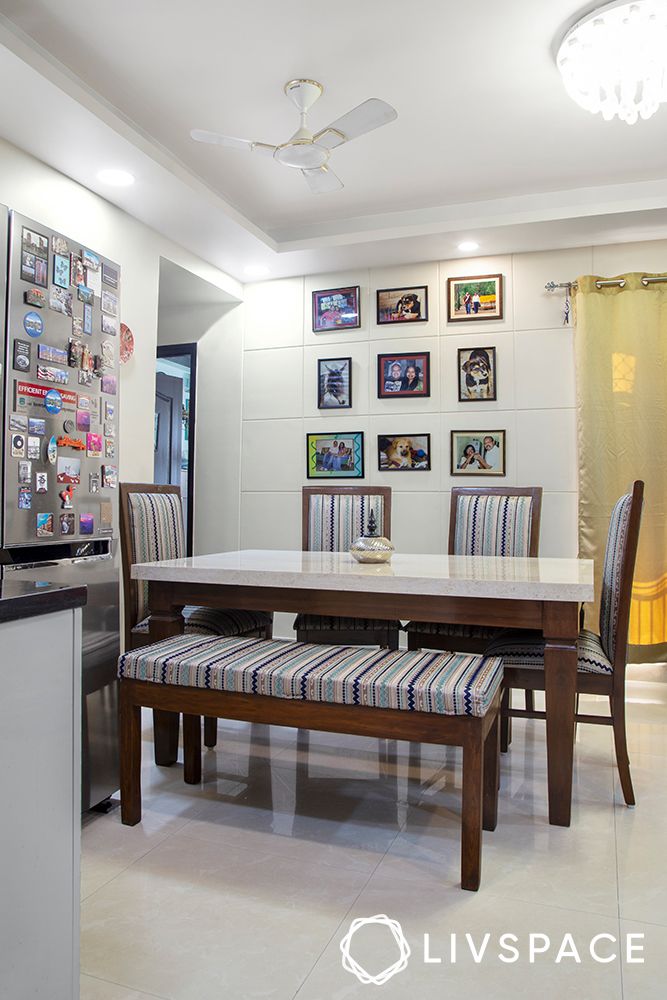 Who Livs Here: Sushmita Parai and Faizan Jaleel with their cat Tinkerbells and dogs Lafunder and November
Location: Ghaziabad
Size: 925 sq. ft. approx.
Budget: ₹₹₹₹₹
Be it a hooman or a furball, a home should be comfortable for all! This 2BHK home interior design in Ghaziabad is unique in the sense that it has been specially designed to provide ample space to Sushmita and Faizan's kids, their cat and their dogs. Here's how to get a pet-friendly and functional home.
Design Hacks You Must Steal
Opt for scratch-resistant furniture and furnishings
Go for an uncluttered design
Use nested stools instead of large furniture to provide ample space for your pets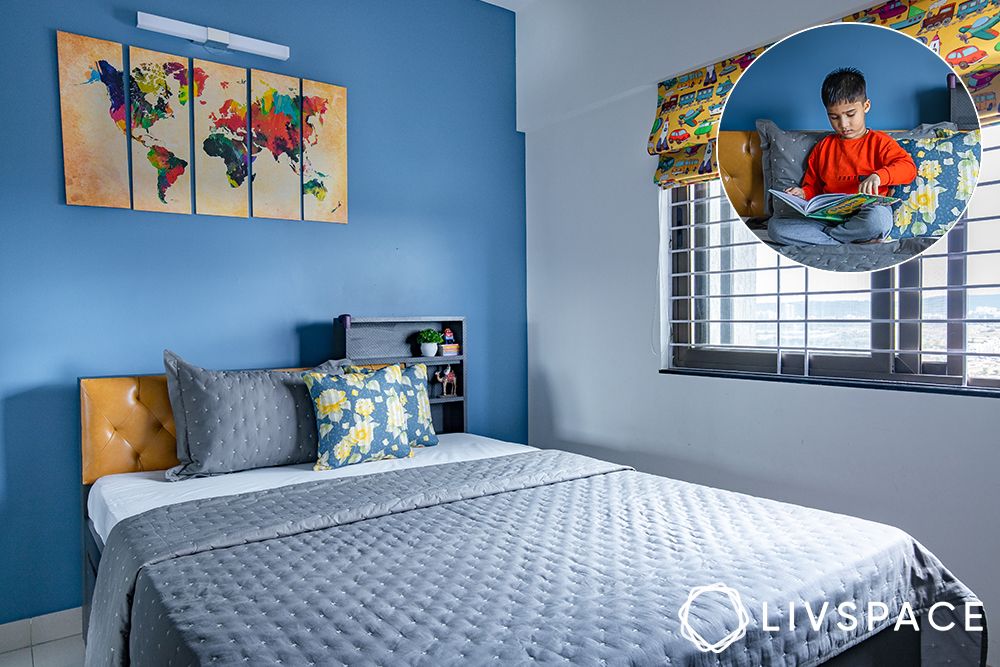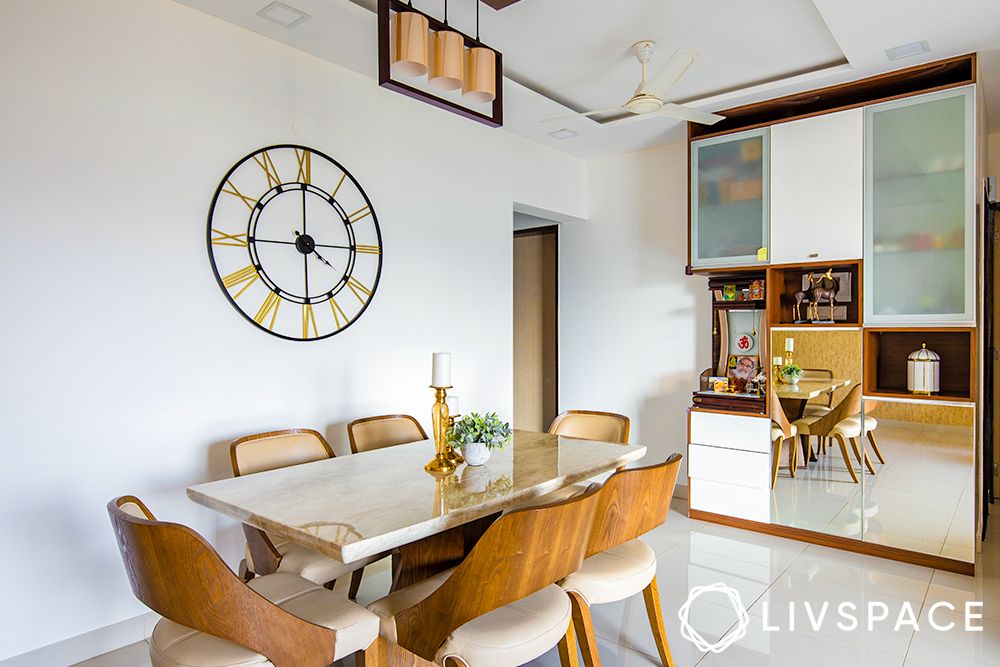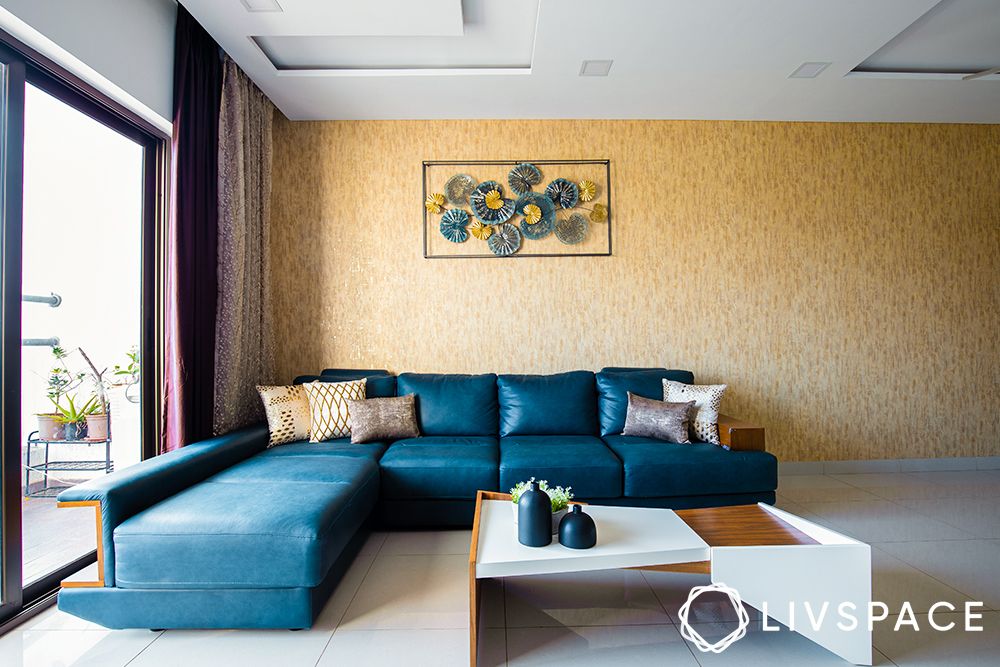 Who Livs Here: Taruna Sharma with her husband and son
Location: Pune
Size: 800 sq. ft. approx.
Budget: ₹₹₹₹₹
Taruna Sharma was looking for 2BHK design ideas that would make her home look spacious and bright, within a budget. Here's some design inspiration from this contemporary and economical 2BHK home interior design in Pune.
Design Hacks You Must Steal
Use space-efficient storage units
Opt for laminate finishes to bring down your cost
Refurbish your old furniture to stick to your budget
Go for a U-shaped kitchen, that will give you more storage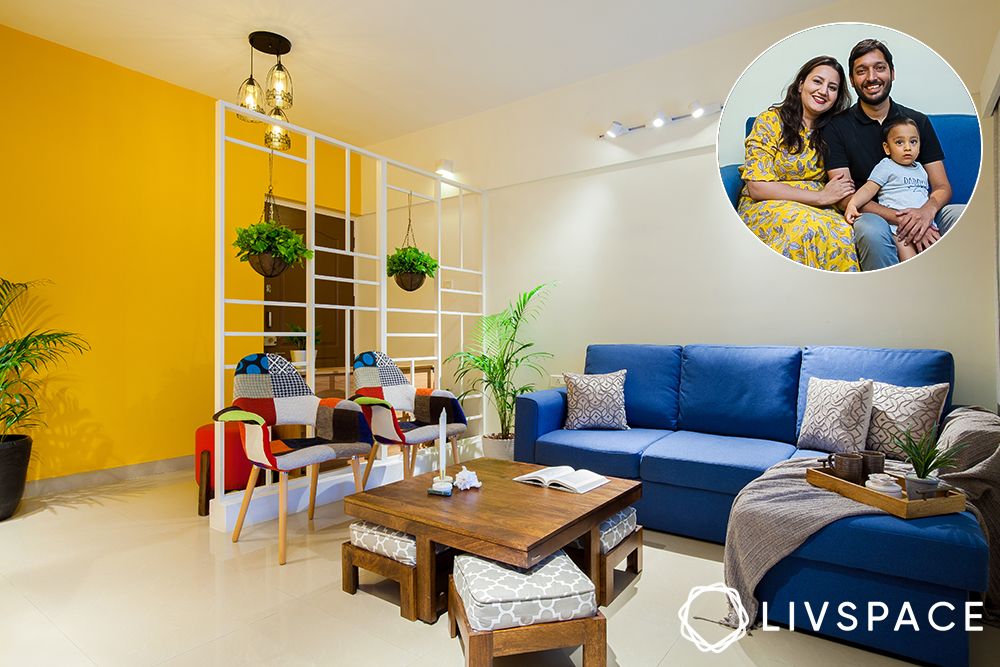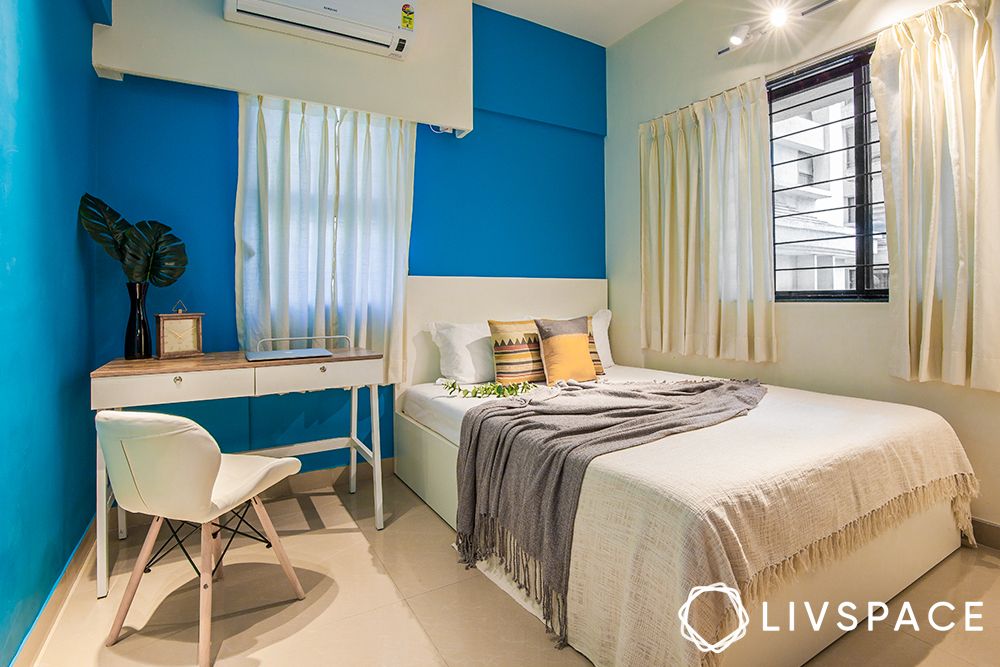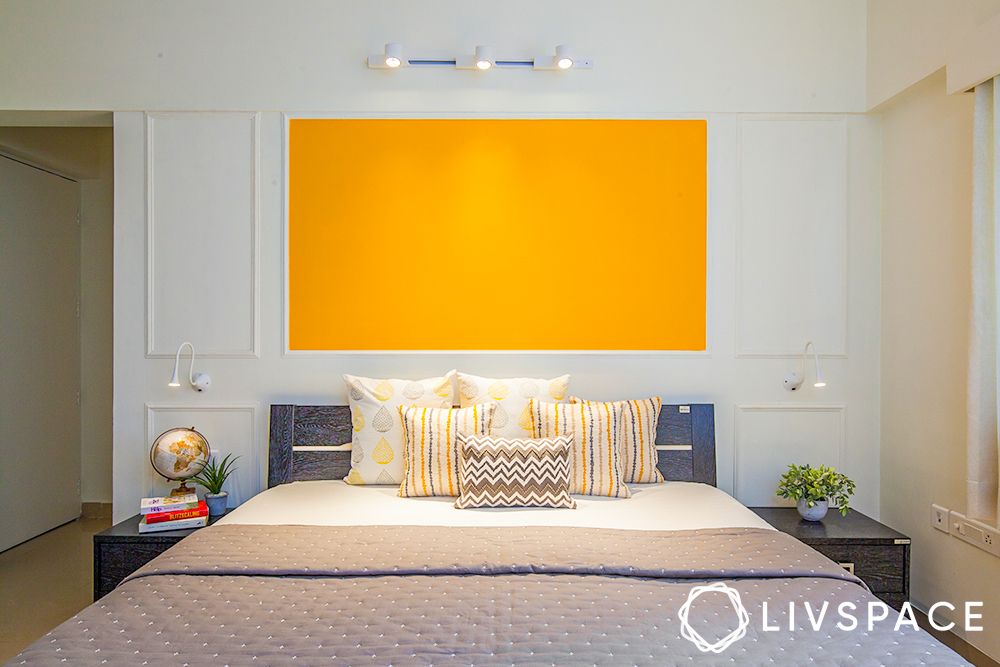 Who Livs here: Khushboo Sharma with her husband and son
Location: Pune
Size: 900 sq. ft. approx.
Budget: ₹₹₹₹₹
Renovating a home can be a challenge, considering civil work and layout changes. After living in their 2BHK for more than six years, Khushboo and her family wanted a change—something bright and cheerful to reflect their personalities. Here's what they did.
Design Hacks You Must Steal
Add a metal partition to segregate spaces and decorate it with plants
Opt for one, vivid colour that dominates the entire 2BHK home interior design
Play it up with unique lighting
Choose multifunctional furniture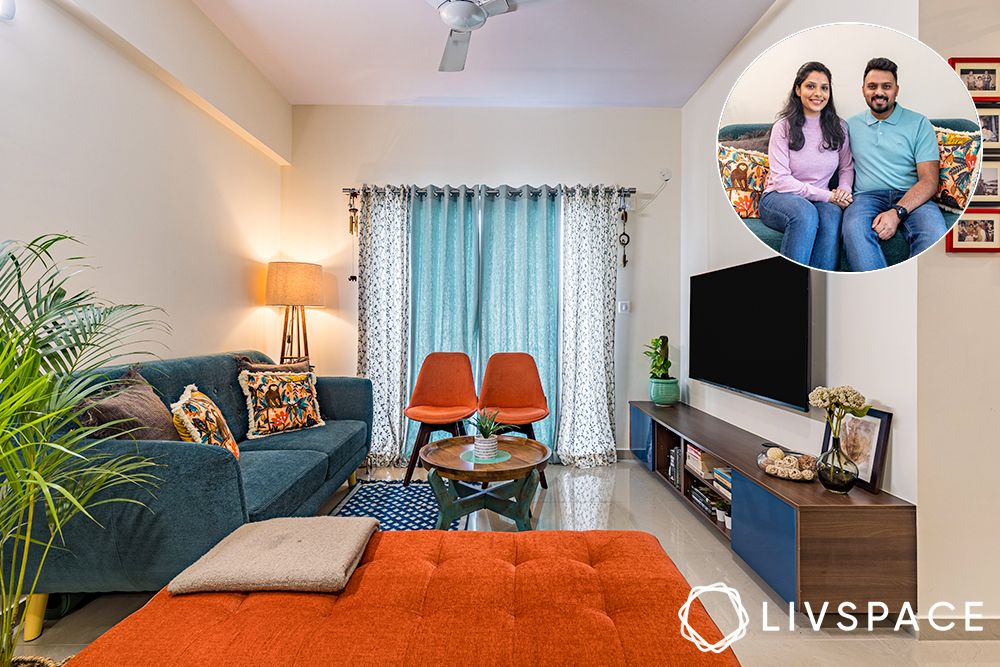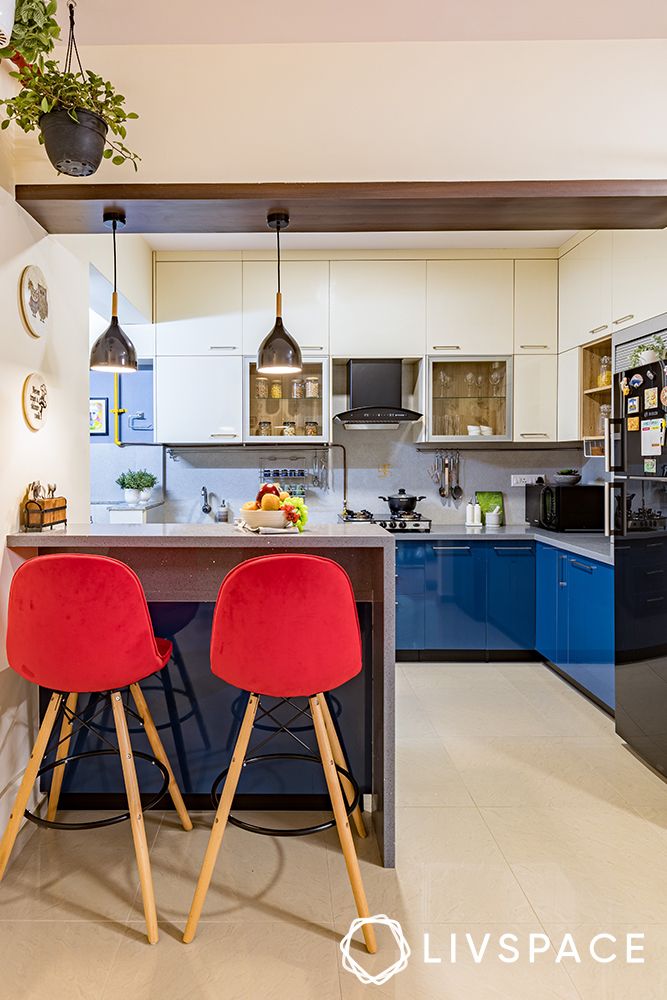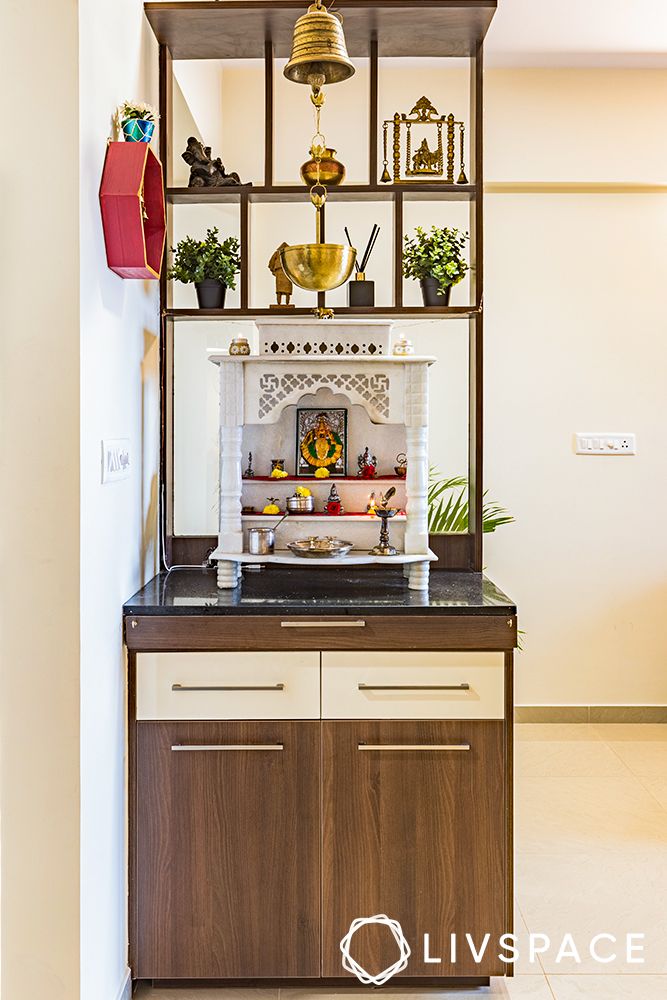 Who Livs here: Karthik Kumar and his wife
Location: Bengaluru
Size: 800 sq. ft. approx.
Budget: ₹₹₹₹₹
Compact but space-efficient, budgeted within ₹9 lakh and delivered in only 30 days—this 2BHK is the epitome of perfection! Karthik and his wife were very clear about what they wanted from their flat—a homely design that does not look like a hotel, while being budget-friendly and following their tight timeline.
Design Hacks You Must Steal
Add seating with your storage units
Place a pooja unit with your partition if you lack the space for a separate mandir
Opt for bare walls and vibrant upholstery
Add extra storage to your breakfast bar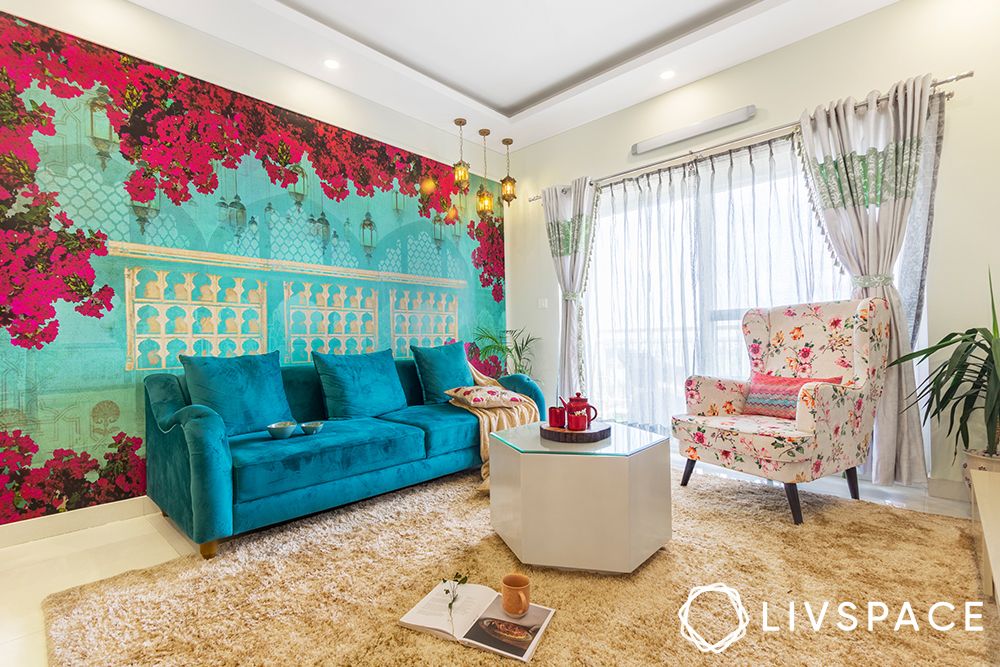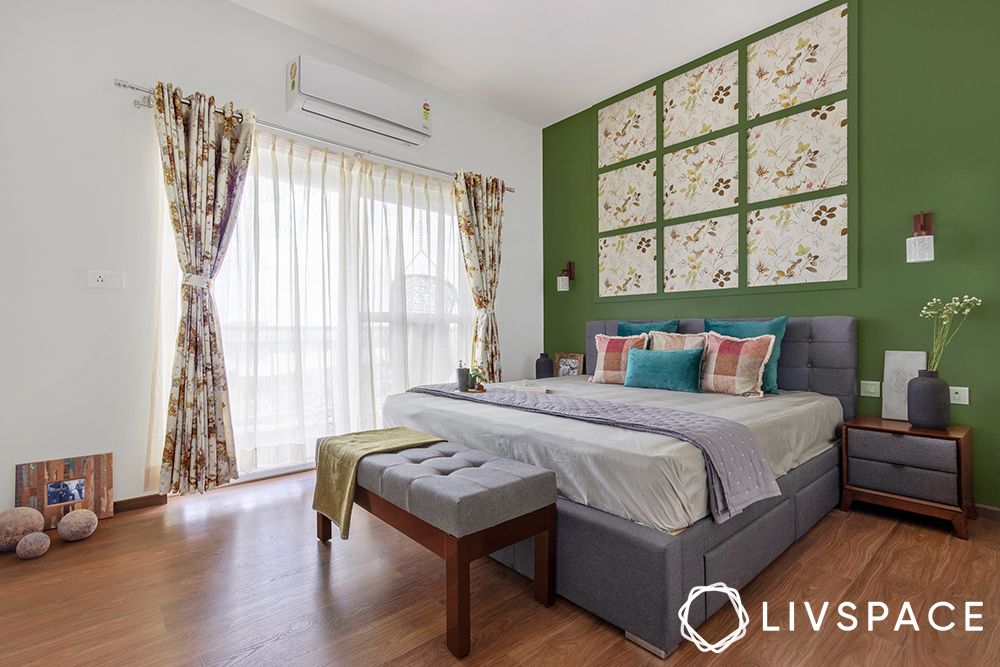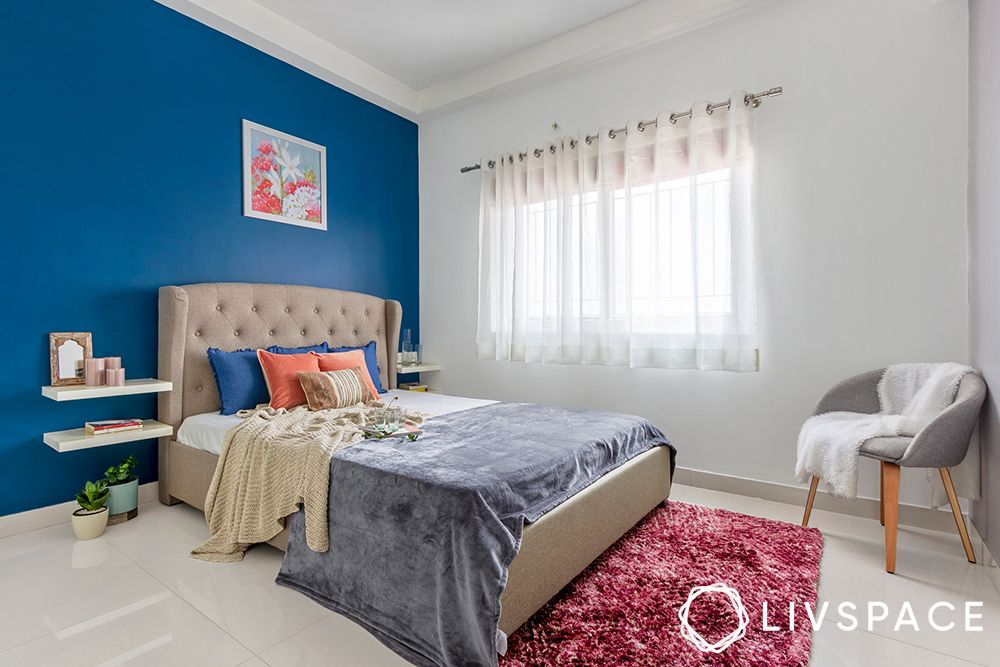 Who Livs here: Sunidhi Trivedi with her husband
Location: Bengaluru
Size: 1,900 sq. ft. approx.
Budget: ₹₹₹₹₹
When Sunidhi and her husband met a Livspace designer with reference images for her home, our designer could immediately tell that the couple wanted a casual boho-chic design. Lively and colourful, this 2BHK was designed with the help of 3D images.
Design Hacks You Must Steal
Use bright wallpapers and wall trims with chevron patterns for a unique look
If you are using colourful decor, keep the main theme of the room white
Maintain design continuity throughout the rooms by following a single colour family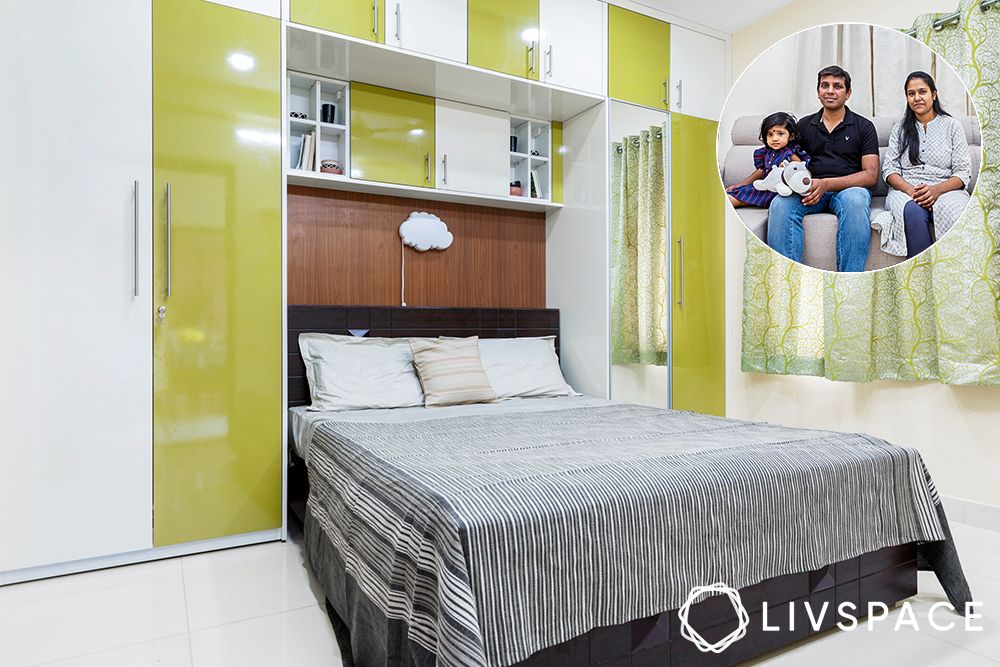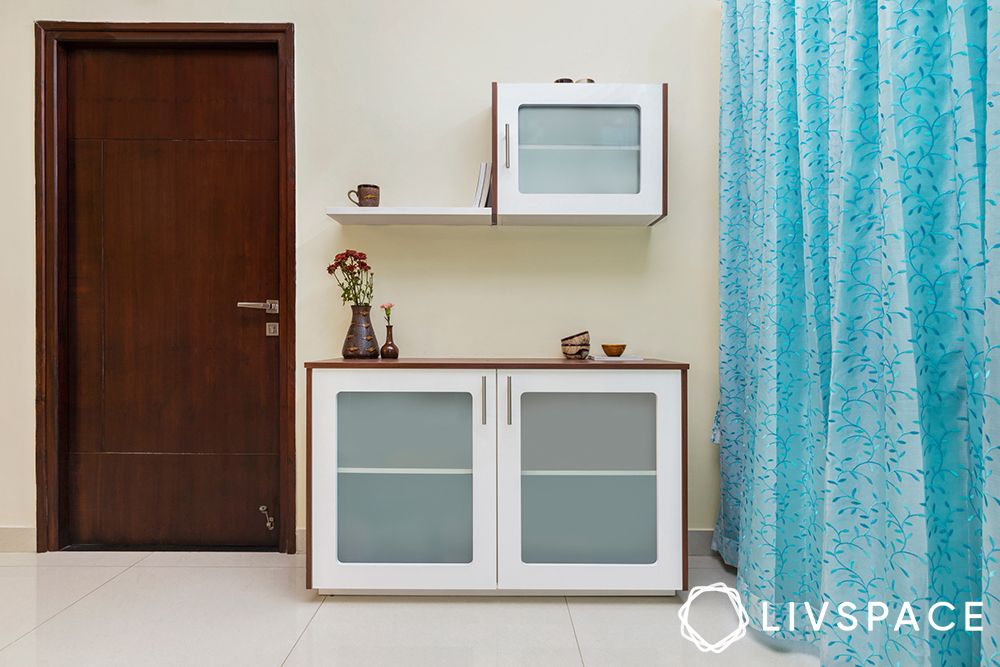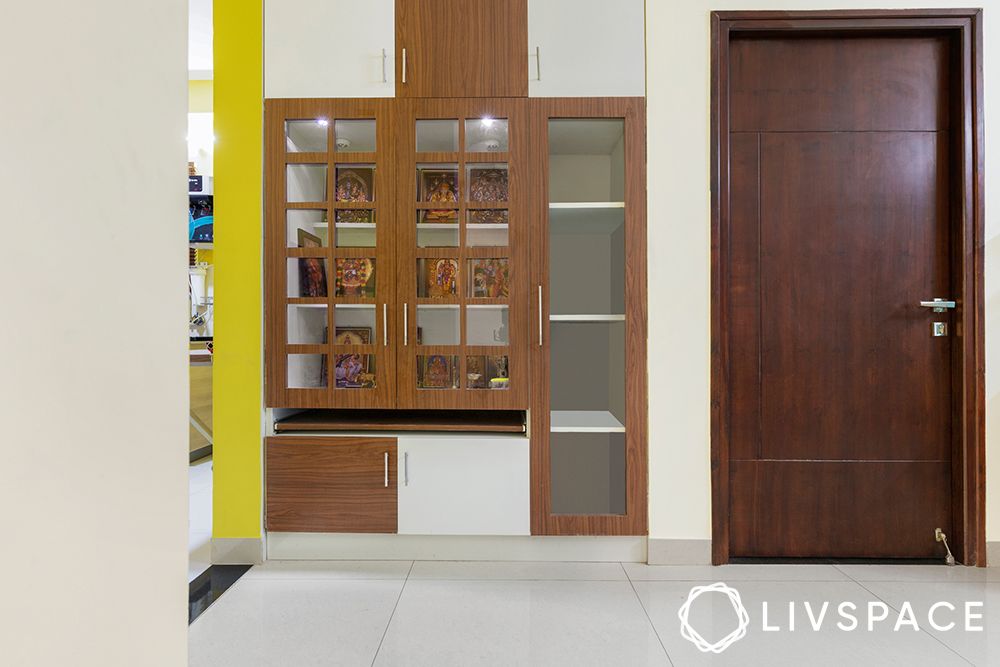 Who Livs here: Vivek and Bhanupriya with their daughter
Location: Hyderabad
Size: 1,300 sq. ft. approx.
Budget: ₹₹₹₹₹
When you have a baby, your storage needs tend to go up. As such, Vivek and Bhanupriya wanted their 2BHK home interior design to have maximum storage to account for the memories they had gathered over the years as well as their growing daughter.
Design Hacks You Must Steal
Use vertical shelves for extra storage
A mix of open and closed storage will make the space look bigger
Make use of any niches in your 2BHK by customising storage units that fit right in
If you don't have the budget for a pantry pull-out, go for a mid-tall unit
Add storage to your headboard wall around your bed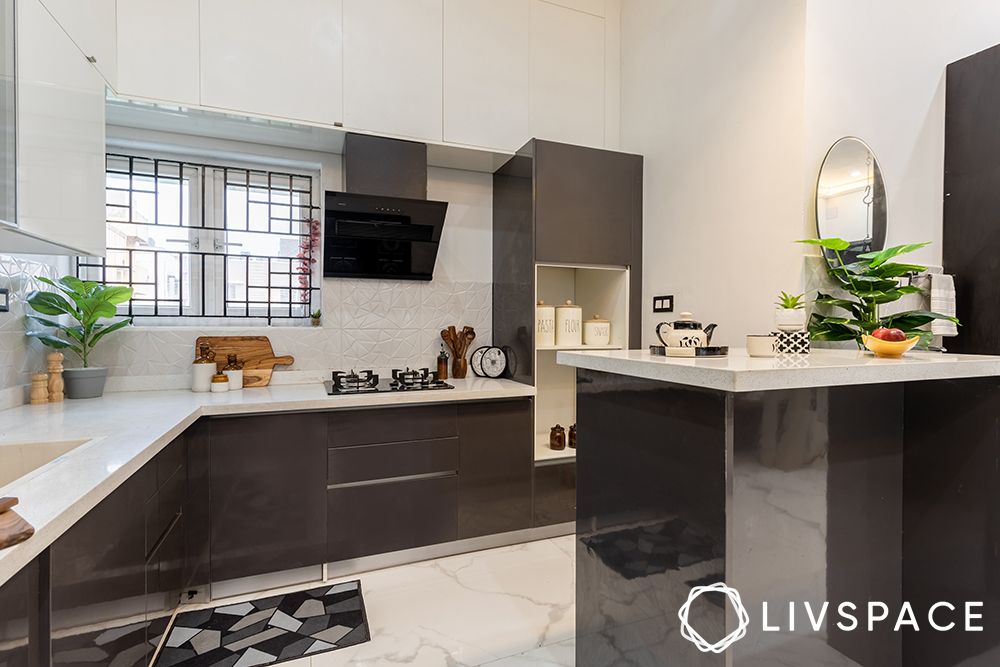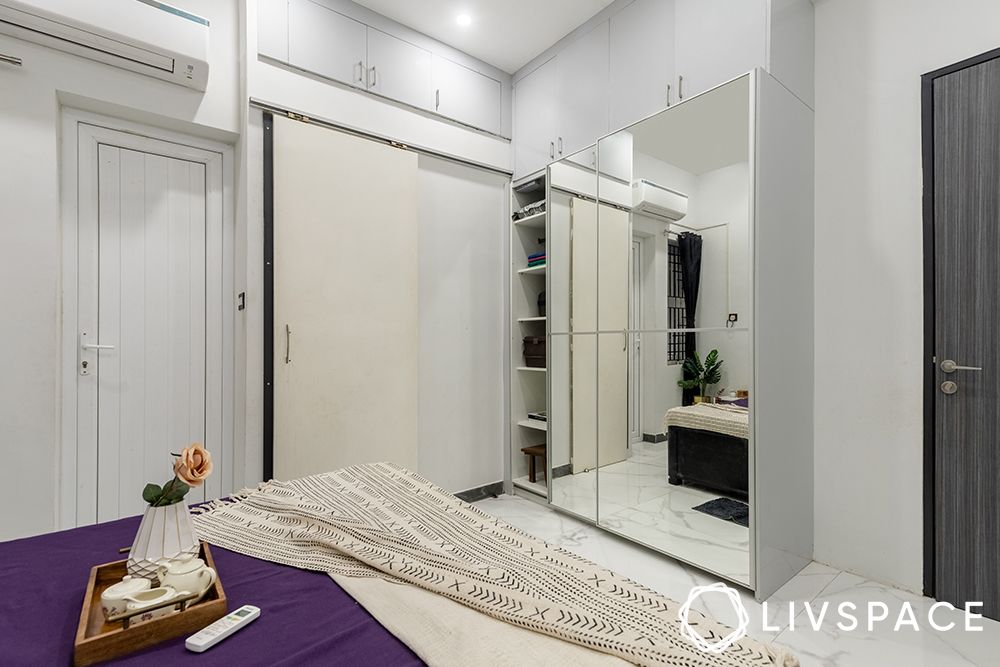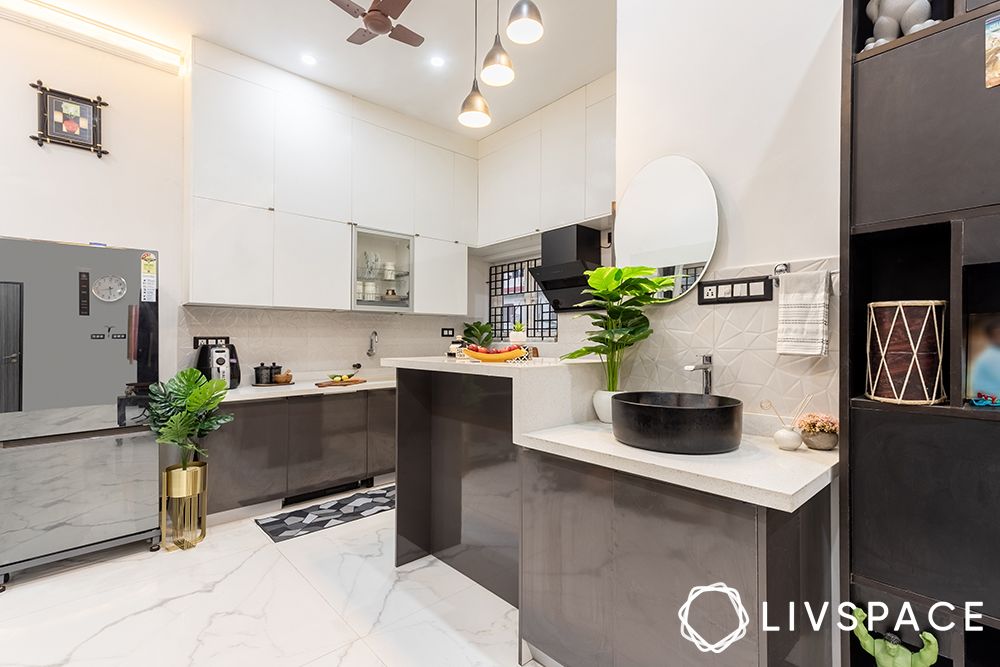 Who Livs here: Erudhaya Priya with her family
Location: Chennai
Size: 2BHK
Budget: ₹₹₹₹₹
One of the primary requirements for most young, millennial homeowners is to have a functional and fuss-free home, especially if there are kids in the house. This was the case for Erudhaya Priya and her husband, a young couple with a small baby. The main thing that they wanted for their 2BHK home interior design was a practical and child-friendly design.
Design Hacks You Must Steal
Add multiple workable countertops in the kitchen
Use handleless cabinets, for they are a child-friendly option
Opt for a fitted wardrobe to help you maximise space
We hope these 2BHK homes designed by Livspace inspired you. If you are looking for more 2BHK design inspiration, check this.
How Can Livspace Help You?
We hope you found our ideas useful! If you want your home to be just as beautiful, then look no further. Book an online consultation with Livspace today.
Wondering how our customers feel about working with Livspace? You can check out the Livspace reviews here!
Have any thoughts or suggestions you'd like to share with us? We'd love to hear you out. Write to us at editor@livspace.com.