We have designed our fair share of luxurious homes. But when it comes down to it, nothing quite beats the beauty of a simple house that feels like home! And this Bangalore 2BHK is the epitome of a beautiful, functional and homely design. And do you want to know the best part of this home? This compact 800 sq. ft. 2BHK was designed in just under ₹9 lacs and in just 1 month! Unbelievable, right?
---
Who livs here: Karthik Kumar and his wife
Location: Orchid Whitefield, Bangalore
Size of home: A 2BHK spanning 800 sq. ft.
Design team: Interior Designer Chetan Jangid and Project Manager Arvind Kumar K
Livspace service: Full home design
Budget: ₹₹₹₹₹
---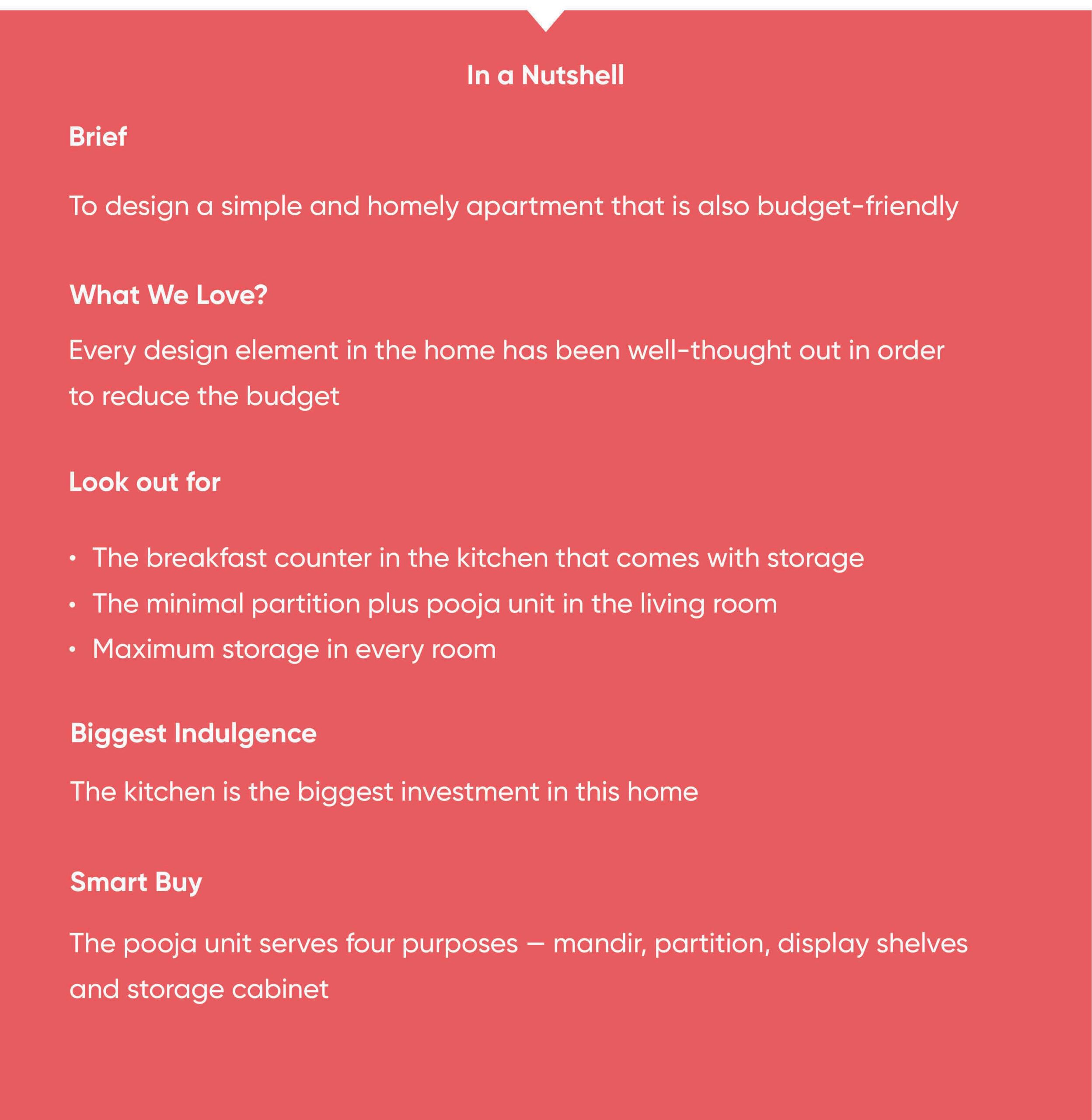 We got in touch with our designer, Chetan Jangid, to know more about this compact home in Bangalore. One of the first things he told us was how clear the clients were regarding what they wanted from their designer. Their original brief was that they were looking for a simple and homely design so that their home would look like 'home' and not a hotel. In addition, they had a budget that had to be followed and a tight timeline. So join us for a tour of this 2 BHK flat in Bangalore.
#1: Entry Into a Divine Space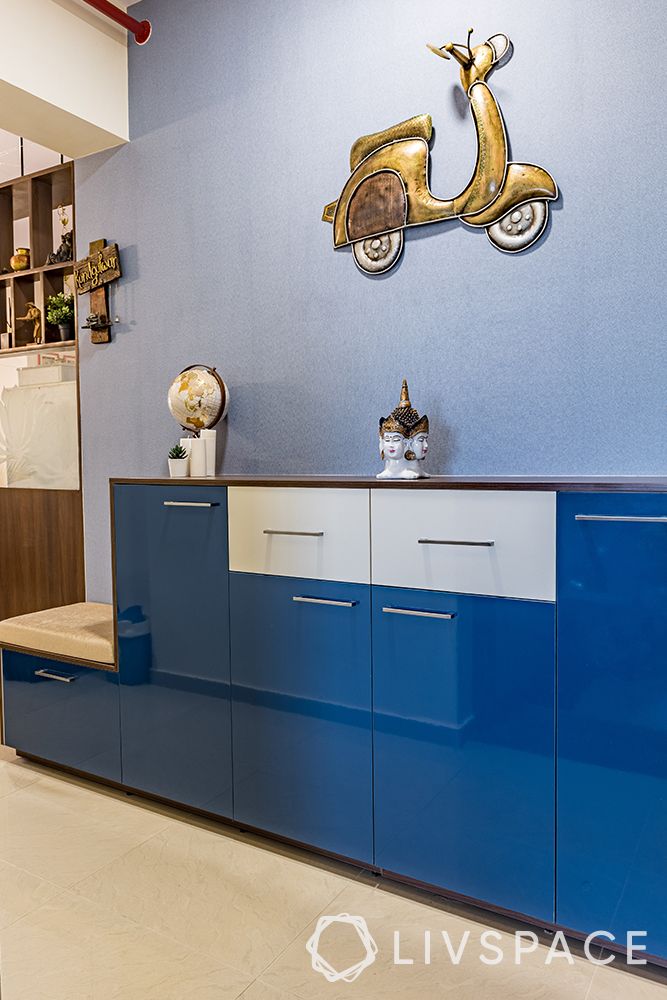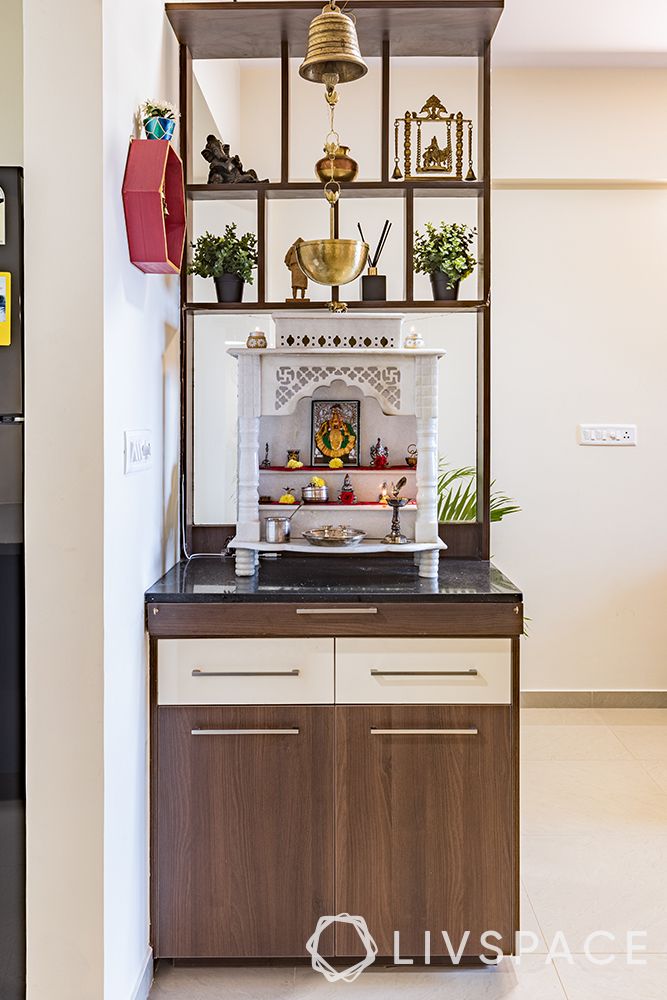 When you have a compact home, every part of the house counts! The entryway is one of those places that is often overlooked. Chetan made the most of the space available in this Bangalore 2BHK by adding a modular laminate storage unit here that comes with maximum space but is low-cost. You will also notice a lot of blues in this home, a colour that the homeowners love. This blue theme begins from the foyer itself and extends to almost all the rooms, maintaining design continuity. For the sake of comfort and convenience, Chetan also added seating with the storage unit so that the homeowners could sit and wear their shoes comfortably.
As you move into the living room from the foyer, you will come across the unique pooja unit. Now you must have seen pooja units in the living room, separate pooja rooms, even wall-mounted mandirs. But have you ever seen a partition that comes with a pooja unit? The homeowners wanted a small and minimal partition to segregate the foyer and living spaces. Chetan created this custom partition with display racks. He then placed it on a modular storage unit from Livspace, ensuring space optimisation. Since the homeowners decided to place their pooja unit on this cupboard, Chetan custom-designed an additional top drawer for the pooja samagri.
#2: Pops of Colours in the Living Room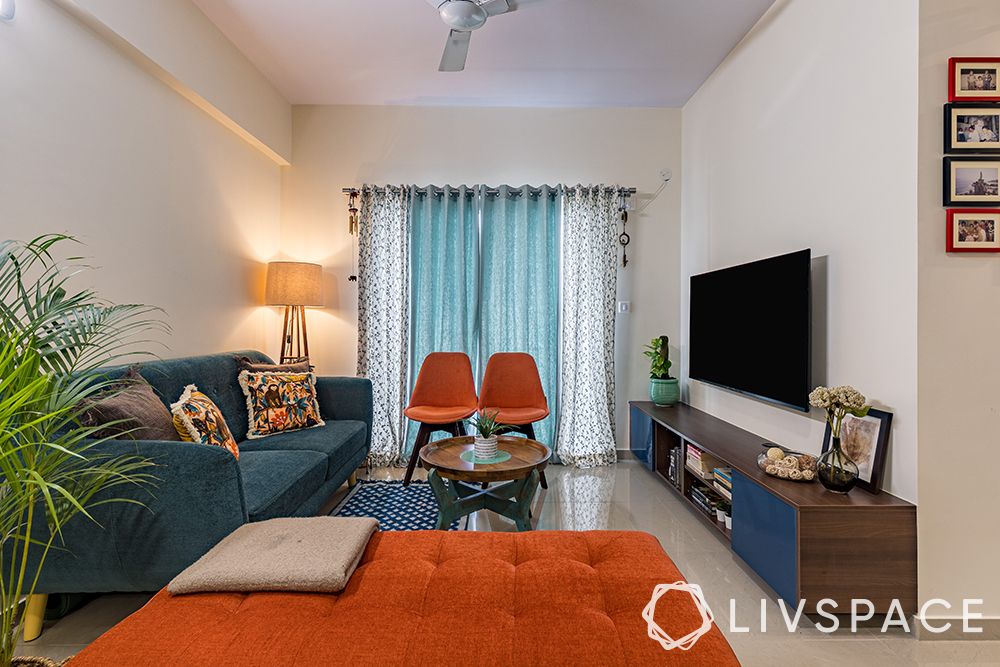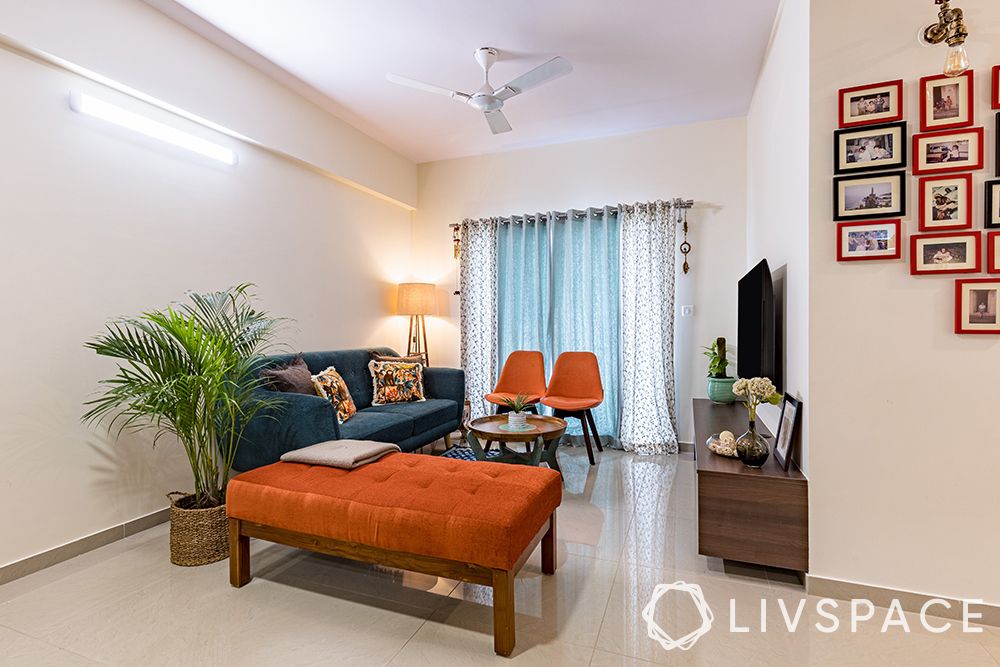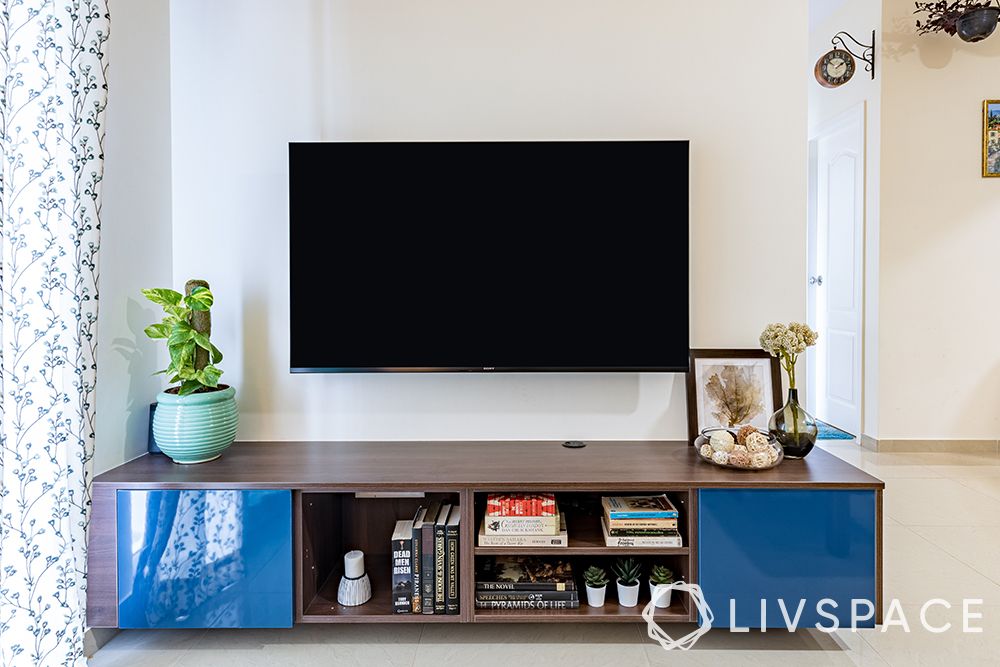 Simple with bare walls is the look that the homeowners wanted for their living room in this Bangalore 2BHK. While the walls and flooring remain completely minimal, the seating adds pops of vibrant colours. Karthik and his wife wanted a TV unit in the living room that came with storage where they could keep their woofers. Considering the lack of space he had to work with, Chetan went ahead with a sleek blue unit with open and closed storage, perfect for a small room.
#3: Tons of Storage in the Kitchen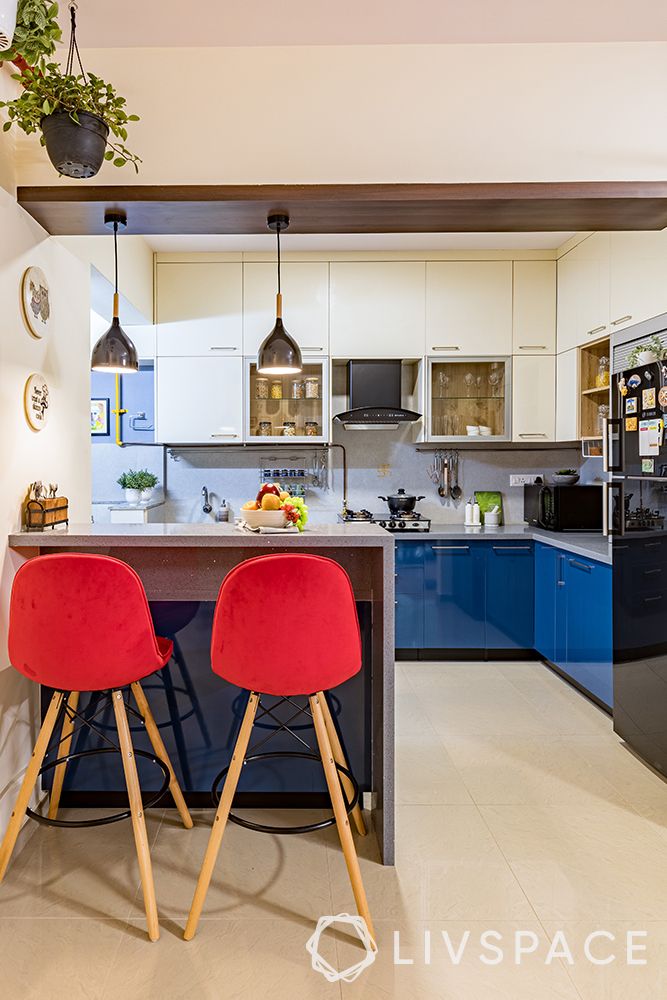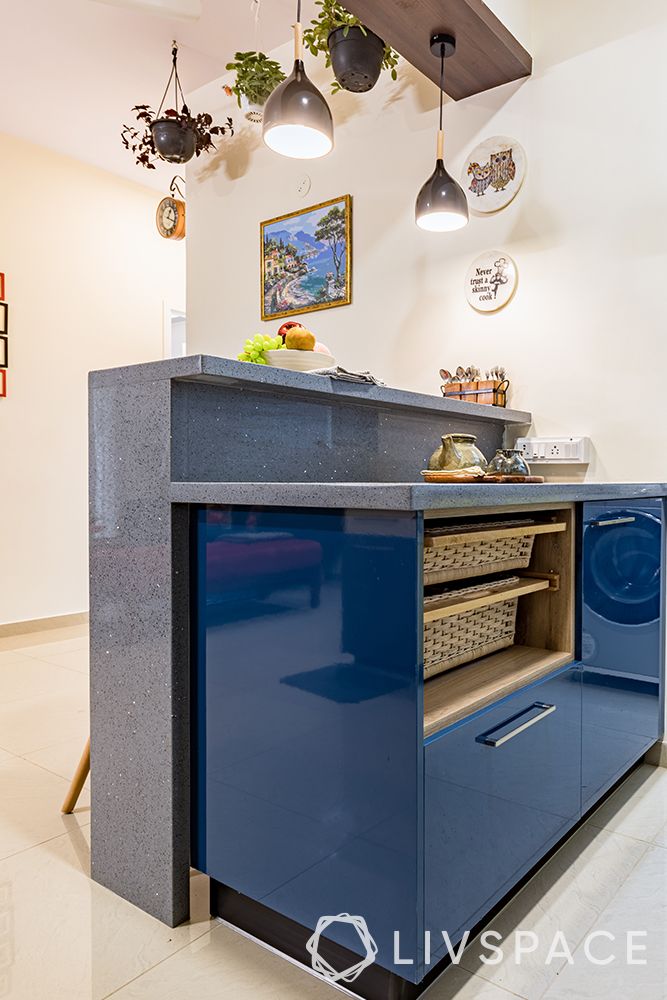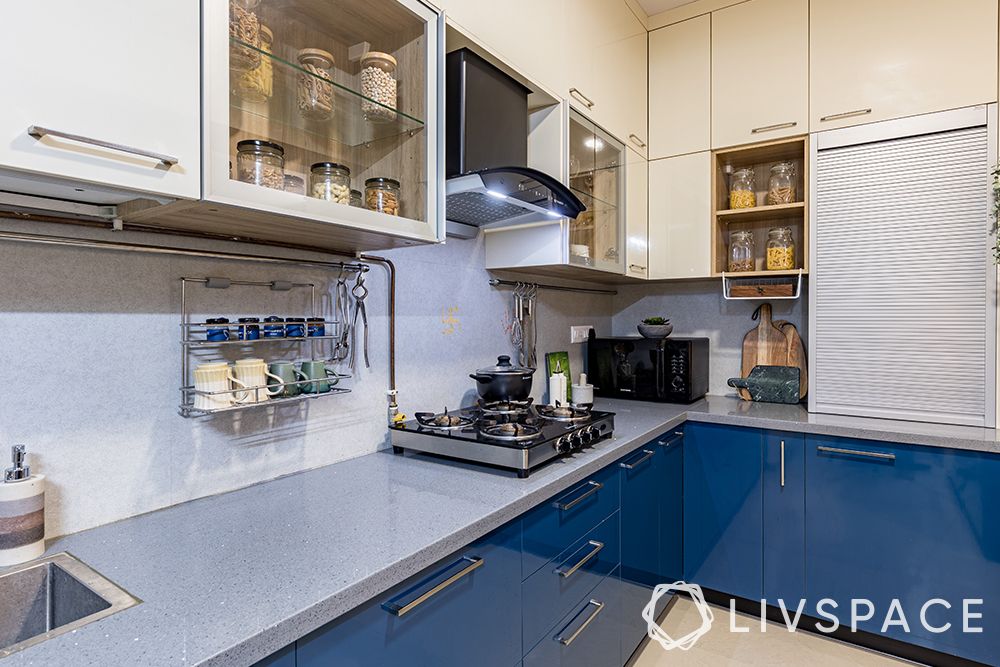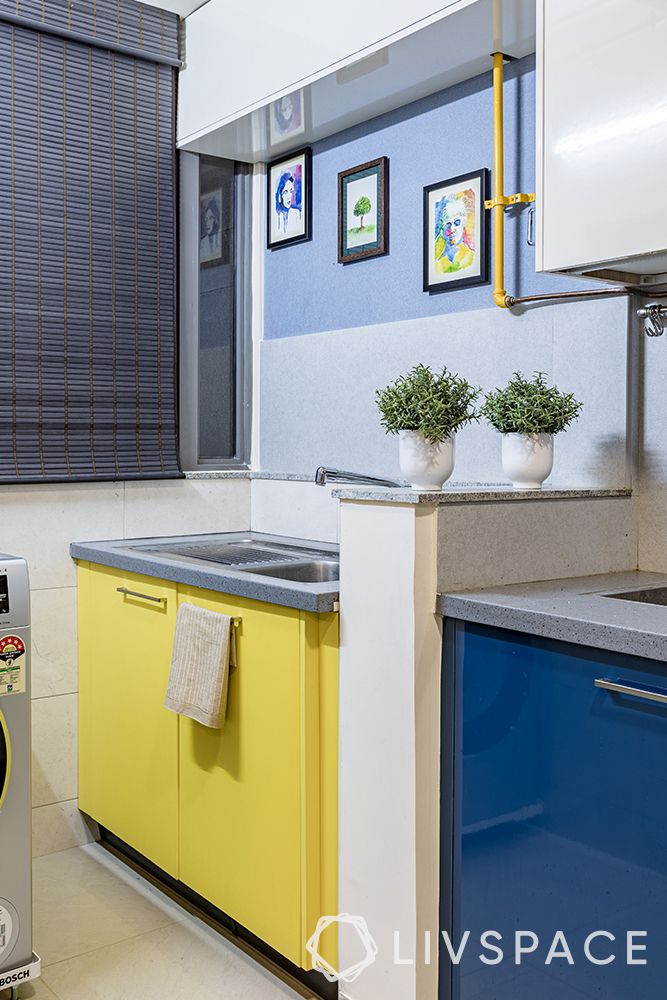 The biggest investment in this 2 BHK flat in Bangalore is a kitchen packed with storage. Being a family of two, Karthik and his wife wanted a breakfast bar in the kitchen itself instead of a separate dining space, so that they could sit and eat while cooking. Apart from this, the only other requirement that they had was that the kitchen should have ample storage space. So, apart from the upper and base kitchen cabinets, Chetan also added lofts, a separate storage cabinet behind the breakfast bar, wicker baskets and a Tambor unit. And while he continued the blue colour theme in this space, the utility area is yellow to avoid monotony.
#4: When One Wardrobe is Not Enough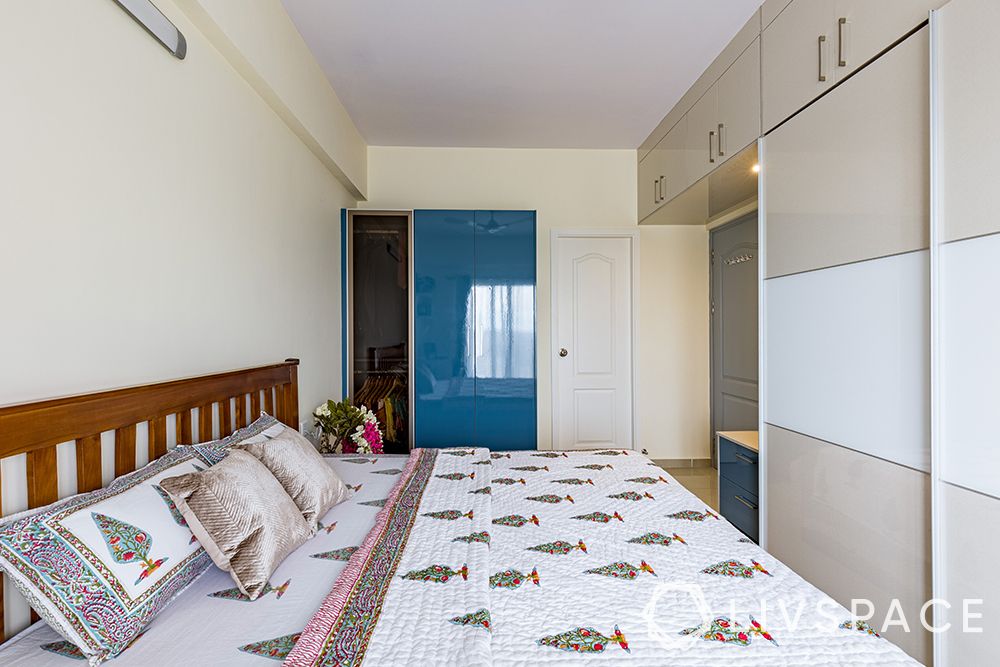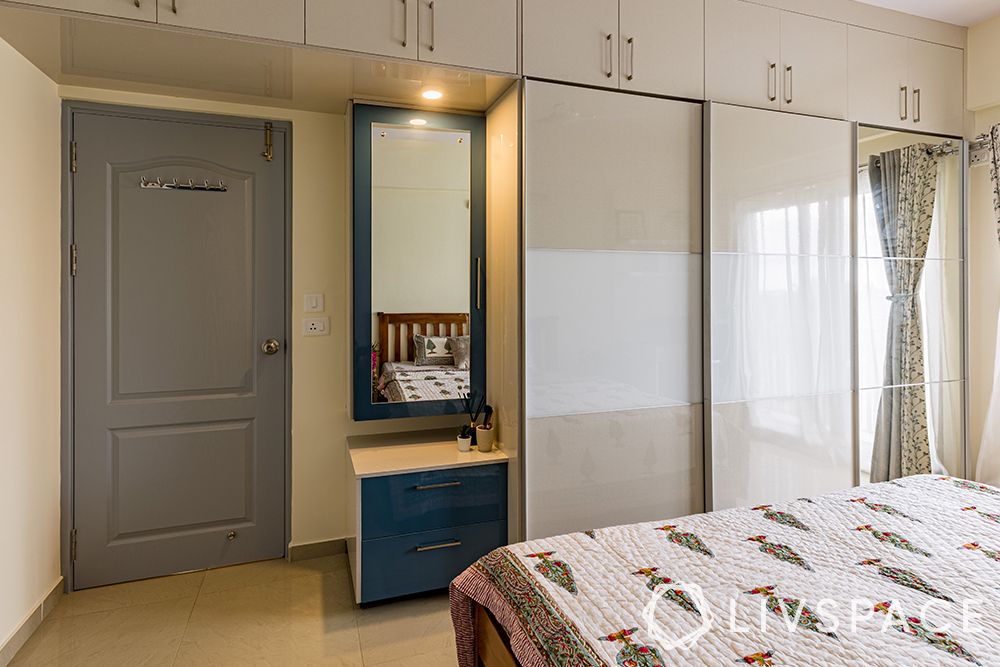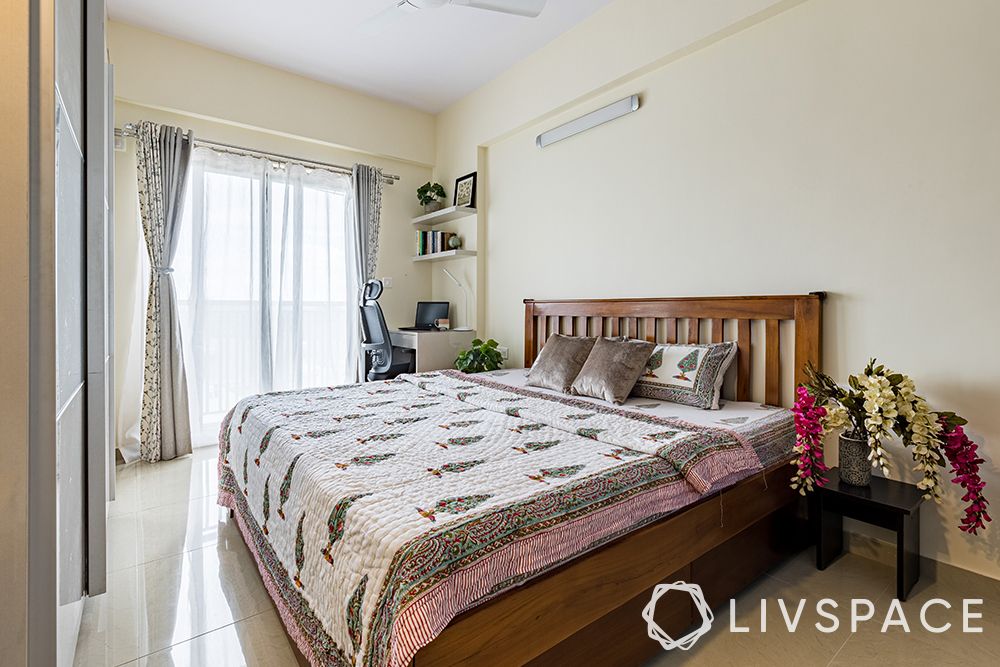 The master bedroom in this Bangalore 2BHK was quite compact but Chetan managed to fit in the bed, a workstation, a dresser unit and not one, but two wardrobes in this space! To optimise the space available, Chetan designed a sleek workstation with wall ledges that would fit into a corner without taking up too much room. Similarly, the modular dresser unit is slim and fits into a niche beside the wardrobe. For the main wardrobe, Chetan gave the homeowners a 3-door almirah with lofts, ensuring maximum storage, while the sliding door mechanism promised space optimisation. Since Karthik and his wife wanted extra storage, Chetan gave them a 2nd 3-door wardrobe with a tinted glass shutter to display expensive sarees and suits.
#5: A Simple and Elegant Guest Room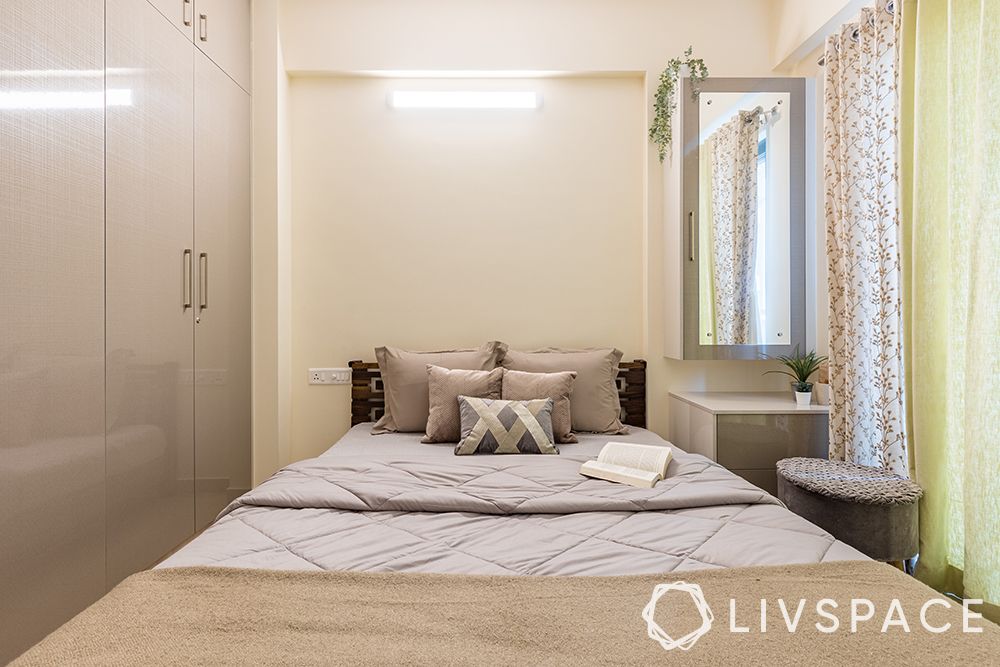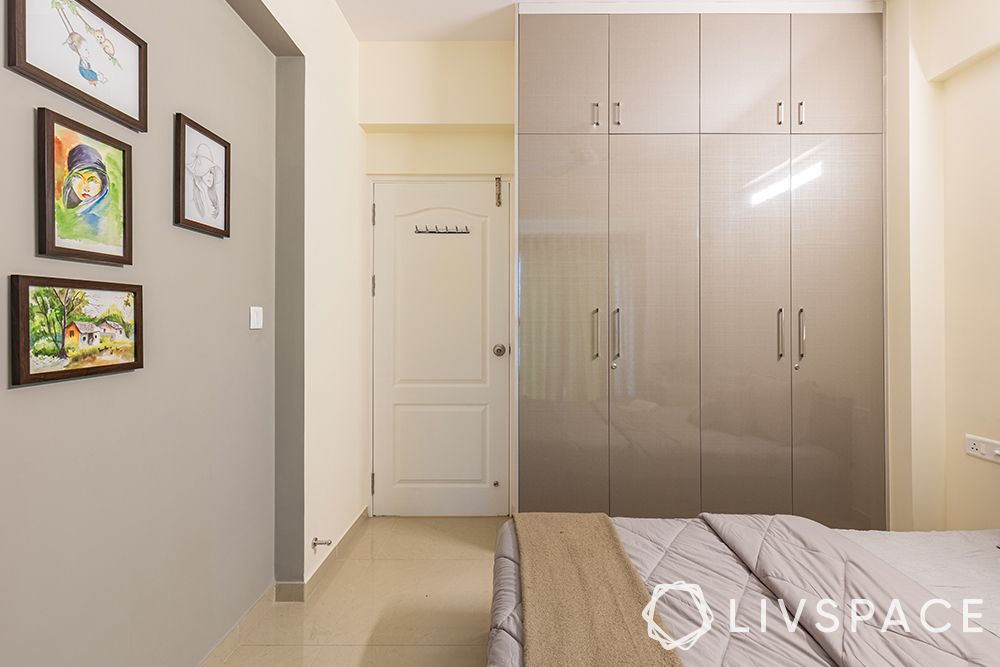 Like the master bedroom, the guest room was quite compact so Chetan kept it simple. Unlike the other rooms in this 2BHK flat in Bangalore, the guest bedroom has a neutral colour palette. Chetan fitted this room with the bare minimum — a bed, a dresser unit and a 2-door wardrobe with lofts. You will also notice that the laminate wardrobe has a glossy and reflective finish, which makes the small room look more spacious.
This Bangalore 2BHK is the perfect combination of beauty and functionality delivered on a budget. Also, check out this 850 sq. ft. Bangalore home that comes with ample storage.
Tour this 2BHK in Bangalore:
How Can Livspace Help You?
We hope you found our ideas useful! If you want your home to be just as beautiful, then look no further. Book an online consultation with Livspace today. Delivering safe home interiors has been our No. 1 priority. Click here to find out how interiors are being delivered following all safety protocols.
Wondering how our customers feel about working with Livspace? You can check out the Livspace reviews here!
We love hearing from you! Write to us with your comments and suggestions at editor@livspace.com