When it comes to home interiors, wanting to get the most done within your budget is normal. And that has nothing to do with the size of your home! What if we told you it's possible to get the best home interiors within your budget? In fact, these homeowners got their dream home interiors under ₹10 lakh with the help of our Livspace designers. How? Take a look at these top 15 home interior designs in Bangalore by Livspace and take some notes.
Disclaimer: All contents of the story are specific to the time of publication. Mentions of costs, budget, materials, finishes, and products from the Livspace catalogue can vary with reference to current rates. Talk to our designer for more details on pricing and availability.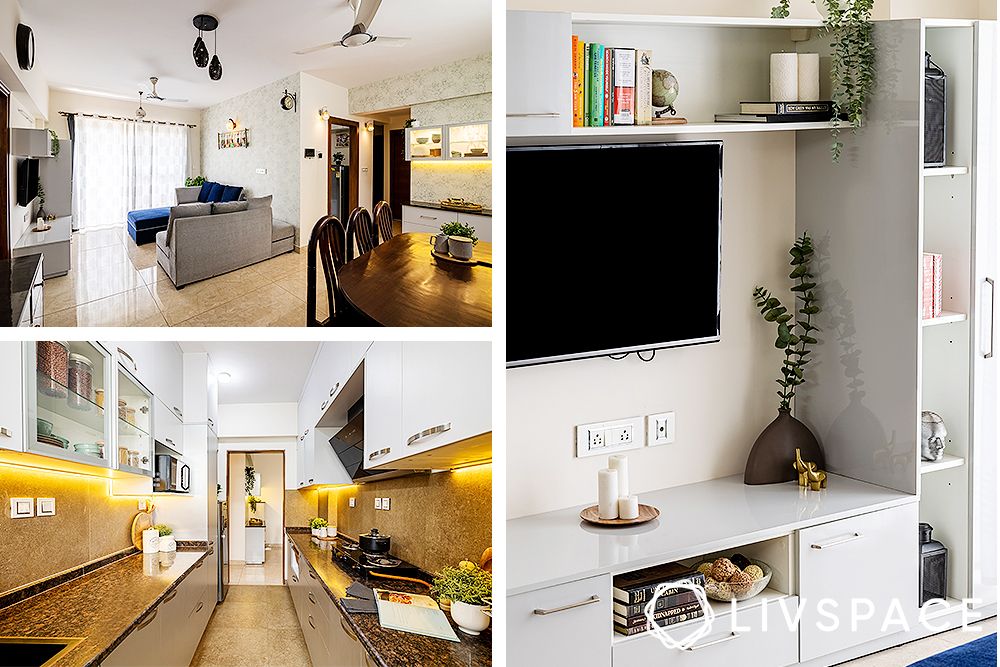 The trend of mixing and matching design elements has made contemporary home interiors under ₹10 lakh in 2021 and 2022 more accessible. For instance, this house in the picture above, has striking cool and warm elements and an overall neutral tone. This gives the house a contemporary look and makes it easier for the homeowners to blend their old furniture with the new modular work by Livspace.
This brings us to our next important tip to take from this house to get your dream interior design in ₹10 lakh in Bengaluru. Identify important areas of your house and prioritise your budget accordingly. In this house, the homeowners, Pratyush and Survi, spent most of their budget on the living room and the kitchen. That's a smart way to plan your expenditure—if you ask us.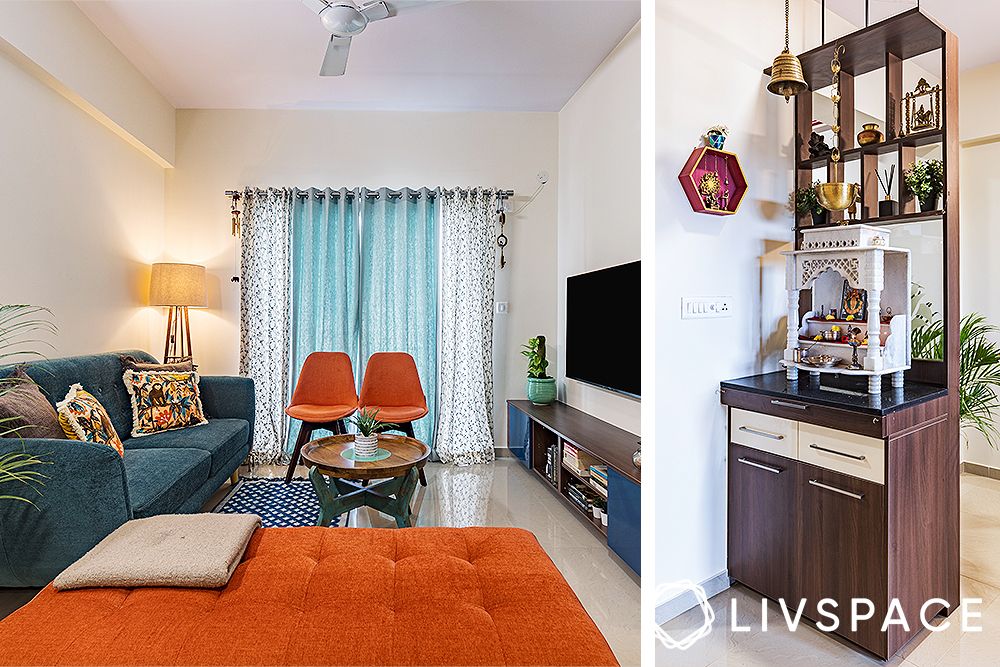 If you are somebody who likes colours and are looking for house interior designs under ₹10 lakh, then you'll like this. This house has a well-balanced colour scheme: the furniture has contrasting colours to the walls to maintain a visual balance. This offsets the cost of redoing the walls to the budget allocated for furniture in the house.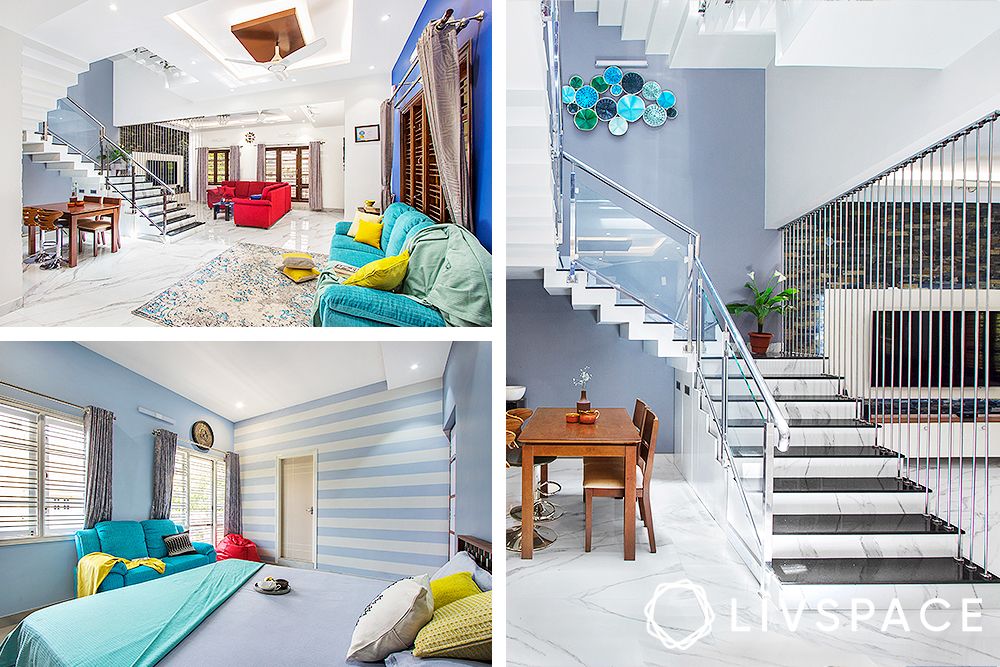 When it comes to large homes like this duplex in the picture above, there is a way to keep your interiors plain and simple but with multiple focal furniture. For example, in the two living rooms here, the focal elements are the contrasting sofas. Their job is to help distinguish the rooms despite the same design elements present in the room.
To design your home interiors under ₹10 lakh, use one universal theme in all your rooms as it saves a little on the expenditure. And when you want to create a distinction between two rooms use distinctive focal objects, like this duplex does.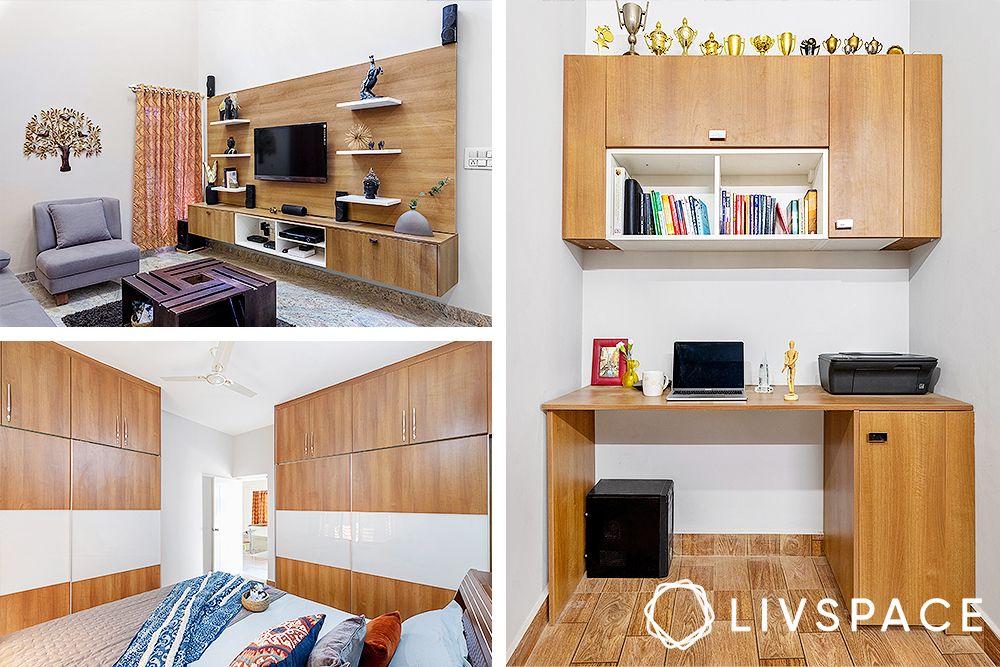 What's different about this home interior design under ₹10 lakh is that it has consistency. This home opted for a look decked in wooden finishes, that helped establish a continuity of design. In fact, it also makes the house seem larger than it is. This is a good way to control your budget while making your home seem large and spacious at the same time.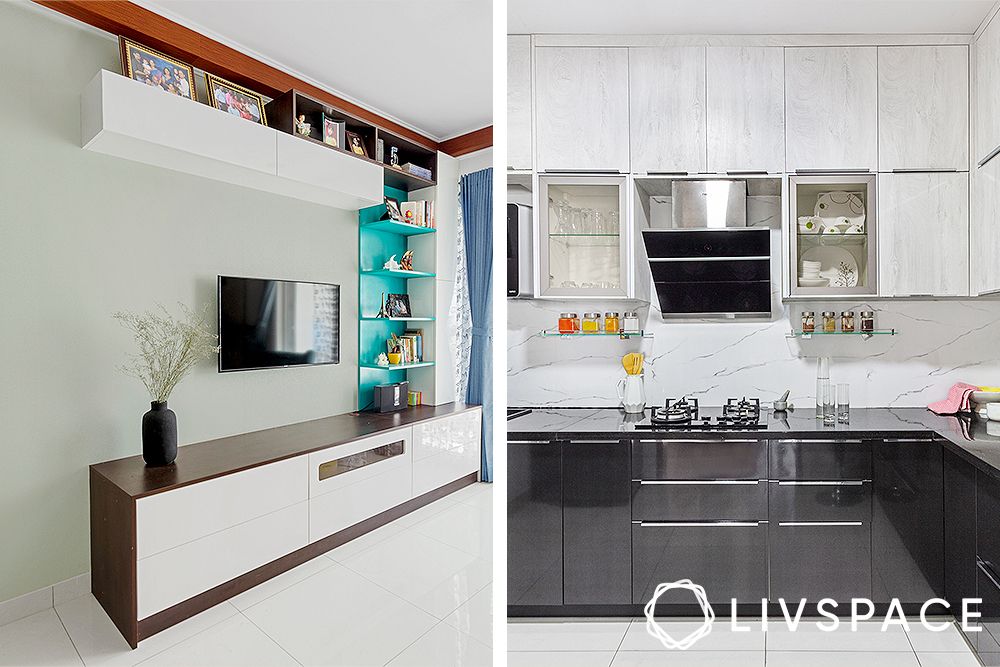 Like we have said before, prioritise your budget according to your needs. The home interior under ₹10 lakh in the picture above is another example of clever budget prioritisation. The homeowners of this house simply splurged on their modular furniture. Their furniture sees extensive use of expensive PU finish and membrane finish. The advantage? It will last longer than laminate-finished furniture.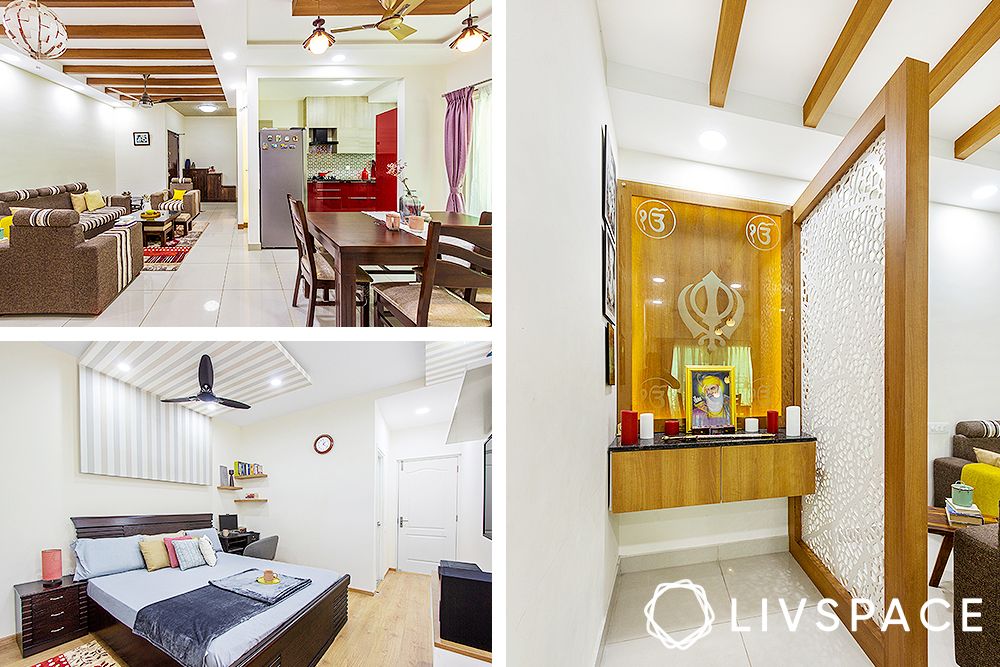 Planning your budget can be an exhaustive task, especially when you are first-time homeowners. So, do what the family of this house in pictures did—they asked us to fit in all their requirements within their budget. And so we did. We delivered a home that takes care of all the needs of this family, within the given budget.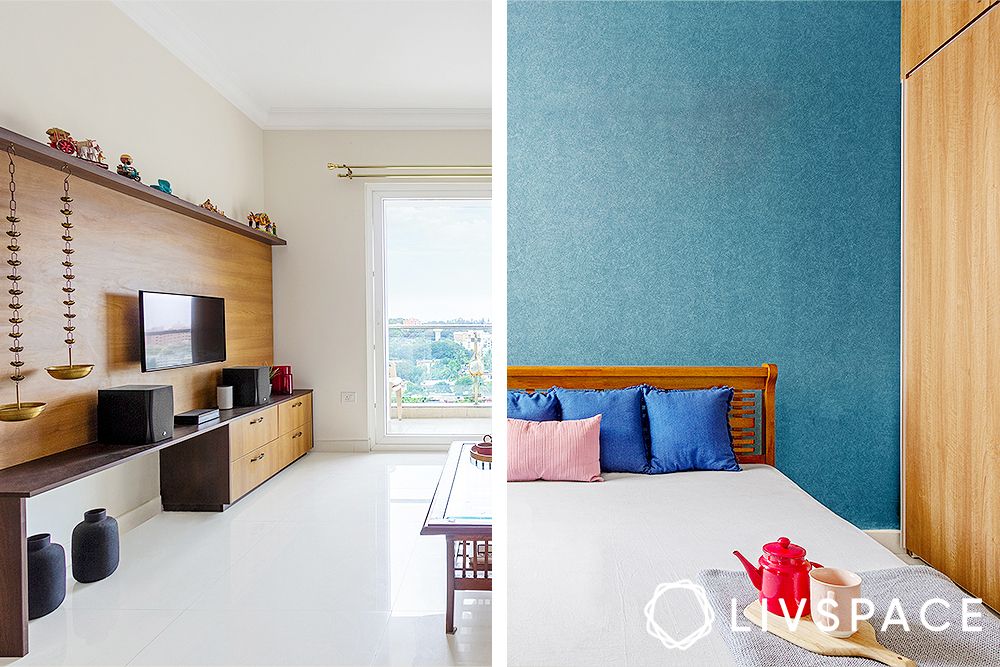 This house interior design in ₹10 lakh is simple but so affordably storage-compliant that you'd want the same. Our Livspace designer for this home used the same idea of consistency by keeping the wooden laminate similar for all the furniture. But they chose to break the monotony using contrasting wall colours. Speaking of wall colours, the budget of this house also benefited from its use of wallpapers. Since texture paint costs more than wallpapers, using wallpaper to add texture to the interior proved to be an economical idea.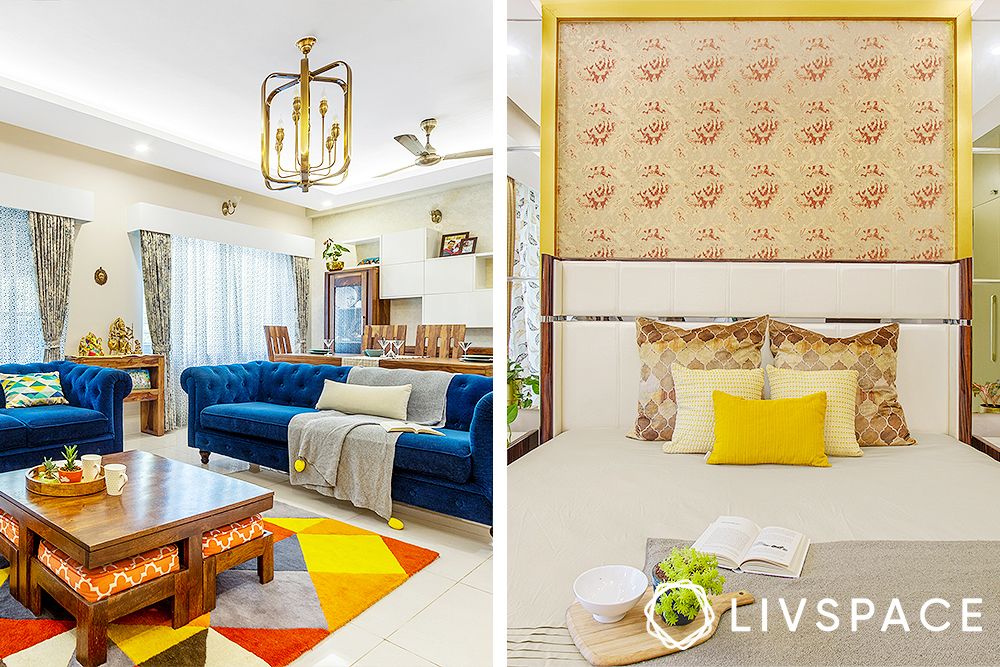 This house in the picture looks luxurious, but it is all a play of clever materials. The use of rich and unique colours with velvet and glossy finishes has made this home interior under ₹10 lakh appear more expensive than it actually is. See how the bright colours of the furniture go beautifully with muted wall colours in this house. This also makes the home appear uncluttered and, thus, spacious.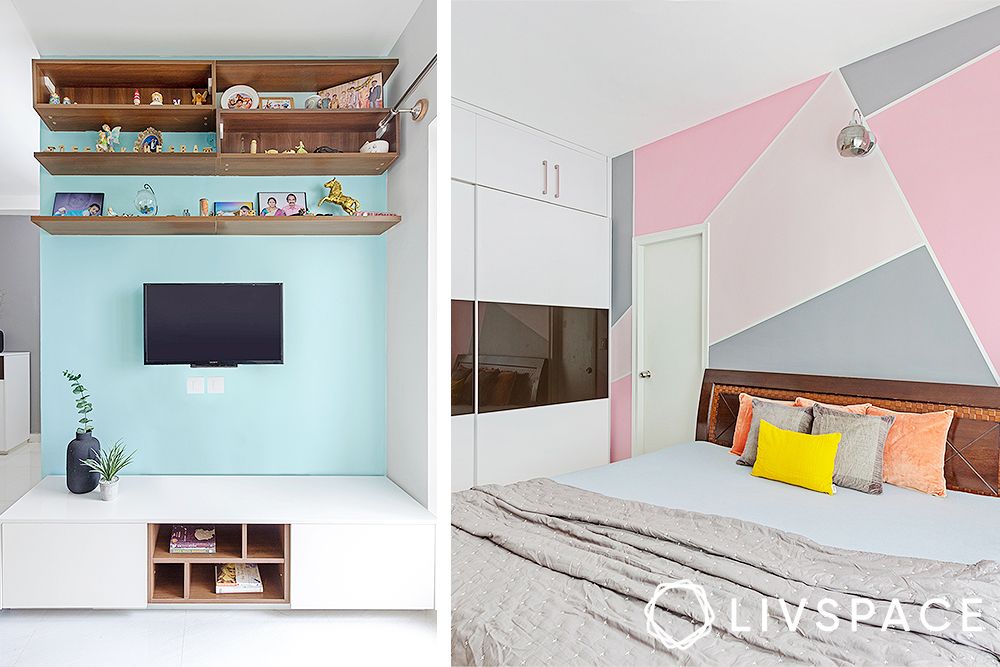 Are you a fan of pastel colours? You can borrow all the lovely pastel colour combinations from this home. One of the top 15 home interior designs in Bengaluru, this home has a pleasant, pastel colour palette. These colours are clubbed with modern wall painting techniques to give the best results in a pocket-friendly way. This house also has an open concept layout and a space-efficient design to go with it. So, take a few notes and borrow all the cost-effective ideas used in it.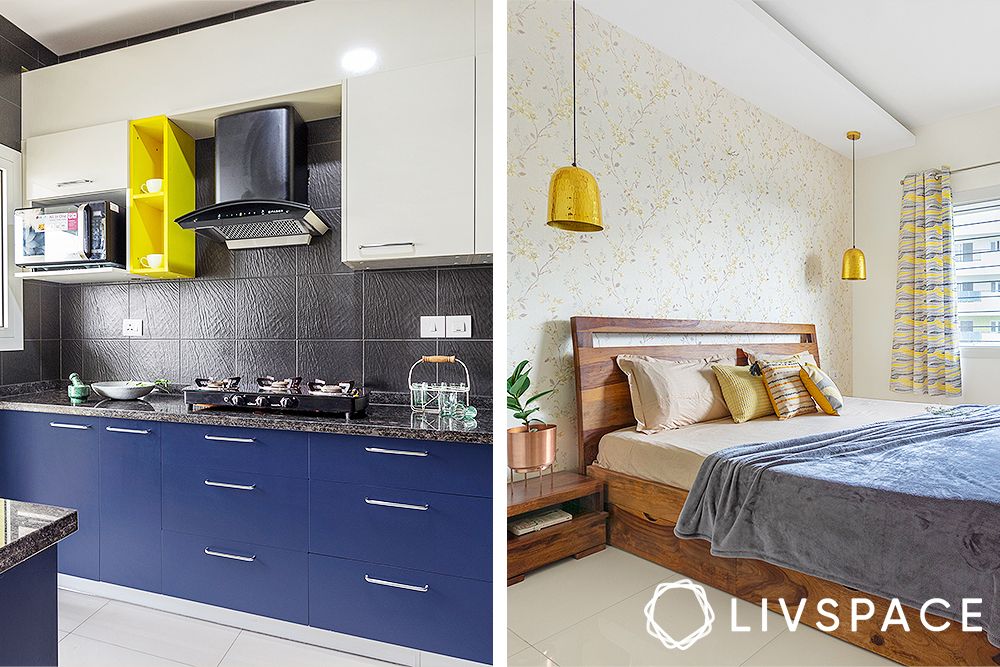 Colour scheme is the most effective way to influence the look of your home interior under ₹10 lakh. Not just in paint, but the colours in your furniture have a lot to do with this as well. Take help of your designer to achieve an attractive colour scheme. Our designer managed to infuse the taste of the homeowners with her sense of aesthetics to bring together this solid interior design.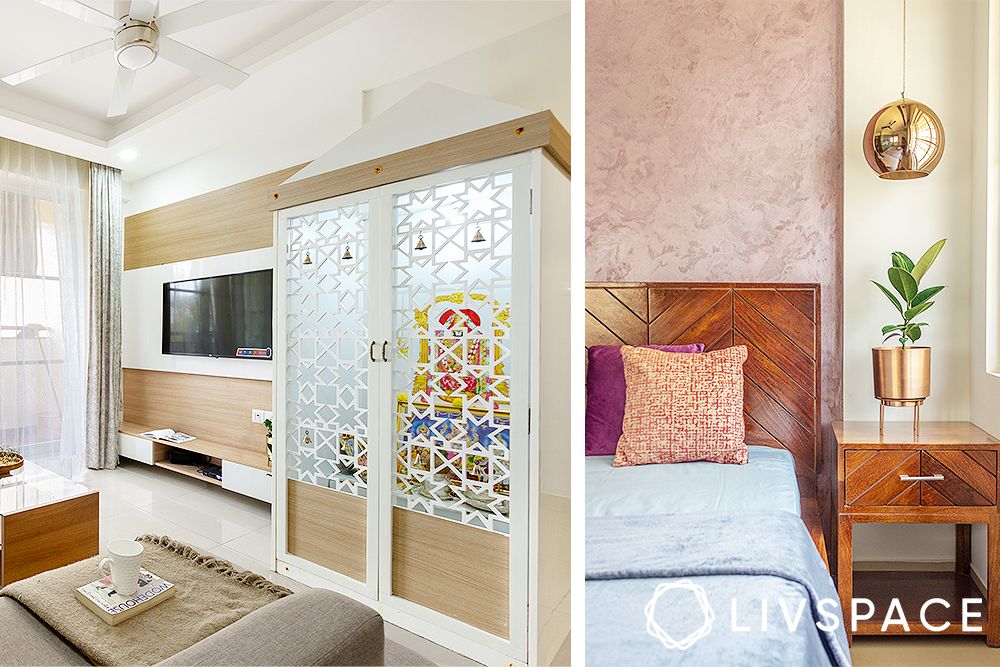 If you think vastu-compliant homes incur additional costs, then you are wrong. Take a look at this perfectly designed vastu-compliant home interior under ₹10 lakh. Creative solutions from your designer generally come at the lowest prices and are extremely practical. For instance, the puja room in the picture above has grills that are hidden behind the CNC-cut jaali doors to meet the vastu requirements.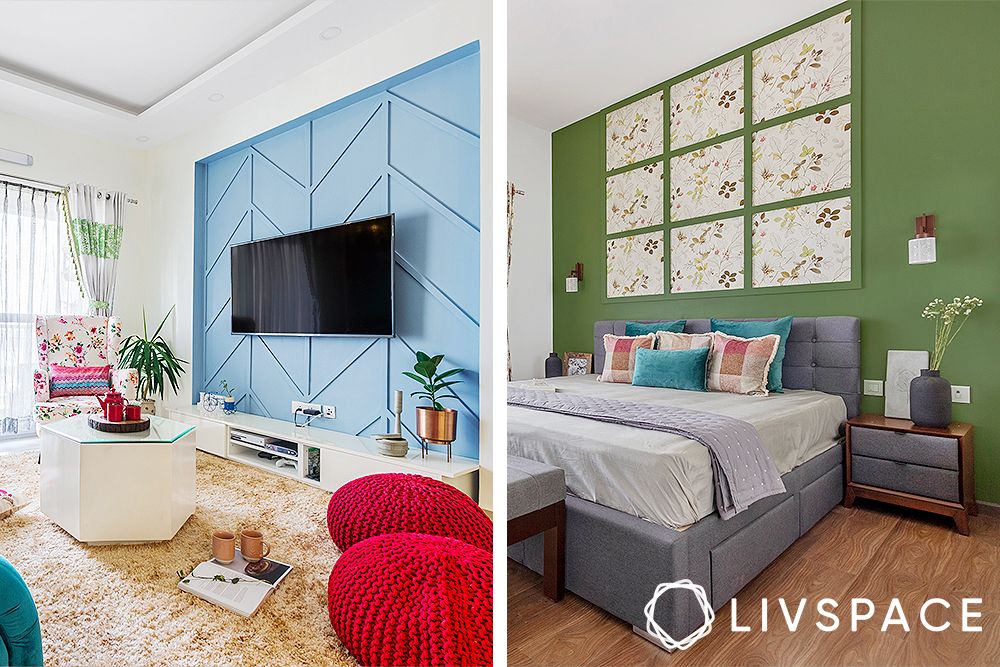 Some colour schemes are timeless when it comes to interior designs. The combination of the colours white and blue, or green and white, go excellently with wood. You cannot go wrong with them, and they will make sure your interiors stay relevant for a long time. Take this house in the picture for example: It has made the best use of these colour schemes, and you can too!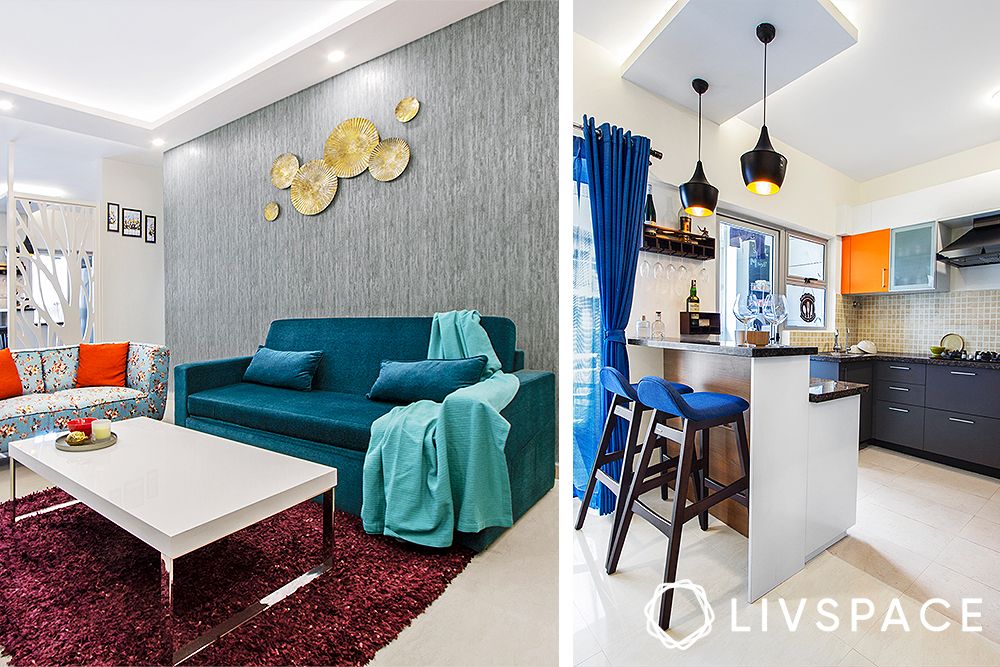 Another effective way to get a beautiful design within your budget is to opt for a clutter-free design. According to the homeowners of this flat in the picture, anything that you don't use is clutter. The range of colour used in this home with minimal furniture is remarkable. It is spacious and is packed with good vibes only.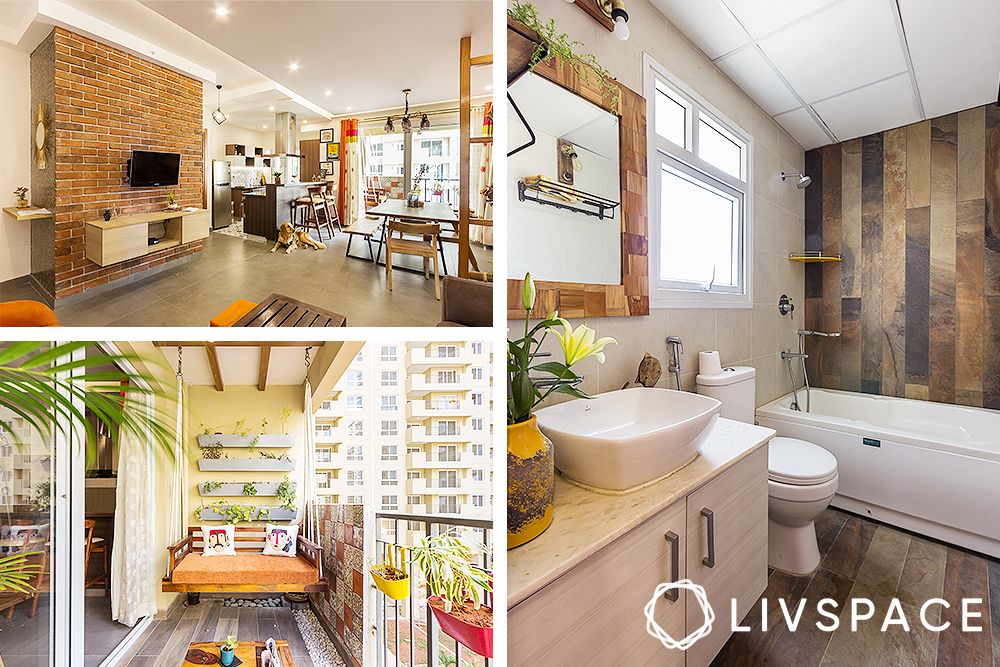 Wood is a versatile material and it can help you transform your interiors in many ways. Take a look at this 3BHK, which has wood and wooden surfaces in every corner of the house. The homeowners love to travel and have an acute taste in interior design. They wanted their home interior to reflect their personalities and Livspace made that happen for them.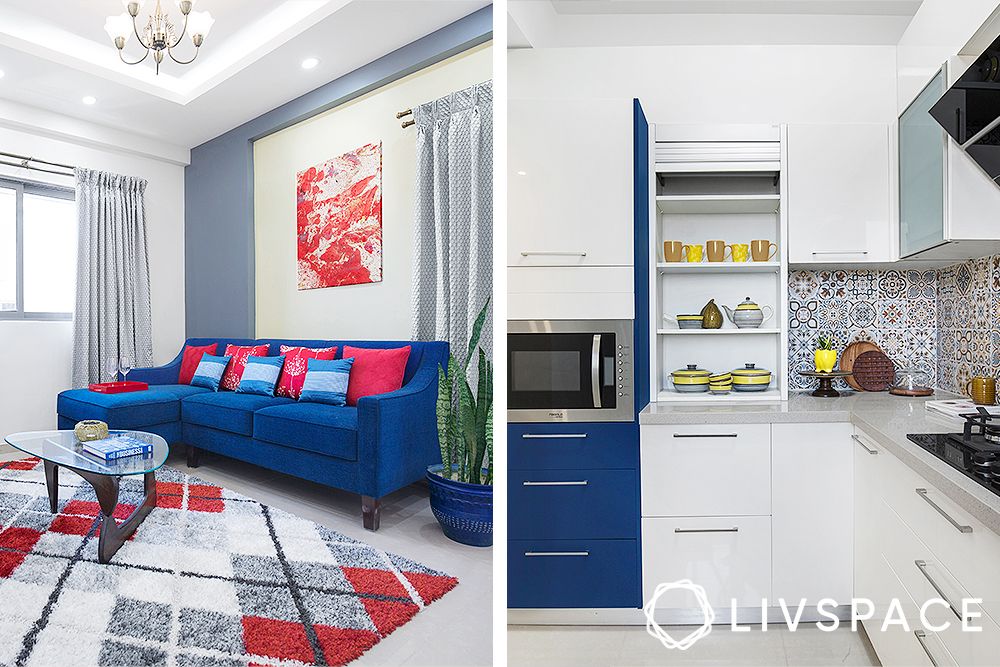 Interior designing for compact homes is no joke. To give the snug spaces as many utilities as possible and still keep it spacious is a Herculean task. But our Livspace designer achieved this home interior under ₹10 lakh in very less time. It helps to set one agreeable and timeless colour scheme for the entire house and install multipurpose furniture throughout.
If you liked our budget ideas and designs for Bengaluru, check out these 12 low-budget house designs in Mumbai under ₹10 lakh by Livspace. You can also read about our 8 stunning Delhi homes with low-maintenance house designs.
Check out this minimal and luxe Bengaluru home:
How Can Livspace Help You?
We hope you found our ideas useful! If you want beautiful interiors for your home, then look no further. Book an online consultation with Livspace today.
Send in your comments and suggestions to editor@livspace.com