The visual impact of this 3 BHK interior whiffs of professional design!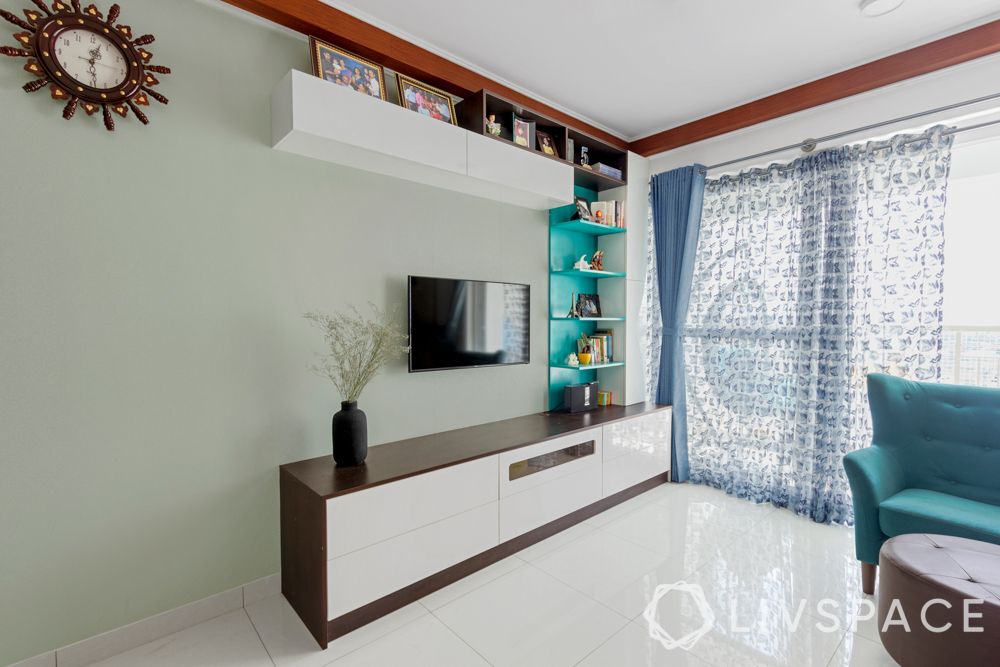 ---
Who livs here: Arun George with his wife Teenu and their two daughters
Location: Purva Westend, Bangalore
Size of home: 3BHK spanning 1,600 sq ft
Design team: Interior Designer Srividhya Srikumar & Project Manager Sachin Hegde
Livspace service: Kitchen, wardrobes & storage units
Budget: ₹₹₹₹₹
---
When a young family buys its first home, a lengthy struggle ensues that includes getting the interiors done, fixing the plumbing, putting up the lights and so on. There is also the condition of getting all this done on a budget. Plus, if you have to do all this with tiny trots to care for, you will have your hands full! Arun George and his wife Teenu were going through just this phase when they discovered Livspace. Further, our designer Srividhya Srikumar furnished their home with a kitchen, wardrobes and other basic storage units.
They say that our "professional" approach to designing made all the difference to their interiors experience. And we are understandably thrilled! So let us take you through this 3 BHK interior design process to show how a home is furnished by professionals.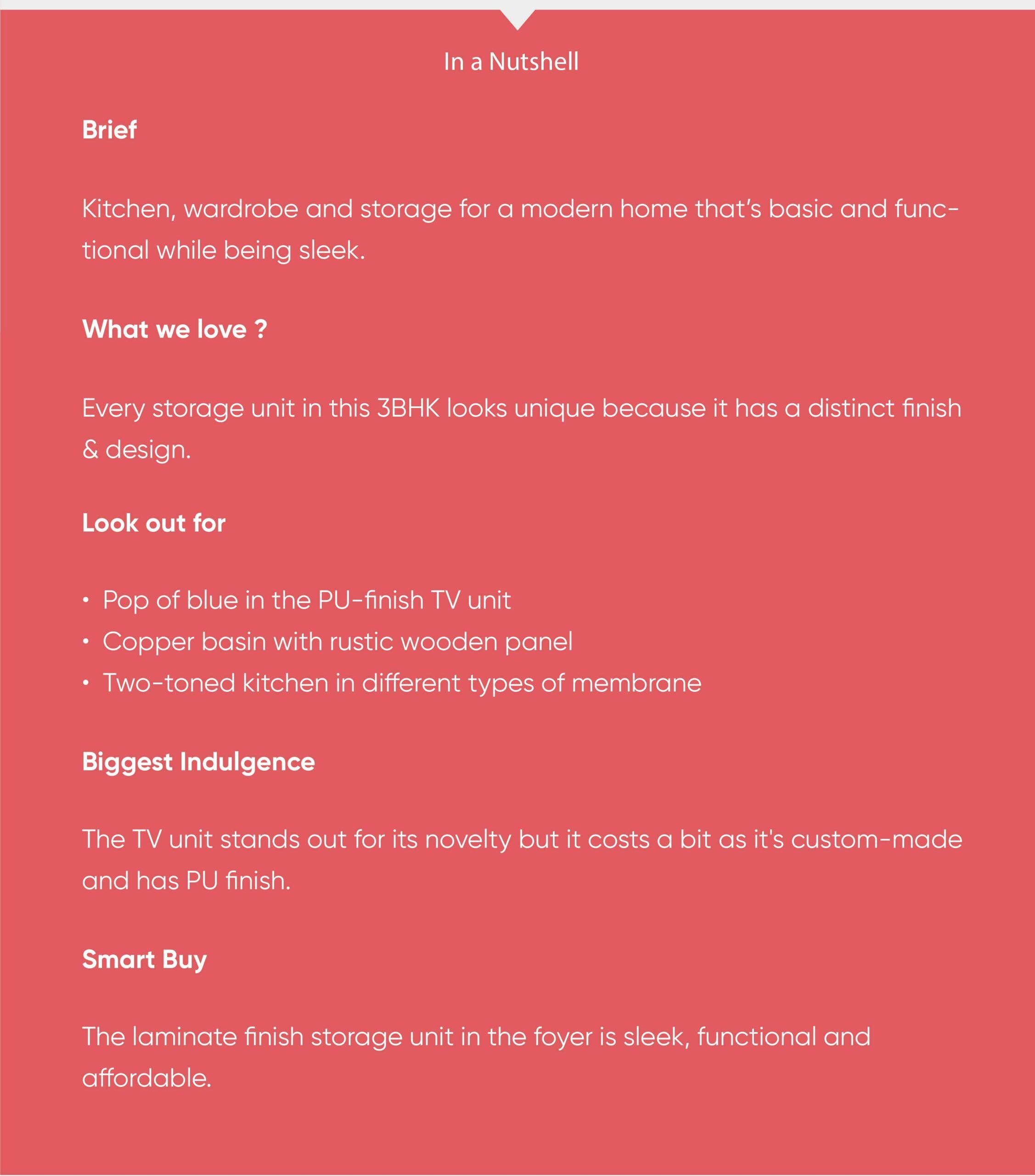 "I had explored other design companies too before finalising Livspace. But we chose Livspace because their approach to designing was more professional than others. I would also give a huge shout out to the After-sales team that is extremely responsive; they have fixed all our issues as and when we have reported them."

– Arun George, Livspace Homeowner
Affordable Laminate-finish Storage Units
When we asked Srividhya to pick her favourite part of this home, she named the storage cabinet in the entryway without hesitation. This sleek storage unit, picked from the Livspace catalogue, almost blends with the wall due its white colour. Not only is the unit space efficient but also affordable as it has laminate finish. To top it up, the large framed mirror at the end of the passage that opens the space up moving right into the living area. Can you think of a better way to begin 3 BHK interior design for an apartment with a foyer!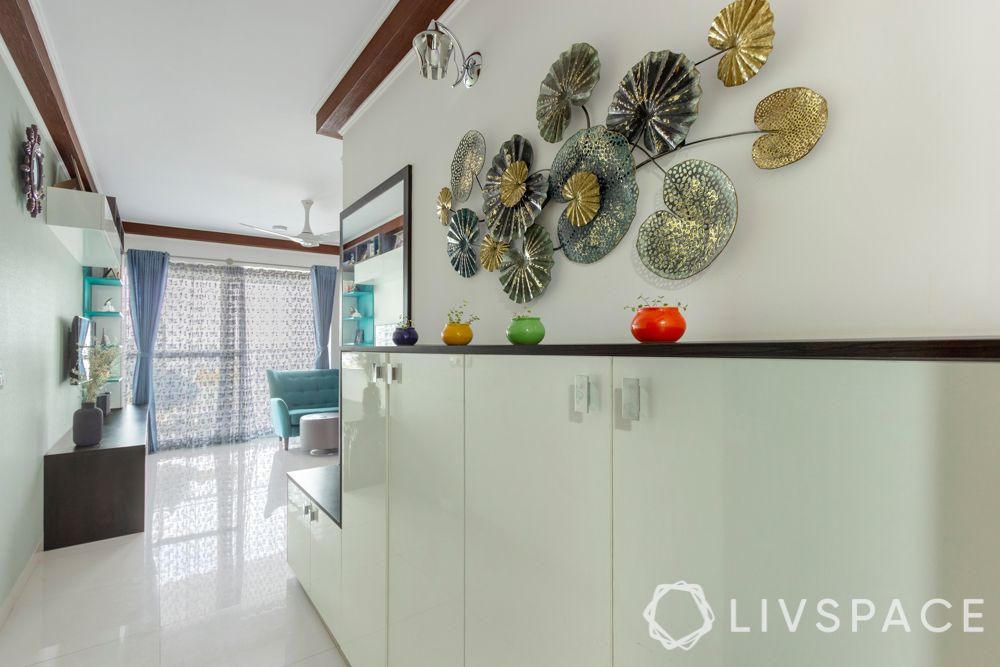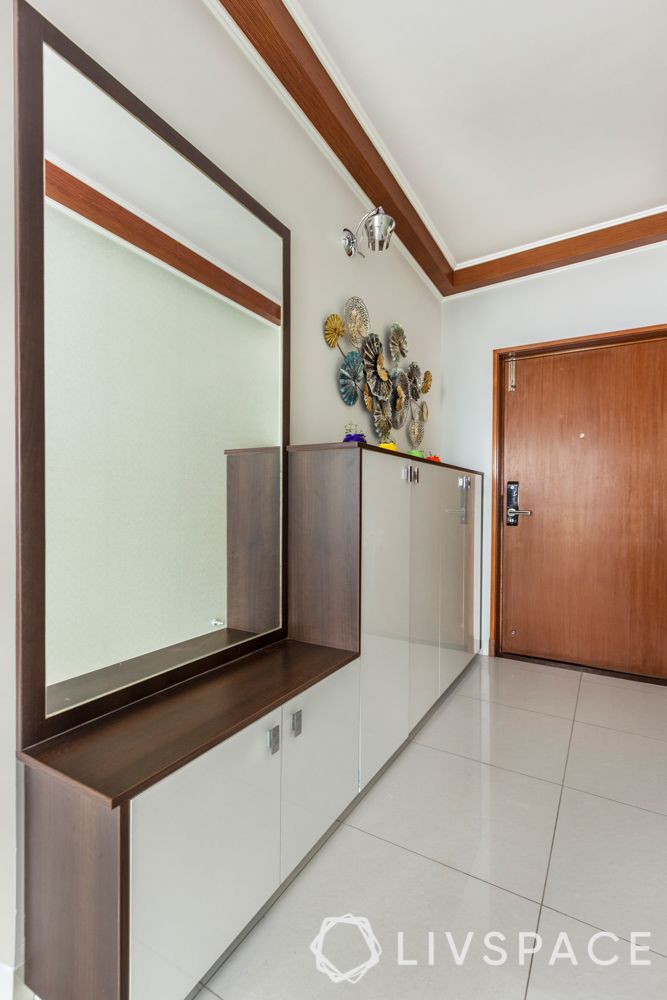 A Vibrant Vibe from the PU-finish TV Unit
As this is a home with two little girls (one just 4 months old!), Srividhya thought it prudent to add a few playful touches here and there. We find the custom-made TV unit particularly impressive. The base and wall units have white laminate finish, which makes the aqua blue PU-finish shelves pop. This is a great way to add colour to your home if you don't wish to go for fancy wall treatments.
You Would Never Guess the Finish of this Kitchen!
Arun and Teenu wanted their kitchen to be super sleek like the rest of their 3 BHK interior design. Naturally, Srividhya suggested membrane as a finish for the kitchen cabinets. While the couple loved the seamless look and feel of membrane, they wanted a little bit of gloss too. Usually, acrylic or high-gloss laminate is used to glam things up but the former is super expensive and the latter is not as seamless as membrane.
Our designer was undeterred by these challenges. She suggested white membrane for the wall cabinets and the novel metallic anthracite membrane finish for the base cabinets. That explains the sheen we see on the base cabinets, doesn't it? Also, while you are browsing through 3 BHK flat design images, don't miss the onyx tiles on the backsplash that continue into the wall. It's the perfect binding factor for the wall and base cabinets!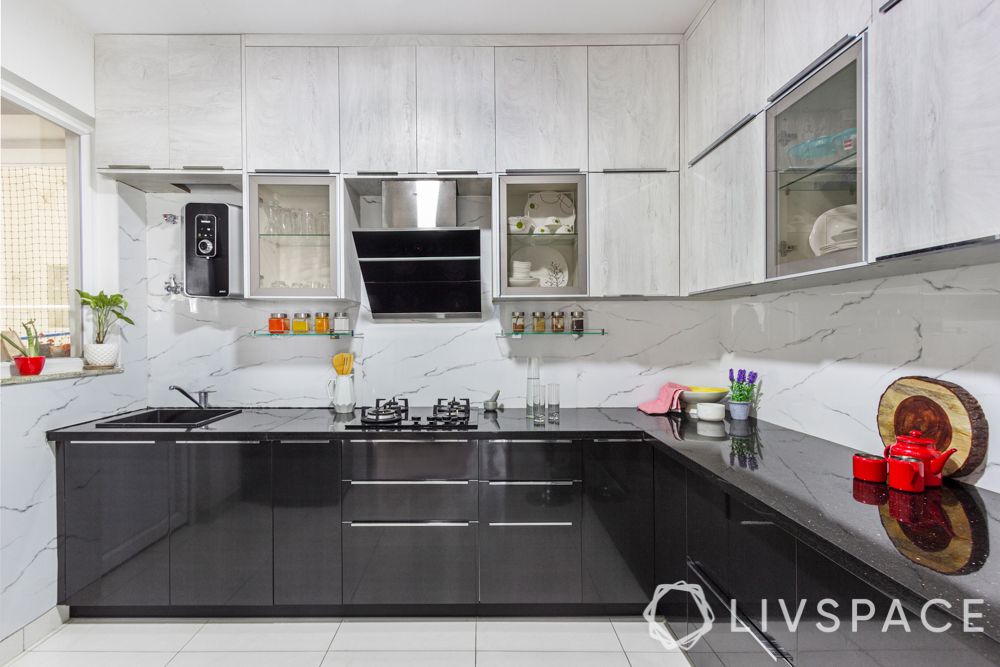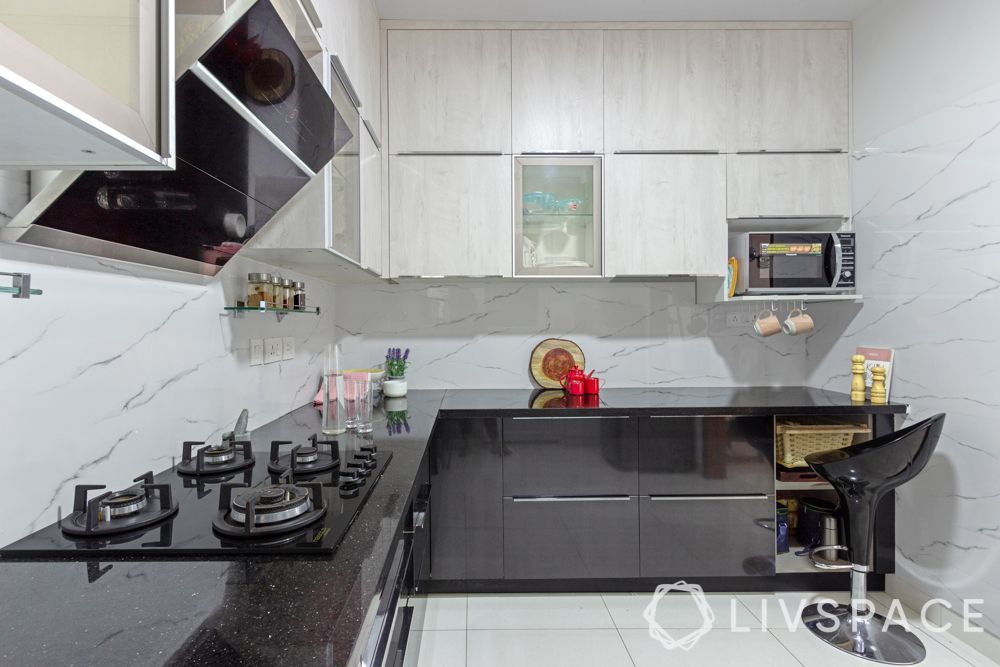 Mixed & Matched Wardrobes
The couple clearly had a weakness for smooth membrane finishes. So Srividhya stuck with membrane for the master bedroom and guest bedroom wardrobes. However, she wanted to avoid monotony so she mixed things up a little. In Arun and Teenu's bedroom, we see a mix of white and brown membrane finishes. In the guest bedroom, she interspersed grey membrane with a pane of mirror. You too can use this mix and match trick to create visual interest in your interiors.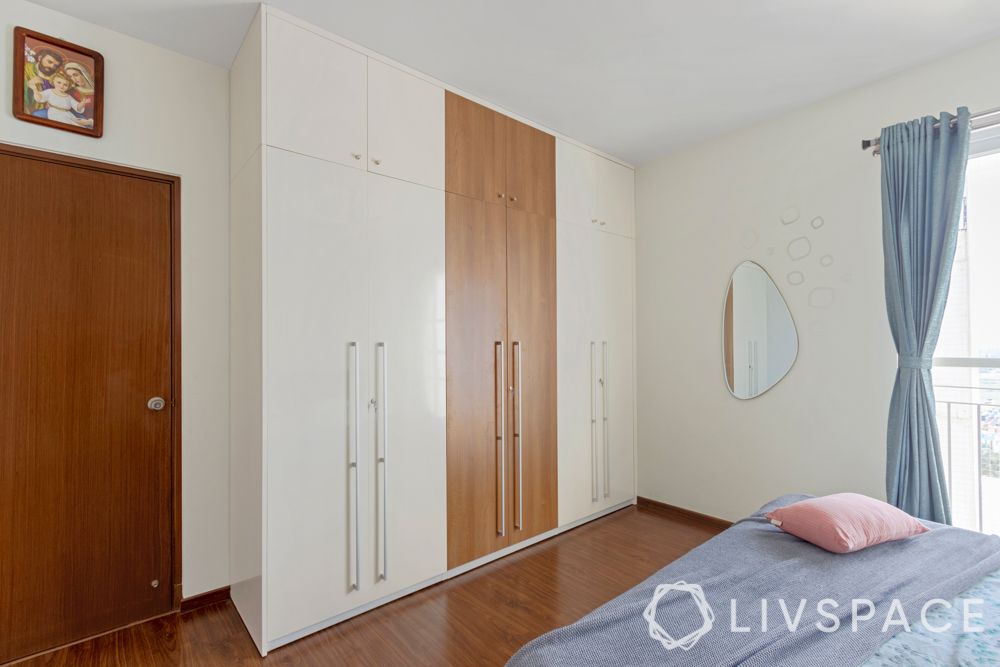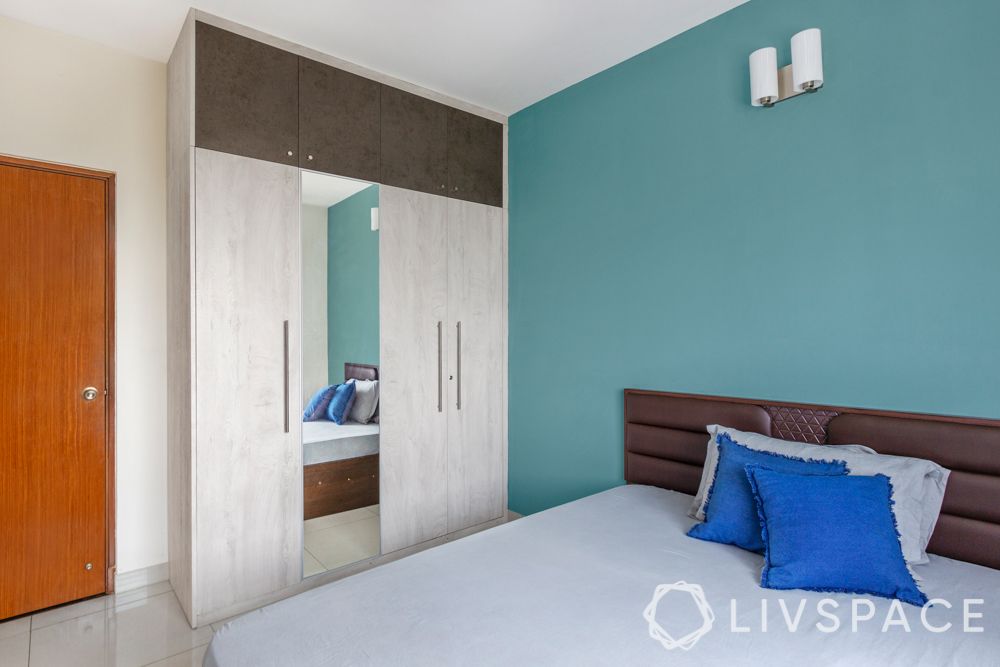 Lacquered Glass Wardrobe
The couple have two little girls, 4-year-old Anne and 4-month-old Elsa. And their bedroom has a wardrobe with lacquered glass finish. That pop of sunshine yellow matches the brightness of the little angels for sure!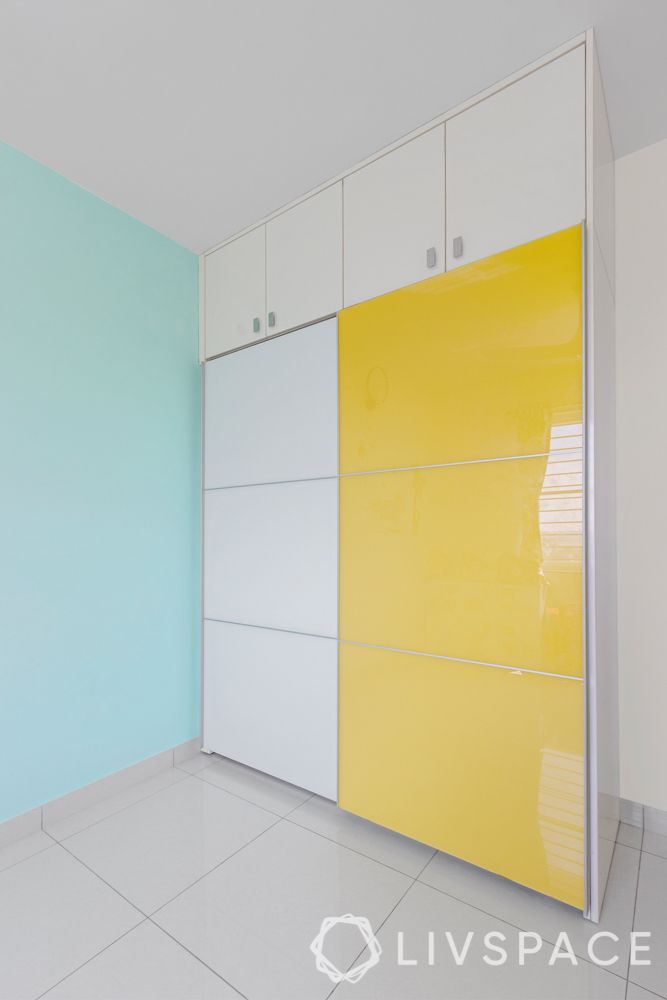 The Showstopper with a Feast of Finishes
Our favourite design element in this 3 BHK interior is the wash basin with a vanity unit in the dining area. It's functional for sure but we love the mix of different textures in this unit. The back panel of grainy ply has a lingering rustic taste to it. The basin itself is metallic and glints in contrast to its matte background. The floating vanity unit under the basin is a catalogue piece. And let's not forget the simple circular mirror set into the back panel! It all comes together with a predestined unity of design.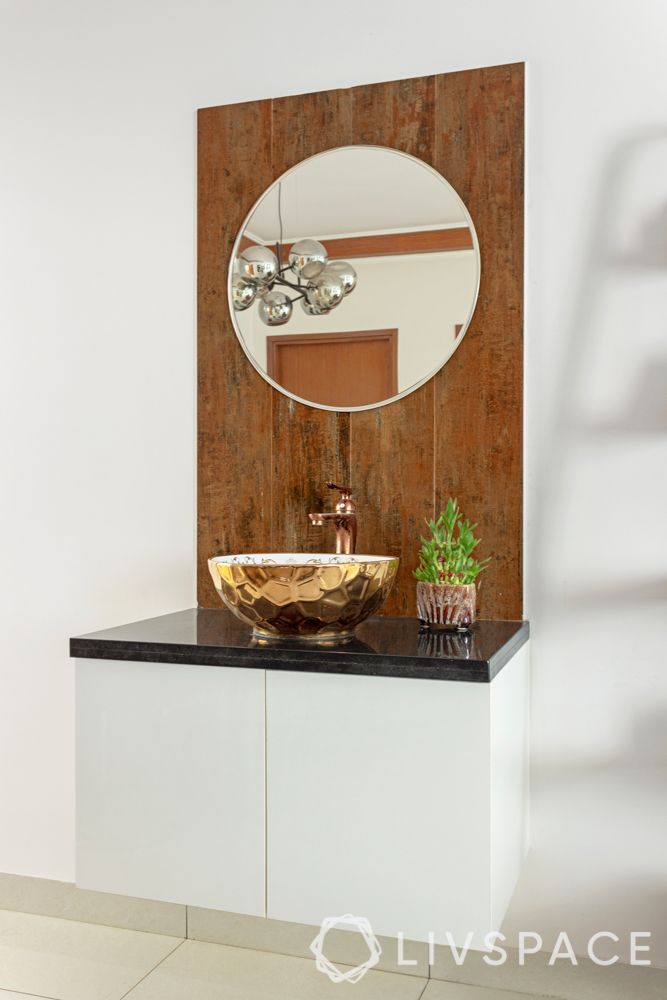 Designer Speak
"Arun and Teenu were extremely easy-going as clients. They cooperated with us at every stage of the design and installation process. It is very rare to find clients with whom you can strike a perfect rapport; so I just got lucky with this super-friendly couple. That's why it gladdens me to know that they are happy with the way their home turned out!"
– Srividhya Srikumar, Interior Designer, Livspace
If you enjoyed exploring the 3 BHK flat design images, also check out how Each Room Tells Its Own Story in This Bengaluru Home.
Send in your comments and suggestions.