Basic and functional interior design for 3BHK flat.
---
Who livs here: Jyoti Mishra and her family
Location: GVR Sunrise Meadows, Hyderabad
Size of home: 3BHK spanning 1,500 sq ft approx.
Design team: Interior designer Madhuri Jaju and Design manager Kalyaani A
Livspace service: Full home design
Budget: ₹₹₹₹₹
---
Did you know that the major cost of interiors for an average Indian home is covered in getting wardrobes and kitchen furnishing? Hence, we always put our best design expertise behind these basic aspects of interiors. So when Jyoti Mishra approached us to furnish her 3BHK at GVR Sunrise Meadows in Hyderabad, we ensured that she had the very best of our resource!
The family had plenty of things that needed storing; naturally, Jyoti asked the design team headed by Kalyaani A to plan the interiors with ample storage options. And our team was happy to oblige. Further, they played around with a variety of unusual colours while designing the functional aspects of this home.
So let us take you through the interior design for 3BHK flat that is basic and playful at the same time.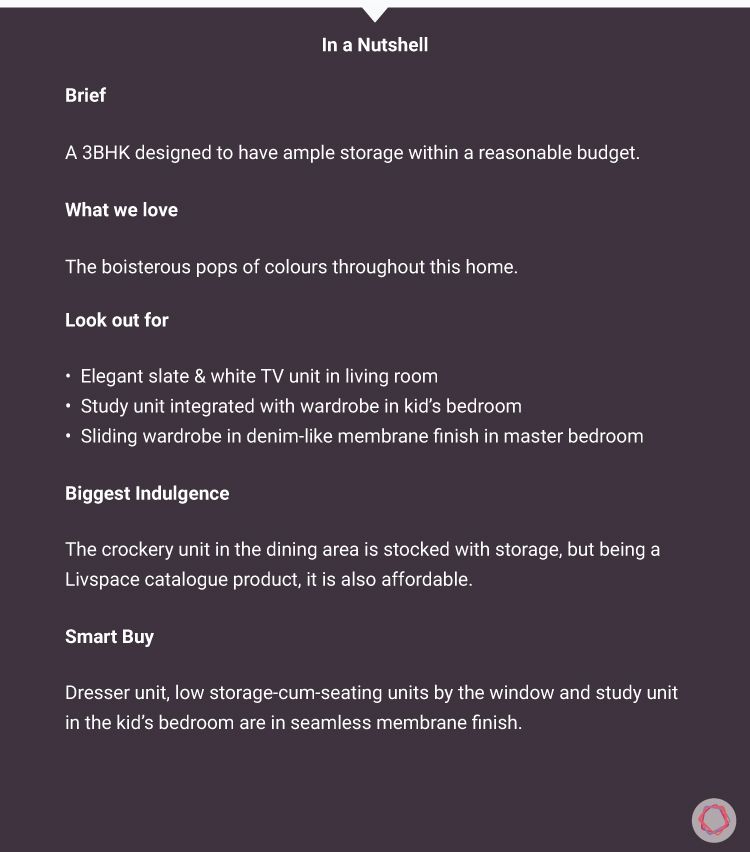 Vibrant Dashes of Colours
Jyoti likes the idea of having some rushes of colours in interior design for 3BHK flat. So the design team suggested a range of invigorating shades to her. She picked a peppy Berry Bunch shade for her kitchen with an accent of marigold shelve. She also opted for a lime green laminate finish in combination with white for her kid's bedroom. For her master bedroom, she picked a demure blue finish with a denim-like texture.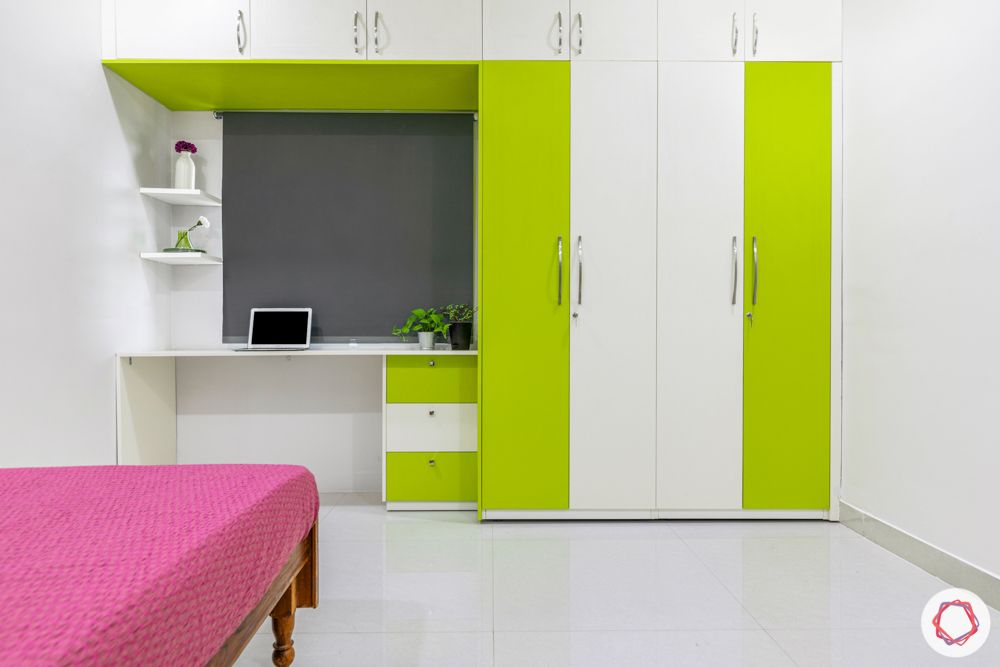 Smartly Devised Storage Options
The family had a very clear brief for the design team; they wanted to fit in as much storage as possible without exceeding a very tight budget or overcrowding their floor space. So our design team came up with some ingenious ways to add storage to this GVR Sunrise Meadows home. The crockery cabinet in the dining area, for example, is stocked with storage. In a combination of grey and white laminate, this crockery unit is a piece picked from the Livspace catalogue. The lofts can be used to stow away rarely used items while the wall and base cabinets are for more regularly used essentials.
While doing the interior design for 3BHK flat, natural light was a priority. So our designers installed the dresser and study unit in the master bedroom without blocking out the window here. Moreover, in the kid's bedroom, there is one set of wardrobes integrated with the study unit and another 3-door wardrobe installed on the adjoining wall. As Jyoti has opted for a single bed in this bedroom, there was plenty of space to fit in two sets of wardrobes without making it look cramped.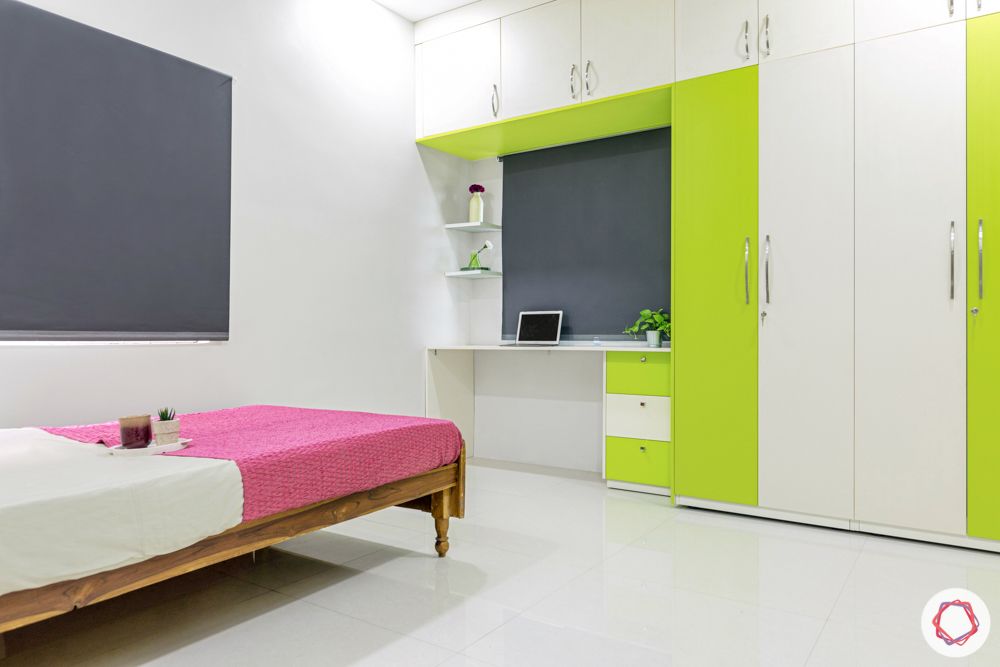 Use of Budget-friendly Designs & Materials
It might be interesting to note how the interior design for 3BHK flat was completed on a tight budget. After all, this GVR Sunrise Meadows home does have a plethora of storage options. The trick was to use really affordable materials and some of the best budget-friendly designs from our catalogue.
In the kitchen, the design team opted for pre-laminated particle board shutters and carcass cabinets. The TV unit in the living room is a catalogue piece with matte laminate finish. In the kid's bedroom, they went with high-gloss laminate finish.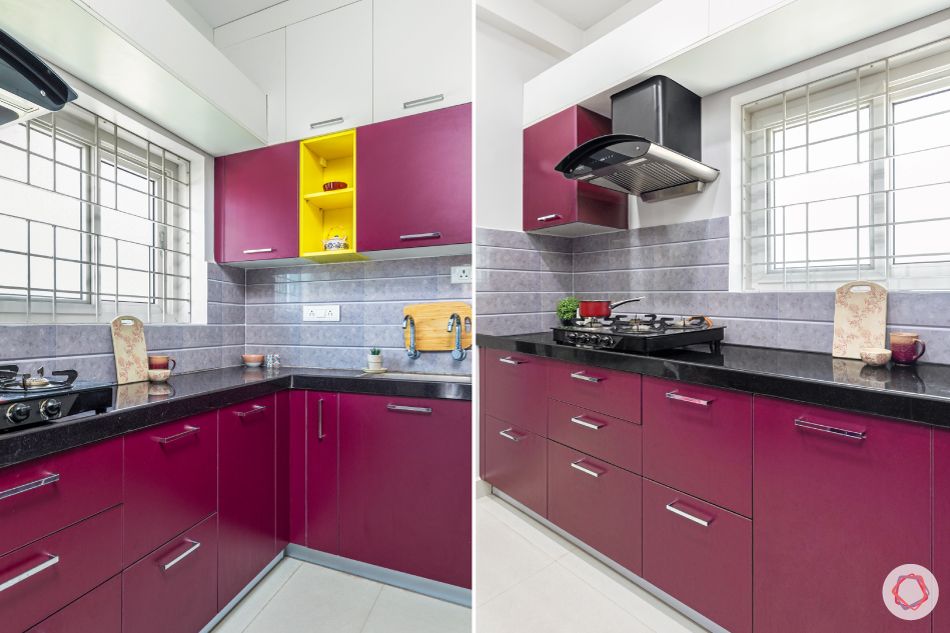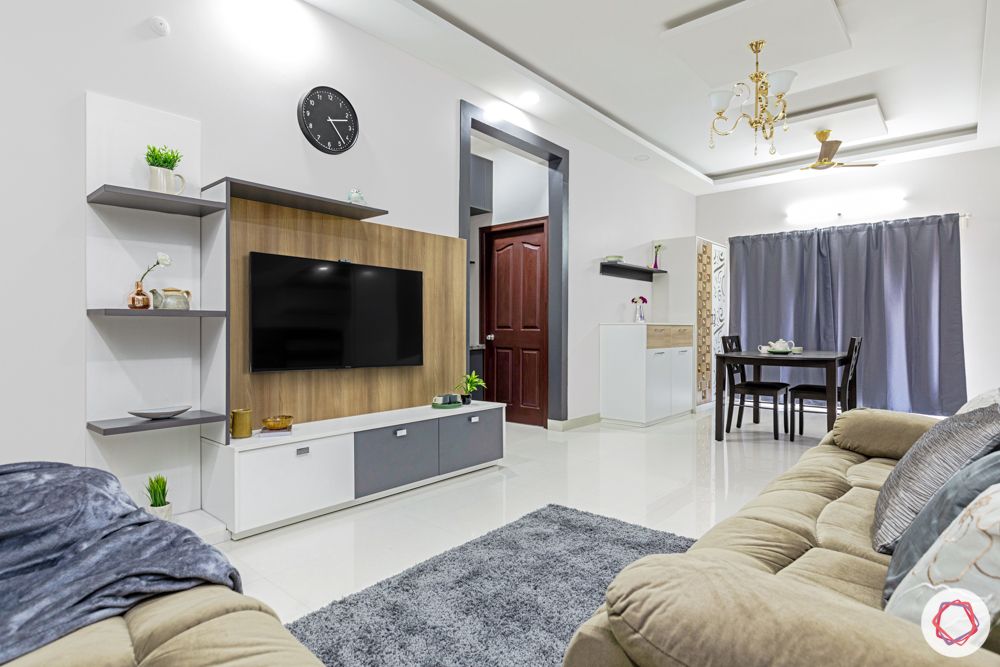 And The Showstopper is…
Our favourite spot in this home is the master bedroom. The wall facing the bed has a quaint little window, and the design team has used the space under it to install some low wall cabinets. This also doubles up as a window seating space. We love how this space is both functional and aesthetically pleasing at the same time. The seamless membrane finish of this entire setup also adds to the beauty of this spot.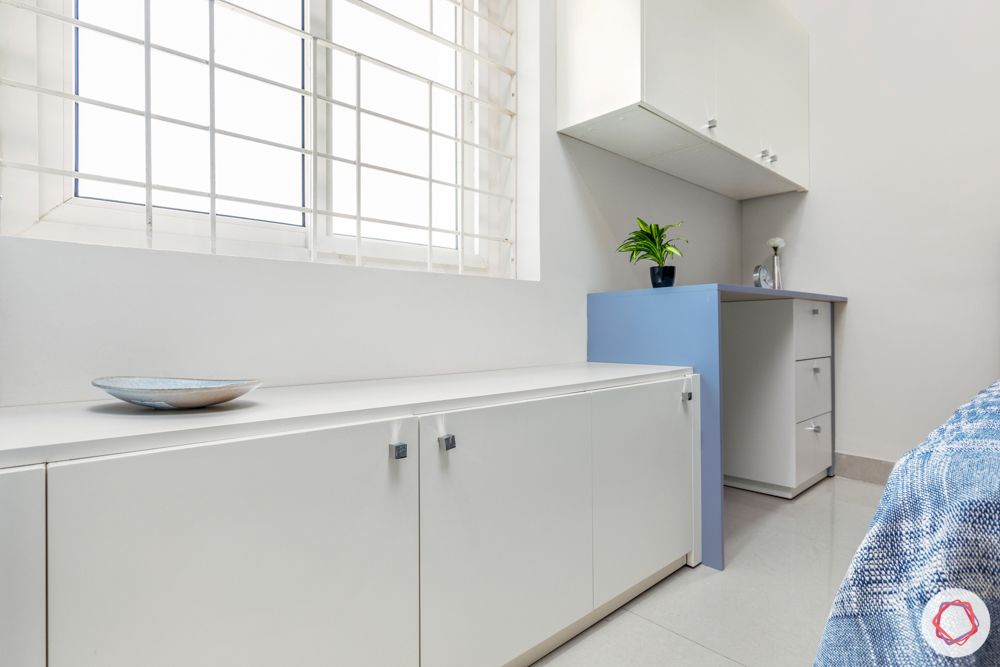 "Working with Jyoti Mishra and her family was a fairly easy task because they came out clear on what they wanted from the beginning. As they wanted to stick with a rigorous timeline, they cooperated with us by finalising the designs in the initial phase. And it was smooth sailing from there on."

– Kalyaani A, Design Manager, Livspace
If you enjoyed reading about the interior design of 3BHK flat in GRV Sunrise Meadows, also explore Classy Interiors on a Budget from the same city.
Send your comments and feedback.