This long-awaited 3BHK Noida house was handed over to Nidhi Duggal and her parents with cheery interiors and ample storage space. And guess what? It was well worth the time it took to design. This functional 3BHK was made with careful details. Not only did Livspace designer Geetika take in each and every client demand, she also made sure to add her expertise to the mix. It has been quite a journey for this family, from getting to know about Livspace from Facebook to getting their dream home delivered. Who knew a Facebook meeting would turn out so lovely.
---
Who Livs here: Nidhi Duggal with her parents
Location: Sector 16B, Greater Noida W Rd, near Ek Murti Chawk, Extension, Noida
Size of home: A 1,950 sq. ft. 3BHK house
Design Team: Interior designer Geetika along with Poornima with Siddharth Gupta as project manager
Livspace service: Full house interiors
Budget: ₹₹₹
---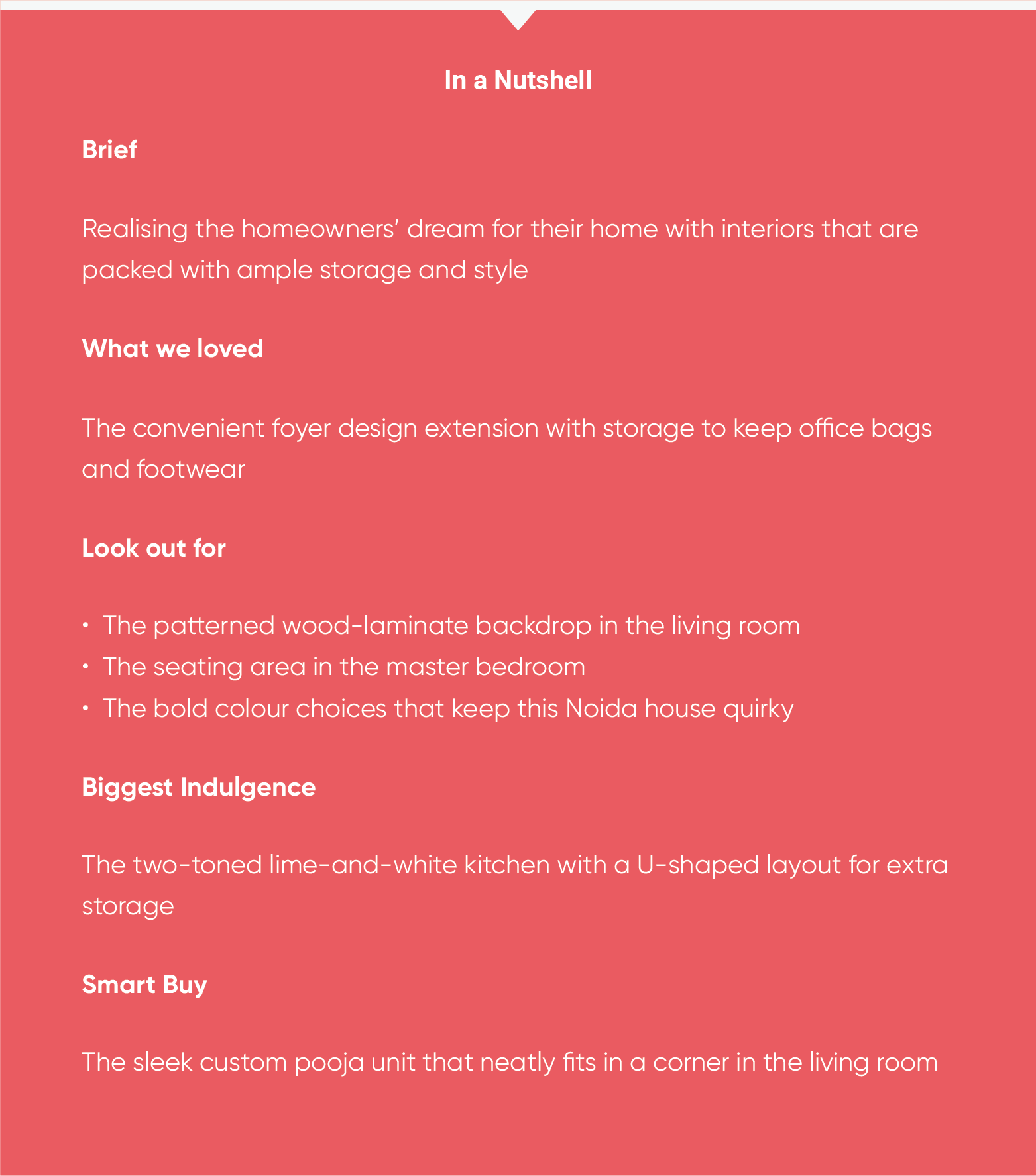 Opulent colours define the rich interiors of this 3BHK flat in Noida extension. We are also fans of the meticulous detailing of the house. We are listing them out here and we think it would really benefit you to hear all about it. Ready? Scroll down to uncover this treasure.
#1: Check Out This 3BHK Noida Living-cum-Dining-Area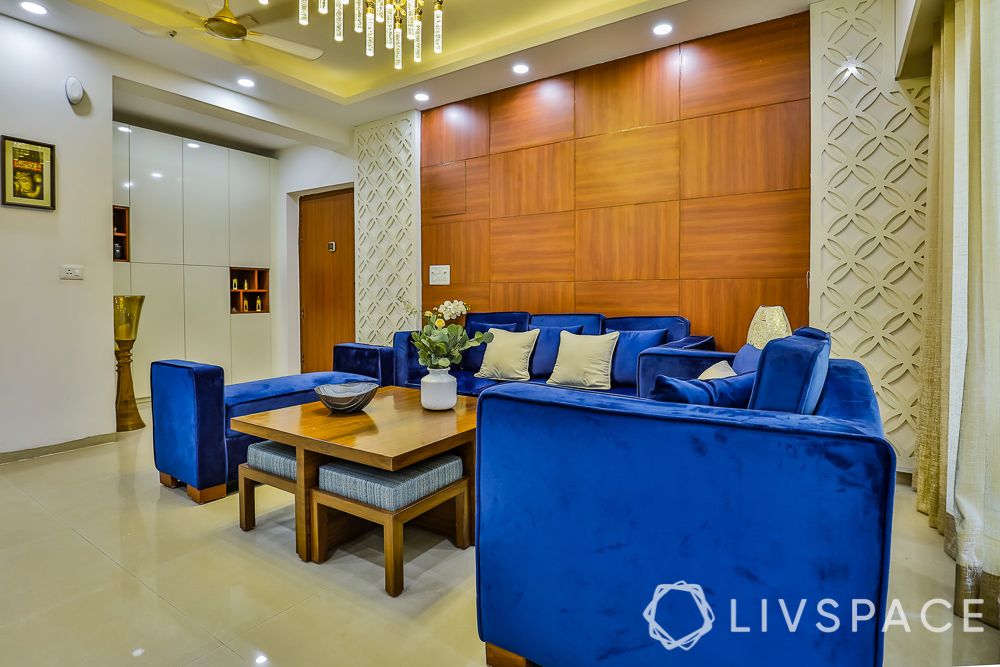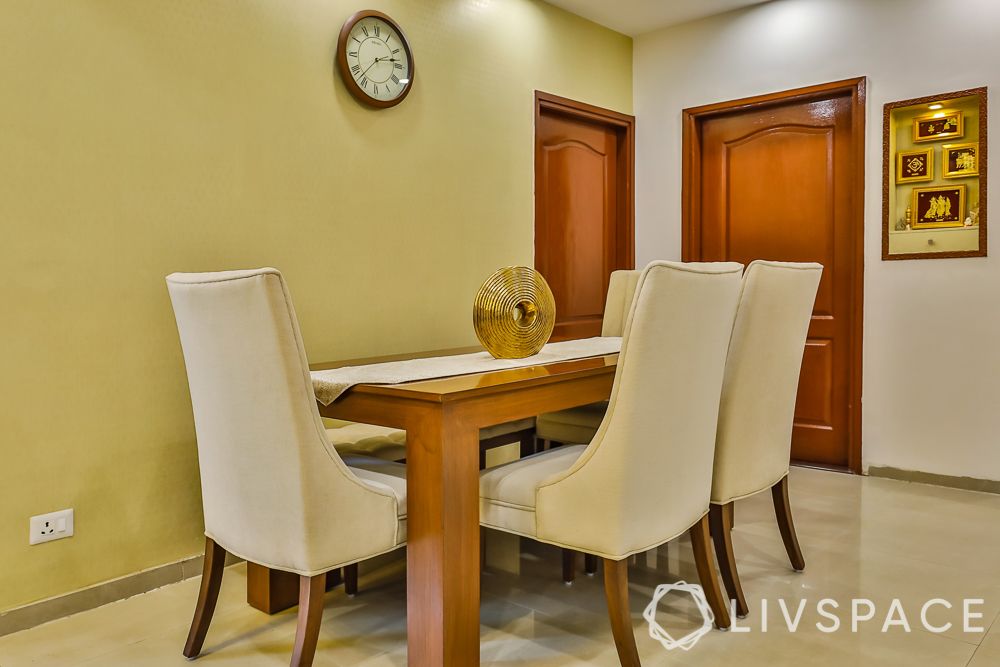 This is the first room that you lay your eyes on upon entering this 3BHK flat in Noida extension. The personal touches start right from the foyer, which features family pictures. The designer made sure she also accommodated a sleek pooja unit behind the dining table. This 3BHK Noida home has a clever foyer extension that is high on storage. The homeowners use it to store their bags and other accessories to conveniently grab when going out.
The plush velvet sofa is set against a panel wooden backdrop, making the blue pop more than ever. The coffee table is extendable with four nesting stools that can be drawn anytime if additional seating is he need. The dining table is conveniently at the entrance. You can also catch a glimpse of the pooja unit from there, which is a smart and space-saving addition complete with a pull-out drawer ensuring comfortable storage capacity.
#2: This 3BHK Noida Kitchen is a Breath of Fresh Air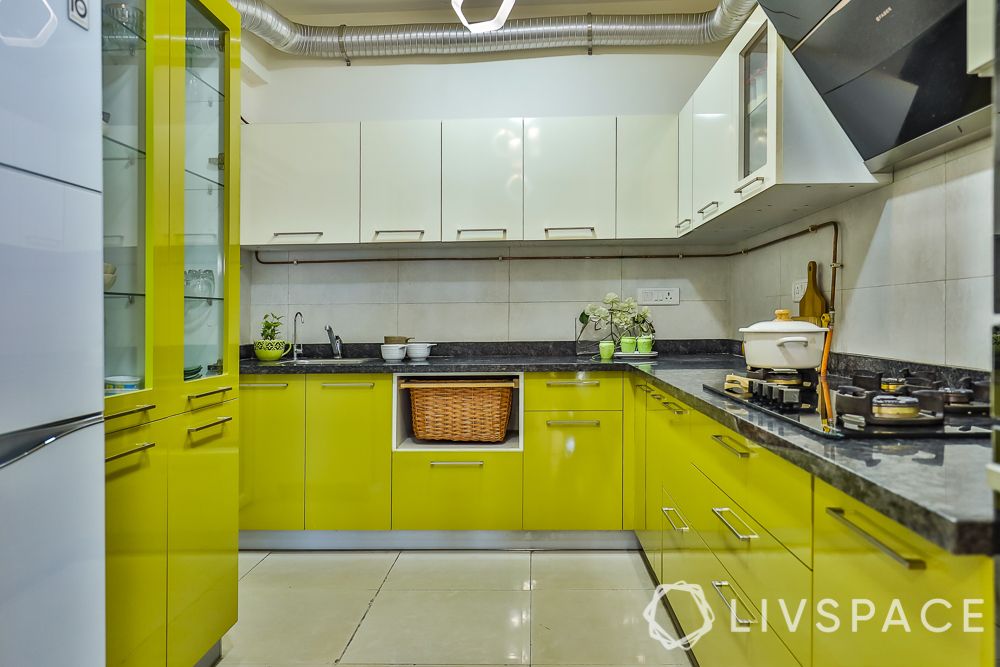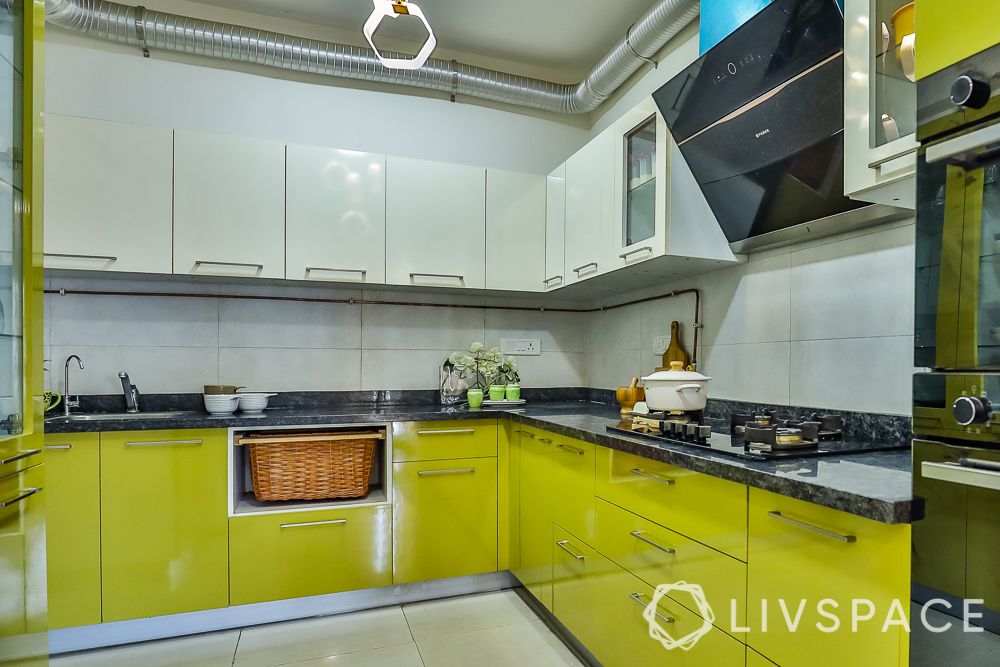 This Greater Noida flat has its kitchen as its biggest indulgence. And for good reason. The upper cabinets are white laminate while the lower cabinets are in a fresh shade of lime green. The entire kitchen has glossy laminate, making it easy to maintain and clean. The tall unit in this 3BHK Noida kitchen equips this space further with storage capacity.
Also Read: 10+ Livspace Kitchens That Have The Best Storage (Including Costs)
#3: This 3BHK Noida Master Bedroom Steals the Show with Teal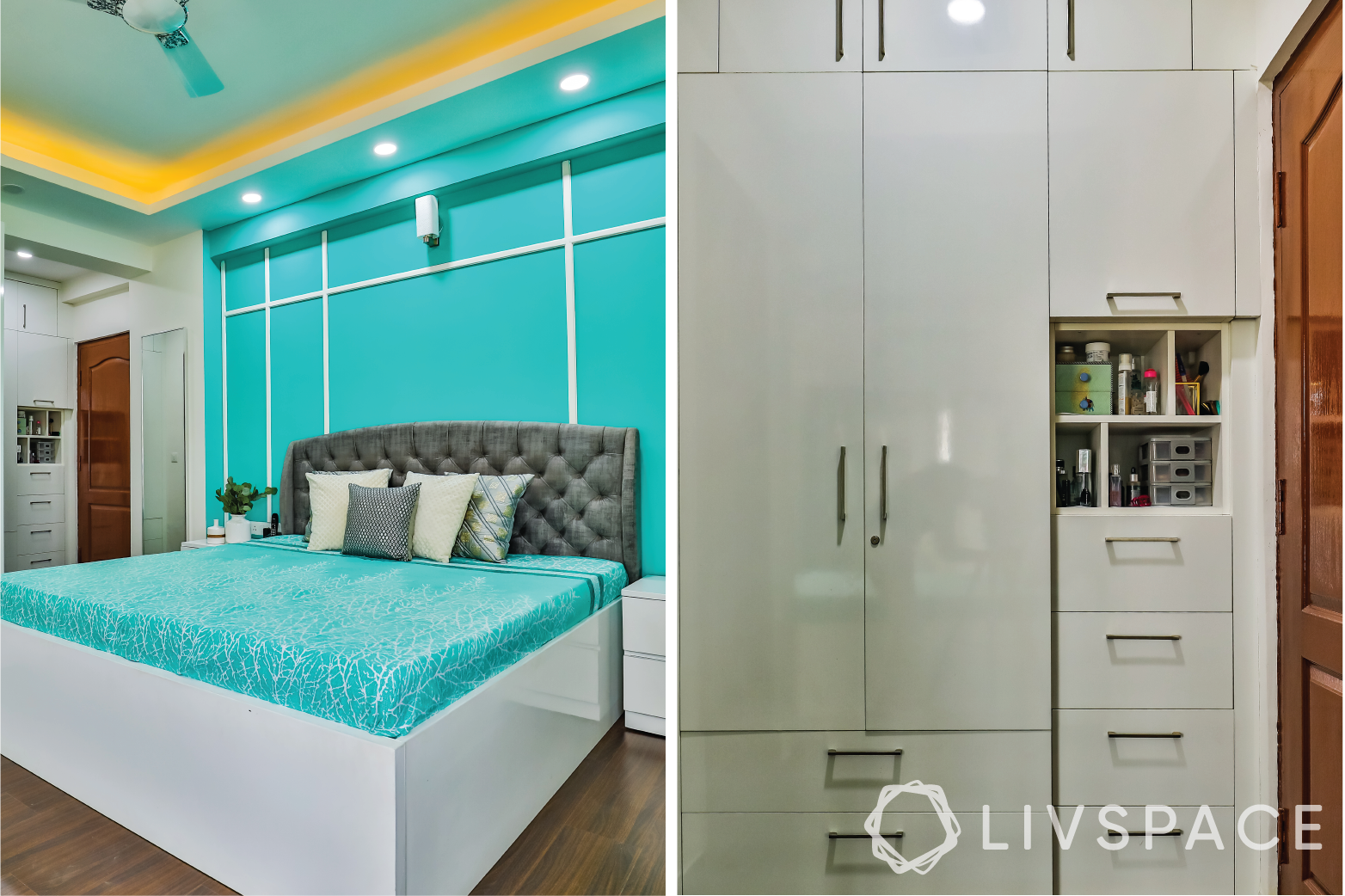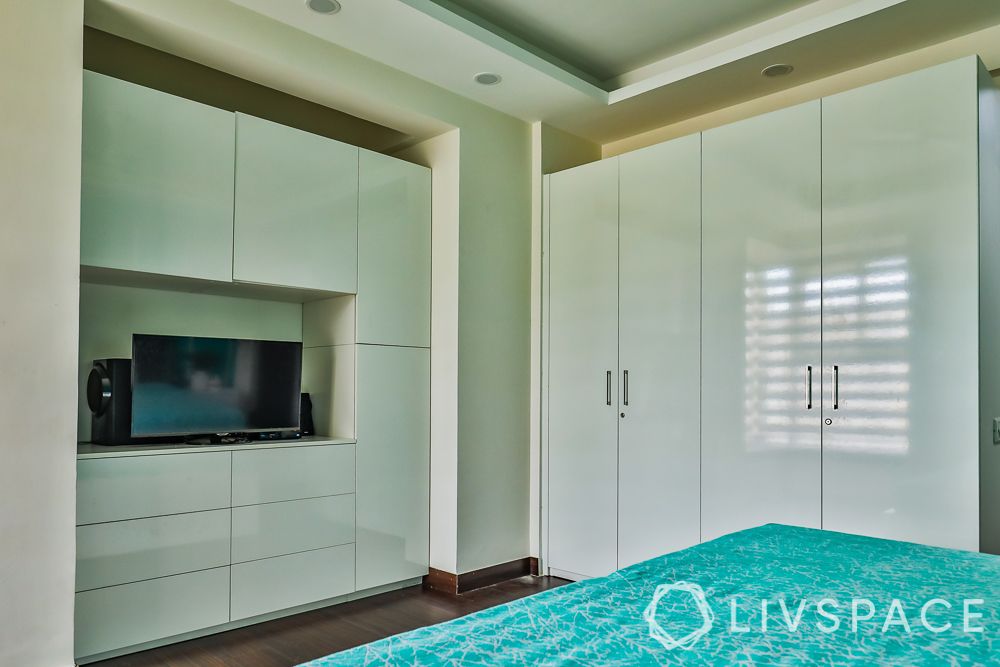 It is really difficult to pick out a favourite room in this Greater Noida flat. Every space has its unique features, including all the bedrooms in this 3BHK Noida flat. Look at this master bedroom, for example. It has a teal backdrop, which serves as a focal point for this room. We also love how high on storage this room is. There is a wardrobe, storage units around the TV unit and extra storage space near the door as well. All the furniture pieces are finished in high-gloss laminates. Looking for quirky colours for your bedroom? Click here.
#4: A Functional Daughter's Room in this 3BHK Noida Flat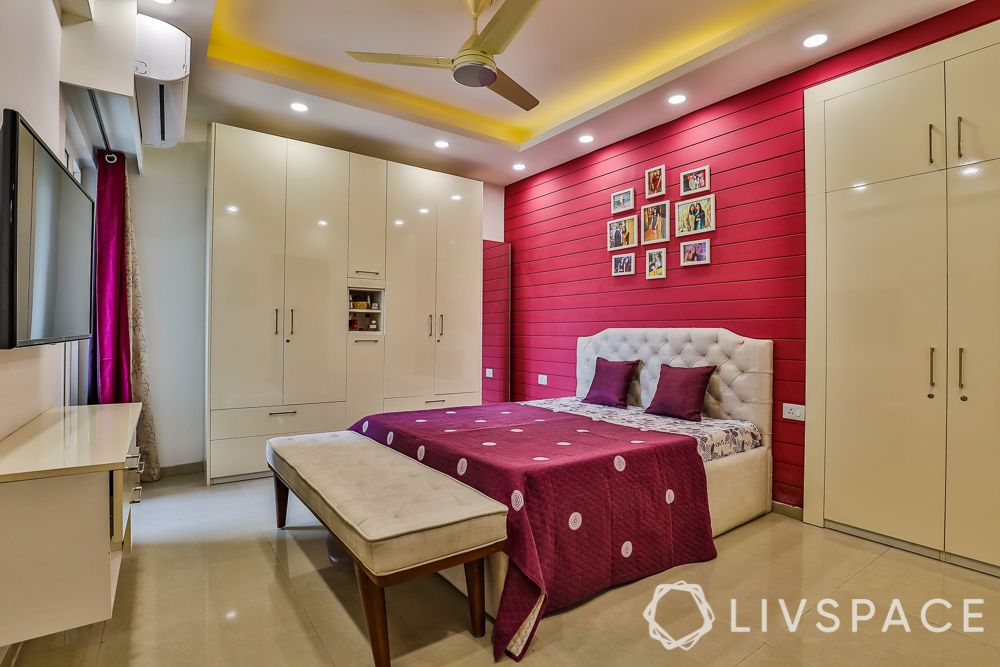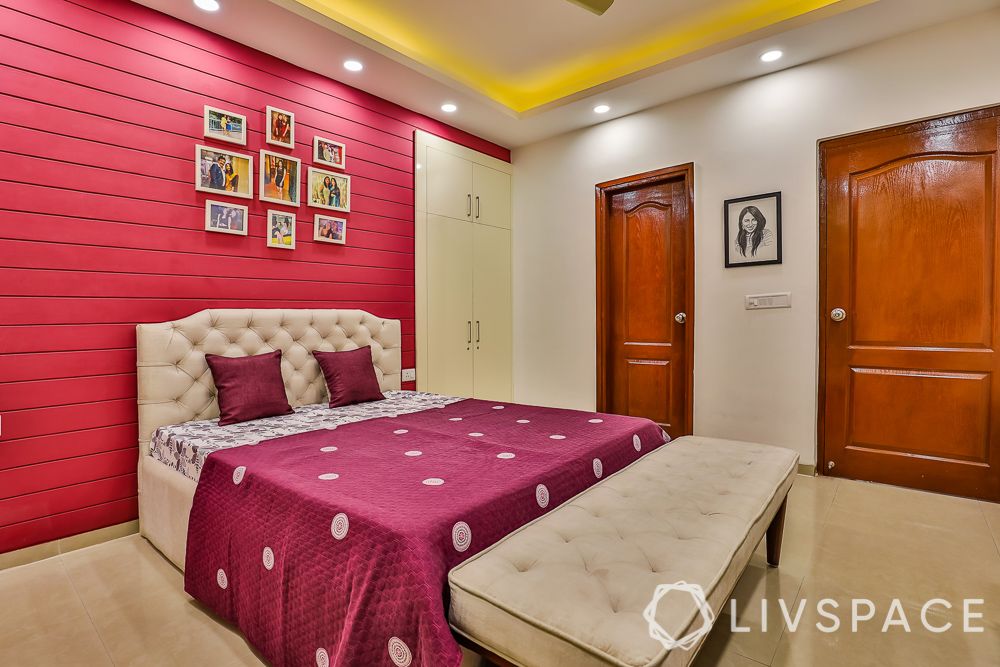 Ravishing reds make the daughter's bedroom an absolute stunner. The room is furnished with a footstool to give this room a luxurious feel and the red backdrop is complemented with the red curtains. We also love how the designer has incorporated two huge wardrobes in this 3BHK flat in Noida extension. Both custom wardrobes are in gloss laminate finish like the rest of the house.
#5: Check Out This 3BHK Noida Guest Room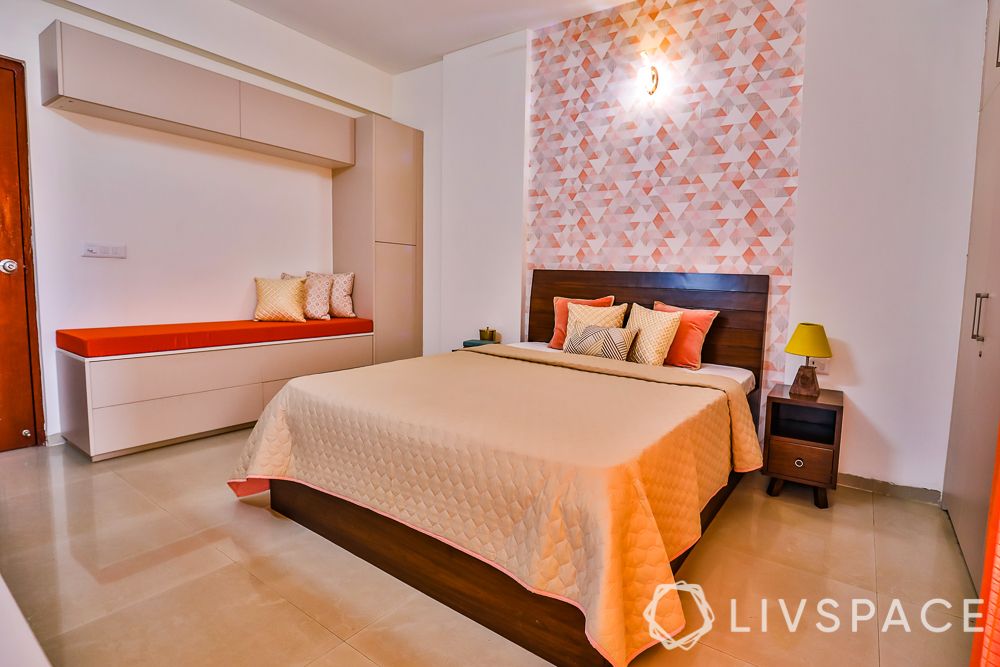 The guest bedroom in this 3BHK flat in Noida extension keeps in mind the fact that the couple's parents visit often. Thus, Geetika incorporated extra seating in the room along with storage to make sure there was comfortable seating. The strip of wallpaper behind the bed amps up the colour scheme of the room. Filled with ample light, the orange shade of the curtains adds a cheery vibe to the room.
The best thing about this Greater Noida flat is how Geetika managed to use complementary colours and make it work. Every room has its winning focal point while also remaining functional. The storage factor is high too and everything was under a little over the budget of ₹10 lacs! Inspired? This Luxury 4,800 sq. ft. Penthouse in Noida is High on Comfort and we think you should definitely tour through it.
Wondering how our customers feel about working with Livspace? You can check out the Livspace reviews here!
How Can Livspace Help You?
We hope you found our ideas useful! If you want your home to be just as beautiful, then look no further. Book an online consultation with Livspace today.