Buying your first home comes with a lot of emotional investment for homeowners. It was no different for Iniyan and Geetanjali when they bought their first home, which is a grand penthouse in Noida. And when it came to figuring out its design, they wanted to make sure that it reflected their personalities. Having always lived in rented houses before, the couple had great expectations from Livspace when they came to us to do the interiors for this Noida penthouse. Needless to say, designer Dalina Singh spent hours deliberating with Iniyan and Geetanjali to deliver exactly what they needed. Journey through this Noida house to get some design inspiration for your own space!
---
Who livs here: R Iniyan, his wife Geetanjali with their daughter
Location: Noida
Size of home: 4BHK spanning over 4,800 sq. ft. 
Design Team: Interior designer Dalina Singh
Livspace service: Full house interiors
Budget: ₹₹₹ 
---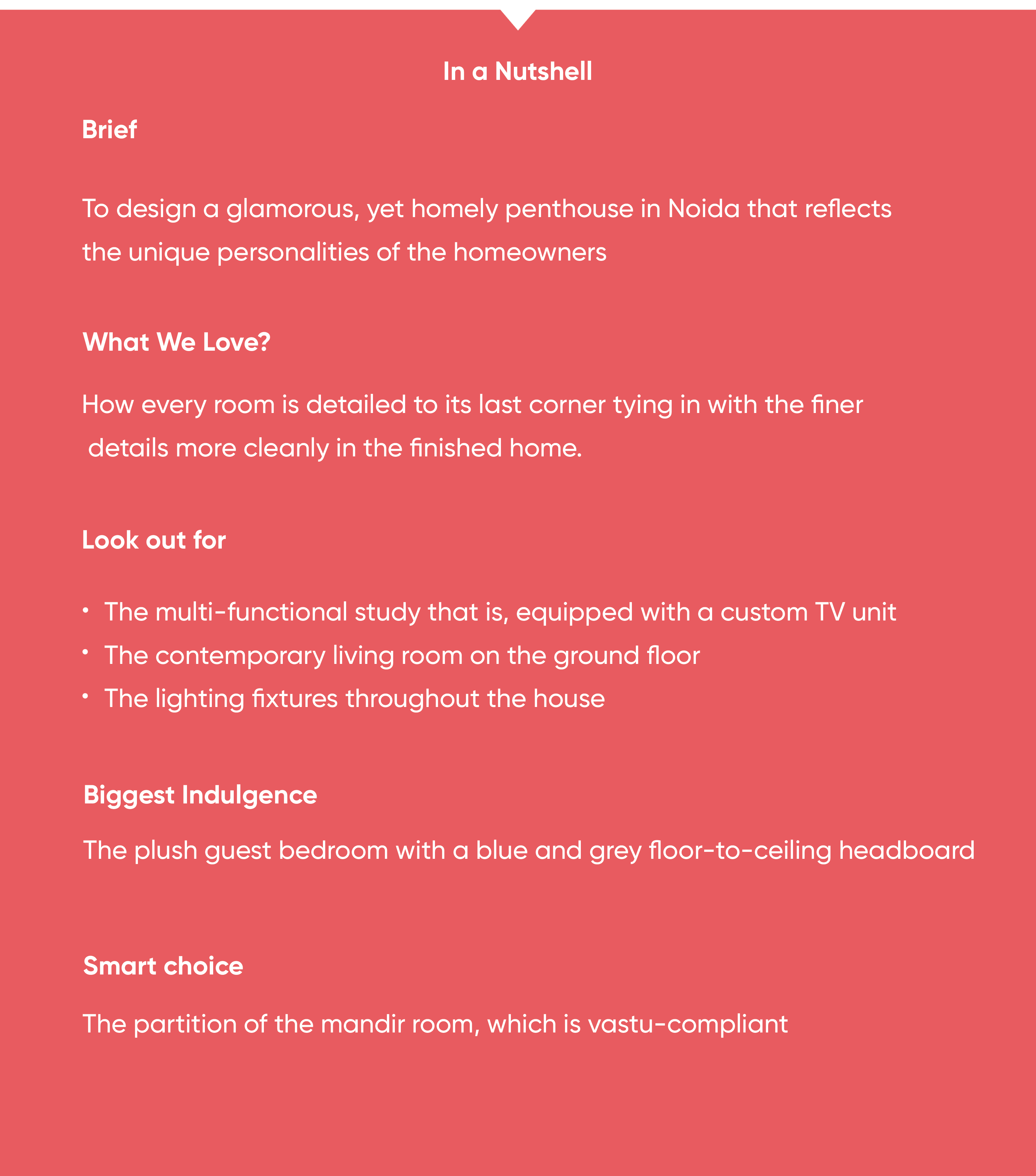 In the course of working with the clients to get an idea about how they envision their space, Dalina Singh tells us that her biggest priority when it came to the design of this Noida penthouse was ensuring that what she conceives, is a reflection of the homeowners' personalities and tastes. She also made sure it was glamorous yet homely and noted down several points based on what a well-travelled Iniyan would want in contrast to what a home-centric Geetanjali would prefer. Thus, we have loads of ideas to share from this Noida house. Whip out your notepads and get ready!
#1: This Penthouse in Noida has an Unconventional Living Room with Soothing Greens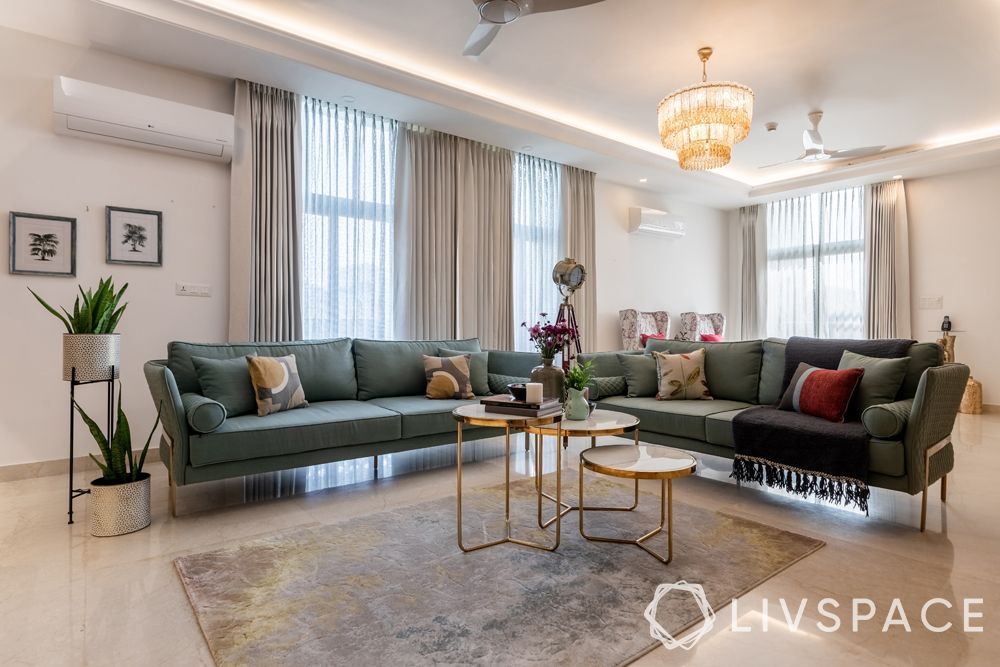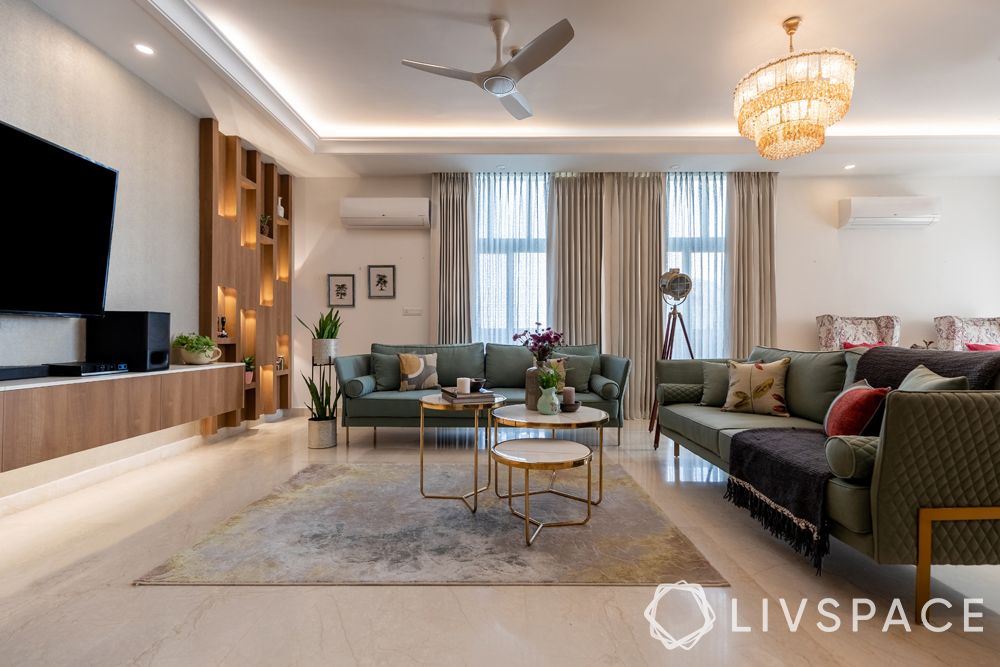 This Noida penthouse has a living room that gives a zen vibe. The plush couch in muted green works well to offset the pops of red used around the space. Furthermore, the enhance in elegance comes from the mood-setting recessed lights and a breathtaking chandelier. The nesting coffee table is a clever choice as it can be placed whenever need be for an extra plate of snacks while serving coffee. 
This living room has a modular TV unit made of MDF and finished with laminate, which contrasts well with the marble-topped coffee table and the understated sophistication of the room. The recessed lighting under the unit serves as an extra source of glow for the living room.  Dalina also incorporated plants to add a touch of freshness to the space.
#2: This Penthouse in Noida Keeps It Simple in the Kitchen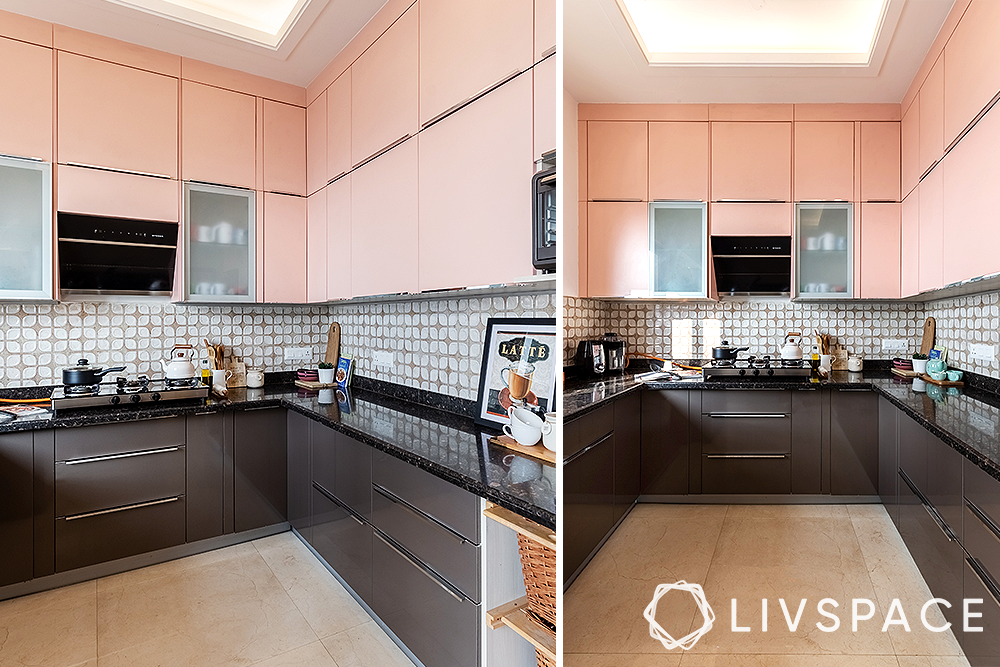 This basic two-toned kitchen in this Noida house has ample storage space and plays cleverly with colour. Instead of opting for conventional beiges or whites, Dalina chose to go with brown and pink, a rather underrated combination. And, the backsplash tiles with their contemporary design tie the whole look together. The handleless upper cabinets further enhanced the seamlessness of the U-shaped kitchen. The opaque cabinet shutters have quickly become a trendy choice among homeowners and fit right in this penthouse in Noida.  
Also Read: 25+ Kitchen Designs That Will Inspire You (With Amazing Pictures)
#3: Steal-Worthy Mandir Panelling Ideas from this Noida House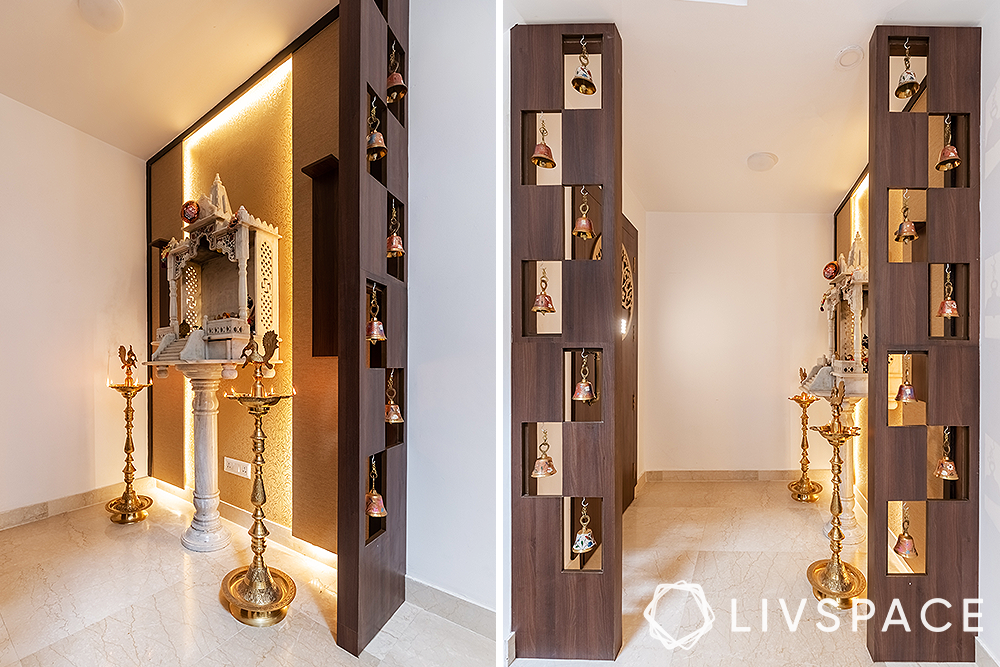 The pooja room which houses a tall mandir unit opens into the living area and has two jali partitions on either side. Dalina partitioned this small space off the living room to fit the tall mandir unit. The stone mandir is complemented by the jalis, which are made of wooden laminate and fitted with bells. Not only do the bells invite auspicious energy into this Noida house, the semi-closed layout is vastu-compliant as well. The back panelling in the pooja room is fitted with lights, adding elegance to this minimal pooja room.   If you're looking to create a vastu-friendly space, check out more vastu tips here!
#4: This Penthouse in Noida Has a  Luxe Guest Bedroom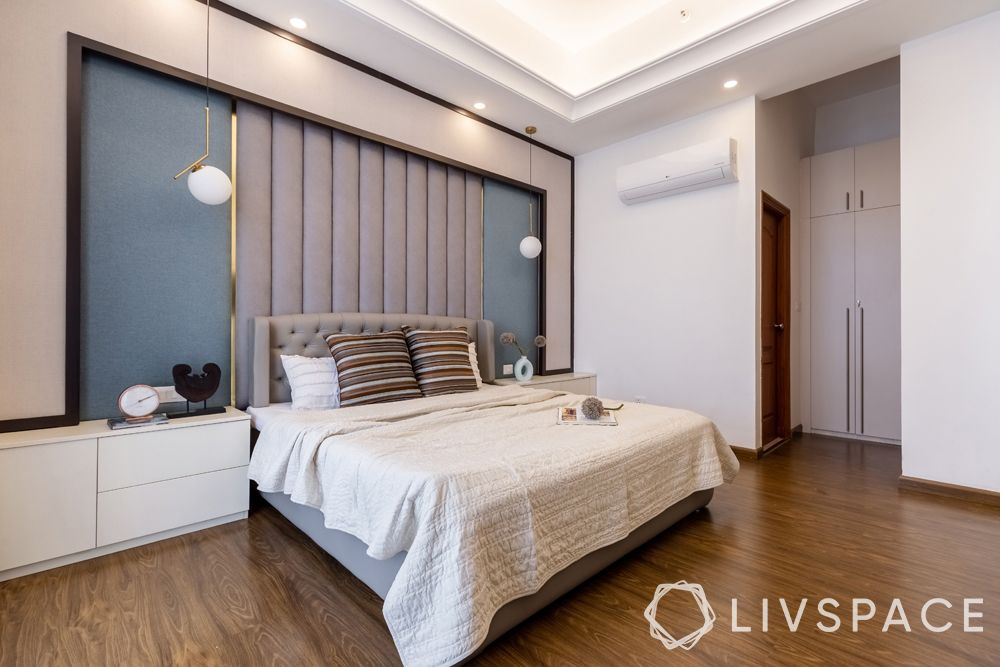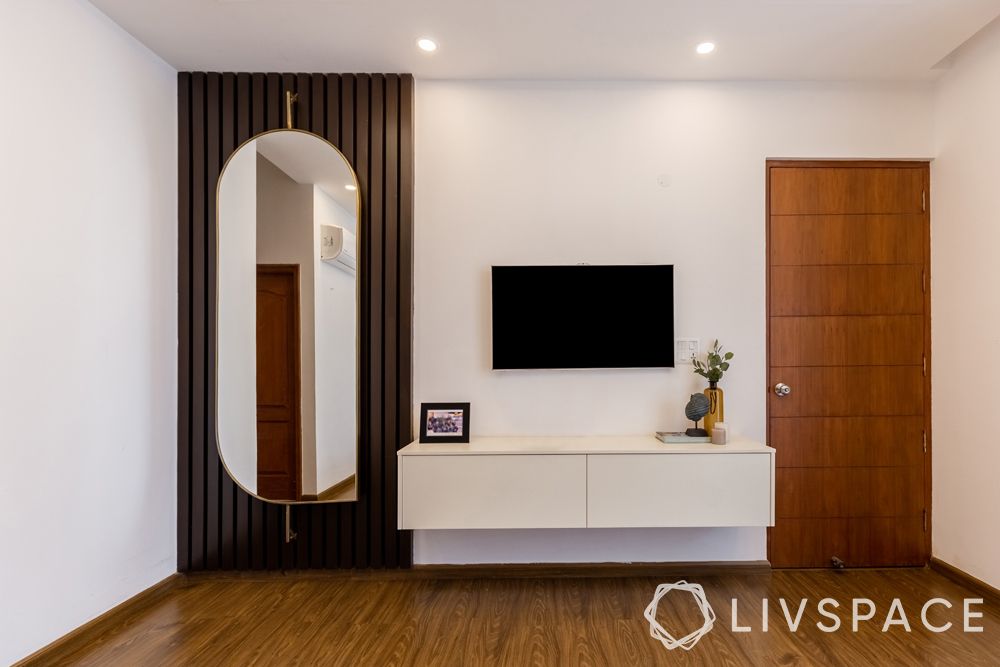 Geetanjali and Iniyan wanted their guest room to be the focal point of their ground floor. Dalina, therefore, made sure that she left no stone unturned when it came to designing this grey-and-blue-toned guest room in this Noida house. A lot of work detailing has gone to make this luxe room, seen in the plush floor-to-ceiling headboard with vertical stripes to the fully furnished TV console beside the wood-panelled mirror in the room. 
The concealed wardrobes in this Noida penthouse have accounted for a fair share of the budget too. In this guest room, for example, the glossy laminate-finished wardrobes add a reflective design element that enhances the space. In addition, the lighting fixtures, a combination of pendant and recessed lights, also work some style into the guest bedroom of this penthouse in Noida. The cabinets under the TV unit are great storage to keep makeup and accessories when getting ready. 
#5: A Comfy Master Bedroom in this Noida House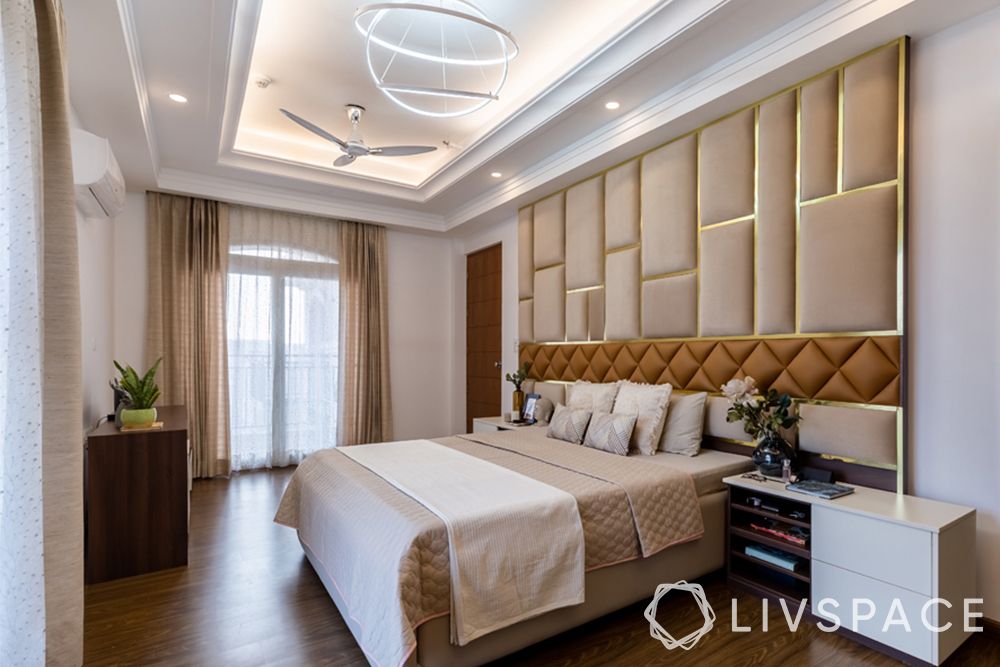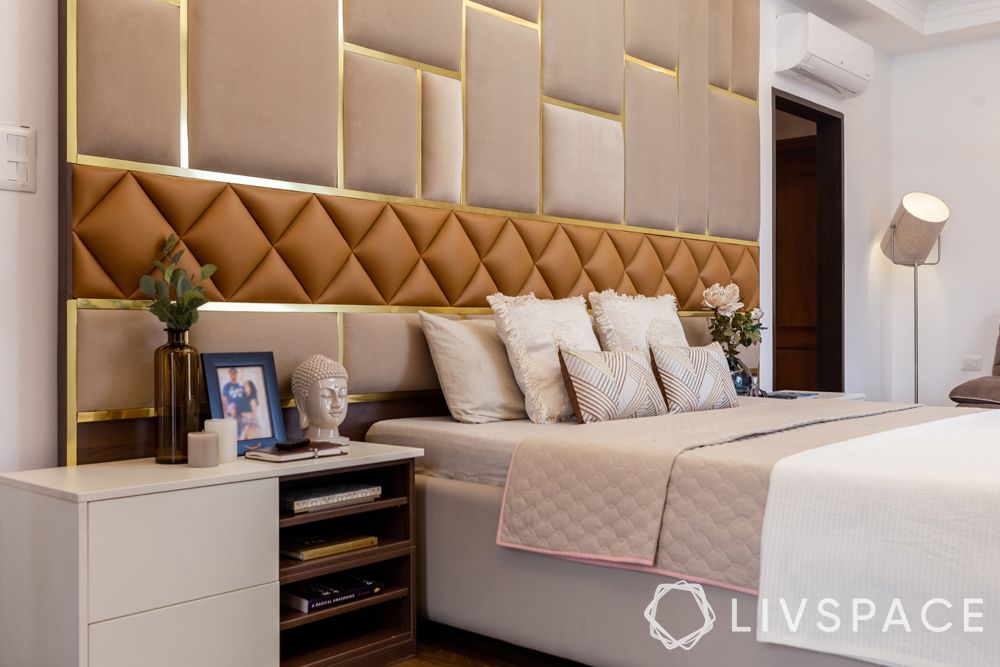 The first floor master bedroom, reflects the couple's choice for comfort. Seeping in neutral colours, this master bedroom is with an intricate panel floor-to-ceiling headboard. This Noida penthouse flaunts wooden flooring in its master bedroom, which is complements the laminate-finish white cabinets. The ceiling light, along with the  spotlight lamp add to the warmth of the room. More plants have been placed here for soothing vibes. 
#6: A Kid's Bedroom That's Quirky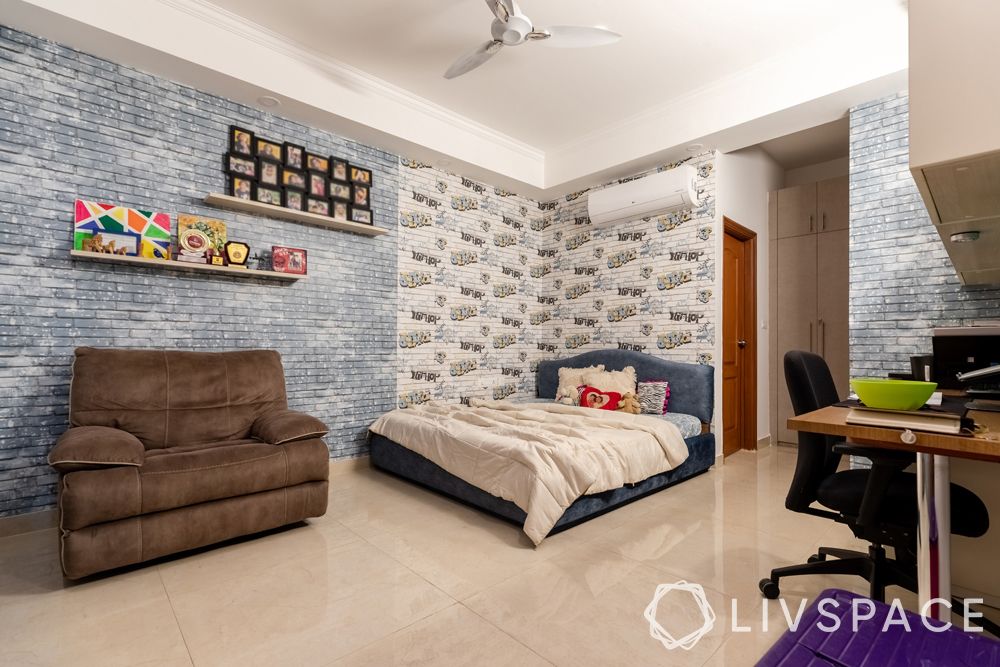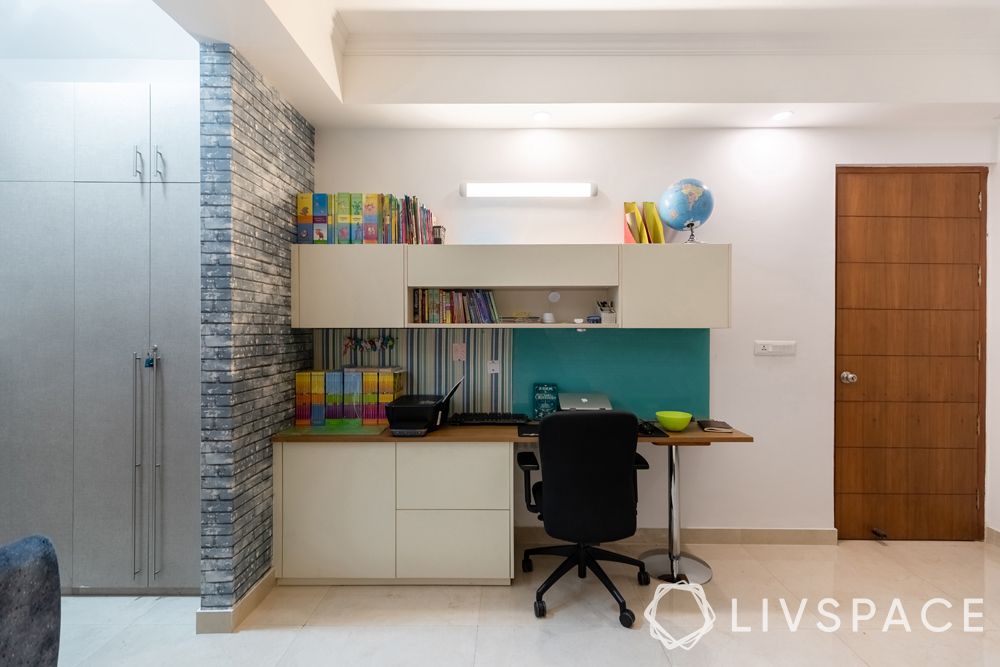 This penthouse in Noida boasts a beautiful kid's bedroom. Geetanjali and Iniyan had this especially made for their daughter. The couple has a habit of sitting with her during some of her lessons. Hence, the room is furnished with ample seating options. The wallpaper used in the corner is a great addition too. A fully equipped study table on the other side along with the wardrobe leaves much walking space in the room. This kid's room is made keeping in mind a growing child's needs.
#7: This Noida Penthouse Has a Home Office That Offers Design Goals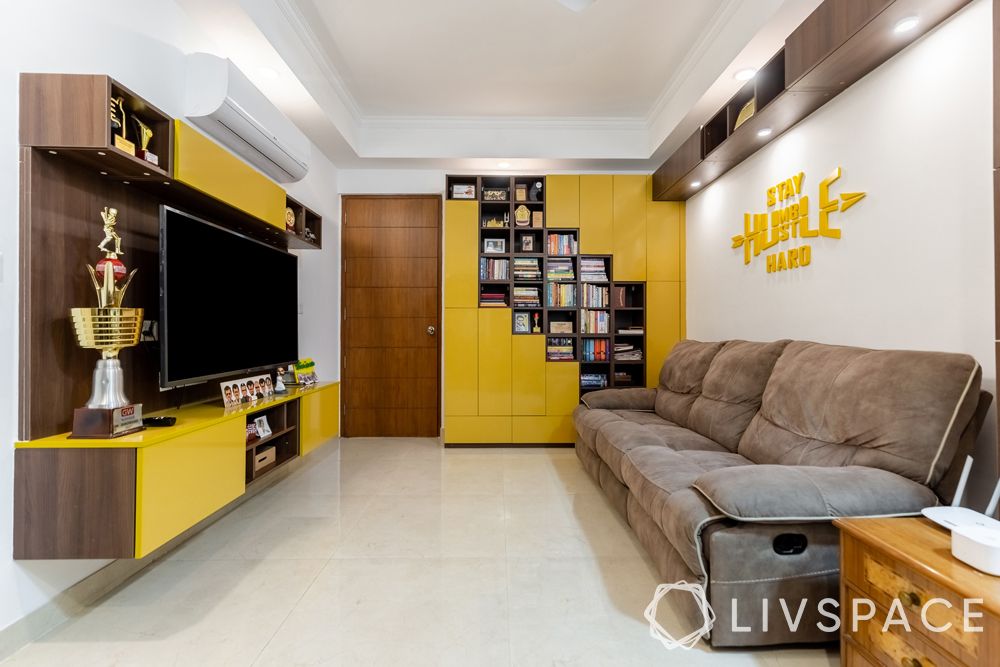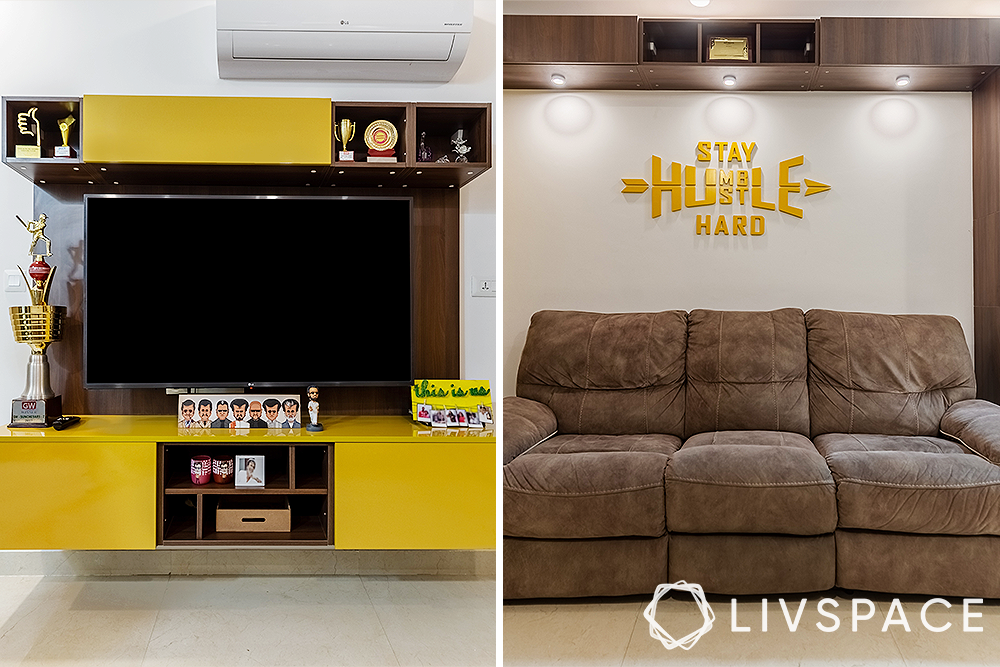 Our favourite word for this room comes from our designer, who described it as "mancave". Like any working individual living during the time of this pandemic, a home office is a must. Thus, Dalina spent a long time perfecting this home office for Iniyan. The homeowners pointed out that they wanted one room from their 4BHK Noida penthouse to be converted into a workspace. Thus, this Noida house comes with a comfortable, yet professional home office with yellow-panelled walls with ample storage, a custom TV unit and a couch. 
#8: Do Not Miss the Lighting in this Penthouse in Noida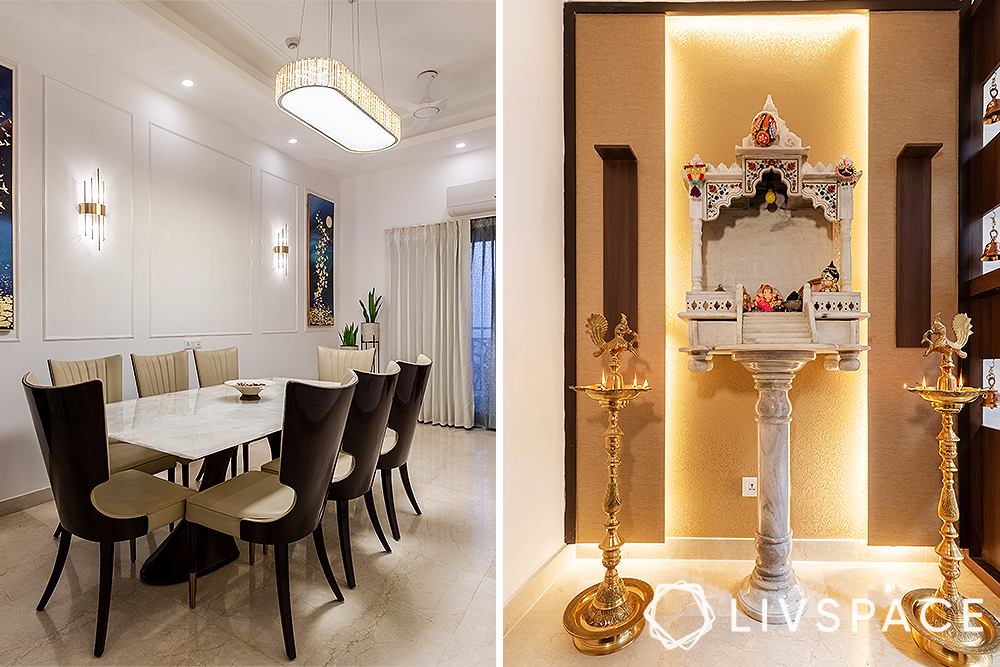 This Noida house is a good example of what happens when lighting options blend. The lighting of this penthouse in Noida is as much about aesthetic appeal as it is about function. Dalina has provided a good mix of lighting throughout the space. For example, the dining room has a chandelier, modern wall lighting fixtures and a mix of ceiling recessed lights, which helps enhance the mood and design of the space.
Inspired by this penthouse in Noida? Check out this 3BHK Villa in Noida is Simple with an Eclectic Vibe. Wondering how our customers feel about working with Livspace? You can check out the Livspace reviews here!
How Can Livspace Help You?
We hope you found our ideas useful! If you want your home to be just as beautiful, then look no further. Book an online consultation with Livspace today.