Post-pandemic, most homeowners were able to look more closely at the functional flaws of their homes over the several months of being stuck mostly at home. Thus, home renovations have become quite popular. This is a similar story with our Livspace homeowner Dhruv. Before the pandemic hit, Dhruv was flying across countries from Monday to Friday for work. In 2020, when everyone was grounded and locked within their homes, he realised his house — more specifically his bedroom through which he would work — needed to be more comfortable and reflective of the new work-from-home lifestyle. He realised that he needed to get an expert if he had to know how to create a luxurious bedroom. After loads of research, he found Livspace, which was able to strike the unique balance of understanding his vision and bringing in new ideas.
After some initial back and forth on the design, designer Annu Gupta delivered this modern luxurious haven with a space saver bedroom design. Dhruv feels that the finished product is a perfect reflection of his personality. Take a look below at the dramatic transformation.
---
Who Livs here: Dhruv
Location: DLF Phase 3, Gurgaon
Size of home: An independent house spanning approximately 4,500 sq. ft.
Design Team: Livspace interior designer Annu Gupta and project manager Sailesh Kumar Tiwari
Livspace service: Bedroom, bathroom and wardrobes
Budget: ₹₹₹₹₹
---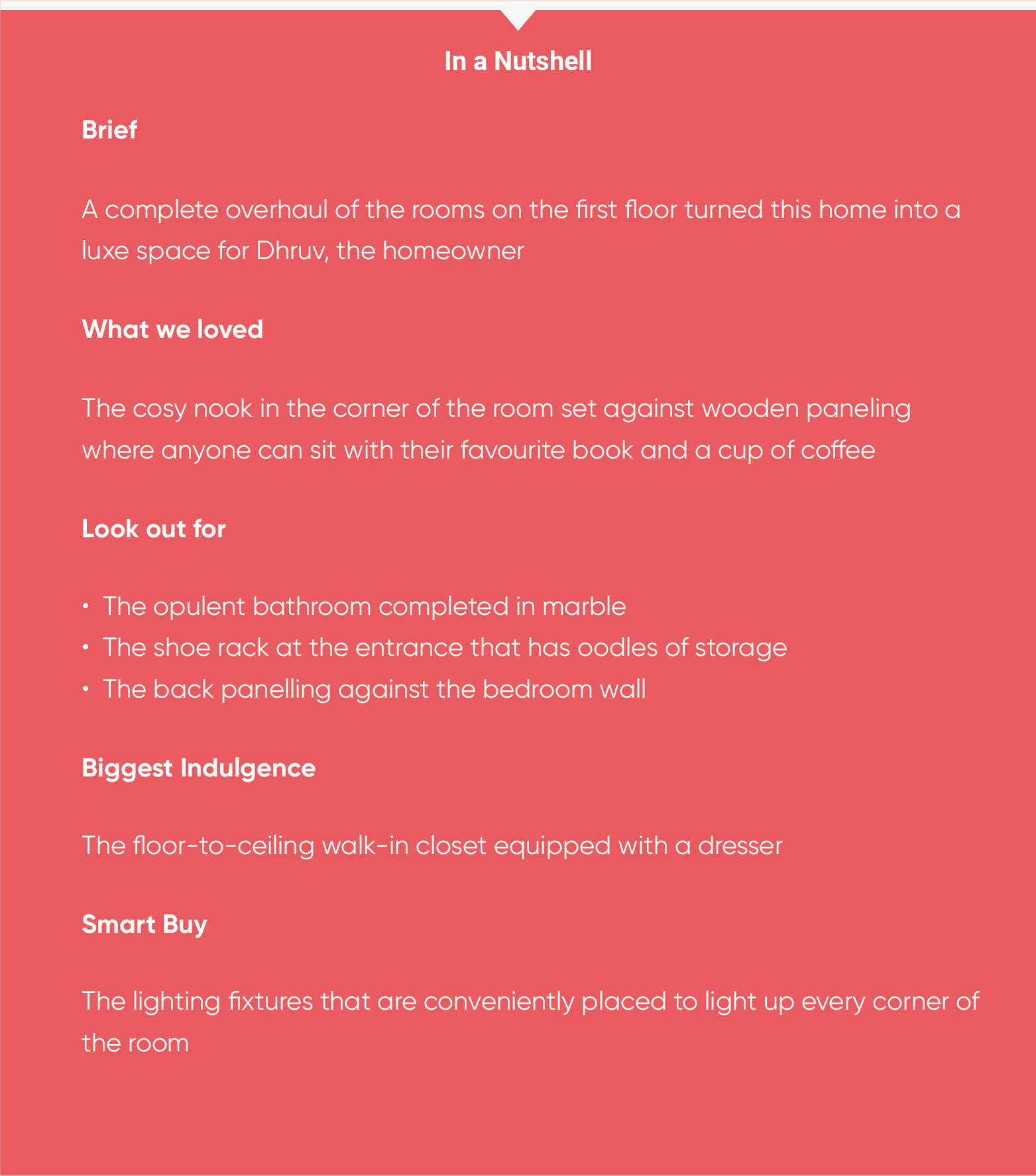 #1: How to Create a Luxurious Bedroom and Bathroom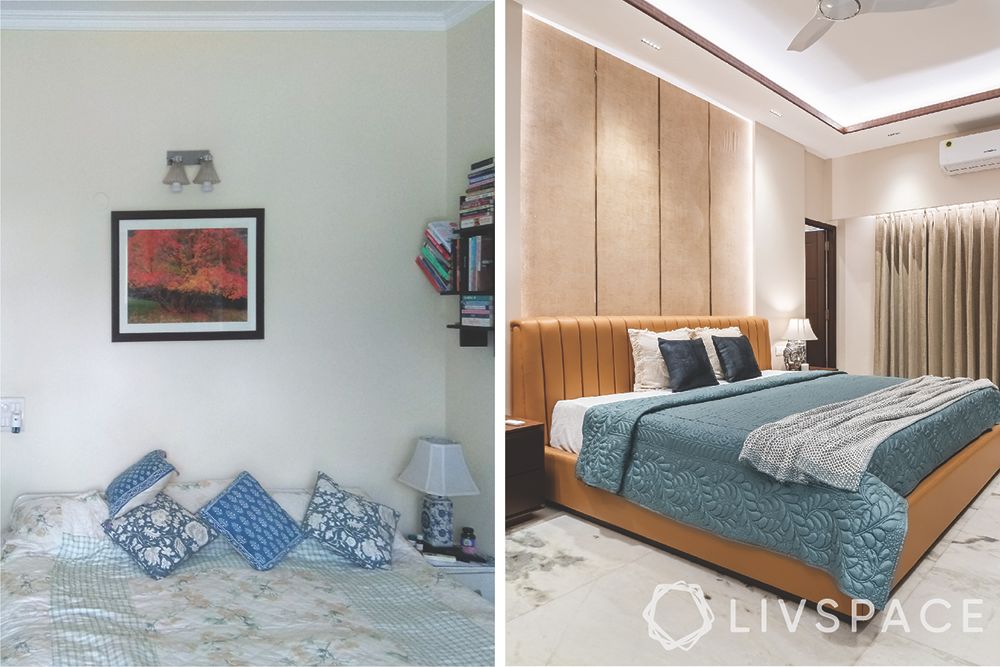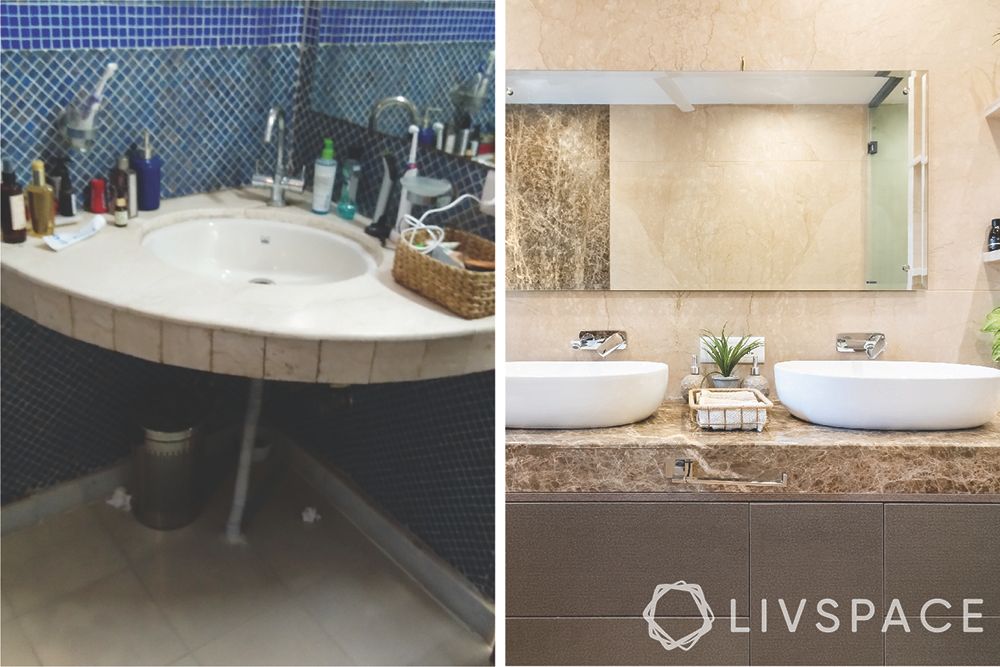 Needless to say, this is one drastic transformation that you'd not want to miss if you want to know how to make your bedroom look expensive. Read below to find out how Annu managed this facelift.
#2: A Walk-in Wardrobe with a Dresser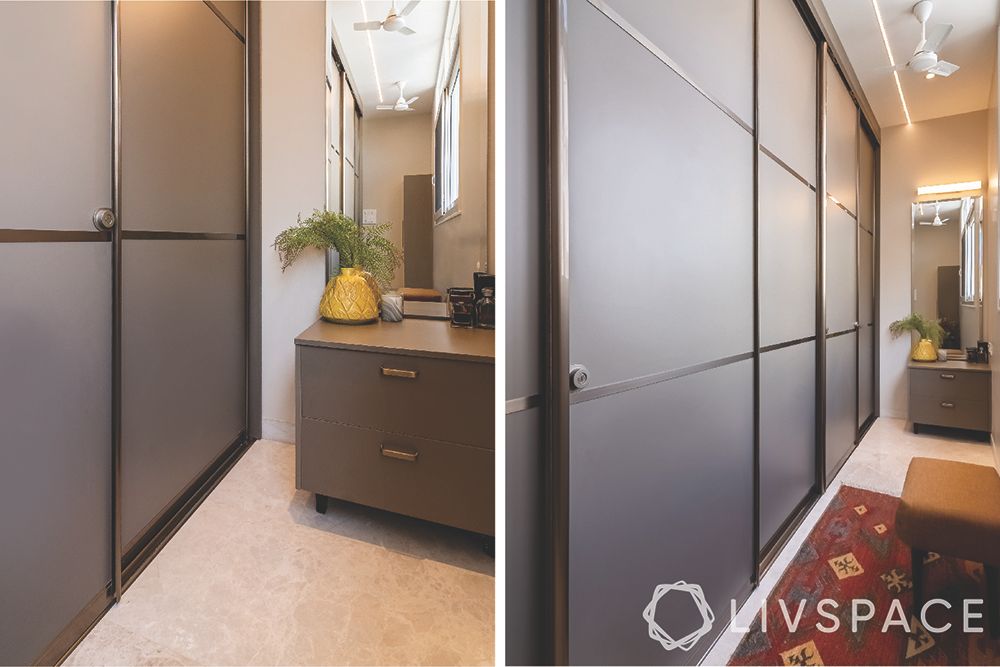 Interior designer Annu made quite a lot of structural changes to tailor the room to Dhruv's needs. She recommended that she make him a walk-in wardrobe, which involved huge structural changes, as she decided to carve a niche to fit in this dark-hued, floor-to-ceiling shutter wardrobe, including making a window so that the passageway is well lit. There is ample walking space here and even has a patterned floor carpet. She was able to comfortably add in a dresser for added convenience to ensure Dhruv could get dressed there. The wardrobe, as you could probably have guessed, is the biggest indulgence of this renovation project. Needless to say, this is one surefire lesson on how to make the bedroom look expensive.
#3: A Relaxing Cosy Nook to Catch Up on Evening Reads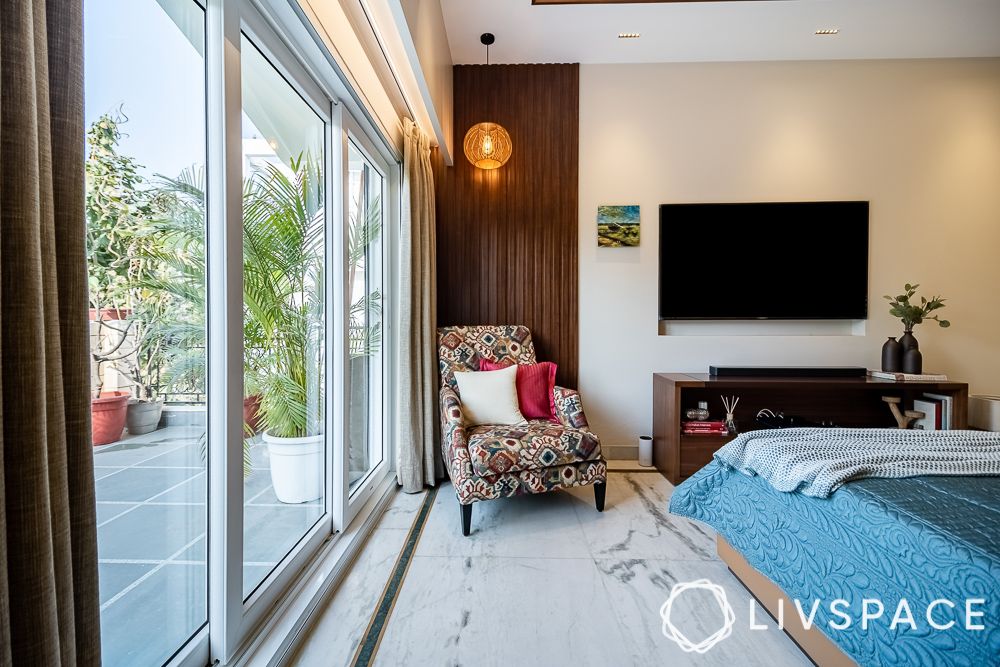 Dhruv's favorite spot of the house is this reading corner that meticulously flaunts a comfortable wingback chair. The back panelling is in wood to lend the space an inviting appeal. Creating a nook like this one is a great tip if you want to figure out how to create a luxurious bedroom. The pendant light is another good addition to this corner. We can almost imagine him sitting in his chair with his beverage of choice and his favorite [non-fiction] book. This furniture also adds on to the overall look, and the soft furnishings play a role when it comes to how to make a bed look luxurious.
#4: A Personalised Bathroom to Bathe in Bliss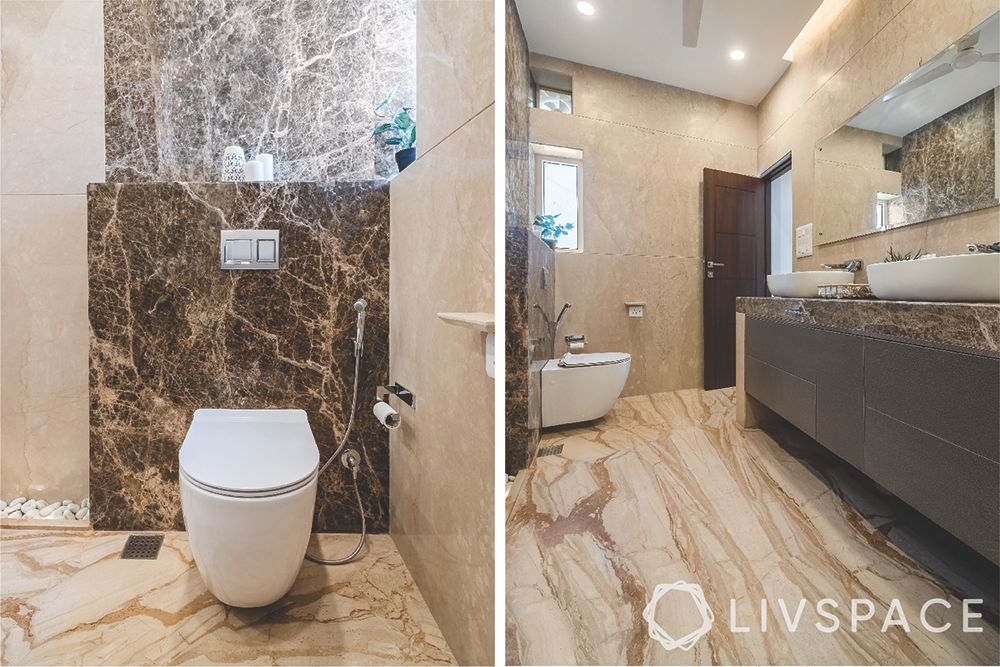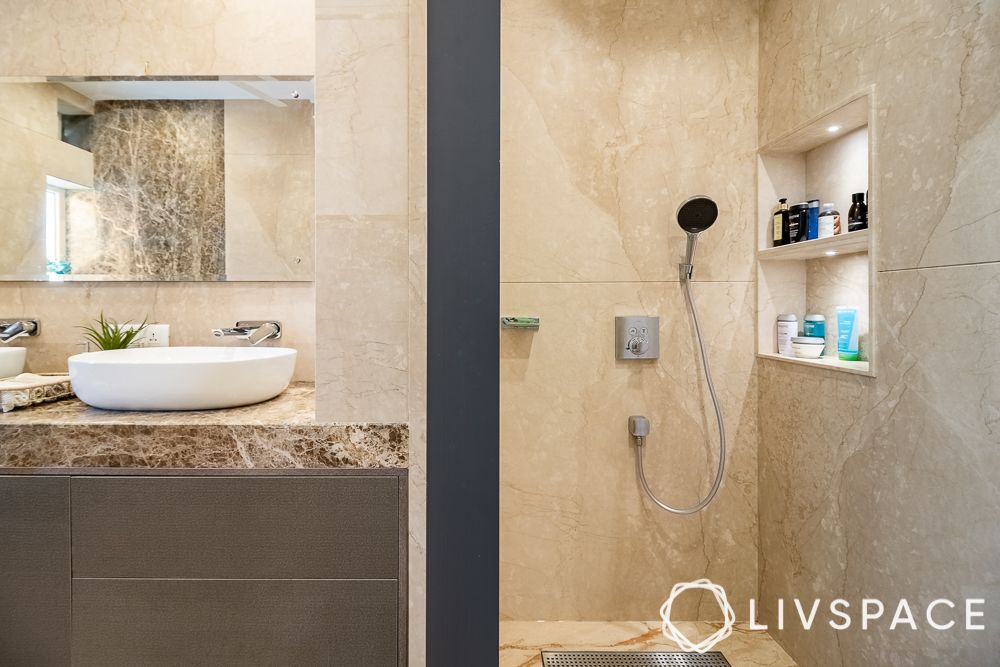 Dhruv is of the opinion that bathrooms, being personal spaces, needs to be reflective of his personality and aesthetic. Annu read this quite well and opted for a marble finish so the final look could be subtle yet sophisticated. Since Dhruv was keen on getting the finer details right, the marble work was done in such a way that no natural stone lines would be visible. This makes the finished look of the bathroom seamless.
Another structural change in the washroom is the shower area. Dhruv specified that he wanted a larger shower area as he loves relaxing in a hot shower after a long day. Annu was able to do so and carved out storage for the toiletries too so they would be within easy reach.
#5: How To Create a Luxurious Bedroom with the Right Lighting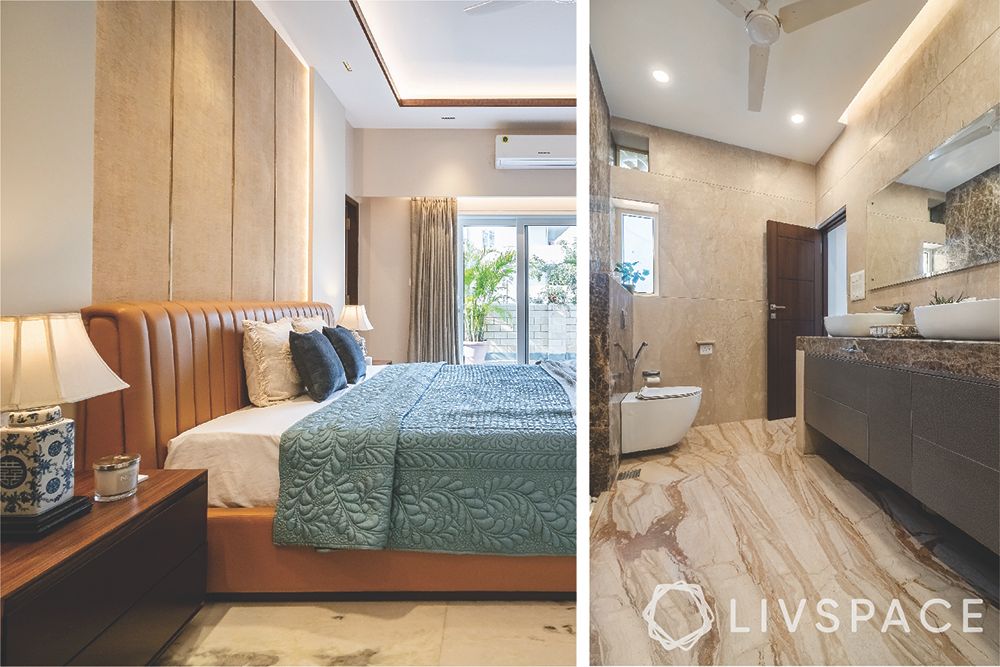 Can you spot any wires in the pictures? That's because all the wiring work is behind the walls. She made sure to hide all the wires during the structural changes phase. The false ceiling has a mix of cove and recessed lights in both the bedroom and bathroom. The bedroom also has accent lights in the form of lamps and the pendant light over the reading corner. Not only are the wires invisible, every switch is conveniently in place. Irrespective of where Dhruv will find himself sitting, he won't be hunting around for a light switch as if it's a recon mission.
#6: The Final Look of This Renovated Bedroom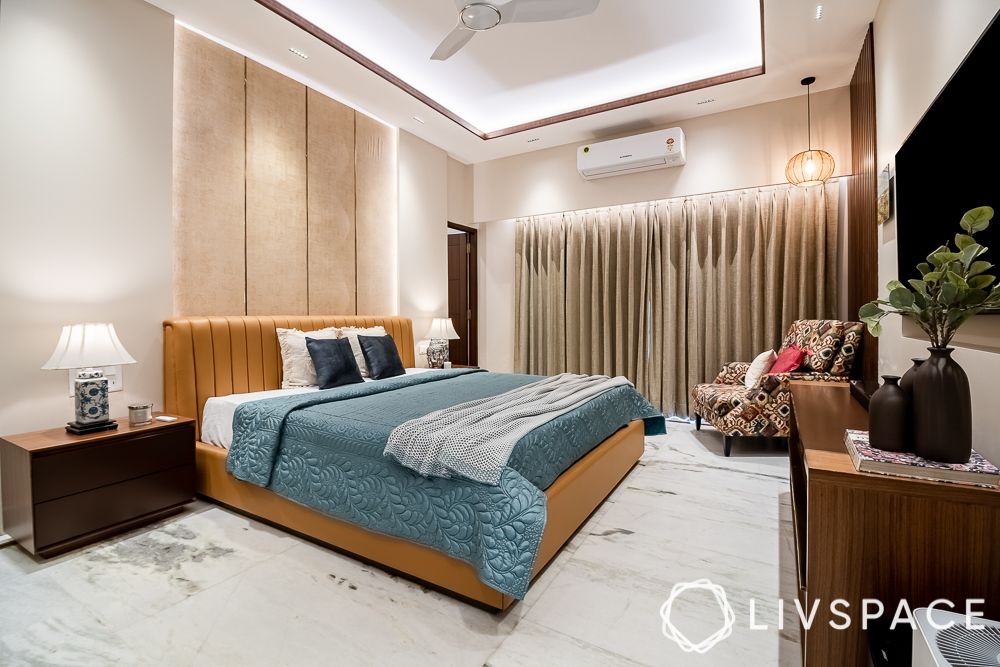 As you can see, the finished look is something that everyone can appreciate and aspire for in their own bedrooms. There are space saving bedroom ideas to look for as well, such as the use of vertical space and the use of furniture with concealed storage. The accent wall behind the bed is another element we would love to talk about. Annu created a fake gypsum wall to carve out the accent wall. This accent wall also has panelling that makes for a striking picture when lit up with cove lighting. Washed in beige, this wall is perfect to display any artist's painting.
In the Words of Our Interior Designer…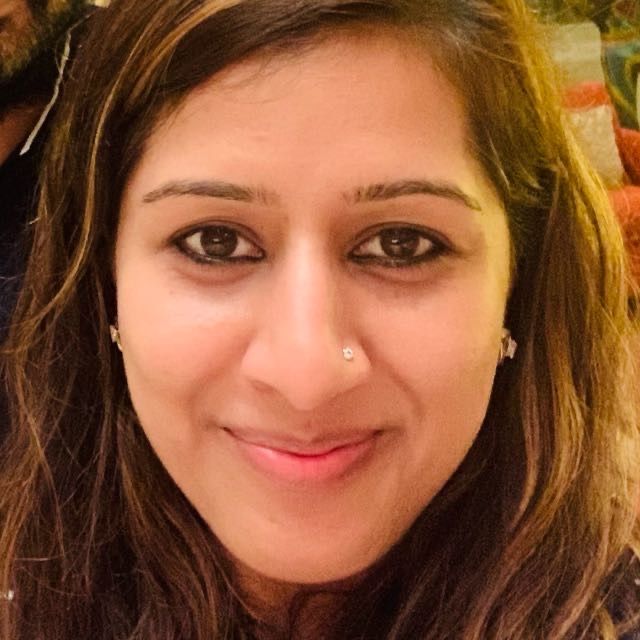 Annu loved this project. She cited that she put forward a lot of suggestions and also learned a lot from Dhruv's perspective. Here's what she has to say.
Sure enough, you can see the dedication that went into transforming this home into a luxurious abode. Want to know more about how to create a luxurious bedroom? You may find your next inspiration in this Luxury 4,800 sq. ft. Penthouse in Noida That is High on Comfort. Feeling inspired? Reach out to us!
How Can Livspace Help You?
We hope you found our ideas useful! If you want beautiful interiors for your home, then look no further. Book an online consultation with Livspace today.