Glamour is often most effective when it is understated. This 3BHK in DLF Park Place Gurgaon is testament to this fact! Mr and Mrs Kapur, owners of this luxurious apartment, wanted a home that was modern, unique, stylish and within their budget. Low cost house design can be just as posh and that's where we come in!
Livspace designers Sahil Suri and Shrishti Anand spent time understanding the couple's personalities, requirements and the purpose of each room in the house before they started working on this low budget flat interior design. Hear it from Sahil and our client Vikas Kapur, as they take you through this splendid apartment that looks expensive, but is actually quite affordable!
We caught up with Sahil and Shrishti to understand what the Kapurs had in mind with respect to their renovated home design. Mr and Mrs Kapur wanted their home to be a blend of new designs and their existing furniture. At the same time, each room had to be fresh and unique. Also, the family of three (the Kapurs and their son) were avid travellers and wanted the curios that they had collected across their travels to be displayed. Basically, they wanted their home to have the finesse of an upmarket home but within their budget. Read on to know how Sahil and Shrishti did it.
#1: Glam velvet upholstery BUT in neutral colours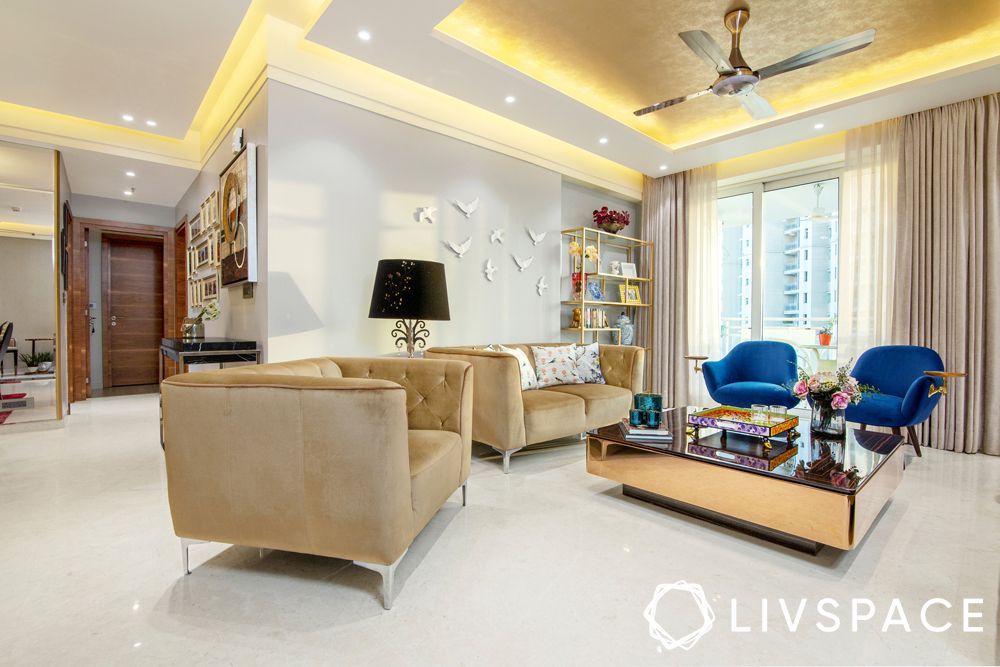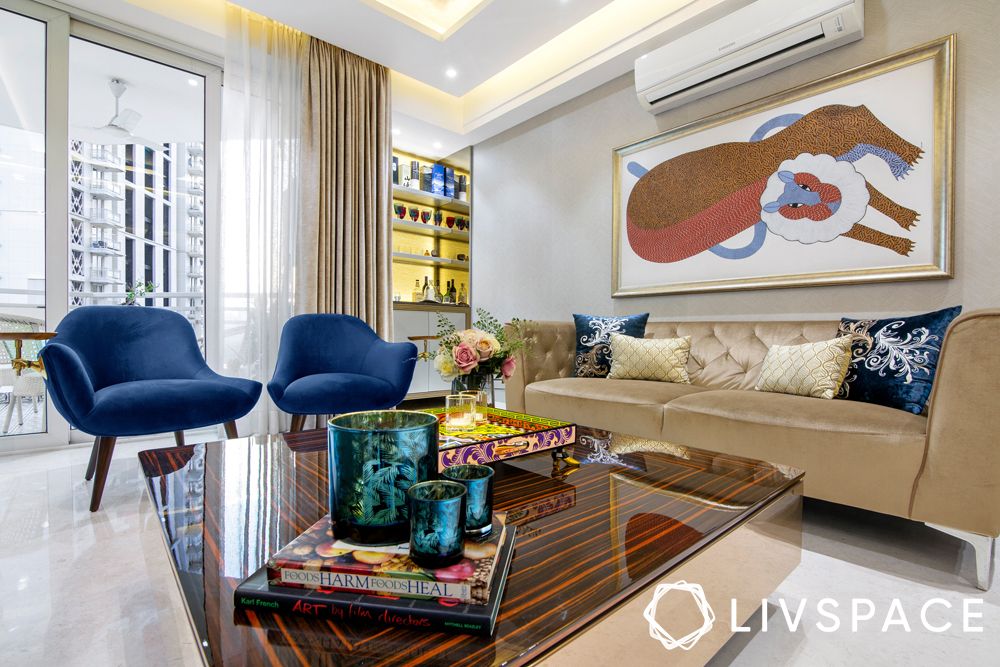 Nothing spells sheer opulence like velvet! Vikas and Nidhi Kapur wanted their living room to be uber comfortable with some formal elements. Sahil and Shrishti decided to go with velvet upholstery to give the living room a decidedly royal look. However, by choosing muted colours like beige, they kept the room subtle and understated. The neutral colour scheme in the living room is broken by a pair of gorgeous royal blue velvet armchairs.
#2: Glossy finishes BUT in dark colours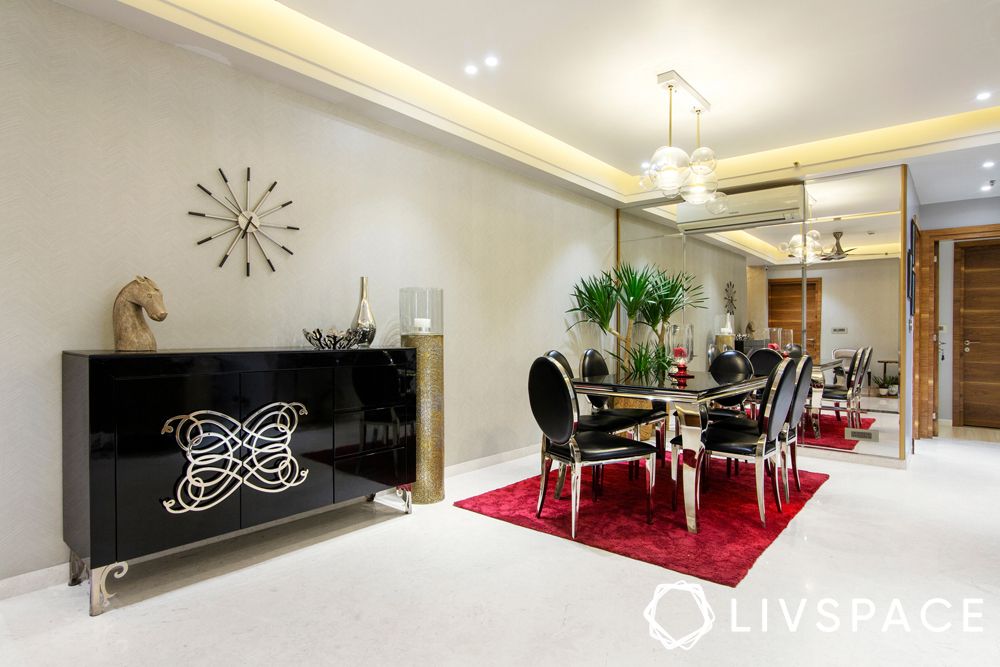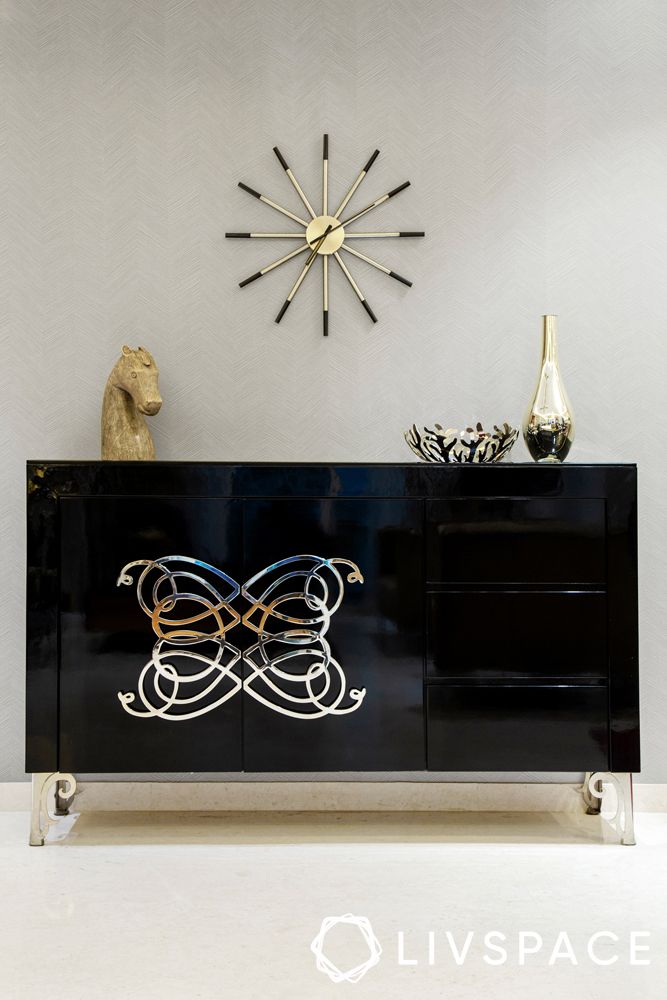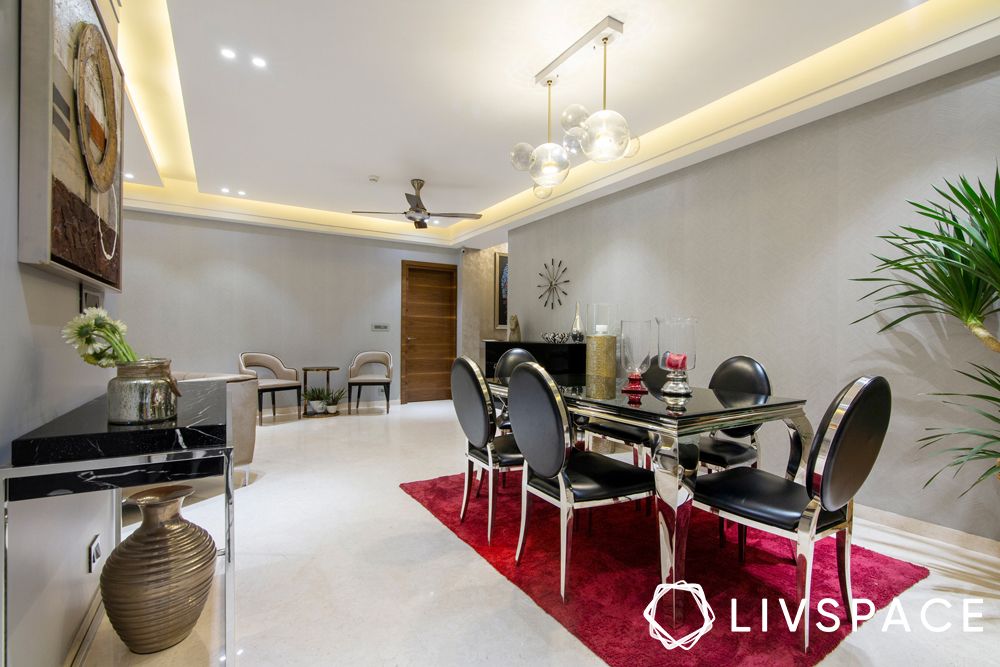 If you want a glam but low cost house design, then gloss is your best friend here! Glossy finishes for furniture don't cost much but look like a million bucks! However, too much gloss can end up looking over the top. This is where Sahil and Shrishti proved their expertise by opting for dark colours, which guaranteed a muted but impressive look. A stunning 6-seater dining table in a bold black colour is perfectly offset by a high-gloss cabinet in a matching shade. Also, notice the interesting pattern on the cabinet that adds an element of quirkiness to this formal dining room.
#3: Simple false ceiling to light up every corner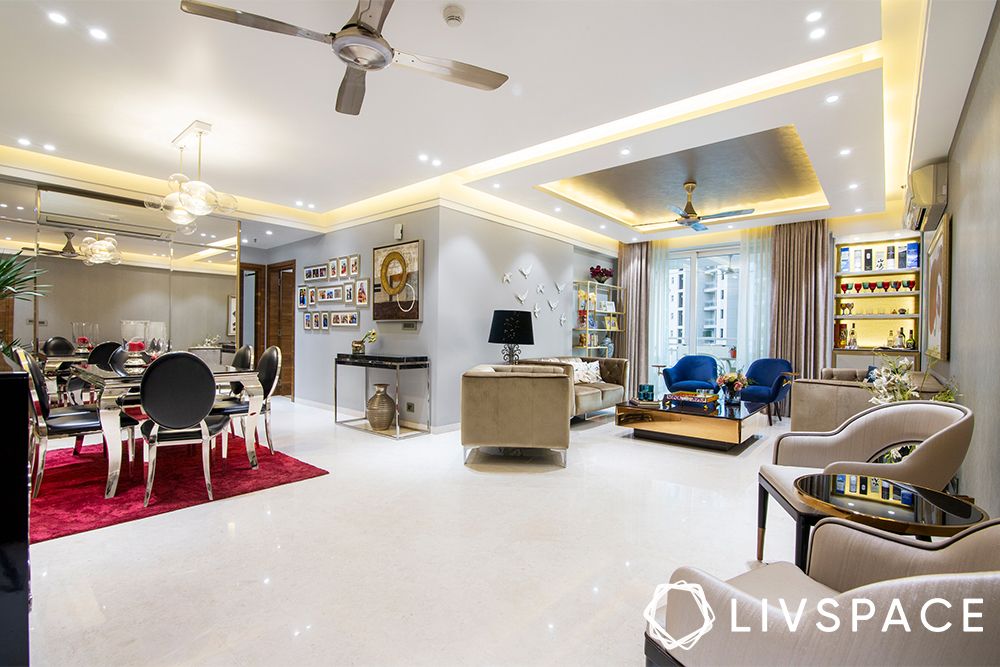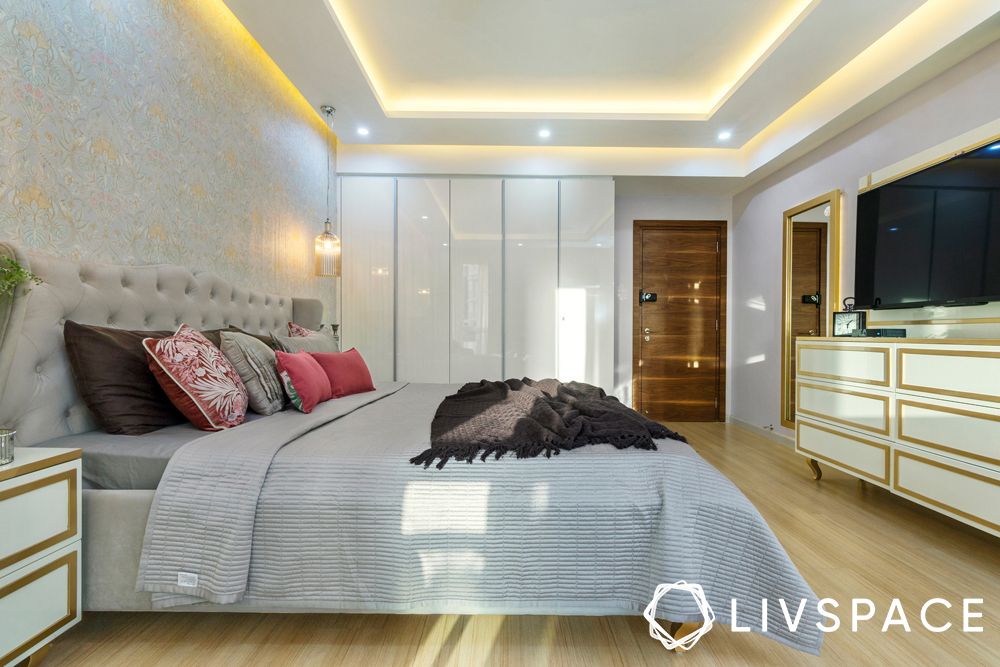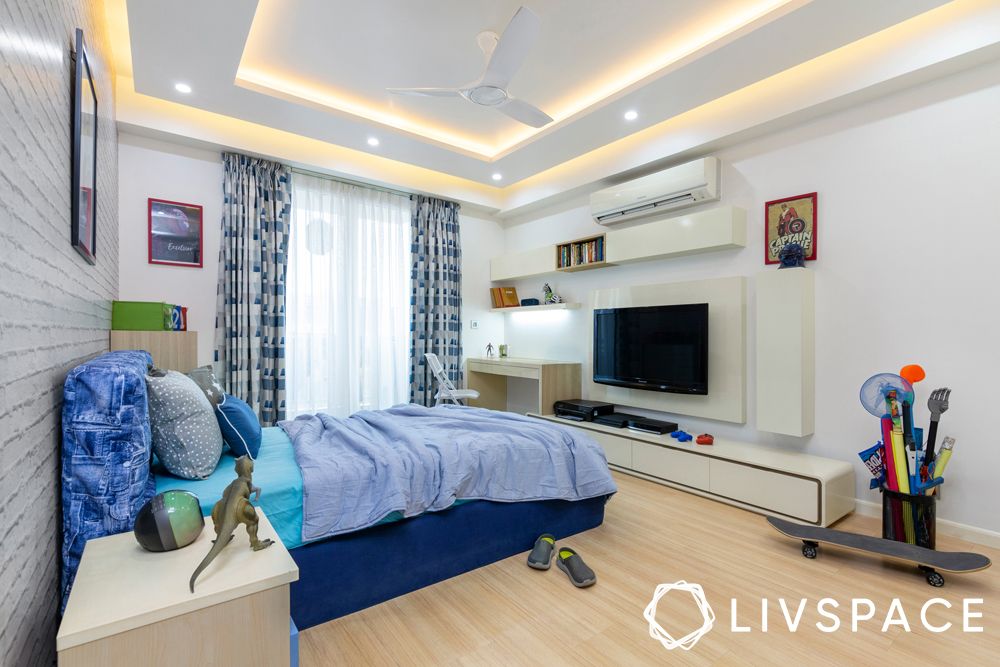 When you want a posh home, it is but obvious that lighting will play a pivotal role. Sahil and Shrishti wanted to use lighting to up the glam quotient while keeping it subtle. So, they decided to install false ceilings throughout the home, with ambient lighting. Each and every room in this 3BHK has a simple false ceiling in a continuous design, with recessed lighting, whether as a demarcation between the living and dining areas or a source of additional brightness in the bedrooms.
#4: Grey to neutral walls decked in tasteful artwork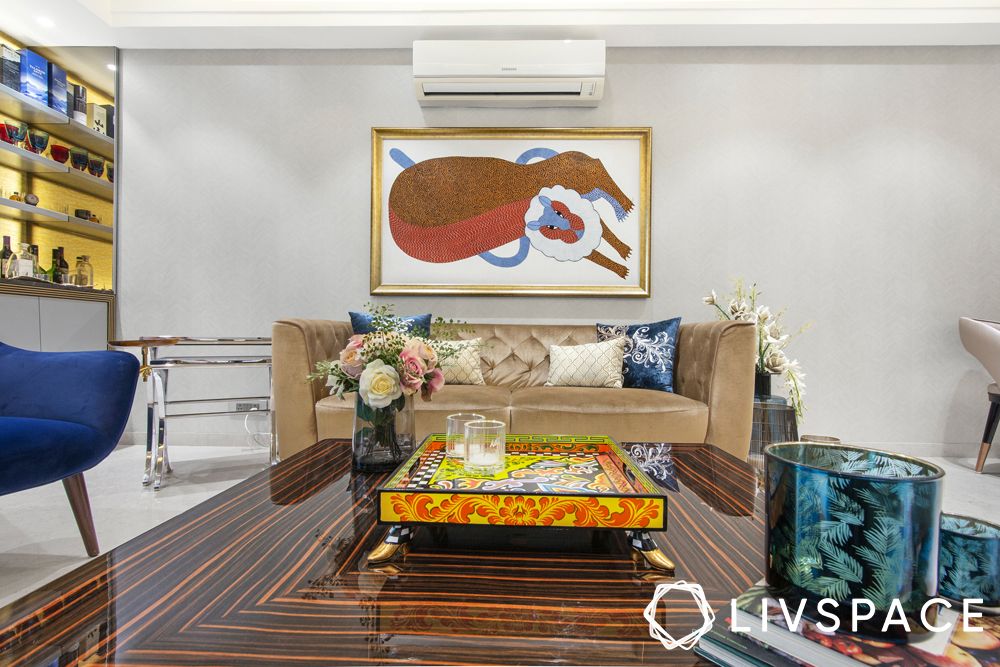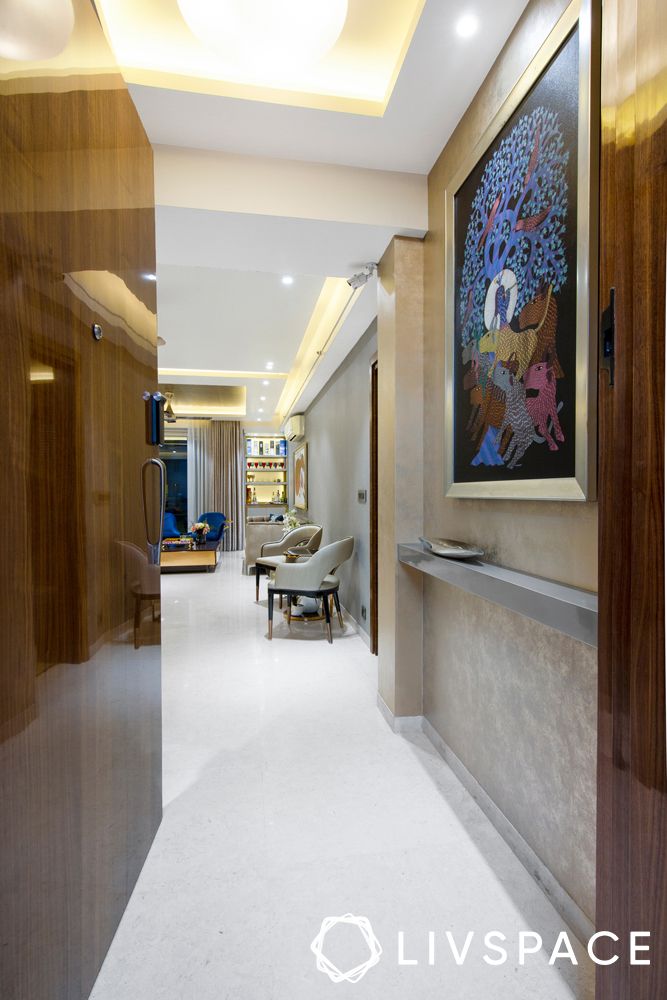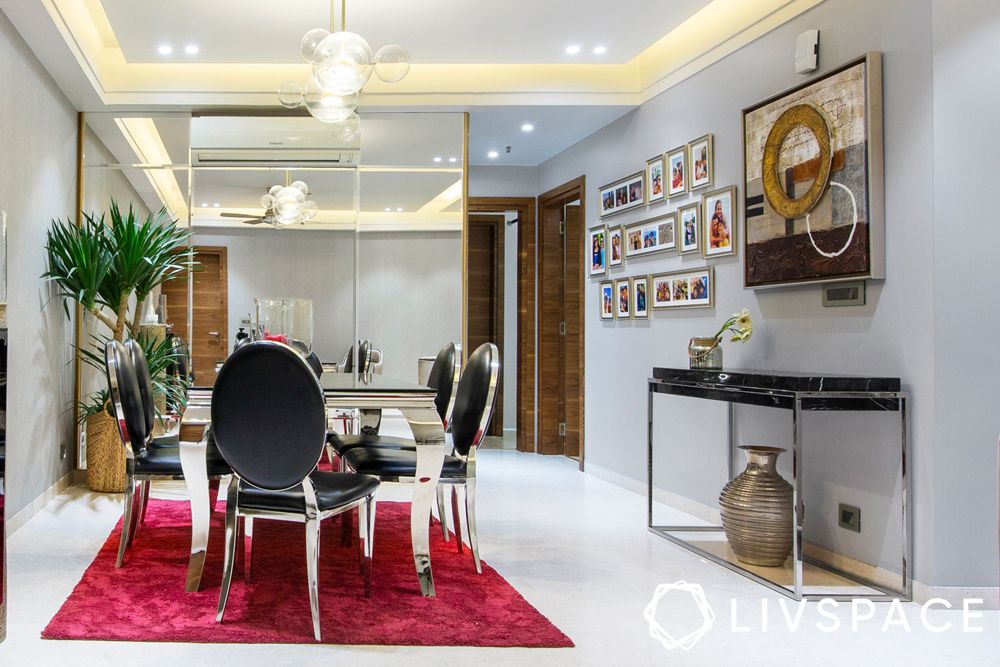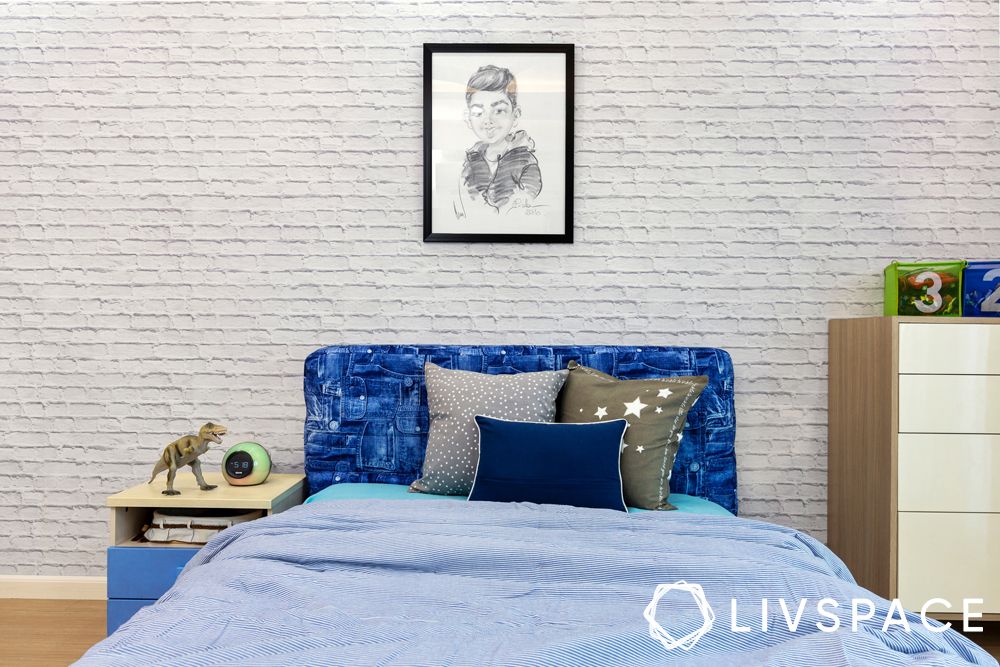 When you are looking for low cost house design ideas, there isn't much that you can do to your walls. Or is there? In keeping with the rest of the house, the Kapurs wanted their walls to be unique and aesthetic. Wall trims and wallpapers would have upped the cost. Sahil and Shrishti kept the walls simple and elegant by opting for greys and neutrals. They decked up these subtle walls with some stunning art pieces. These artistic additions not only added a plush look but also personalised each and every room in the house.
If you enjoyed touring this glamorous and low cost house design in Gurgaon, check out this stunning home that will never go out of style!
We love hearing from you! Drop your comments and suggestions at editor@praveenlivspace-com