When GC Subramanian approached Livspace for his 3BHK home design for his house in Gurgaon, there was an ongoing global pandemic. He and his wife had one clear vision for their 3BHK interior design — a comfortable abode. As most of us discovered during the pandemic, having a home based on comfort should be everyone's first priority. Thus, Livspace approached this 3BHK house design with the aim of creating a home high on the comfort factor, and it was something that the homeowners appreciated:
Watch the full video here:
The best thing about this 3BHK home design are the several craft-centric ideas it incorporated. We have jotted them down for our readers. Here are full details of this 3BHK interior design that you need to know about — and steal!
#1: Douse Your 3BHK Home Design in Neutrals but with Interludes of Colour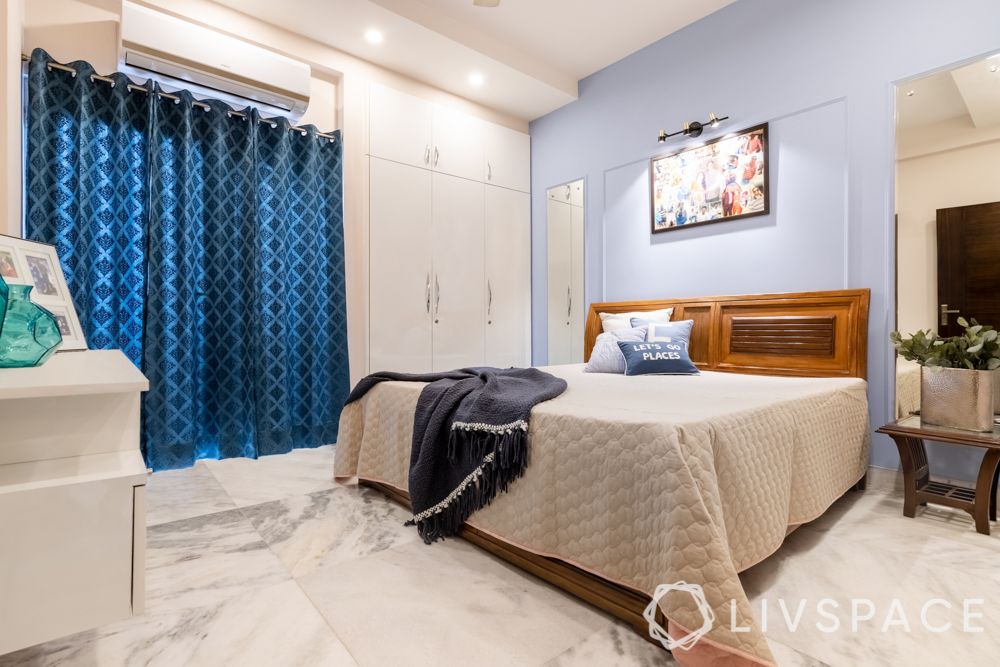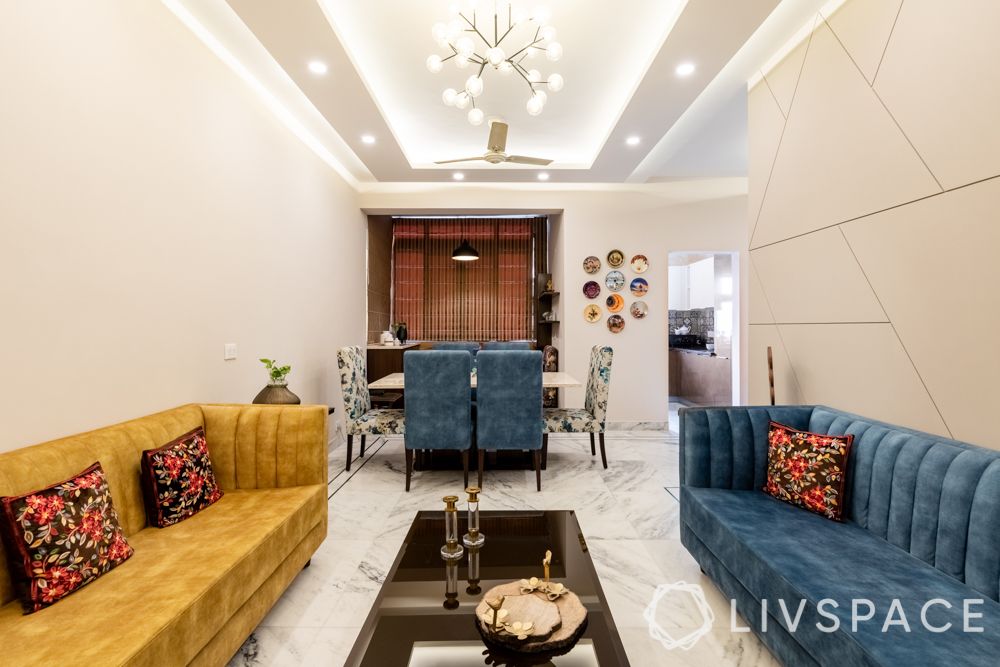 There are many benefits of using neutrals around a house, as has been done for this 3BHK home design. For starters, neutrals open up the space, making the room look more airy and spacious. Not to mention, they also create colour continuity, as seen in this 3BHK house design. Neutrals also allow you to add in pops of bright bold colours if you wish to and they help ensure any kind of style accent stands out. For example, the washes of blues easily stand out against the neutral beige backdrops. Speaking of which, the touch of blues in every room forms a common theme throughout the house.
#2: Add Undertones of Desi Glam in the Living Room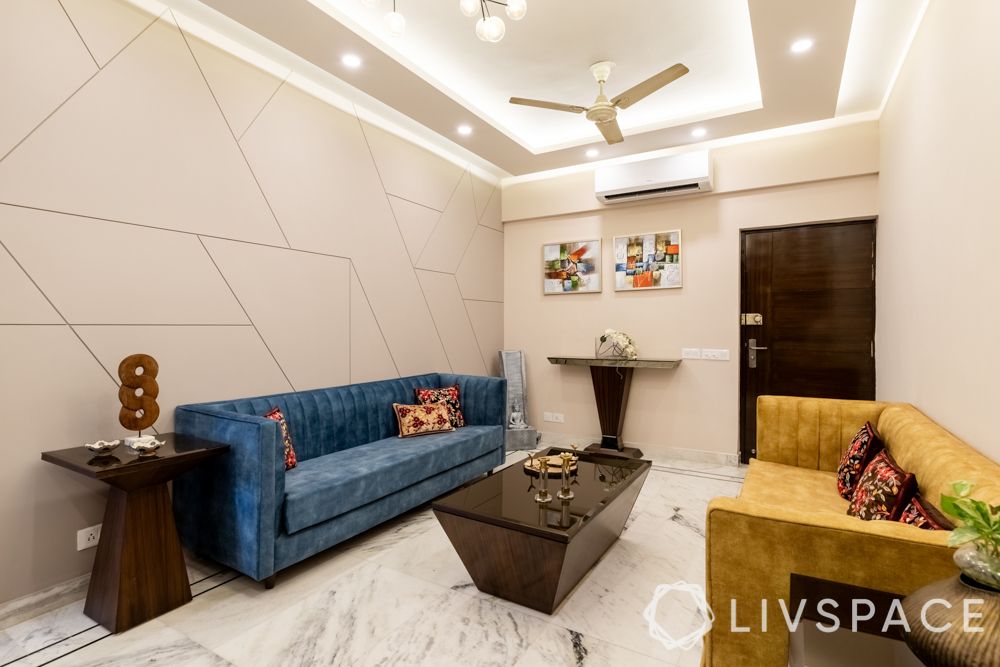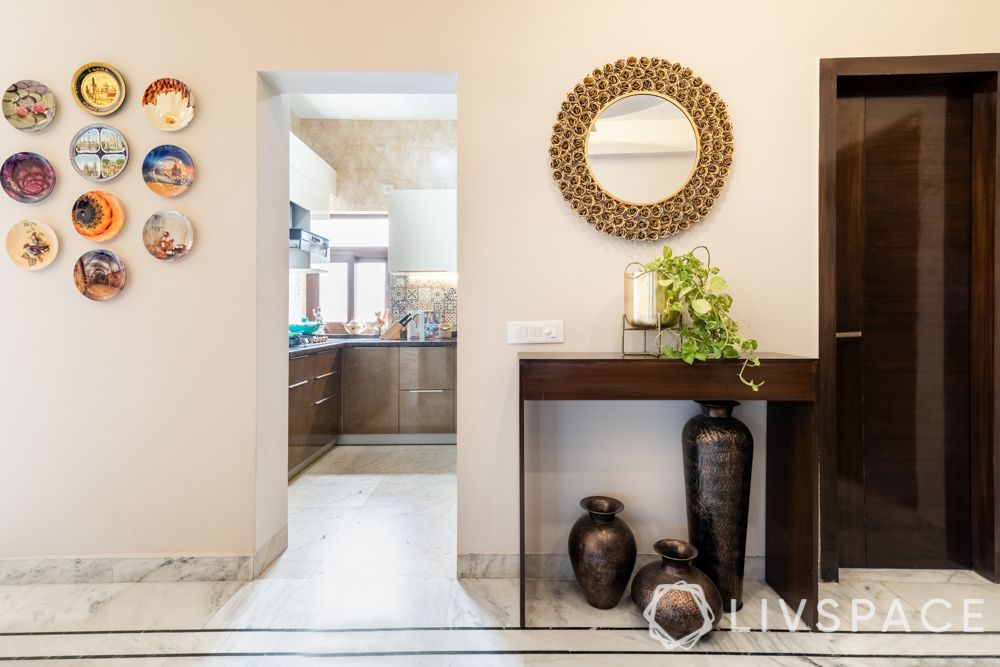 While this 3BHK home design flaunts a contemporary aesthetic, it also has a touch of tradition, which is evident in the living room with its carefully placed home decor. Contemporary style meets vintage glam in perfect harmony in the living room. The grooved chevron-patterned back wall behind the sofa is modern but it goes well with the traditional coffee table, the embroidered cushions and the bronze pots, all trademarks of a more old-world look. Then there are the wall plates on another living room wall which contrast well with the side table, with antique-looking pots beneath it and a golden-framed mirror above it.
Also Read: Top 15 Indian Interior Design Ideas to Add That Desi Drama to Your Home
#3: Work in a Cosy Corner into the Space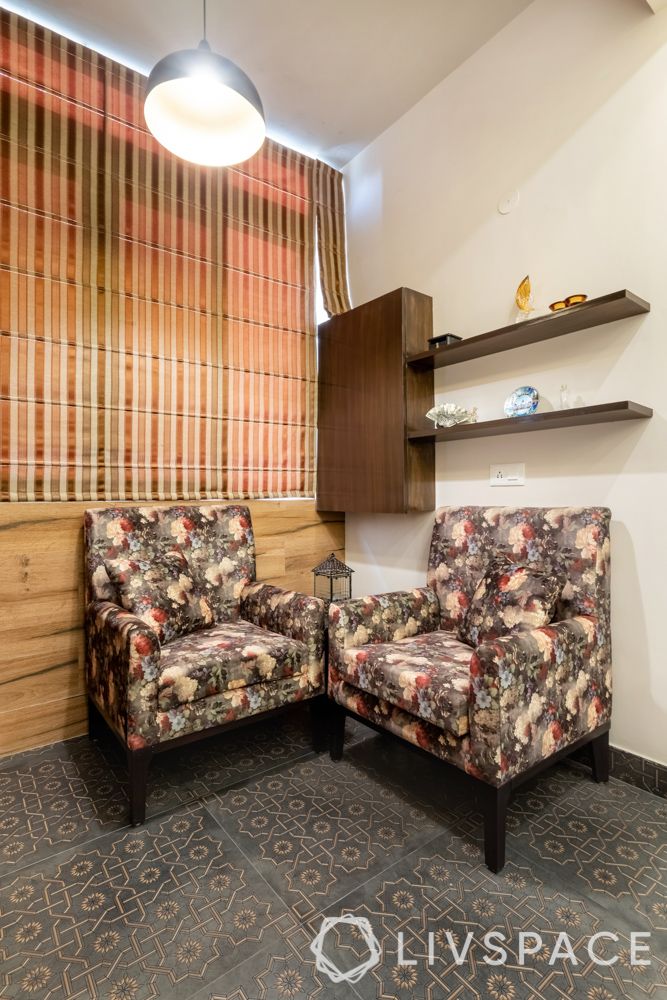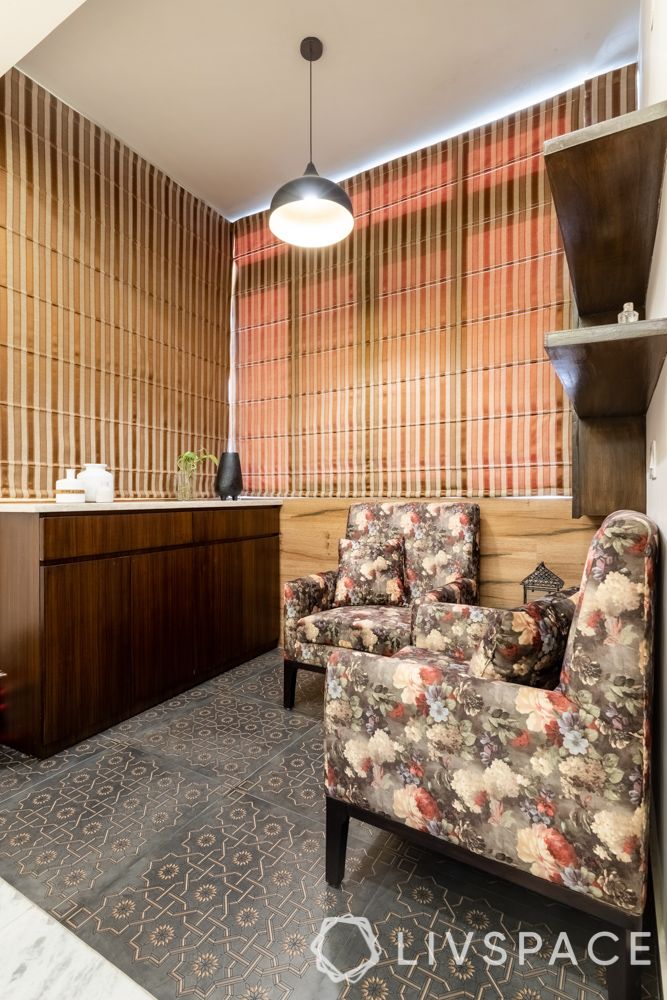 Tucked behind the dining table is this cosy corner that is sure to offer design goals! Mr Subramanian and his wife especially wanted a corner dedicated for evening tea. Our designers made sure to make this nook as comfortable as possible. The chairs are as plush as they come and their floral upholstery is a bright spot against the warm brown flooring. The flooring flaunts a somewhat traditional aesthetic, establishing the thematic continuity of the traditional touch in the living room, to this spot too. What's more, the designers were also able to install storage in this small corner as well in the form of a hanging cabinet and storage shelf.
If you are inspired to get something like this for yourself, here are 9 Ways to Transform Boring Corners
#4: Create an Elder- and Child-Friendly Open Layout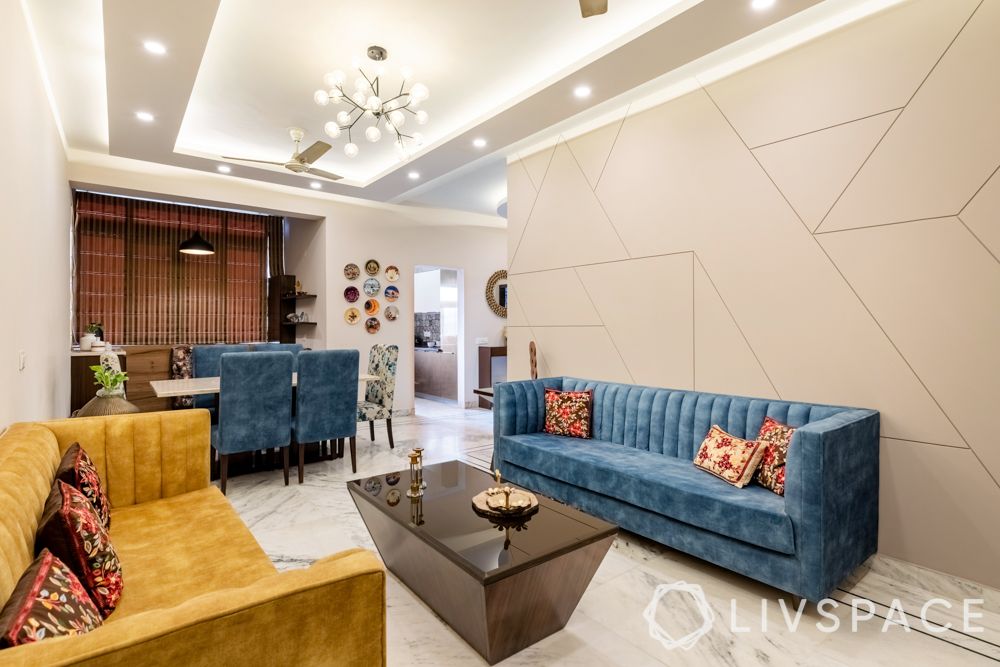 Any Indian household needs to be equipped with design elements that can cater to visiting guests of all ages. This 3BHK home design thus has an open design, which is elder- and child-friendly. It also helps make the space airy and allows for ease of movement, not to mention giving the appearance of being spacious and large.
Pro Tip: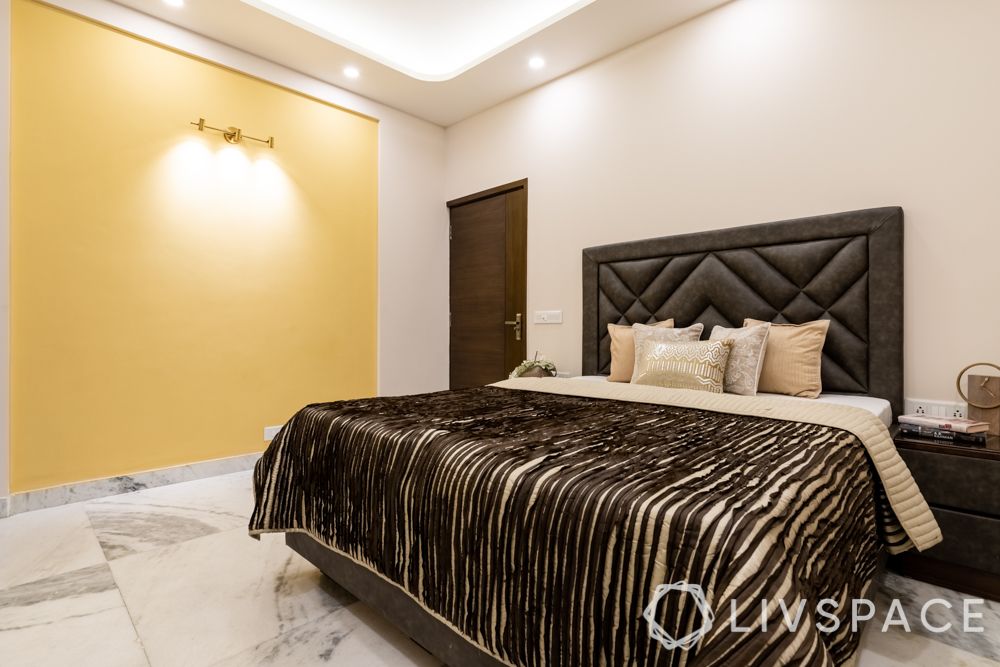 To make the bedroom elder-friendly, the designers opted to use headboards, as they are a safer option when compared to open beds. However, if you do implement this in your space, make sure that the length of the headboard does not make the room appear smaller. Make sure to whip out your measurement tape and talk to your designer to decide on the optimal size of your bedroom headboard.
Also Read: How to Design a Perfect Child and Elderly-friendly Home?
#5: Create a Kitchen That Mixes Textures Like a Pro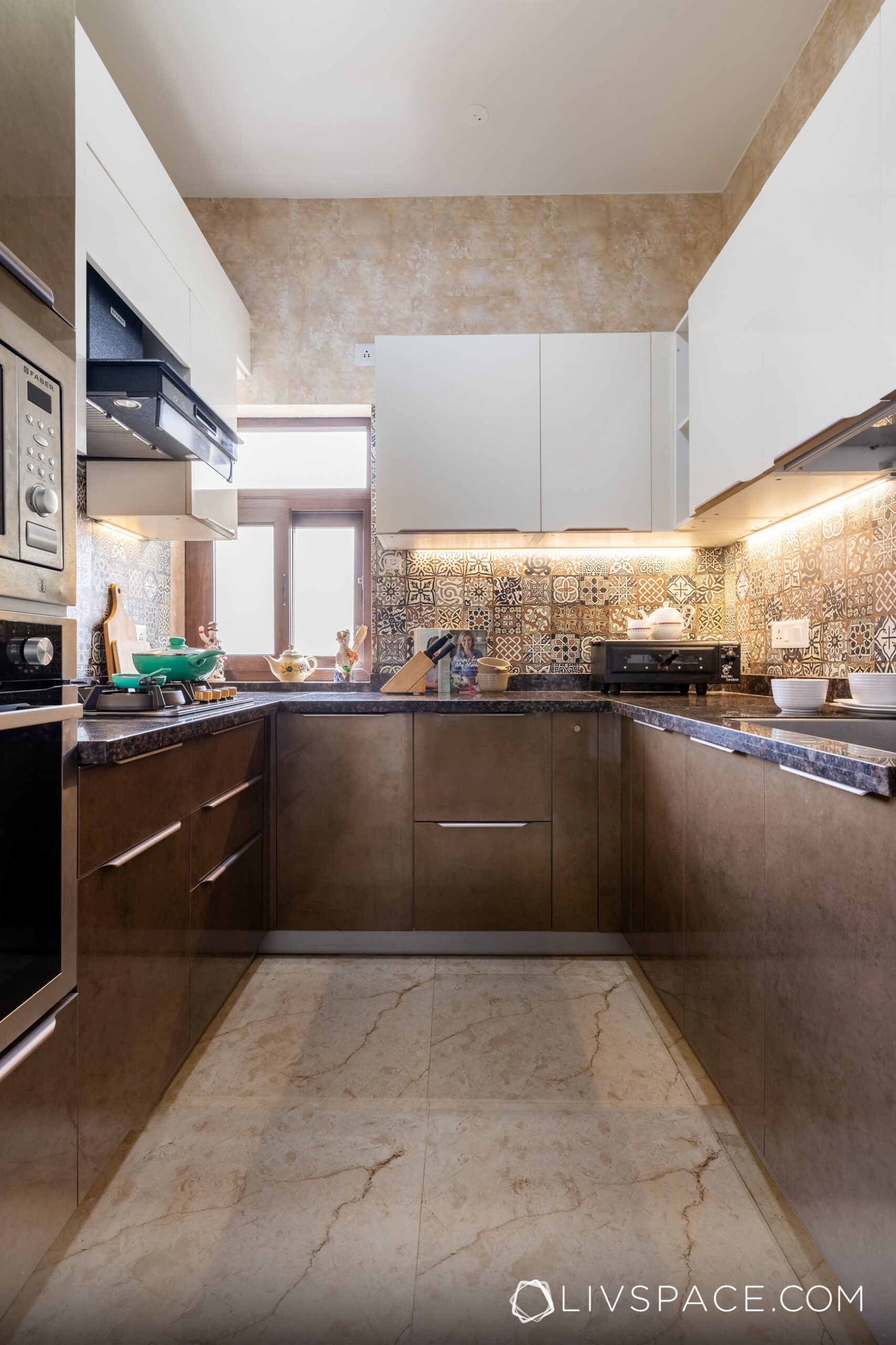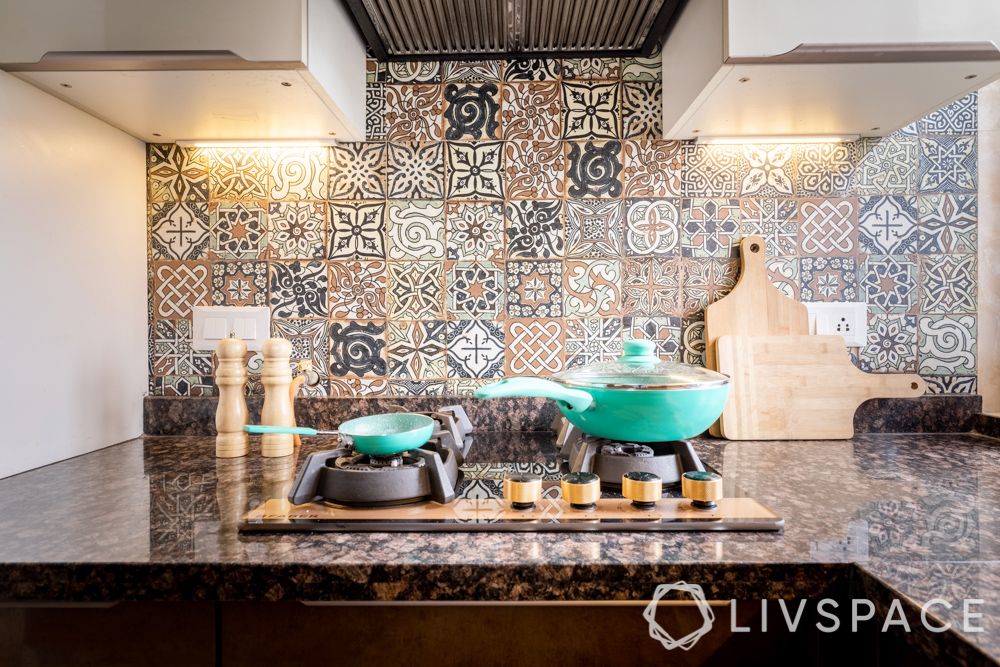 The U-shaped kitchen of this 3HK home design has much to flaunt. Firstly, the automated appliances installed here make this kitchen a functional masterpiece. Secondly, the two-toned space exhibits glossy finish laminates that make it low maintenance. The handless upper cabinets have a seamless look while the lower cabinets have wood-like laminate finishes so that they are easy to clean and resistant to wear and tear. Lastly, the highlight of the space is the Moroccan tiles backsplash that adds an oomph to the mellowed neutrals of the house.
#6: Use a Blend of Lighting Options to Add Some Style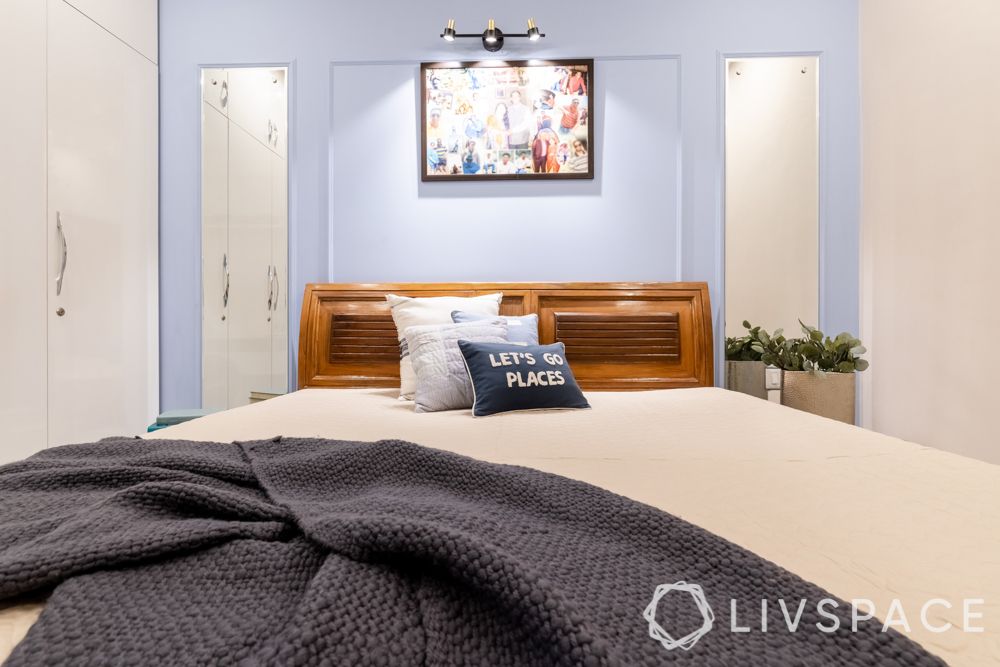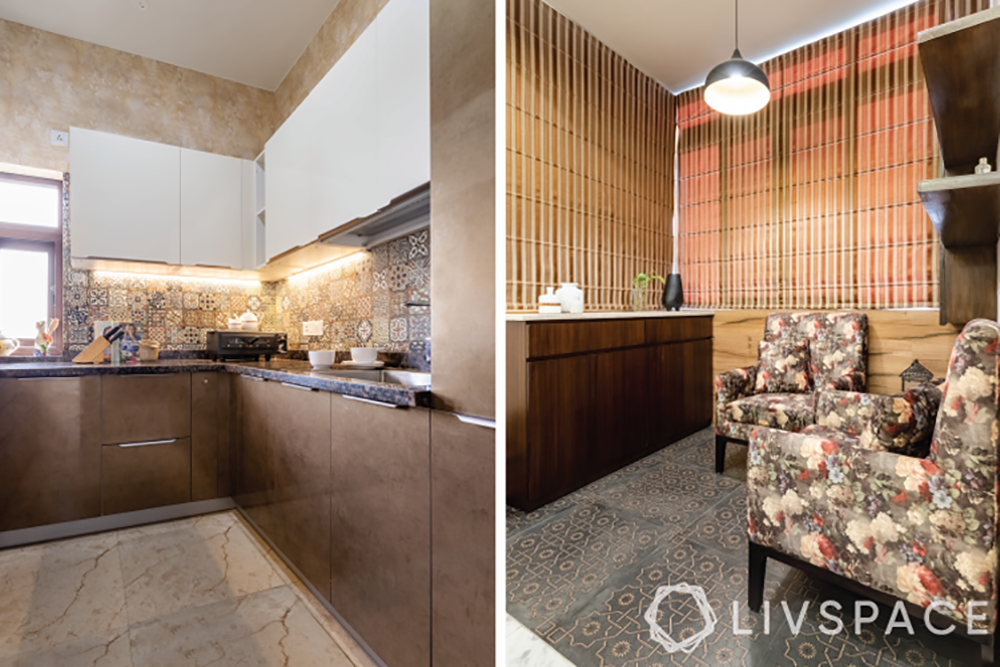 The homeowners were excited with the way the lighting in their house drastically improved after the renovation. This is because our designers made sure that they used a mix of lights that lit up every nook and cranny of this 3BHK home design. For example, the pendant lights create a focused illumination in the cosy corner. The LED light creates an ideal space for the family pictures in the kids' bedroom. Likewise, the task lighting under the kitchen cabinets serve to lighten dark corners. Other than this, there is a mix of recessed lighting and decorative lighting fixtures, like the chandelier in the living room.
It is no wonder then that the homeowners were happy and satisfied with the quality of work and personal detailing Livspace offered them. Wondering how our other customers feel about working with Livspace? You can check out the Livspace reviews here!
How Can Livspace Help You?
We hope you found our ideas useful! If you want your home to be just as beautiful, then look no further. Book an online consultation with Livspace today. Delivering safe home interiors has been our No. 1 priority. Click here to find out how interiors are being delivered following all safety protocols.