When we asked our client Rohini Kamat to define what the idea of home meant to her, she told us, "home is a place where my daughter has enough place to play and my in-laws can move about without bumping into things." In short, she needed a 3BHK interior plan that was safe for children and convenient for the elderly. Our interior designer Jyoti Phadke has adapted this definition as a blueprint while designing this Bengaluru home.
Rohini and her husband Keshav were keen on safety. So Jyothi dedicated a major portion of the 3BHK interior plan to electrical and civil work, which forms the backbone of this exceptionally well-designed home.
Let's take a look at what elements make this home perfectly safe for both children and the elderly so that you can take some cues.
#1: A TV unit with electrical points in a drawer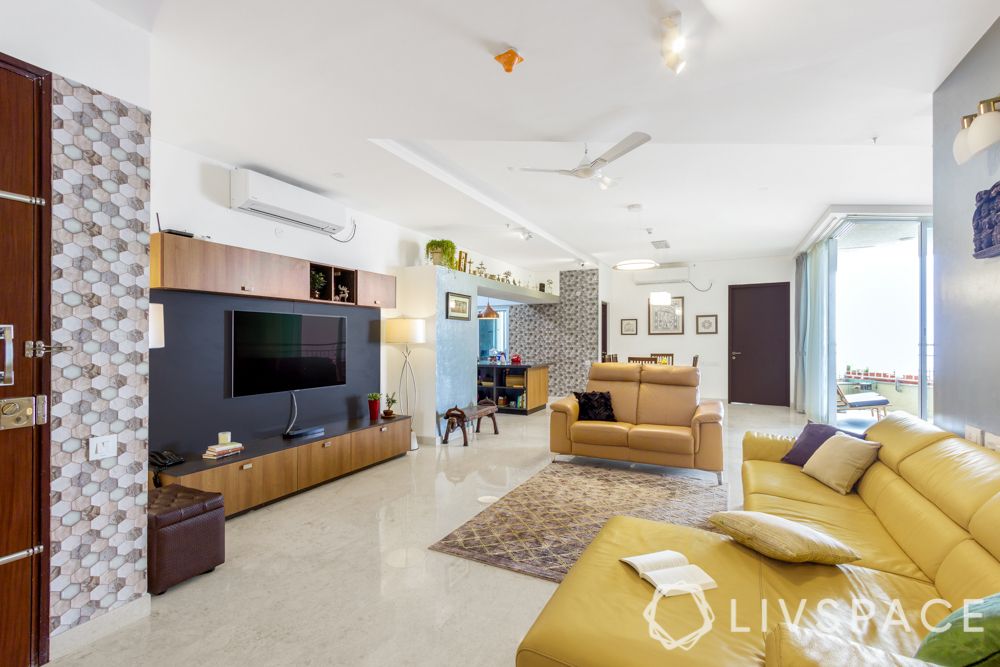 Almost everyone who has set up a house knows the importance of having extra electrical sockets and extension wires. The makeshift way of doing this is to use extension cords and spike busters. However, Rohini did not want any exposed wires or electrical points in the house as there is a 4-year-old around. So, Jyoti customised the TV unit to include all these extra sockets inside a drawer in the base unit. And do you know what the best part about this 3BHK is? The drawer is still usable for storage!
#2: In-built induction cooker and charging points on island counter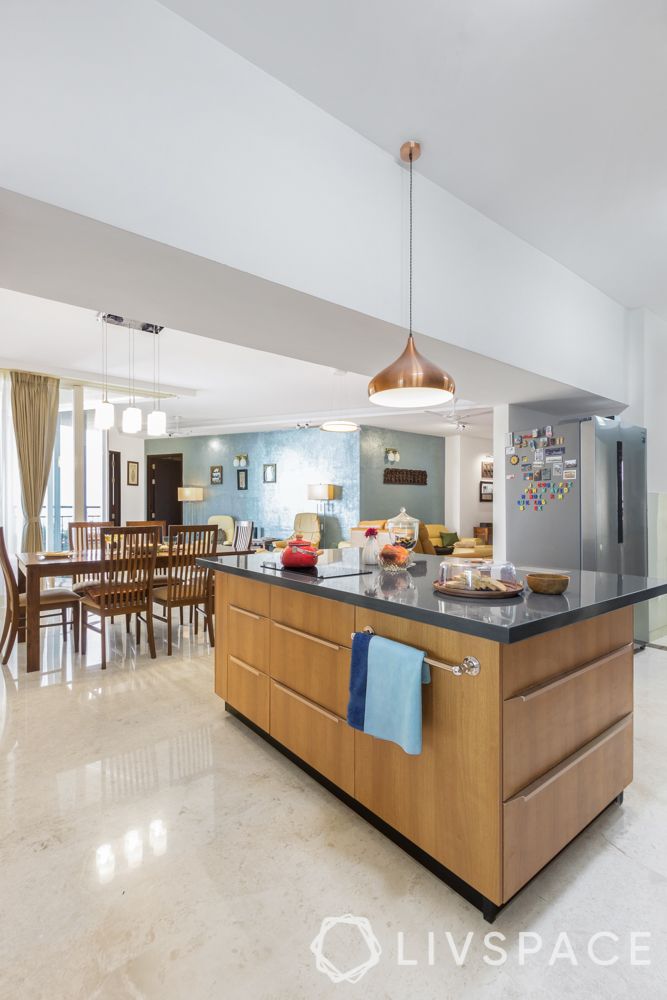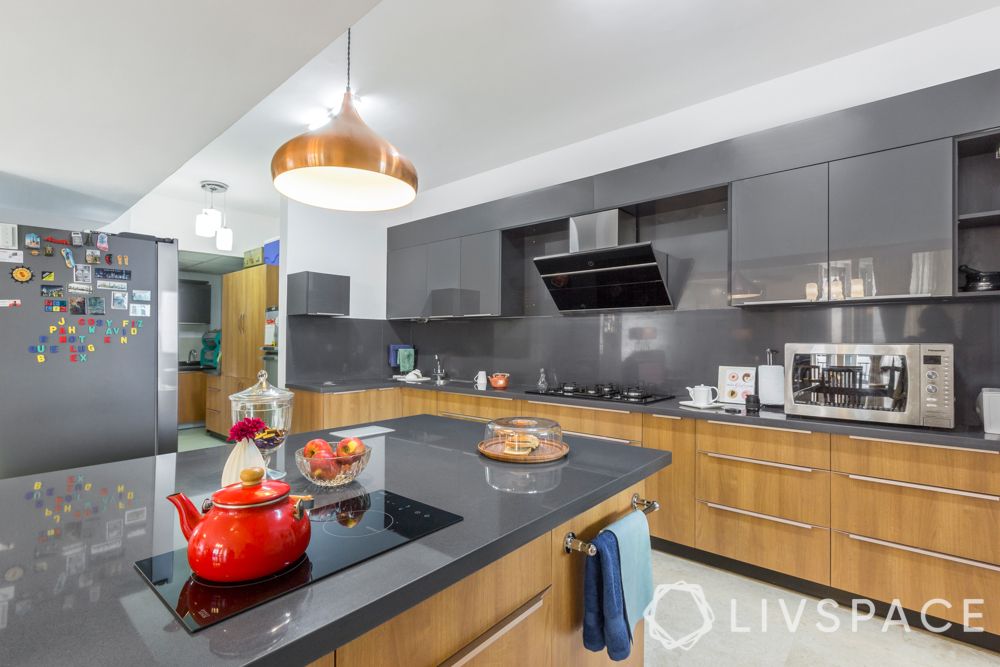 Firstly, the kitchen in this home did not originally have an island counter; Livspace built it later on Rohini's request. And when building an island, why not make it super functional too! So, we installed an induction point that the family used for whipping up some coffee or a quick breakfast. The island also has concealed electrical points to conveniently use appliances like hand-blenders or to simply charge your phone.
#3: Integrated garbage unit and elder-friendly cabinets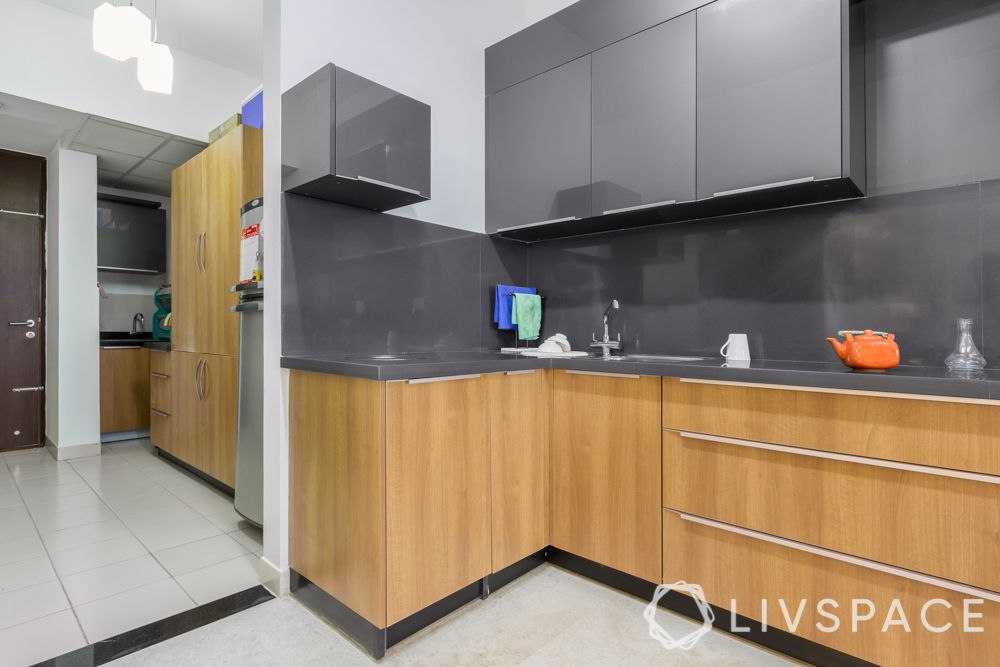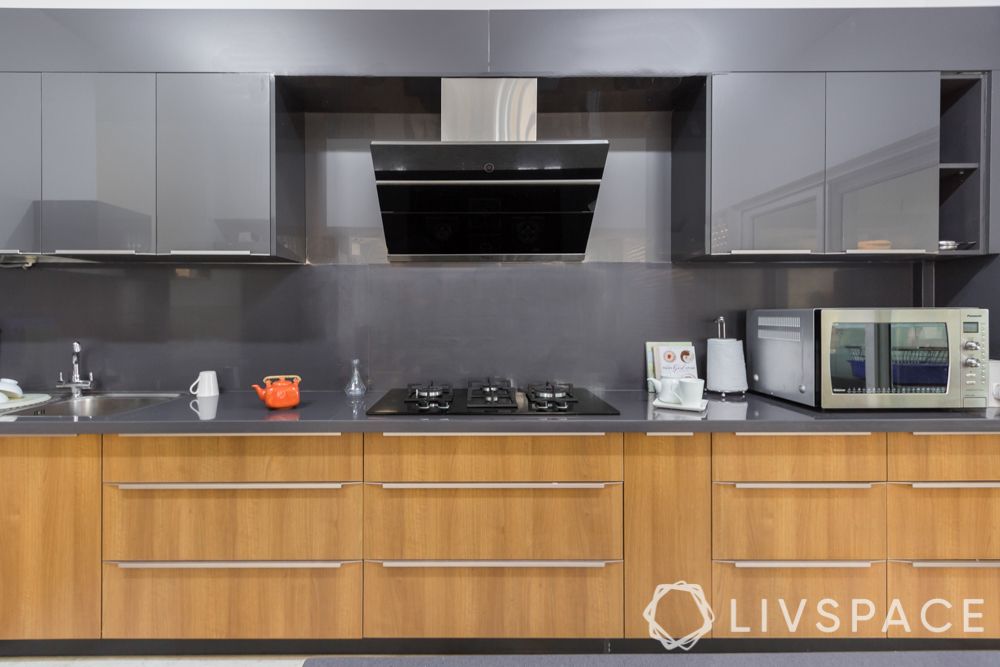 The kitchen in this 3BHK interior plan is unique because it is mainly used by Rohini's in-laws. And she wanted to ensure that they were as comfortable as possible while using the space. Hence, Jyoti installed a special garbage disposal unit integrated with the countertop. Also, if you look closely, all the base cabinets here are drawers so that there is no need to bend and reach out! In short, this is a kitchen designed perfectly for meeting the needs of the elderly.

#4: The safety of a sun bed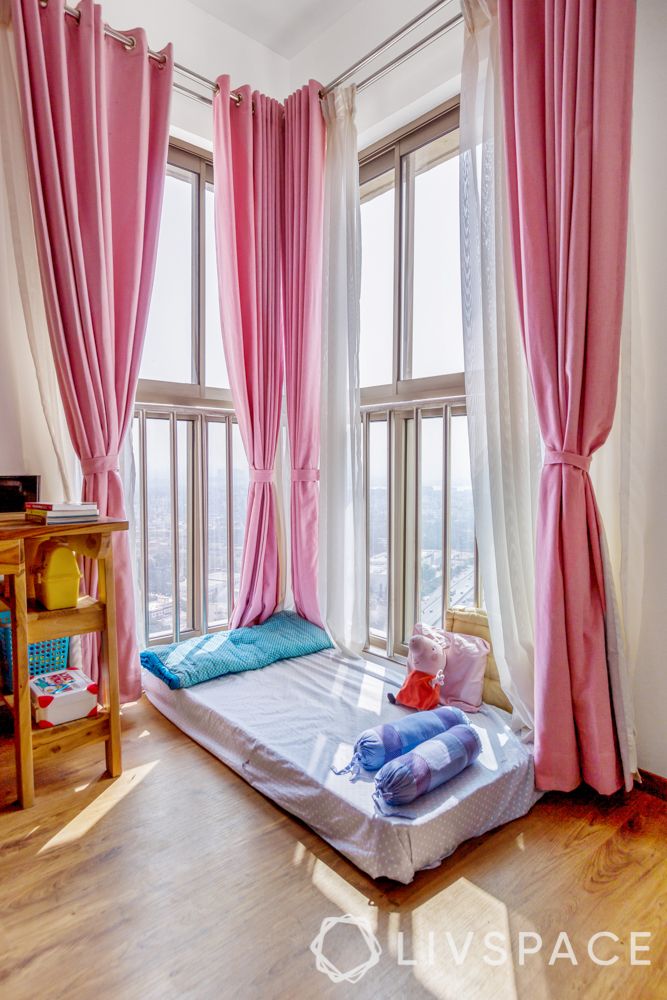 As this 3BHK interior plan is specially attuned to the requirements of the daughter and her grandparents, the little girl's room too has some special features to offer. Both she and we love this sunbed that is nestled in a corner against floor-to-ceiling windows. If you are wondering if it is safe to let the kid play so close to the window, Don't worry because Jyoti added an extra railing outside the window to make it safe for children.
#5: Brighter lights in the parents bedroom
Lights are a largely ignored aspect of safety for elderly people. But it is not an aspect that escaped Rohini's attention. She insisted on setting up brighter and multiple lights in her in-laws bedroom to make up for their eyesight issues.
#6: All the wiring is above the waist level in this elder-friendly room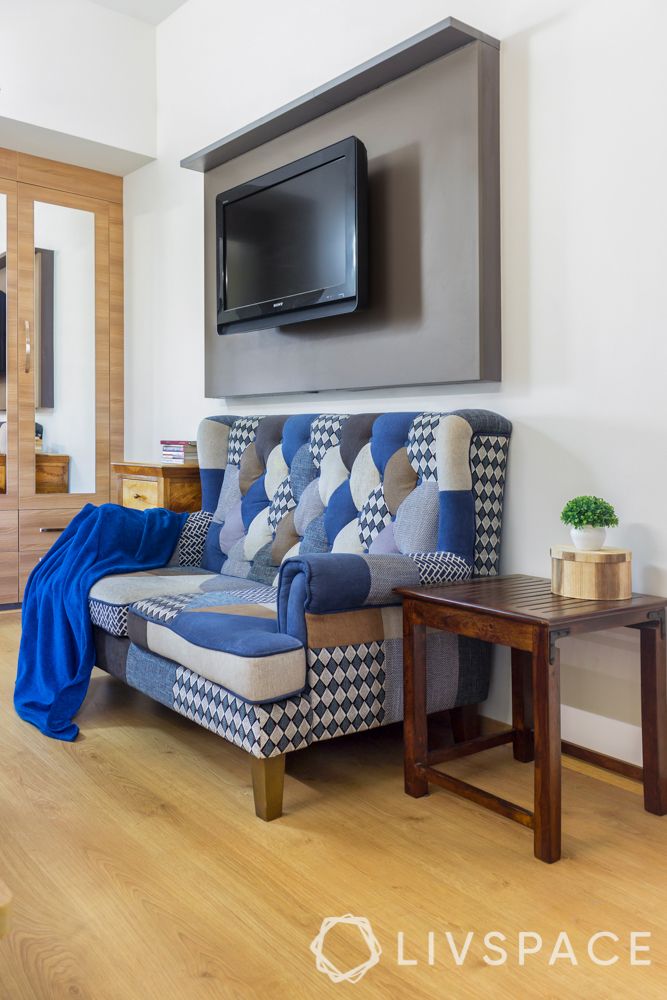 Rohini also wanted her in-laws to have a TV in their room. However, she was very particular that there should be no stray wiring at the ground level that they might trip over. Thus, Jyoti has customised the TV unit to cover all the wires and electrical points and stands above the waist level. Ingenious , isn't it!
If you enjoyed touring this child and elderly-friendly home, also explore this pet-friendly 3BHK in the Tech city.
Send in your comments and suggestions to editor@livspace.com