Thinking of designing a huge home can be scary. When it comes to making your 4BHK interior design look beautiful, many factors come into the picture, including 4BHK flat interior design costs. That is because 4BHK apartments or villa designs have their own requirements. A 4BHK flat interior design can differ from a modern villa design. But it is nothing to be scared of! We have a detailed breakdown of how you can easily calculate the cost of your villa house design or your 4BHK flat interior design.
4BHK Flat Interior Design Cost vs. a 4-Room Small Villa Interior Design Cost: Differences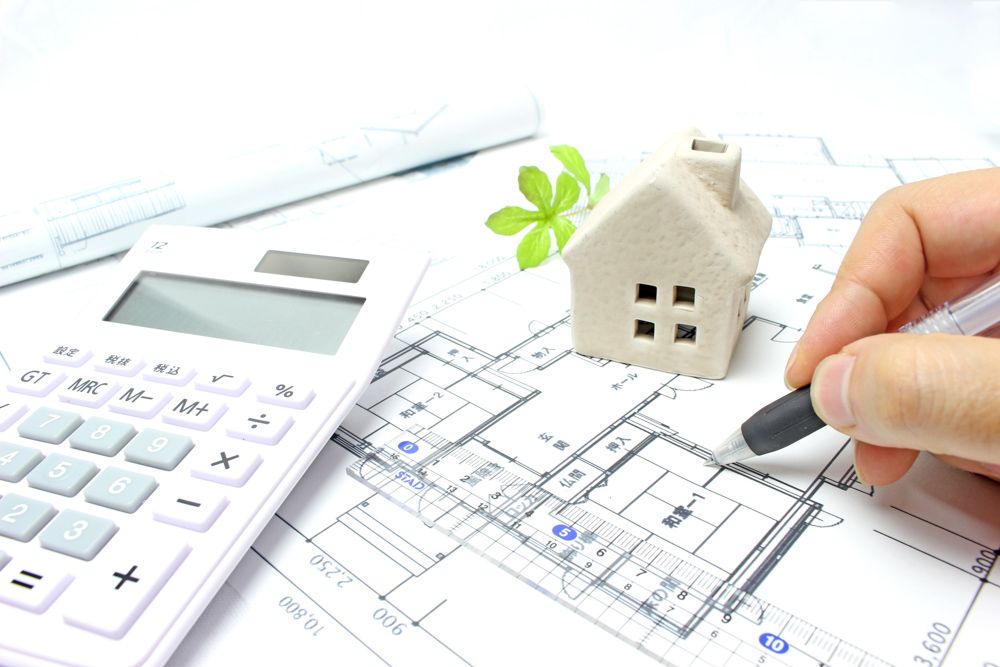 Let's talk about the difference between a small villa design cost and a 4BHK flat design cost. For starters, a 4BHK flat design's average cost in India is between ₹1,200 to ₹1,700 per sq. ft. area. For a 4BHK house design, the minimum cost is ₹1,500 per sq. ft. Thus, this puts a villa's design cost on the higher side.
How a 4BHK Flat Interior Design Cut Down Costs?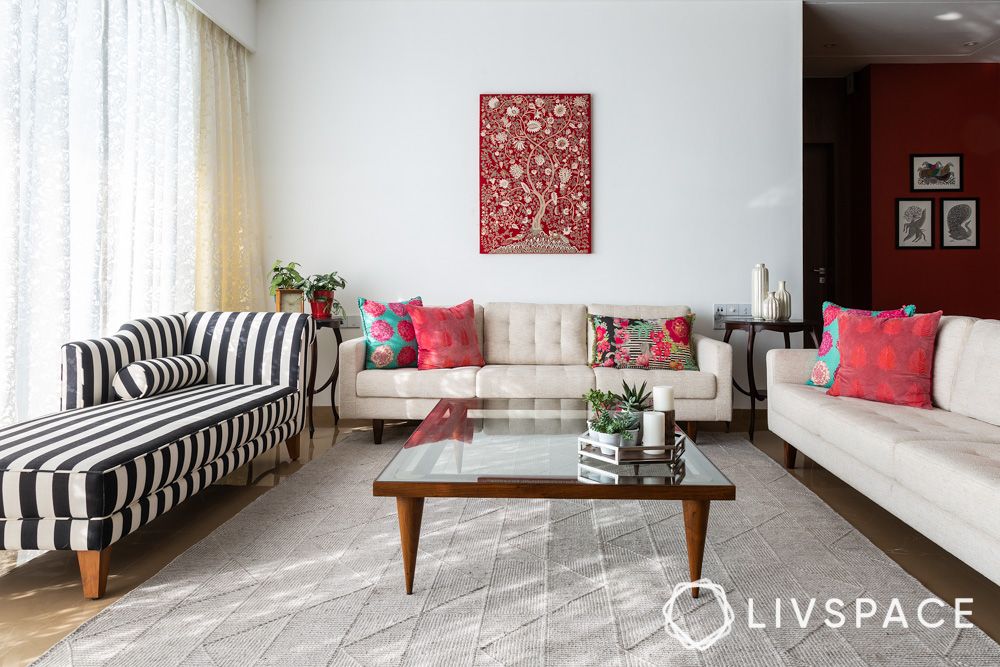 What are some of the cost-based pros that you can get when you purchase a 4BHK flat design? Here's a few:
You have a designated demarcation of spaces such as bedrooms, kitchen, bathroom etc. This saves you money from getting a 4BHK house plan done from an architect.
The home comes with basic installations that are given by the construction company/builder. This cost is included in your final amount.
You can customise some aspects of the home such as the floor, civil work, plumbing and electrical points if you are buying a new house. This will cut down costs in the long run.
Some construction companies/builders give you the option to make your kitchen and wardrobes, saving you some extra bucks.
Why the Cost of a 4-Room Villa Interior Design May Be More?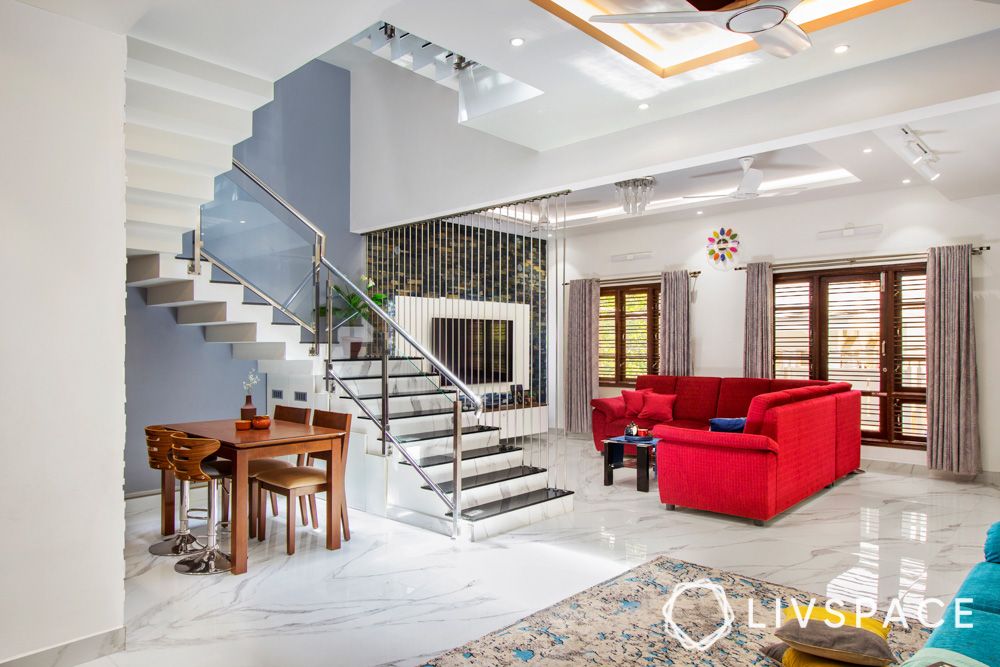 Having your own independent home is a dream for many. Thus, let us explore the cost-based factoring that you need to do.
Firstly, a 4BHK house plan needs to be customised by an architect. This will then give full freedom to design your home. However, an architect can charge anywhere between ₹60,000 to ₹2,00,000 to draw up the plans.
If you are working on a 4BHK house design all by yourself, you also need to bear the cost of the materials for construction.
You must also calculate expenses related to electrical work, plumbing, water pipes and additional civil work.
All costs of constructing room walls and pillars are to be borne by you.
How Much Will an Interior Designer Charge for a 4BHK Interior Design?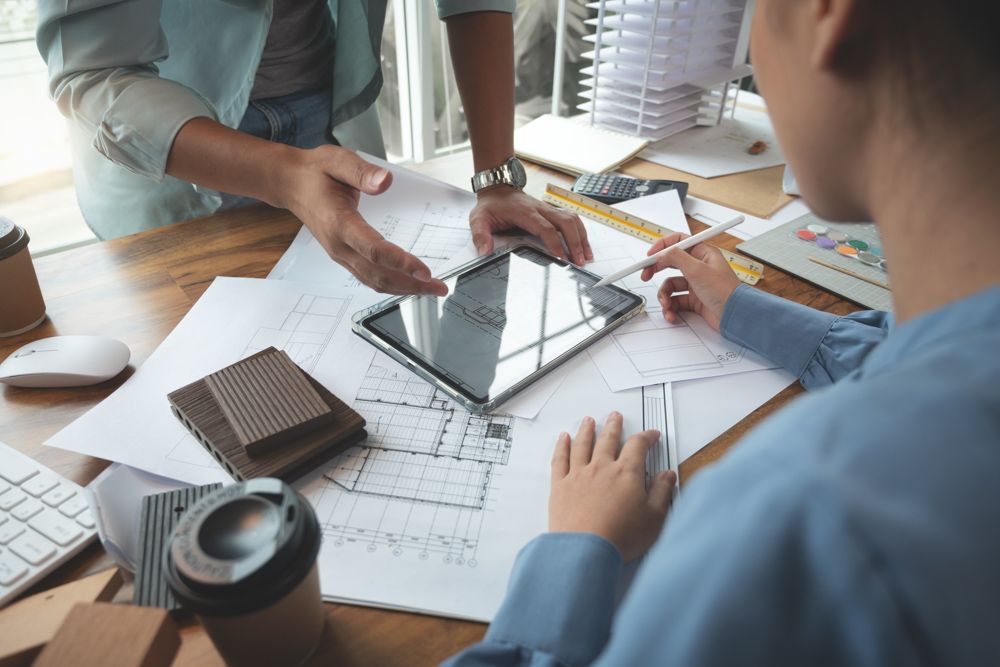 Now, the million-dollar question: How much will an interior designer cost? Well, it differs for every designer. However, here are some important ways in which the cost can be calculated:
If you are only looking for the design cost, most designers charge between ₹10 to ₹100 per square feet. However, with carpentry, furniture and civil work, that cost can shoot up to ₹2,000 to ₹3,000. Thus, it is better to discuss with your designer first.
Designers can also charge a percentage of the total cost of the house. Again, this number can roughly be between 5% to 20%.
Designers may also charge a markup on the products. This is the premium charge that designers charge on the products they give in their projects.
Please note that these are some of the ways that interior designers charge clients in India. Finally, it could be based on the percentage of the total cost, interior design cost per square foot and commission or a combination of two or more categories. Learn more about the costs of hiring an interior designer here.
Factors That Affect the Cost of a 4BHK Interior Design
Generally, you can expect a 4BHK interior design to cost around ₹36,00,000. However, this can be the nine factors listed below.
1. Location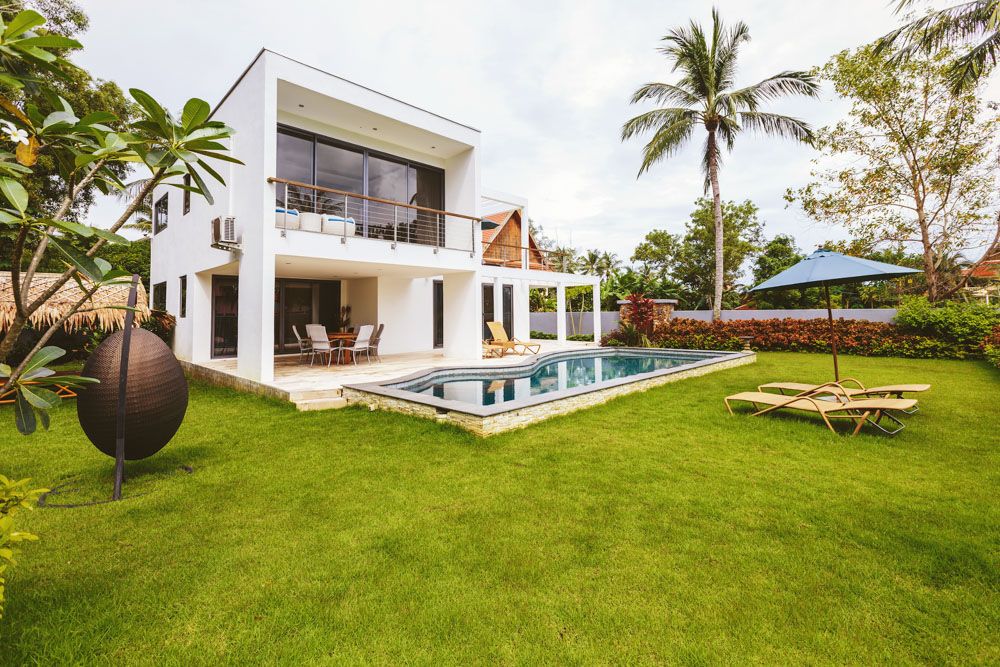 The location of your property can greatly affect the 4BHK interior design cost. A 4BHK flat interior design in the heart of the city will cost more, rather than one in the outskirts. The same applies to a 4BHK home design.
2. Size of the 4BHK House Plan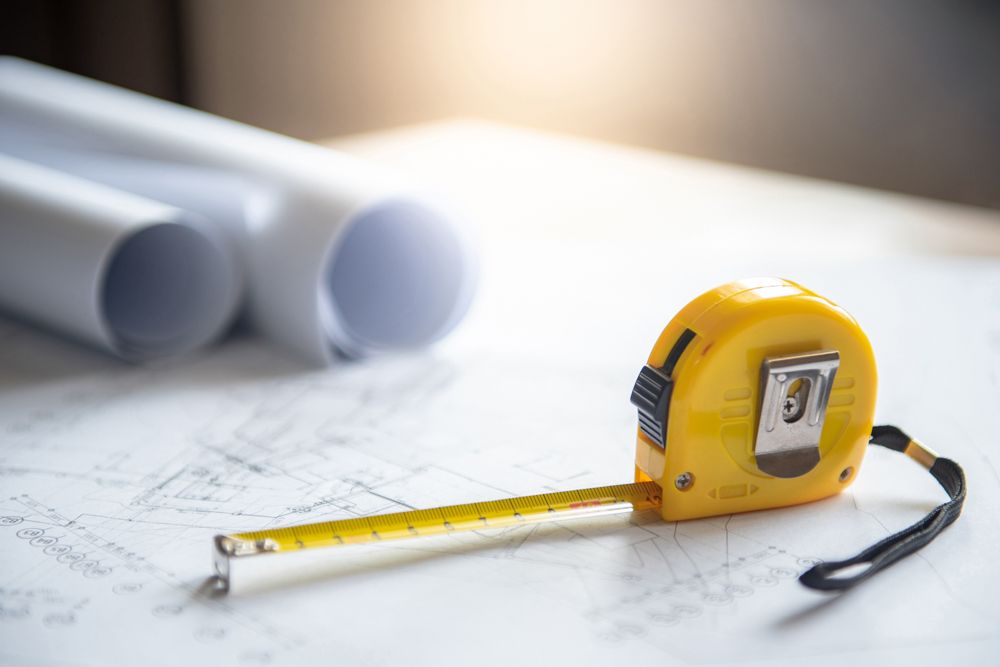 This is simple math. The bigger the 4BHK house design, the more it will cost. A larger area thus, requires more raw material and work. This can jack up the price of the 4BHK house design.
3. Structural Changes in a 4BHK House Design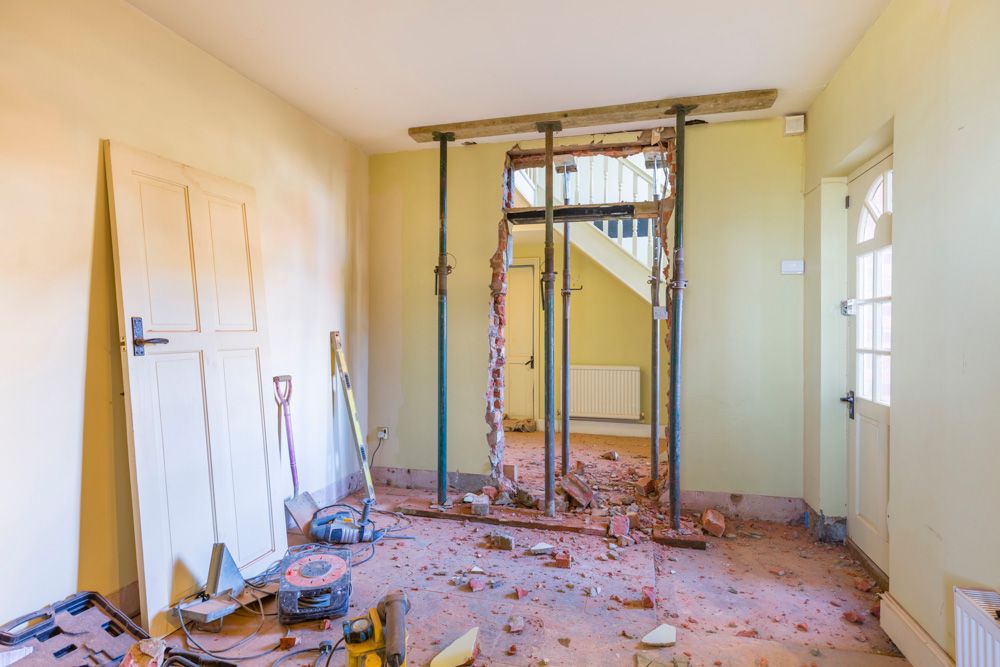 Imagine, you purchase an under construction 4BHK flat design in the heart of the city. This home is perfect. Except: you need an open kitchen. The construction is on the stage where the walls are up. Now, you require the wall to be knocked down. The builder will do it, but he'll charge you a fee for it. That's how a structural change affects cost.
Structural changes can be of many kinds, including knocking down walls, a unit or even carpentry if you are renovating a home. The average cost is ₹80 to ₹100 for a change. However, it depends on the individual space. If the wall has major civil work, it will cost more.
4. Electrical Work for a 4BHK Flat Design and Villa Design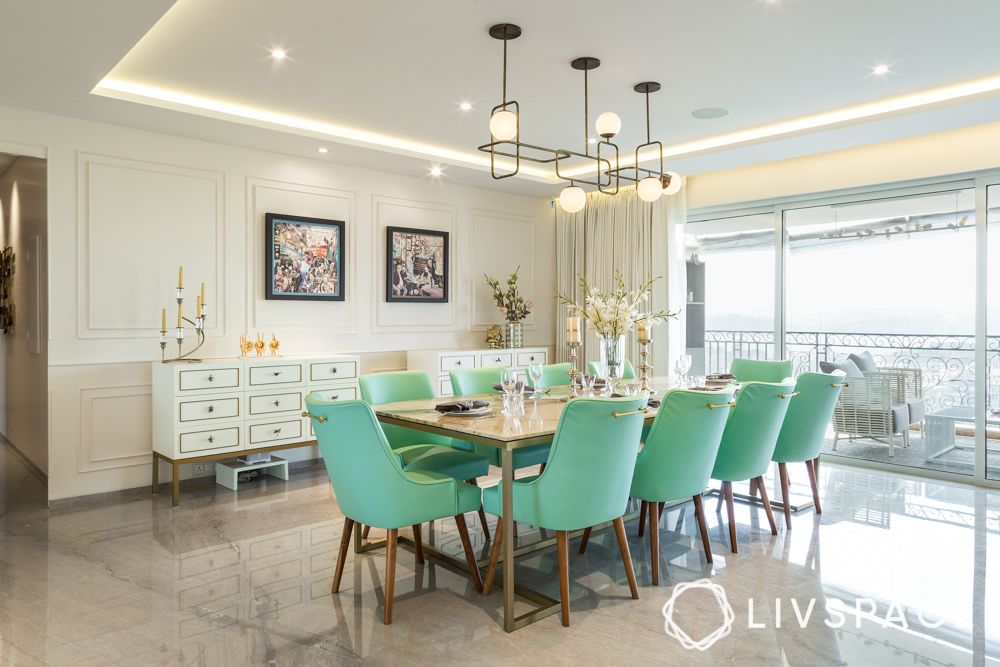 The average cost of electrical wiring in India is roughly ₹250 per square feet. It increases with the quantity of electrical points and may cost more if you're renovating an old home.
5. Wall and Floor Treatments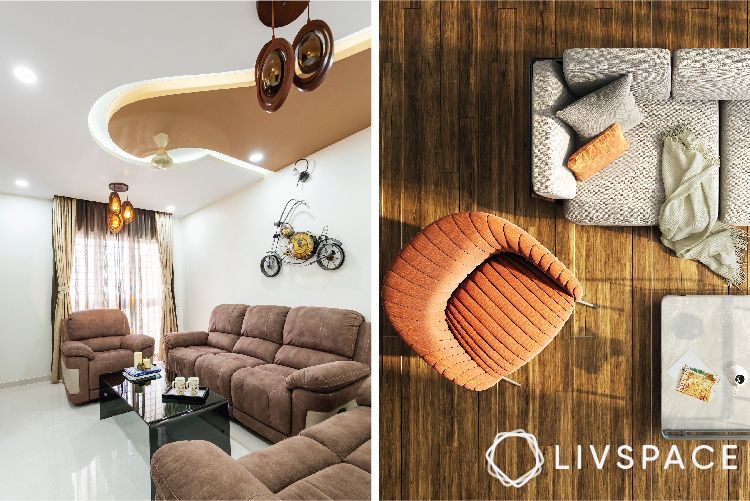 Some common wall treatments include stone cladding, wallpaper installation, painting and panelling. Their costs vary in terms of the amount of area to cover and market value. Here is a summary according to present market standards.
| | |
| --- | --- |
| Wall Treatment | Cost Per Sq. Ft. |
| Stone cladding | ₹50 to ₹700 |
| Wallpaper | ₹2,000 to ₹20,000 |
| Painting | ₹12 to ₹80 |
| Panelling | ₹500 to ₹1800 |
Floor treatments in India comprise tiling and their constant maintenance. Flooring is yet another essential that can account for a large part of your budget. From lavish options such as marble to stone, you can adjust this factor according to your budget.
Also Read: 12 Types of Flooring – Which Is the Best Option for You?
6. Modular vs. Custom Carpentry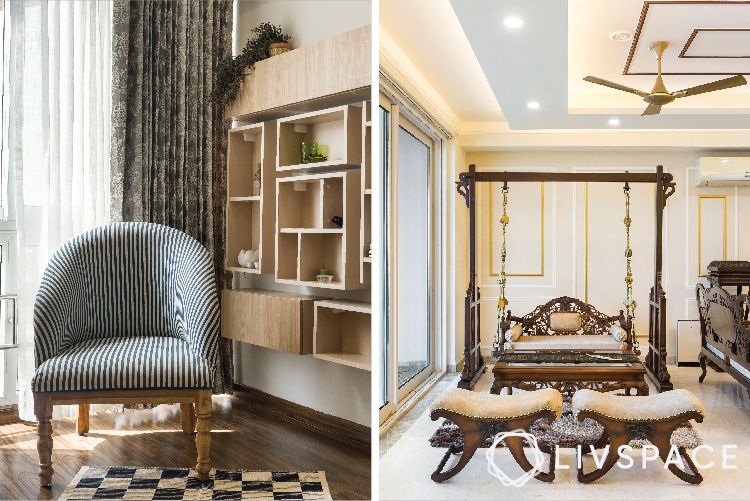 Now that everything is picked and your flat or villa interior design is complete, it will be time to move on to the carpentry work. Here is a decision you need to make: Do you want modular designs or customised ones? In case you decide to customise your carpentry, be ready to extend your budget.
Modular furniture is made with predefined units and are just assembled at the site. This makes it a cheaper alternative to custom designs. It also depends on the carpenter you hire for your interiors. For example, contractors usually charge less than an interior designer but also limit your access to materials and finishes. Livspace uses mechanised, precision manufacturing to give you flawless interiors. That's not all! You enjoy access to more options when it comes to finishes and materials.
7. Finishes and Materials Used in a 4BHK Home Design
A 4BHK flat interior design with cost estimates also includes the cost of materials and finishes. This factor is important as it affects the entire range of your carpentry work and how your flat or villa interior design looks at the end of the day. There are many materials and finishes available in the market today. However, below is a summary of popular materials and finishes for your storage cabinets and furniture with cost estimates.
| | |
| --- | --- |
| Materials | Cost per square ft. |
| Plywood | ₹70 to ₹160 |
| MDF | ₹30 to ₹200 |
| Blockboards | ₹90 to ₹140 |
| Particle Board | ₹30 to ₹70 |
| | |
| --- | --- |
| Finish | Estimated Cost per square ft. |
| Laminate | ₹60 to ₹200 (or higher) |
| Veneer | ₹150 to ₹350 (or higher) |
| Membrane | ₹120 to ₹500 |
| Acrylic | ₹120 to ₹460 (or higher) |
The above are basic materials and finishes for both kitchens, wardrobes and other storage units. However, there are other materials you can consider for kitchen countertops, polish and flooring as well. These all factors affect the overall budget of your home.
8. Purpose of the 4BHK Interior Design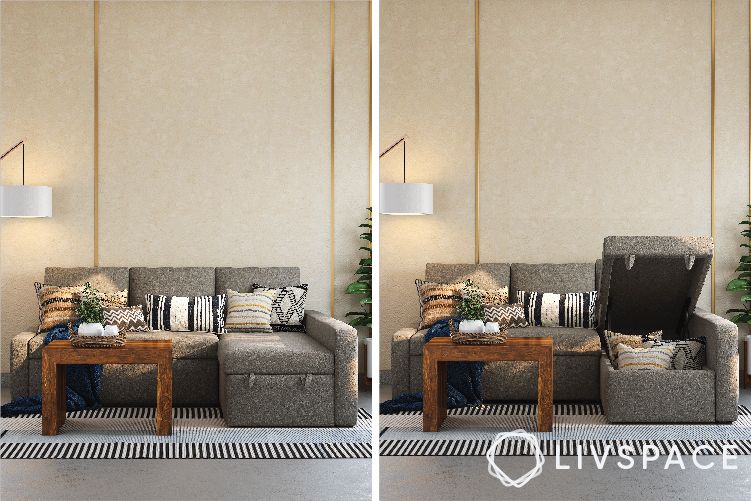 Your flat or villa interior design is custom-made according to your preferences. The design also depends on what your requirements are from the flat or villa design. For most homeowners, the main aim is to have an efficient house with a structured workflow. However, here are some preferences homeowners like you tend to consider:
Space optimisation and storage: Indians love to store. We have a plastic bag for our plastic bags. Thus, ample storage is one constant requirement among many homeowners. This, in turn, requires the designer to factor in more storage for the modern villa design or flat design.
Luxury interiors: Some homeowners focus primarily on getting luxe interiors. This may require more high-end materials and products, thus bumping up the price of the interiors.
Accommodation of family members: Interiors are also made keeping in mind the number of family members in the house. For example, a family of three may afford to have two bathrooms, but a family of six will find it difficult to adjust.
Pet-friendly: We love making pet-friendly interiors. However, that calls for extra detail and attention.
9. Themes or Styles in the 4BHK Home Design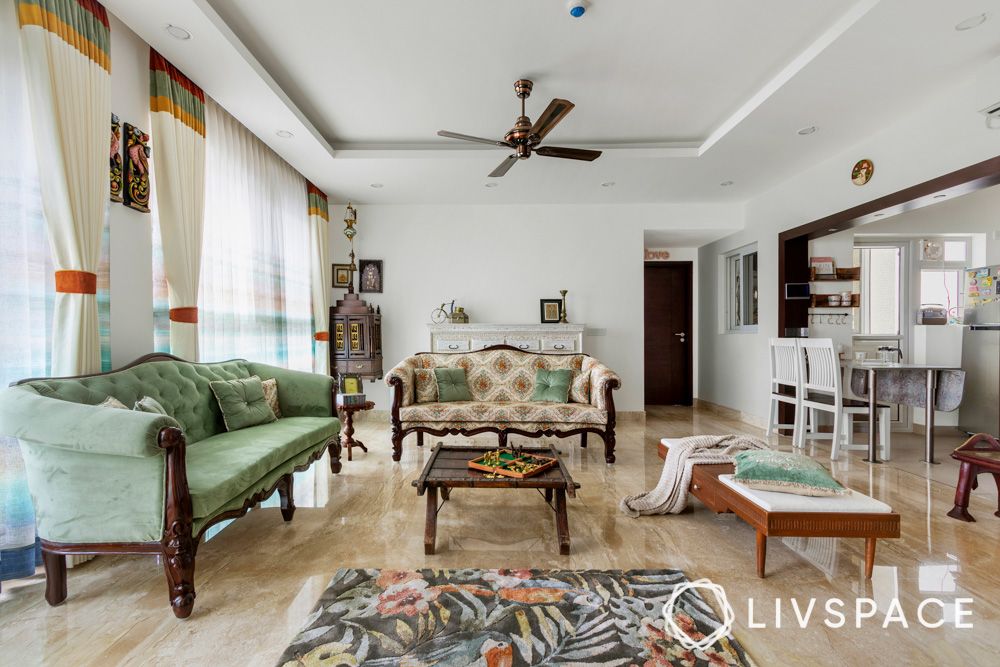 The style that a homeowner picks can also determine how much the flat or small villa design will end up costing. For example, a Scandinavian or minimal style might cost lesser than a colonial or vintage themed one. Why? That's simply because a vintage themed home may require more custom carpentry. A vintage home's furniture might have more intricate designs. To sustain it, one may require to make use of a membrane finish, which is more expensive than laminates, thereby increasing the cost of the home.
Room-by-Room Cost Breakdown of a 4BHK Home Design
When it comes to a 4BHK flat and small villa interior design, it is best to look at some basic cost breakup by the room. Below, we'd be counting some essential items each room requires. Of course, you can add luxuries according to your budget.
1. A Simple Foyer for 4BHK Interior Design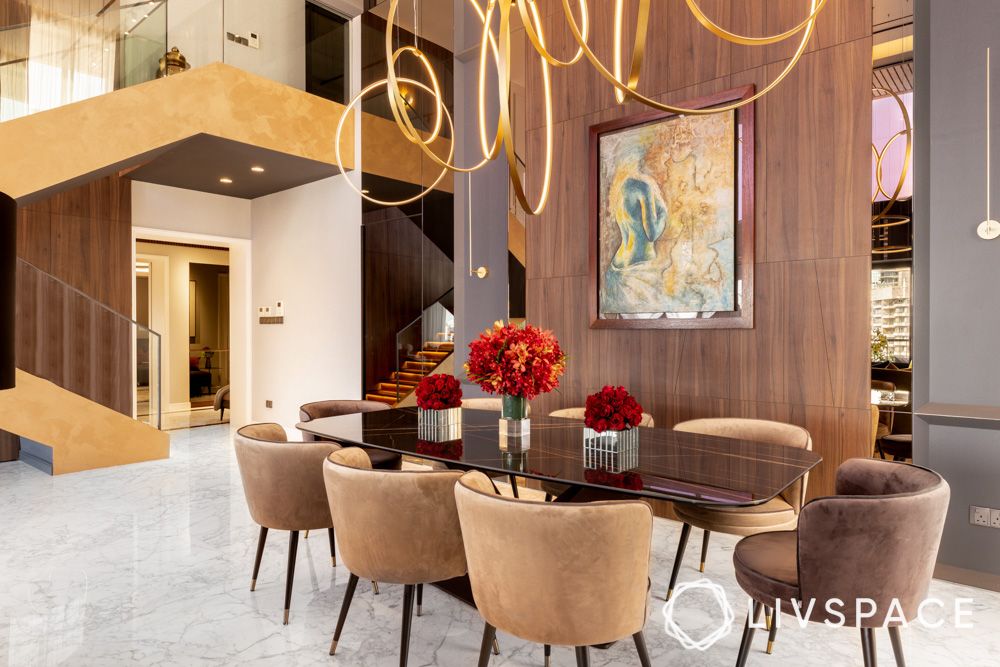 When it comes to the foyer, adding a shoe cabinet is a must. The shoe cabinet quote depends on the storage unit material, finish and labour cost. It also depends on the size of the cabinet. For example, a single door shoe cabinet can cost as much as ₹7,000. However, custom designs can go up to ₹30,000.
2. Elegant Living Room for Villa and 4BHK Flat Interior Design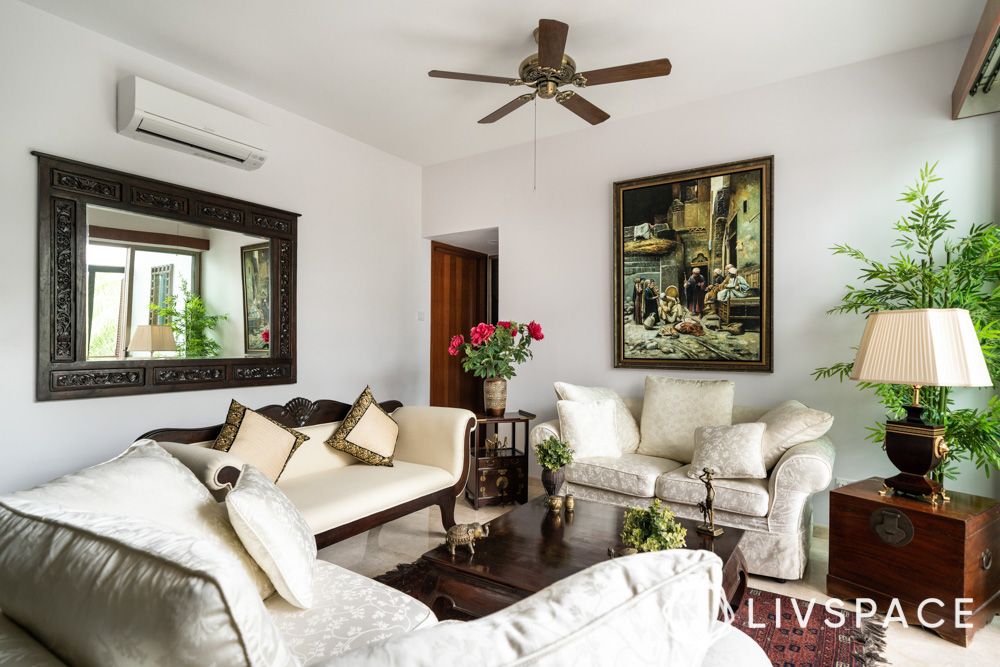 For the living room design, there are quite a few basic things you need: a sofa, a coffee table and a TV unit. Most homeowners also get wall treatments done to spruce up the interiors. On average, the cost of living room design can range anywhere between ₹3,00,000-₹10,00,000. You can add other design elements based on your budget.
3. Simple or Luxurious Dining Space in a 4BHK Home Design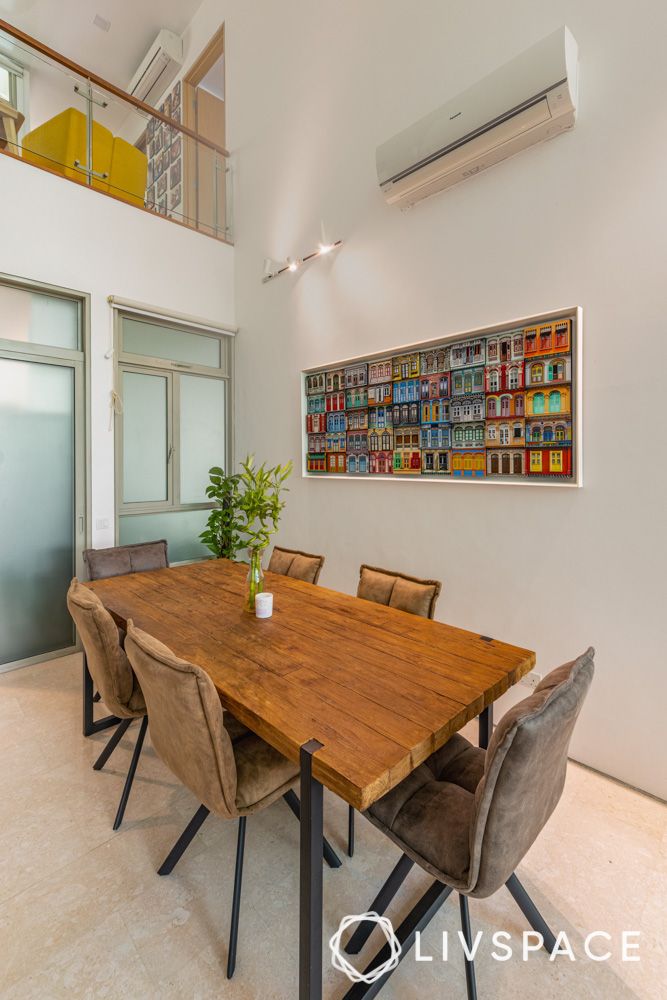 A dining area can be as basic as just a dining table or it can be an entire area with its own wall decors, wall treatments and lights. The dining space budget is highly fluctuating and cannot be estimated without consulting your designer on the type of dining area you need.
4. An Estimate of the Kitchen Cost of a 4BHK House Design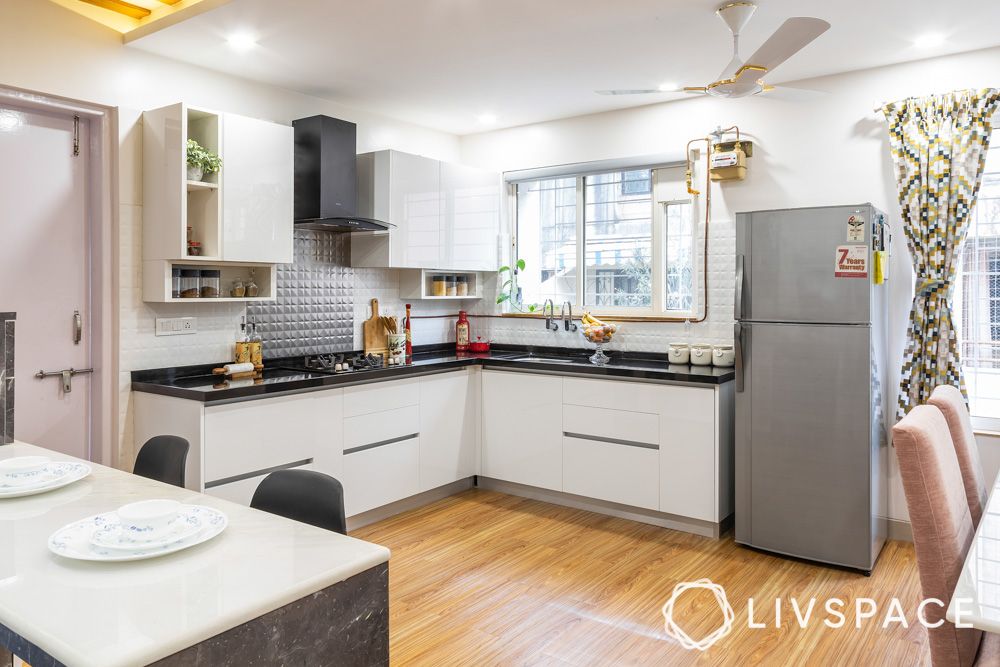 The kitchen cost depends on the countertop, finishes, cabinet materials and the backsplash chosen. This is one cost that can vary depending on size and personal preferences. At Livspace, we have a Kitchen Price Calculator where you can get an average cost estimate answering a series of questions. Click here to find out!
5. A Luxe Master Bedroom for Your Villa or 4BHK Flat Design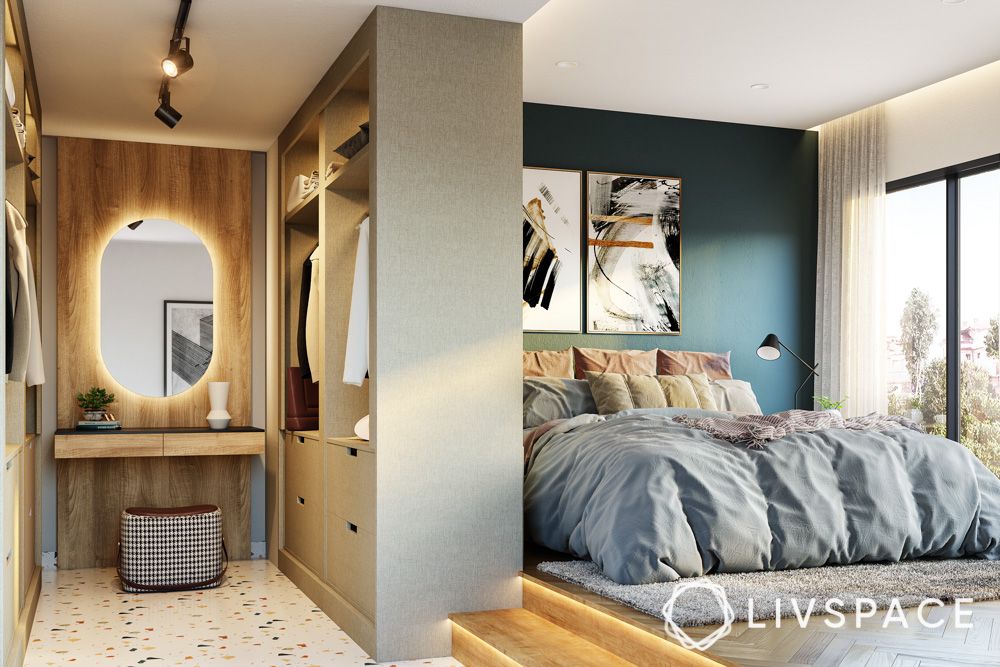 The trademark of your personal comfort is the master bedroom. Thus, most master bedrooms are made with a personal touch. Even with the basic essentials, a master bedroom requires a bed and a wardrobe. Beds can be custom-made or store bought, and their price depends on where they are bought from. Wardrobes in India can range anywhere between ₹20,000-₹80,000. Get a detailed estimate here!
6. A Quirky Kid's Room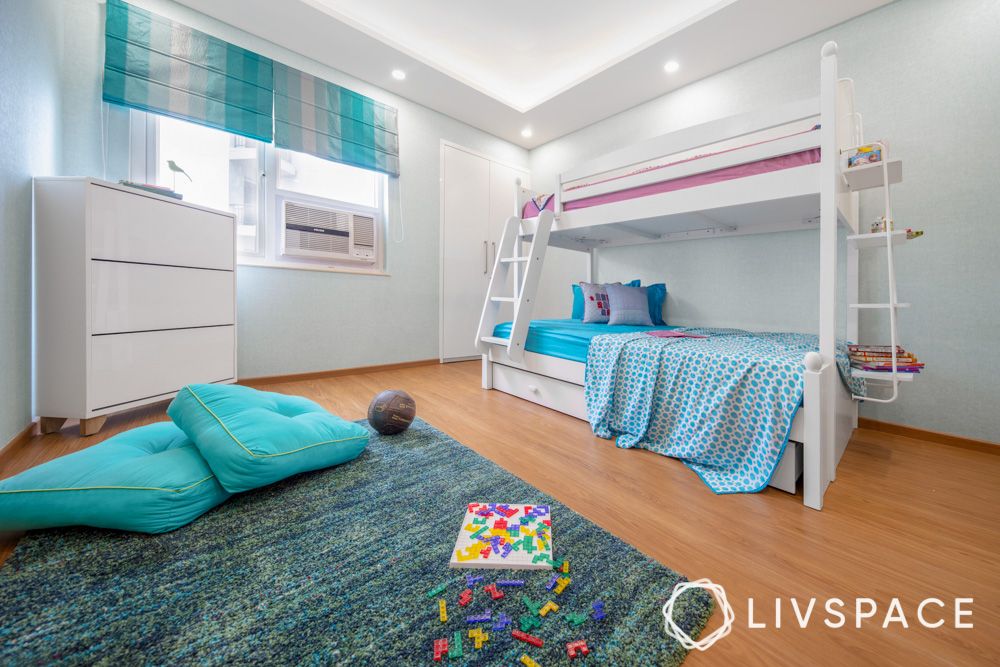 A 4BHK flat interior design cost gets complicated when it comes to a kids room. The room has to be designed keeping in mind that they have growing needs. So, there needs to be a space left for them to play and also to change the look if need be. Most homeowners prefer to paint their rooms with catchy colours and add basic essentials such as wardrobe storage, a study unit and a bed.
7. A Minimal Guest Bedroom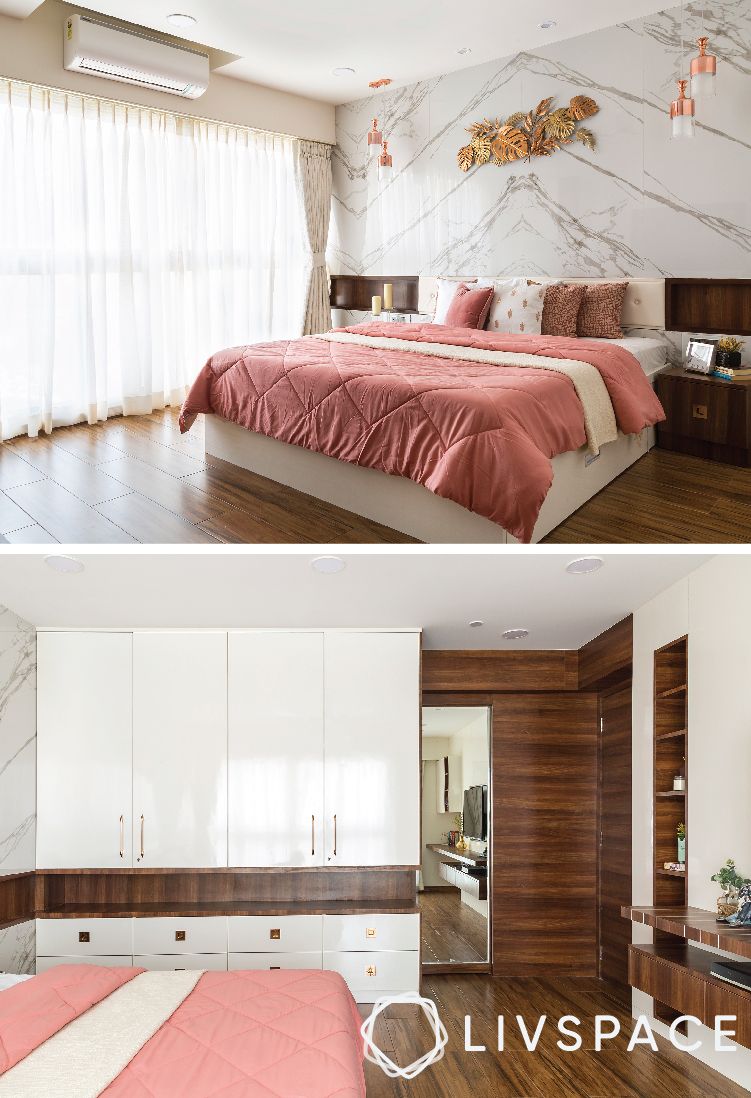 Guest bedrooms are mostly a second preference in most Indian homes. It is good to keep this space minimal. Most guest rooms are made keeping in mind that the visitors may be of a wide age group. Thus, most installations like beds and wardrobes are basic and accessible.
8. A Balcony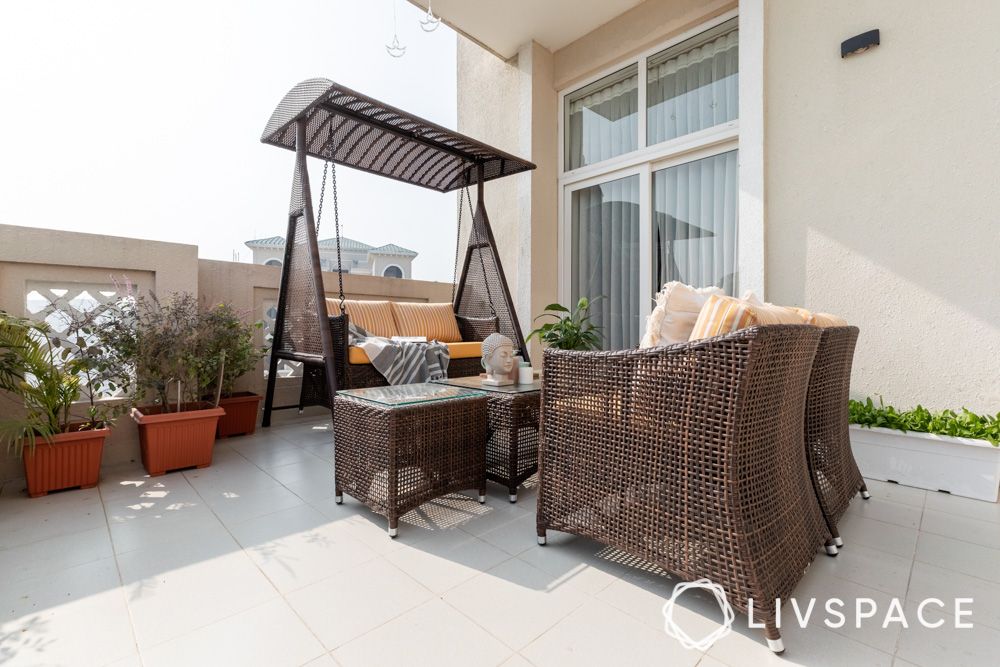 The design of a balcony depends on the size and its purpose. If you like to stand in the balcony for a few minutes, then a small cosy seating option will work. However, if you are looking to host dinner parties or move the bar there, it may require some extra interior work.
9. The Fourth Room's Cost Estimates
If It's a pooja Room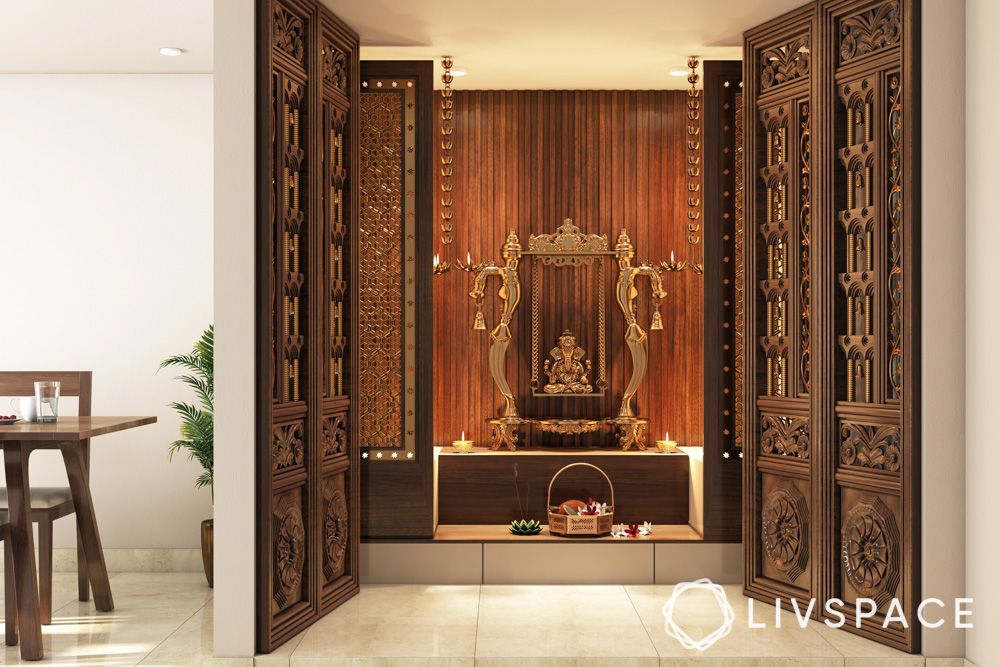 Most 4BHK house plan with pooja room will not burn a hole in your pocket. Pooja rooms in India can be made under a lakh. You can choose to keep it minimal or opt for intricate jaali work.
If It's a Second Kid's Room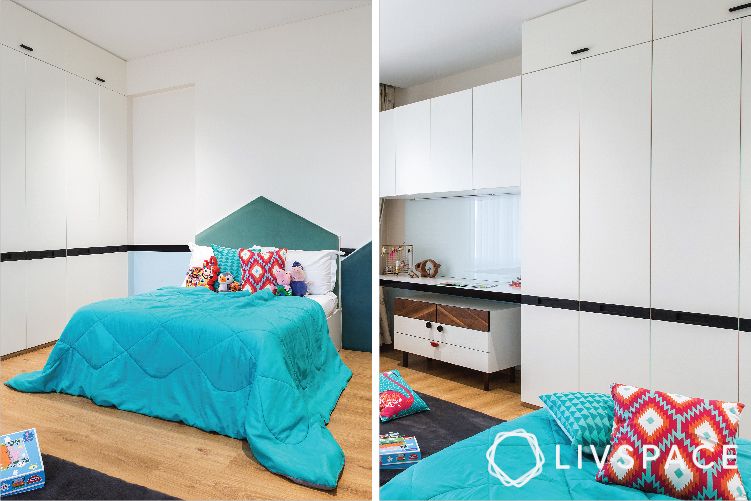 It is a brilliant idea to turn the fourth room as your second child's haven. The cost will depend on the interior design specifics, but don't forget the basics – a bed and a wardrobe for storage.
If It's a Gym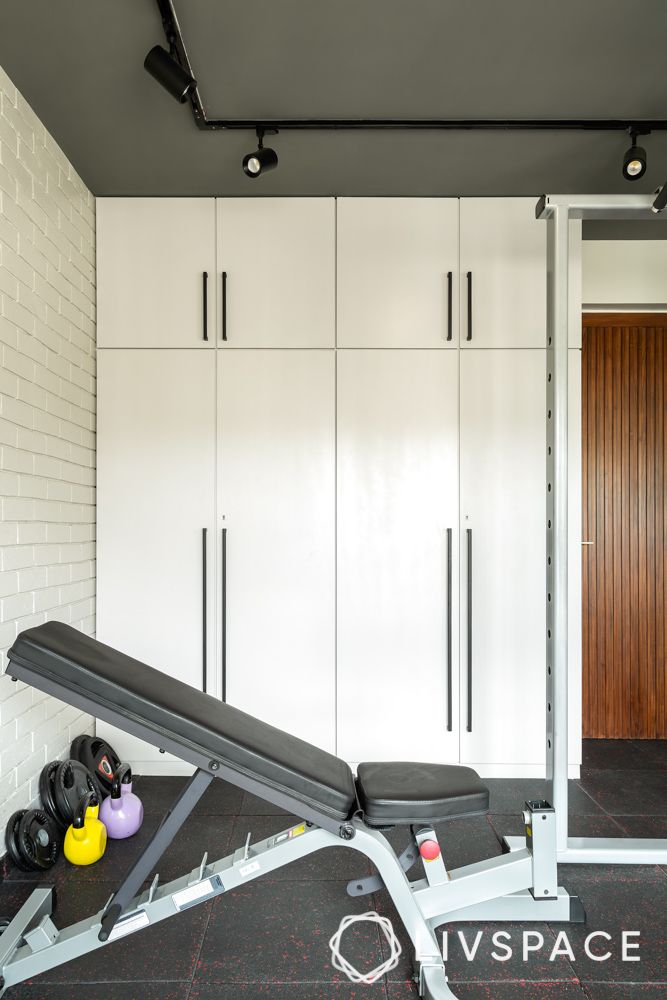 If you want a personal gym, make sure to get the right equipment for your workout. Keep the room bare for the gym, so you can install the equipment. You can, however, install a wardrobe for your change of clothing while working out.
Also Read: How to Set Up a Home Gym on a Tight Budget?
If It's a Home Office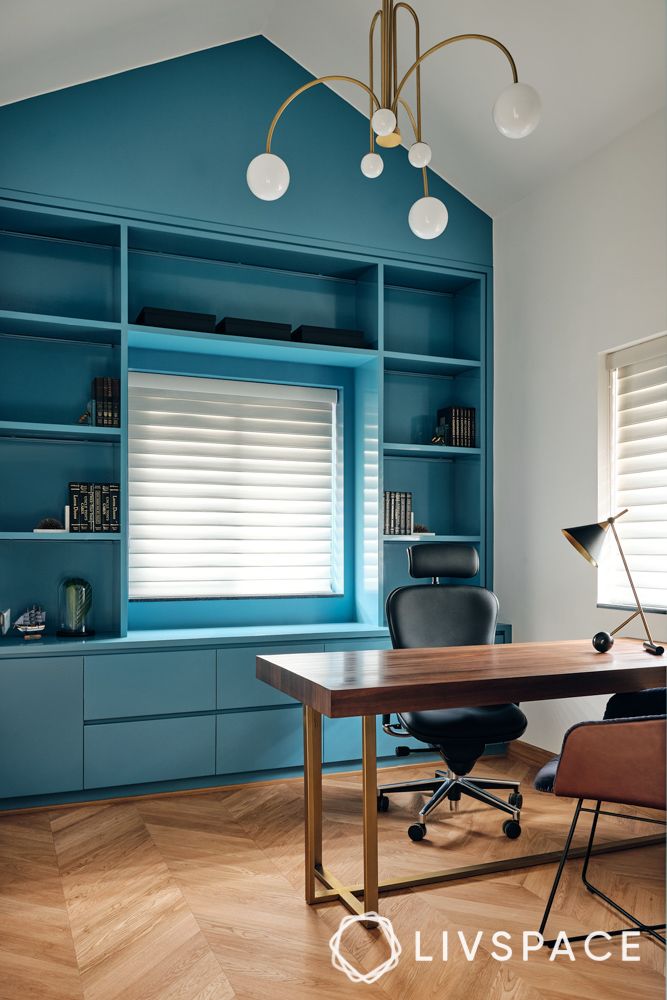 Do you work from home? Then it's ideal to set up a home office. Since the cost of setting up an office has risen to about 8% after COVID-19 hit, it is good to set up a minimal office with desk, comfy chairs and storage solutions.
If It's an Entertainment Room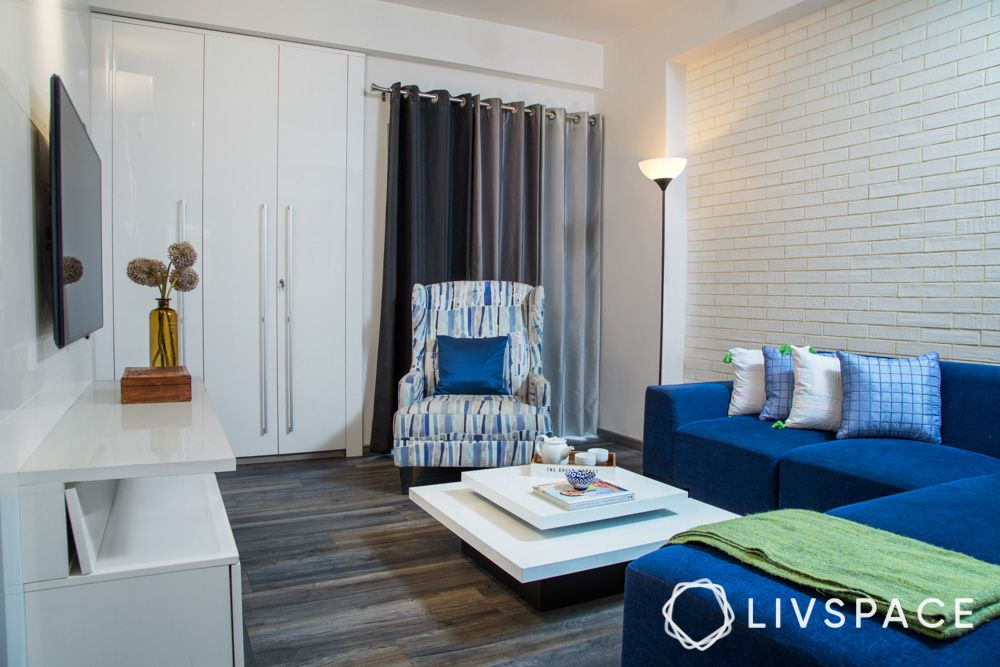 An entertainment room is a luxury. Thus, be ready to splurge for a luxurious experience. Throw in a home theatre, add the cost of soundproofing and go to town with layered lighting ideas. A TV unit can cost anywhere between ₹40,000-₹2,00,000 lakhs. Get a comfy seating, and you are all set with an entertainment room.
If It's a Personal Library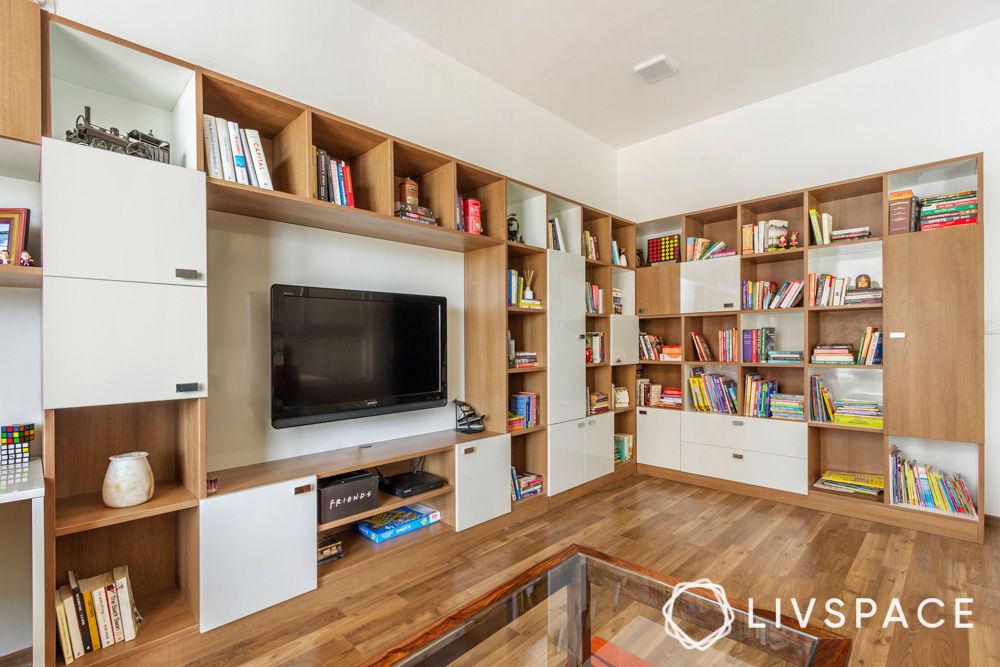 For someone who appreciates their literature, a fourth room in their flat or villa interior design can become their personal library. This will require a shelving system. The cost will depend on the material, finish and the size of these shelves. If you want to install glass shutters, it will
If It's a Play Room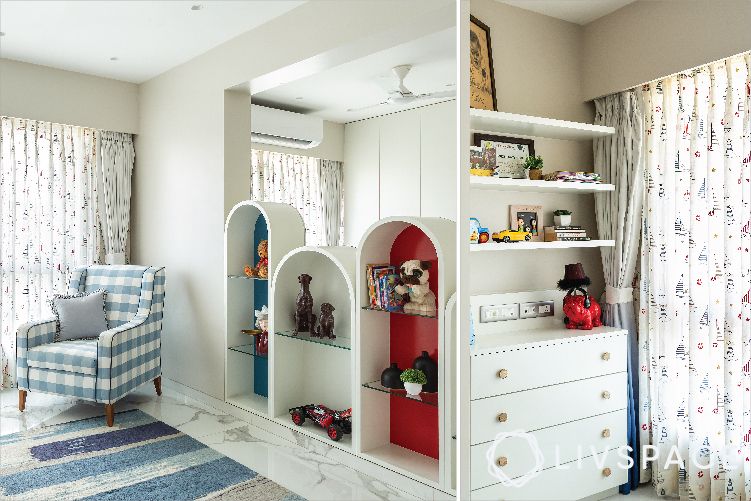 Make a kid's play room with minimal costs. All you need is a space for the toys and voilà! You have a play room where your kids can play while you run your daily errands.
If It's a Laundry Room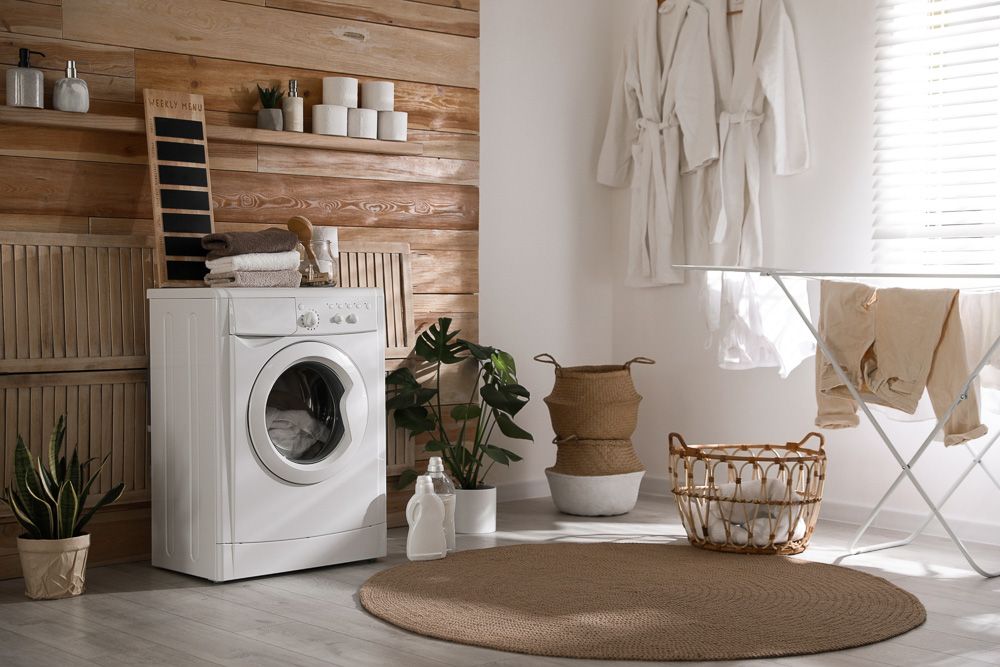 A laundry room cost depends on the civil work. You'd need extra plug points and a source of water to do your washing. However, once those are incorporated, you can set up the washing machine and dryer to make a basic laundry room design.
Difference in Cost Between a New Home vs. Renovation
Most of the points have been angled to understand the basic costs one needs to pay for a new home. However, there may be a slight tweak in costs when it comes to renovation. One factor that determines renovation is the resale value of the home. Can doing interiors make the value of your property higher? If the answer is no, doing interiors for home isn't a feasible option.
If you are already living in the house, then it is difficult to renovate the home. Additionally, the majority of the civil work can be quite heavy on the pocket. However, if your home is worth the trouble, go for a renovation and enjoy a revamped flat or villa design. You can customise designs, and it can be a lot cheaper than buying a new property.
We hope you can now easily calculate the cost of your 4BHK with the help of this guide. Do you want to see Livspace home budget for 3BHKs? See interior design costs for a 3BHK apartment. Wondering how our customers feel about working with Livspace? You can check out the Livspace reviews here! Reach out to us for your interior services.
Tour this luxury 4BHK design in Mumbai:
How Can Livspace Help You?
We hope you found our ideas useful! If you want beautiful interiors for your home, then look no further. Book an online consultation with Livspace today.