When we remember this year in retrospect, we will see it as the year when our gym memberships ran out and we gained pounds just complaining about what a nightmare it's been. While some of you may be making fitness and workout videos from home, many of your friends may not be exactly 'driven' when it comes to exercise. Having a home gym or at least a dedicated space at home for fitness works as motivation.
That is why, the utility of a home gym or fitness corner is paramount in the 'new normal' that we are seeing as the pandemic stretches on. We caught up with our friends at Cult Fit and here is what they had to say.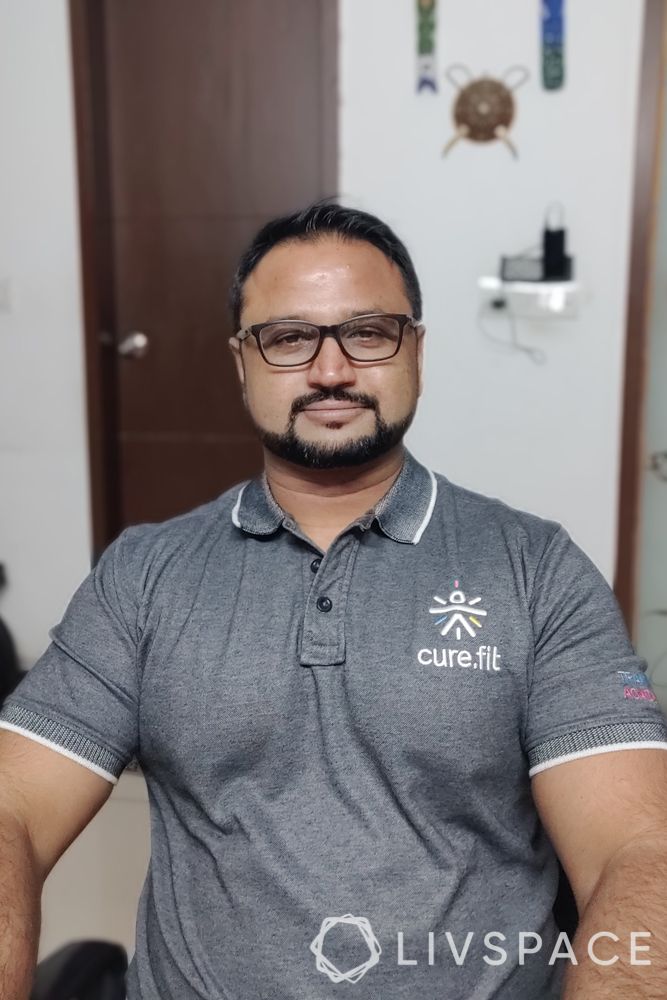 What to consider before you set up a home gym?
#1: Availability of space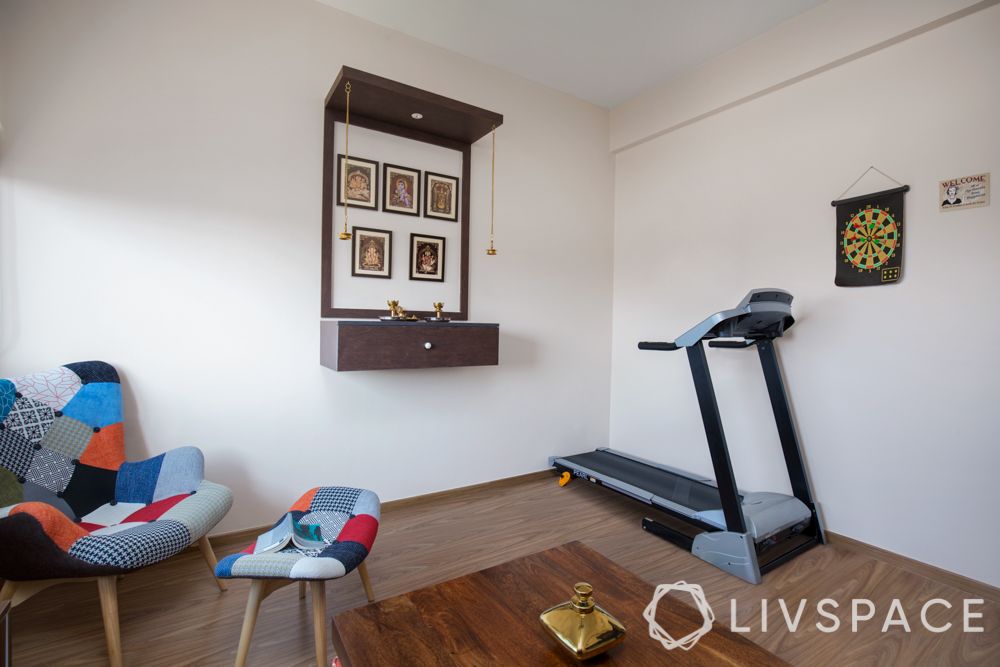 How much equipment you can buy for your home gym and what type of equipment it will be is determined by the amount of sapce you have. If you have about 150-200 sq ft of dedicated space, you can have a fully stocked gym with cardio equipment like a rowing machine as well as strength equipment like a squat rack with pull up bar or workout bench.
For those who don't have a dedicated space but instead have space scattered across the house, use foldable and easily movable equipment like movable squat racks, workout bench with dumbbell storage, adjustable dumbbells or just a yoga mat.
#2: Budget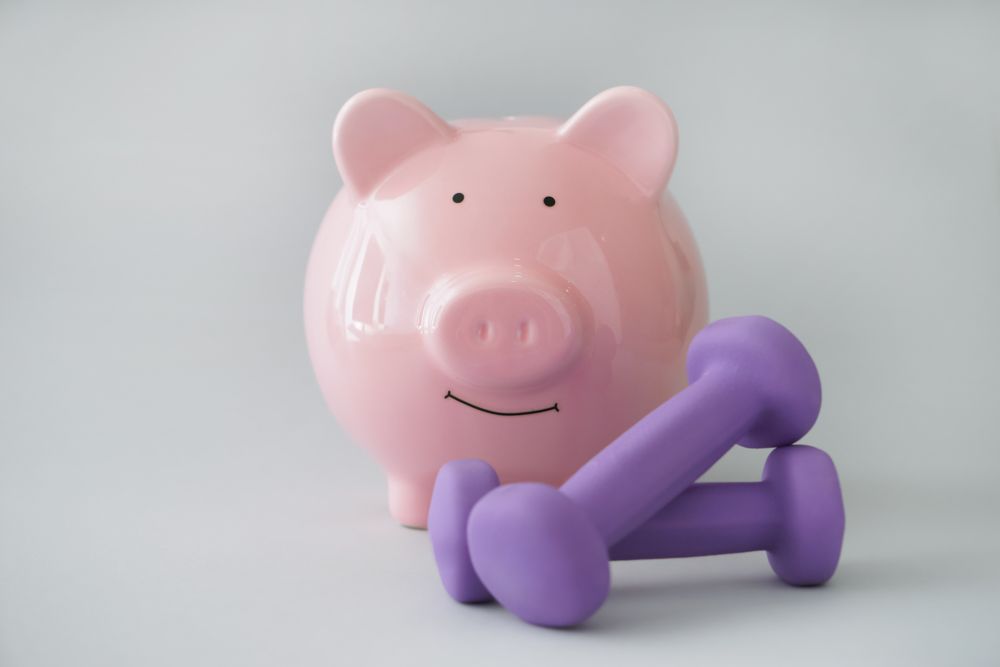 Firstly, it's a myth that all home gym equipment is expensive. Vijay tells us that there are treadmills costing ₹30,000 going upto 15lacs as well. Even free weights like dumbbells cost ₹70 per kg going up to ₹230 per kg. So it totally depends on the budget and brand you want, durability of affordability. Further, he suggests that if you are a new user, you can opt for cheaper options while heavy users should prioritise durability.
#3: Type of workout you want to do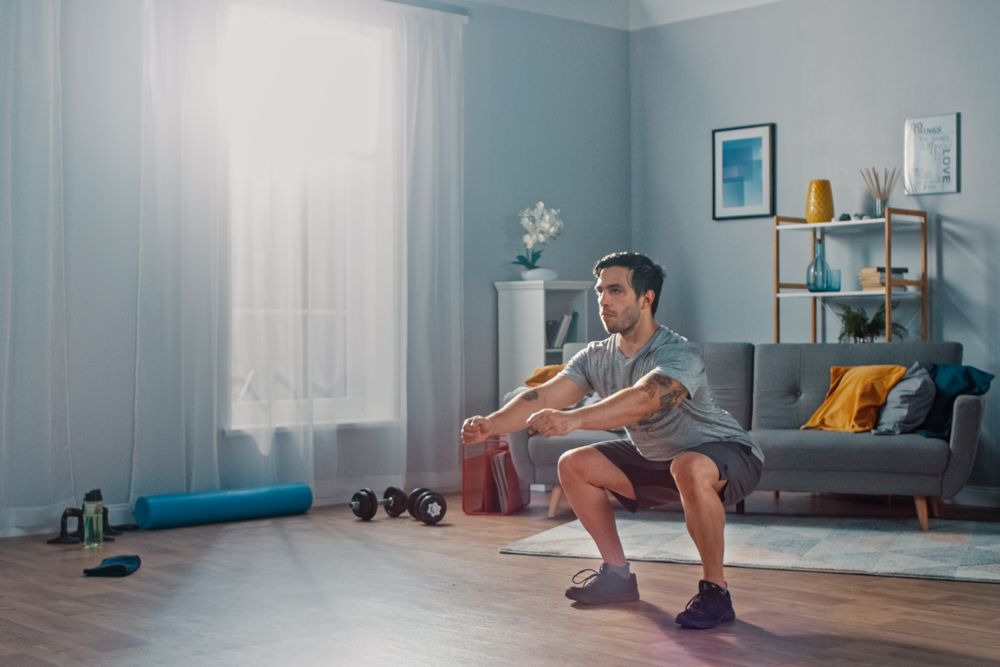 More cardio/ aerobic and less weights: These are the kind of people who like to do 2-3 days of cardio and 1-2 days of light weight training. They need one of the cardio machines like treadmill, indoor cycling or rowing machine and some free weights like dumbbells/resistance bands, and mobility equipment like foam roller would be more than enough.
More weights and less cardio: These are the kind of people who would prefer 3-4 days of weight training and 1-2 days of light cardio (walking/ cycling) and yoga exercises. They would prefer to have a full set of dumbbells, barbell rods with bumper plates, a squat rack and maybe a workout bench depending on the space availability. And if they love boxing then even a punching bag and boxing gloves can be added.
More weights for advance user vs moderate user: In weight training, we can differentiate between advance users and moderate users. An advanced user would require a pull up bar, squat rack, Olympic barbell rods with bumper plates, work out bench, full dumbbell set, couple of kettlebells and if space permits, one of the cardio equipment like a treadmill. A moderate user can set up their home gym with free weights including a couple of dumbbells, resistance band set, adjustable stepper and 30kg -40kg home gym sets (small adjustable rods, small barbells and cement weight plates).

How to set up a fitness corner at home?
#1: Choose the right spot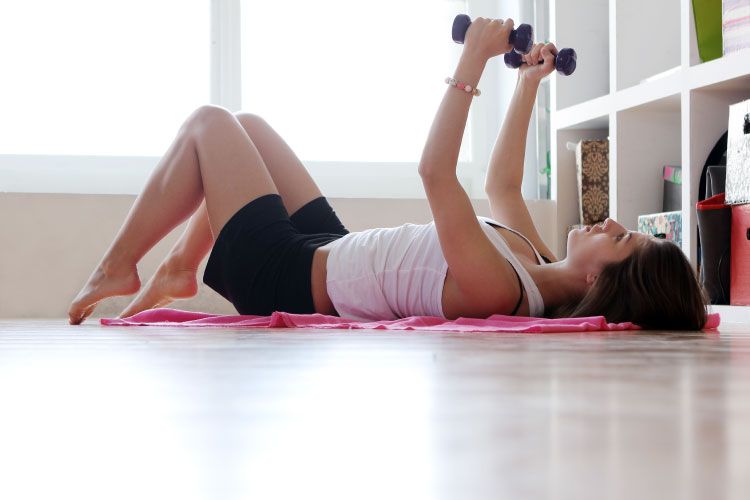 Your exercise spot should receive ample natural light. Even better if it overlooks greenery or has an amazing view. Leave the windows open and let the fresh air in. It's not only vital for an energising workout session but also helps keep the space germ free.
If you prefer working out in the evening, ensure that you don't have harsh or fluorescent lights in the workout room as it can be distracting.
#2: Stock up slowly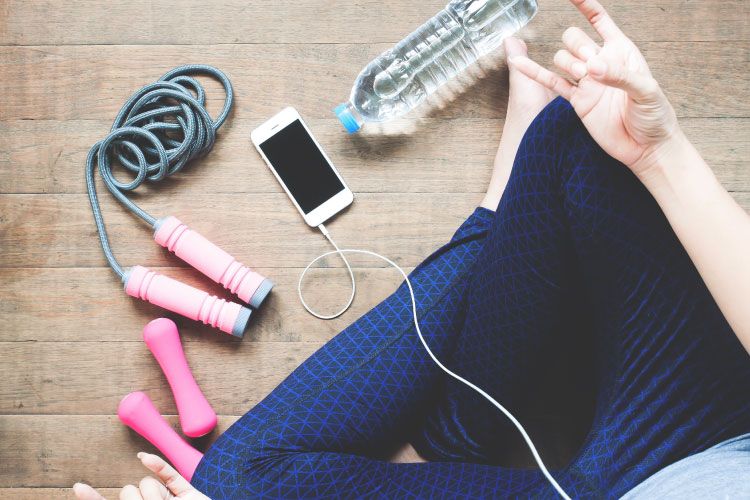 In order to make exercise a long-term habit, you need to start slow. Opt for small and versatile items like foam rollers, jump ropes, resistance bands, kettlebells, etc.
Do not buy too many equipment at once as it can clutter the place. There's no guarantee that you will continue using the same machines in the long run.
#3: Protect your privacy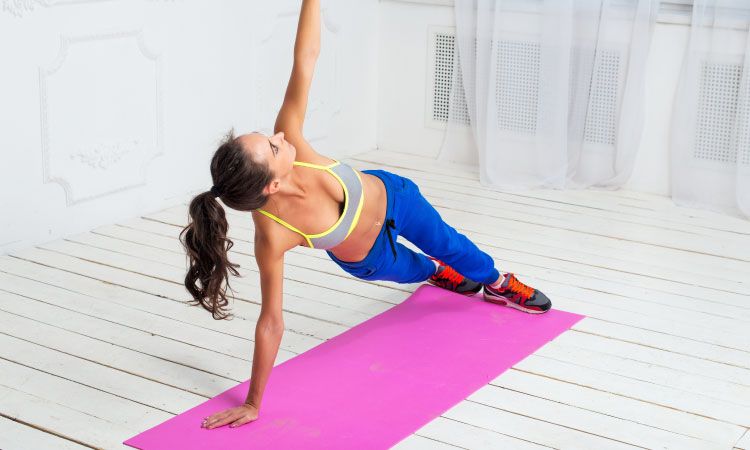 Use blinds and curtains on the windows just in case you need privacy when exercising. Blinds can be a wonderful way of adding some texture to your fitness corner as well.
Make sure the blinds are light coloured so that they allow light in, while protecting your privacy.
#4: Get organised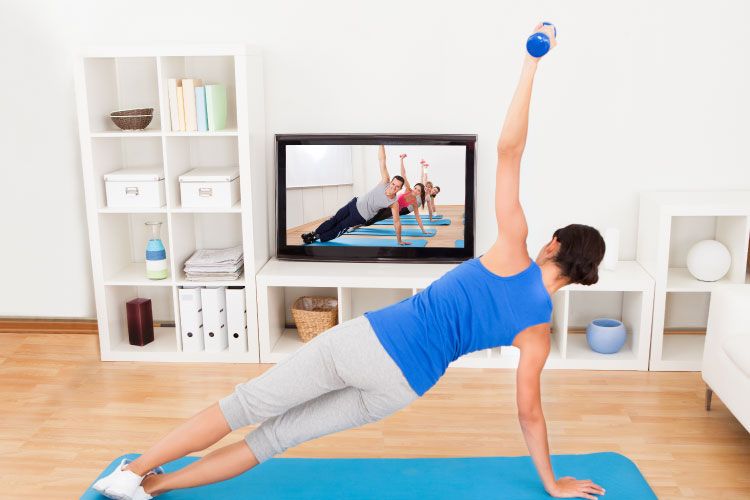 A clutter-free space is key for exercising so choose a piece of furniture that can accommodate your workout gear, dumbbells, shoes, yoga mats, etc. without taking too much space. Floating shelves are a wise option too.
In case you don't want to invest in furniture, create a make shift storage space with old cartons or shoe racks.
#5: Mirror it Up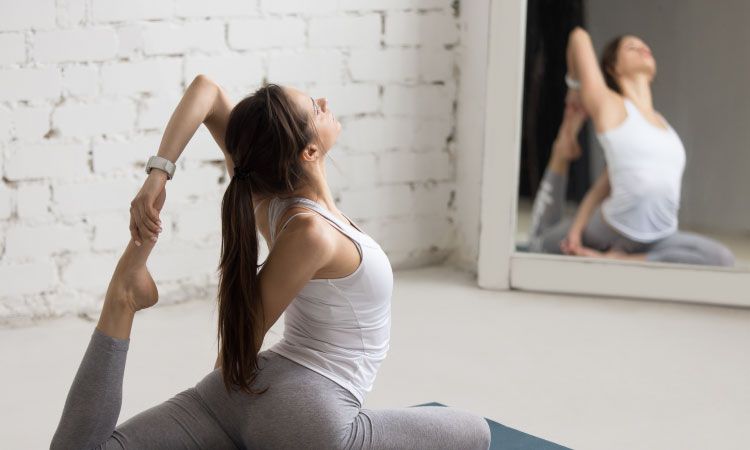 Put up a large mirror in your fitness corner. It will not only spruce up the place and add depth but will also let you observe your posture when you workout. This tip is especially helpful for small homes.
#6: Get some plants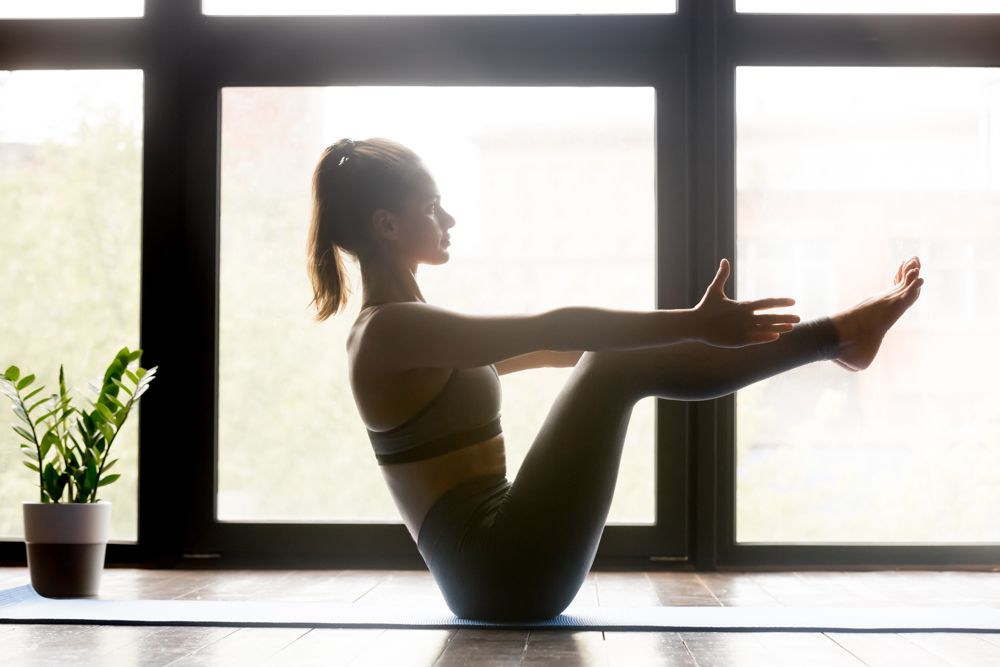 Plants bring in positivity, and of course, oxygen, so it's pretty handy to have some around. It will give you a fresh start every day and enrich the environment in your workout corner with positivity.
There are also a wide variety of indoor plants that can help build up the aura of the place and you can find them here.
#7: Focus on flooring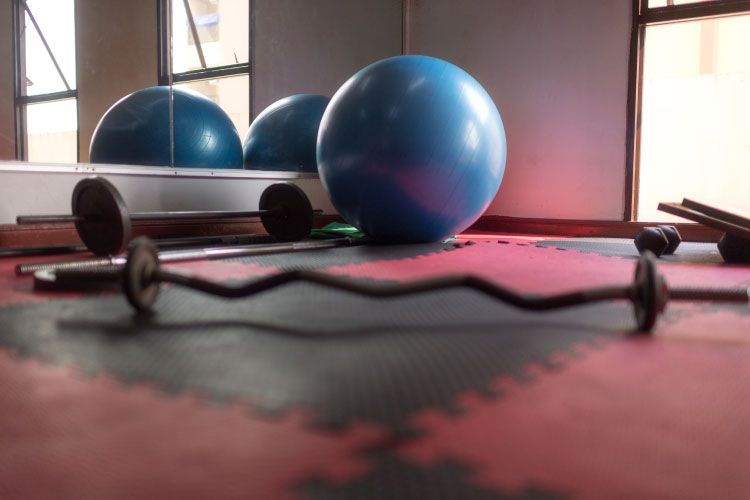 Use carpet tiles, vinyl tiles, rubber flooring or foam flooring for your fitness corner. This will ensure the floor does not get damaged due to the weights.
You can learn more about different kinds of flooring here.
#8: Keep things smelling good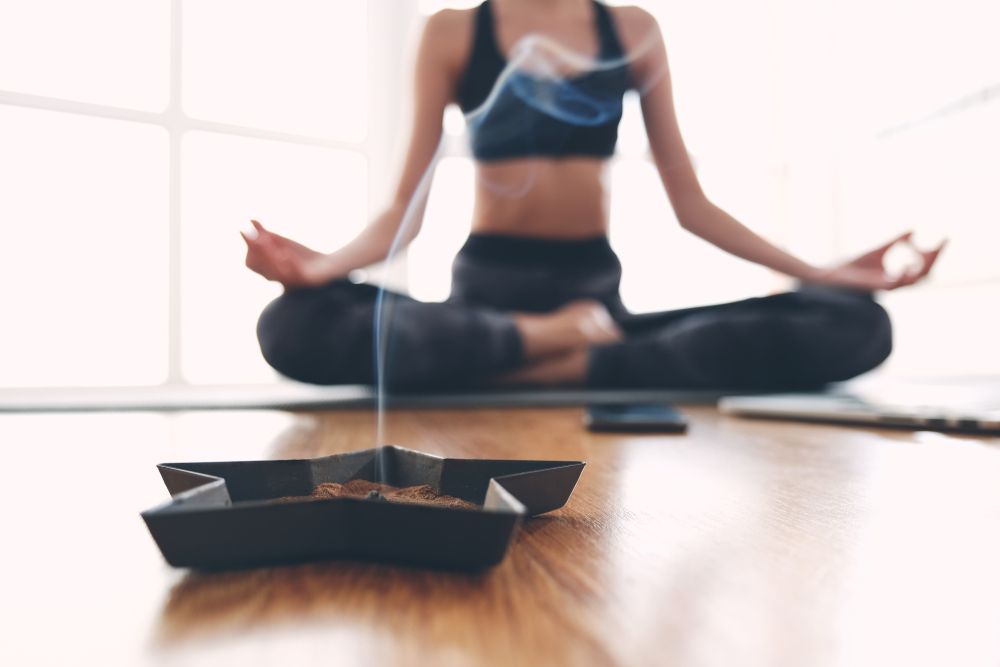 Lastly, a sweaty workout spot will definitely end up smelling musty and dank overtime. With simple aromatherapy items you can easily give a rejuvenating feel to the spot.
Bonus: Workout Tips From a Pro
Always keep it simple. Ensure you do a lot of the basic functional movements during exercise i.e. push, pull, squat, lunge, hinge, rotate and gait (walking/jogging). When performing all of these movements, you will be able to stimulate all of the major muscle groups in your body.
Bring in variety. I keep changing my workouts every week and try new things like If i have done squats with barbells this week, then next week I will do goblet squats with a kettlebell. The idea is to keep boredom at bay.
Accessibility is everything. If you keep your fitness equipment at home which is easily accessible then you are more likely to workout.
Have a routine and stick to it. Not just for workout, but everything, most importantly food and sleep.
Set up an inspiring workout room with these simple rules so you're motivated to reach your fitness goals everyday.
Send in your comments and suggestions. If you find this interesting, please fill this simple form here.