This 3BHK flat renovation in Hiranandani Meadows amazes us with its plush features. Fit for royalty, this 3BHK flat interior design for Hiranandani Meadows is also child-friendly. The homeowners approached Livspace after being impressed with our interior work at their relative's home. They wanted to merge the two flats they had to create a beautiful Livspace home in Thane. Hence, as you can guess, this 3BHK flat renovation in Thane, Mumbai took some time and effort. Livspace designer Aman L Mudga and manager Pallavi Goel worked quite hard to convert eight rooms into this beautiful 3BHK with a child-friendly design in Thane, Mumbai.
---
Who Livs here: A couple and their five-year-old son
Location: Hiranandani Meadows, Thane, Mumbai
Size of home: Approximately 3,000 sq. ft.
Design team: Interior designer Aman L Mudga and Manager Pallavi Goel
Livspace service: Full Home Interiors
Budget: ₹₹₹₹₹
Design Brief:

The extensive kids bedroom with a seating carved in the wardrobe, a cosy nook and a play area

Look Out for:

-The multiple kitchen countertops with a storage-intensive cabinetry system
-A grand living-cum-dining room that can seat more than 12 people
-The luxe bathrooms, fit for royalty

Biggest Indulgence:

The study room with an all-veneer panelling

Smart Buy:

A gym equipped with modern amenities and a wardrobe

Needless to say, this 3BHK flat renovation in Hiranandani Meadows changed the entire look of the house. Here is a detailed look at the 3BHK flat interior design we did for Hiranandani Meadows.
#1: A Grand Opening to This 3BHK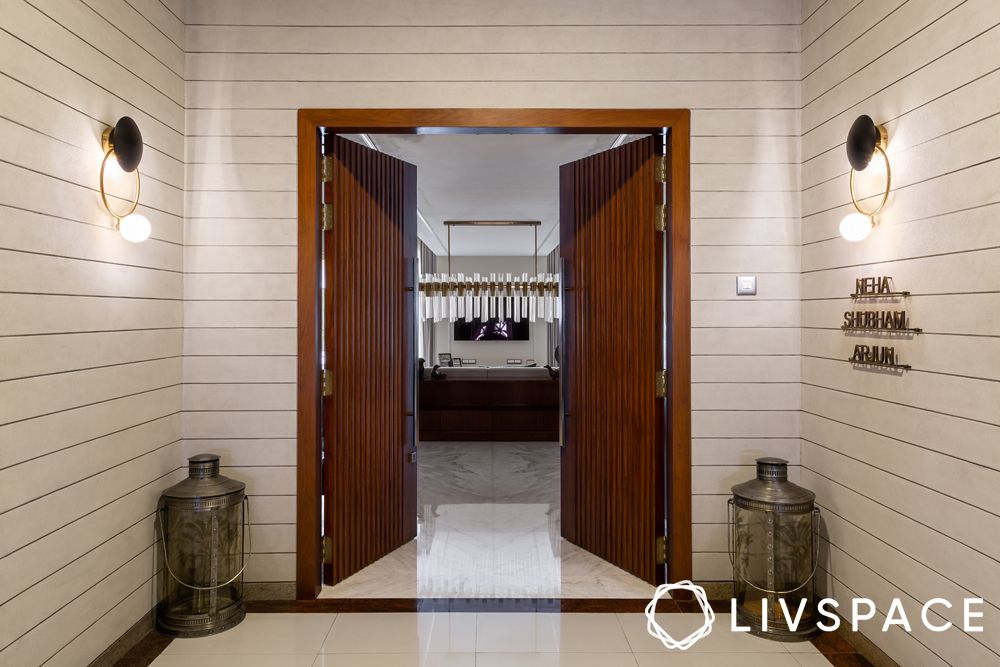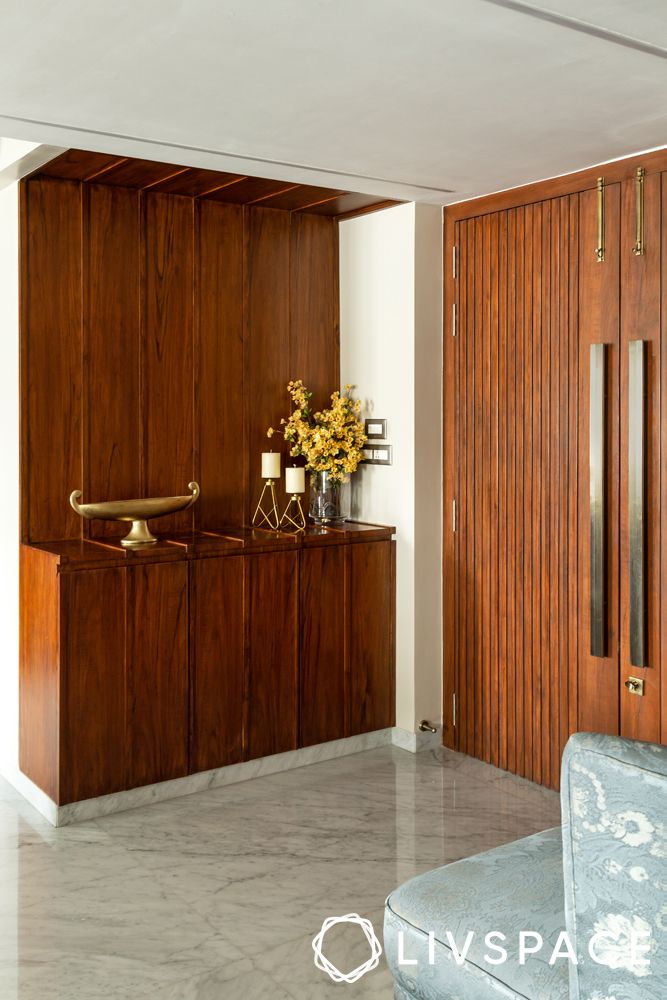 This beautiful entryway with the main door as its focal point has a strong presence. The lanterns on either side complement the modern lighting solutions that run throughout.
The door opens to the view of the plush drawing-cum-dining room interior design, Thane. Therefore, it is easy to miss the custom wooden laminate show rack, that has been panelled to match the main door's design. With ample storage, it is also adorned with a display counter. Creative, isn't it?
#2: Drawing-cum-Dining Interior Design, Thane With Extensive Seating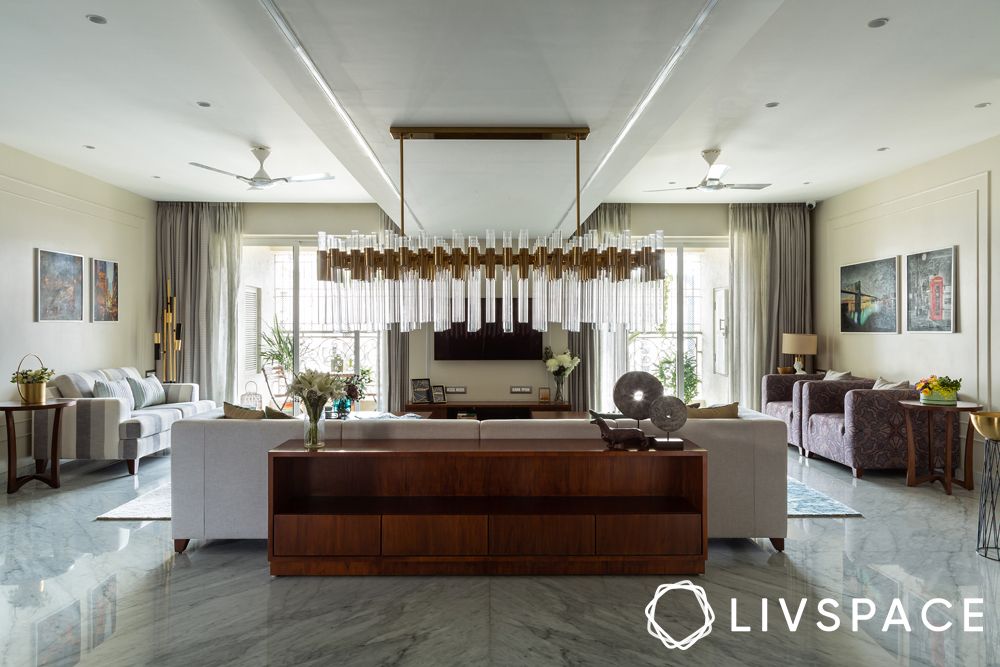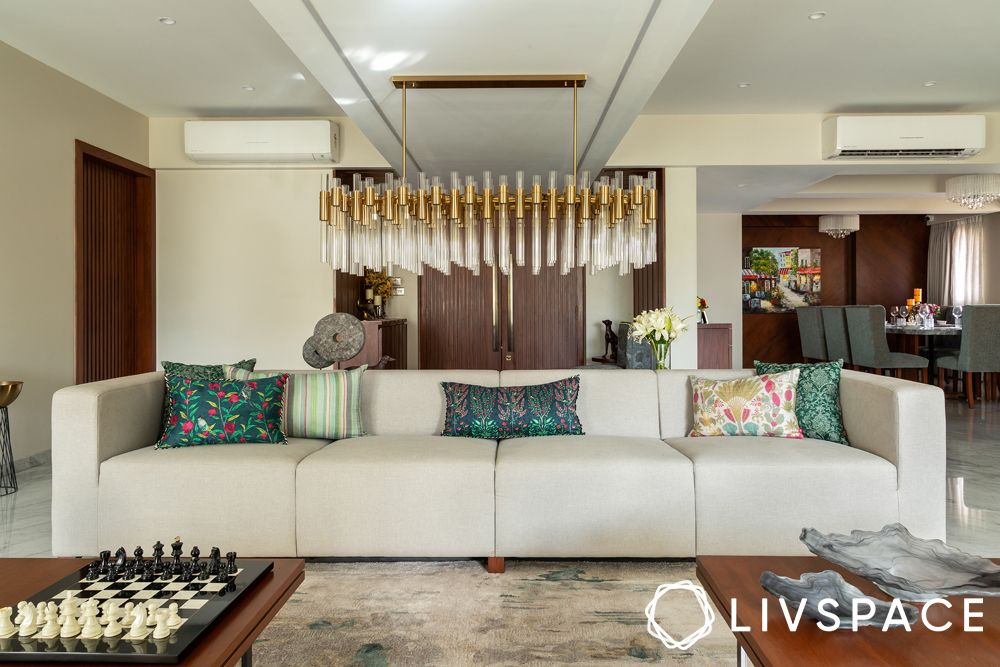 This open layout living room is ideal for hosting large feasts. As the homeowners have a big fat Indian family, one of their design needs was to have a living room that can seat all of their loved ones and family members. Livspace designer Aman decided to break the seating arrangement for a practical flow. Additionally, he added two coffee tables so that anyone can use them easily.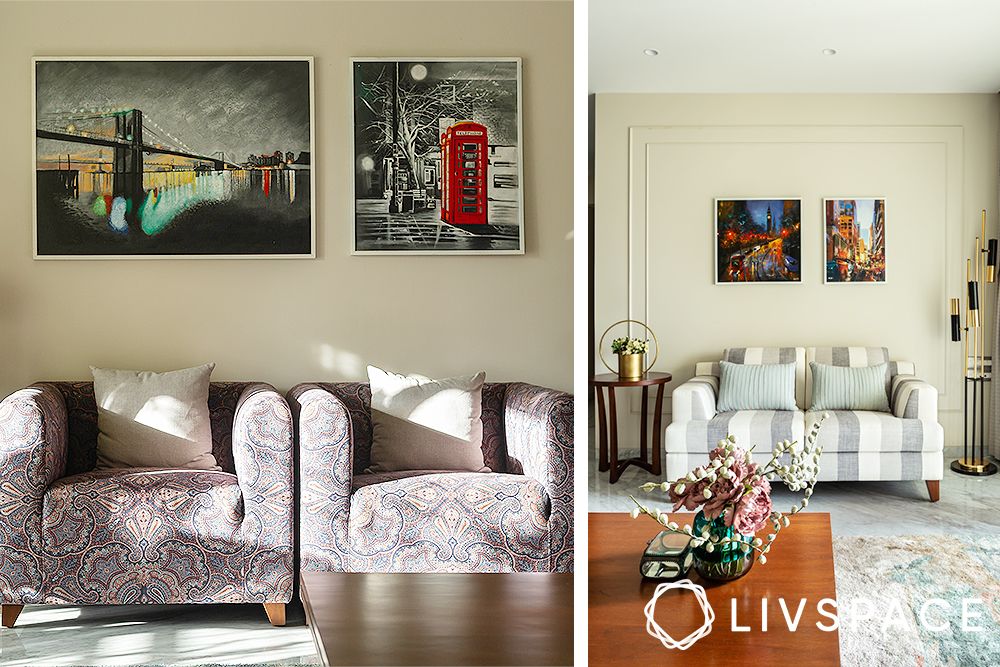 One thing that strikes you the most in this 3BHK flat interior design for Hiranandani Meadows is the side sofas. Both of them have contrasting personalities. One is adorned with striped covers, giving it a more modern look, while the other one has a traditional style pattern.
This helps create a balanced look in the living room. Another design element worth noticing is the paintings. You'll find them throughout the house. In fact, all the paintings are on the theme of city life. Beautiful, isn't it?
#3: Intimate Dining Setting Along With a Custom Crockery Unit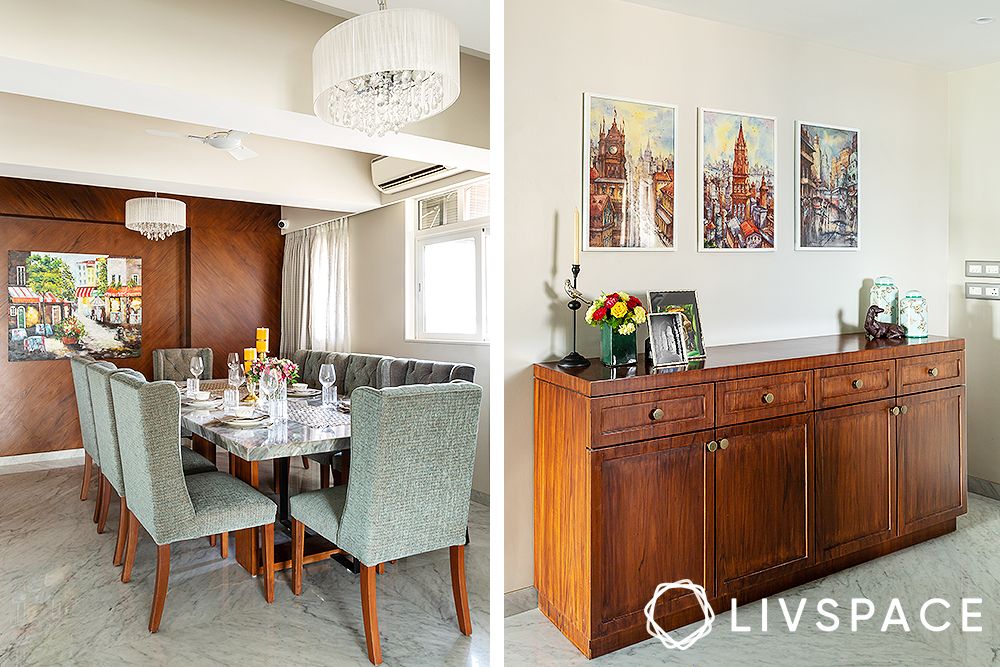 One reason why this 3BHK flat renovation in Thane, Mumbai is such a hit is because of its custom pieces. Another that makes it to this list is the dining table. The comfy seater set complete with a marble tabletop dining table is striking. The wood laminated wall behind carefully displays a cityscape painting. The crockery unit is also noticeable with its simple, yet stunning design.
#4: Kitchen Interior Design in Thane, Mumbai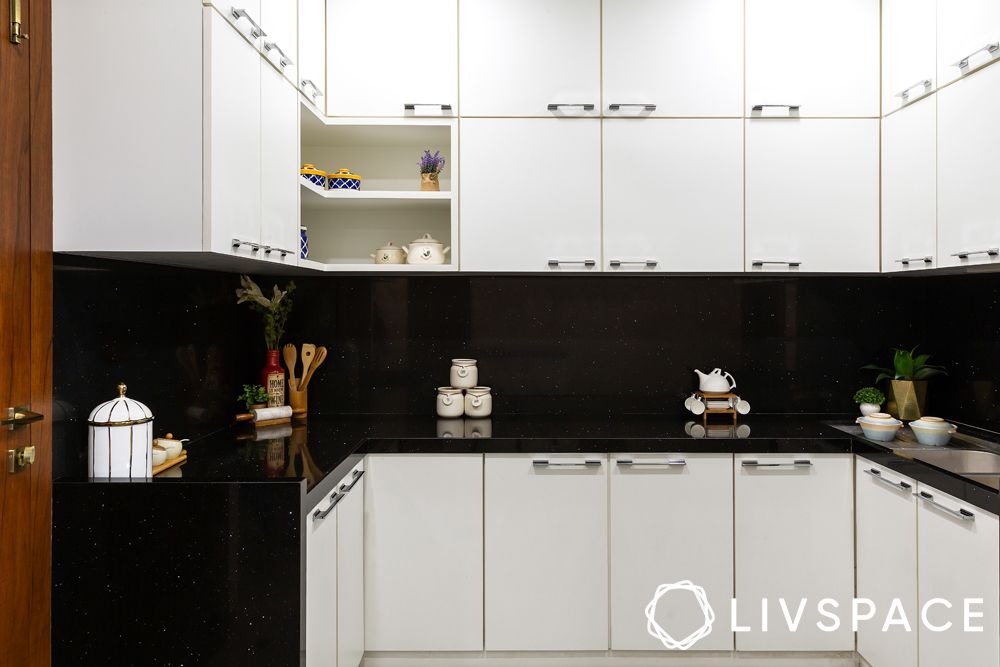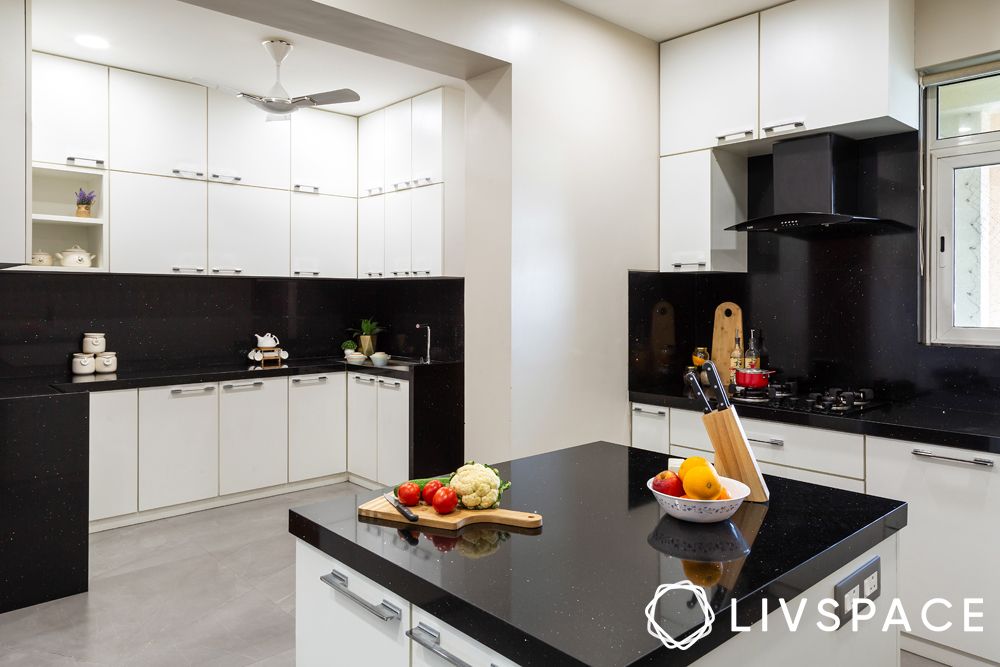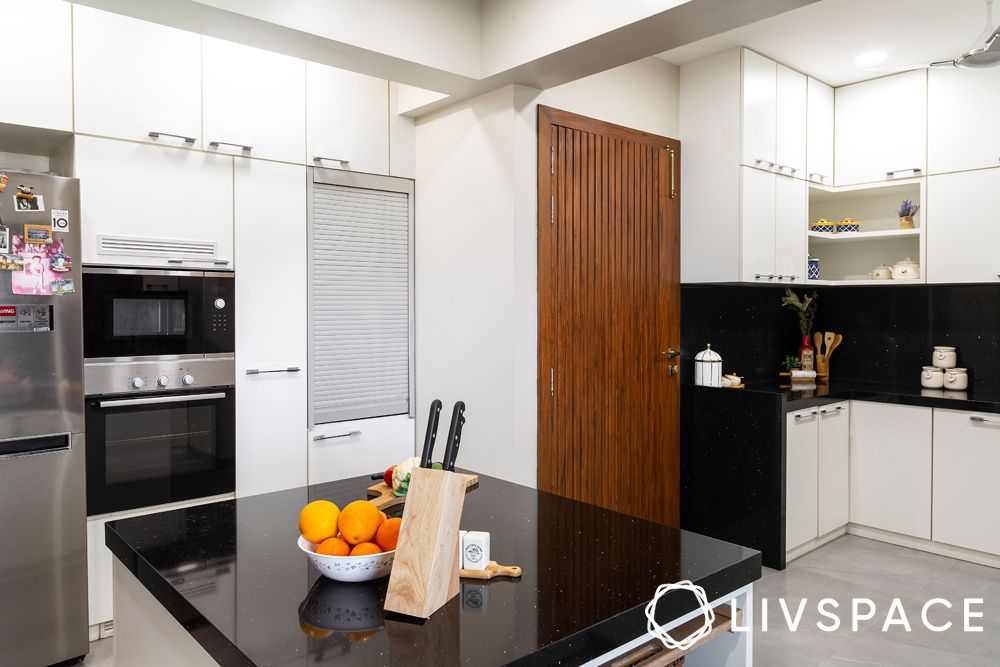 The two-toned kitchen is finished in laminates. A kitchen that can almost cover the entire room, has every type of storage you can think of. It has upper and lower cabinets made in white. Steel handles point to the cabinets being hinged.
In fact, Aman also picked a black granite slab to go with the black backsplash completing the look of this kitchen interior design in Thane, Mumbai. The last is the kitchen island that is made with storage too. So, you see? Every type of storage you can possibly imagine!
#5: Biggest Indulgence of This 3BHK Flat Renovation in Hiranandani Meadows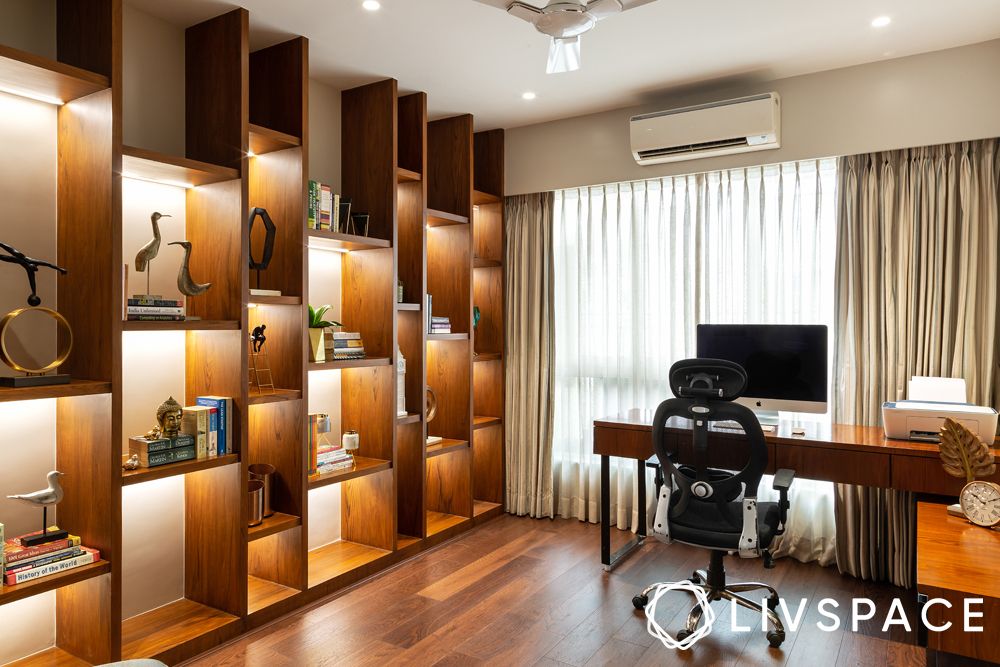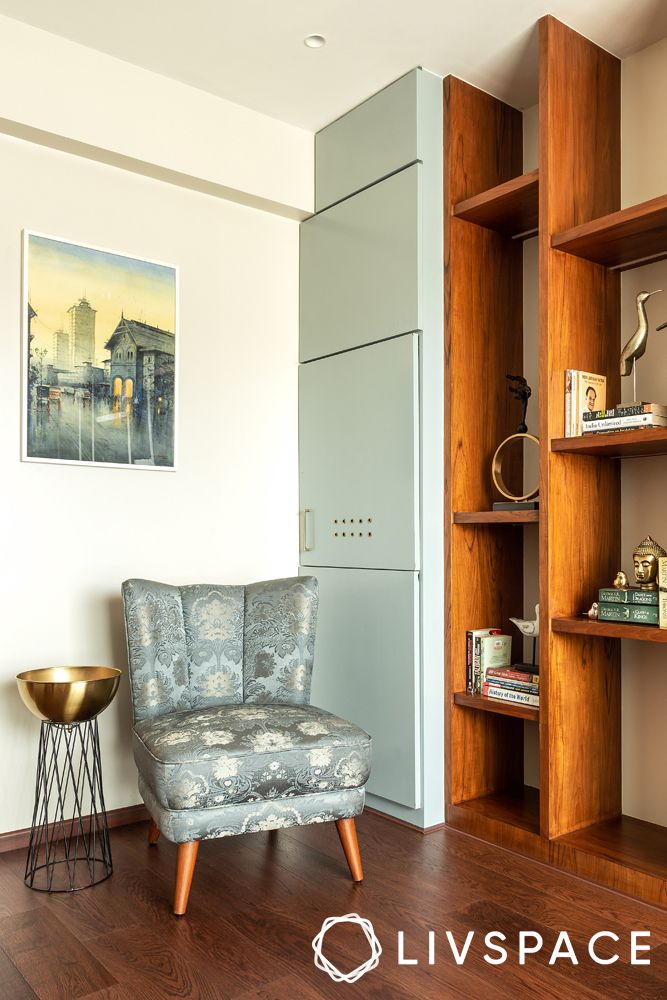 The study room is the man den of the home, according to Pallavi Goel. The study room has been made with a lot of detailing. In fact, the handiwork on the veneer panels make this quite an indulgent room.
The study also has a bar, that's concealed behind the modern wingback chair in the corner. It's perfect for catching up on a few drink after long, stressful hours at work. Aman also made a compact bathroom in the room so that they don't have to run outside for a bathroom break every time. Pretty smart, isn't it?
#6: Soothing Master Bedroom Dressed in Neutrals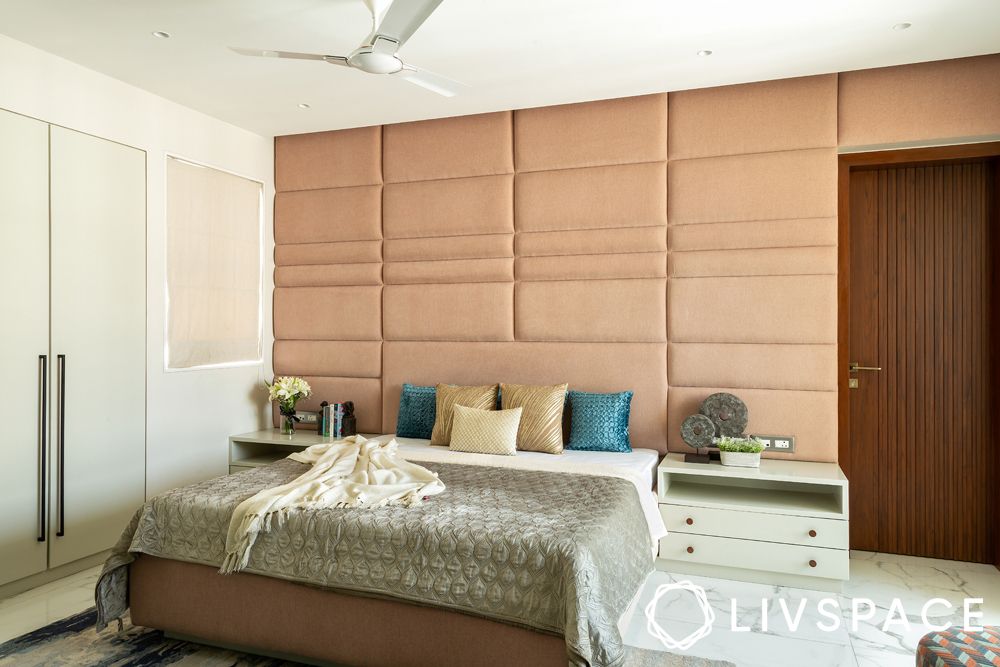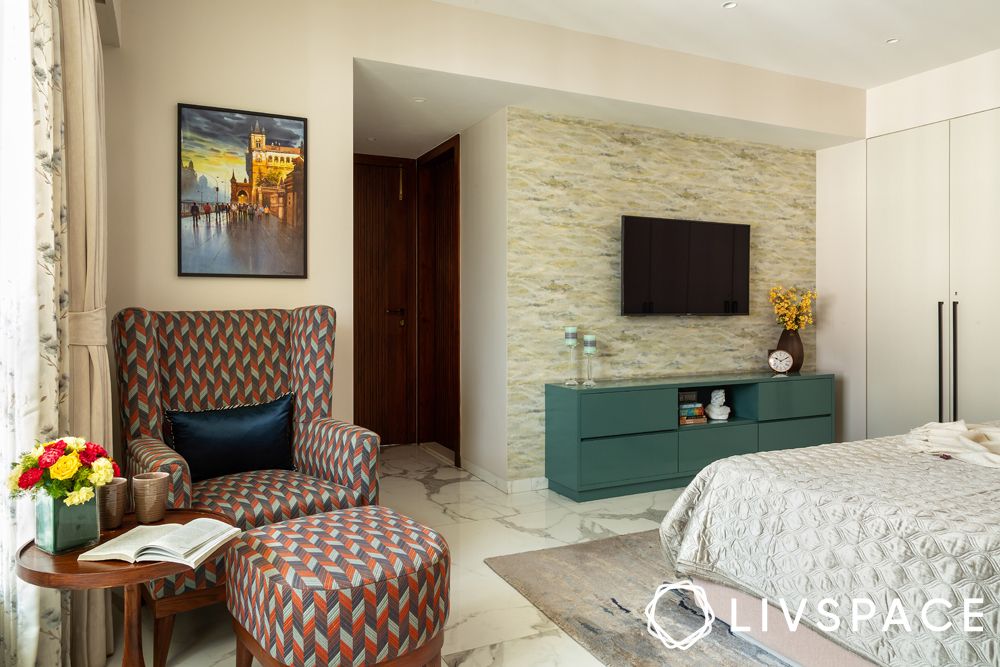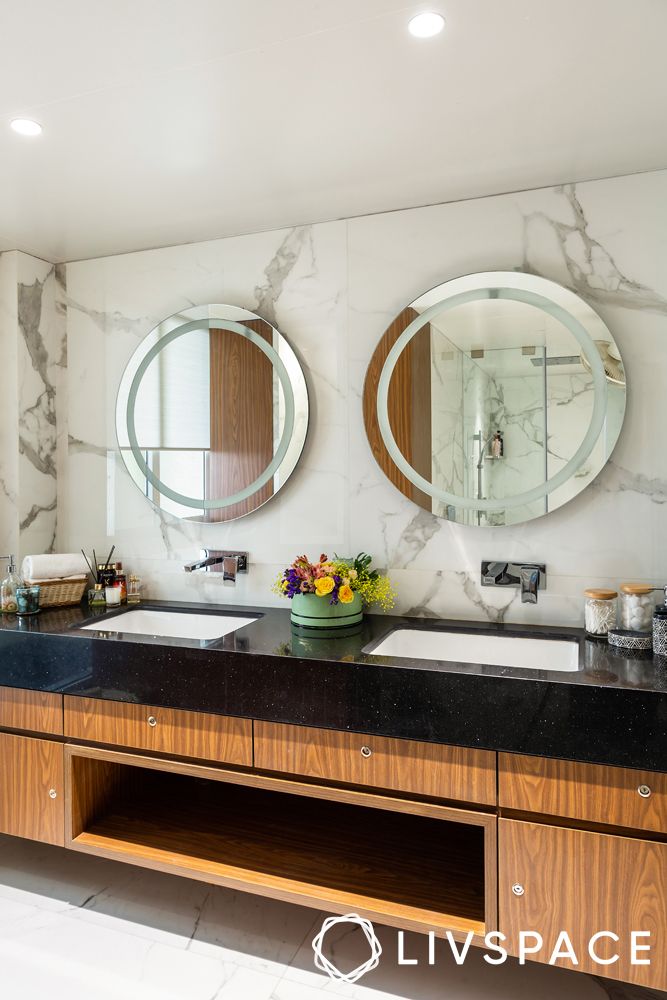 The homeowners are careful parents. Designing a 3BHK child-friendly interior design in their Thane home was the biggest priority. So, Aman designed the master bedroom with a floor to ceiling velvet headboard.
Additionally, he created a cosy corner for the quiet evenings and a sleek TV unit to enjoy Netflix in bed. Carefully catering to their needs, he also made a bathroom that can be shared by the couple on busy mornings. Thus, he shaped the marble finish washroom to have twin wash basins and mirrors.
#7: Unique Kids Room Designs in This 3BHK Flat Renovation in Thane, Mumbai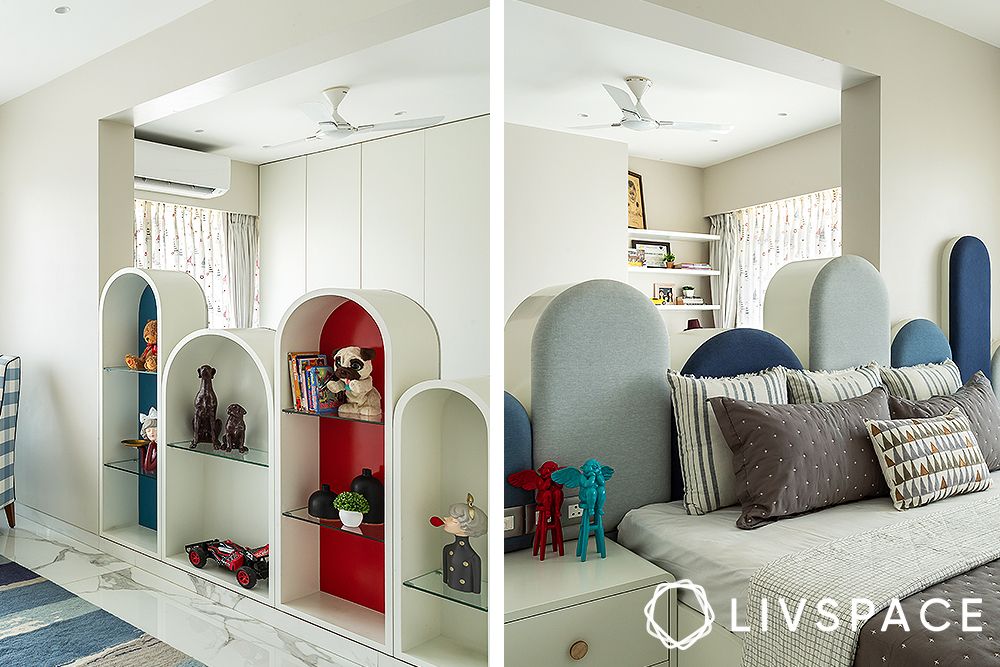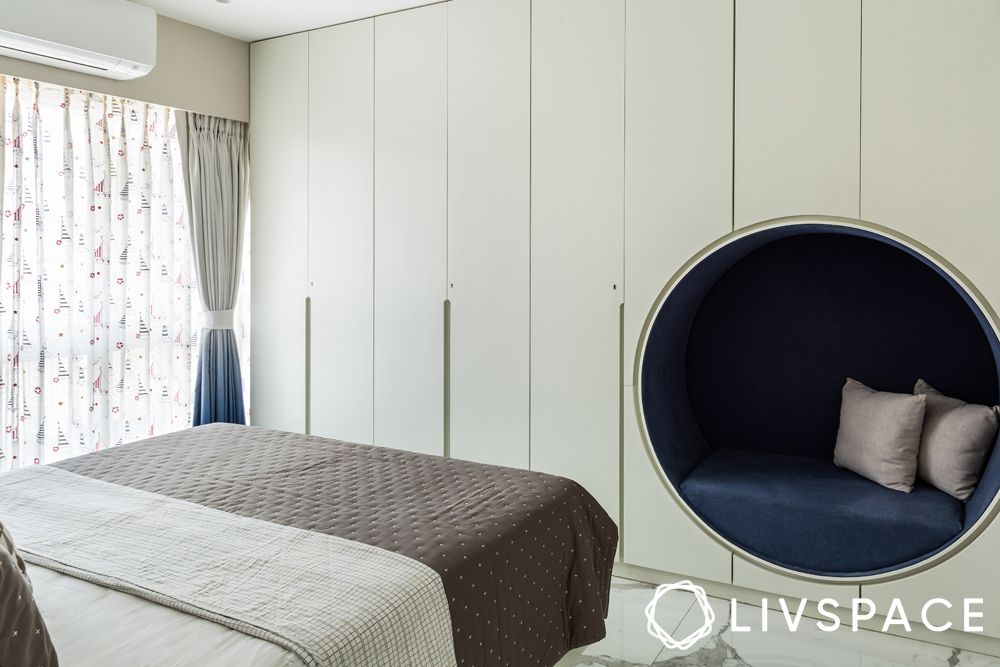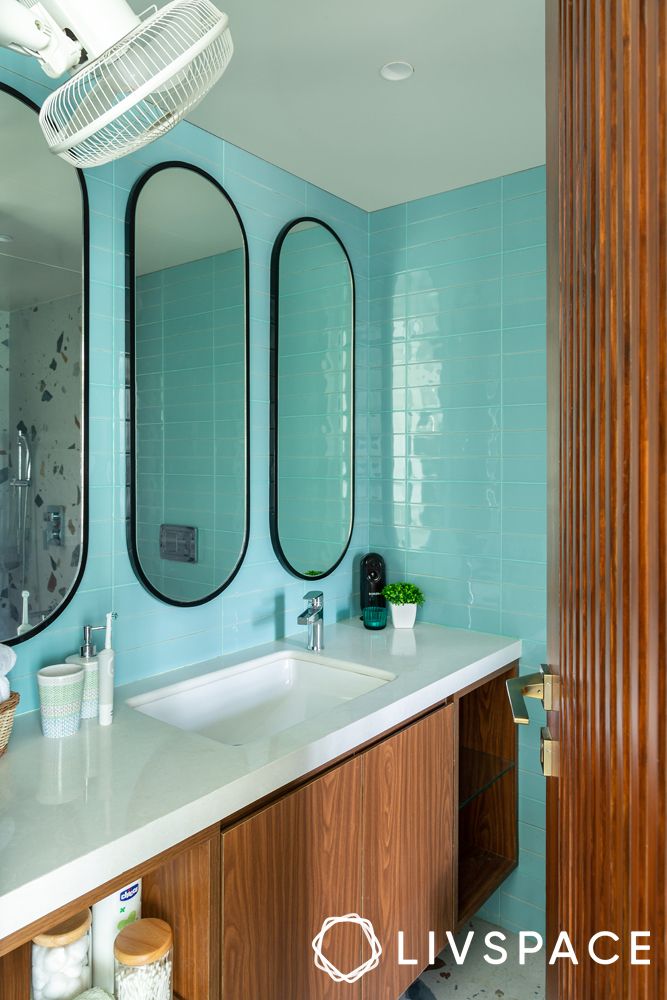 The kids bedroom in this 3BHK flat interior design for Hiranandani Meadows is absolutely steal-worthy. Firstly, the bedroom is equipped with a play area, a unique bedroom headboard design and a wardrobe with ample storage. Secondly, the bathroom and the cosy corner etched into the wardrobe are so distinct that both deserve a mention and a second look!
The headboard is curved and fitted with velvet material from one side. The other side opens up to the play area. The curved headboard transforms to a display unit and is adorned with toys. The cosy corner is carved in a niche in the wardrobe itself. Plus, we love the striking blue tiles in the washroom that contrast the woodwork.
#8: A Pastel Themed Guest Bedroom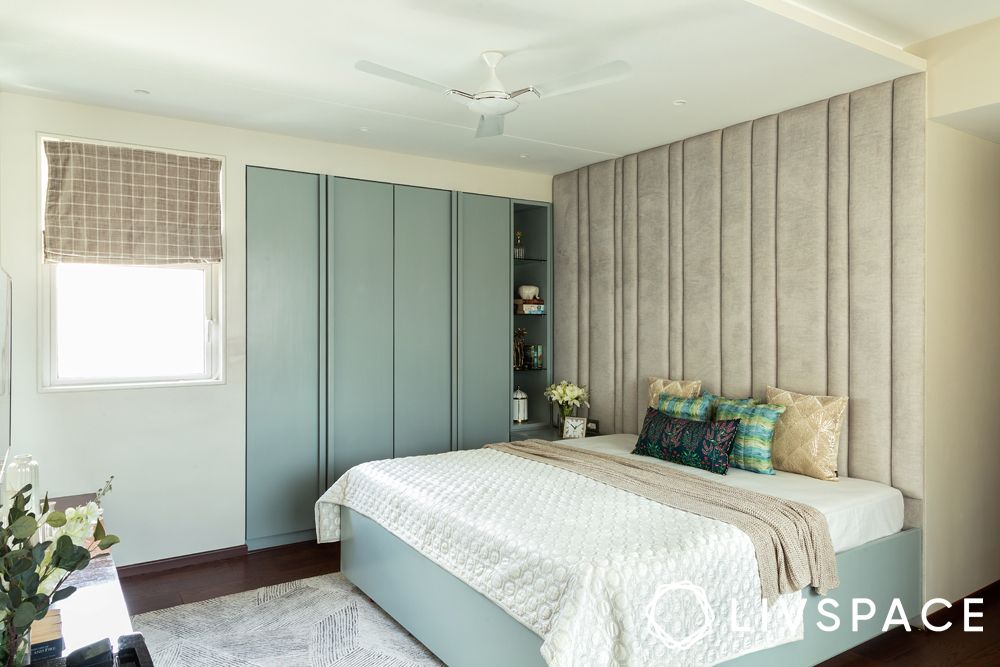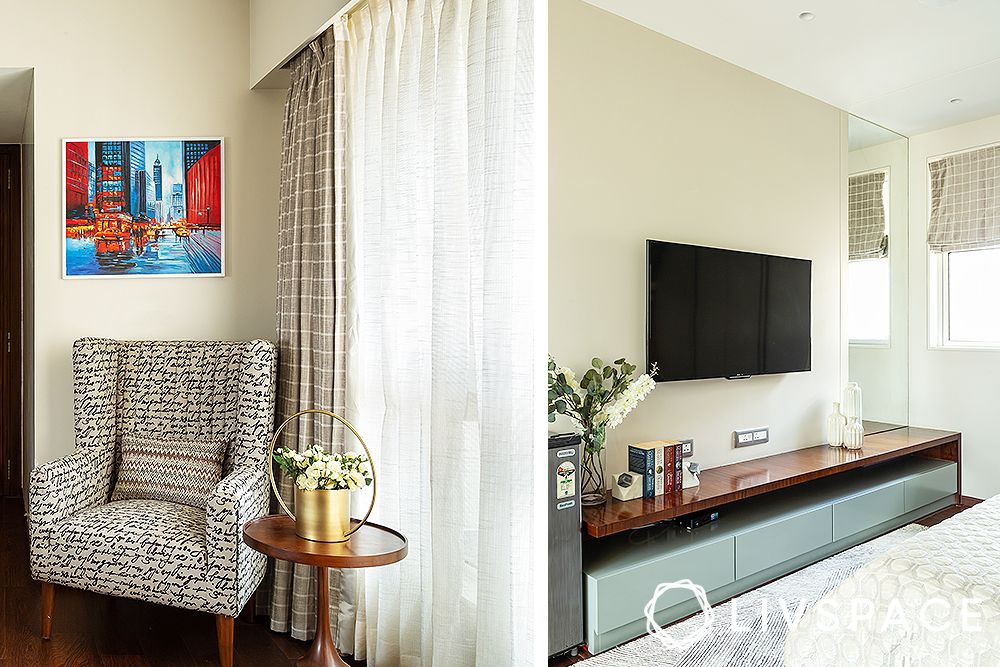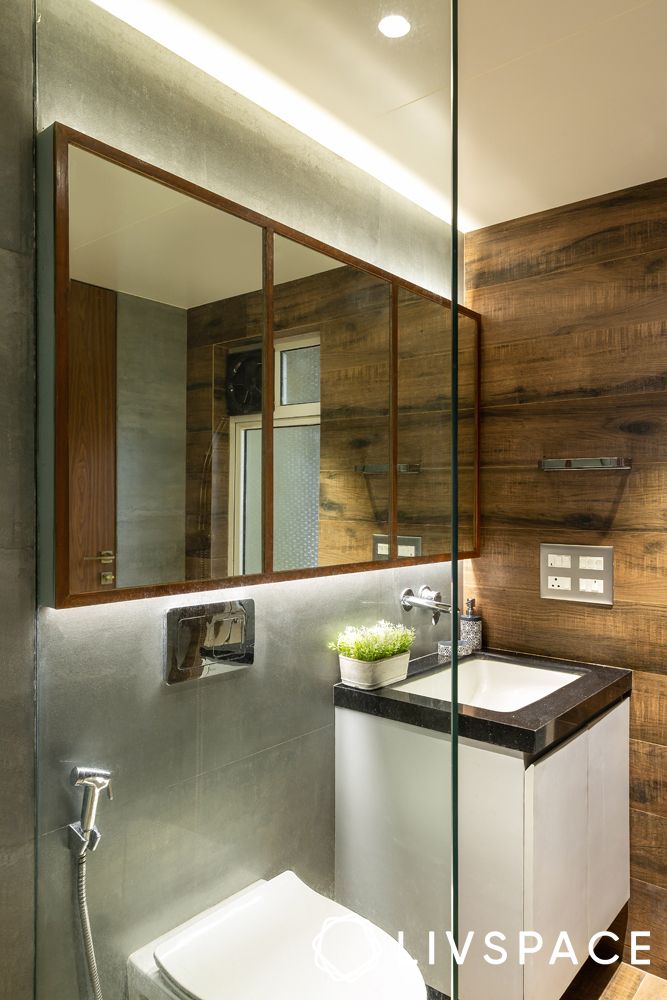 This 3BHK flat renovation in Hiranandani Meadows called for a beautifully designed modern guest bedroom. Our Livspace designers delivered!
Our Livspace designer Aman made it fully equipped with a washroom, a wardrobe, a TV unit and a cosy corner. He also made the headboard of this bedroom ceiling high, keeping with the child-friendly design theme of this 3BHK. The guests can also enjoy the TV in the room.
#9: Fully Equipped Gym With Modern Amenities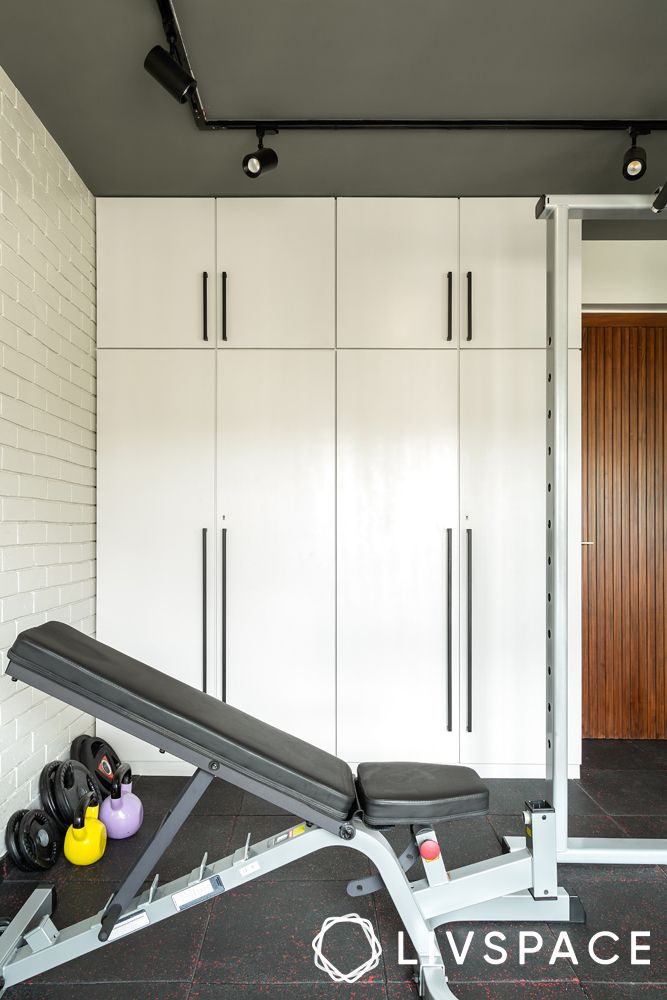 During this 3BHK flat renovation in Hiranandani Meadows, our Livspace designer Aman also put in a gym as the homeowners love to stay in shape. A luxury in many Mumbai homes, this gym is equipped with various workout equipments from strength machines to weight racks. A wardrobe is also in place to help store any workout equipment or a quick change of clothes.
This plush, yet simple 3BHK flat renovation in Hiranandani Meadows has flaunt worthy designs. All thanks to the Livspace team, the home is also a great example of custom, child-friendly interiors. Do you want to make your home interior like this too? Reach out to us!
Meanwhile, read: How We Gave This 6,000 sq. ft. Villa a Stunning Modern Minimalist Makeover
How Can Livspace Help You?
We hope you found our ideas useful! If you want beautiful interiors for your home, then look no further. Book an online consultation with Livspace today. Have any thoughts or suggestions you'd like to share with us? We'd love to hear you out. Write to us at editor@livspace.com.