A restful mood prevails in this 2BHK flat design in Thane.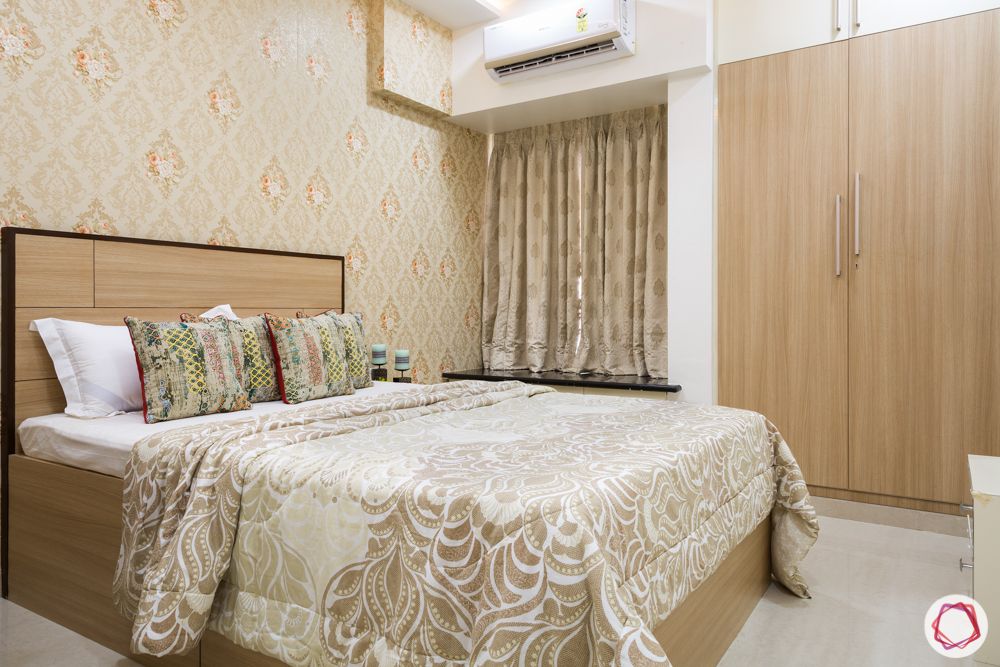 ---
Who livs here: Girish and family
Location: Pokhran Road, Thane
Size of home: 2BHK spanning 750 sq ft
Design team: Interior designer Poorna Kamat with Project Managers Abhishek Shinde and Piyush Sharma
Livspace service: Full home renovation excluding kitchen
Budget: ₹₹₹₹₹
---
Renovating the home you are living in becomes essential from time to time, especially if you have been living there for over a decade! However, unless planned carefully, it can turn messy very quickly. So who should you trust to get you through this complicated phase? Well, the family residing in this Thane home turned to Livspace, a firm proving interior designer in Thane, to redo their home.
It was Livspace designer Poorna Kamat who took on the challenge of renovating this home. So here's the result: a demure home that pairs wooden accents and metallic highlights with neutral colours. Check out the result!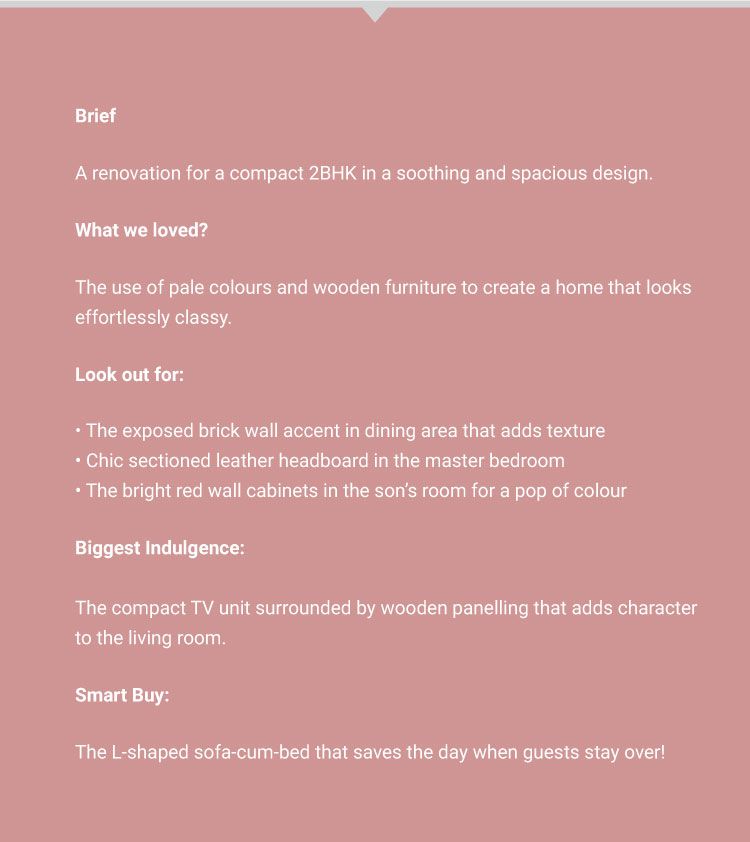 A 2BHK Flat Design Ideas: A Simple & Elegant Living Room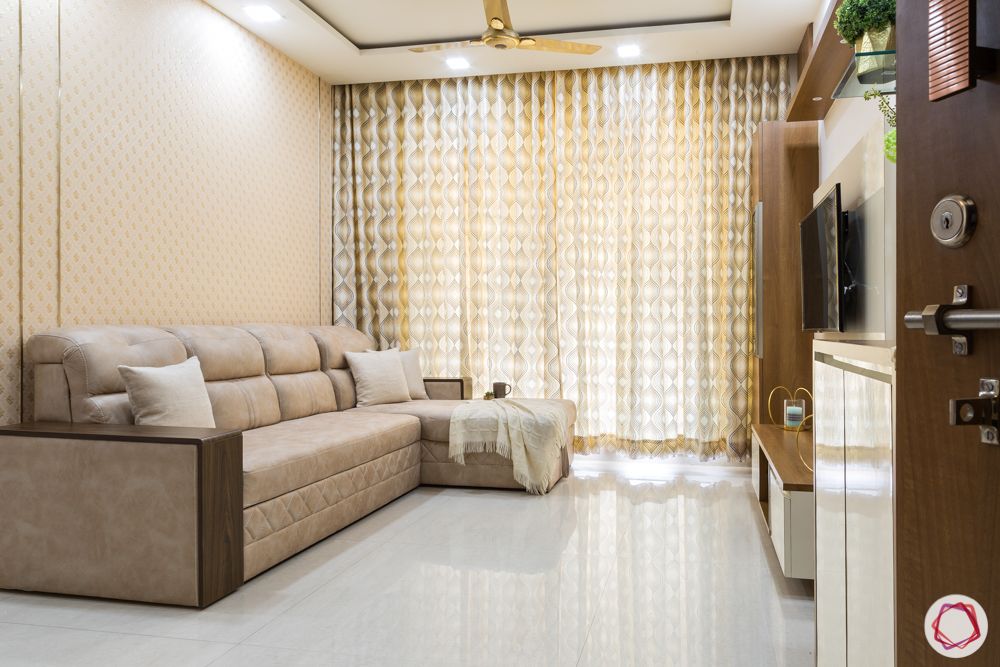 Doused in a shade of soft beige, the living area is a classic example of a room that exudes elegance. A wallpaper with subtle patterns and golden stripes takes over the accent wall. The designer has also placed an L-shaped sofa-cum-bed in a complementary colour.
A fresh white wall stands opposite to the accent wall. While this wall features a compact TV unit, Poorna has added wooden panelling with laminate finish on one side to make it look imposing. A wooden display cabinet on the other side completes the look.
Finally, a white cabinet with a laminate finish completes the living room. Poorna's choice of colour, furniture and lighting in this space aims at opening up the space to make it look open and clutter-free, just as the homeowners wanted!

A 2BHK Flat Design Ideas: A Subtly Gorgeous Dining Room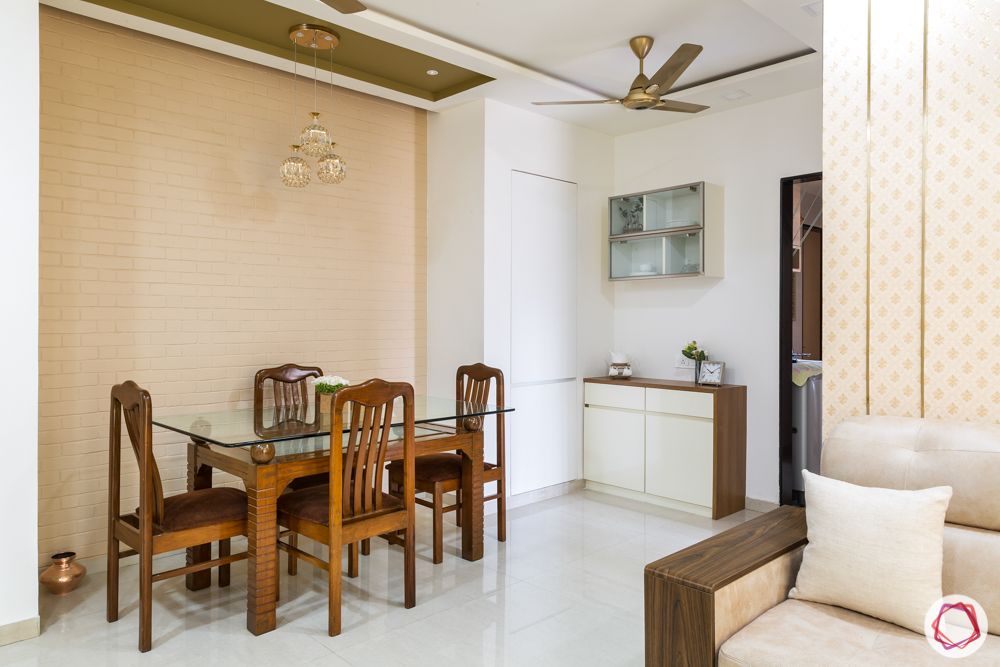 In order to highlight the accent wall in this room, Poorna has used brick cladding in the same shade of beige as the living room. However, a distinct false ceiling designed in gypsum distinguishes the space. In addition, Poorna has installed a cluster of pendant lights above the room to add to the soothing effect.
The dining room also features a custom crockery unit on the far wall. Beside it was a window, which has now been turned into a storage space for the family!
A 2BHK Flat Design Ideas: Bedroom Doused in Powder Pink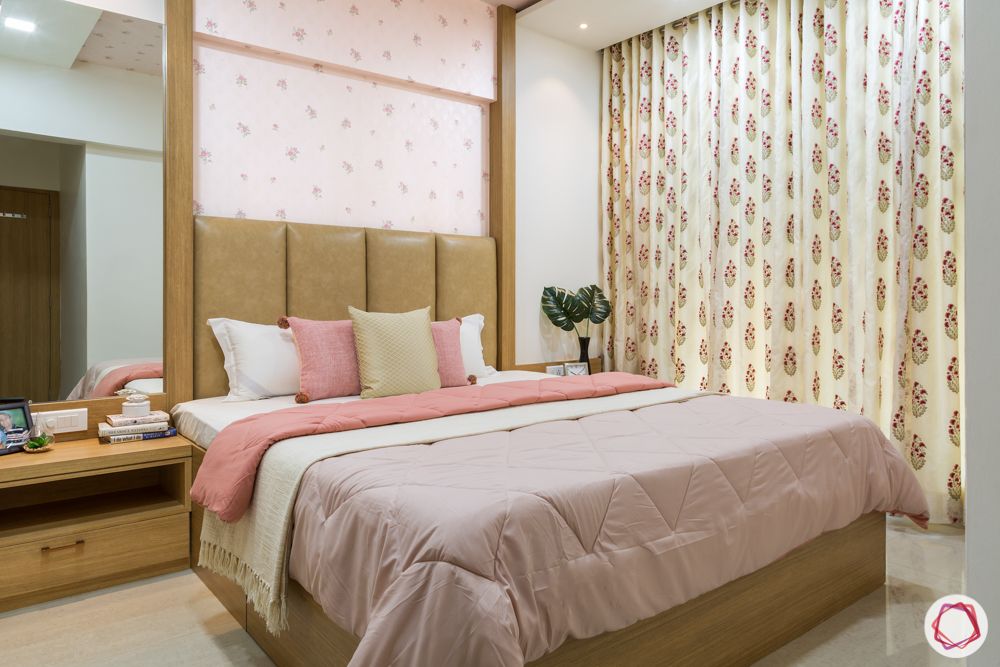 In keeping with the muted colour scheme of the home, the master bedroom is dipped in pastel pink. A pink wallpaper with subtle floral motifs covers the wall behind the bed. The designer has picked a custom sectioned leather headboard in tan that ties in with the colour scheme of the room. Moreover, think how cosy it would be to recline against it!
The custom-made bed in this master bedroom comes complete with wooden side-tables. On one side, Poorna has provided a mirror, so that the side table doubles up as a dresser.
The room features two wardrobes, one of which fits perfectly into a niche while a smaller one stands in front of the bed. Poorna has added a strip of wooden laminate in the same shade as the bed to the smaller wardrobe, thus tying the room together.
A 2BHK Flat Design Ideas: A Timeless Children's Bedroom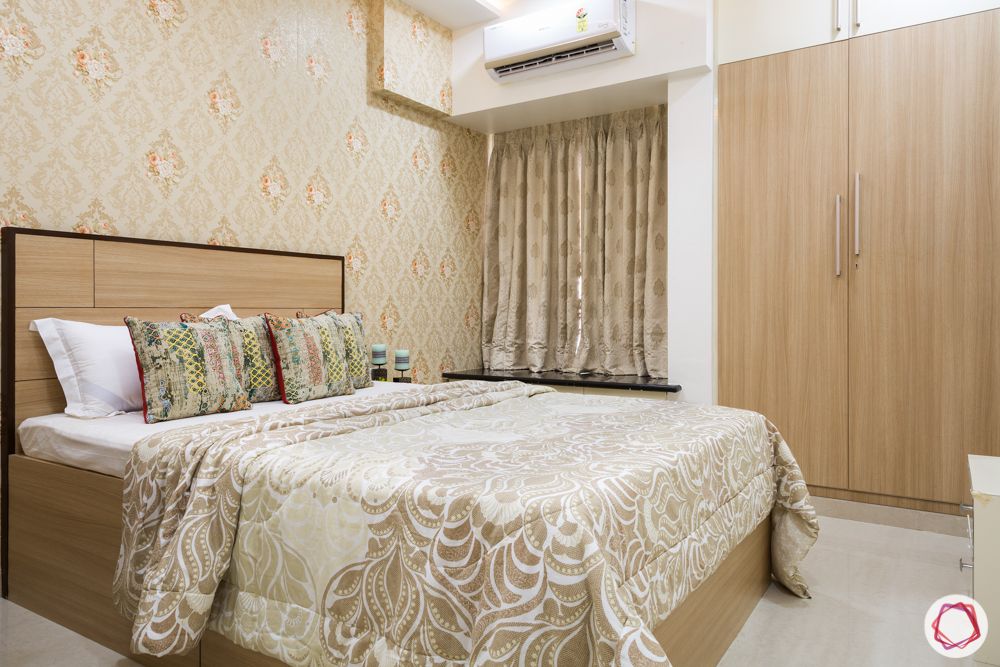 With neutral-coloured walls being featured across the house, what sets this room apart as a bedroom for a growing child? If you are thinking of the study unit, you are absolutely right! Poorna has added a dash of bright red to the study unit, which boosts the energy in this room.
This splash of bright colour is toned down by the overall colour scheme of the room. A soft beige prevails in this room. Above all, the wallpaper with ethnic motifs sets the mood for a soothing space that fosters creativity and encourages growth. In addition, this is one of those timeless rooms that kids don't outgrow in a hurry!
Finally, the bed and wardrobe in a muted wooden tone fit perfectly into the room. The colour remains constant even across the custom side-tables. A mirror and dresser stand before the bed. In addition to providing additional storage space, a folded section of this multifunctional piece also extends into an ironing table when required!
"The family wanted their home to look spacious and clutter-free, so the colour scheme was chosen accordingly. They were specific in their choice of wallpapers, and the rest of the interiors were woven around it."

– Poorna Kamat, Interior Designer, Livspace
Looking for designs in the same city? Check out Happy Hues for This Hiranandani Home.
Send in your comments and suggestions.