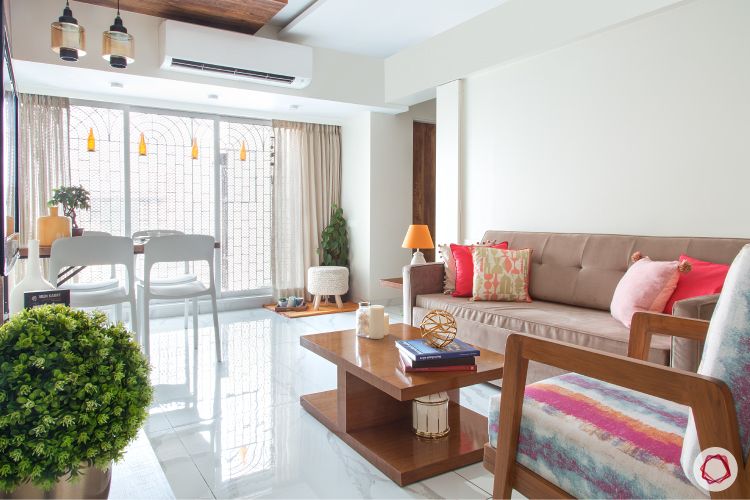 Compact spaces offer a great opportunity to think out of the box and provide some innovative storage solutions. Take a look at house design images of this Mumbai home with details on what went into this remodel.
---
Who livs here: Arvind Jain, his wife Nikita, their two daughters, Arvind's younger brother and his wife along with their baby girl, and their two parents.
Location: Riddhi Siddhi, Khetwadi, Mumbai
Home Size: 2 BHK
Design team: Interior Designer Tejal Shah with Quality Manager Mushir Shaikh
Livspace service: Full home design
Budget: ₹₹₹₹₹
---
Having lived with old school interiors that left the home looking cramped, Arvind Jain and family were ready to give their home a much-needed overhaul! They approached Livspace for this task and wanted everything—from flooring to soft furnishings—to be changed.
Livspace Interior Designer Tejal Shah, who was roped in for the task, found the task challenging given that she would have to cater to the needs of 9 people! Being the sport that she is, she dove right in to give them some tailored solutions for their unique needs. Take a look!
Living Room Transformation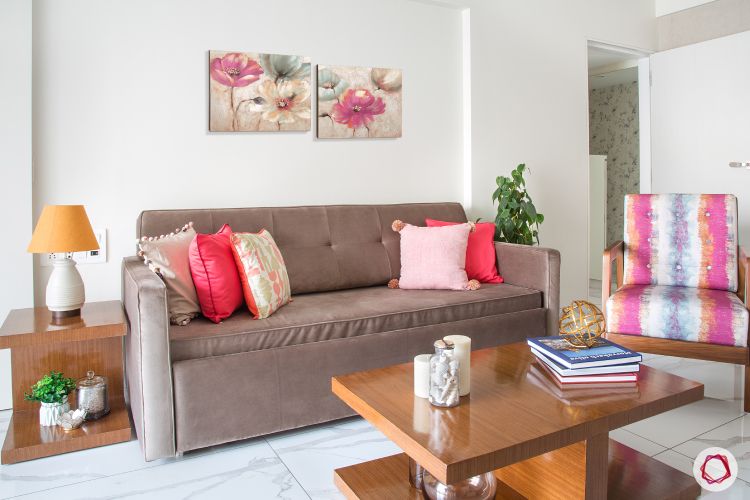 One of the Jains' biggest requirements was that they wanted every room to make the most of natural light, and feel spacious and airy. Apart from giving everything a homey yet modern touch, they also needed the living room to turn into a bedroom for their parents at night. This was accomplished in phases. Firstly, the flooring was changed entirely from old-school to a neutral-coloured tiles.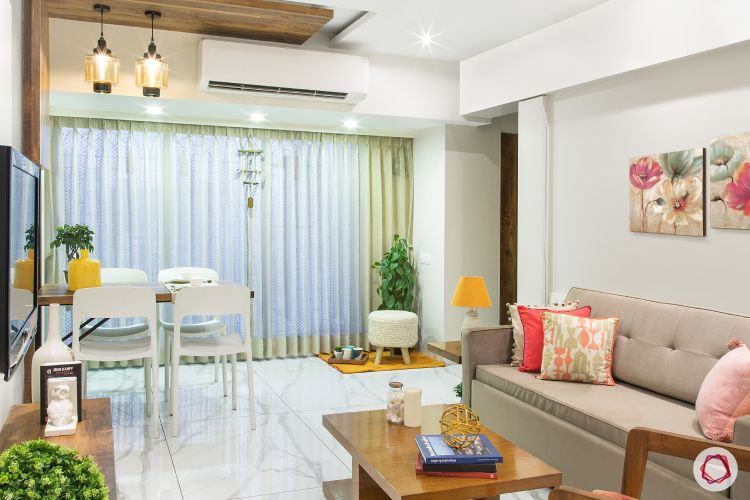 We built a comfortable, compact and durable sofa-cum-bed that also looks perfect for the look Tejal tried to create. A simple armchair, coffee table and side table later, they were good to go.
If you look carefully, you'll see an alcove to the side of the living room. This has been done up in vintage-style floral wallpaper, cabinets and false ceiling to make it a storage-cum-changing space for their parents. An innovative use of 25 sq ft!
Less is More!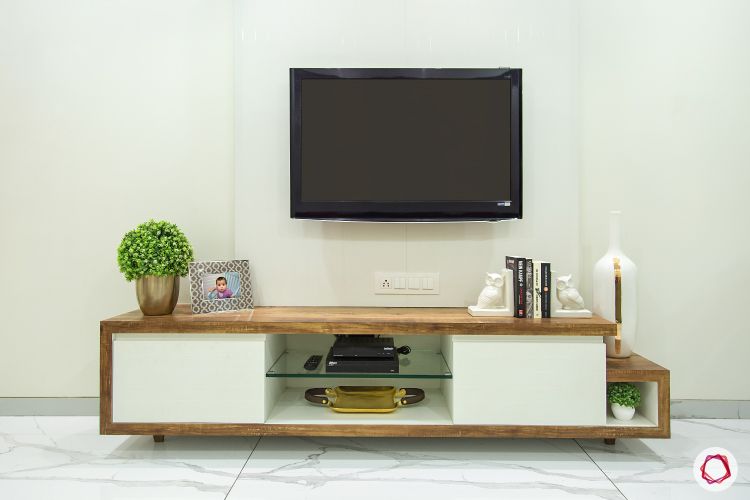 Let's turn to the entertainment unit, that's rather conspicuous in its minimalist design. Mounted on white panelling, the TV unit is classic and blends right in. Tejal has added a cabinet that's a beautiful mix of open and closed units for display and storage needs. Using wood on white compliments the theme and keeps it light.

White on wood is the tone that's been set in this gorgeous Mumbai home. The end result is, everything seems so well put together without being overwhelming.
Dining Designed to Disappear
For the dining space, Tejal set up a fine space-saving idea with a foldable dining table and light chairs. The table fits seamlessly into the panelling when you're done with a meal, and opens up the room for more space in case of visitors. Didn't we tell you these space-saving options would delight you?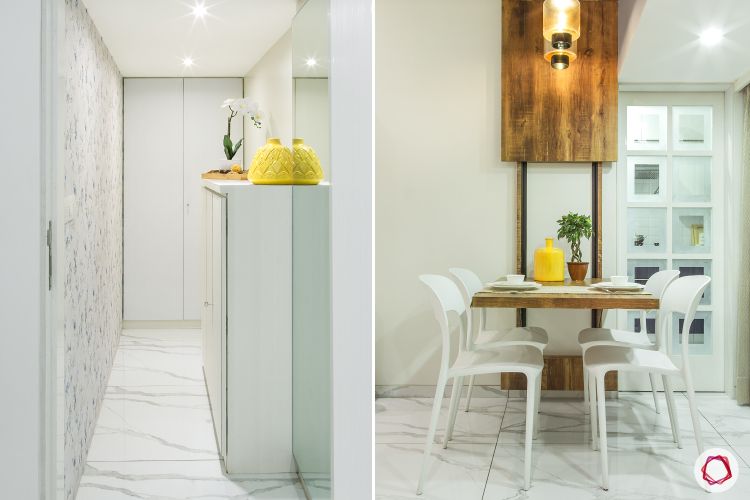 (Left) Here's a view of the dressing room for the parents. Remarkable what you can do with some vision!
(Right) A close-up of the dining space.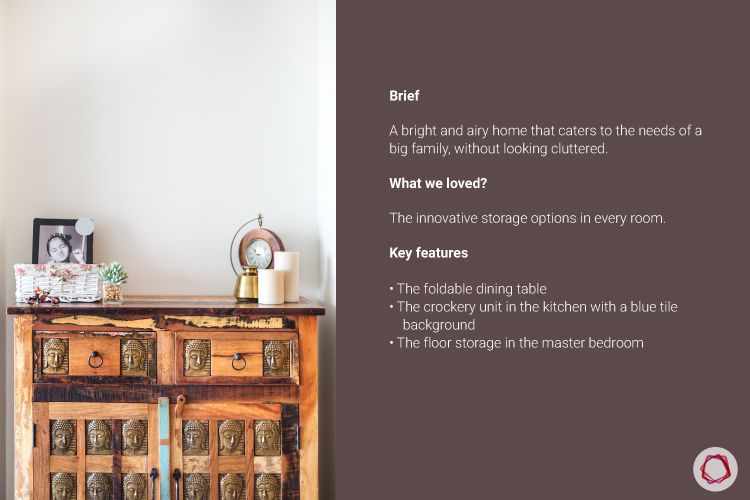 Cool Creations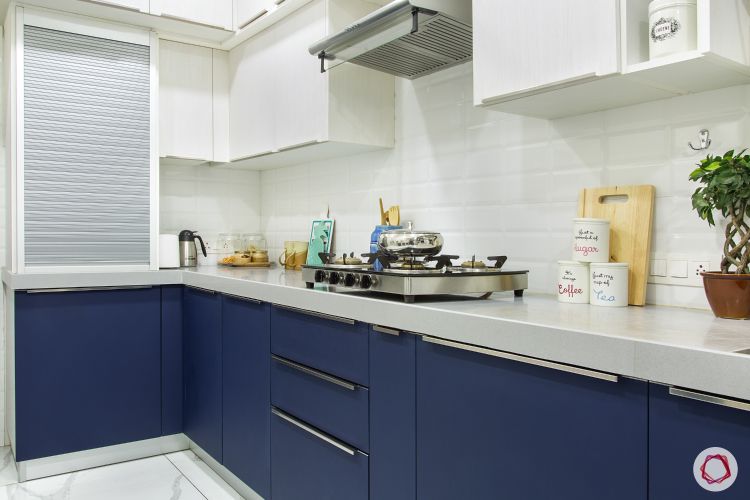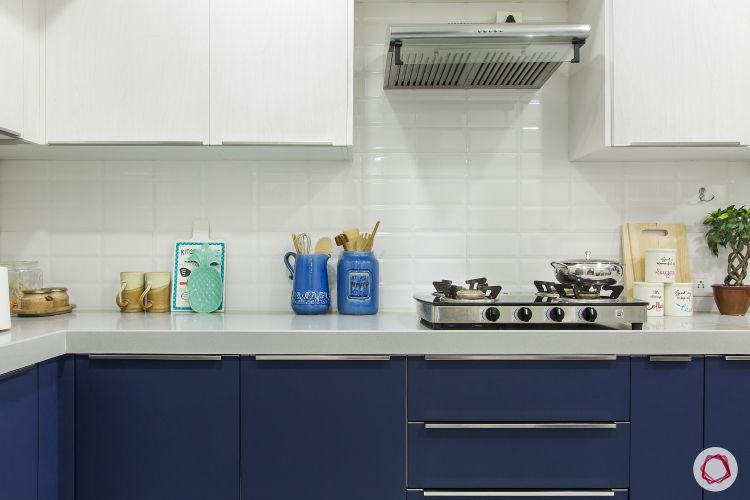 This home is a testament to all things simple and beautiful. Take a look at this membrane kitchen in a combination of blue and white! It's cool and functional. Doing up the overhead cabinets in white makes a space seem larger and adding blue to the lower half, makes a space exciting. We've kept the backsplash simple in white.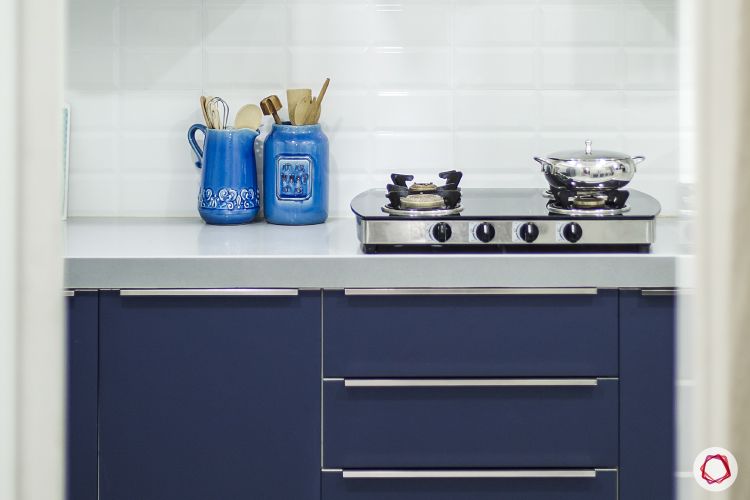 Tejal deigned a combination of open and closed units with handles for the cabinets. Additionally, there is a rolling shutter cabinet installed to accommodate all their appliances.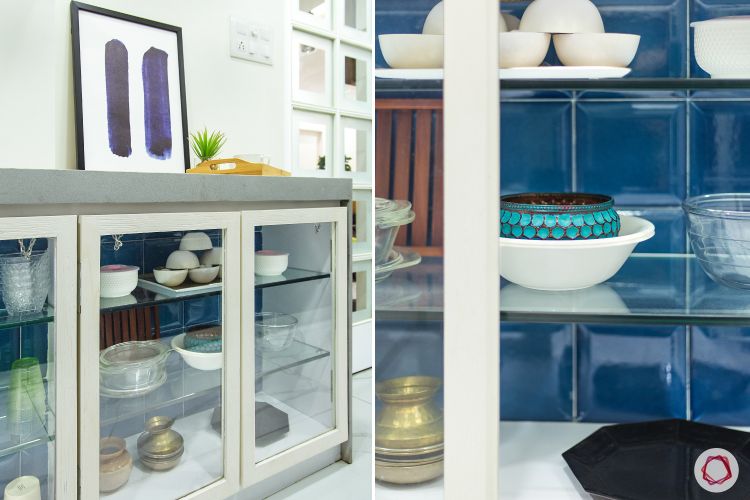 The custom-made crockery unit with blue tiles as the background forms the statement piece in this kitchen.
Master Bedroom Marvel
The master bedroom shared by Arvind Jain, his wife and his two children is minimalistic but warm. They had a chest of drawers they wanted to accommodate. So Tejal played match with the wardrobe and doors. She pasted the laminates for the wardrobe horizontally and vertically, alternately for that stunning effect.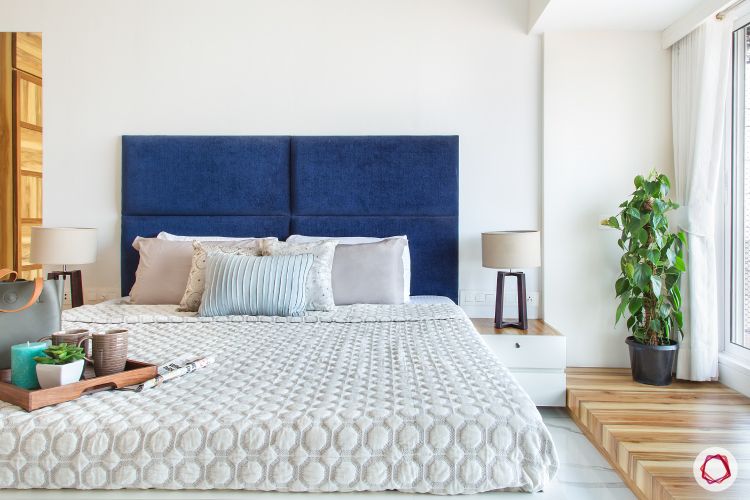 The bed is big and comfy, with a stunning blue upholstered headboard, also tailormade. If you look closely at the wooden flooring on the right, you'll notice that that is cleverly designed storage space that runs 2 ft deep and can hold toys and books that belong to the kids.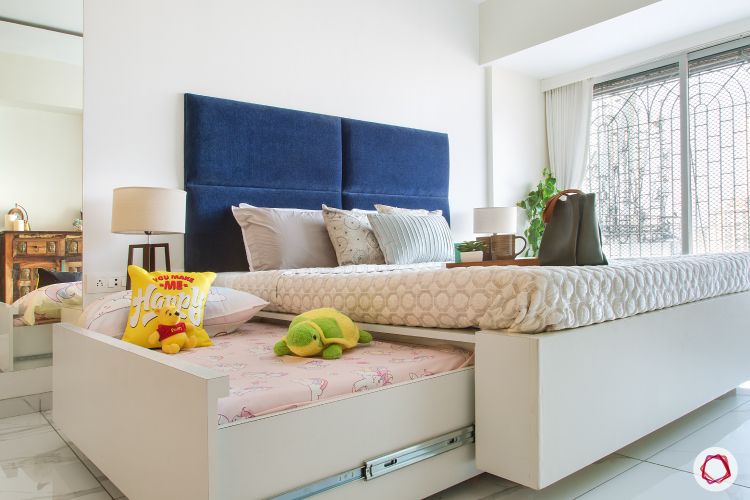 Tejal also designed the bed to hold a pull-out bed for the kids. This is seamless and can ensure the room suits all four of them!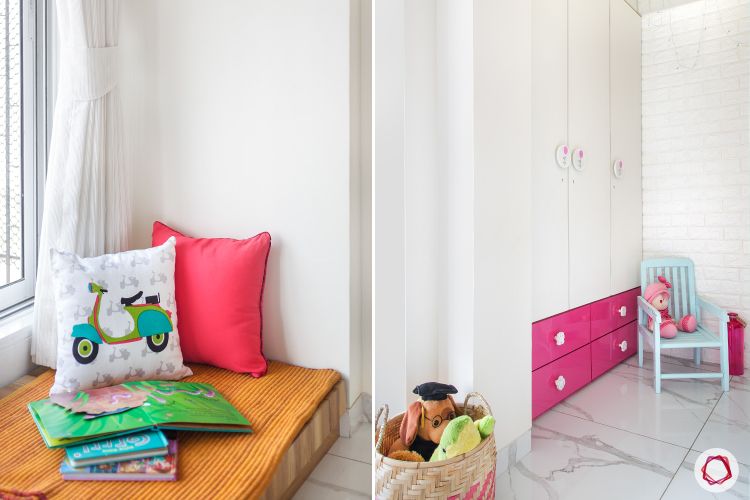 The balcony space has been converted into a study and play zone for the kids while the storage space stays neatly tucked away. This is an idea that can be easily implemented by anyone who has window space.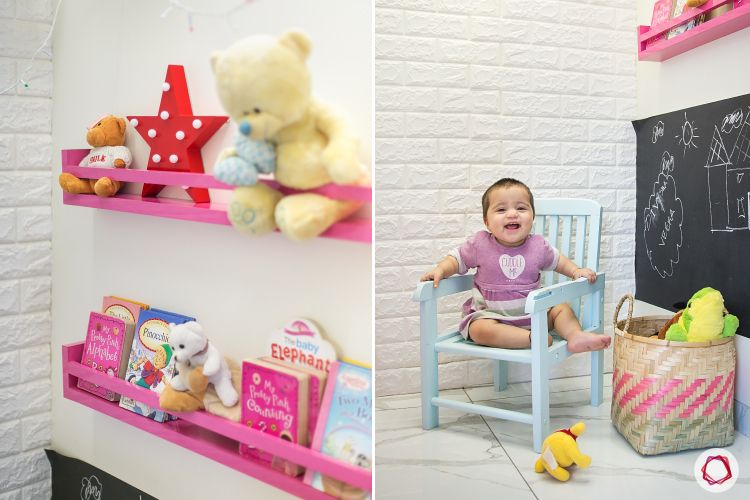 There is another alcove in this room which houses a wardrobe in pretty pink and white for the girls, has been done up with foam-based brick tiles for a cushioning effect, shelves, chalkboard and more! Every child's dream come true!
Vanity Fare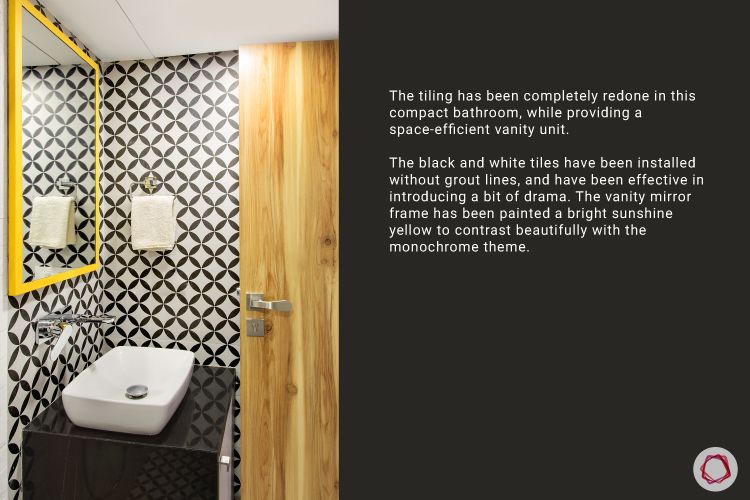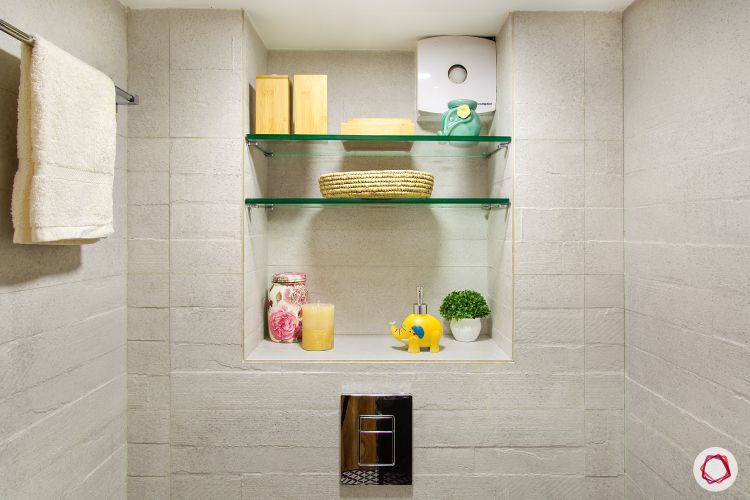 Apart from the vanity, Tejal also provided some open shelves for their display needs and things that need to be accessed more frequently. Therefore, smaller spaces can also be made beautiful and functional.
Beautiful Spaces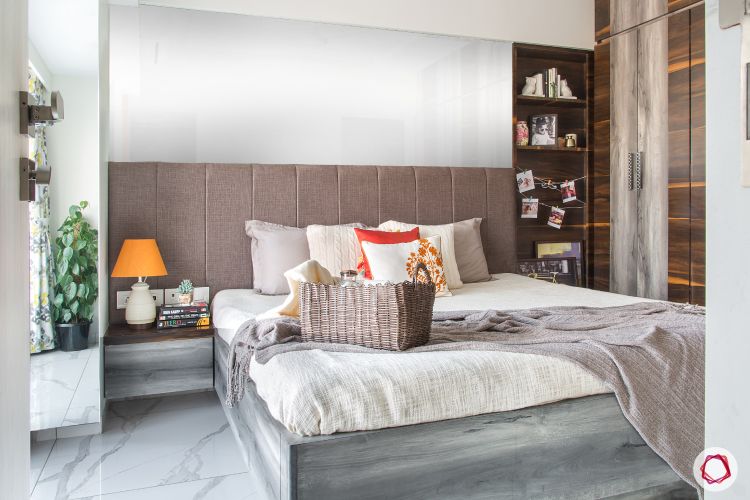 Arvind's younger brother, wife and two-year-old daughter share the second bedroom which has been done up in brown and grey. From the upholstered headboard to the side tables, the book shelf and the dressing unit, Tejal kept it light and breathable. However, it boasts of storage in terms of the massive wardrobe and shelves everywhere.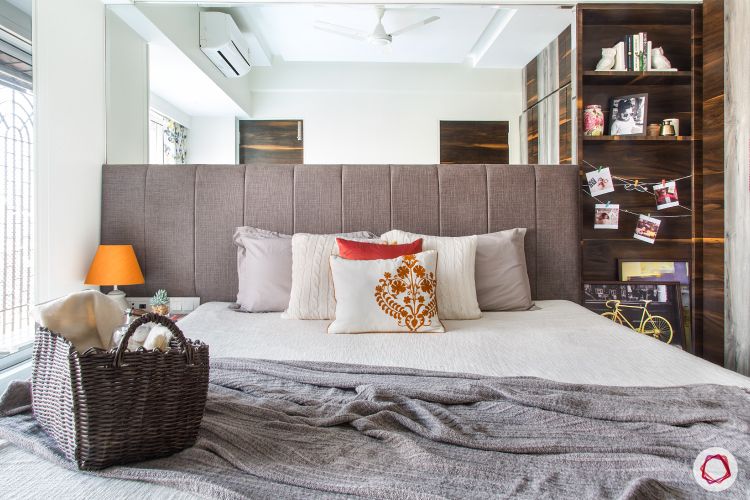 A mirror has been installed above the headboard to give this room a more spacious feel, which we think is the need of the hour, especially with smaller and more compact homes in the metro. As a result, this home turned into a modern, comfortable zone for the Jain family without hassles.
"Arvind's wife Nikita was a big factor in making this home come true. She had new ideas and was easy to work with – making quick elections and approvals. In this home, we made sure we utilised every inch available to accommodate a big family's needs. It was challenging, but we achieved it!"

Tejal Shah, Interior Designer, Livspace
Did you enjoy the house design images and story behind the setup? We certainly loved presenting the ideas to you! Write to us with your suggestions and feedback! For other home tours, go here!
Disclaimer: All contents of the story are specific to the time of publication. Mentions of costs, budget, materials, finishes, and products from the Livspace catalogue can vary with reference to current rates. Please get in touch with a designer for more details on pricing and availability.