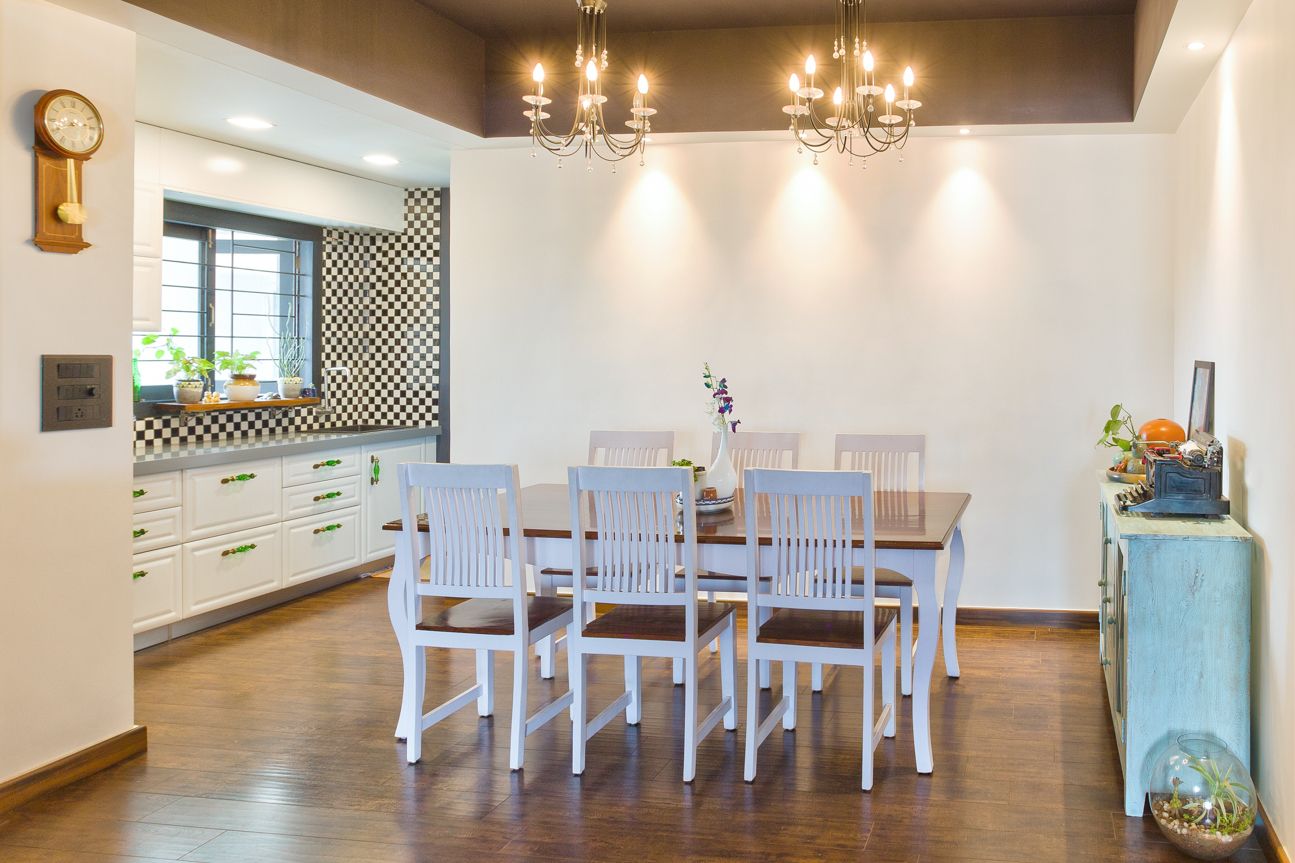 ---
Who livs here: Myna Bisineer with her husband Pramod Agrawal and their daughters Gauri and Mira Bisineer-Agrawal
Location: Vaishnavi Splendour, RMV II Stage, Bangalore
Kitchen Size: An open-plan kitchen cum dining spanning 250 sqft
Design team: Interior designer Payal Bagzai with project manager Ramesh Babu JP
Livspace service: Kitchen, dining, and utility area
Budget: ₹₹₹₹₹
---
Months before the Bisineer-Agrawal couple's elder daughter's 11th birthday, Myna Bisineer and her husband, Pramod Agrawal had begun planning Gauri's birthday gift — a beautiful, built-in oven. The Bisineer-Agrawal household loved to tickle their senses with baked goodies. Mom, dad and the girls all often got together to bake a storm.
The idea was incepted. The more the couple spoke about it, the more they realised they'd love for a kitchen renovation that was reminiscent of their time spent in the United States.
The ball got rolling, and their kitchen re-design began shaping up when they met Livspace designer Payal Bagzai. Myna's artistic bend and Pramod's practical approach to interior design matched Payal's propensity towards straight lines, minimalistic forms and clean design.
Retro checks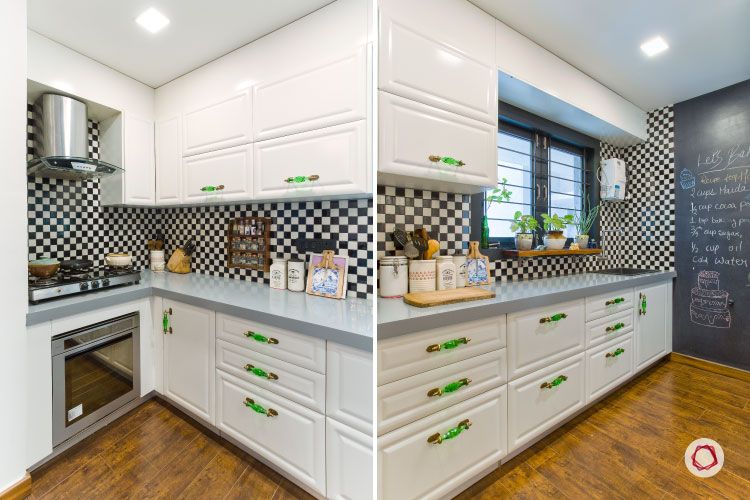 ---
White profile cabinets with a retro-themed checkered backspalsh and the teak wooden slats underfoot transports the Bisineer-Agrawal family to their time in the US.
---
The trio put their heads together, and chalked out a plan to overhaul the kitchen space into an open kitchen cum dining. As Payal got to know the couple and their daughters better, the finer details that went on to define the soul of their kitchen, like the checkered backsplash, were seamlessly filled in.
Their old orange cabinets gave way for pristine white profile cabinets that allows the space to feel light and airy. Underfoot, warm teak wooden slats replaced their vitrified tiles. A pearly grey corian top was installed to complete the look.
The eye-catchy blackboard? Yes, we're crushing on that too! But don't get fooled, Payal had the wall treated to a deep slate paint that's easily washable. The kids love scribbling their recipes on it before their baking escapades.
Rustic stories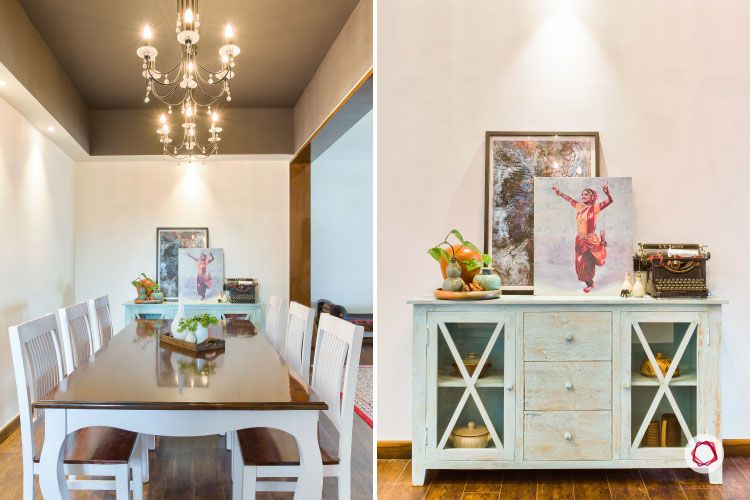 ---
A rustic crockery unit marries the straight-lined solid wood dining table keeping things light and interesting.
---
To ensure cohesiveness, the teak wooden slats continue into the open dining space. With growing children, the solid wood table was non-negotiable. Payal introduced curvy chalk white table legs and straight-backed chairs to match the cabinetry in the kitchen.
In the backdrop, the rustic powder blue crockery unit sits pretty. The stunning painting of a dancer atop the unit, is Myna doing what she loves doing best.
A baker's pantry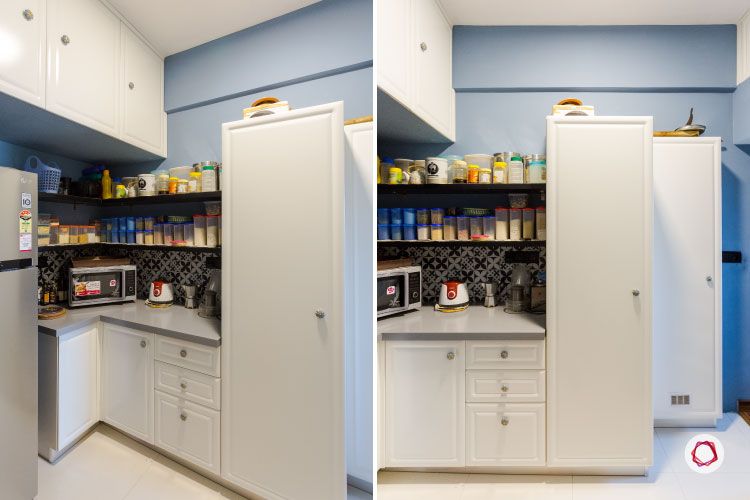 ---
A fully functional pantry like this is what the Bisineer-Agrawal household had been lacking, given their love for baking.
---
Payal addressed the growing family's storage crunch with an exhaustive pantry that has enough storage to stow away baking supplies. Unity reigns through the clever repetition of profile cabinets in white with powder blue walls.
American-style wet area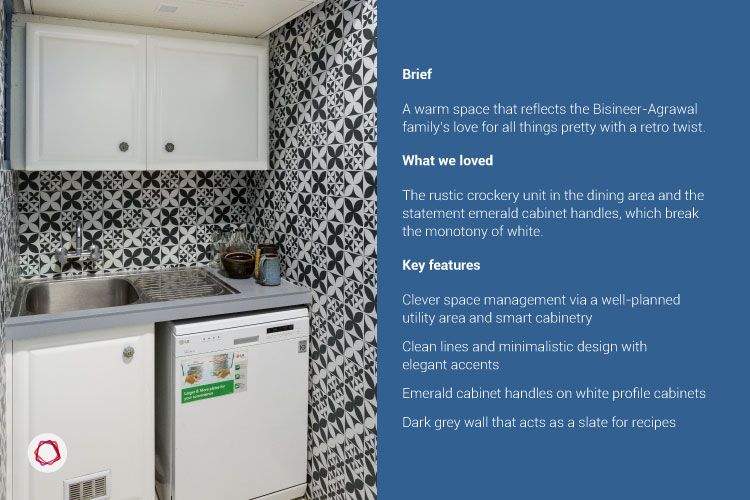 ---
To incorporate a wet area for laundry and washing vessels, an existing extra toilet was broken down.
---
To make way for this all inclusive wet area — another facet the Bisineer-Agrawal couple borrowed from their time overseas — Payal broke down a spare washroom and converted it into a functional sink and wash area. To provide relief from the white dominance, she gave the walls black and white floral tiles.
The nitty gritties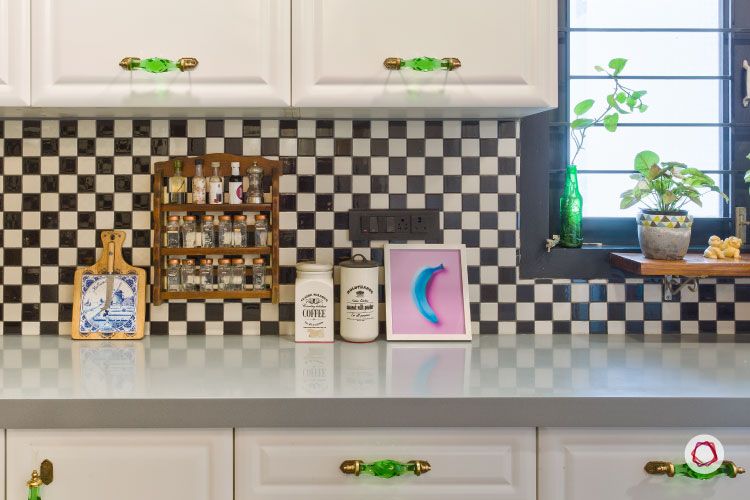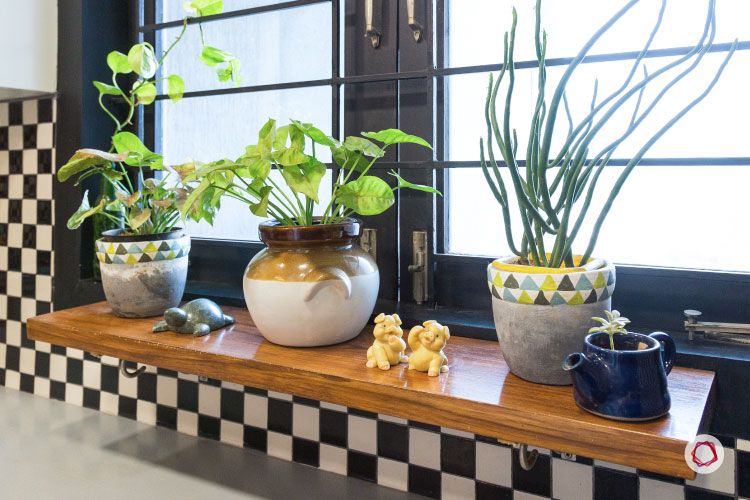 ---
Quirky emerald cabinet pulls and the tiny plants on the window sill steal the show.
---
Pramod had always wanted an all-white kitchen, and the present kitchen's color scheme is a clear reflection of that. To incorporate Myna's love of pop colors, Payal sourced quirky emerald cabinet pulls from Mumbai's famed Chor Bazaar.
A gardening aficionado, Myna was thrilled with the emerald jumping out of the kitchen. She says most of her accents in her home are green, she didn't see why her kitchen needed to be any different.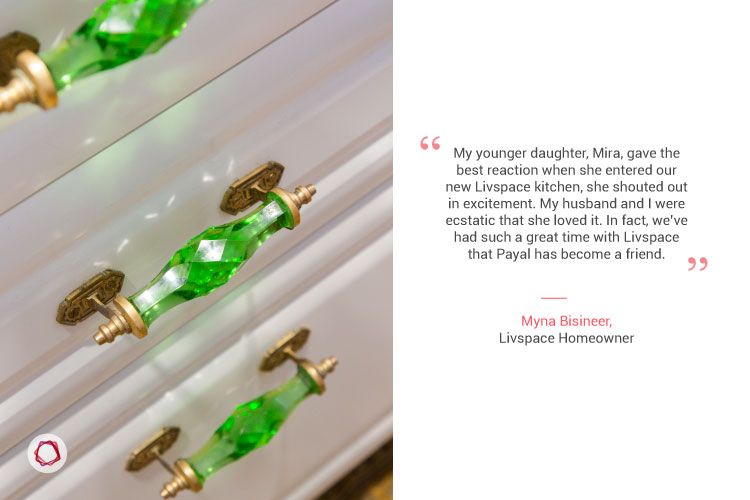 "Myna and Pramod trusted me and gave me a free hand when it came to design. They are very warm and affectionate people and I'm so glad that their new Livspace kitchen reflects that warmth and joy."
– Payal Bagzai, Livspace Interior designer
Disclaimer: All contents of the story are specific to the time of publication. Mentions of costs, budget, materials, finishes, and products from the Livspace catalogue can vary with reference to current rates. Please get in touch with a designer for more details on pricing and availability.