The 3BHK interior design for this Noida home was a design coup!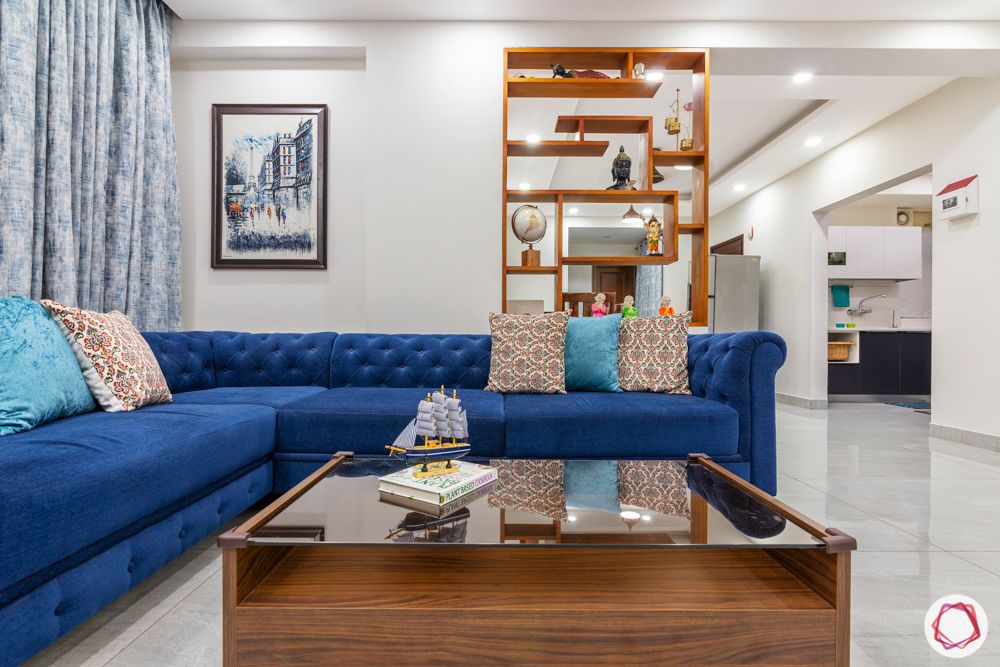 ---
Who livs here: Gurucharan & Pratima with their daughter
Location: Eldeco Utopia, Noida
Size of home: 3BHK spanning 1,700 sq. ft.
Design team: Interior Designer Payal Khaitan and Project Manager Sandeep Jain
Livspace service: Full home renovation (excluding kitchen & wardrobes)
Budget: ₹₹₹₹₹
---
Everything we see around us, be it technology or architecture, is a product of its times. The way apartments are designed and built today to accommodate our modern needs is a far cry from the way things were done a decade back. Hence, when Gurucharan and Pratima brought their new apartment in the renowned Eldeco Utopia complex in Noida, they were faced with only one problem. The flat was over 10 years old and desperately needed to be upgraded to suit their current lifestyle needs.
That is where we step in! Livspace designer Payal Khetan Gupta lent this young couple a deft hand at designing to remodel their home. The 3BHK interior design of this apartment involves several civil iterations to convert it into a home that is more in sync with the times. Take a tour to know the amazing journey of how these changes came about!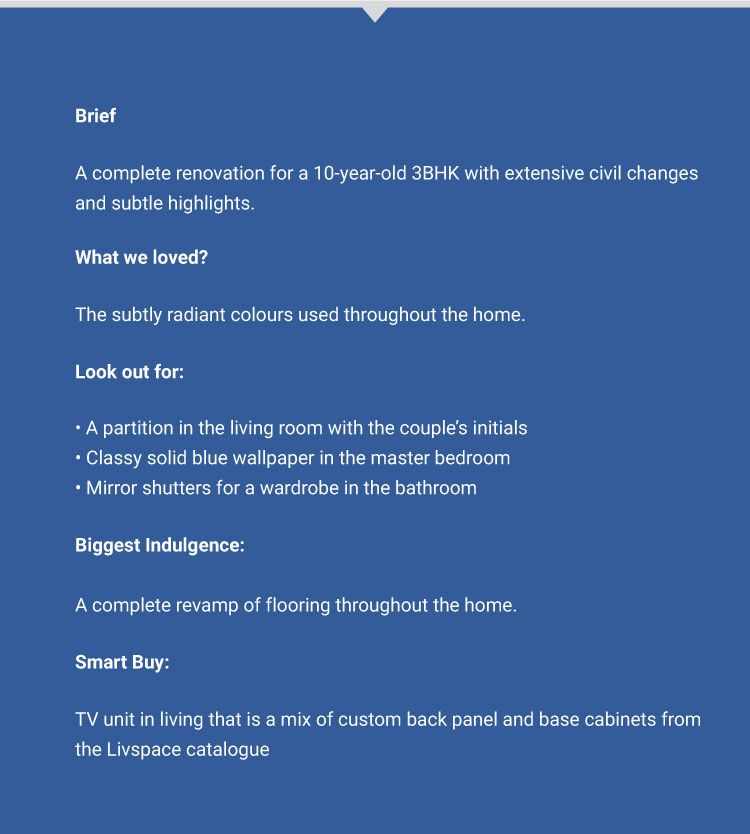 3BHK Interior Design Ideas: A Personalised Partition
Gurucharan wanted to remodel the living room completely by opening up the design and making the hall look more spacious. Moreover, the TV unit here is a combination of base cabinets from the Livspace catalogue and a custom laminate back panel. In fact, after revamping the old flooring completely, Payal found an ingenious way to personalise this space for the couple. If you look closely, the partition between the living and dining area has the couple's initials, 'P' for Pratima and 'G' for Gurucharan, in its design. Isn't that absolutely endearing!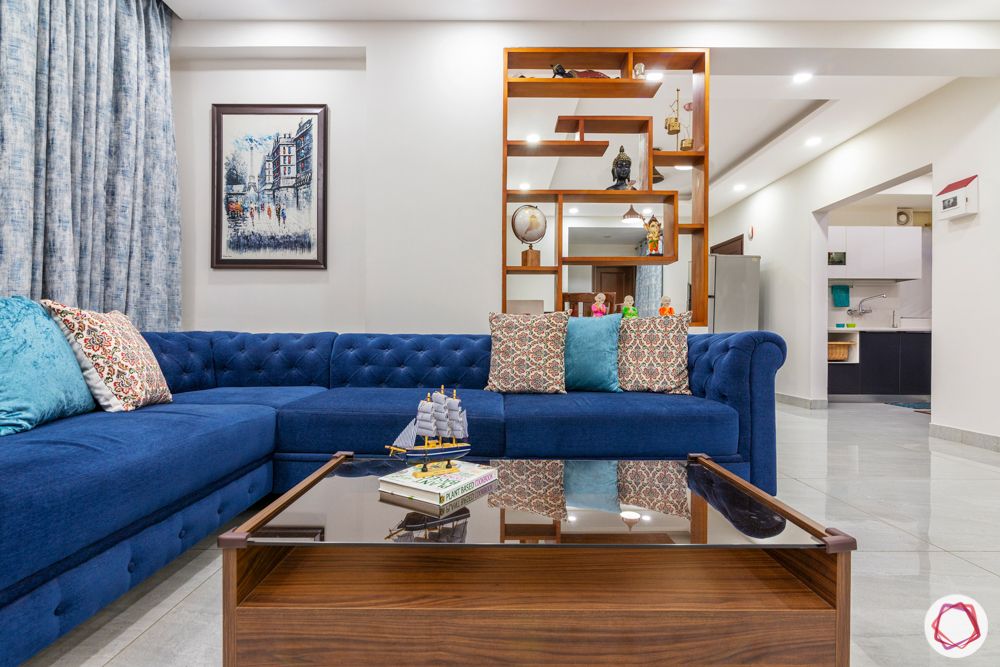 3BHK Interior Design Ideas: Elegant Blues
The couple were very clear that they valued elegance over drama when it came to their interiors. Hence, Payal stuck with a rather subtle colour scheme for the master bedroom. As we can see, the powder blue wallpaper here is rich in colour but plain lending a tone of understated elegance to this space. Moreover, as this bedroom was looking slightly cramped because of two wardrobes, Payal placed two framed mirrors on either side of the bed to open up the space.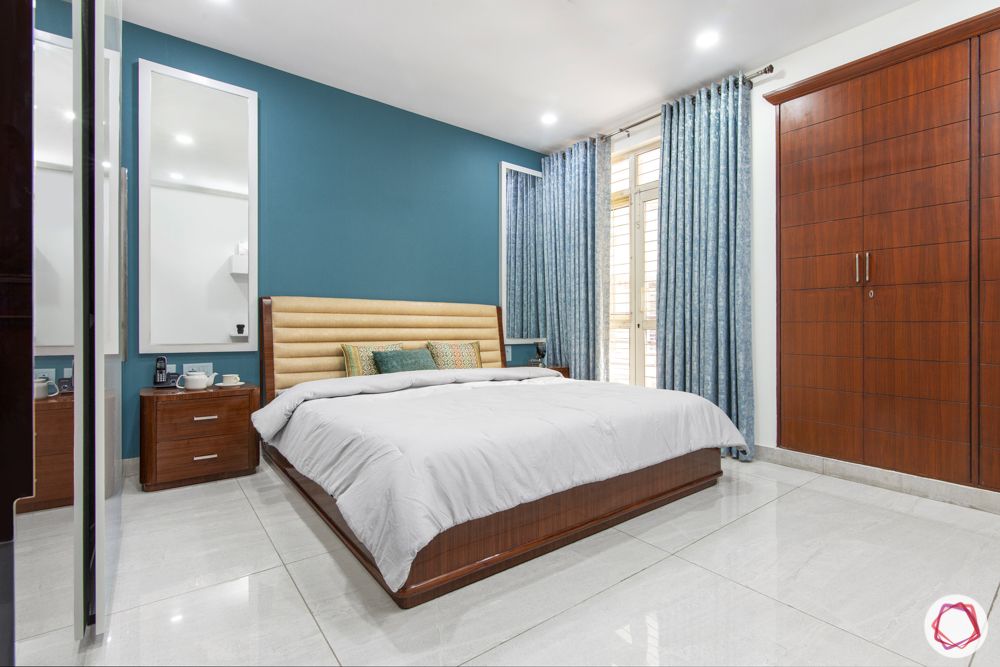 3BHK Interior Design Ideas: Space Optimisation
The bathroom attached to the master bedroom was a rather useful one as it had plenty of space. So Payal made prudent use of this space by casting a wardrobe into a niche here. Additionally. she cleverly chose mirror shutters to blend this wardrobe in with the look and feel of the bathroom. Additionally, there was a complete overhaul of the bathroom floor and wall tiles that were replaced with fresh digitally printed ones.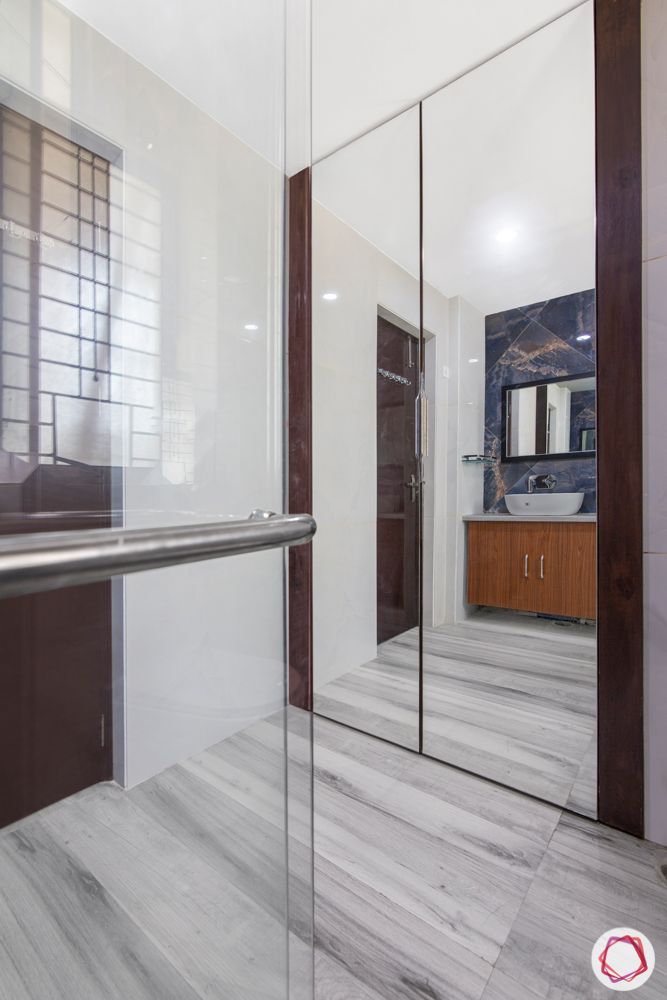 3BHK Interior Design Ideas: Floral Frills
The guest bedroom required some extensive renovation to make it look clean and uncluttered. In fact, the accent wall here has come in place of a window that was covered up to create a neat background for the bed. The floral wallpaper of course is a soft touch of aesthetic beauty that complements the clean symmetry of the design.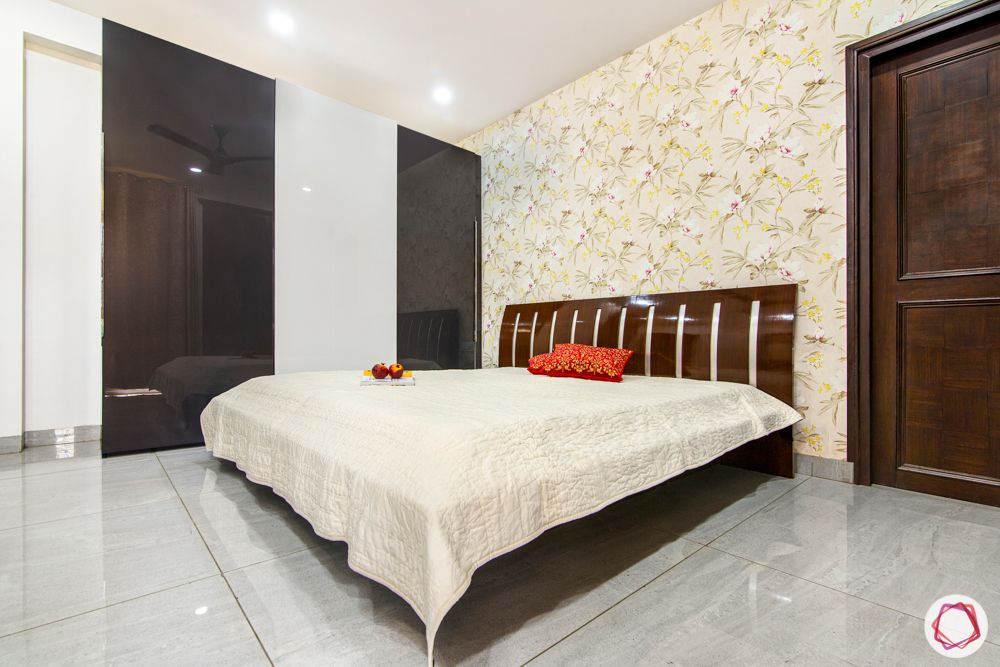 "Both Gurucharan & Pratima are extremely sorted as people, and they were very easy to work with. They understood the importance of the civil changes we were making to their apartment and appreciate the beauty of good design. Working with them was an enriching experience for me and the design team."
Payal Khetan Gupta, Interior Designer, Livspace
If you enjoyed reading about this home, also explore This Cool 3BHK has a Riot of Textures.
Send us your comments and feedback.