A 3BHK flat interior design that will leave you with happy vibes!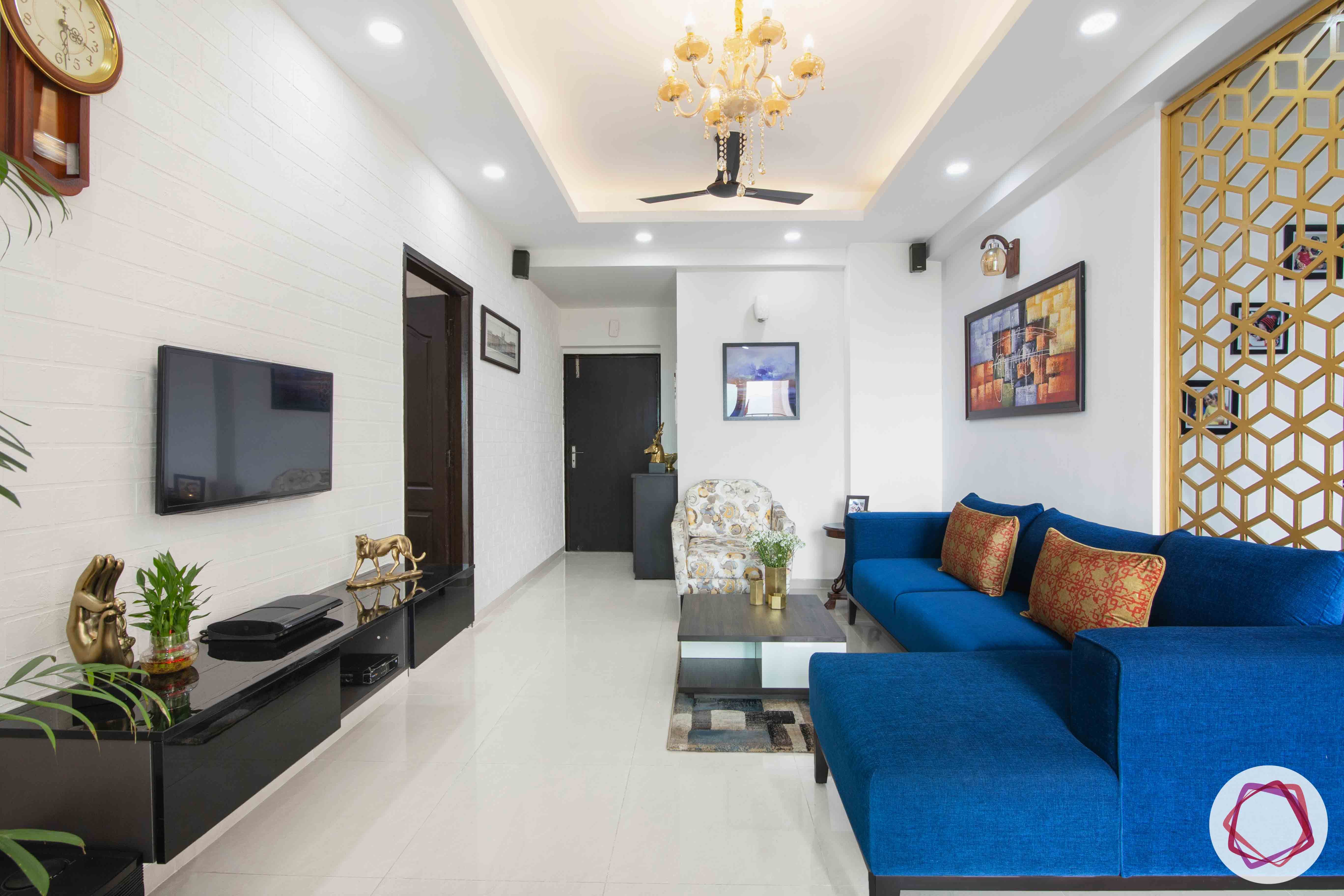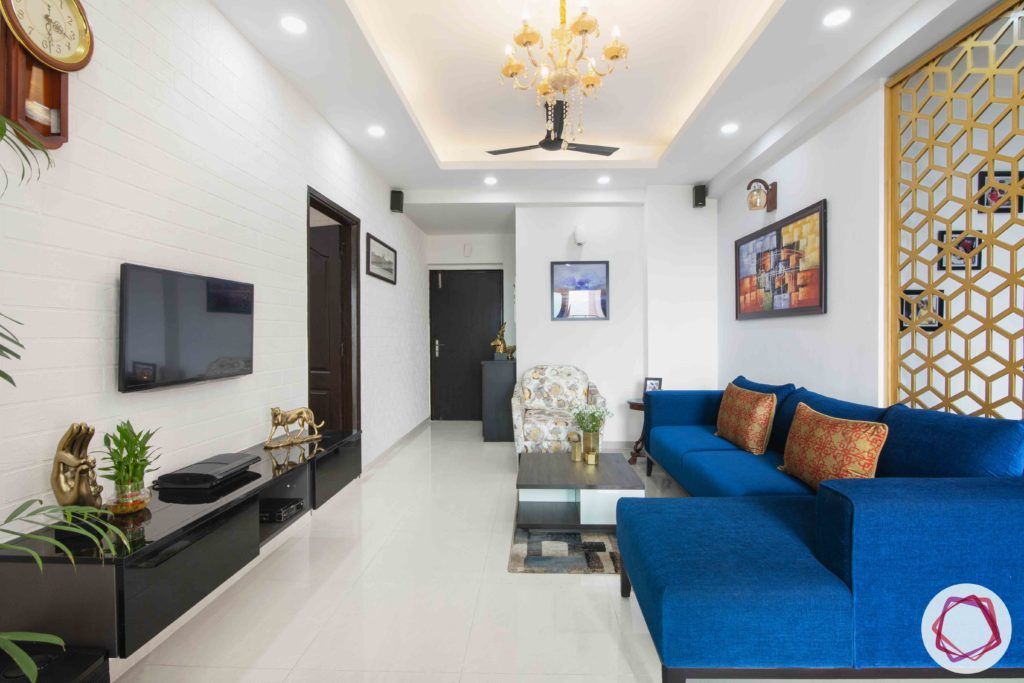 ---
Who livs here: Dr Alekh Verma & Dr Neha Taneja with their daughter Aleha
Location: Sunworld Vanalika, Noida
Size of home: 3BHK spanning 1,730 sq ft approx.
Design team: Interior designer Payal Gupta and Project Manager Anil Singla
Livspace service: Full home design, kitchen excluded
Budget: ₹₹₹₹₹
---
A home often takes its shape from the people who live in it. That is why the 3BHK flat interior design for this Noida home has a smattering of bright colours and a zesty youthful vibe. The young family comprises a pair of doctors, Alekh and Neha, and their adorable toddler Aleha. They wanted their home to be simple, bright and full of happy vibes. Our interior designer Payal Gupta has given them all this within the framework of a limited budget and tight timeline.
While this 3BHK flat interior design includes various style influences, it is united by an overarching aura of youthful exuberance. Take a sneak peak for inspiration.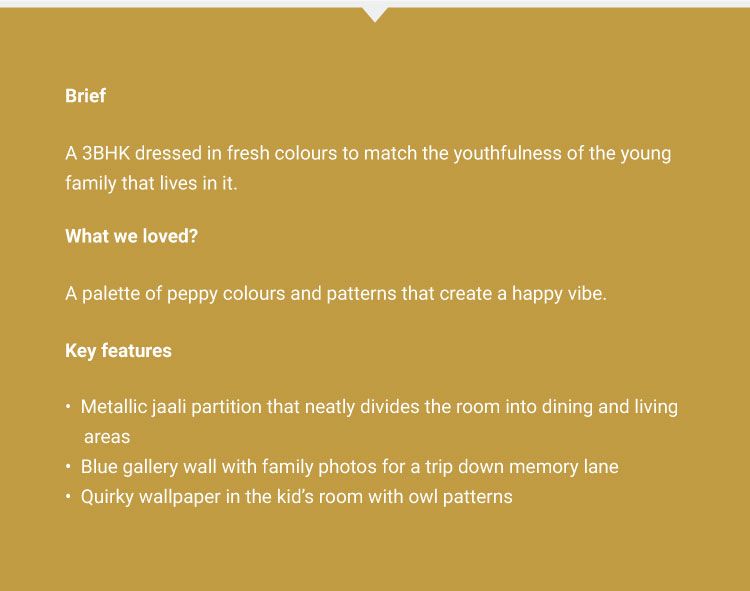 3BHK Flat Interior Design Ideas: Living Room with Peppy Colours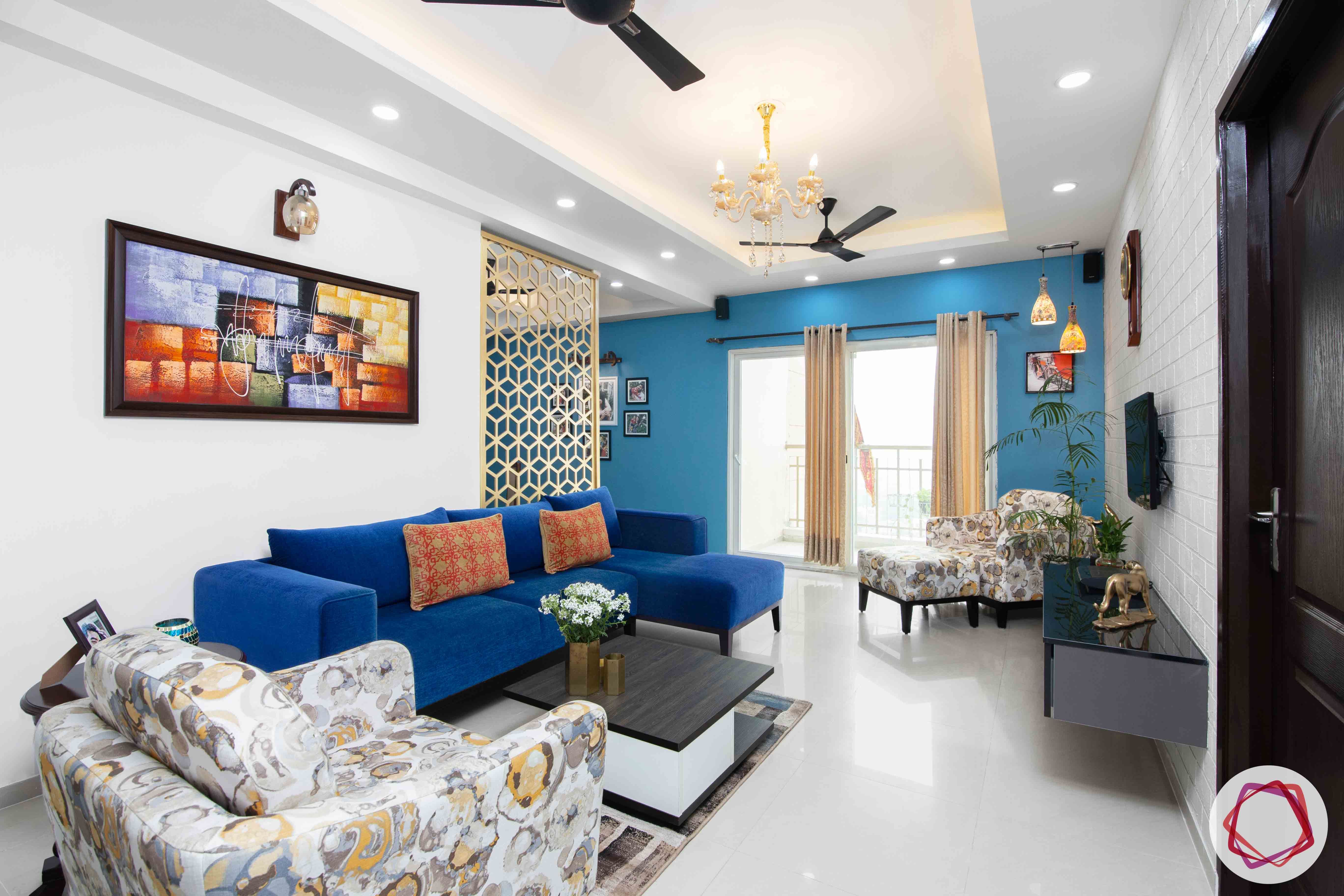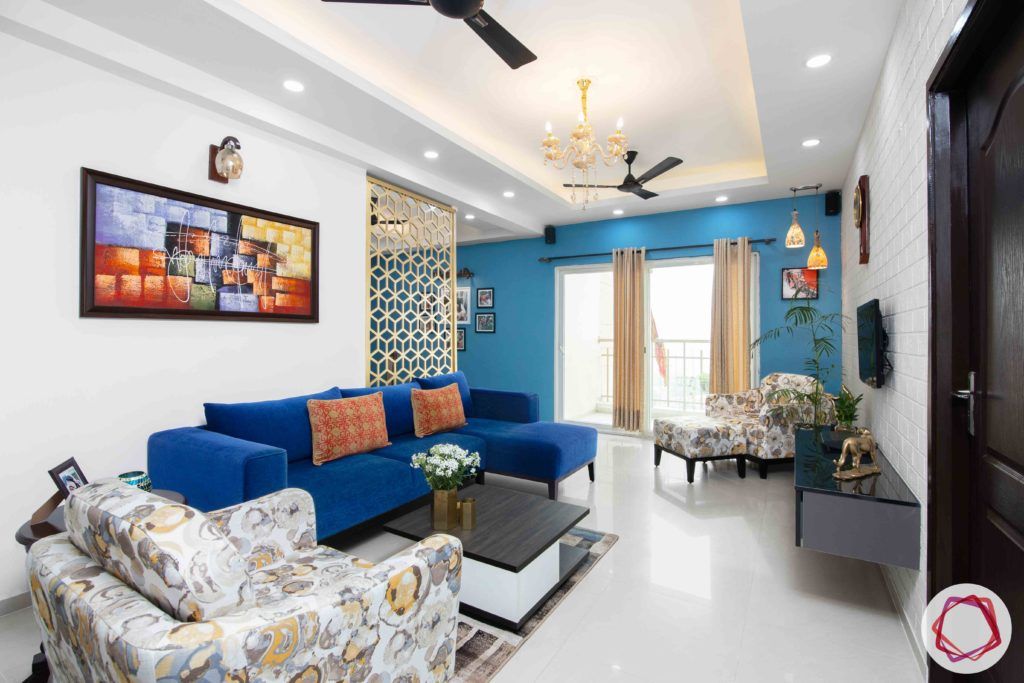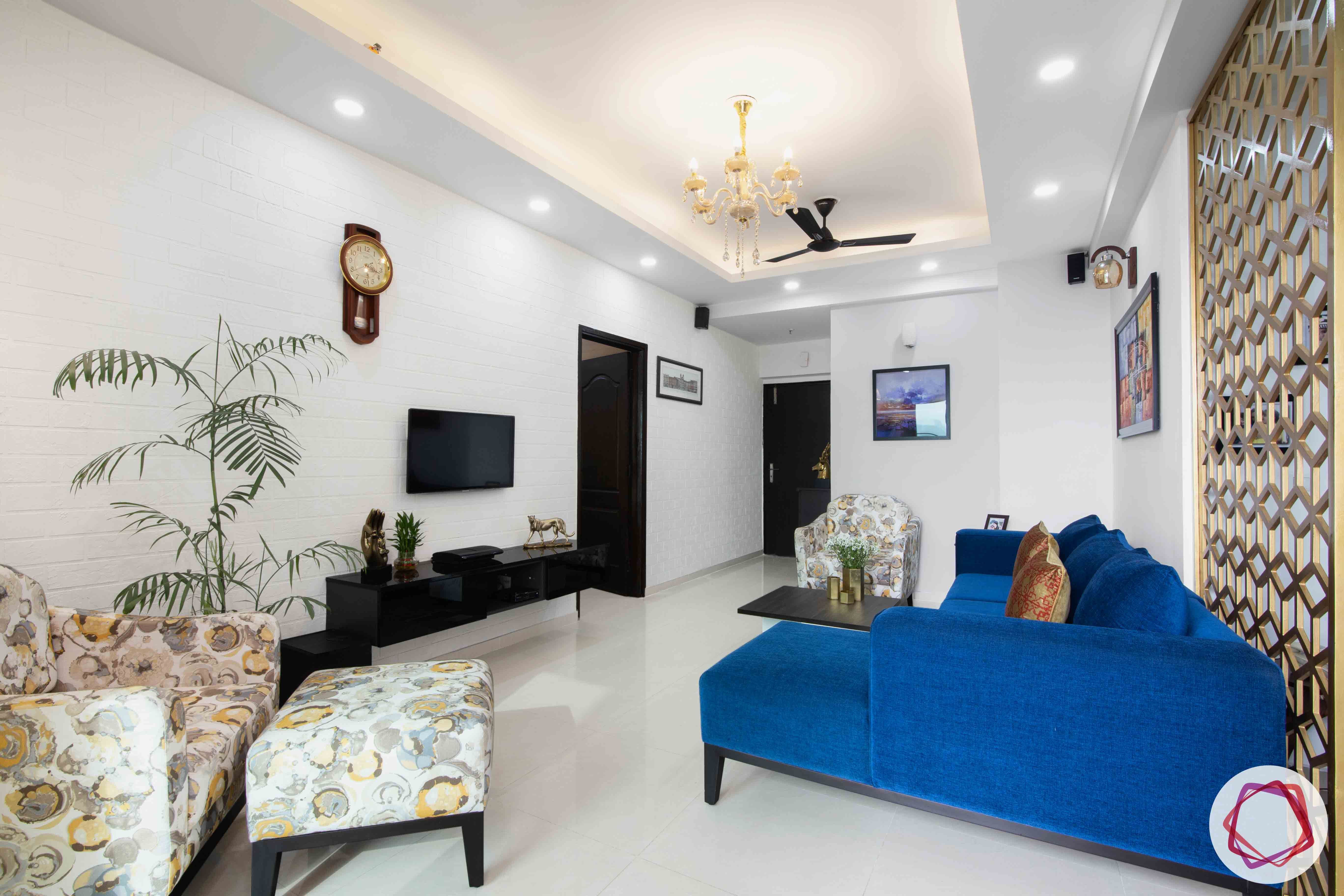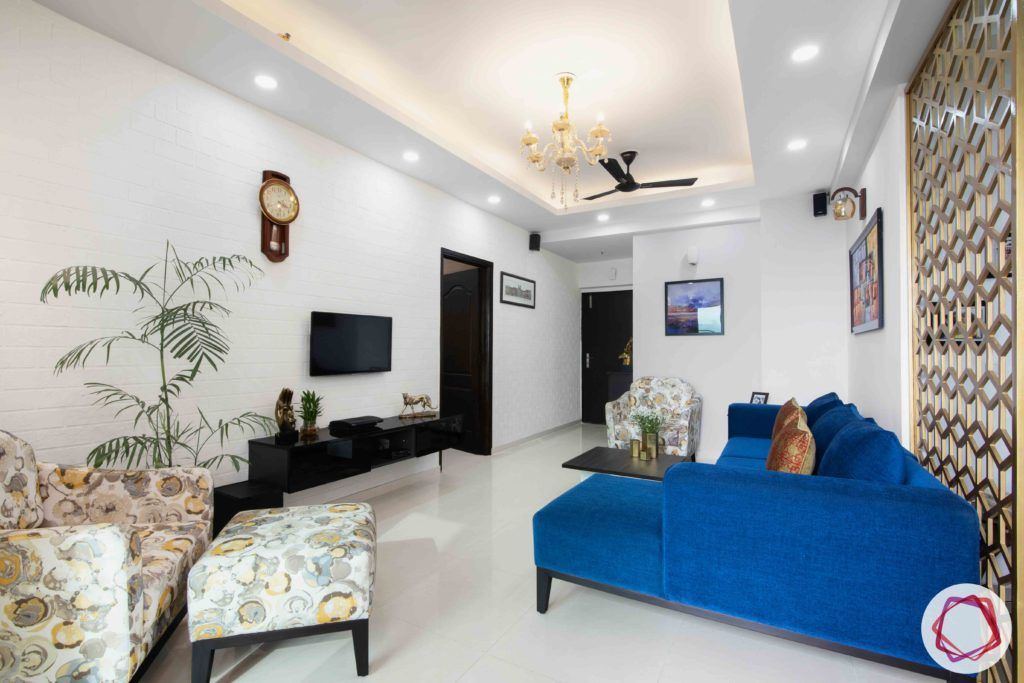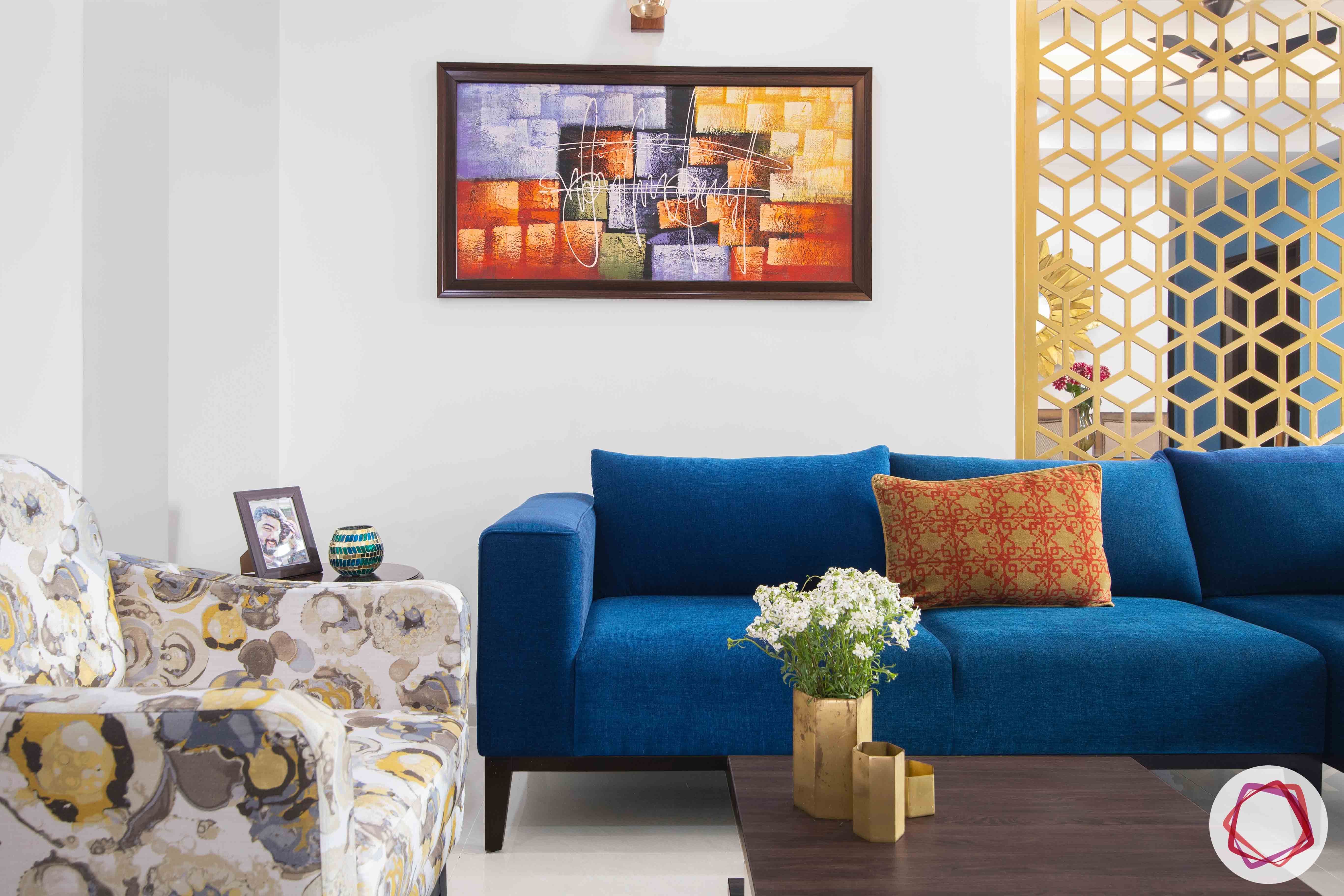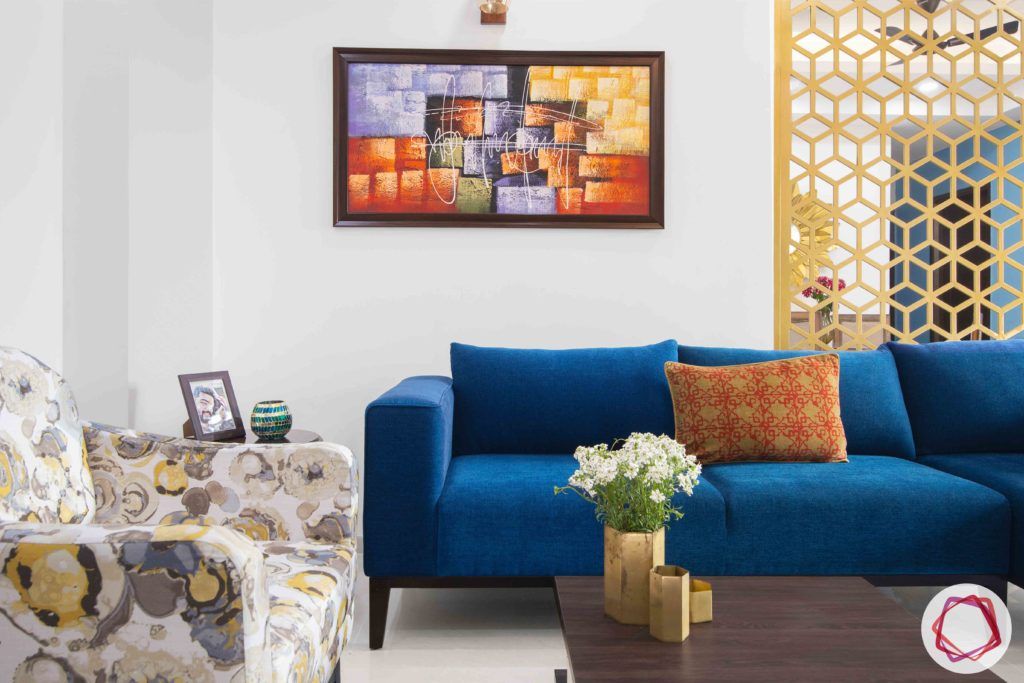 The living room has a classic contemporary style with clean cut lines. This reflects in their choices of a bright navy blue sofa with two accent armchairs and a matching ottoman. The centre table is rather modern in style. The media wall has cladding to give it an exposed brick wall effect. Keeping little Aleha in mind, the floating TV cabinet has a curved finish devoid of sharp edges that could hurt her.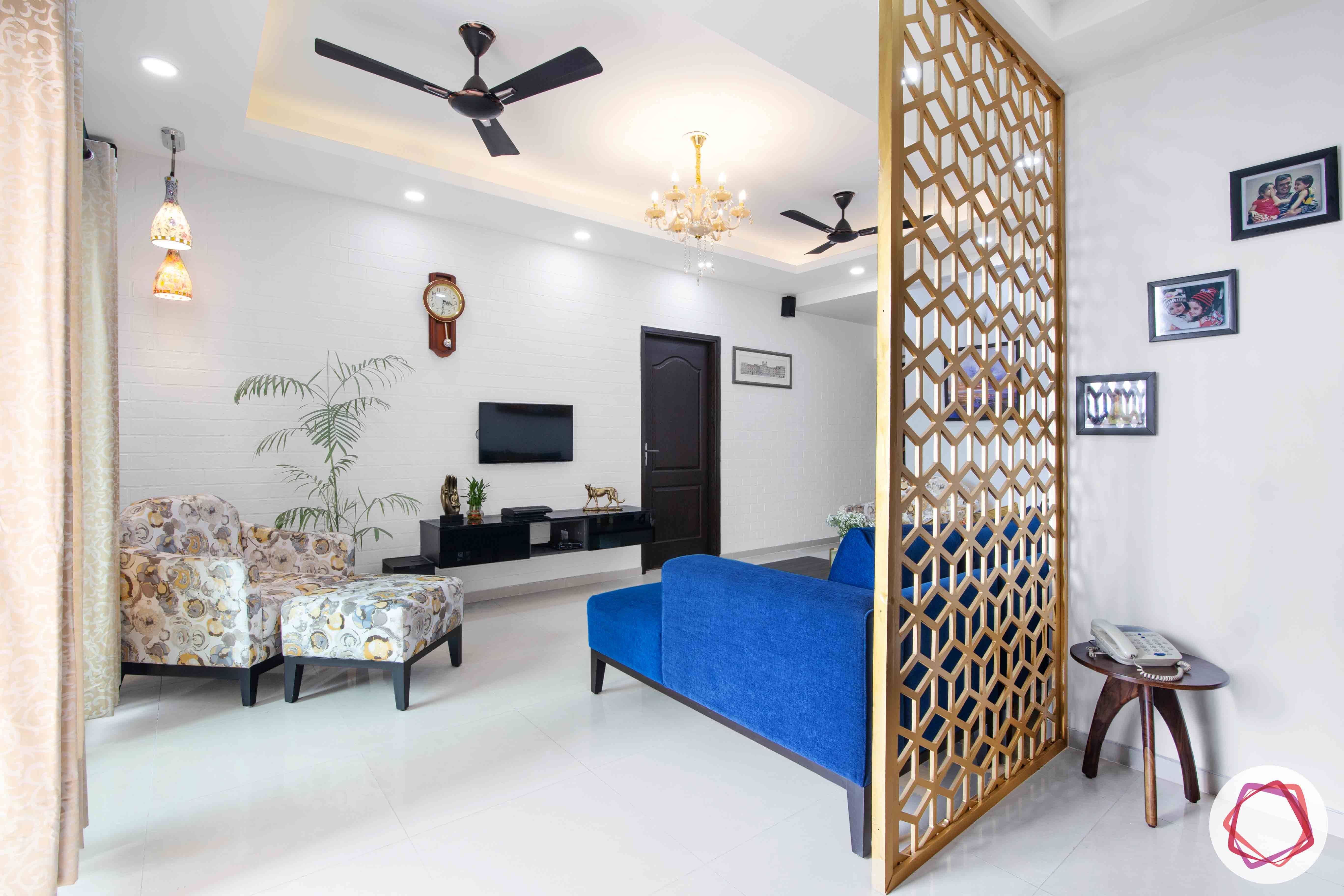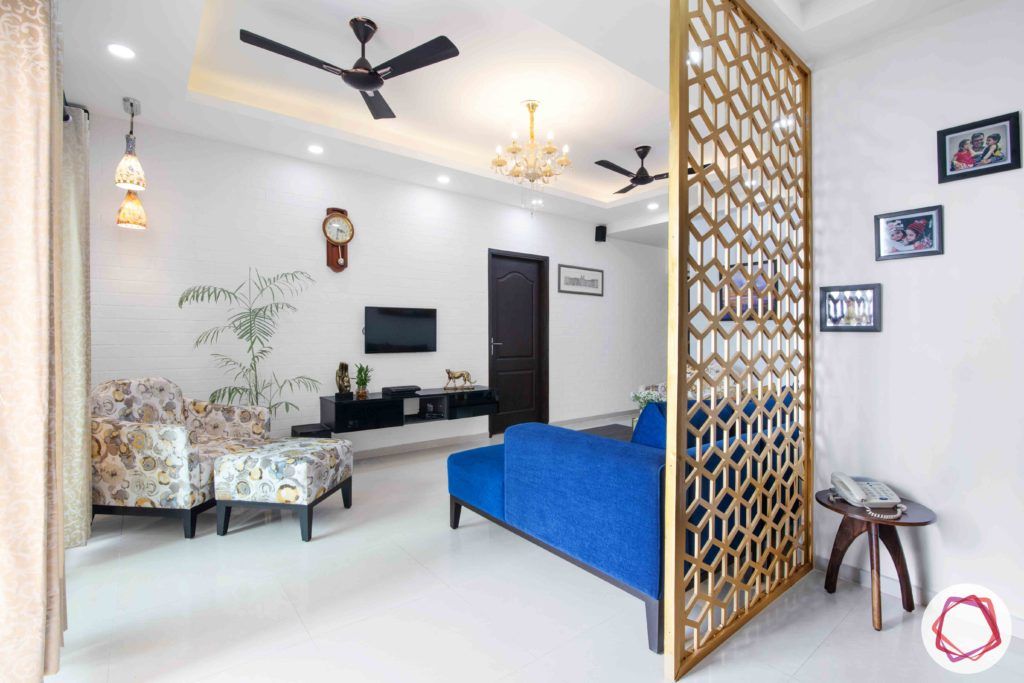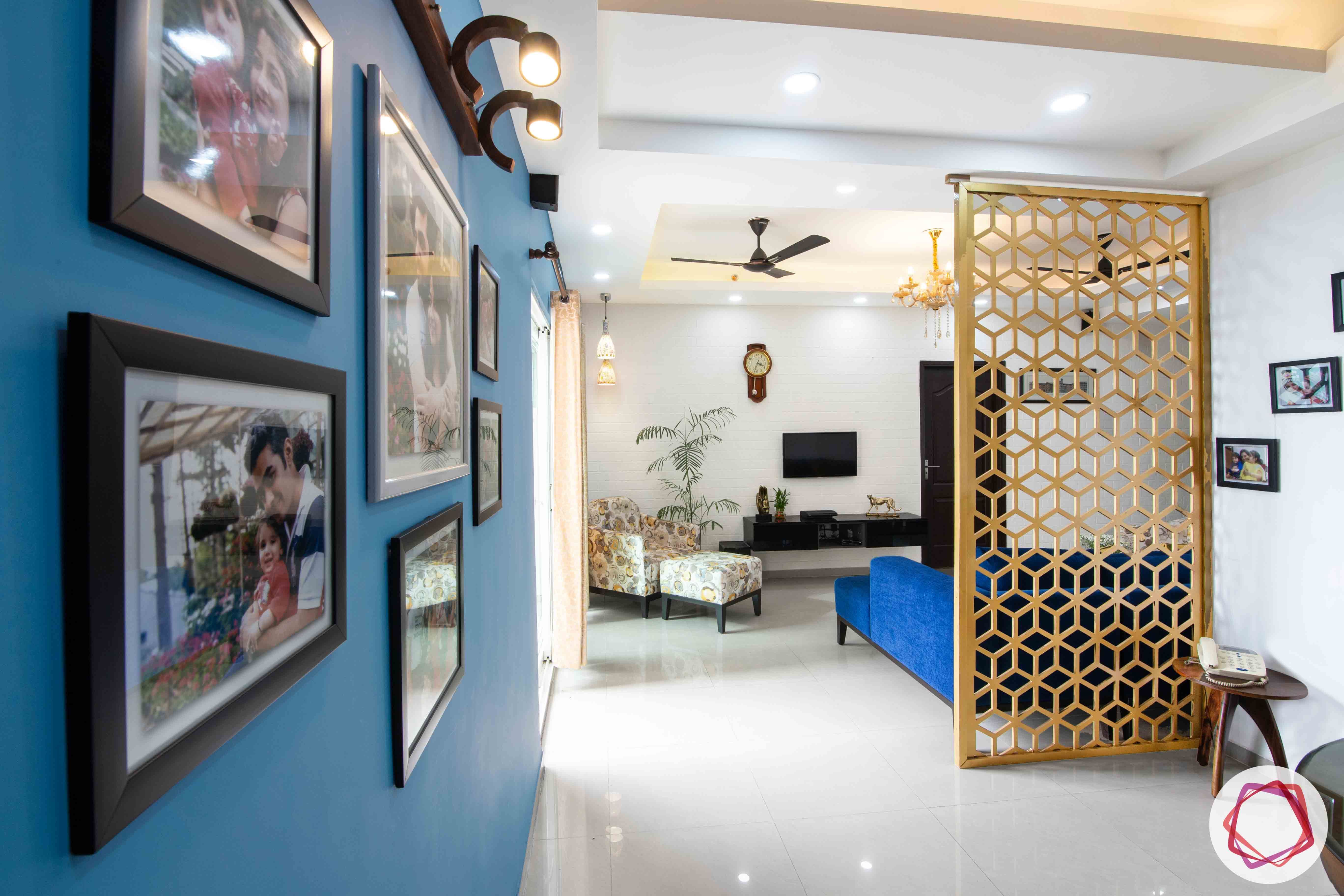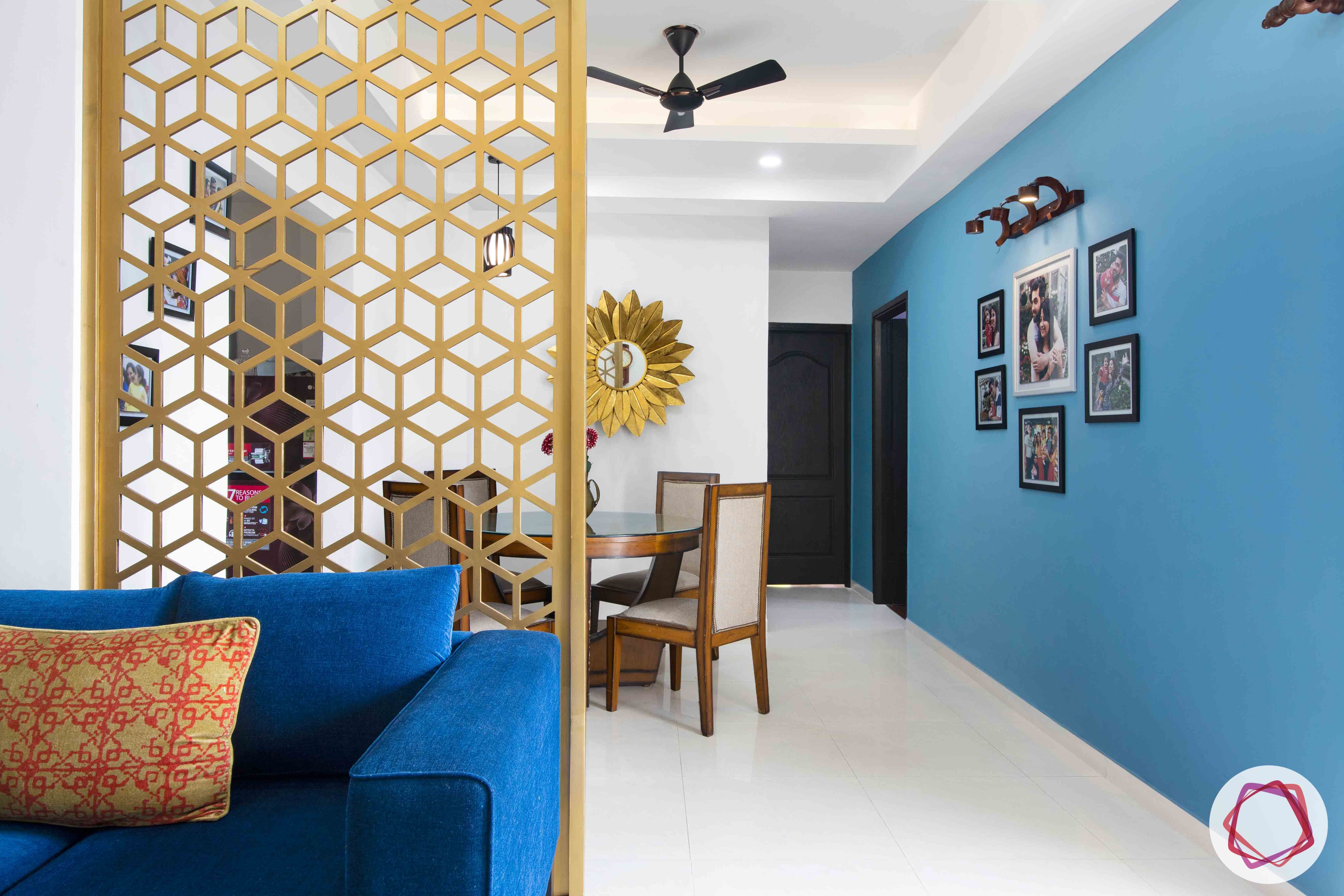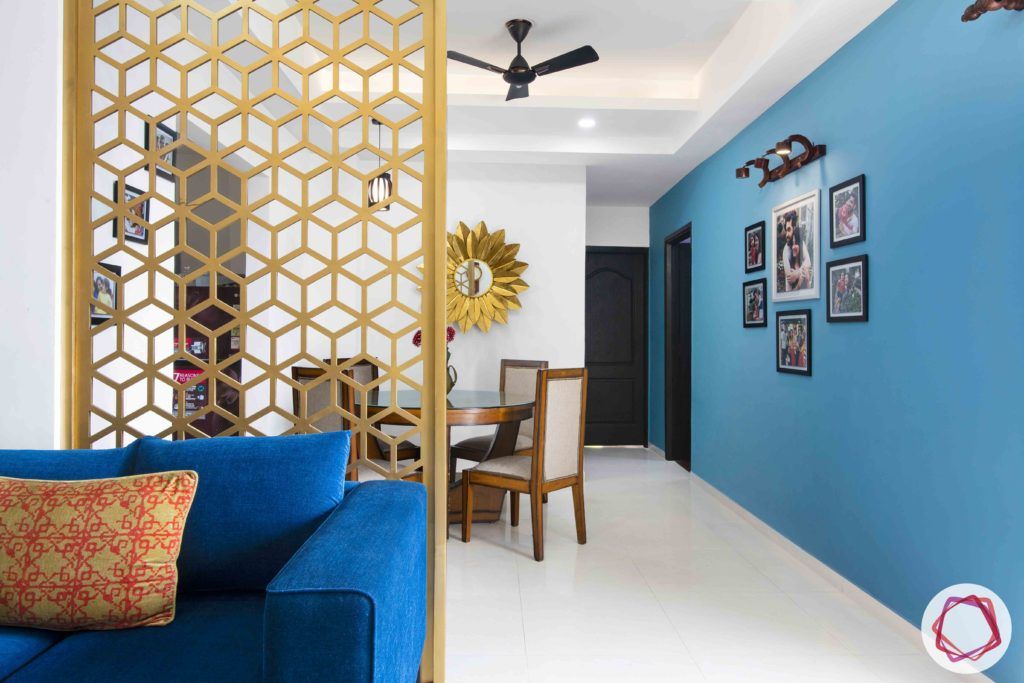 The designer has divided the living room into the sitting and dining areas using a metallic MDF jaali partition that demarcates the areas clearly. The four-seater dining table was an existing piece of furniture that fits seamlessly into the scope of the new design. A blue accent wall with family photos runs across the length of the living area. It serves both as a pop colour and a feature of continuity.
"The entire design and installation team from Livspace was very supportive and sorted out all our queries. Our designer, Payal, gave us plenty of relevant design options to choose from. Moreover, our home was delivered to us within a short time frame as promised."
– Dr Alekh Verma & Dr Neha Taneja, Livspace Homeowners
3BHK Flat Interior Design Ideas: Orchid Shades & Flowering Vines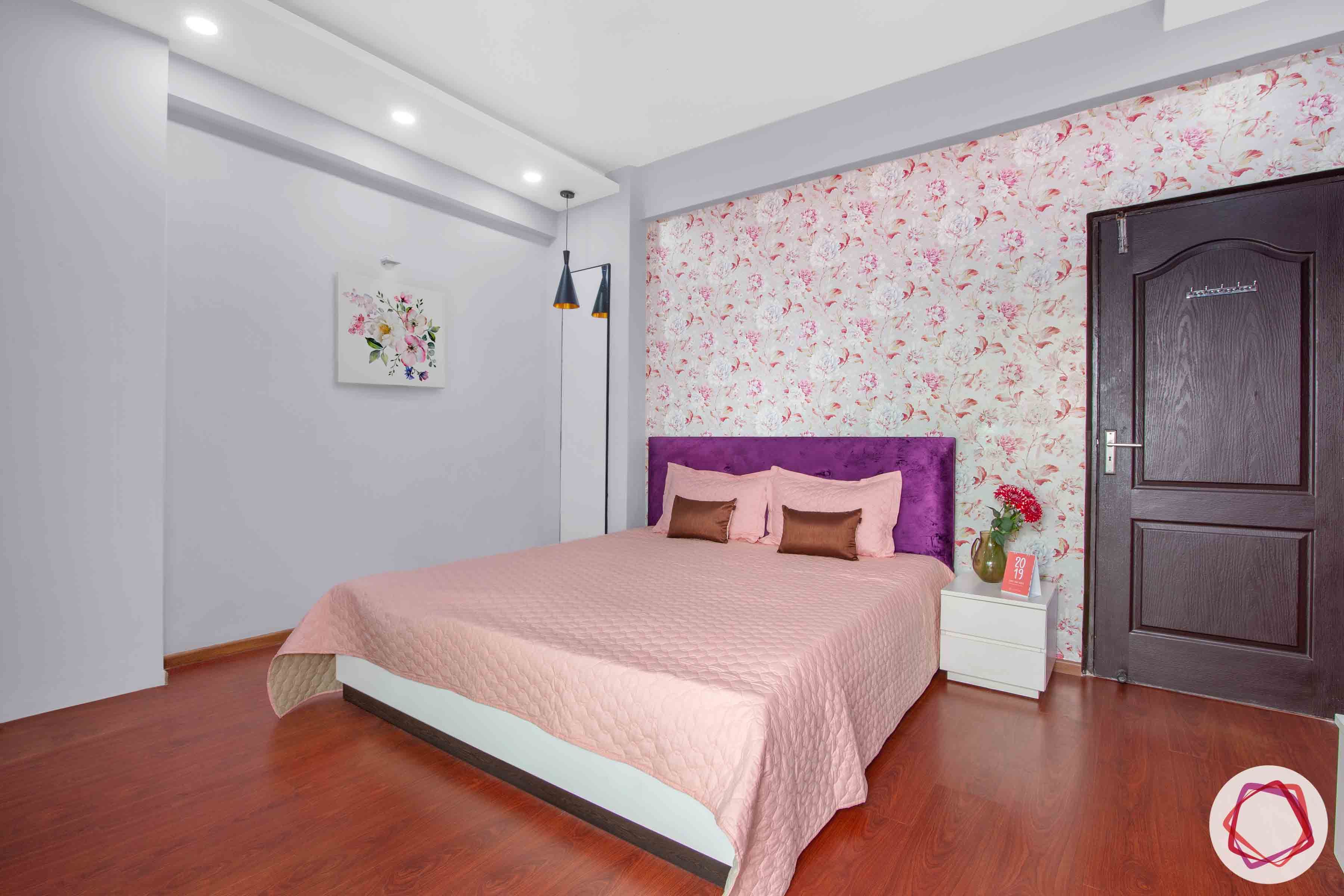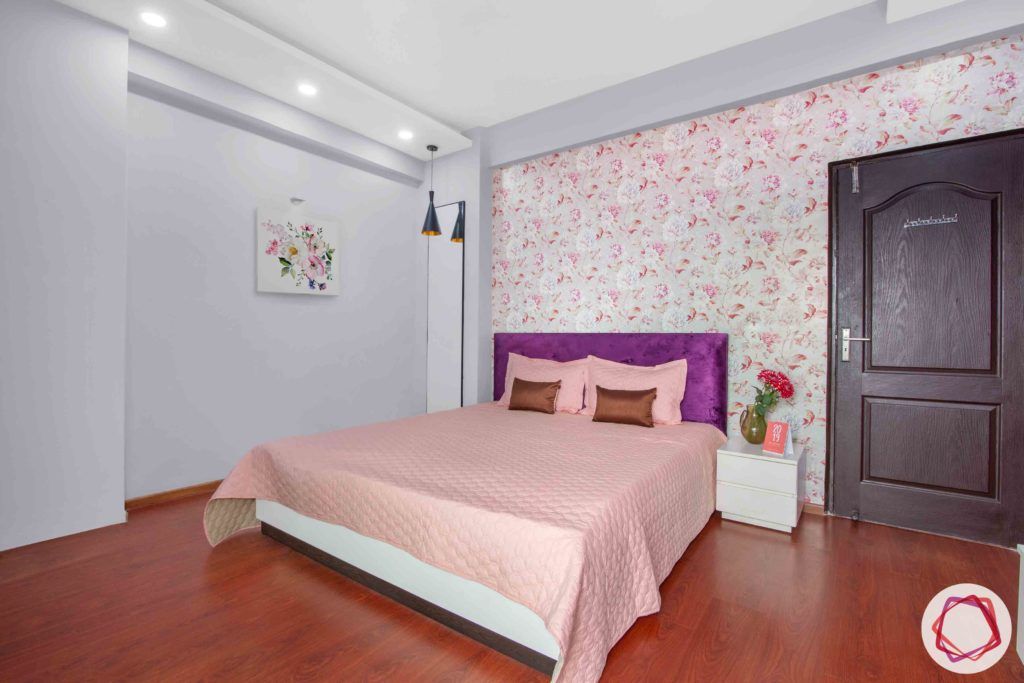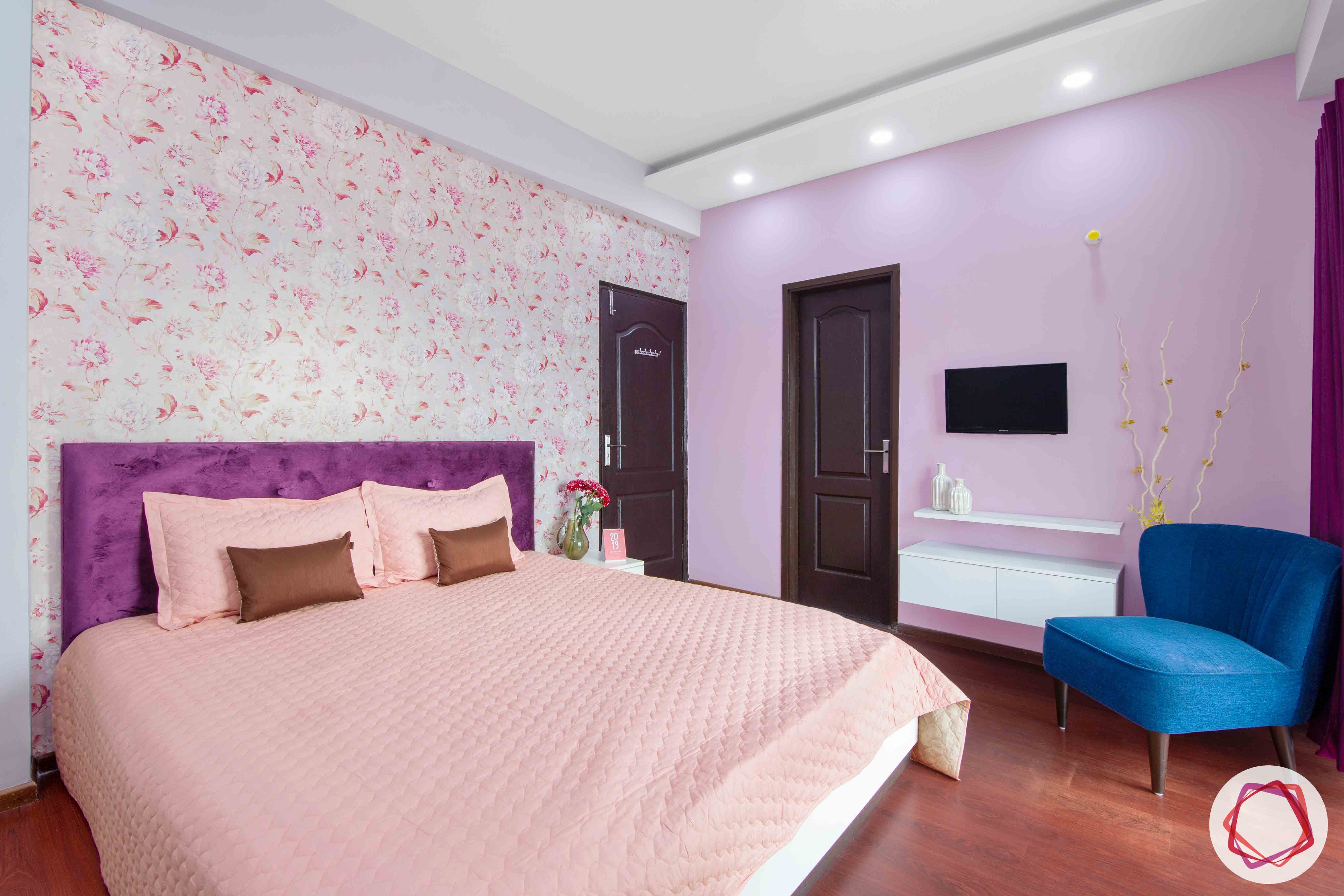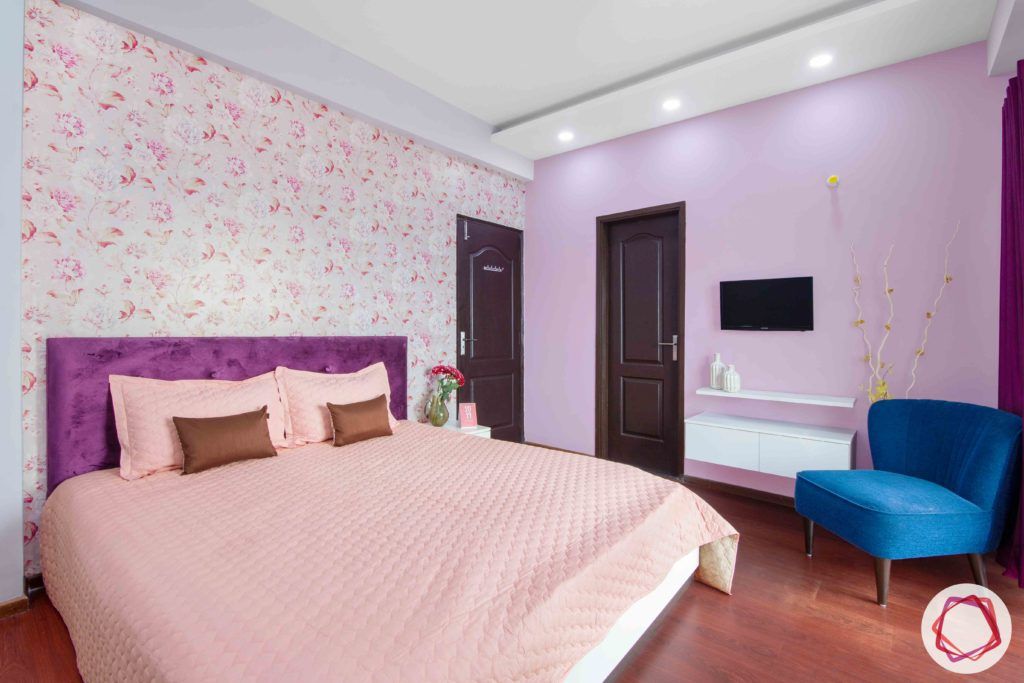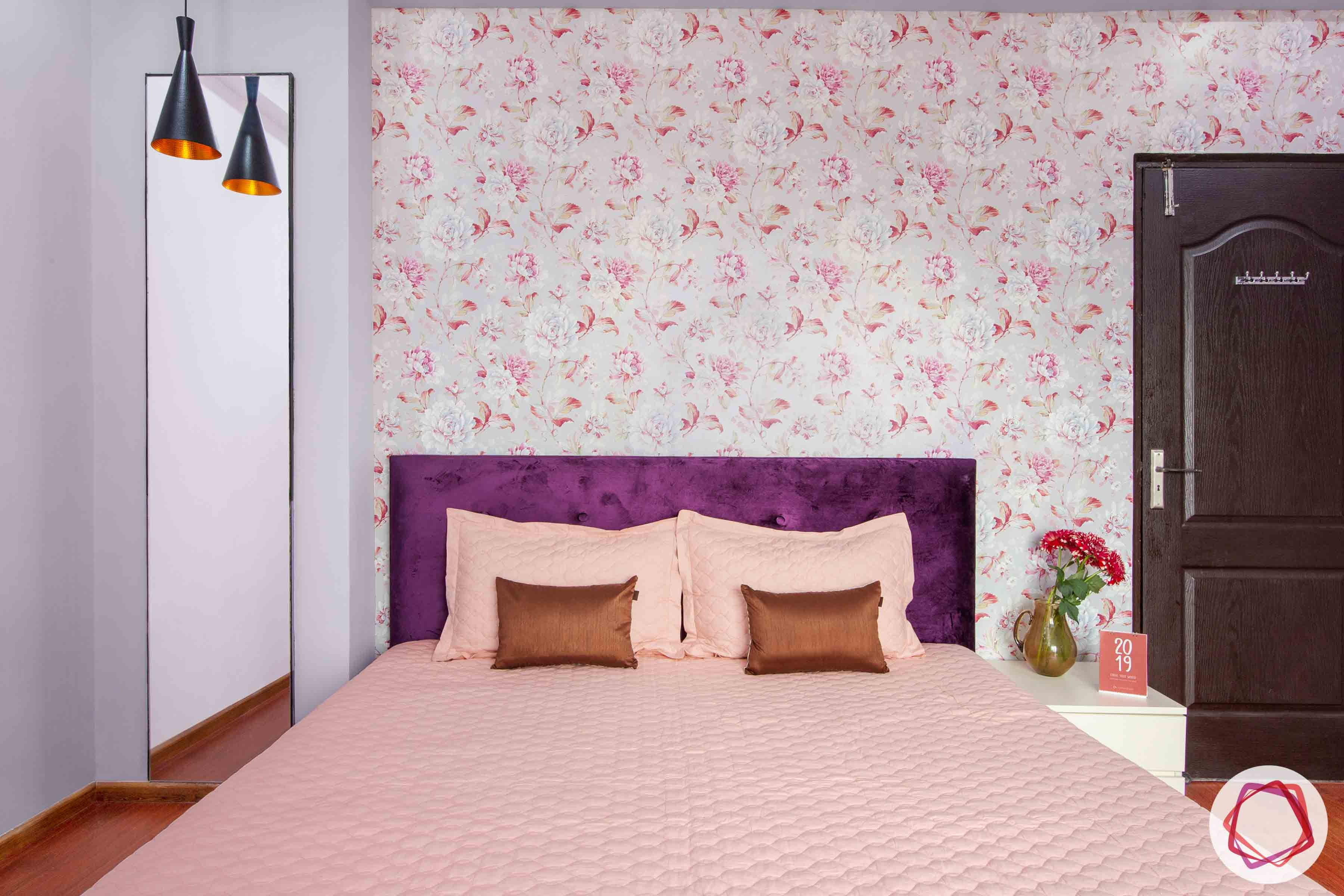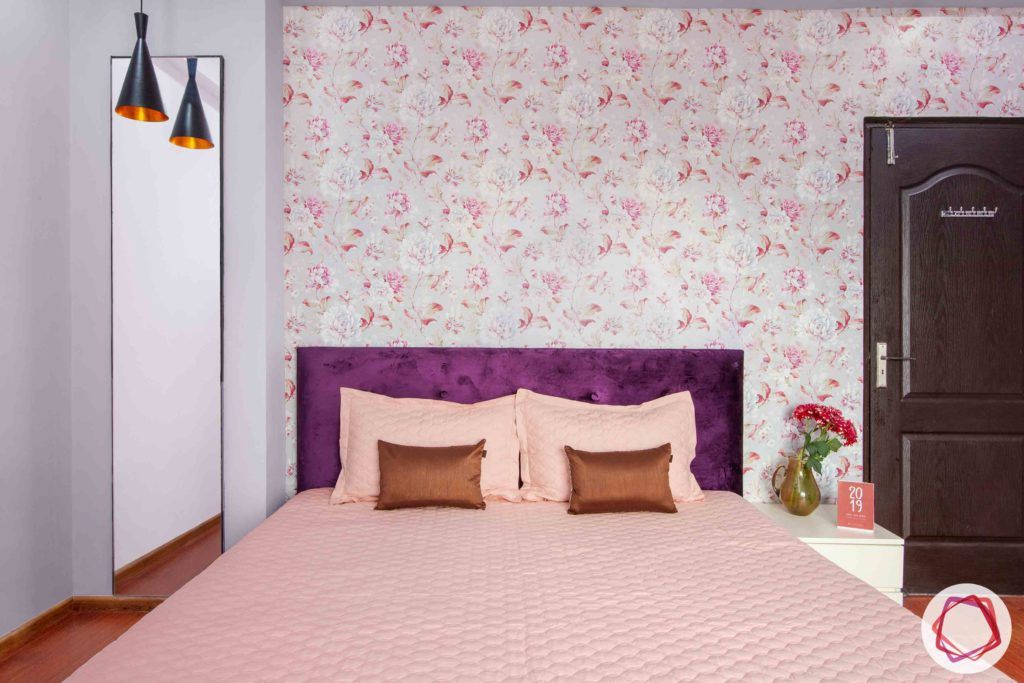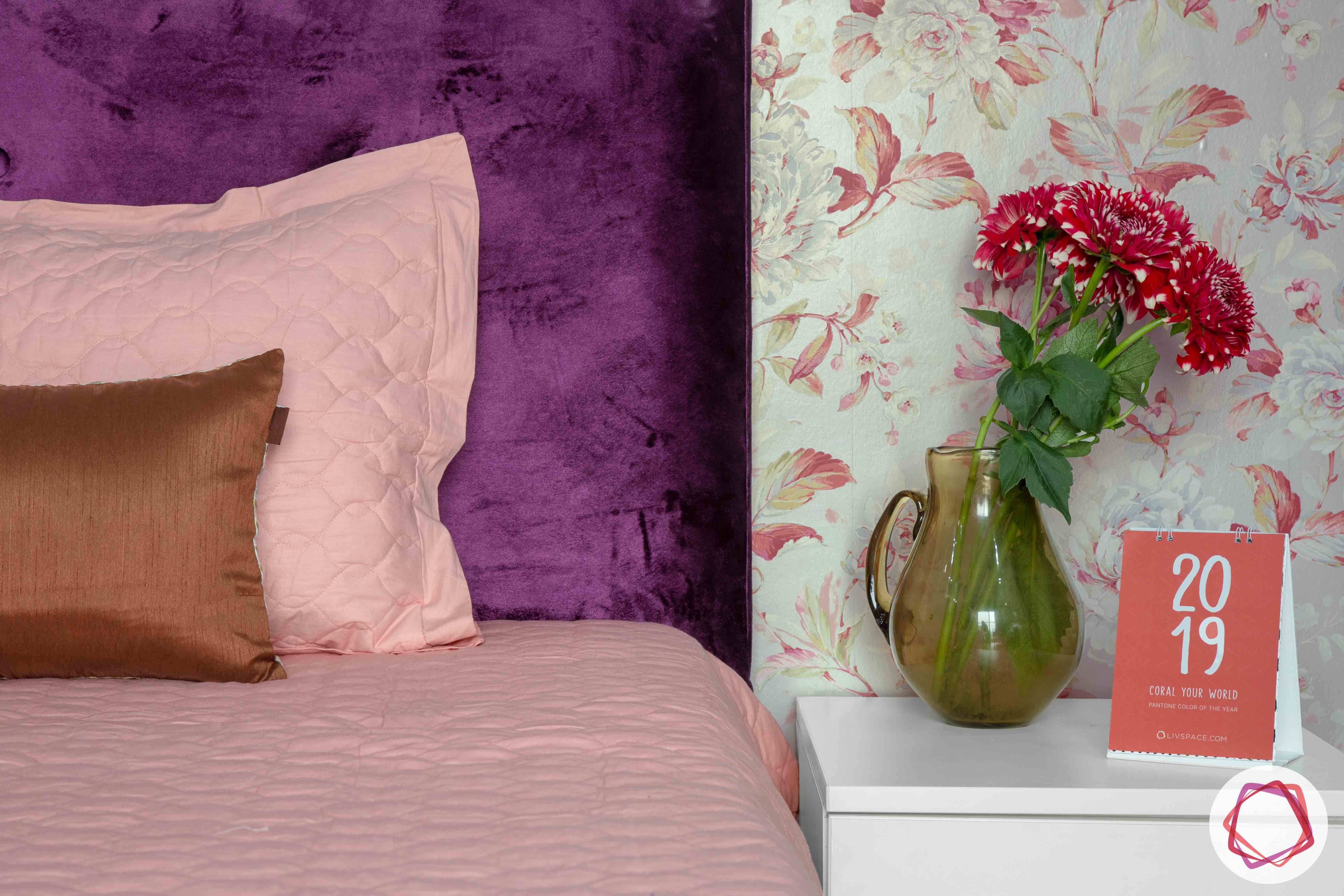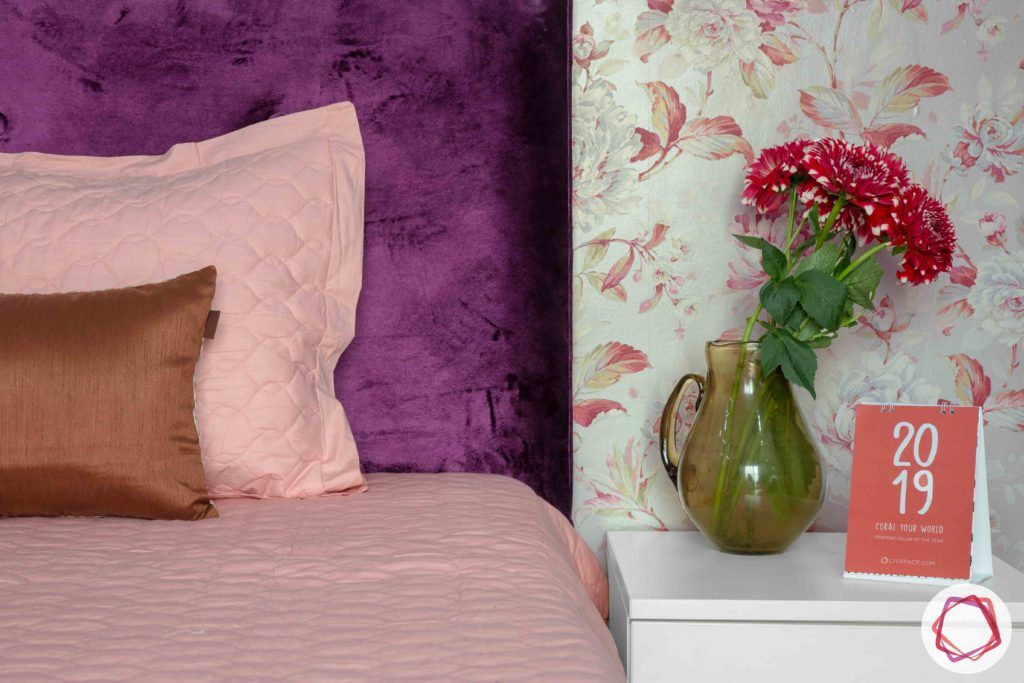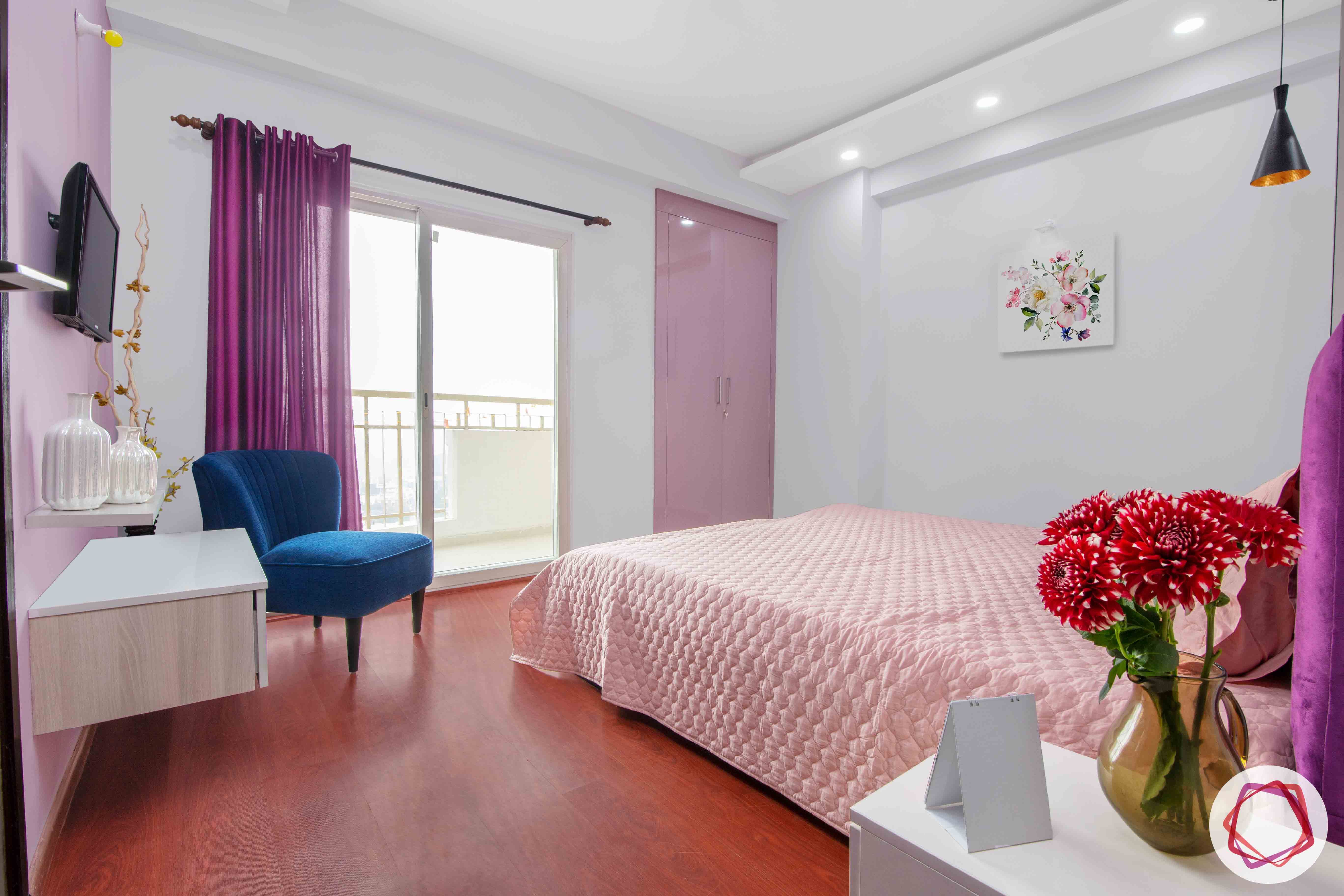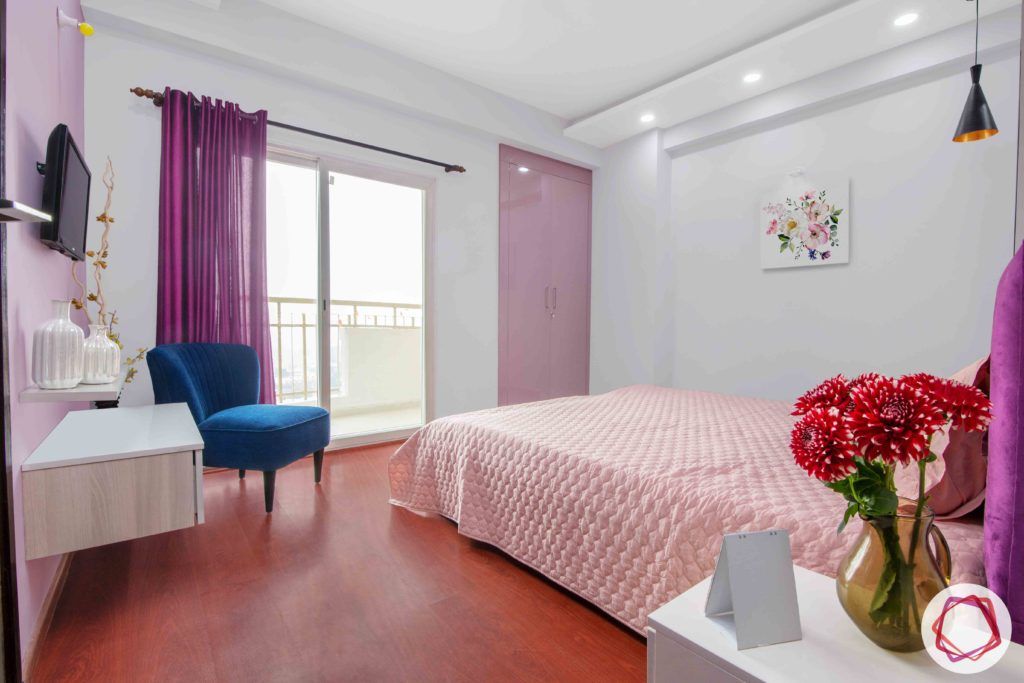 The master bedroom is soaked in a delicate shade of orchid pink. The wallpaper behind the bed has flowering vines giving a room a very feminine touch. The headboard, which is a regal shade of purple, also fits in beautifully with the colour scheme of this bedroom. There is a full-length mirror next to the bed that serves as a dresser.
The high gloss laminate wardrobe has been cast into a niche. Storage options are limited in this room as the couple wanted their bedroom to look spacious. There is a cushioned blue chair serves as an accent piece for the room. Also, the bedroom has a small floating TV unit with an open ledge that rather simple and minimal. For lighting, there is a pendant light by the bedside and panels of cove lights.
3BHK Flat Interior Design Ideas: Starry Skies & Quirky Vibes for Kid's Room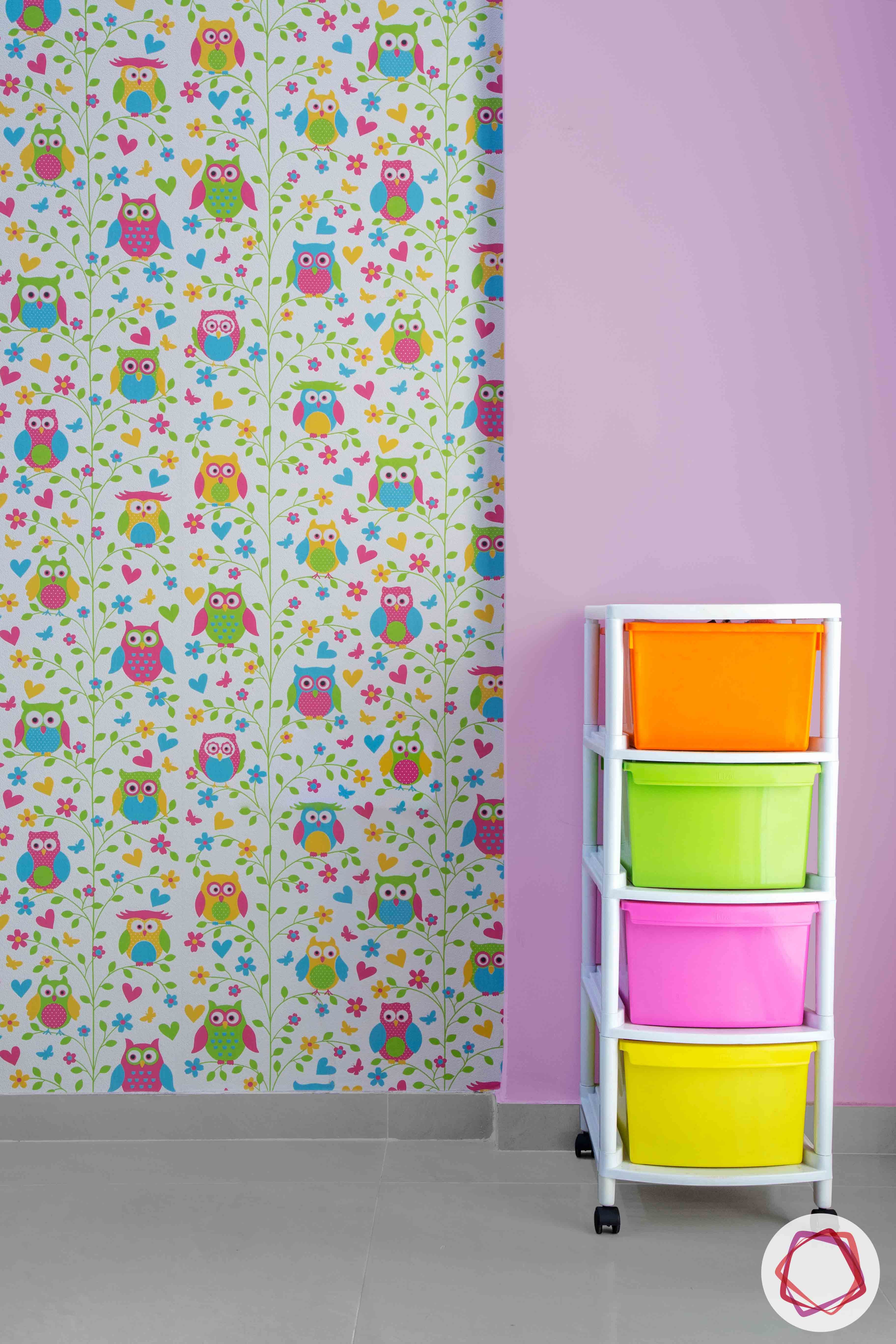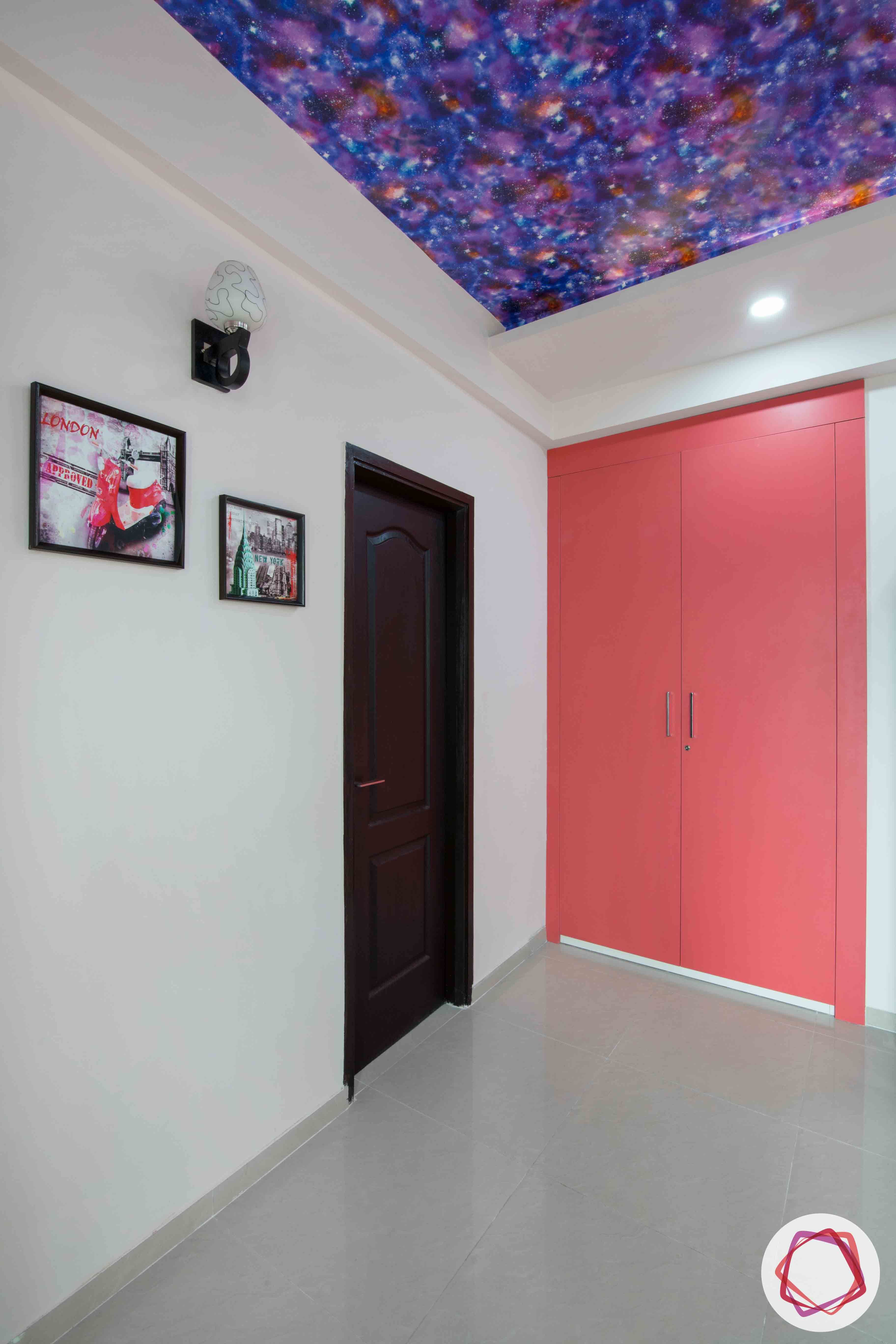 Aleha's room is the most fascinating part of this 3BHK flat's interior design. It has wallpaper on the ceiling that mimics the night sky. So the little one can float through the galaxies in her star-studded dreams. There is a chest of drawers for the toddler to stow away her toys. Moreover, we find the wallpaper with owl motifs in this room to be as cute as it tiny inhabitant. The vibrant bubblegum pink of the wardrobe stands out as a pop colour in this room.
3BHK Flat Interior Design Ideas: Tangerine Twist for Guest Bedroom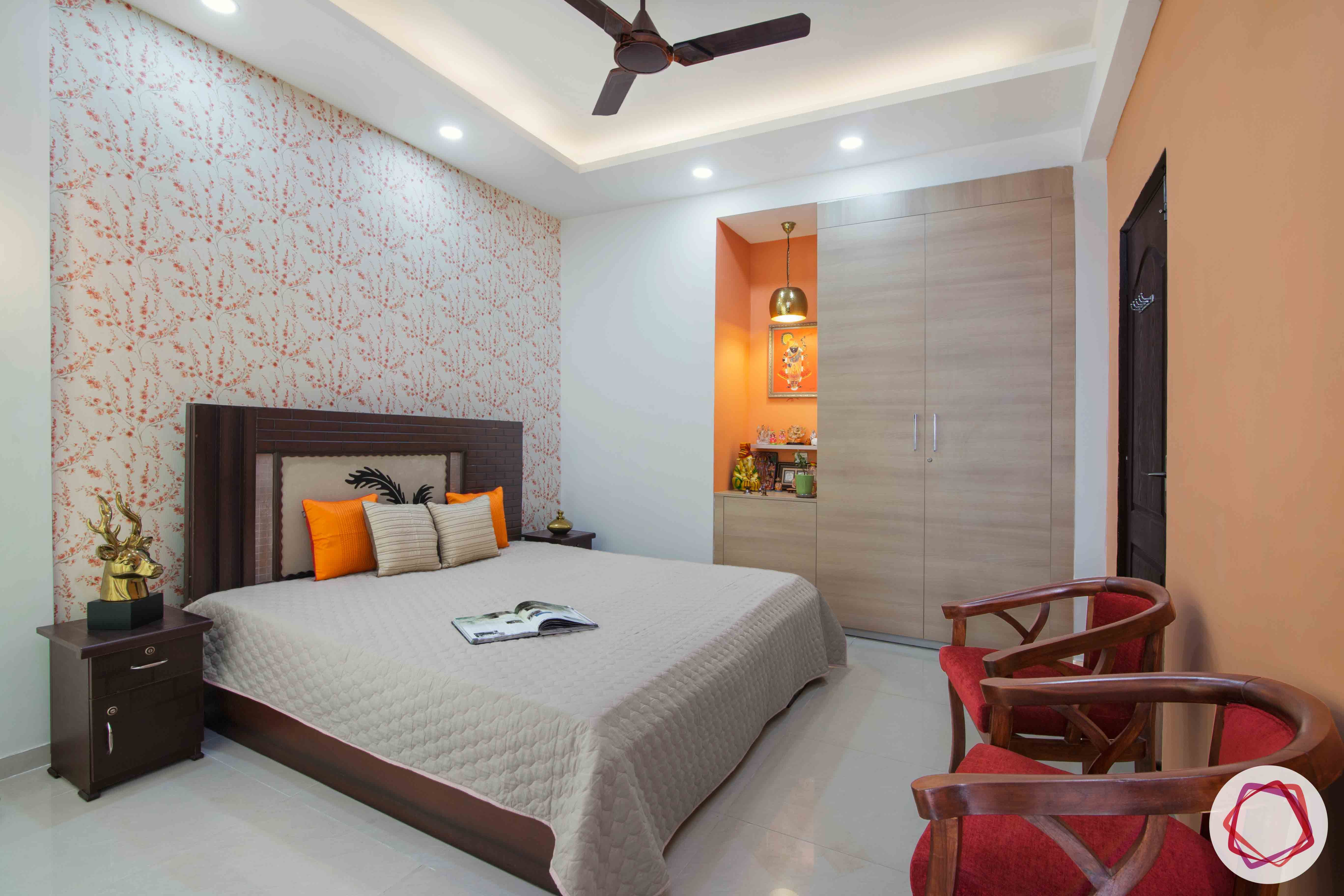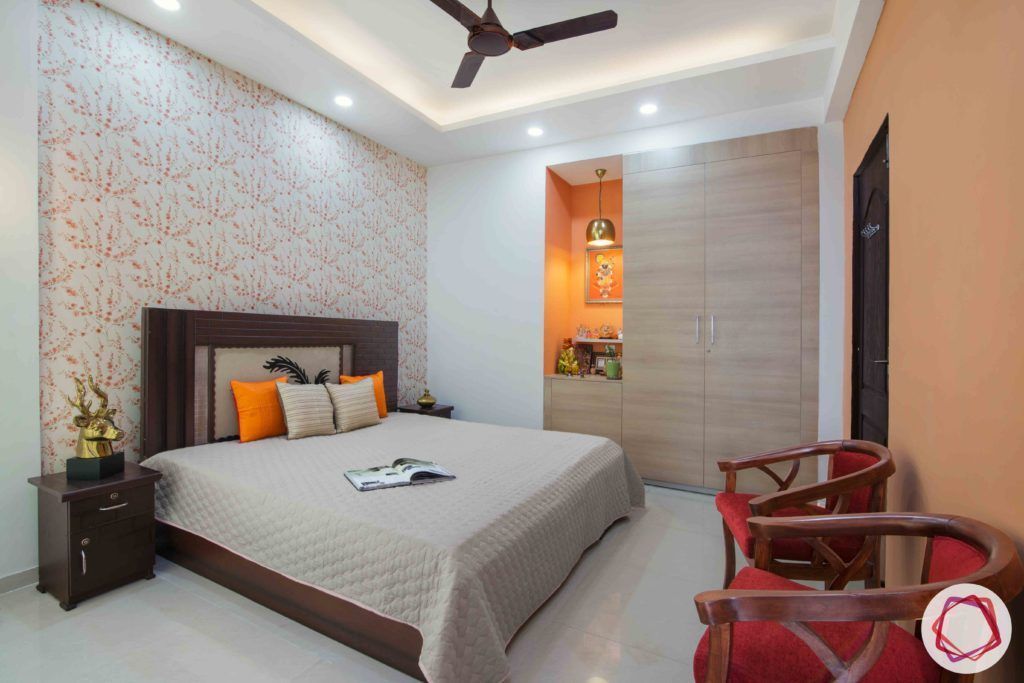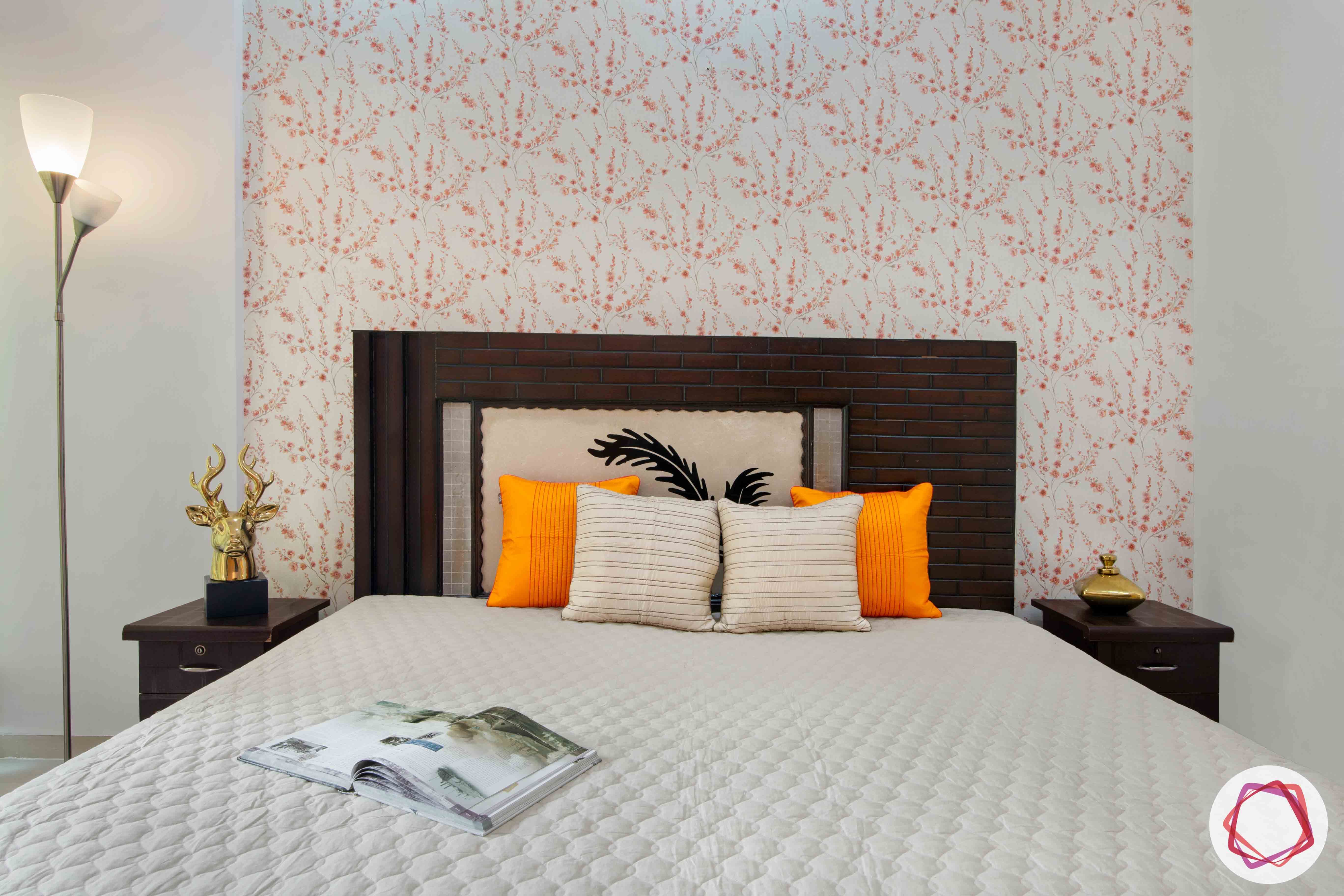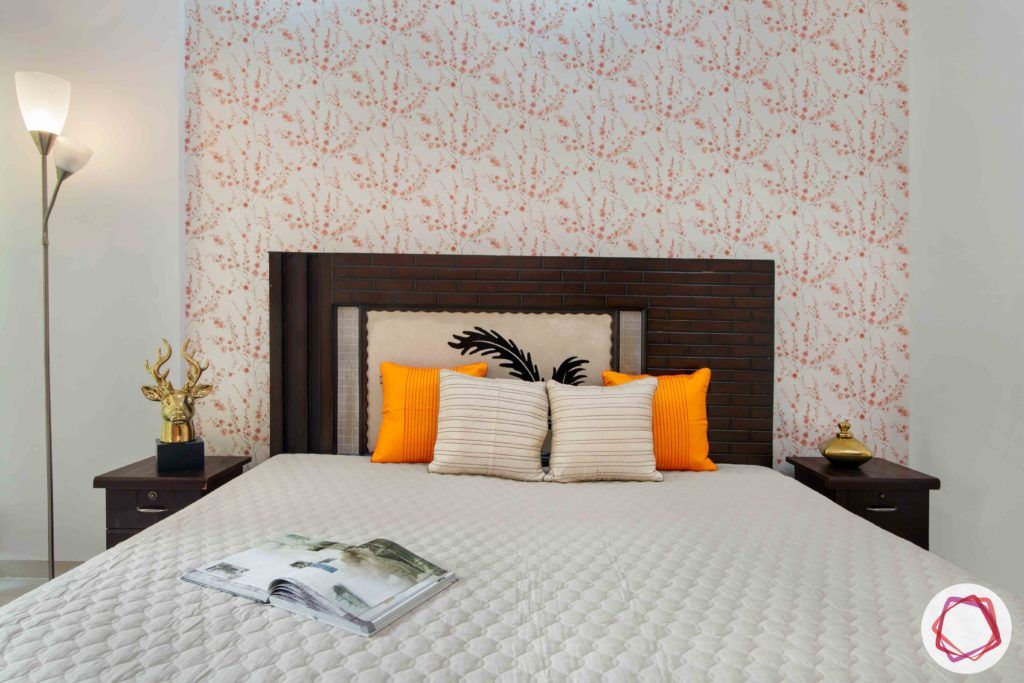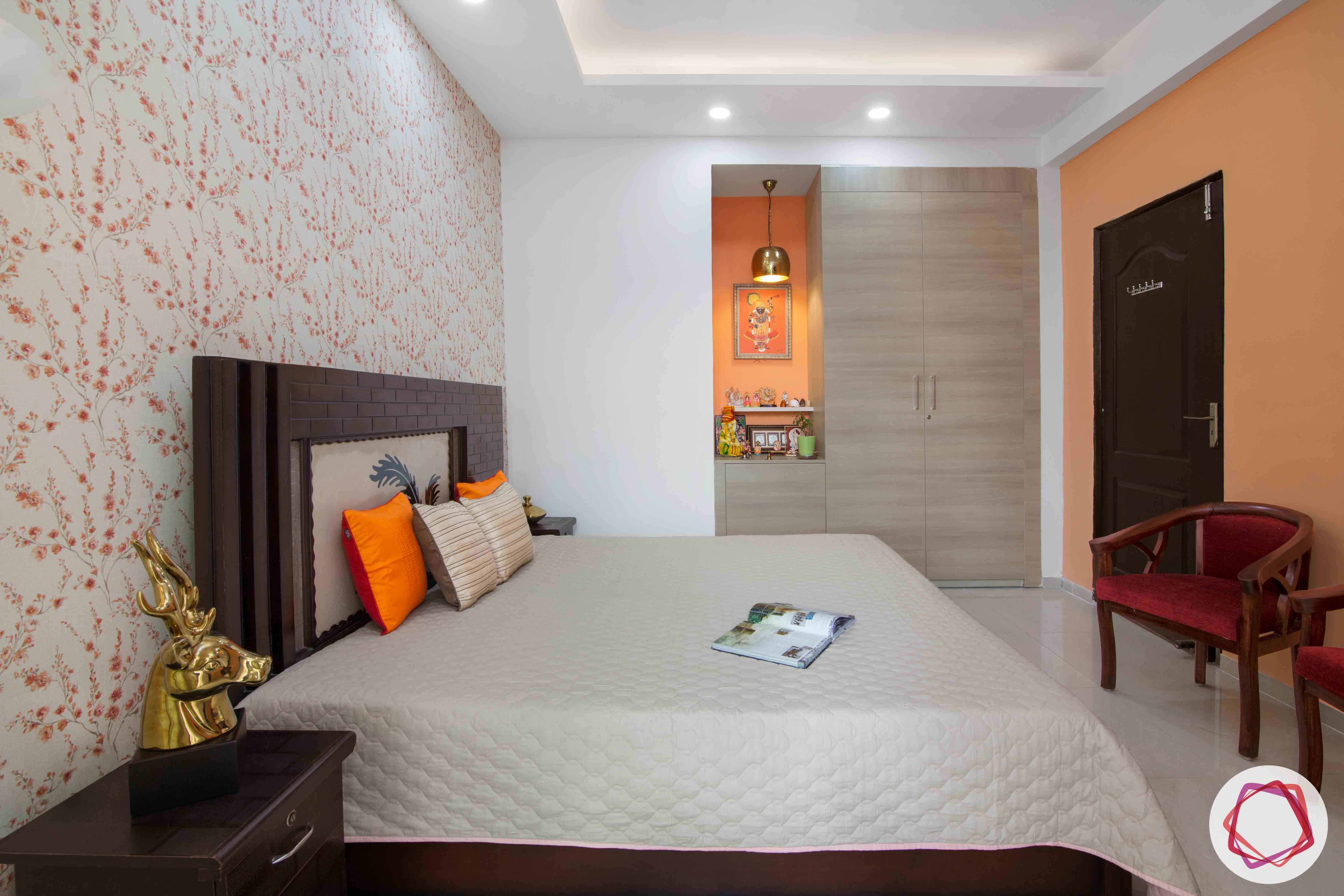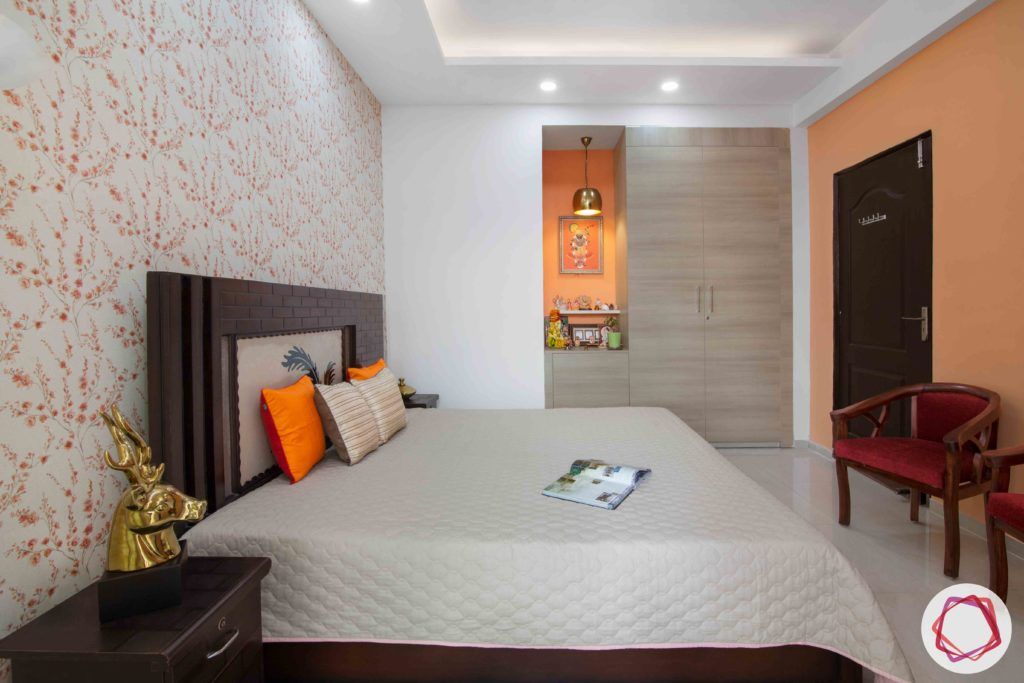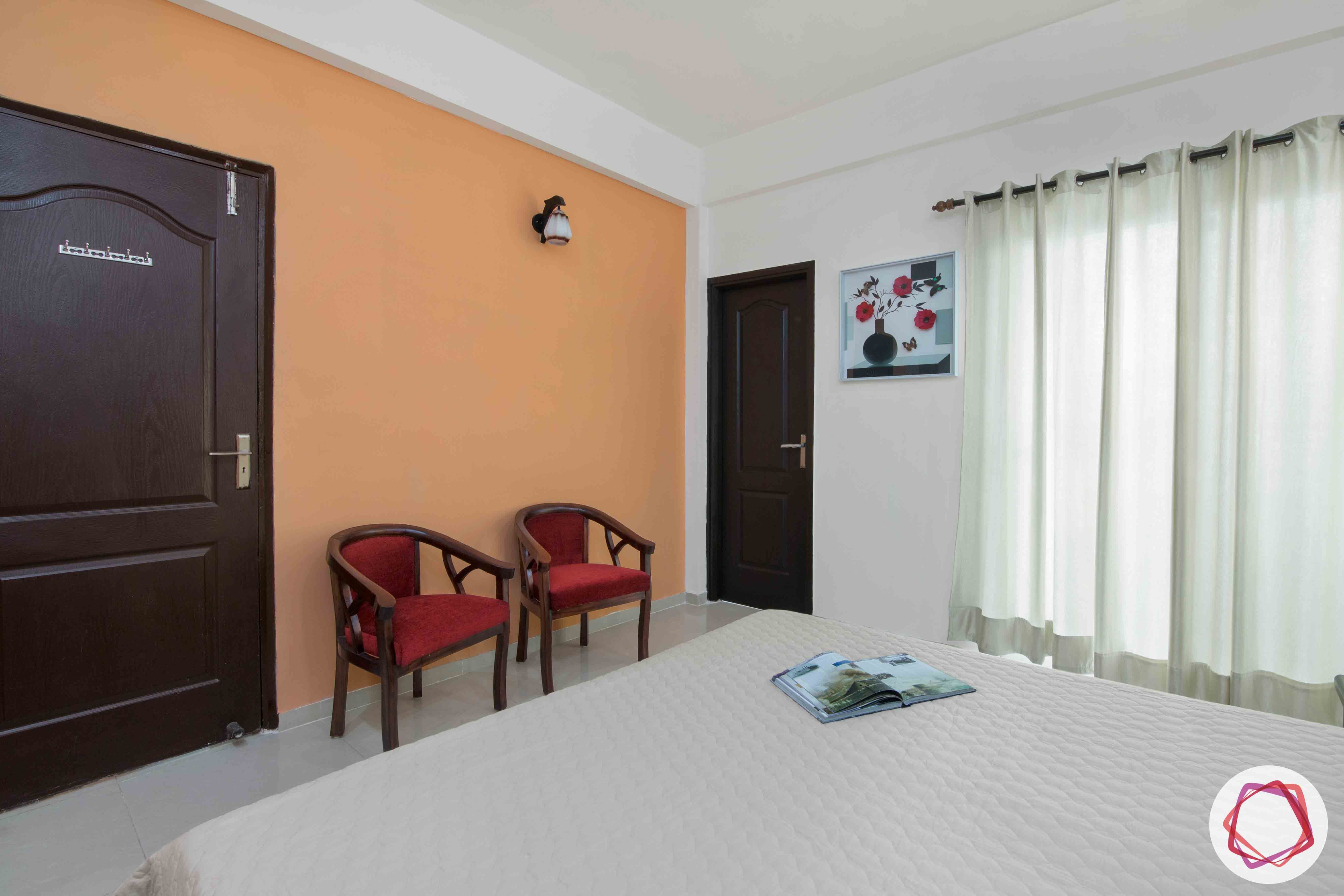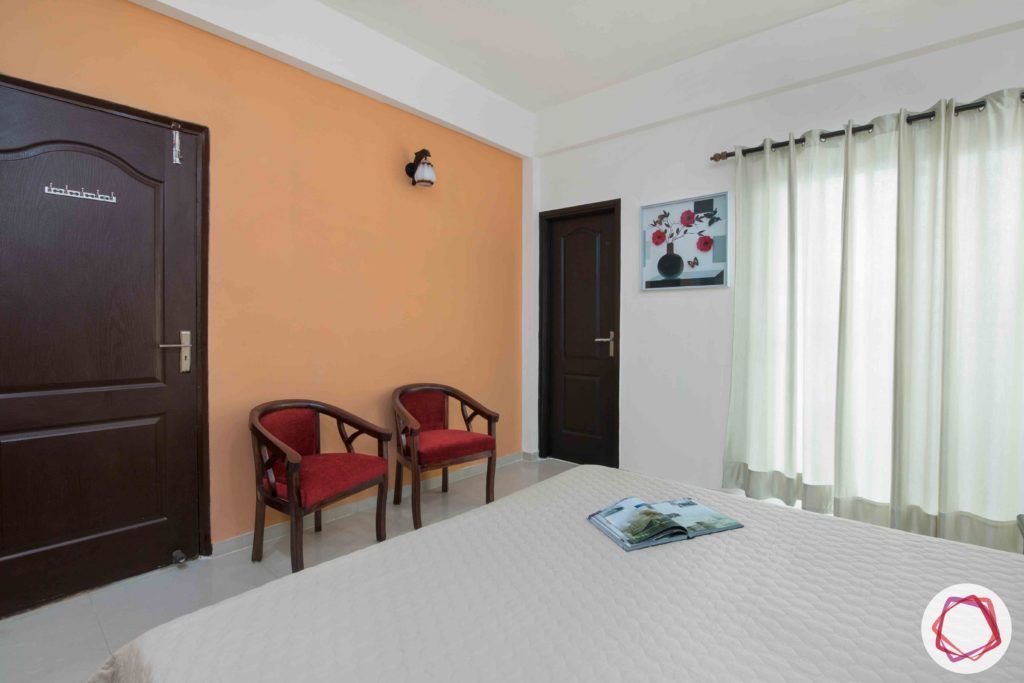 The guest bedroom is a balm to sore eyes as it is drenched in a soothing shade of tangerine. The colour is rich yet subtle at the same time. The wallpaper behind the bed also has delicate patterns in a similar shade of orange. The dark wooden tones of the bed compliment the timber texture of the wardrobe. A small pooja unit has been integrated into the wardrobe and lit with a dainty pendant light. Apart from that, there is a branched floor lamp next to the bed that look very sleek and contemporary.
"The clients were first time homeowners and thus very anxious to have their apartment done in the best possible way. They were extremely generous with personal inputs and coordinated with us regularly. This also allowed us to deliver their home in time."
– Payal Gupta, Interior Designer, Livspace
If you liked this home, also check out A Gurgaon Home That Mirrors Well-Traveled Taste.
Send in your comments & suggestions.