This 3BHK in Pune has enough open space for a couple of growing kids.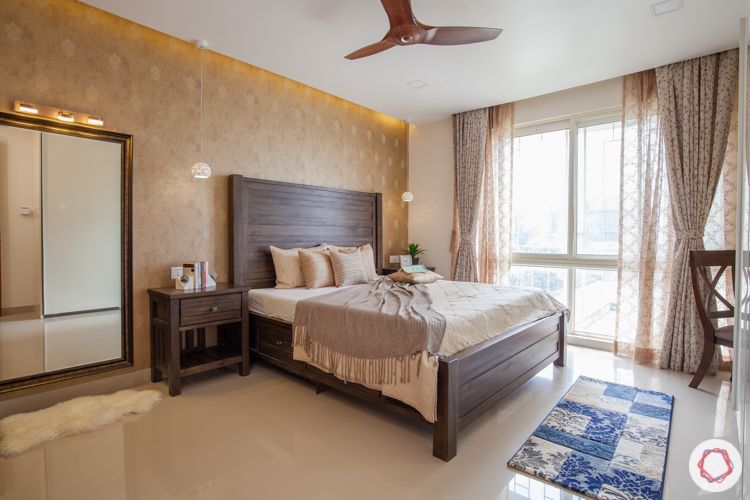 ---
Who livs here: Karthik & Vinitha Krishnaraj with their two kids
Location: Marvel Brisa, Pune
Size of home: 3BHK spanning 1,900 sq ft
Design team: Interior designer Apurva Kale & Design manager Sanjukta Das
Livspace service: Full home design (kitchen excluded)
Budget: ₹₹₹₹₹
---
A hint of Southern colours, minimal furniture and plenty of open spaces; that is the gist of what Karthik and Vinitha wanted for their new 3BHK in Pune. And our interior designer in Pune, Apurva Kale blended all these requirements into a cohesive design plan for their Marvel Bisra apartment.
The most striking element for us in this home was the use of open space to ensure that the two growing children in the family have enough room to move around. Also, the couple did not want every inch of their home to be stuffed with storage. So Apurva furnished their home with enough room to breathe.
Let us take you through the most note-worthy design elements of this spacious 3BHK that whiffs of heritage while being high on style.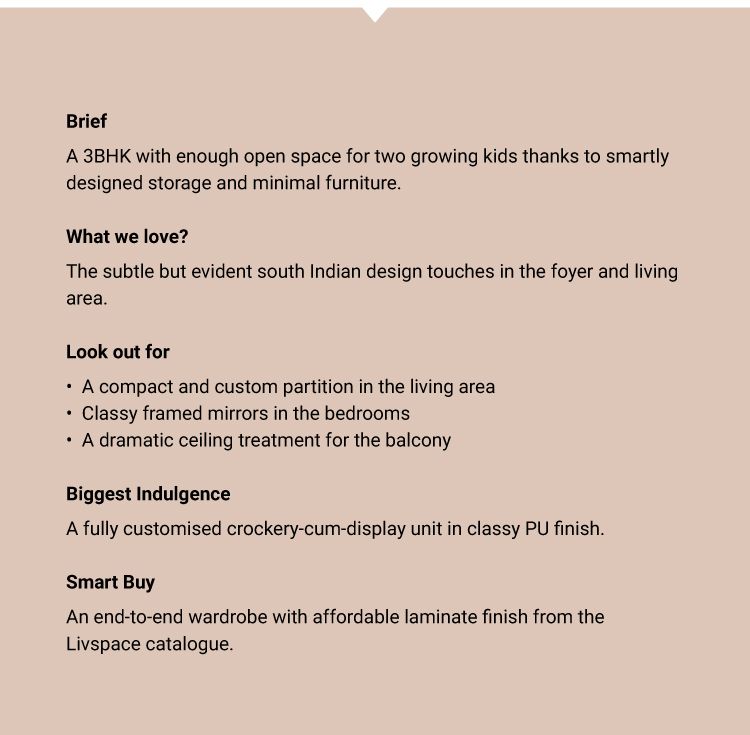 Distinct Touches of South Indian Heritage
Karthik was very keen on retaining traces of his native city, Chennai, in his new 3BHK in Pune. He said to Apurva, "when people enter my house, they should know that it belongs to a south Indian family". So she used a typical shade of yellow for the walls of the living and dining areas. This particular shade is very popular down south. Moreover, Karthik himself scouted for a door handle in the shape of an elephant's trunk, which is very symbolic of Tamil heritage. The foyer also has a jharoka, designed in the temple architecture style popular in the Southern states.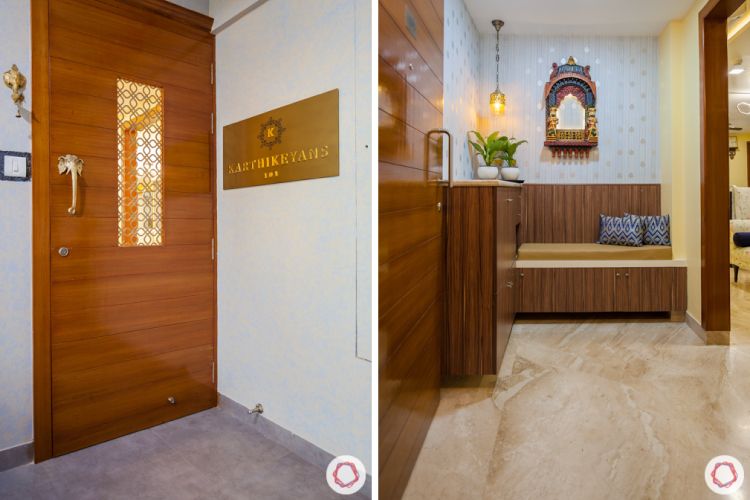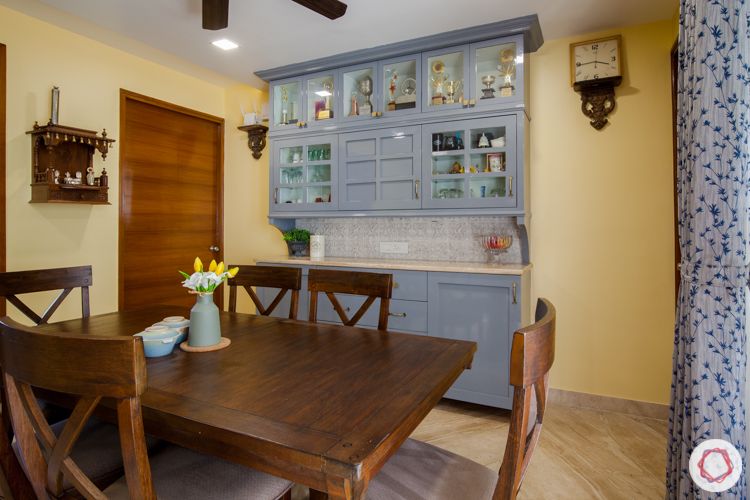 Carefully Customised Furniture
Careful and well-thought out custom work distinguishes this 3BHK in Pune. This definitely adds an edge to the interiors of any home. Hence, Apurva suggested a custom TV unit in the living area of this Marvel Brisa home. The real statement here is the stone cladding wall behind the TV unit. The compact partition that separates the living area from the dining room is also a custom piece.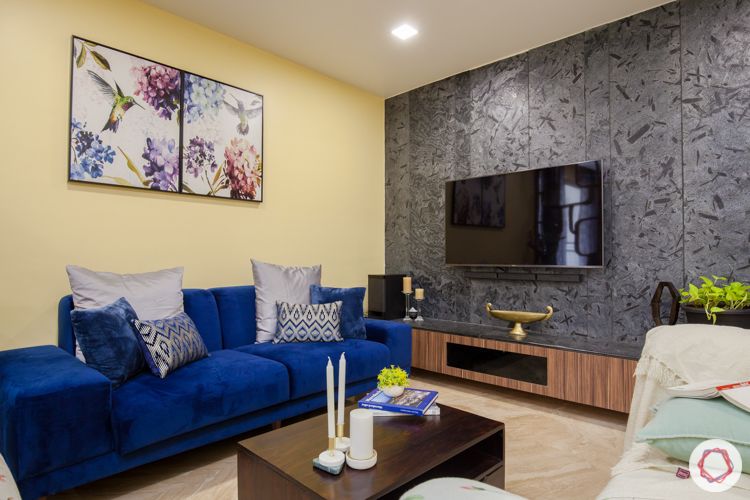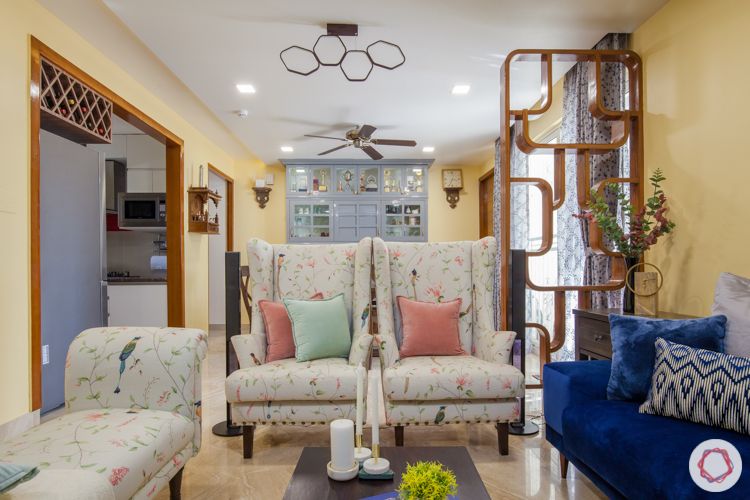 Karthik is a passionate golfer, and he needed a space to display the treasured trophies he won at golf tournaments. Apurva merged this requirement with Vinitha's need for a crockery cabinet. Together, this display-cum-crockery unit has a unique interior designer in Pune along with a classy PU finish.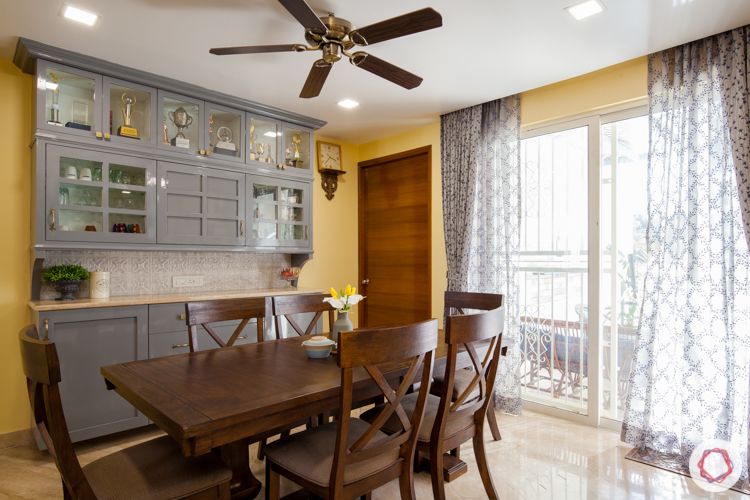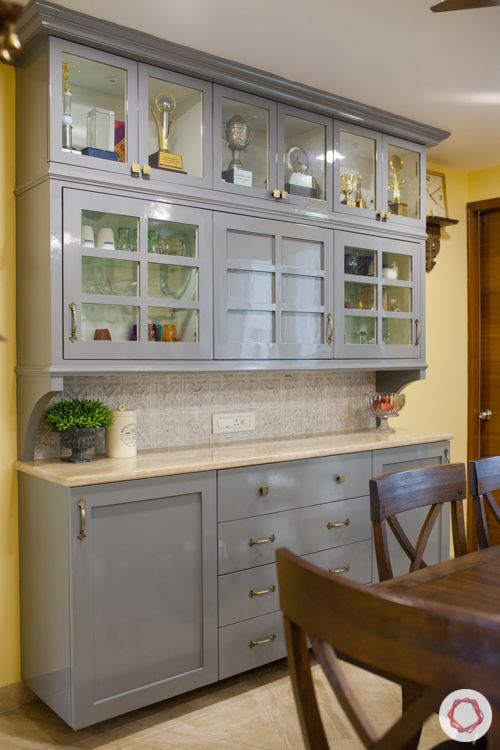 Affordable Laminate Finishes
Not everything that looks great and is useful must also be expensive too. Apurva did not want to overshoot the budget for this 3BHK in Pune. So she suggested affordable laminate finishes for all the wardrobes in this Marvel Bisra home. We are particularly impressed with the end-to-end wardrobe in the guest bedroom that has a classic black and white colour combination. The wardrobe in the master bedroom is a sliding one, and in the kids' room, Apurva has installed a white wardrobe with a dresser in the centre.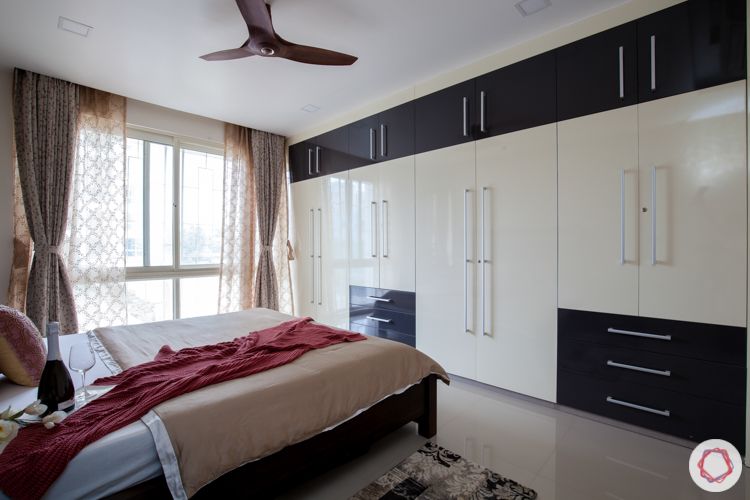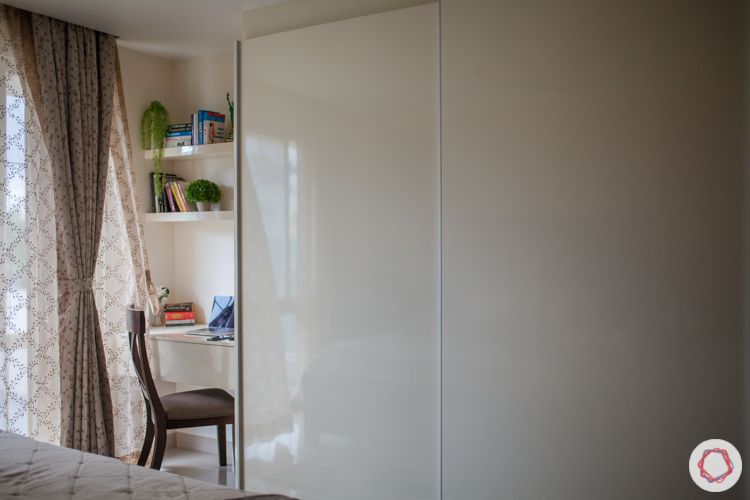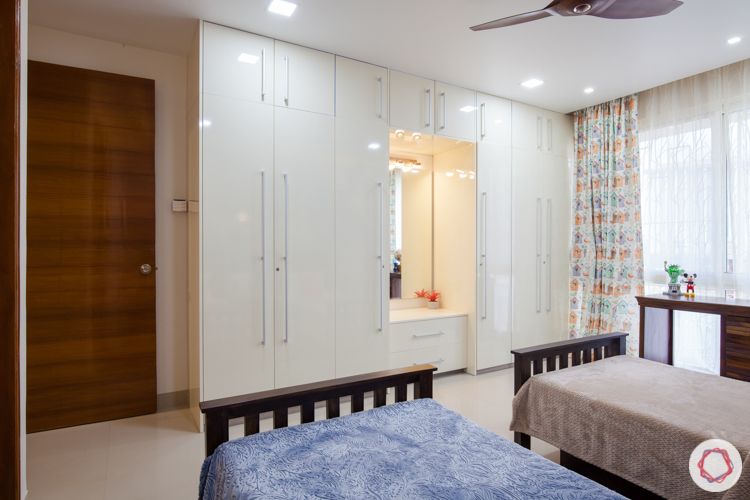 Wallpapers That set the Tone for the Space
Every room within this 3BHK in Pune has its own vibe. And Apurva has opted for the most affordable and convenient way to set the tone for these spaces using wallpapers. The master bedroom has a vintage and classic look. Thus, the beige patterned wallpaper is the perfect backdrop for this room. In the guest bedroom, the artsy patterns of the wallpaper add texture and character to the interiors. For the kids' bedroom, Karthik picked a full-size world map as a wallpaper to set their inquisitive minds on a voyage.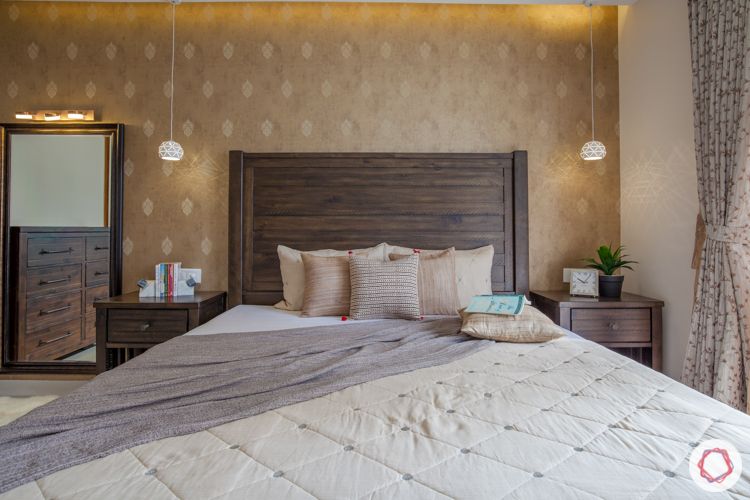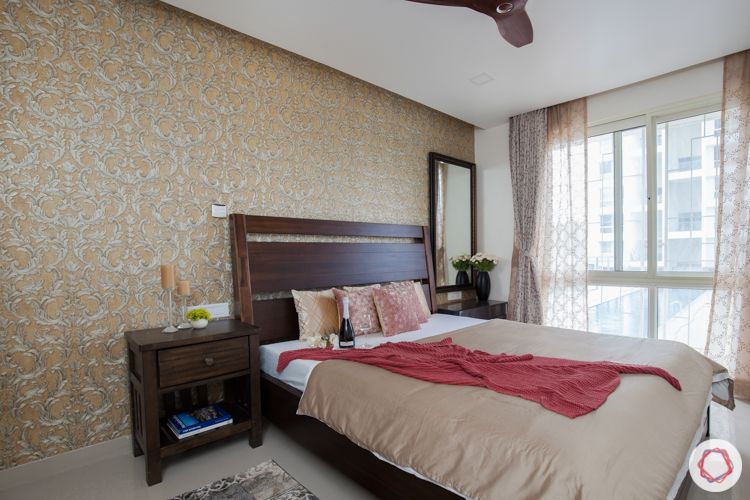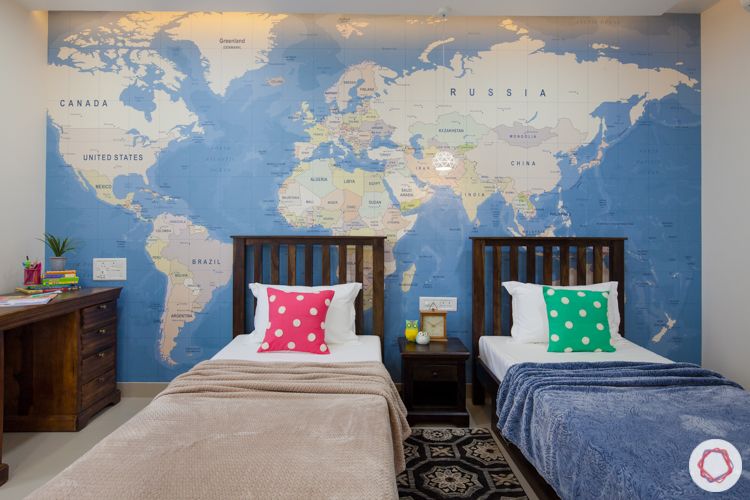 And Finally the Showstoppers
So far, we have looked at the functional and design aspects of this 3BHK in Pune. Now it's time to check out its glamorous side, and by that we mean its 'wow' elements! The covered balcony is one for sure. Apurva designed a false ceiling with blue metal rafters and a sheet a CNC (laser printed) laminate. The myriad patterns in this ceiling are perfect for a kaleidoscopic play of light. The use of classy framed mirrors in this Marvel Bisra home also caught our eye. We specifically like the low-hung mirror with portrait lights in the master bedroom.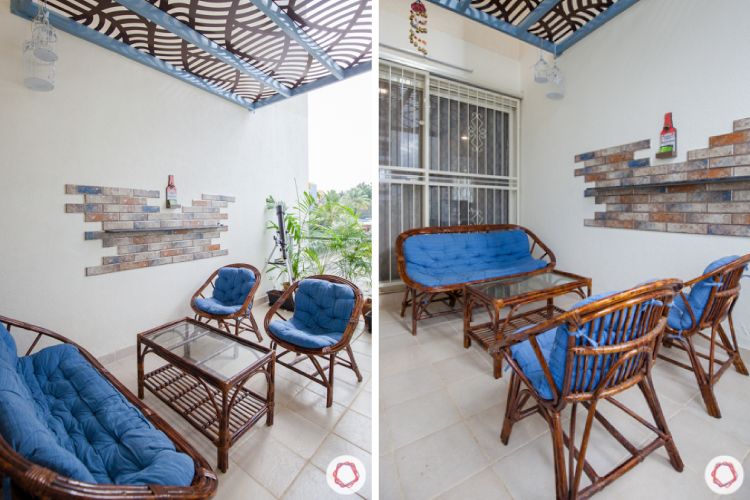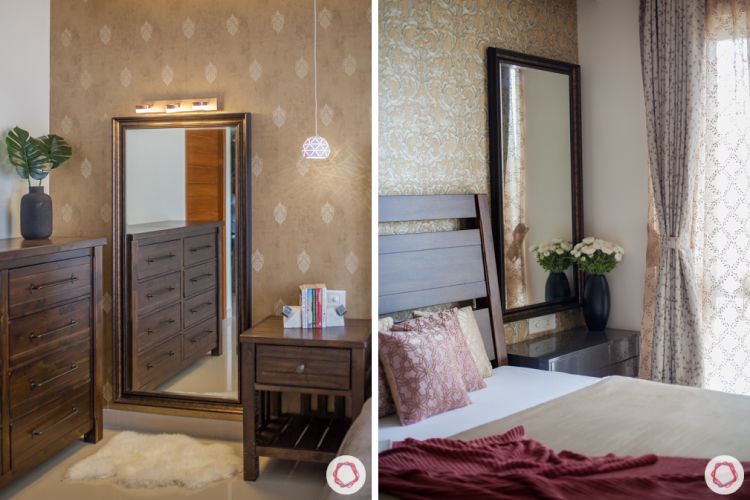 Designer Speak
"Karthik and Vinitha were very accommodating as clients. They were one of the few clients I have worked with, who actually understood practical considerations for executing a design plan. So when we had to change a couple of things on site during installations, they were completely onboard with us. It was a rare pleasure to work with this family."

– Apurva Kale, Interior Designer, Livspace
If you enjoyed reading about this home, also explore Budgeted & Cheerful 2BHK at Kunal Aspiree.