Crafted by one of the best interior designers in Pune, this pet-friendly 3BHK is full of chic elements. From unique accent walls to statement lighting, this home has it all!
---
Who livs here: Anuj Srivastava with his wife Tanushree and their dog, Rocky

Location: Pune
Size of home: A 3BHK spanning 1,367 sq ft
Design team: Interior Designer Gunja N. Golcha & Project Manager Vatsal Gandhi
Livspace service: Full Home Design
Budget: ₹₹₹₹₹
---
Having spent several years in New York, when Anuj and Tanushree decided to move to Pune, they sought familiarity and comfort. And with their furry buddy, Rocky, at home, pet-friendly interiors were top priority. So when they met Livspace designer Gunja N. Golcha, one of the best interior designers in Pune, they found a kindred spirit.
Gunja took no time in understanding what the couple needed in their home, and what was best for Rocky too. So she set out to create a chic home that was pretty and functional, without being cluttered. And how did she come up with the perfect design? Let's start out by taking a look at the floor plan.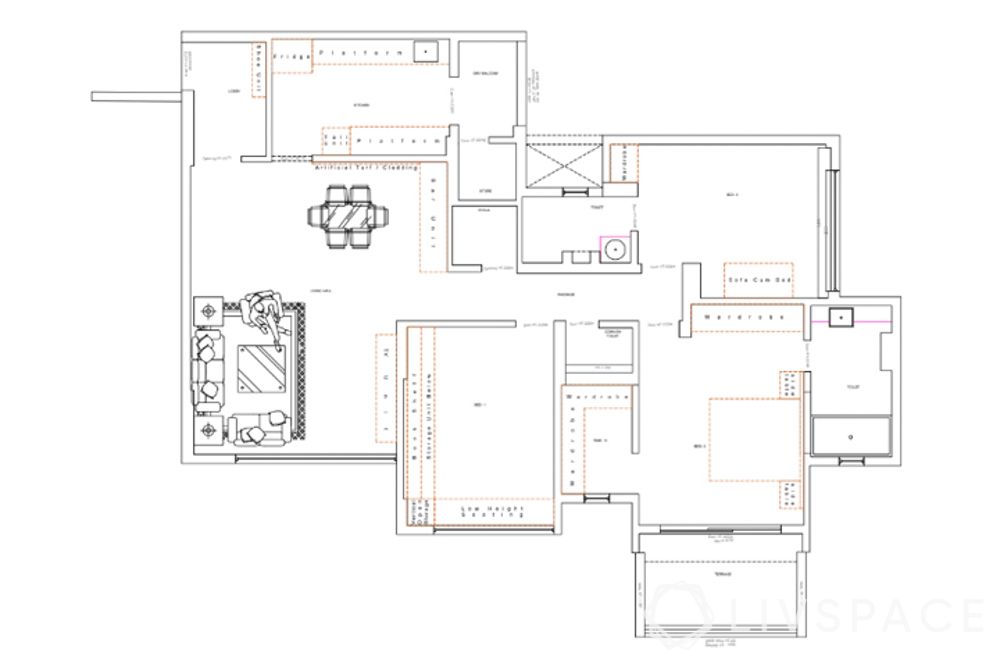 In this spacious 3 BHK in Pune, Gunja and the Srivastavas decided to make some unconventional choices for a clutter-free layout. So the L-shaped sofa in the living room is placed adjacent to the glass wall, and it stands proudly in front of the accent wall. The dining room fixtures stand in a far corner, with ample space in between. And while the TV unit stands two feet above the ground in most homes, here it stands taller so that it doesn't stand in Rocky's way! Read on to know how this home is perfect for the Srivastavas and Rocky.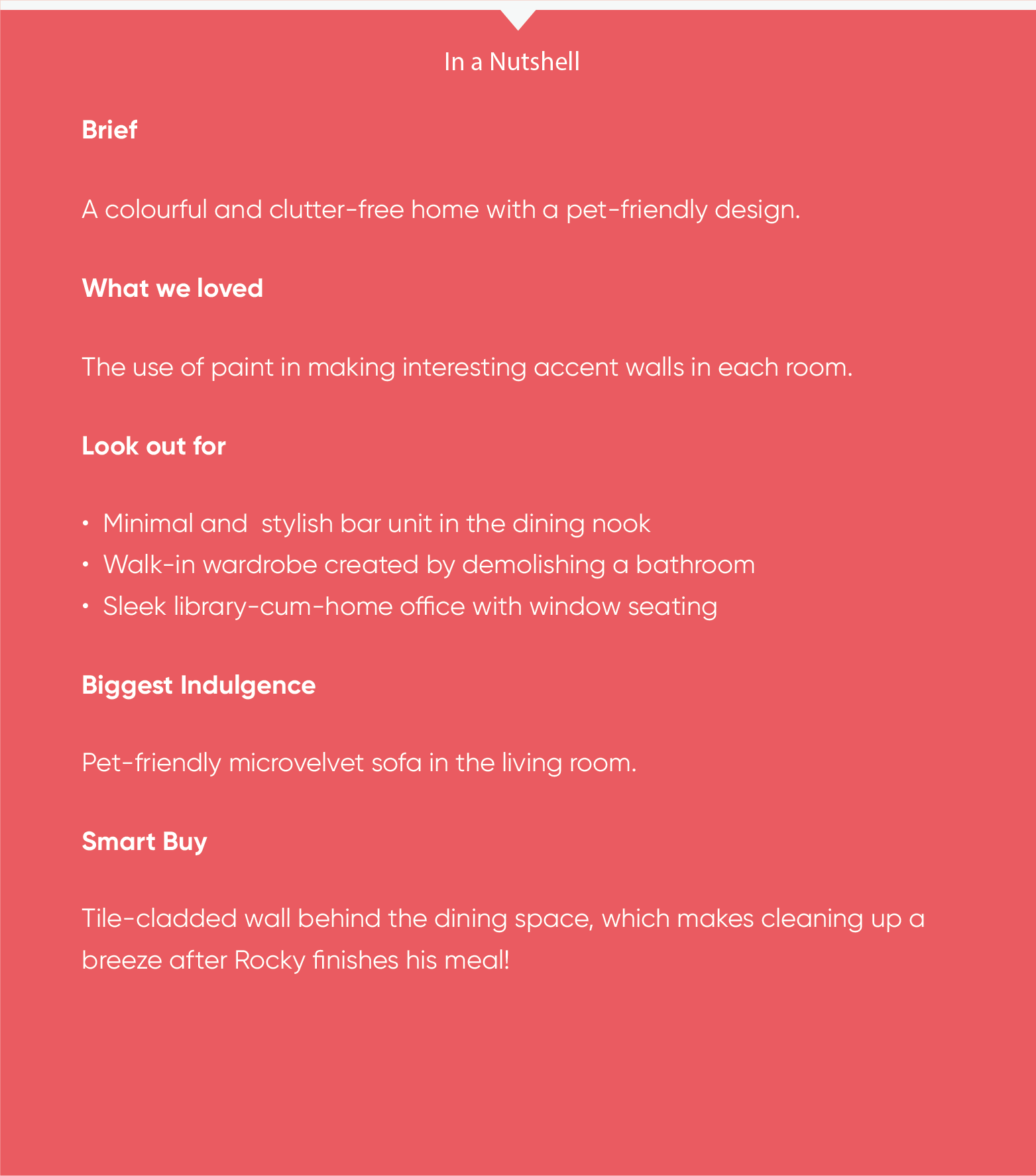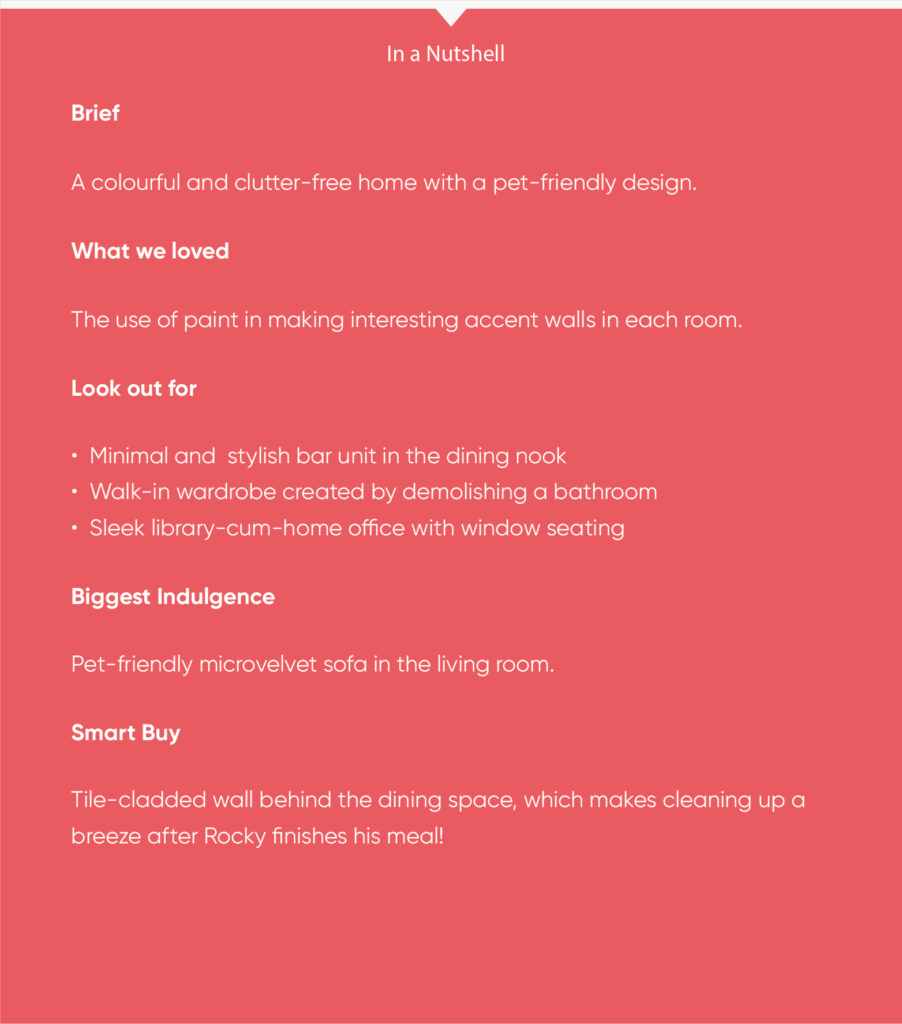 No space for boring walls
The power of paint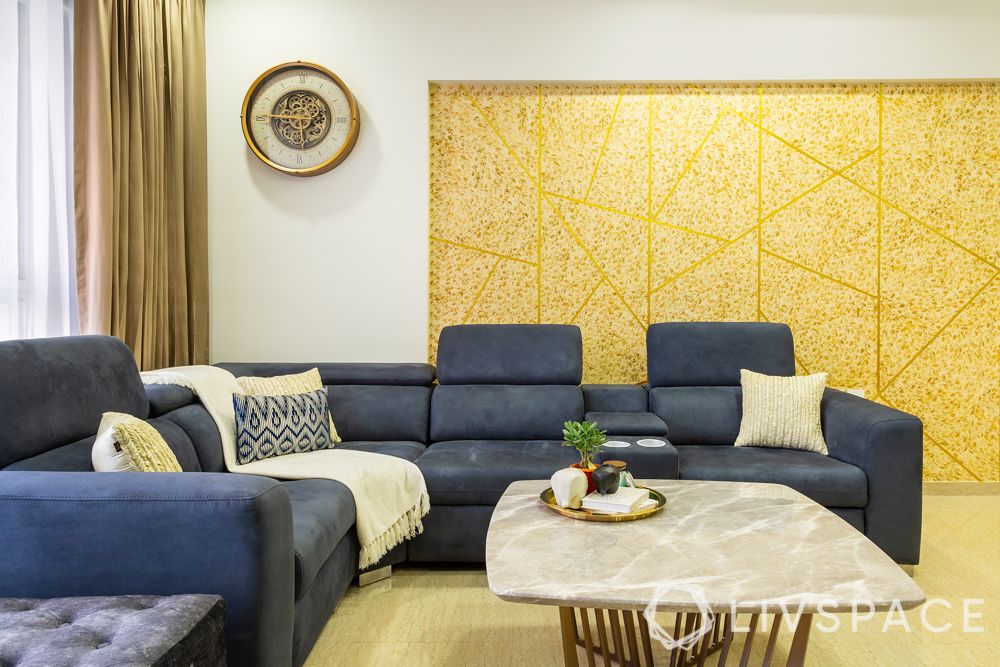 If you love the living room accent wall, we have news for you. Every single detail on this wall has been created using just metallic paints! Against the pale sugarnut-coloured background and ceiling, this accent wall stands out and beautifully highlights the pale blue microvelvet sofa. We love how the bronze wall clock ties in with the design as well!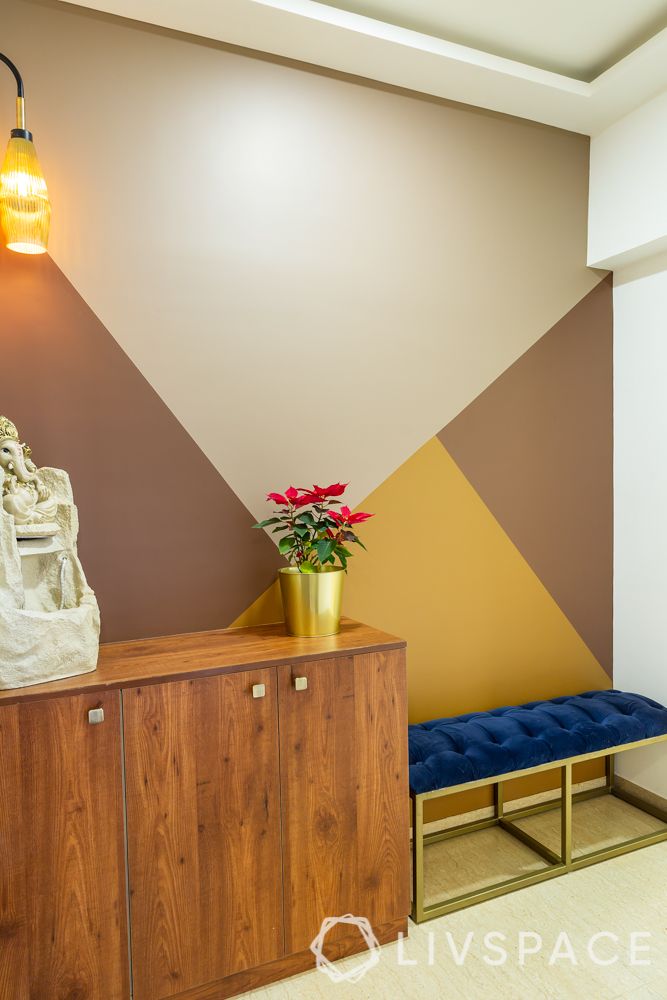 Gunja is a huge believer in the transformative power of paint. So she decided to give the Srivastavas some unique walls, even without much else. So the foyer comes with warm neutral hues that balance the wooden shoe cabinet and plush blue bench perfectly.
The homeowners also wanted to incorporate polka dots in their interiors, so Gunja included the same in their guest bedroom design. The accent wall in this room catches your eye with its warm yellows and browns, and a black-and-white polka dotted section. If you think this would make the perfect background for selfies, you're not alone!
Elegant wall trims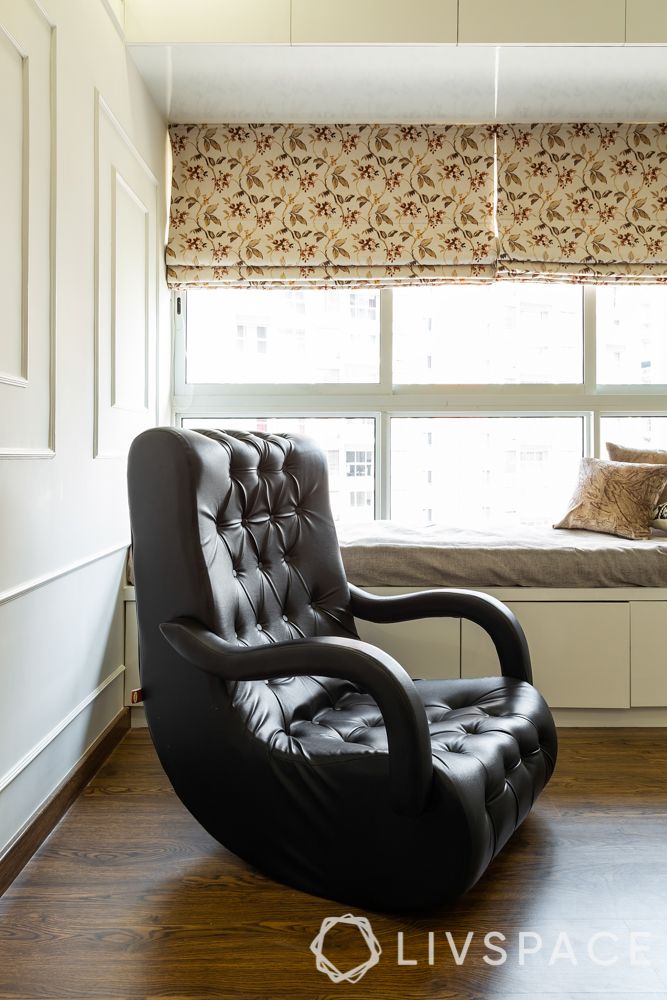 Having lived in New York for several years, Anuj and Tanushree had grown unused to bare walls. To make them feel at home, Gunja added wall trims on the bare walls of both the master bedroom and the library. With this, Gunja, one among the best interior designers in Pune, helps them carry a slice of their New York memories in their Pune home.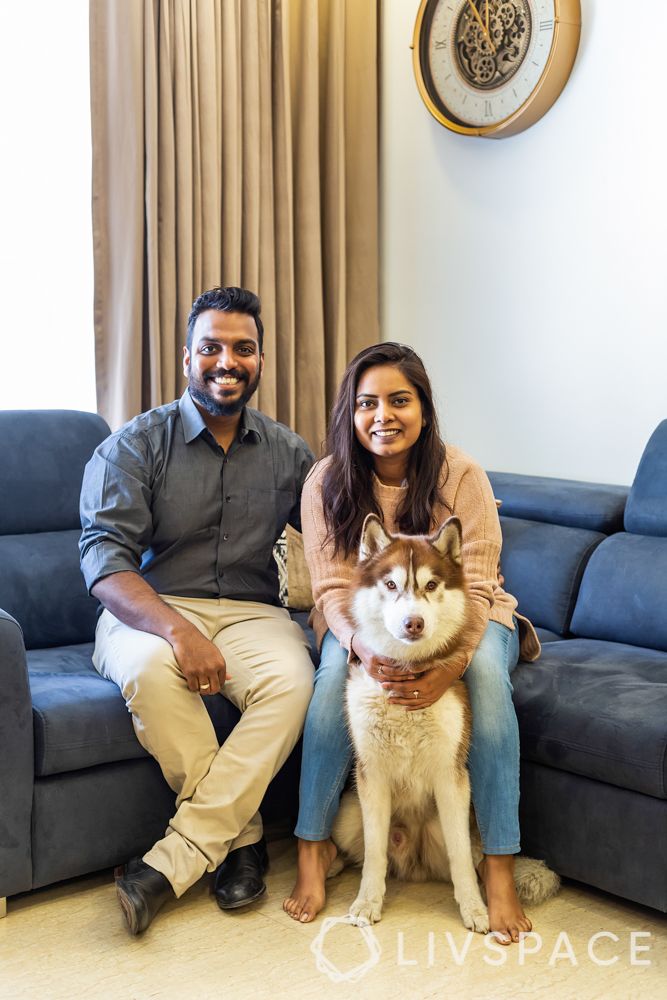 "Our Pune home is a combination of several things we wanted, expertly put together by Gunja. We love the bold colour combination in the kitchen. Rocky absolutely loves lazing out in front of the mirror, where he can enjoy the cross-breeze and admire himself. The home accommodates all that we wanted, without forgetting any of his needs. We love how it has turned out!"

– Anuj and Tanushree Srivastava, Livspace Homeowners

When lighting is key
A partial false ceiling that doesn't look cramped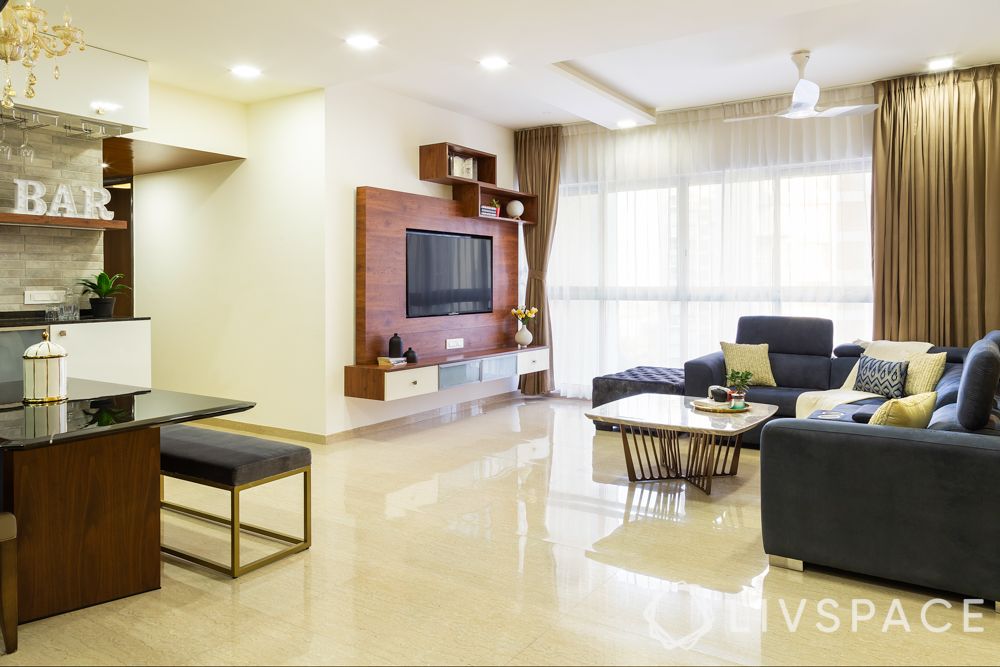 Since the Srivastavas' flat came with a ceiling that was 9 ft. high, Gunja was reluctant to add a complete false ceiling to the space. Instead, she suggested a partial design that highlights the required sections of the home. Surface lights take care of ambient lighting even in the absence of a complete false ceiling.
What's more, the ceiling lights come in three hues — warm white, cool white and natural white, making it easier to set the mood for each space.
Lighting up the dining room and bar counter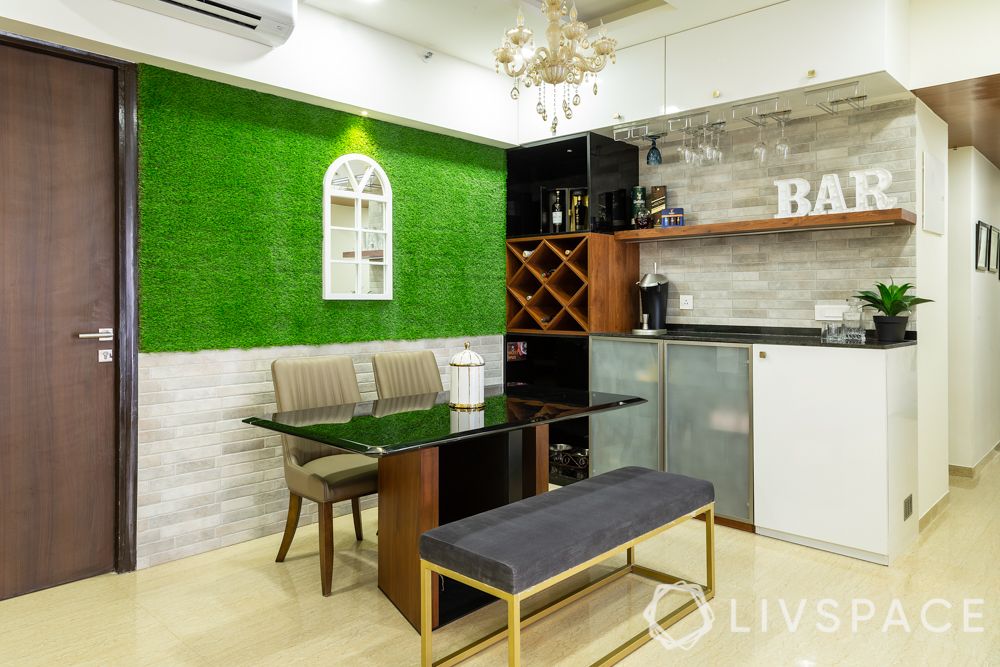 When the Srivastavas zeroed in on the furniture for their dining area, they felt the need to amp up this space. And that's exactly what this intricate chandelier does! With just the chandelier lit up, you can set the mood for quiet, romantic conversations.
And what about times when you want to have friends over and party? Well, that's what the bar is for! This custom unit comes with LED strips under the wooden display cabinet. Moreover, the letters "BAR" light up and add their own charm to this space.
For ease of prepping and cooking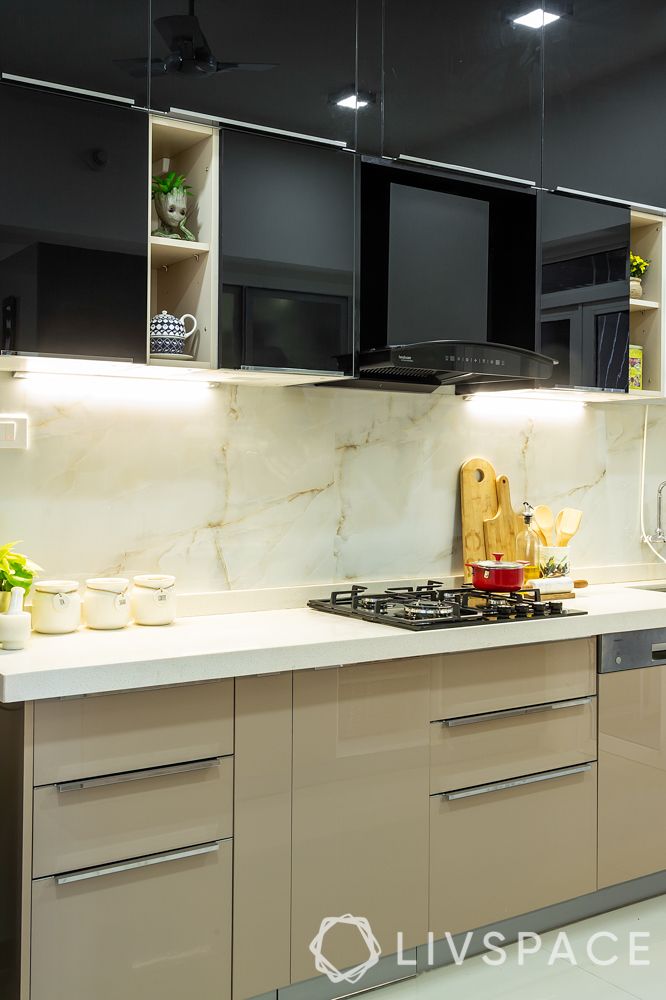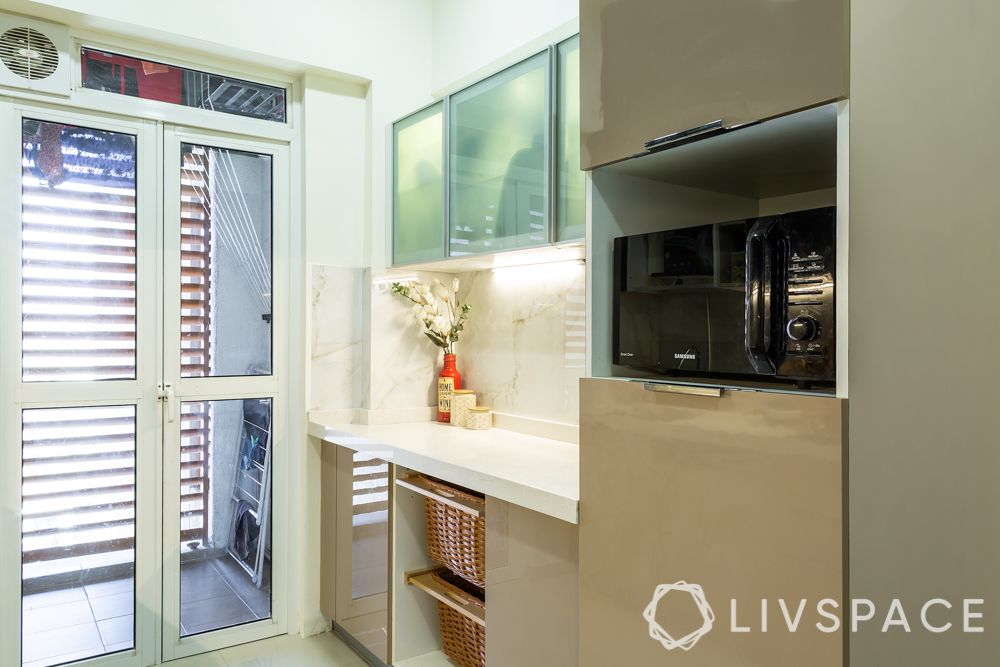 Your kitchen has no room for dark corners! With this in mind, Gunja, one of the best interior designers in Pune, provided profile lighting under the kitchen cabinets. Combined with the large tiles on the backsplash and white quartz countertop, the lighting makes the kitchen look open and cheery.
A bedroom designed for avid readers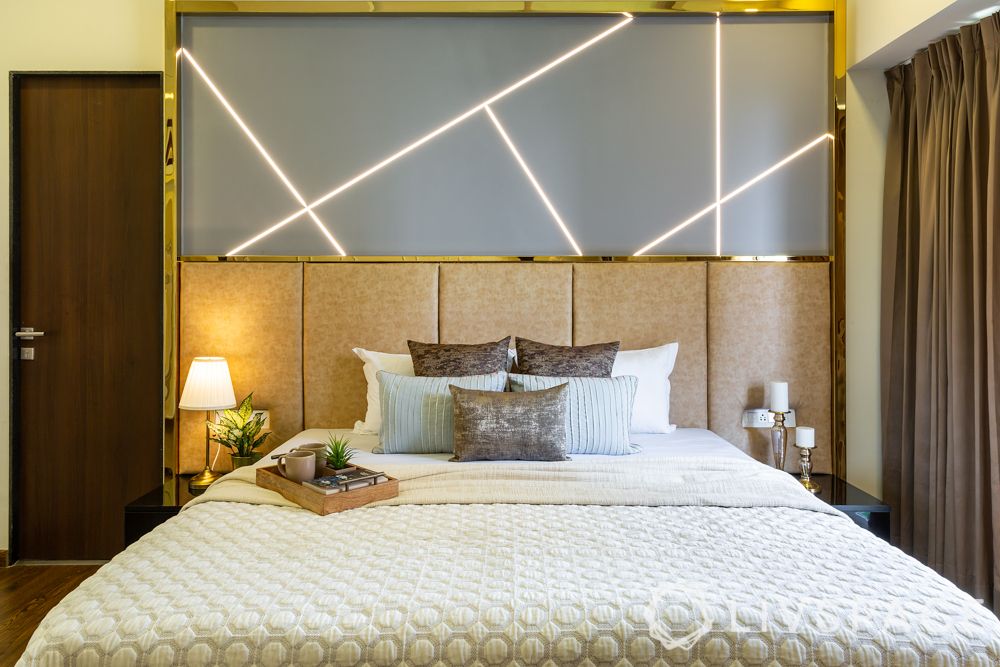 What happens when you get caught in the middle of a thrilling book but your spouse wants to go to sleep? You cannot just set the book aside, but nor can your spouse stay awake! If this situation sounds familiar to you, take a leaf out of Gunja's book of designs. When Anuj and Tanushree told her that they wanted their bedroom lighting to be such that they can read in bed, and choose to fall asleep even while the other person was reading, Gunja, one of the best interior designers in Pune, came up with this design. Right above their plush headboard, she created a design with muted LED light strips that's perfect for late night reading. It also causes minimal difficulty in falling asleep!
What a bookworm's heaven looks like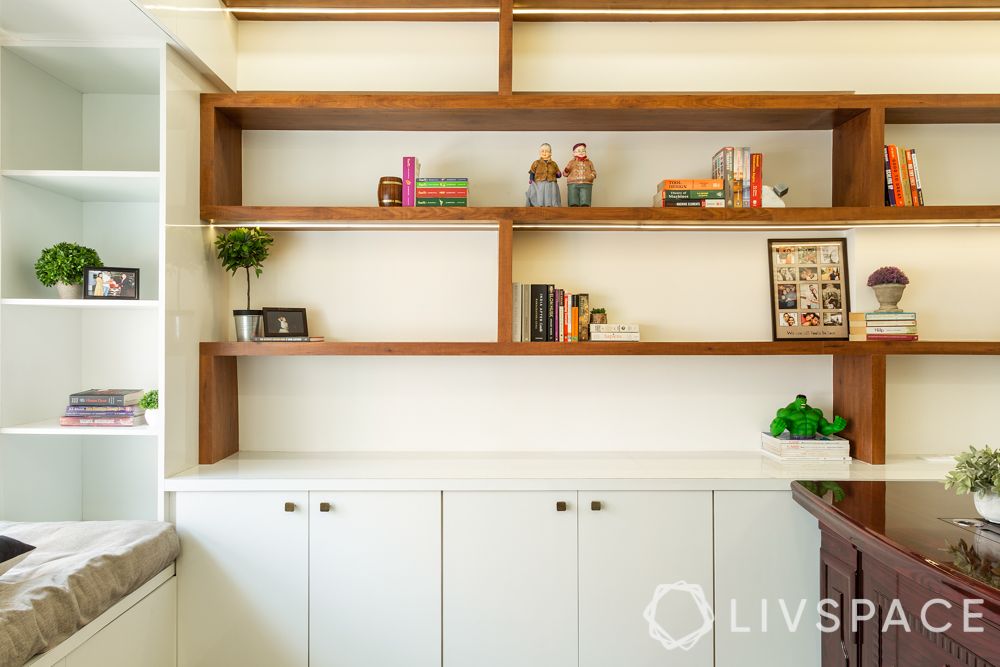 While ample light is essential for reading, who said you had to switch on all the lights just to pick out a book from the library? Dim lighting in rows upon rows of books almost evokes a sense of nostalgia. So when this custom-made library shelf was being designed, Gunja made an addition — LED lighting strips that run on the underside of each wooden panel. This allows you to choose your book at leisure.
All that's good for Rocky
Custom TV unit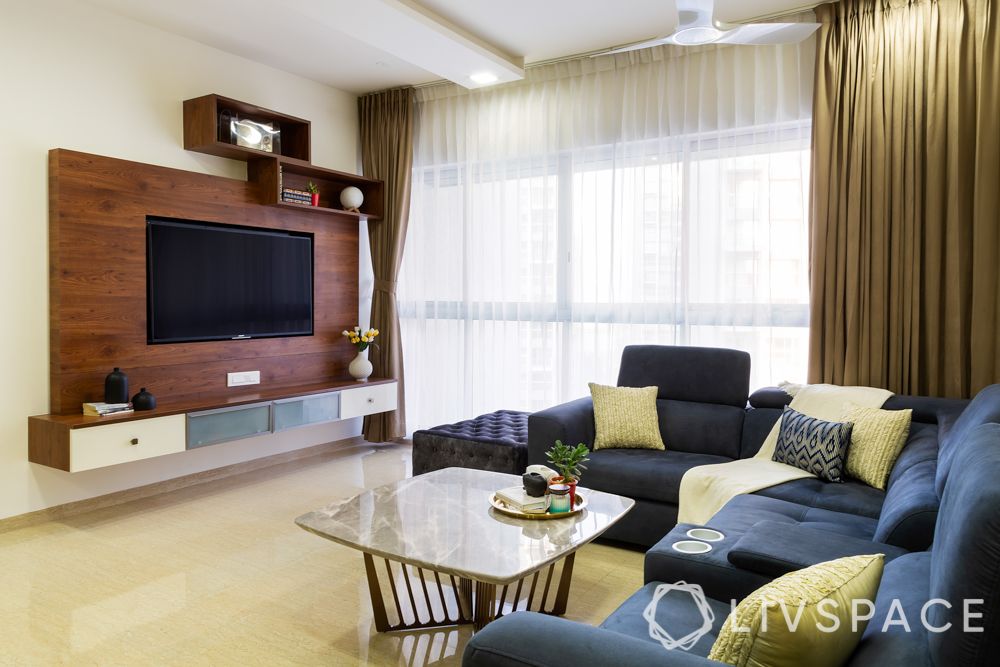 Gunja tells us that Rocky played a major role in design decisions for the household. The TV unit is merely one of those elements that were crafted specially with his requirements in mind. While the usual TV unit is 2 feet above the ground, this design is 2.5 feet above the ground. This is so that Rocky can freely walk around, without his tail sweeping articles off the unit.
With Rocky in mind, the family opted for a wooden laminate TV unit with display shelves on top. The cabinets at the bottom are completely closed — even the set-top box is placed inside a closed unit with frosted glass shutters.
Pet-friendly sofa fabric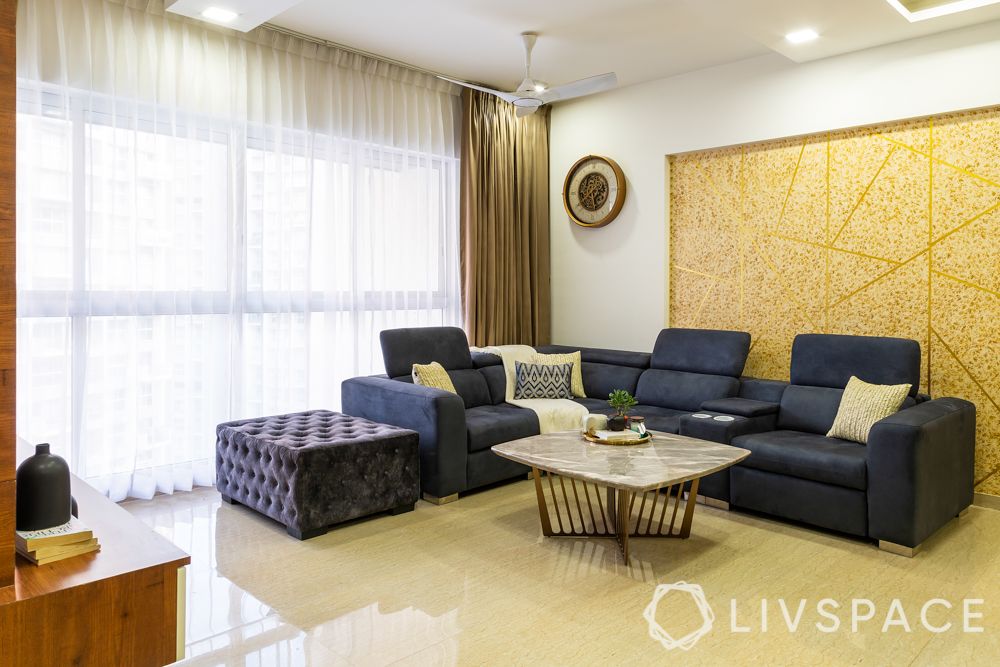 This blue L-shaped sofa and tufted ottoman were carefully chosen. With pet-friendly microvelvet fabric, it's comfy and easy to clean up at the same time!
Dining room with space for Rocky to eat in style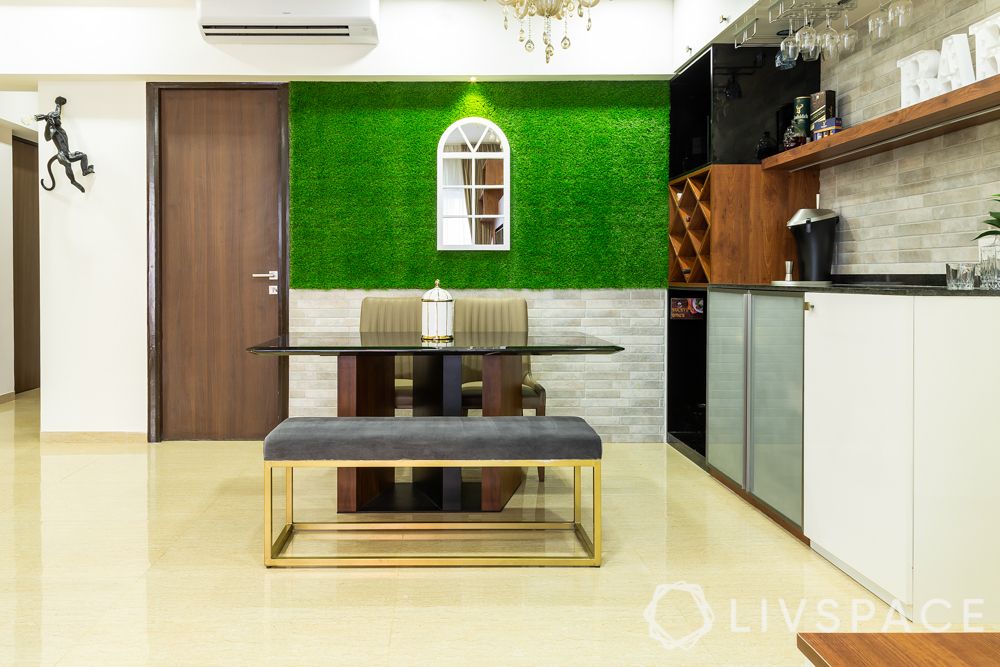 When Anuj and Tanushree were deciding on the interiors of their home, they also wanted a dedicated space for their furry buddy, Rocky, to eat. So Gunja created a space for Rocky to dine in style. In the snug corner under the wine cellar, she provided glossy laminate finishes on the cabinet. The tile cladding on the wall makes the space look brighter. Moreover, even a messy meal does not make cleaning up difficult!
Bay seating in library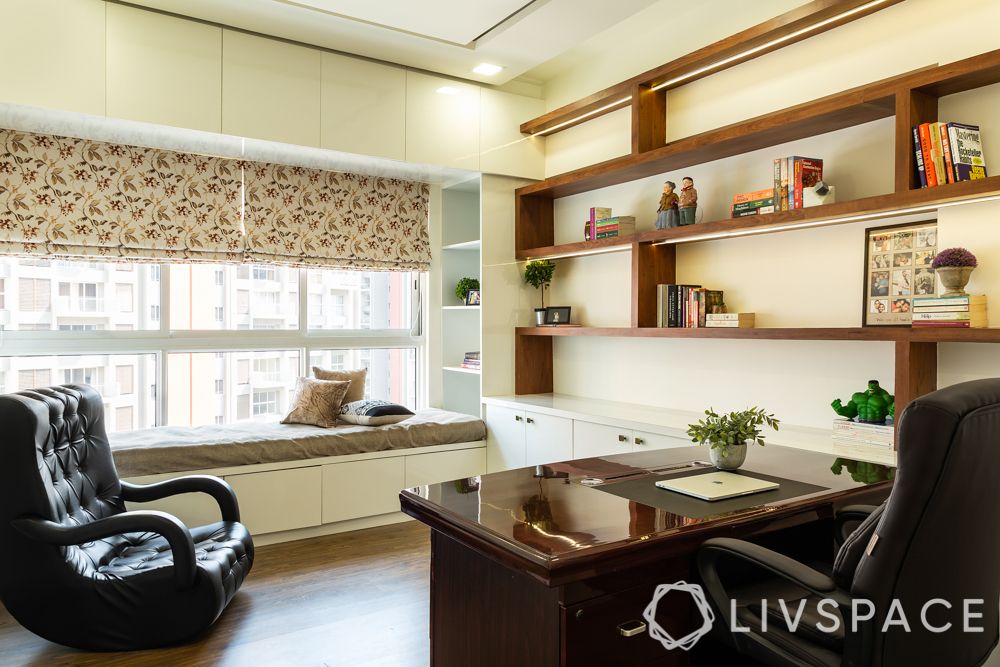 What good is a library if you cannot curl up with a book as you listen to the rain? Since the couple was eager for a way that allowed them to enjoy nature as they read, Gunja provided this cosy bay seating by the window. It comes with handle-less cabinets under it, so you can store more books!
Your house, your way
Chic bar unit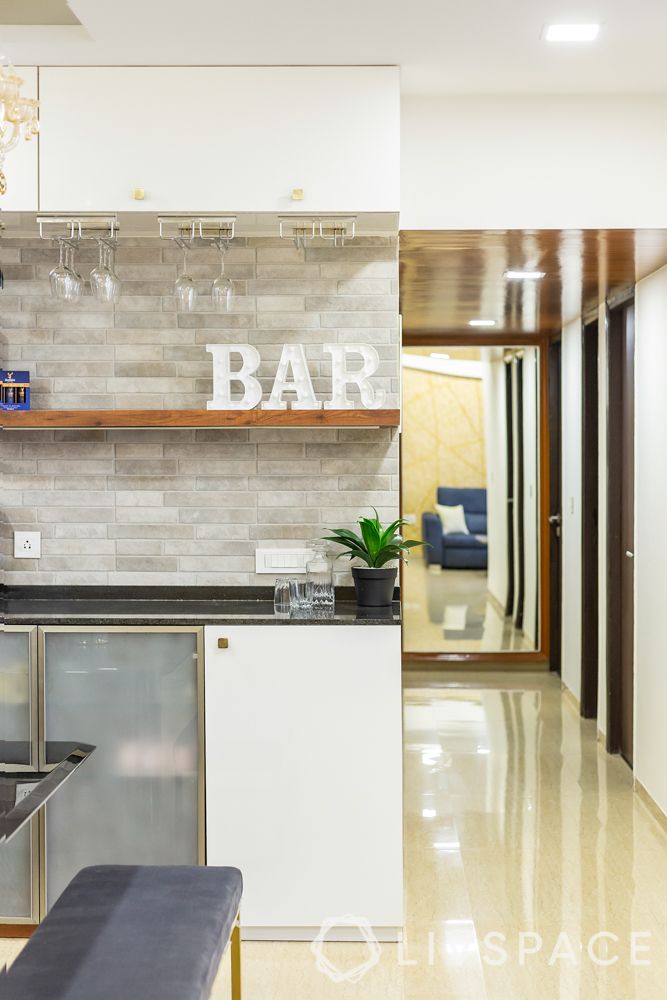 Since the Srivastavas wanted a chic but minimal bar unit, Gunja came up with this unique design. A wooden wine cellar is sandwiched between display cabinets at the top and bottom. Glossy black laminate finishes make this space stand apart from the rest of the house. This custom design comes with a granite countertop and tile cladding on the backsplash to make it easy to clean up accidental spills. Upside down wine glass racks and mood lighting complete the look.
Since the other rooms in the house are connected to the living-cum-dining space by a narrow passage, Gunja suggested adding a large mirror in a simple frame at the end of it. This opens up the compact space and makes it look brighter.
Custom-designed kitchen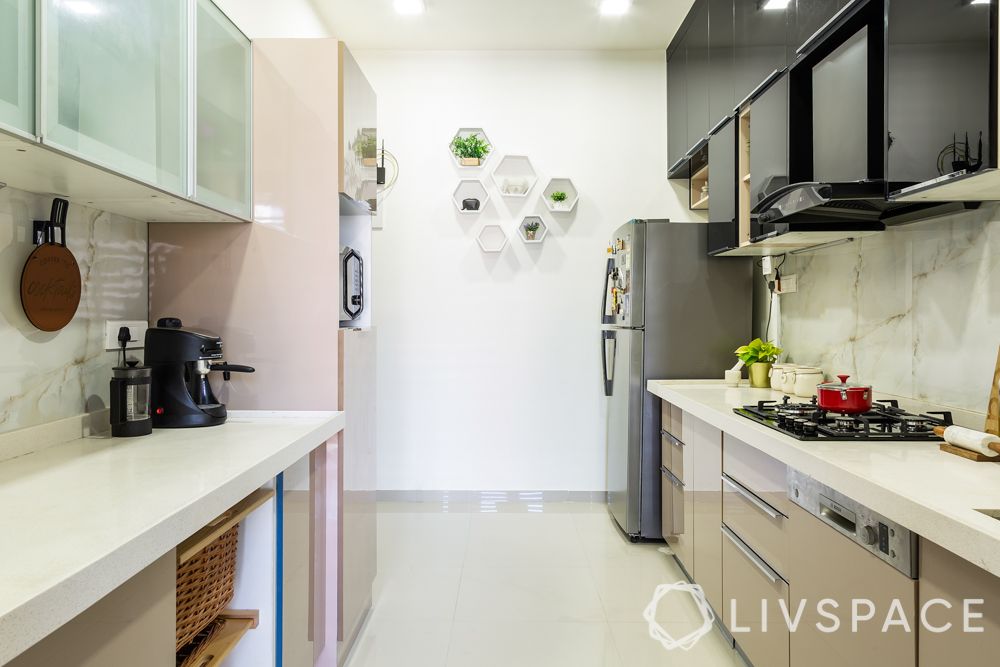 As one of the best interior designers in Pune, Gunja knows the importance of a kitchen tailored to your requirements. So she customised this space to suit the Srivastavas. This home has a parallel kitchen layout with wall cabinets in black acrylic and cappuccino-coloured base units. To create a seamless look, the base cabinets have edge profiles. Three wall units with frosted glass shutters serve as a crockery unit.
Since Tanushree has multiple kitchen appliances, the tall unit is custom-designed to fit them all. The microwave is placed at a higher shelf since the lower cabinet houses mixer-grinders, coffee machines and the like. And with efficient planning, these appliances can be stored and used while still inside the tall unit.
The secret behind this walk-in wardrobe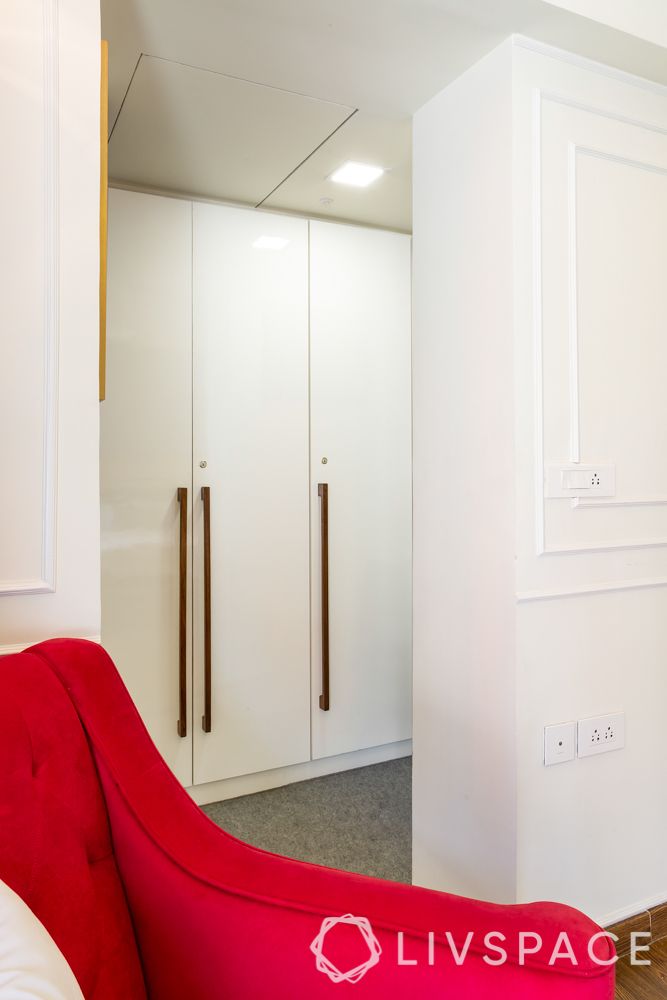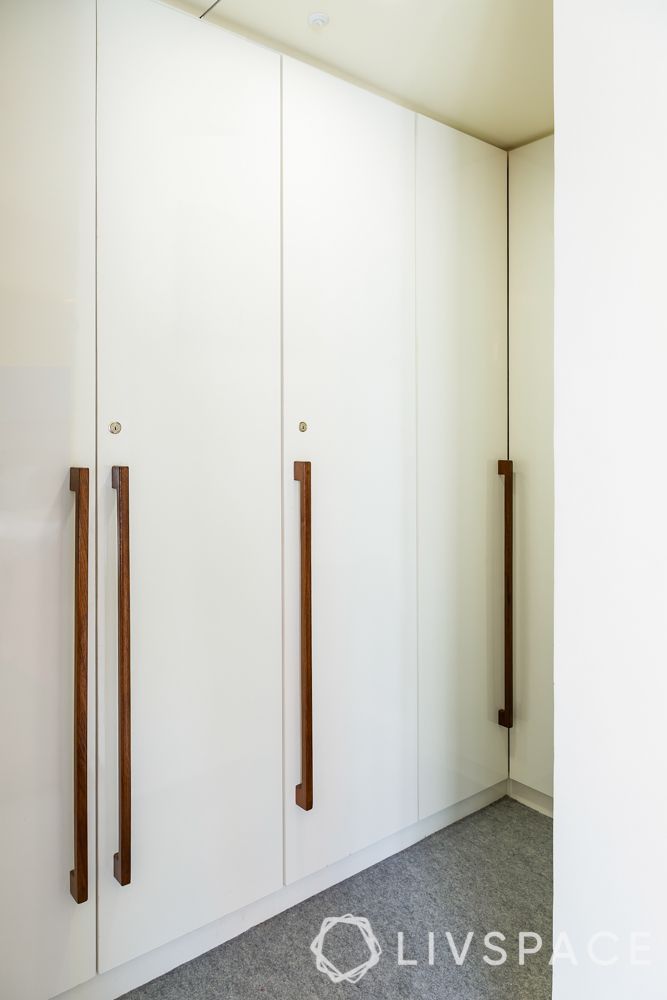 Anuj and Tanushree loved the concept of a walk-in closet, and were keen on having one in their home. So Gunja suggested converting the bathroom attached to one of the bedrooms into a walk-in closet. This came with major civil changes. Gunja oversaw the demolition of the existing bathroom fixtures, complete with sealing the door and created a new entrance through the master bedroom. Here, she added wall-to-ceiling wardrobes with large wooden handles that create a stunning effect. The white laminate wardrobes also open up the narrow space.
The bookworm's paradise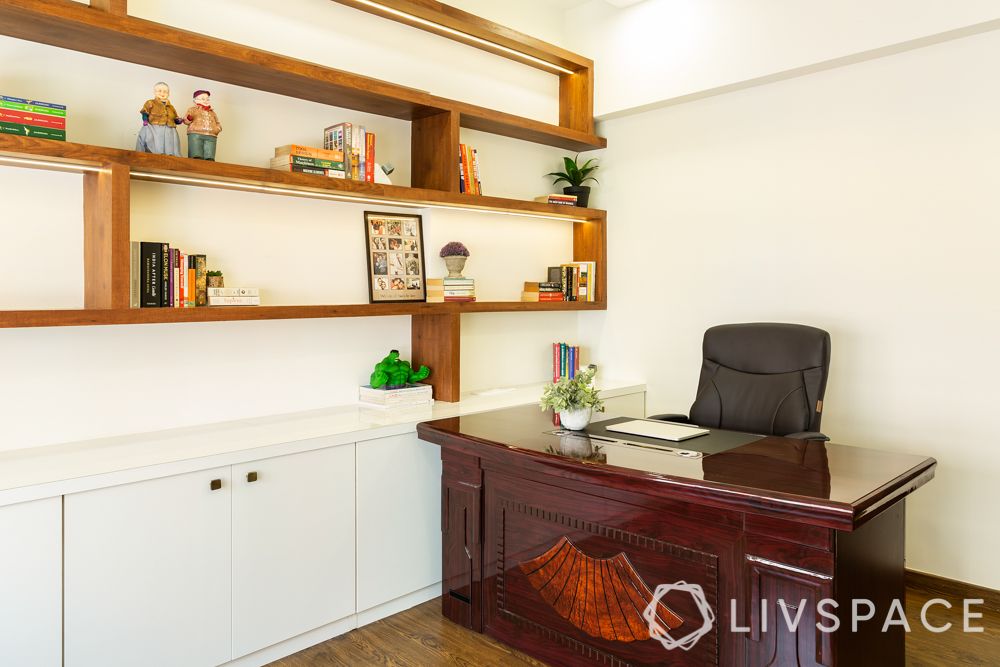 Ever since they started thinking of the interiors of their home, Anuj and Tanushree had wanted a library for themselves. So they converted one of the bedrooms into a space to showcase their favourite books. As one of the best interior designers in Pune, Gunja transformed this bedroom wiht wooden laminate shelves and white laminate cabinets, and it packed with storage. A home office with a polished wooden table and leather chair completes the space. So the homeowners can work out of this ocean of calm whenever need be!
"The Srivastavas were patient clients who went the extra mile to explain what they wanted in their home and why. They were friendly and understanding, which made me want to give my best to their home. It was truly a wonderful experience, and I never felt tired for a moment as I worked on their home interiors!"

– Ar. Gunja N. Golcha, Sr. Interior Designer, Livspace
Looking for more unique elements for the walls of your home? This Bengaluru home might inspire you!
Send us your comments and suggestions at editor@livspace.com.