This 2BHK design comes with dainty colours, custom designs and even an artist's twist! With a unique theme and colour scheme for each room,it's truly a treat for the eyes. Watch out for the unique wall treatments.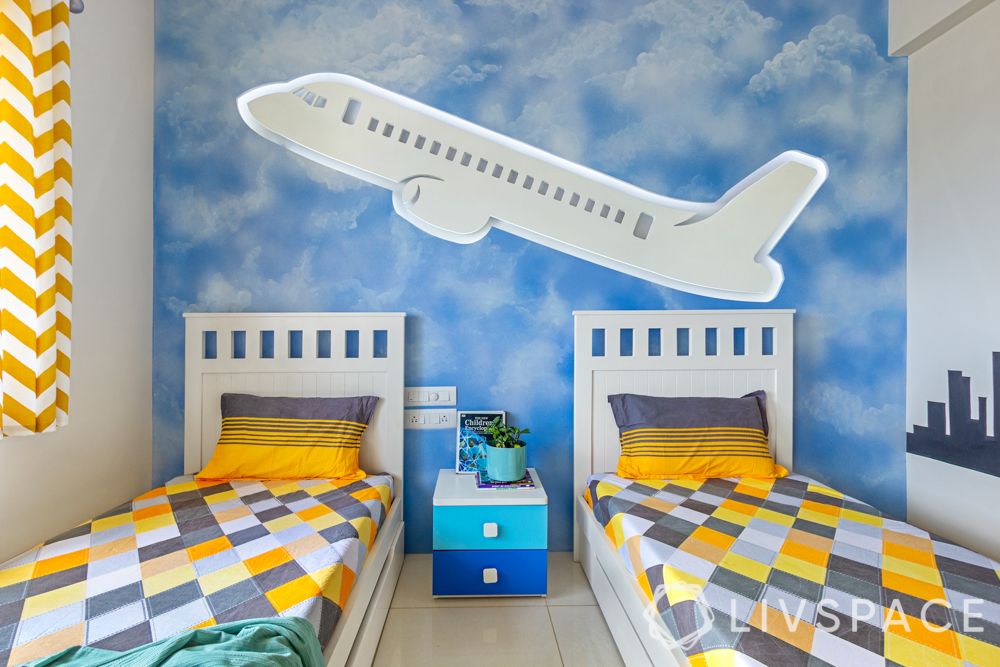 ---
Who livs here: Mohammad Jaffar Nayeem with his wife Meenaz and their children Umer and Uzer
Location: Prestige Gulmohar, Bengaluru
Size of home: 2BHK spanning 1,400 sq ft
Design team: Interior designer Chitwan Mahipal with Project Manager Amit Nagar
Livspace service: Full home design
Budget: ₹₹₹₹₹
---
Nayeem, an IT architect, and his wife Meenaz, a homemaker, had just returned to Bangalore after spending most of their lives in the United States. So, it was understandable when they wanted their swanky new home at Prestige Gulmohar to include bits and pieces of their memories.
With this in mind, they walked into the Livspace Experience Center, and the rest, as they say, is history!
Livspace designer Chitwan Mahipal took charge of the interior design for their Bangalore home. Over the course of several conversations, she understood Nayeem and his family's requirements, and made sure to give them all that they needed in their new home. Let's start by looking at the floor plan of Nayeem and Menaaz's 2BHK design.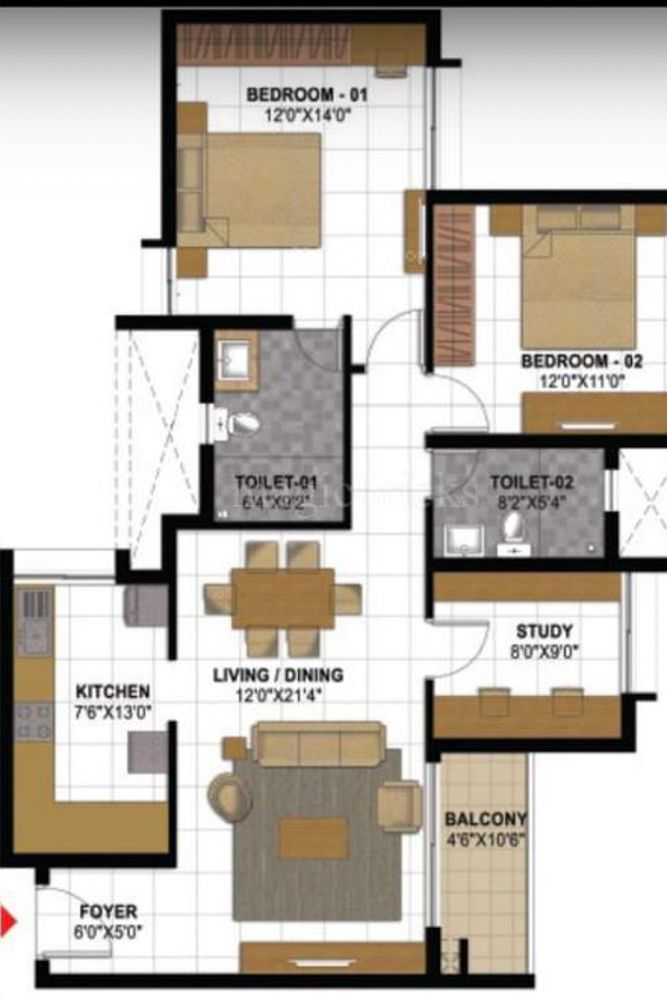 Now, let's check out the interiors of this 2BHK design in Bangalore!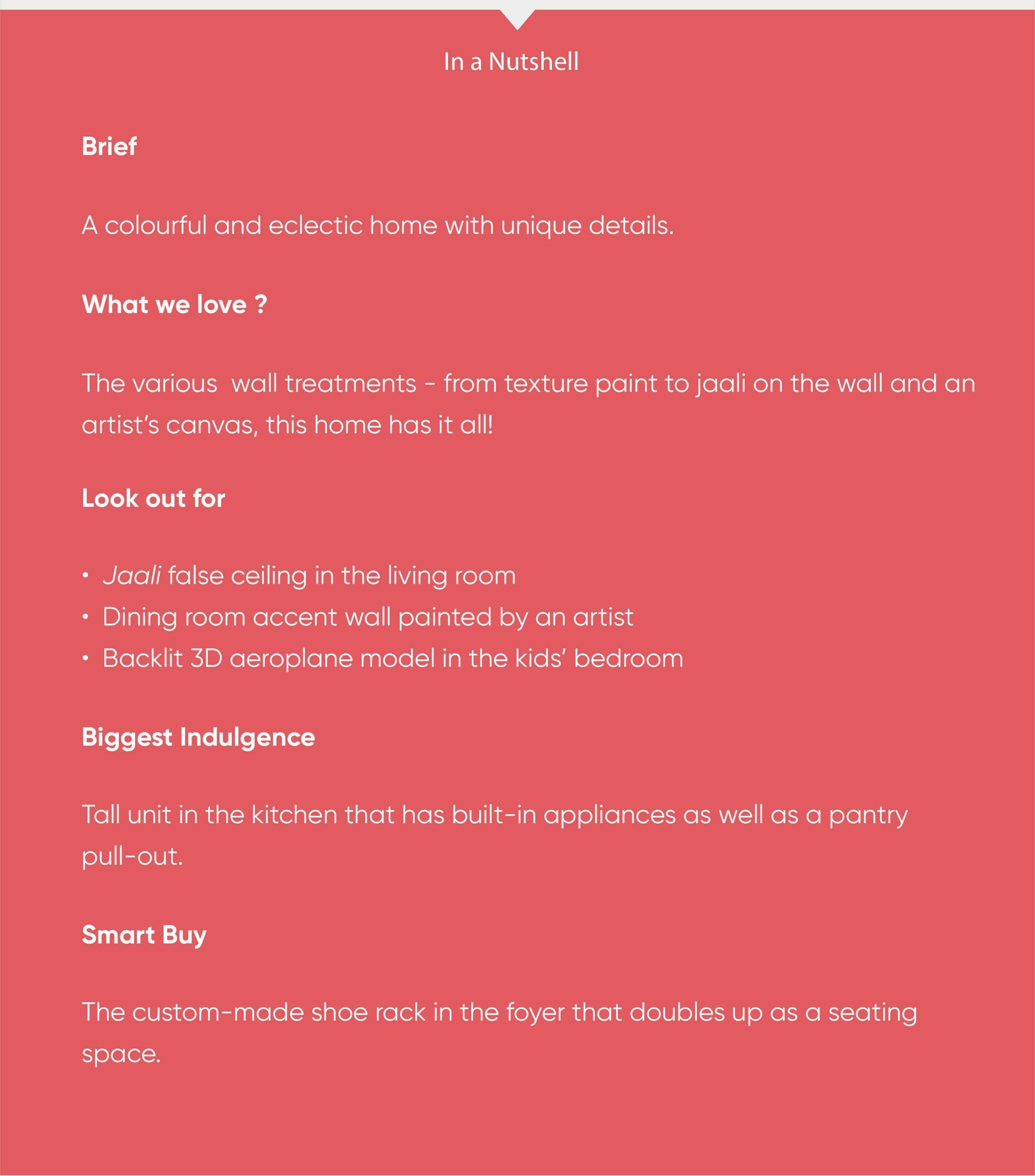 Transforming bare walls with texture paint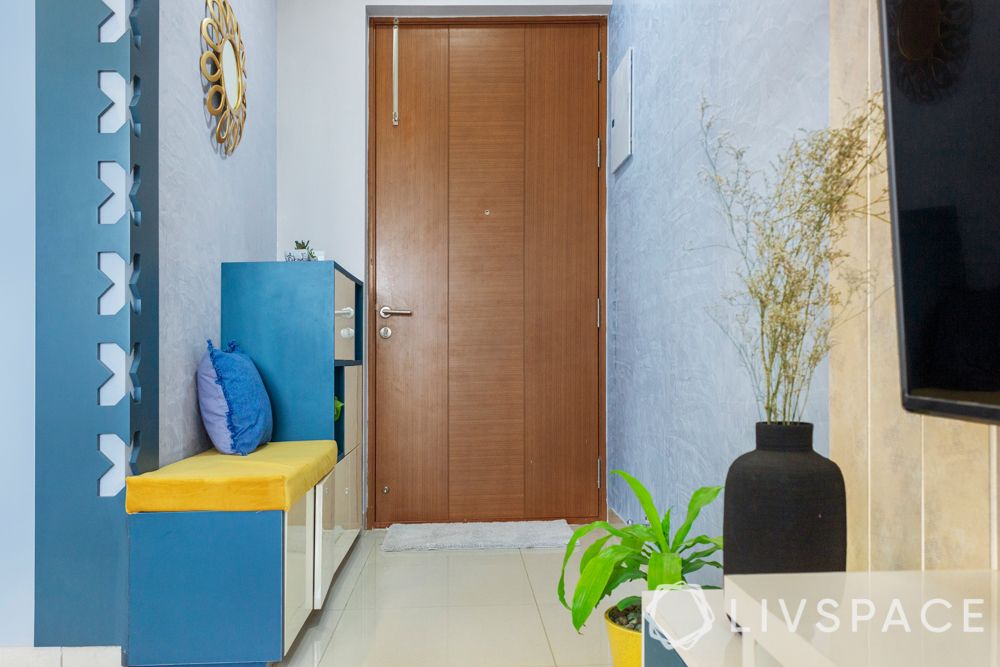 Nayeem and Meenaz wanted bright and colourful interiors with a different colour scheme for each room. They loved the idea of blue and yellow interiors for their living room. So Chitwan decided to use the same colour scheme in the foyer and dining room for continuity. Everyone agreed upon this blue-grey textured paint, so we went ahead and got the foyer and living room painted in this cool colour.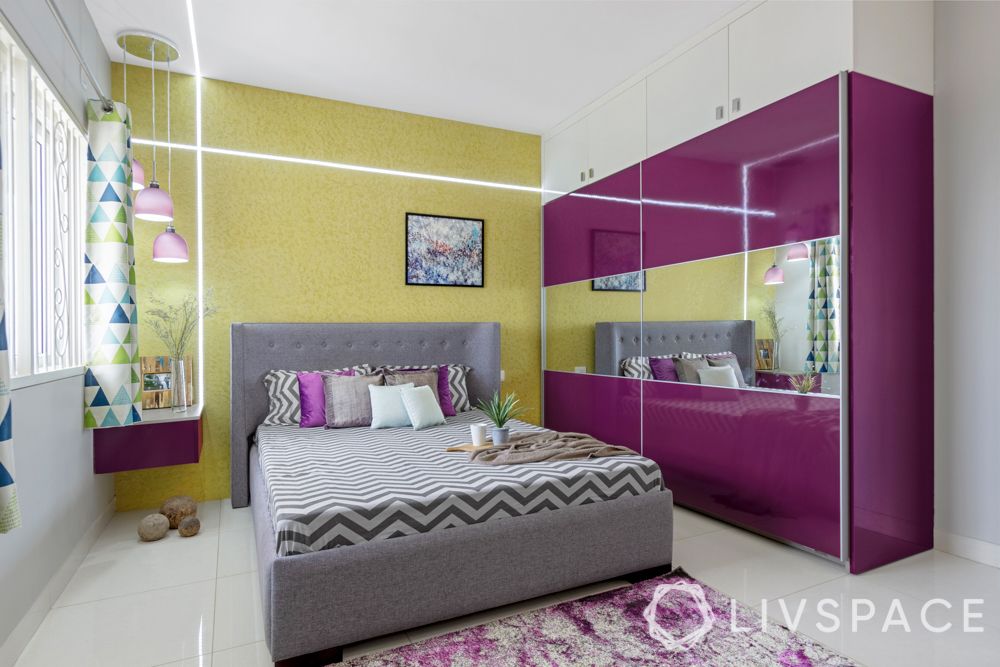 Chitwan came up with several options for the colour scheme of the master bedroom, of which Nayeem and Meenaz finally agreed upon a combination of lime green and blackcurrant. So they got a lovely textured paint on their wall that opens up the space and makes it look brighter.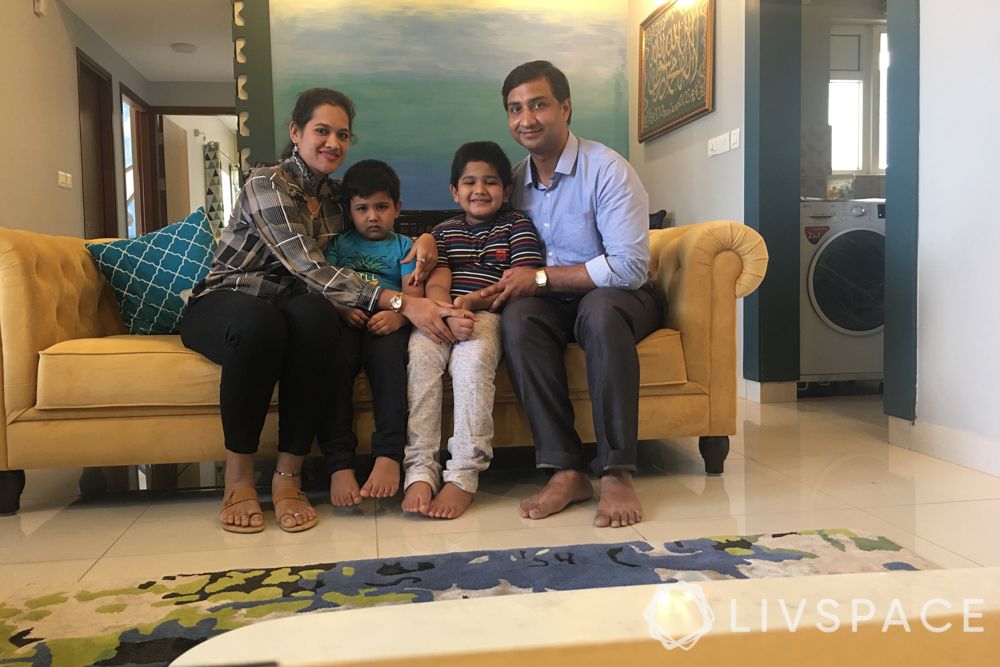 "We took a lot of time deciding upon the 2BHK design for our home. We considered every aspect, and spent time ensuring that all of us liked the design. Chitwan understood our requirements and took care in ensuring that we got all that we wanted in our new home."
– Mohammad Jaffar Nayeem, Livspace Homeowner

An artist's canvas as the dining nook backdrop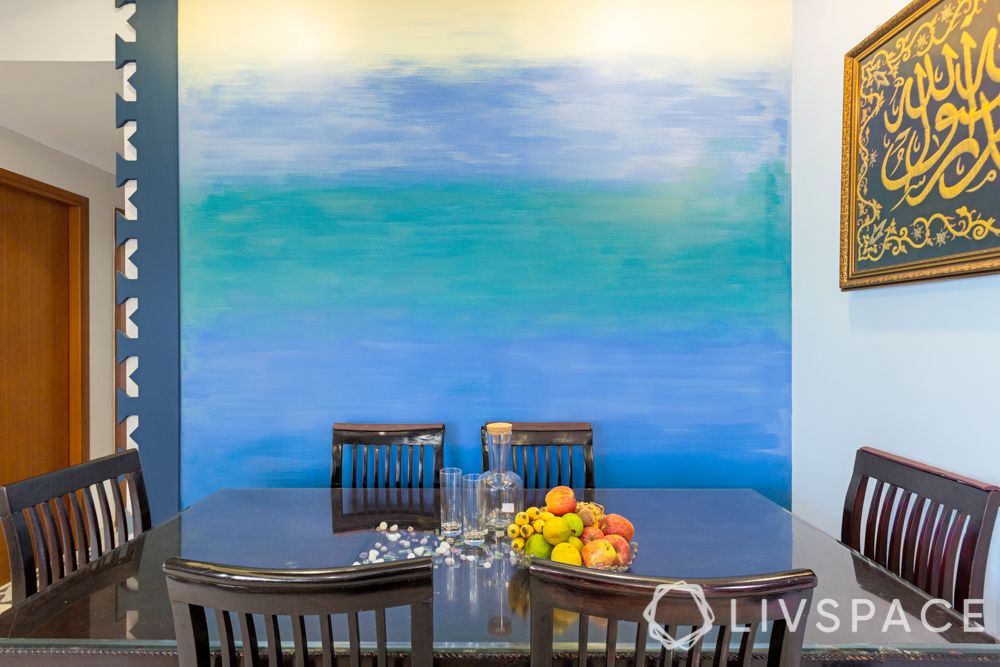 Nayeem and Meenaz had settled upon blue and yellow for their living room. Since their 2BHK design came with an open living and dining space, we suggested using the same colours here too. The family, however, wanted something that would subtly stand out. So we got an artist to paint the accent wall in the dining room. While he used the same colours as the living area, the wall draws attention quite effortlessly.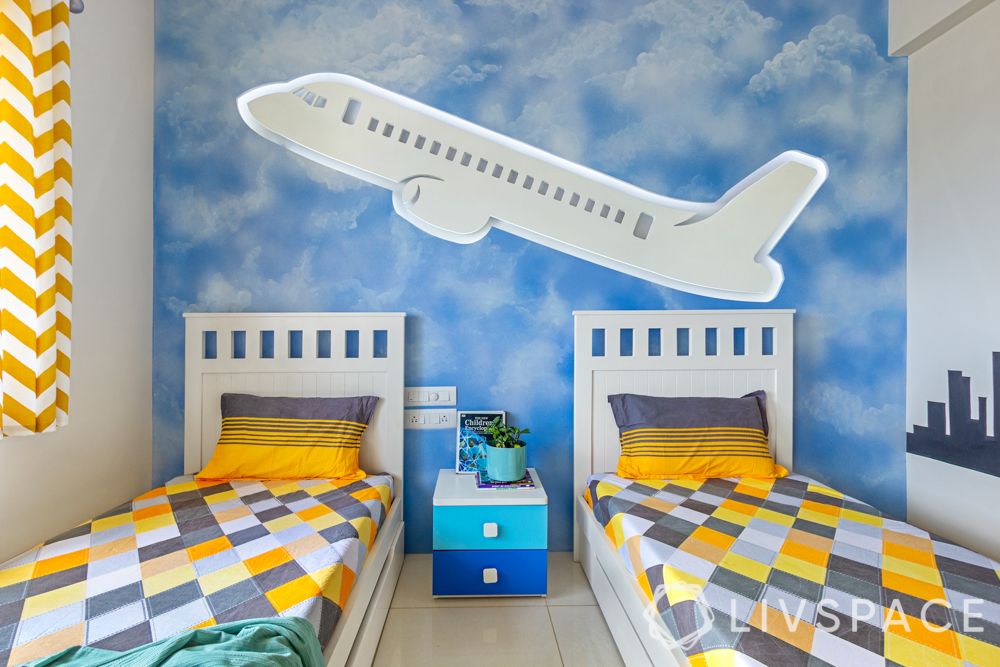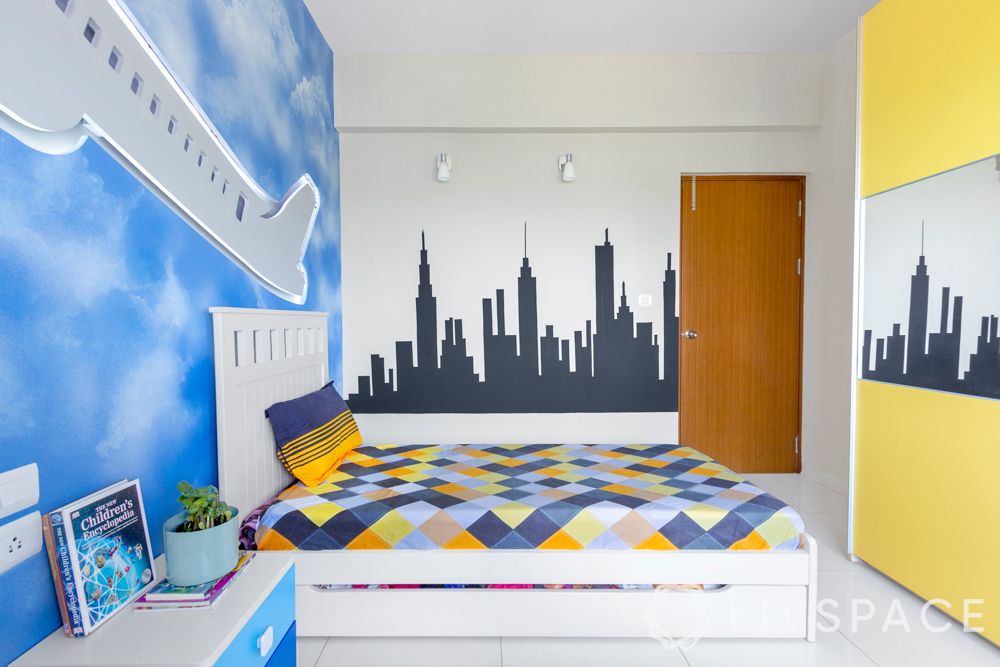 Nayeem and Meenaz wanted to set a theme for their children's room, but were wary about going for a cartoon theme that they would grow out of over time. Having observed the children closely, Chitwan suggested an aeroplane-themed room that would capture their mischievous and lively spirits. To take it a notch higher, she added a back-lit feature around the aeroplane, as well as in every single window. "It now looks exactly like a real airplane in the sky," she tells us.
To create the perfect backdrop for the airplane in this 2BHK design, Chitwan asked an artist to paint a befitting sky. And to keep a piece of the U.S. alive in Umer and Uzer's minds, they got a silhouette of the Manhattan skyline painted on the adjoining wall!
Check out their peppy & well-lit kitchen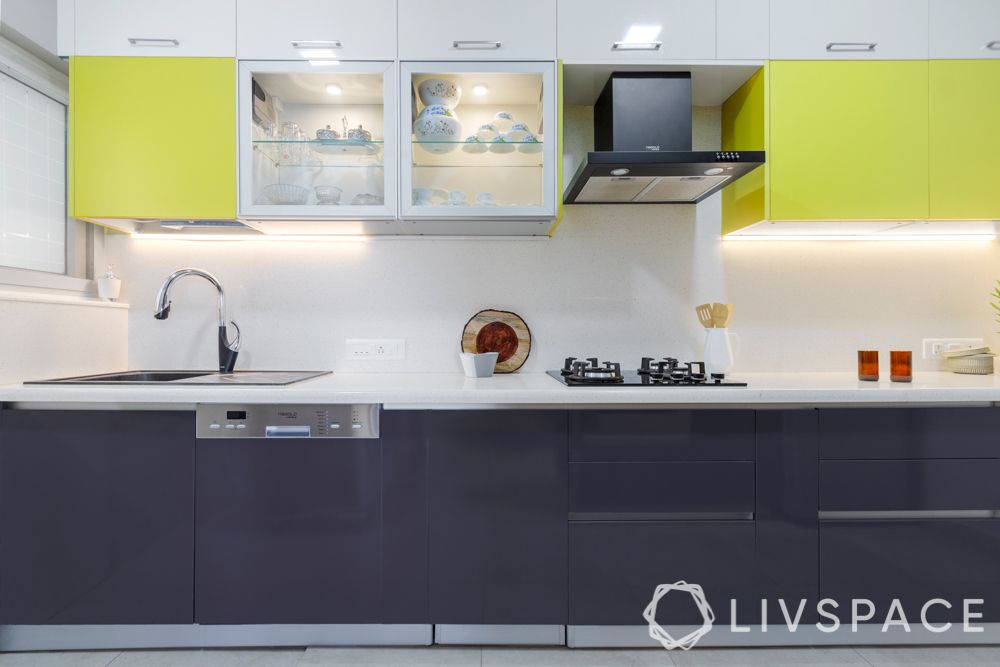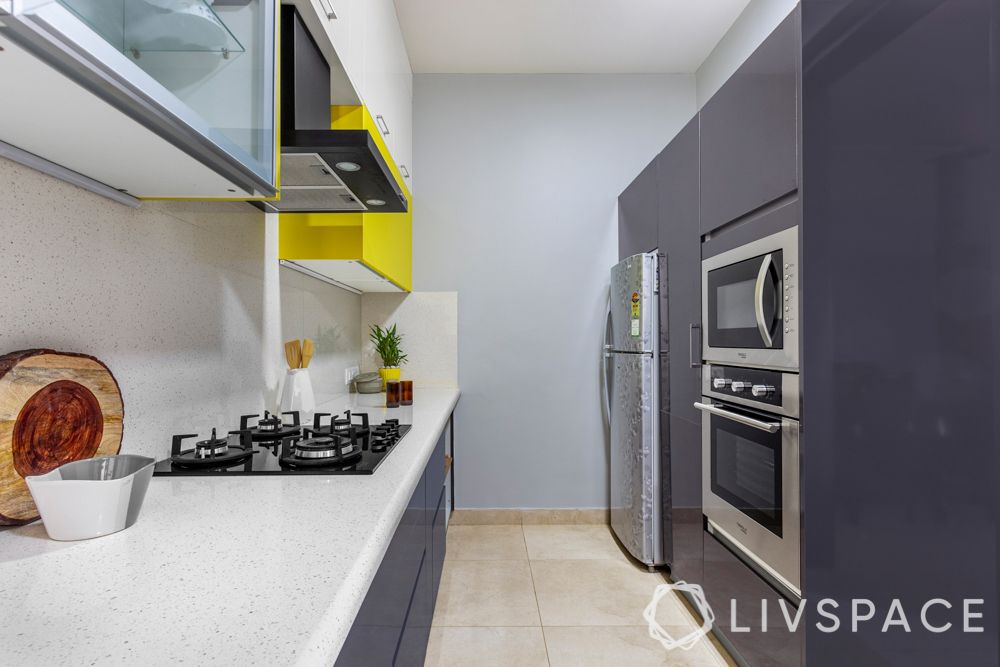 The Livspace design team crafted this kitchen interior design Bangalore with care to make the most of it. We gave the family a parallel layout to maximise the potential of their compact kitchen. Champagne and slate grey high-gloss laminate also amps up the look. Of course, you can't miss the peppy pop of yellow that brightens the space!
Chitwan tells us that from the very first time Nayeem and Meenaz walked into the Livspace Experience Center, they fell in love with the variety of appliances and how they came together to make cooking so much easier! So she added an integrated dishwasher right next to the sink. A tall unit on the opposite side houses the family's in-built microwave and oven, as well as a pull-out pantry. To add to the seamless look of the kitchen, she ensured that the grey high-gloss laminate unit continued over the fridge.
Modular options with maximum functionality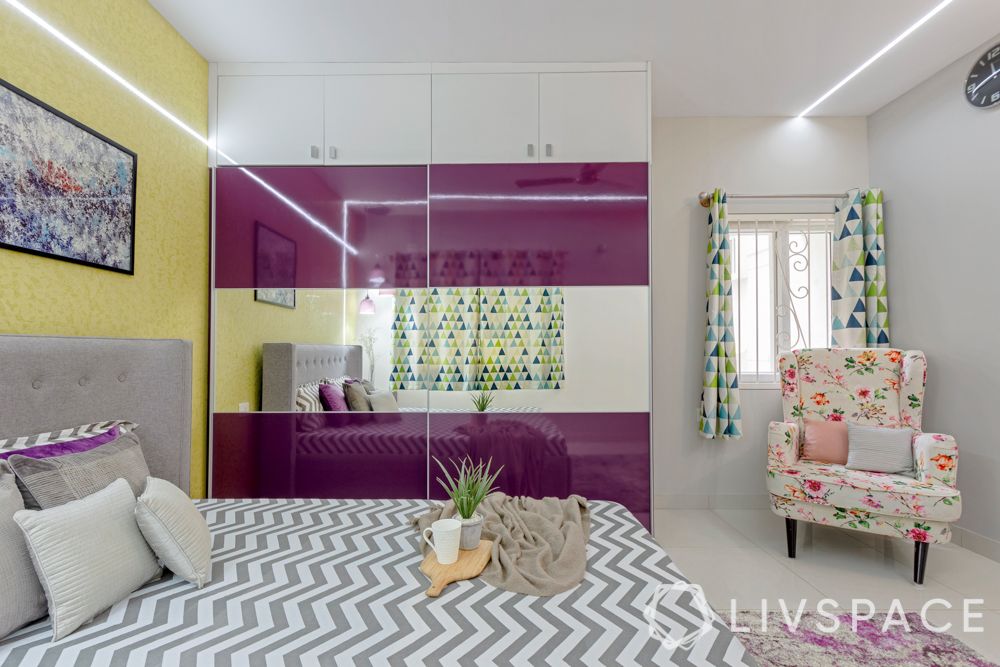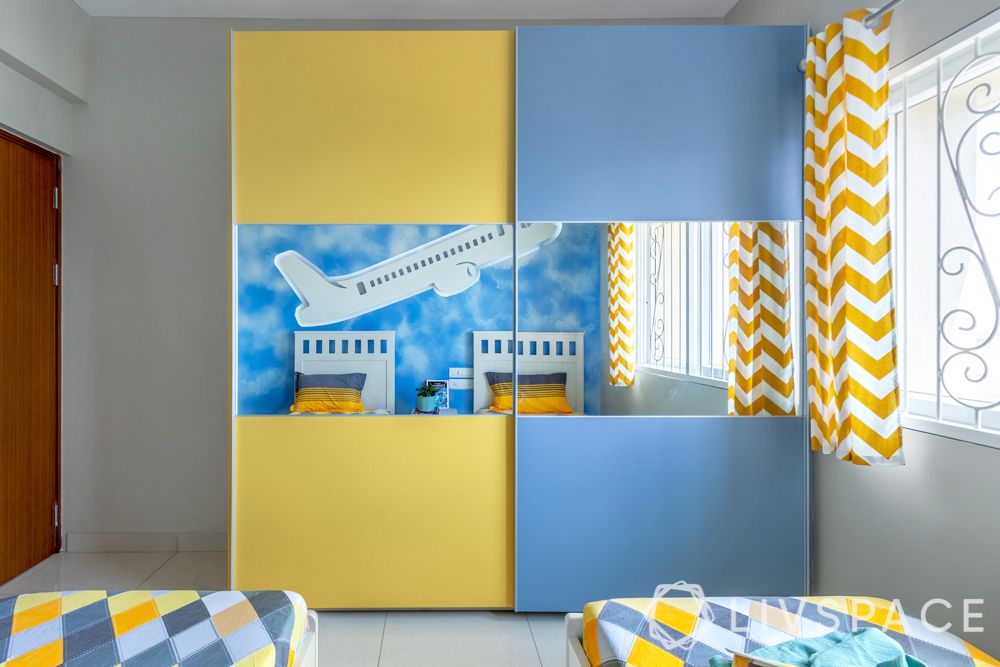 Nayeem and Meenaz wanted maximum storage space in their wardrobe, so Chitwan went the extra mile to give them all that she needed, and then some. She tells us that she had asked for photographs of the wardrobes in their old home to better understand the kind of storage that each person needed. So this high-gloss laminate wardrobe in a blackcurrant hue comes complete with all they could need! This includes several drawers, a laundry basket, a pull-out mirror, and enough space to hang clothes as well as keep folded ones away.
In the kids' bedroom, she suggested a membrane sliding wardrobe with a mirror panel, positioned perfectly to reflect the aeroplane. Like the wardrobe in the master bedroom, this one too has been customised to Umer and Uzer's needs. With such careful planning, the children will not outgrow their wardrobes for a long time!
Personalised elements add the "wow" factor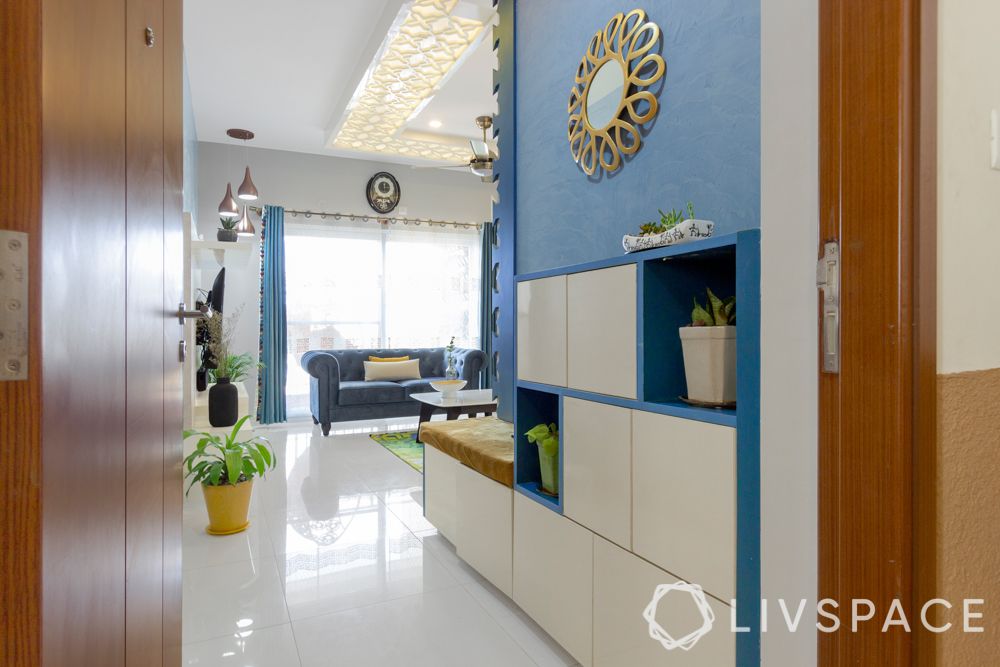 In the foyer of this 2BHK design, Chitwan suggested a custom shoe rack with individual slots for each family member's shoes. In keeping with the blue and yellow colour scheme, she designed the rack to have blue open units. She finished off the unit with a yellow upholstered seat!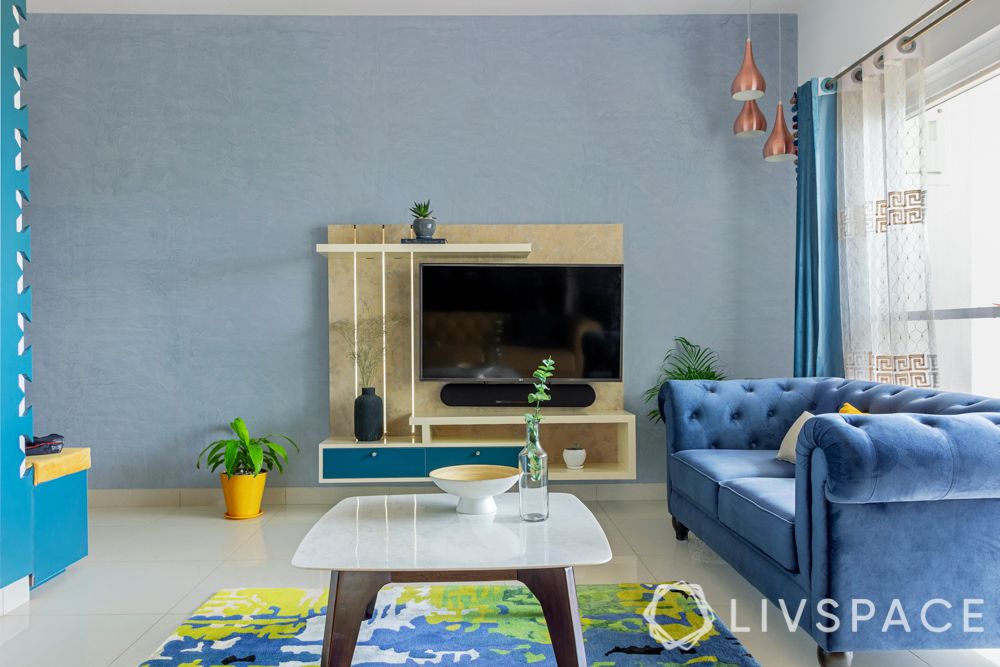 While Nayeem and Meenaz looked at a variety of TV units, they realised that they wanted something completely different. They wanted something modern and minimalist, with basic storage space and no visible wires. And that's how we gave them this TV unit that comes with three strips on the side that light up and add to the charm of the living room. Don't you think it fits perfectly complements everything else in the living room?
And finally, false ceilings tie everything together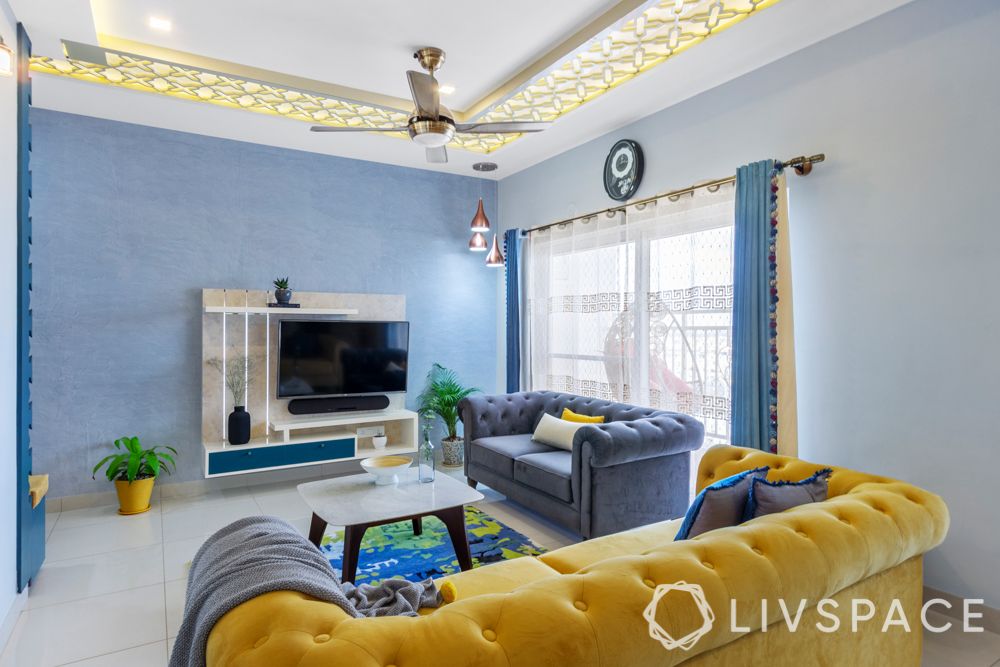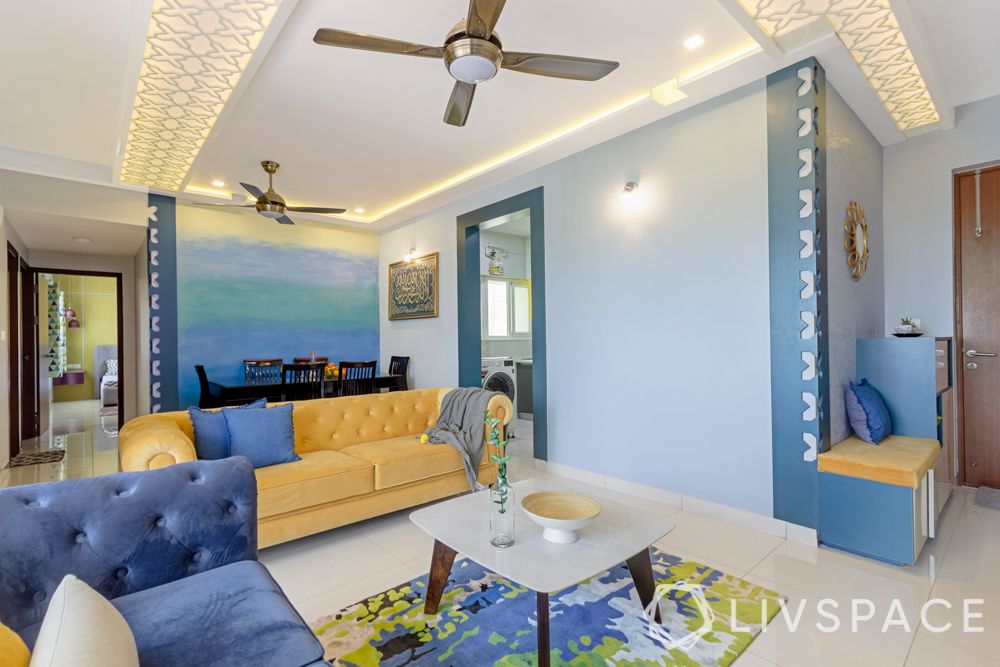 Nayeem and Meenaz wanted a unique design for their false ceiling in their living and dining space. The family and the Livspace team agreed a jaali design that runs across the ceiling from the foyer to the dining space, which continued along the wall of the foyer, as well as the dining room accent wall. This makes the room look unique and also prevents sections of the wall from being chipped off. Moreover, it safeguards the walls from damage in the future.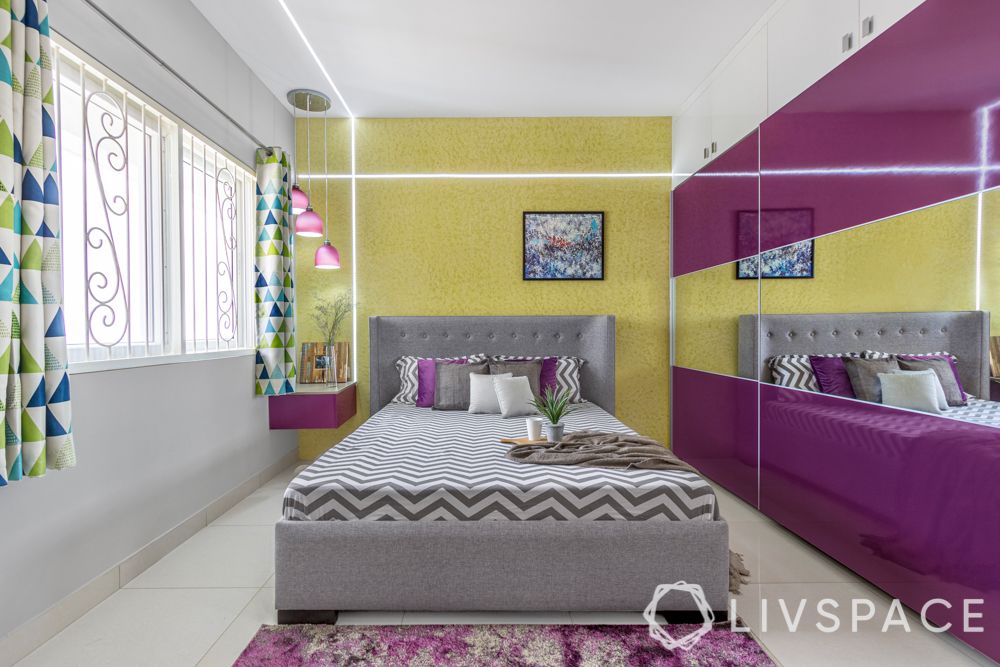 For their bedroom, Nayeem and Meenaz wanted lights on the accent wall and the false ceiling, but they were looking for something subtle and unique. So Chitwan suggested this dainty design with two strips of light. This also ties in with the TV unit of this 2BHK design. We think it makes the room look futuristic, don't you?
---
"This was my first project with Livspace and as such, it holds a very special place in my heart. Nayeem and Meenaz came to us with ideas about what they wanted in their home. So I took my time in understanding them and their needs before designing the home. Handing over the perfect home to them was a pleasure!"
– Chitwan Mahipal, Interior Designer, Livspace
---
If you enjoyed reading about this 2BHK design, also check out Which are the Best Interior Design Ideas for a 2BHK Flat?
We love hearing from you! Send us your comments and suggestions.