A comfy Mumbai home that is warm and inviting.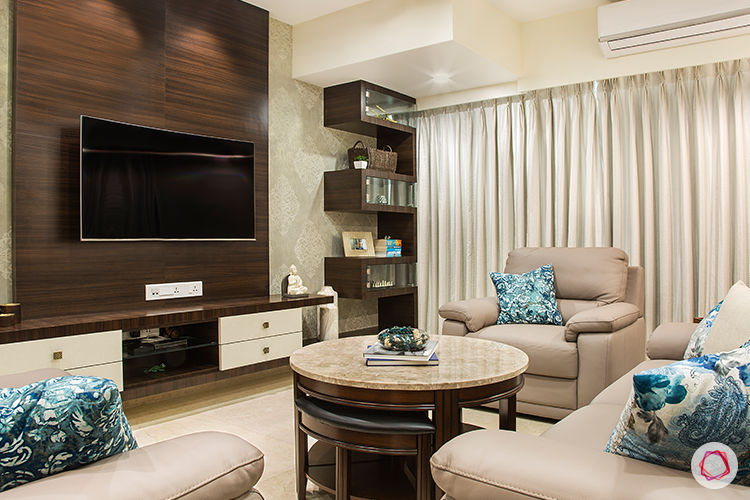 ---
Who livs here: Shrabana Ghosh with her husband Rakesh Kumar and their 12-year-old twins Abhishek Ambasgha and Aman Ambasgha
Location: Raheja Vistas, Mumbai
Home type and size: A 3BHK spanning over 1100 sq ft
Livspace Service: Full home design
Budget: ₹₹₹₹₹
---
Having lived in New York and Canada extensively, Rakesh Kumar and his family come with a rather minimalistic and flexible mindset. Being a frequent traveller, Rakesh wanted his new home to reflect the style and warmth of an international hotel decor, while as a family they were sure about wanting subtle shades that would turn their home into a personal haven and would be versatile enough to adapt to changing trends in decor. It's their simplicity, warmth and family-oriented nature we have tried to project in their home decor as well.
The dining room features a stylish marble top dining table for family dinners and party nights. The crockery-cum-bar unit serves all occasions with extensive storage and display. The green and golden wall paper with Indian motif adds a glamorous touch to the room.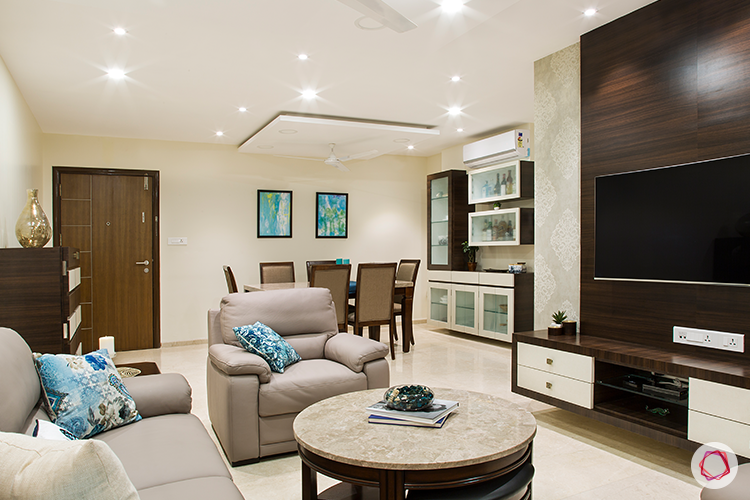 The sink-in couches blend with the decor, with the blue cushions adding a dramatic effect. The rich walnut TV panel complements the theme elegantly. The coffee table with stools is an smart way to add seating while saving floor space.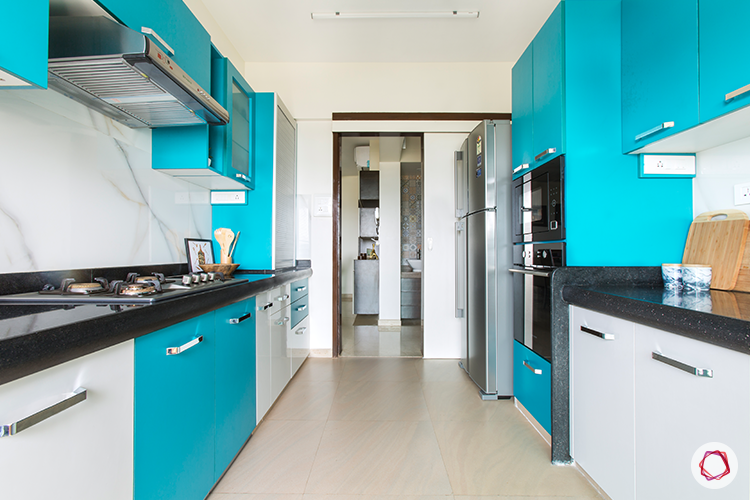 A parallel kitchen washed with a contemporary pop of colour, this design comes with plenty of storage. The organised nature also leaves them with much counter space for their culinary experiments. The rolling shutter unit also gives them space to stow away frequently used appliances like the mixer and toaster.
The master bedroom has been designed to be a calm and happy personal sanctuary for the couple. It has been inspired by hotel decor and done up in shades of beige and brown. The study gets tonnes of natural light and gives a chance for Rakesh to work without disturbing his wife at odd hours.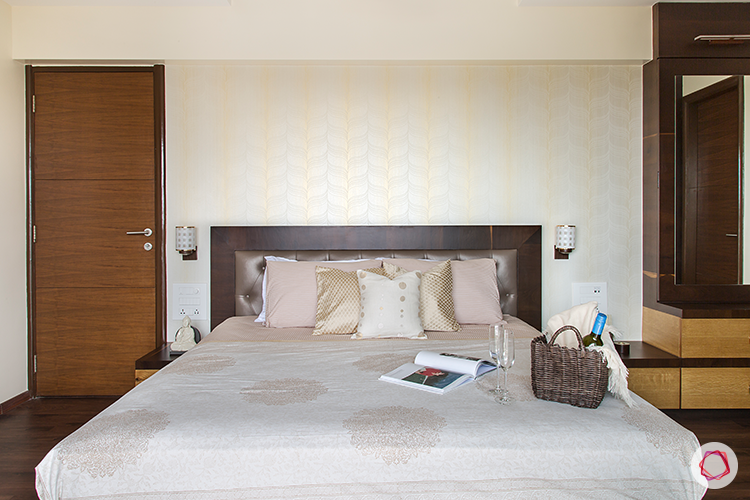 The wallpaper and soft furnishings used in the master bedroom are subdued and soft in its approach to lend a more spacious and airy feel. The brass metal handles on the wardrobes give it a touch of luxury while being minimalistic in approach.
The twins have dedicated study zones with ample space for their books. The colors used are warm and sober so that the boys don't outgrow it easily. Their PlayStation has also been plugged in for when they want to unwind.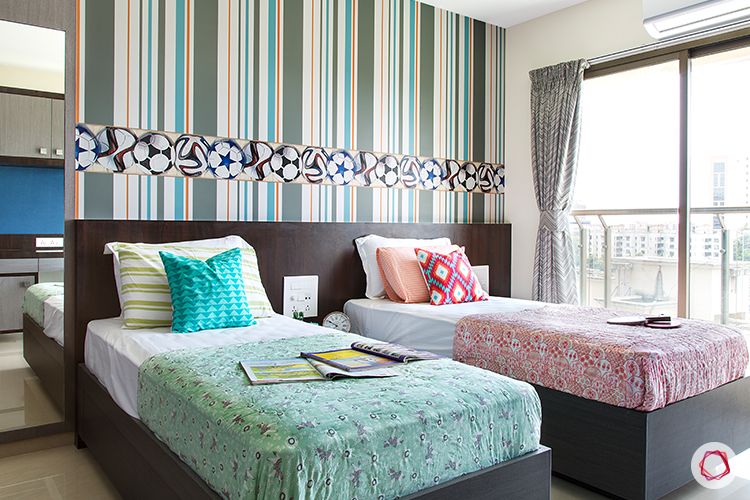 While this room focuses primarily on functionality, we couldn't resist adding a football strip on the wall for these sports enthusiasts. It's cool and basic with clean lines, making it the perfect refuge for the twins.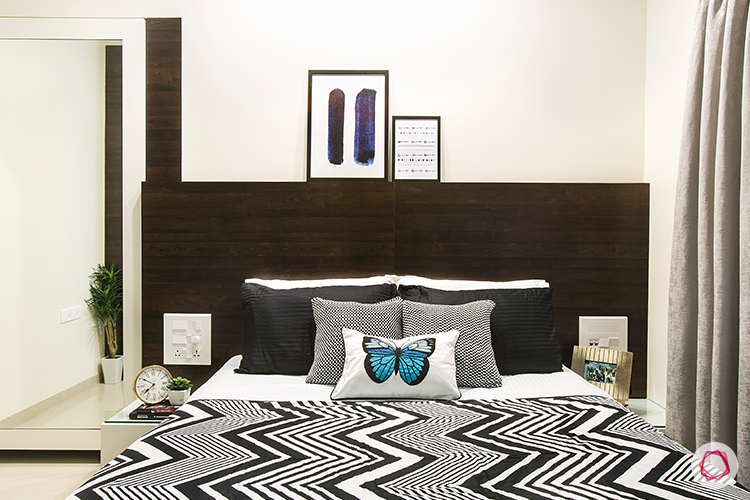 This guest room doubles up as a room for parents when they come to visit. The design is simple with abstract prints to break the monotony.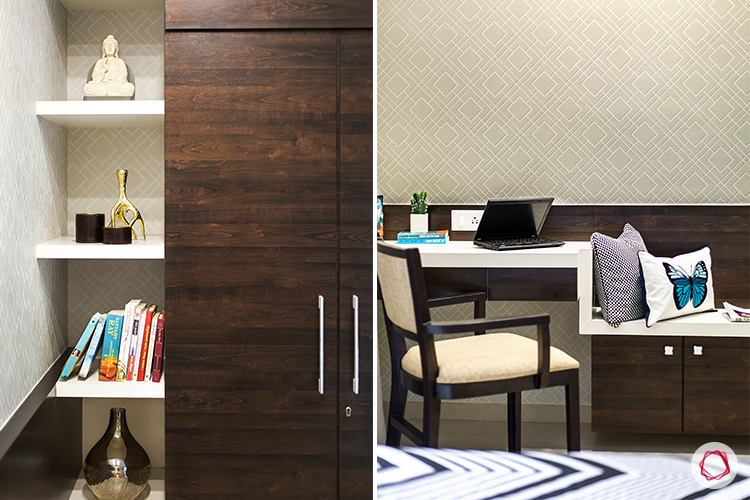 The wardrobes offer plenty of storage and are again done up in shades to suit the personality of anyone who occupies the room. There are many open and accessible niches for their elderly parents.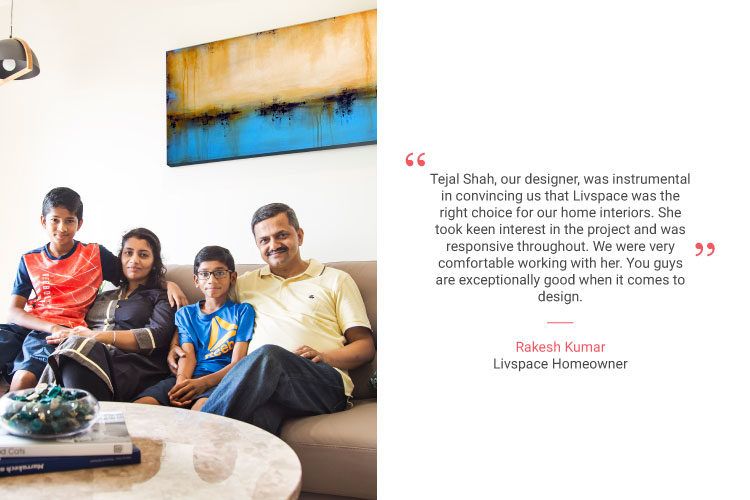 ---
"For designers, the biggest challenge is to gain a client's trust and approval. This was one of those rare instances where the process was fuss-free and effortless. Their flexible nature and trust in my judgement made it an exceptional experience. I could give them a home they would enjoy for years to come."
– Tejal Shah, Interior Designer