We go through life with a set of ideas like: the bigger, the better or the more, the merrier. Naturally, a villa, by virtue of its size is a rather preferred option for a home; something of a dream come true we might say. However, the task doesn't stop at buying a house, doing the villa interior is equally important. And mind you, the larger the area of the house, the bigger the challenge of furnishing it.
But you needn't fret. If you are looking for villa interior designs, check out ten of the best villa properties designed by Livspace. In fact, it's not just inspiration you will take away from these #LivspaceHomes, each of these addresses a unique problem faced during a typical villa design process. Take a look:
#1: Make the space in your villa count, like we did for this 3,000 sq ft country home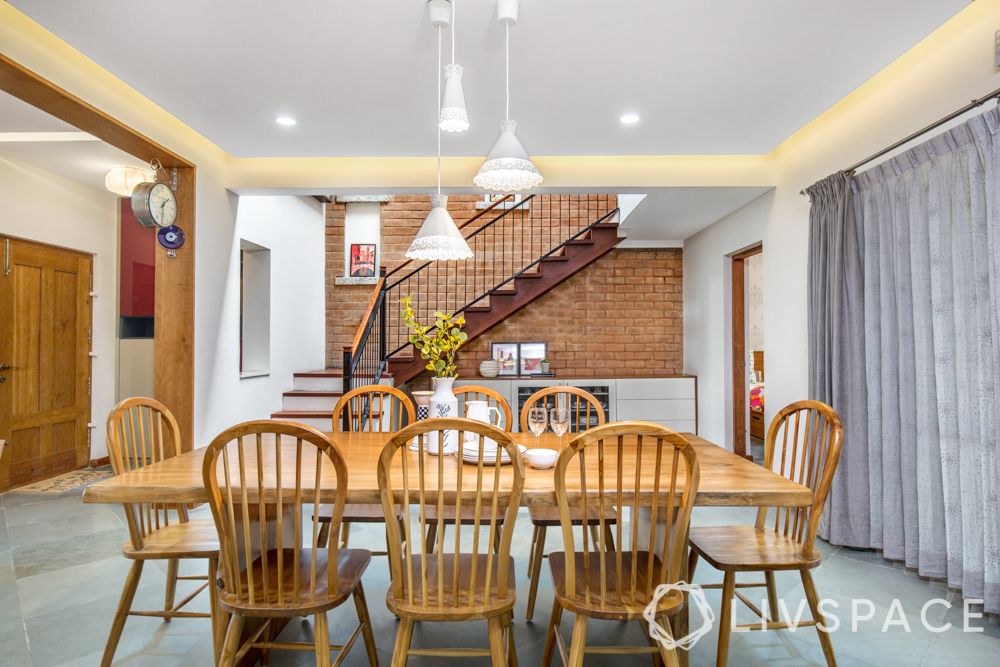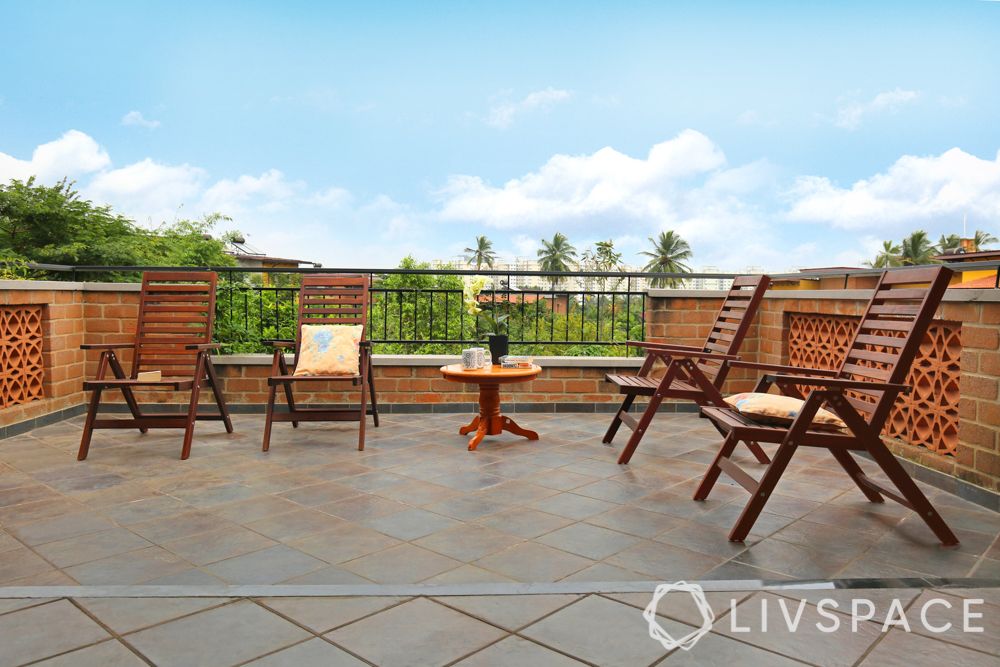 We usually talk about space optimisation for compact homes. However, just because you have an abundance of space, doesn't mean you don't have to optimise it! And most villa interior designs have the problem of plenty. This particular villa in Kengeri, for example, sprawls across 3,000 sq ft! But we have managed to achieve symmetry in design by following some basics.
First and foremost, when there is more space, don't fill it with more furniture. Instead, focus on buying the right kind of furniture. The massive dining space here looks complete with a classic 8-seater dining set. But we haven't crowded it with too many other elements. In fact, the crockery unit too has been tucked under the stairs. Secondly, open space is a design element in itself; you don't always have to fill space. This is particularly true for outdoor spaces. The minimal setup on the expansive terrace proves this point.
You can explore this countryside home in Kengeri, Bengaluru, for more space optimisation ideas for villa interior.
#2: This is how we filled vertical space in this Shriram Chirping Woods Villa…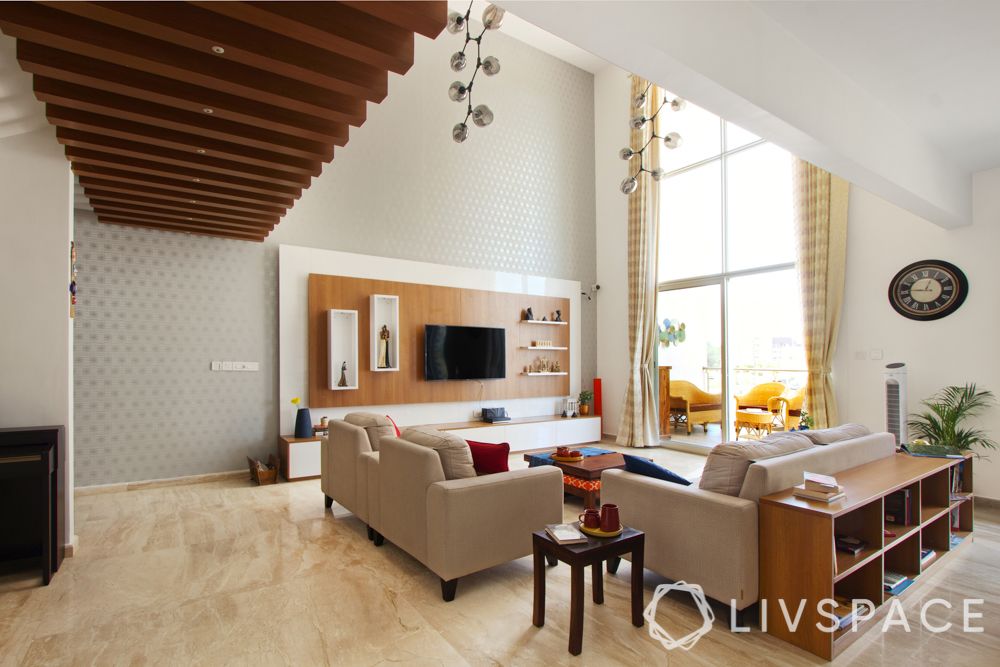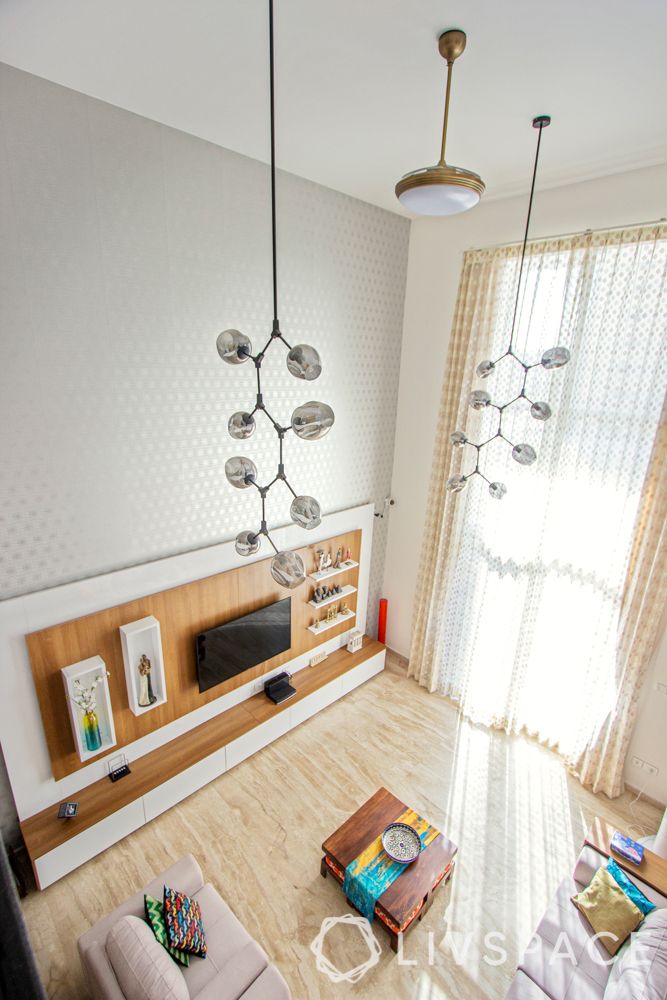 If we look at it factually, not all villas have more than one floor. However, a majority of villas do and so it has become something of a standard. This brings us to the next challenge faced while doing villa interiors — vertical space. If you have double ceiling height in certain areas of your villa/duplex, like this home on Harlur Road, Bengaluru, then how do you fill this space?
You could steal some ideas from this very home. Our favourite is the use of subsidiary ceilings. Cement beams, placed strategically, help segregate zones within the ceiling. We have also used wooden rafters to distinguish certain parts of the ceiling. To compliment the full height of the ceiling, consider hanging a long chandelier or cluster of pendant lights. Moreover, you can make use of vertical height by having floor-to-ceiling windows that display the grand scale of things while letting in plenty of natural light.
The rest of this summery home has plenty of inspiration to offer, so do take a look.
#3: Steal lighting ideas from this brightly lit villa in Bengaluru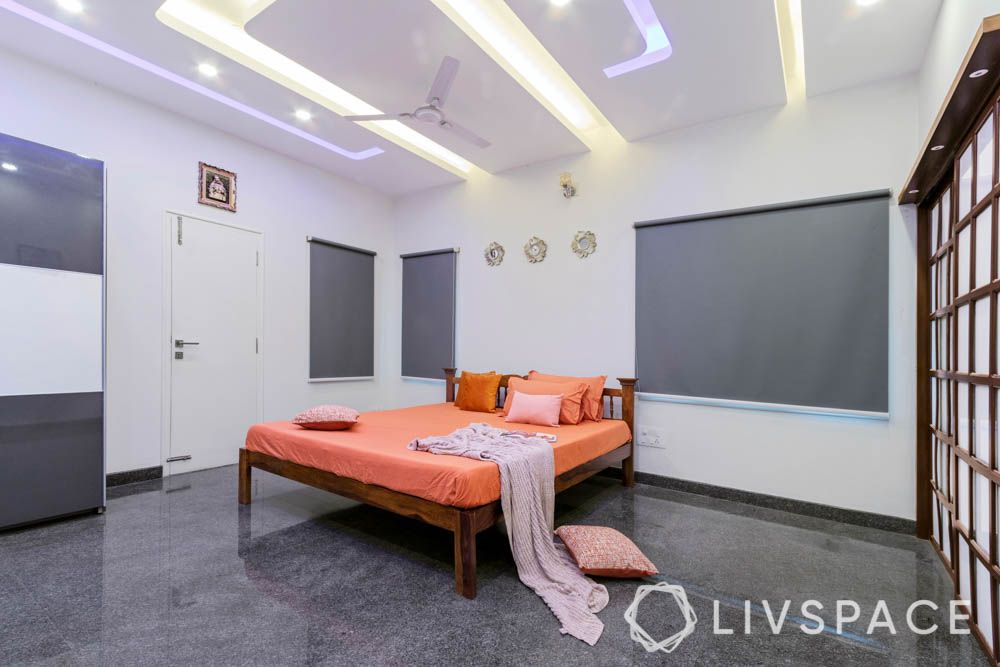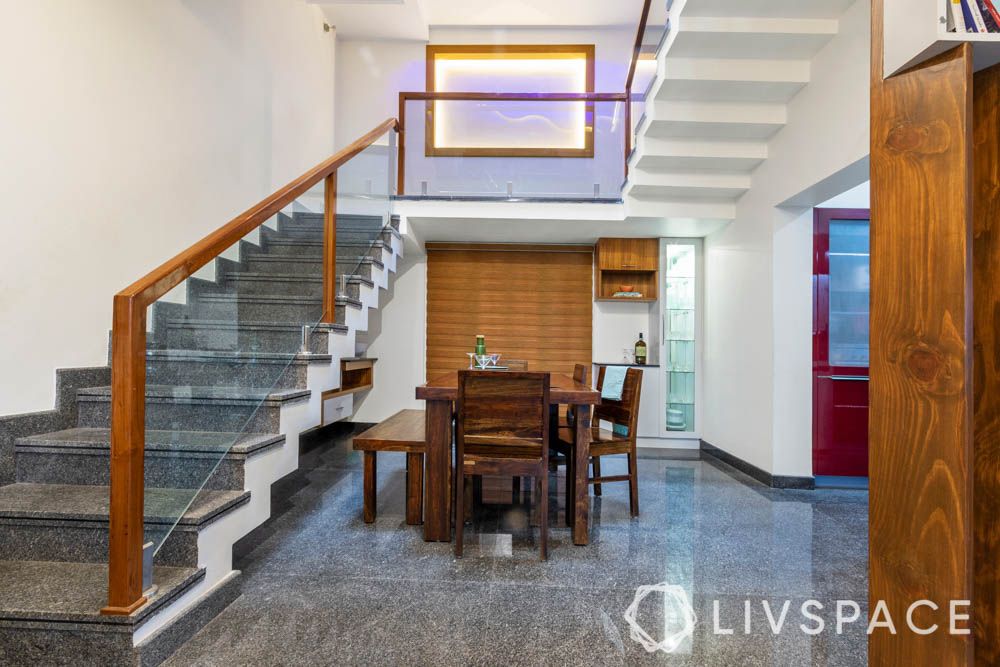 There really is nothing quite as off-putting as dark corners or blinding lights. So lighting, if not done right, could ruin the whole ambience of your villa design. In fact, lighting should be one of your top priorities while doing villa interior. If you are undecided about the right approach to this, take cues from this gorgeously lit Bengaluru villa.
To start with, this villa covers a whopping 4,500 sq ft across 5 bedrooms and two floors. Needless to say, a single kind of lighting would not suffice for the expanse of this home. So instead of spending a fortune on different layers of lighting, our designers opted for a blanket approach. Every room in this villa has an interesting POP false ceiling with ample recessed lighting. So apart from being well-lit, the ceiling and lighting come together to make a statement in each room.
You should totally check out all the false ceiling designs in this luminous home for inspiration.
#4: Want to do more with less? This Bengaluru villa is the perfect example to follow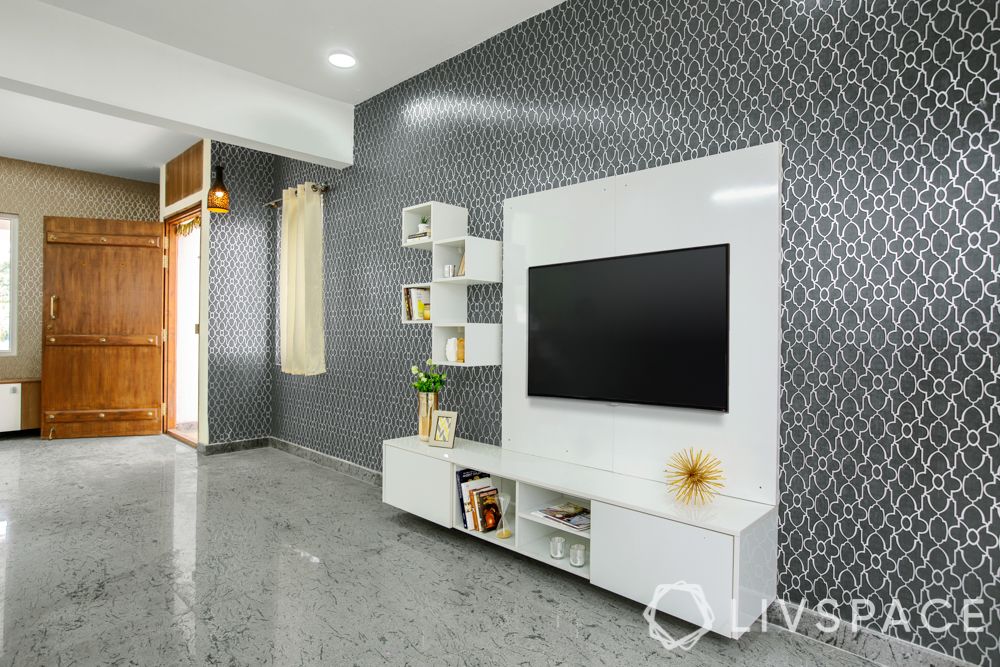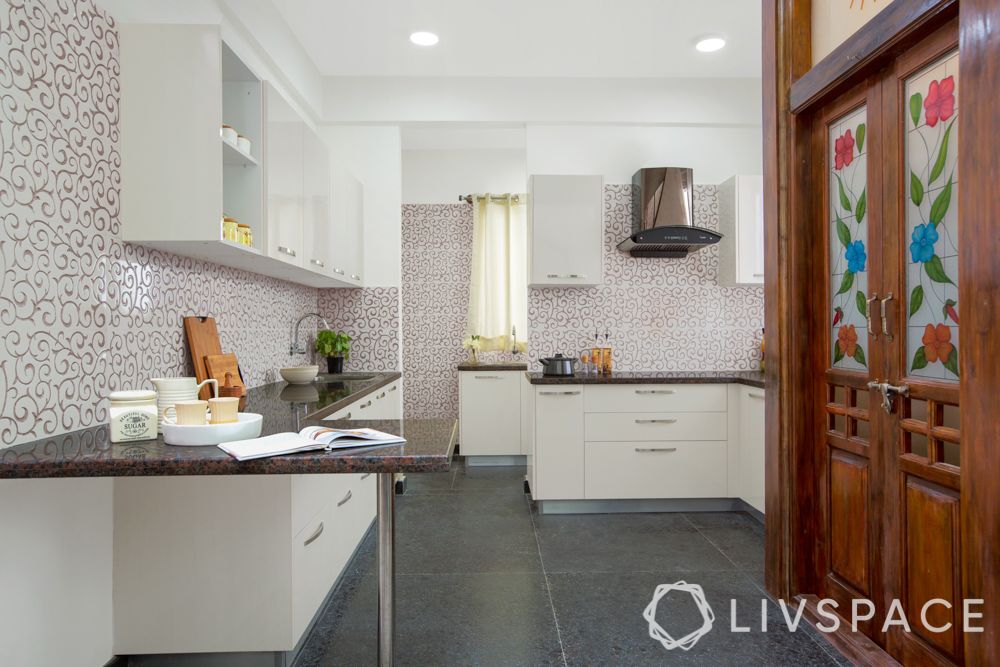 Just because you have plenty of space, doesn't mean you have to take a maximal approach to your villa design. In fact, going minimal is a very viable option too! Don't believe us, do you? We have done just that in this villa just off Kanakpura Road in Bengaluru. So you can do it too. Just make you follow our design guidelines.
It is imperative to understand that free space is not the same as empty space. If we have a wall that is conspicuously blank or only one side of a room is loaded with furniture, then we call it empty space. Free space, however, is a design element by itself. If you have sleek furniture that gives you enough room to walk around, then that is free space. This home has plenty of free space because all the storage units and furniture are aligned with the walls. The other important element that makes it minimal in style is the use of white-grey colour scheme throughout.
If you think that basic is the best kind of beautiful, do explore this minimal home.
#5: If a villa needs remodeling, take inspiration from this #LivspaceHome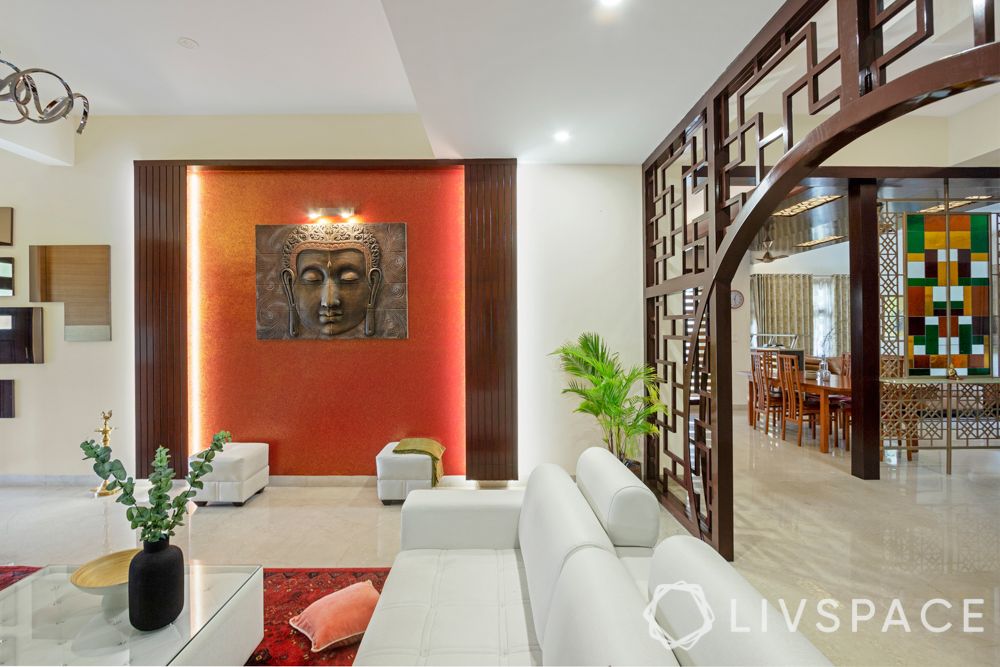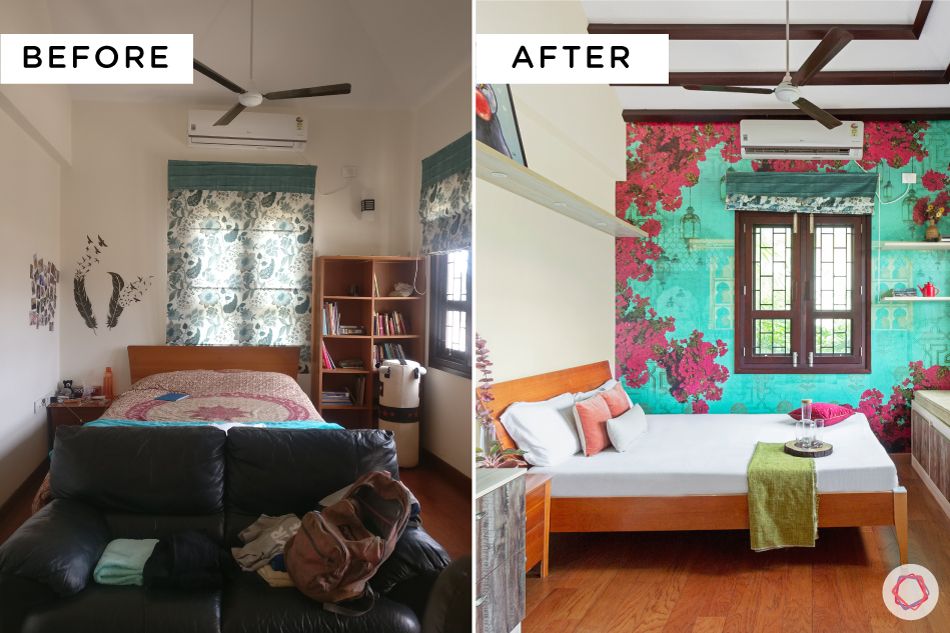 Revamping a space is always a critical process, even if it happens in just one part of your home. So imagine remodelling an entire villa! Although it is a mammoth task, the Livspace team managed to do it with ease in this Nambiar Ballezea villa. This was possible because they broke down the task to essentials, just like you should!
A couple of partitions, bespoke wall treatments and vibrant pops of colour define the redesign process for this home. Our designs segregated the huge living area by adding two partitions — one between the living and dining areas as well as one that forms the foyer. That done, they got down to the business of brightening up the space; the orange wall with Buddha art on it is our favourite, of course. The bedrooms got their share of colours from bespoke Krsna Mehta wallpapers.
So if you want to redecorate your villa without too many civil changes, take a tour of this remodelled home in Bengaluru.

#6: We turned this Noida villa into a vintage haveli, and so can you!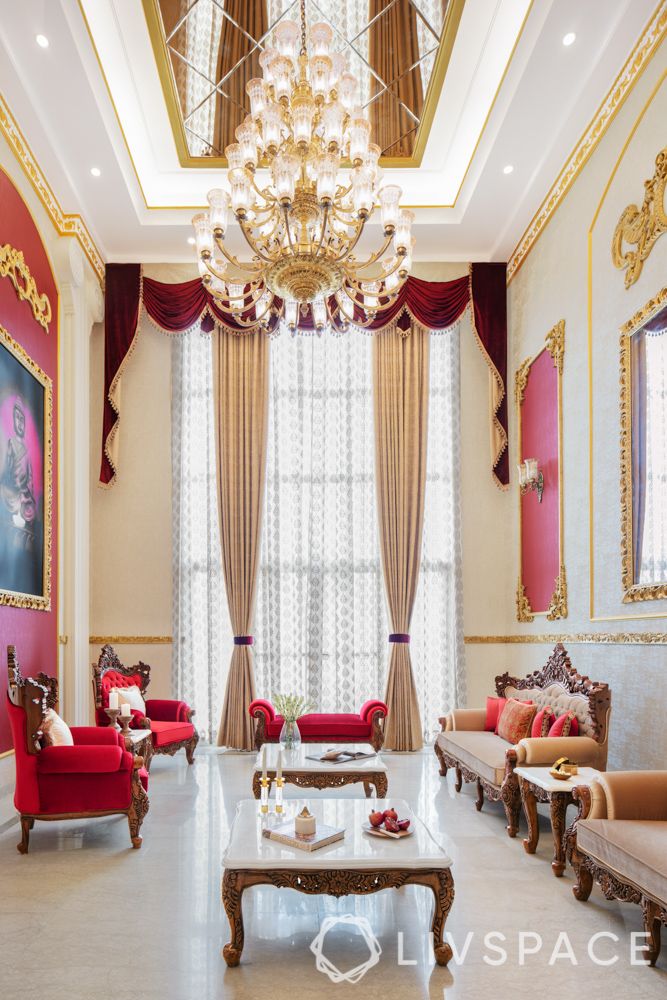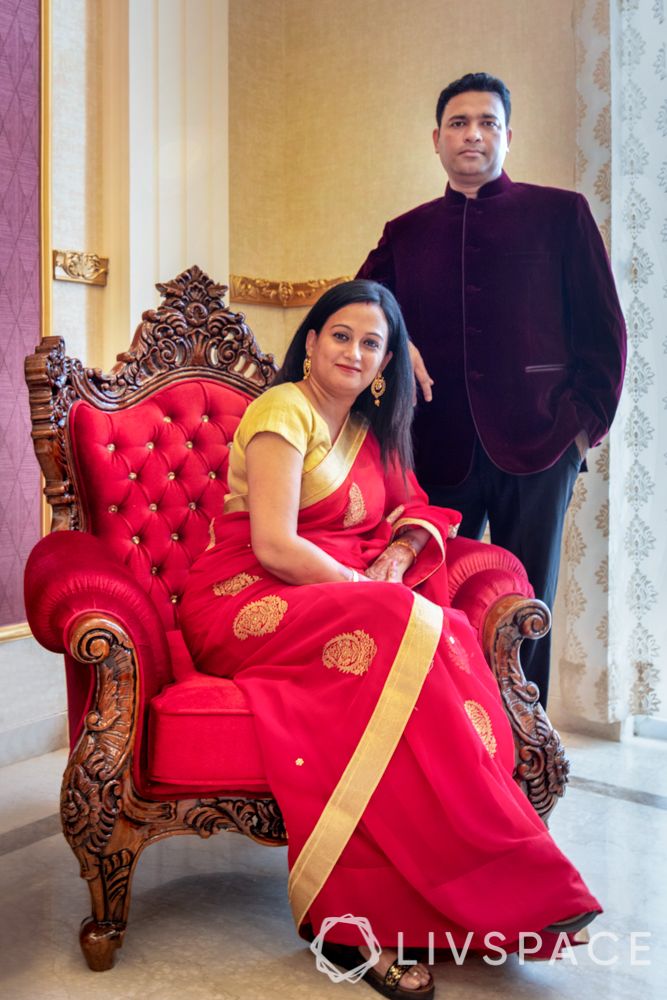 Style is a matter of personal choice. However, this choice comes with limitations. For example, many of us love the ornate style of the good ole havelis, but replicating them requires space and scale. It is not easy to do so in a compact apartment. But if you have a sprawling villa, you can give wings to your imagination. Just like the Kumars who wanted their Noida villa to look like a pushtaini haveli and our design team made sure that it did!
The most important design lesson one can take from this home is that you don't need to spend a bomb to create grandiose facades. The carved wall panels here are made of POP and painted gold with Duco paint. And all the walls, without exception, are covered with shimmering wallpaper. The ceiling created with glass panels is also a work of genius as it doubles the effect of vastness in this enormous living room. The furniture, of course, is solid wood but it's the velvet upholstery that adds the touch of richness to it.
This grand villa is an absolute visual treat, so don't miss the full tour.
#7: Can we inspire you to add personal touches to your villa like we did for this home?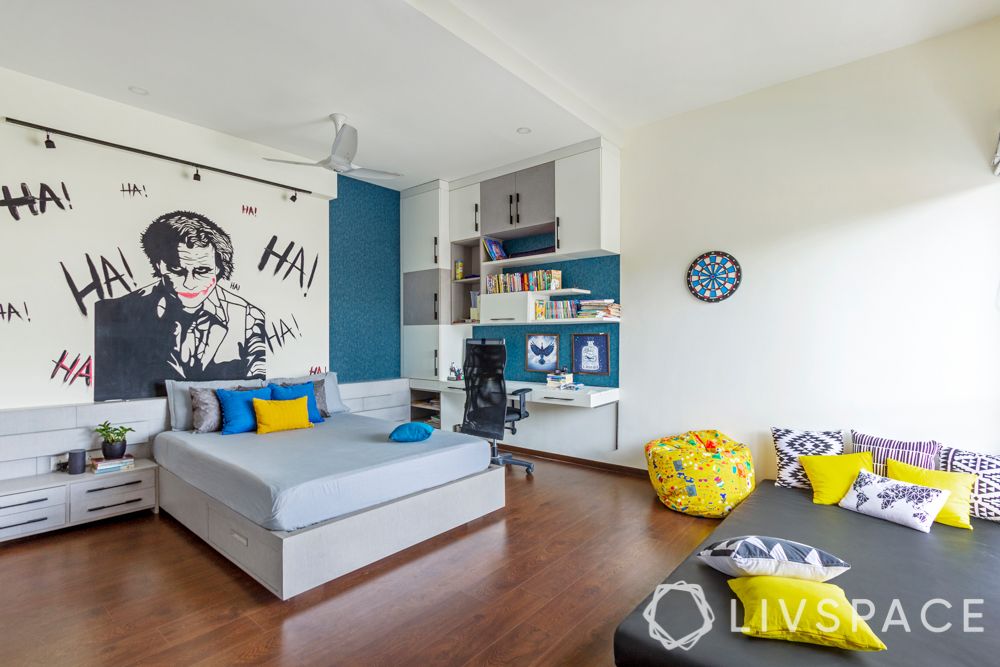 Villa interior designs are often done for larger families. Thus, it is crucial that some spaces within the villa have an imprint of personality. Personal spaces should not be lost in the drive to create an Insta-worthy home. And if you want to know how to weave in personal style into a villa design, there is no better place to start than this Sterling Villa Grande home.
The most striking element in this home is the Joker wall art used in one of the bedrooms. The occupant is a movie buff, and thus, his room is headlined by the stunning piece of pop art. Moreover, there is also a little girl in this house who loves to draw on the walls. So our designers have furnished the wall with a chalkboard finish to ensure that her creativity is not stifled.
Here are a dozen other Pinterest-worthy corners in this picturesque villa, which you need to explore for sure!
#8: Wanna know how to segregate space in a villa? Check out this #LivspaceHome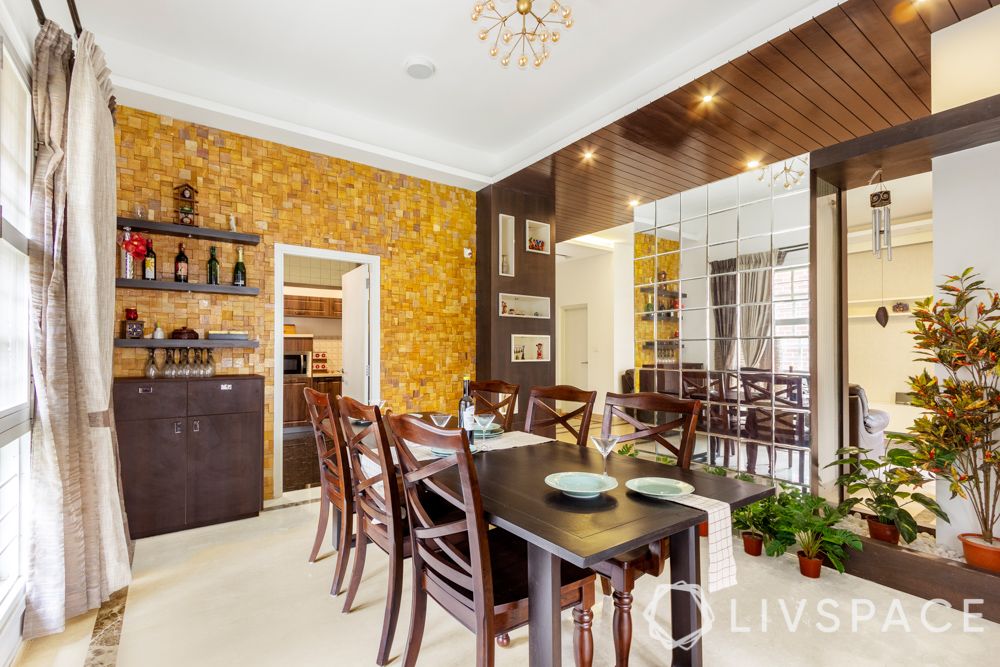 What is the one unique feature of a villa that stands out? Large living rooms maybe? In that case, it comes important to segregate space in your living area so that it does not look haphazard. In this Prestige Lakeside Habitat villa, our designers have shown a rather uncanny knack for adding fancy partitions to demarcate space.
We were particularly taken in by the two-way mirror panel used to segregate the hall from the dining area. Coupled with the wooden frame running across the walls and ceiling, this partition forms a cosy dining room. In the master bedroom, the partition is more functional in nature. It is, in fact, a book rack-cum-storage unit that carves out a study within this rather large room.
You can find a couple of more novel partition ideas in this smartly designed villa.
#9: Continuity of design makes this villa a seamless home, so take notes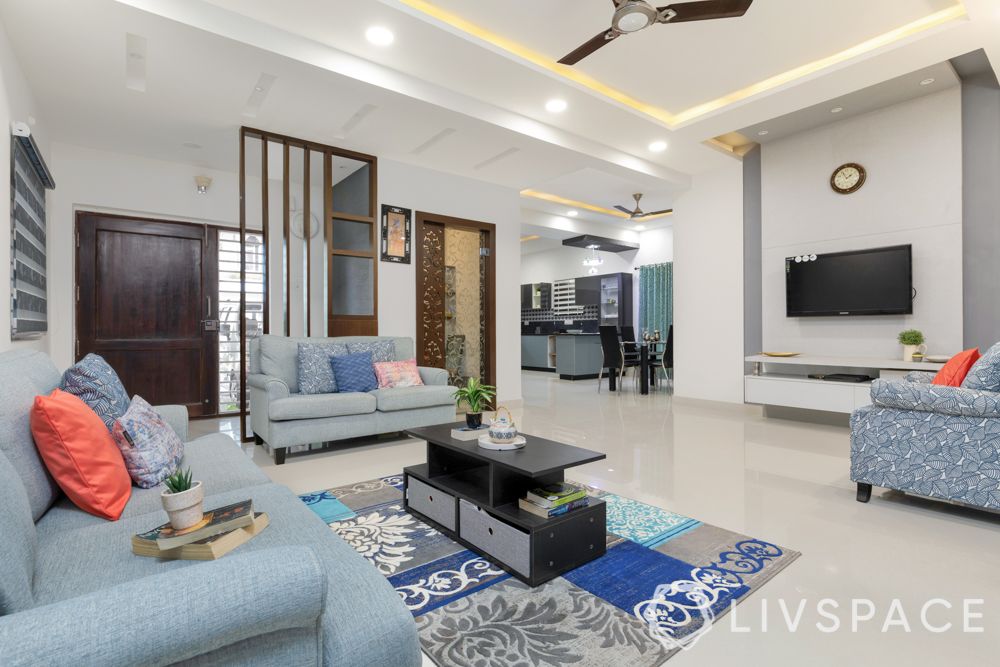 While designing a villa interior, which is always much larger than average apartments, it is easy to lose sight of continuity. However, all parts of the villa, no matter how far removed from one another, must still look like a comprehensive whole. In this regard, there is just no match for this Hyderabad villa designed by Livspace. Every corner of this home is held together by the thread of design continuity.
To start with, the design team has kept things simple for this home. There are not all that many elements here. If you crowd the space with too many design elements, it gets hard to keep track of things like symmetry and balance. Secondly, the colour scheme used for this home is a subtle blue-grey that runs throughout making it a seamless visual experience.
You could also take notes on the finishes used in this sauve villa while you explore the rest.
#10: We turned this villa into a breezy holiday home. Wanna know how?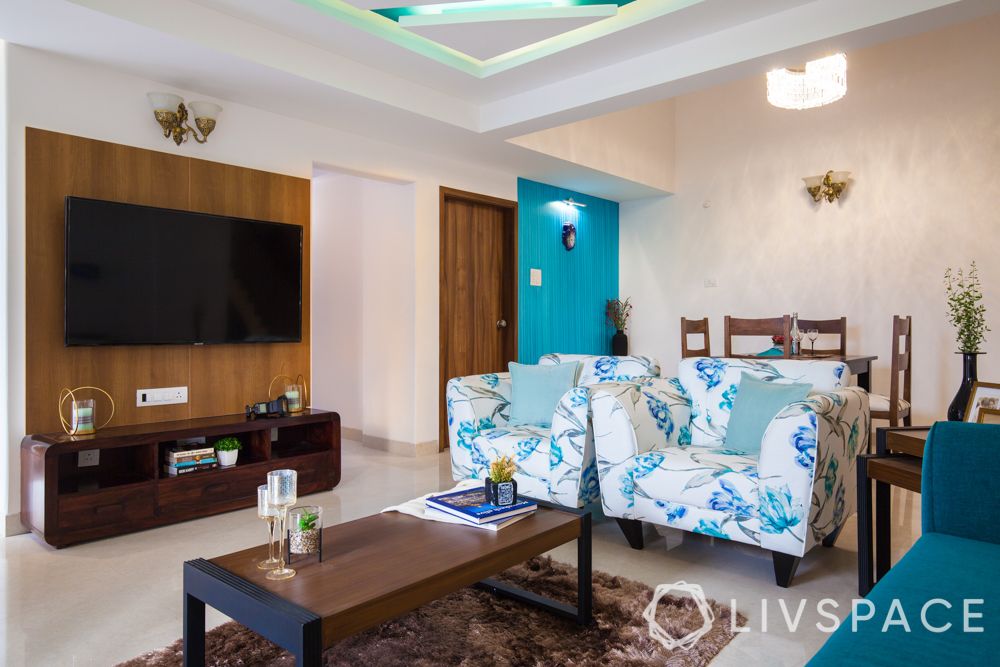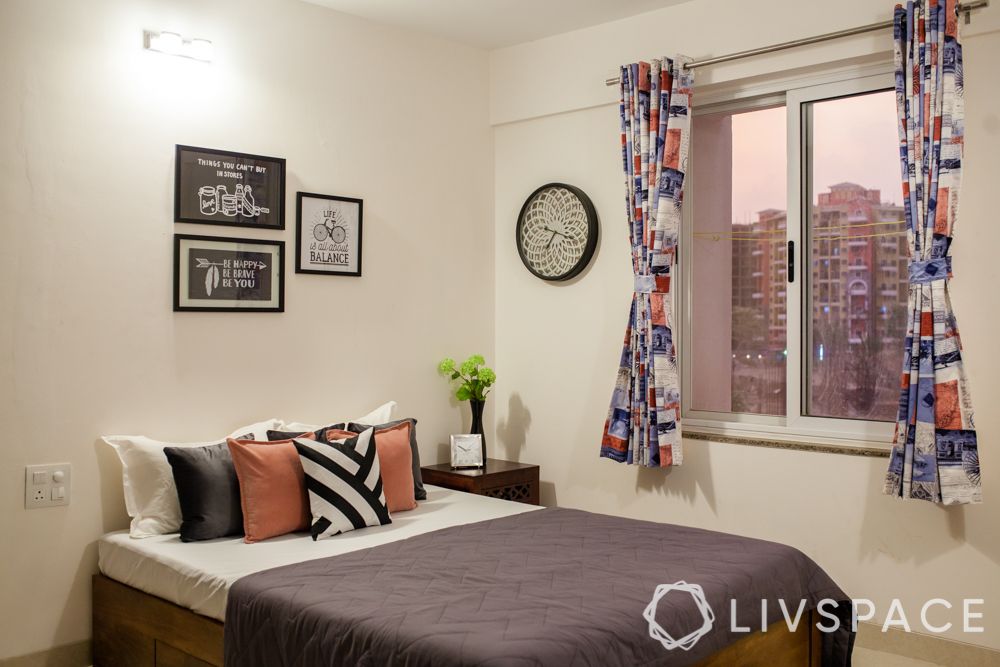 Some families buy villas outside of town and turn them into holiday homes. Now the design strategy for a villa interior changes completely if it is a holiday home and not a regular home. We got the opportunity to design one such villa in Baner, which is on the outskirts of Pune. And at Livspace, we never waste an opportunity!
Firstly, a holiday villa does not need too much storage, so you don't really need expensive units like a chest of drawers or crockery cabinets. Secondly, you can afford to be more experimental with these homes; hence, the boisterous pops of blue. And don't miss the blood red display shelf below the stairs. Thirdly, furniture you pick for such homes should have a breezy vibes. And don't those floral armchairs good enough to sink in!
You can explore the rest of this breezy villa to gauge the mood of holiday homes and take cues.
Check out this gorgeous villa:
If you enjoyed learning all there is to know about villa design, also take stock of how to design a 3 BHK perfectly.
Send in your comments and suggestions.