A sun-bathed villament at Shriram Chirping Woods.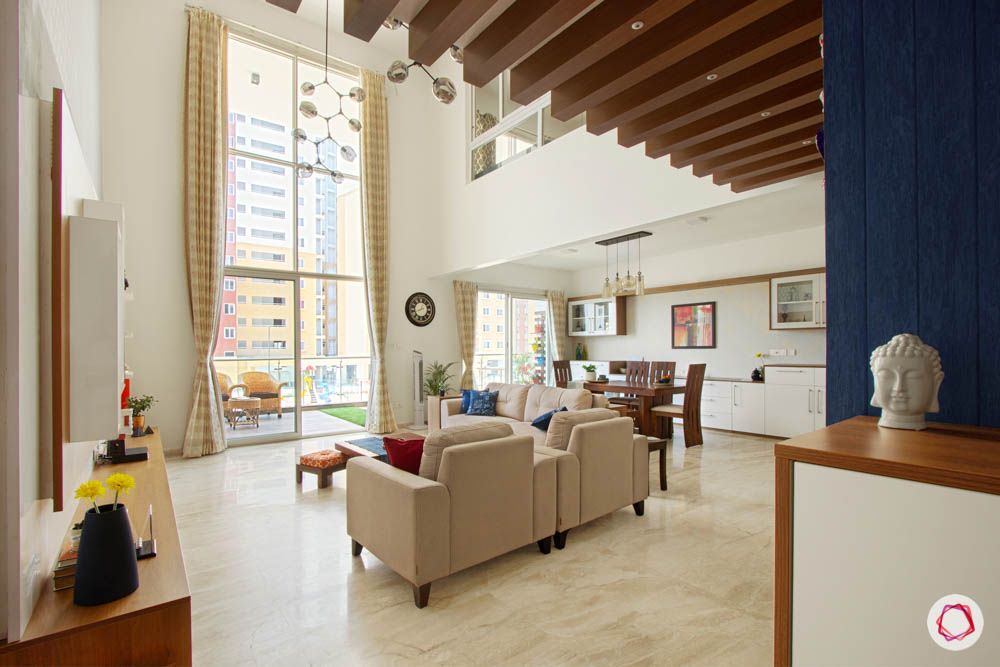 ---
Who livs here: Kanchan Chaudhury & Sumit Vats with their daughter
Location: Shriram Chirping Woods, Harlur Road, Bengaluru
Size of home: 4BHK spanning 2,900 sq ft
Design team: Interior designer Himani Kaushal & Project Manager Sachin Hegde
Livspace service: Full home design
Budget: ₹₹₹₹₹
---
A perfect home is not the one that awes us with its splendour but the one that is close to our hearts. Or as Kanchan Chaudhury puts it, "home for us is all about 'us' and so it had to be designed around our needs". Kanchan and her husband Sumit own a villament at Shriram Chirping Woods, Harlur Road. The plush 4BHK house plan lacks for nothing in terms of space or amenities. But the couple trusted Livspace to turn this house into a residence for their family.
Our designer Himani Kaushal was undaunted by the scale of the project and focussed on the family instead. Moreover, Kanchan did not want interiors that would be an amalgam of ideas picked up from different homes or places. So Himani was inspired to keep her designs as original and rooted to the family's requirements as possible.
Let us take you on a tour of this villament to illustrate how the best homes evolve around the most genuine people.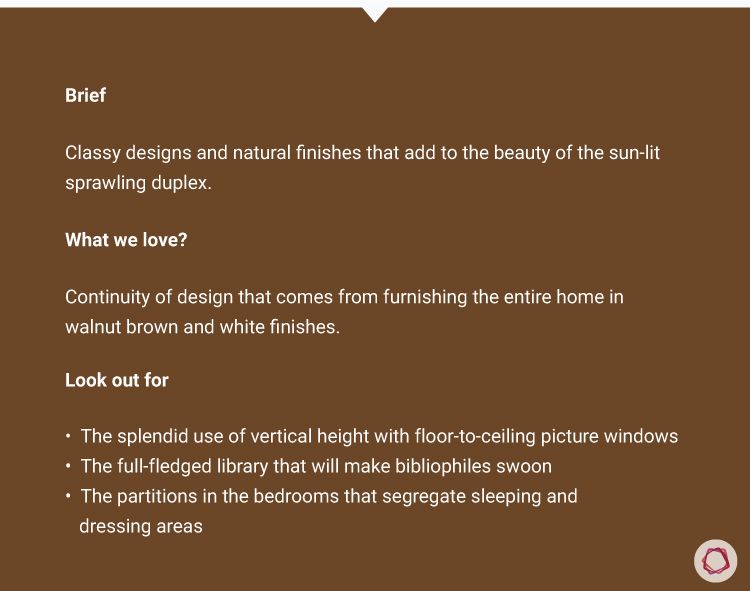 Rustic Runes at Shriram Chirping Woods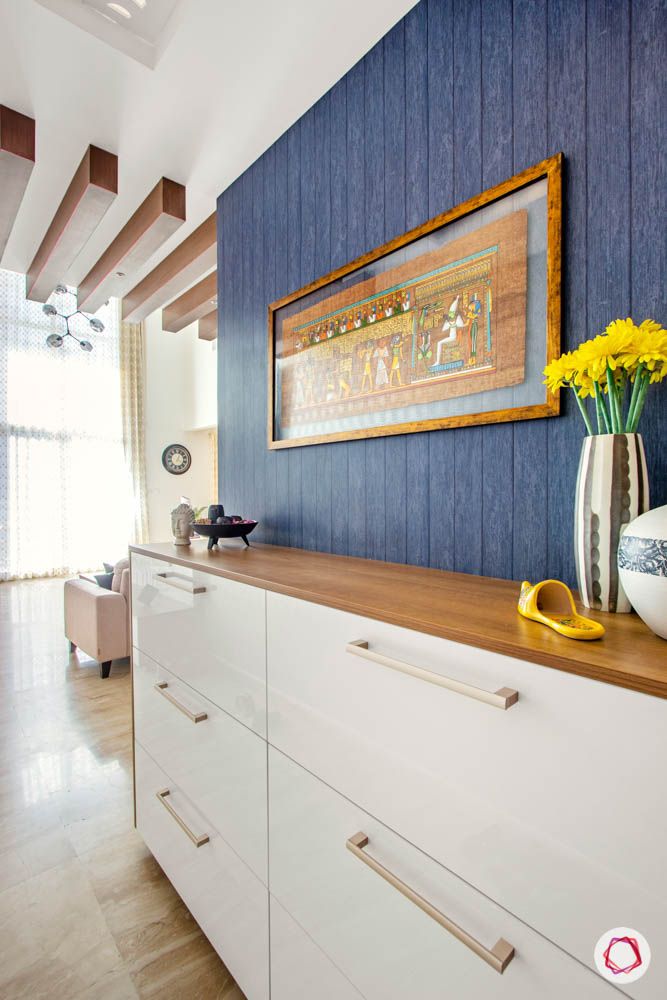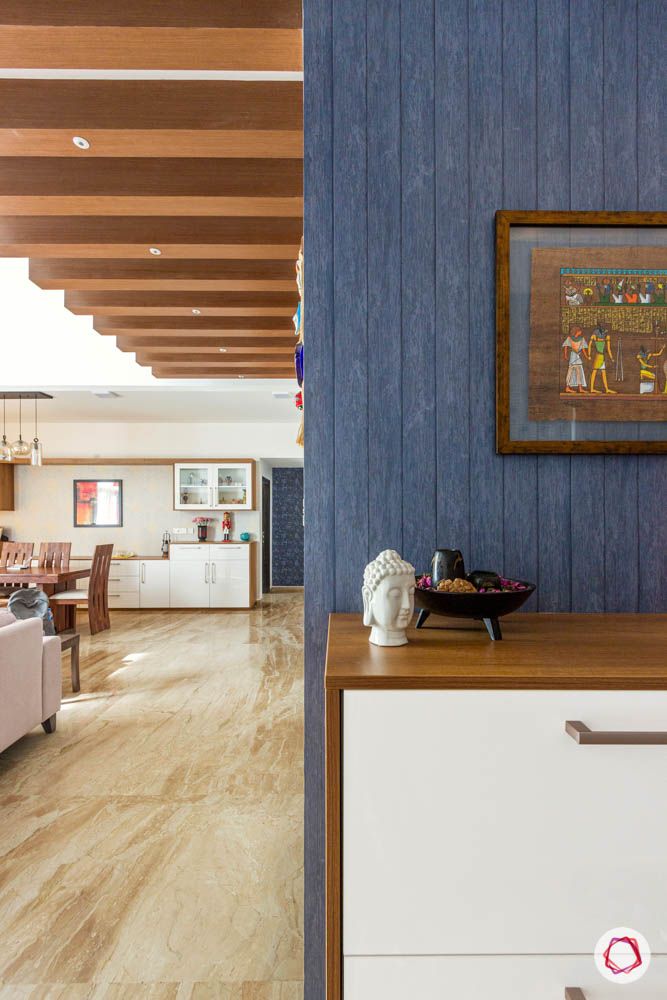 Kanchan and Sumit were very particular about having continuity in the interior design of their home, so Himani decided to set the tone from the foyer itself. Can you spot a console in a combination of white acrylic and walnut brown laminate in the entry passage? Consequently, we see various versions of this combination in throughout the house. Further, the console rests against the backdrop of a panelled blue wallpaper that gives this space a rustic vibe.
Glass Walls at Shriram Chirping Woods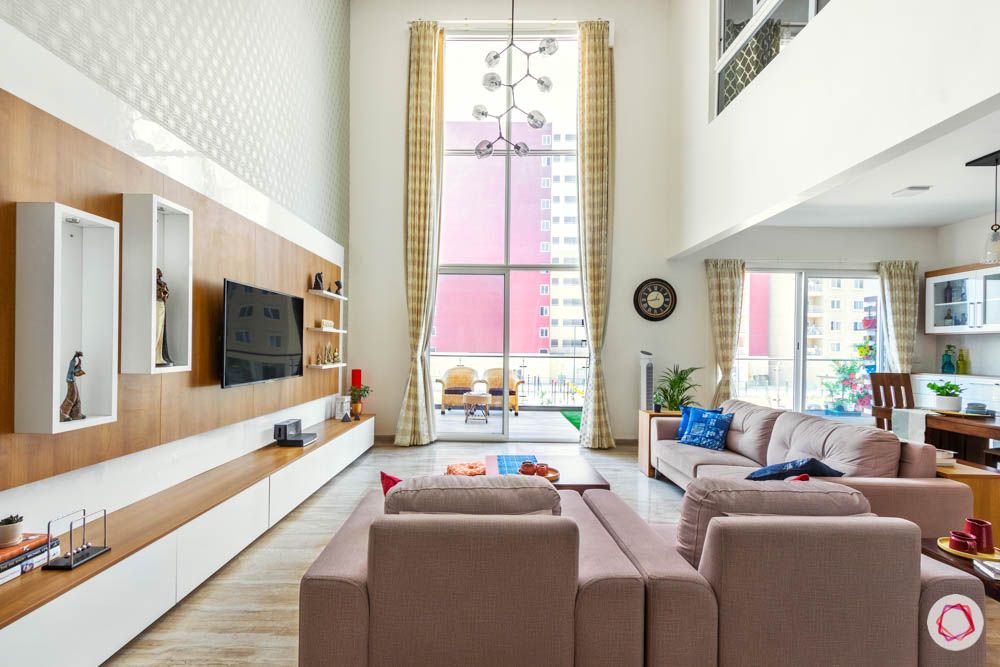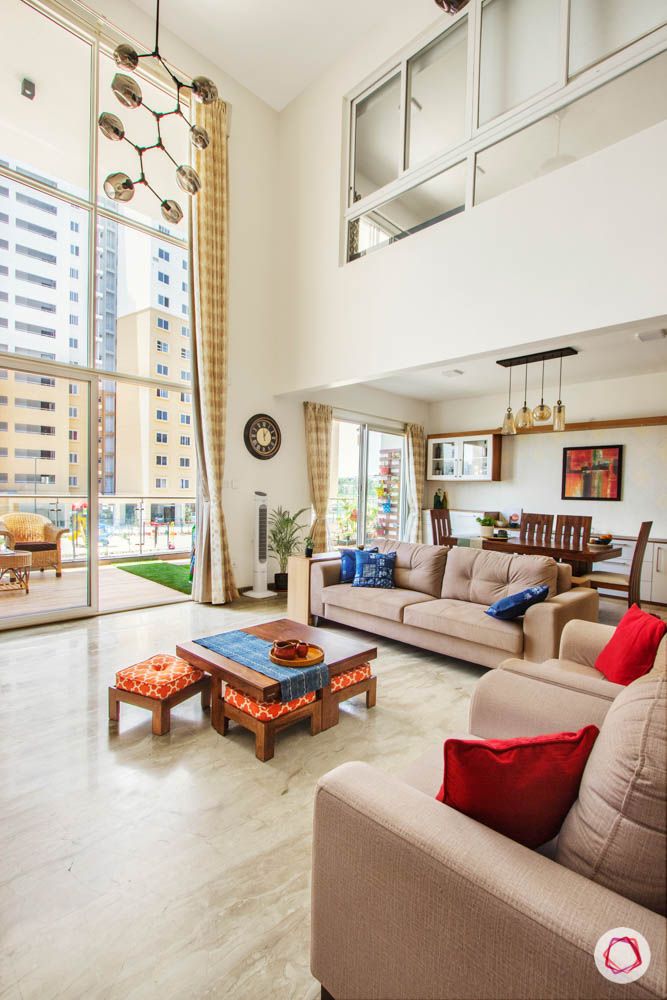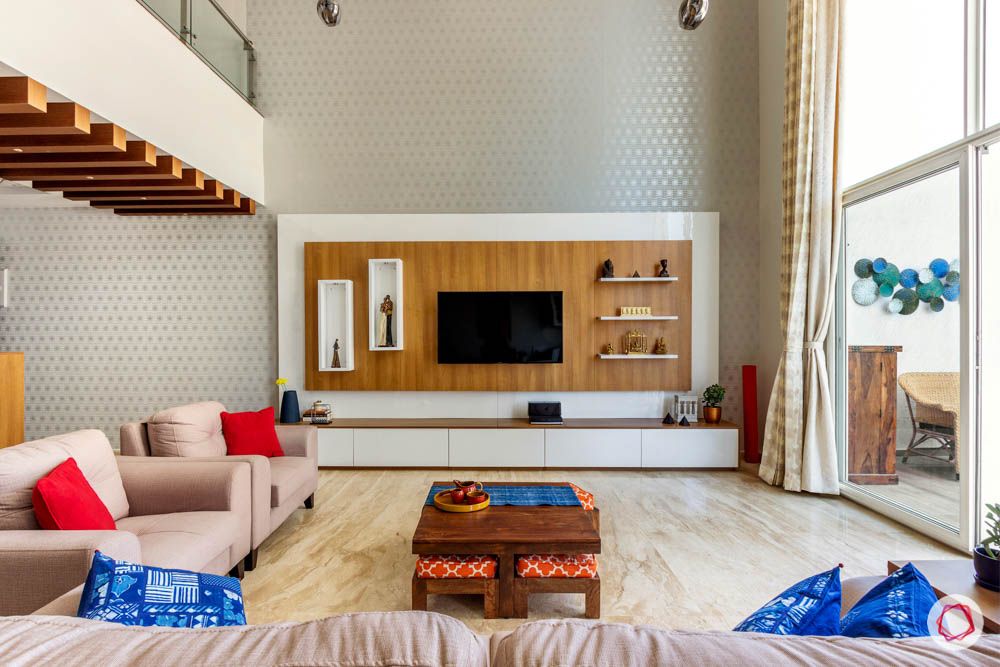 The most striking element of the living area in Kanchan and Sumit's villament is its vertical height. The floor-to-ceiling glass windows capture the scale of the house brilliantly. Moreover, the entire ground floor is flooded with natural light because of these glass walls. In addition, the furnishing in the living area is fairly simple to ensure that the focus remains on the windows that oversee an elaborate balcony. Besides, the furniture includes neutral sofas with wooden side tables and a centre table that has four nested stools. The media wall is a combination of white base cabinets and brown laminate wall paneling. This is a custom unit that is marked by clean lines and uncluttered design.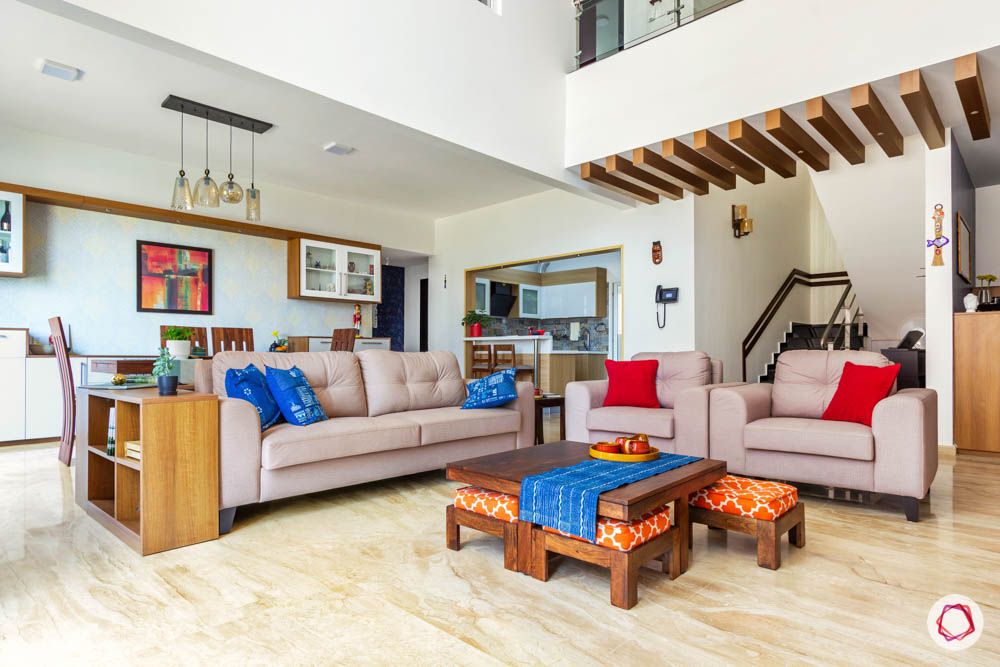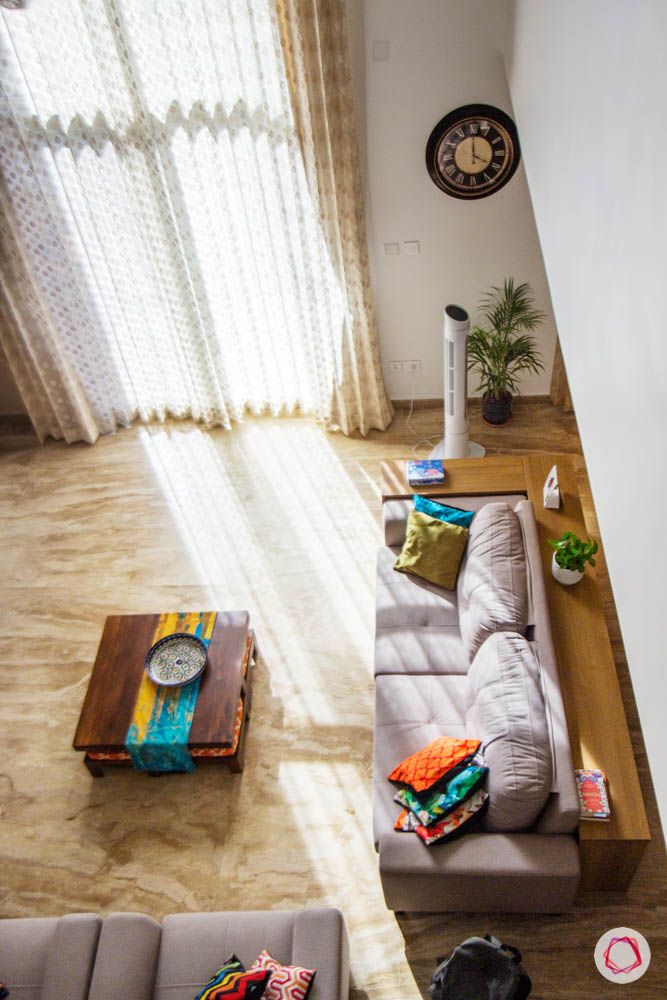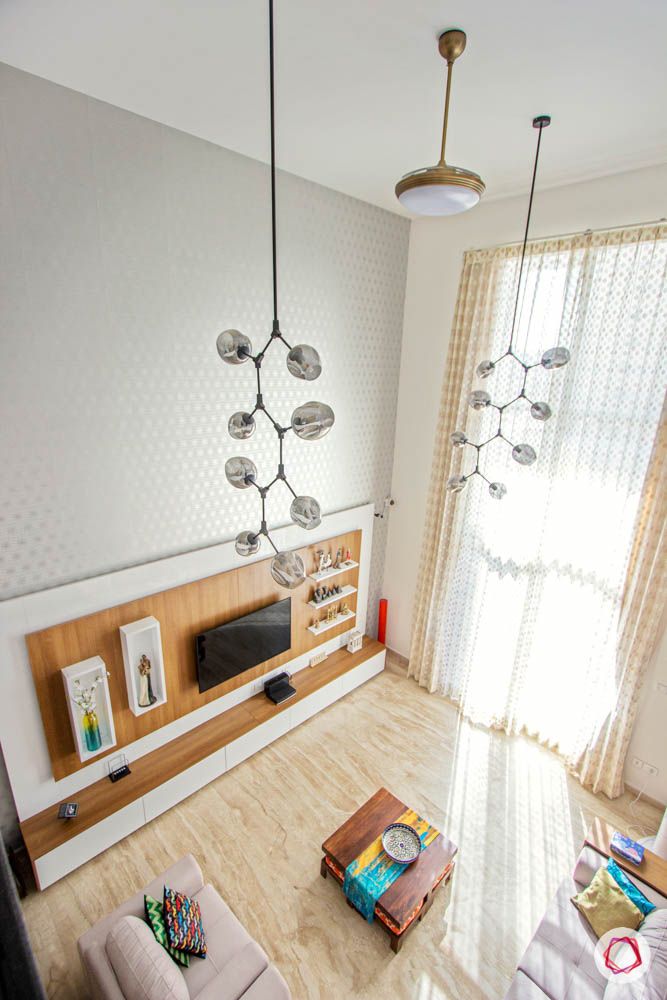 As the space here is massive, Sumit and Kanchan wanted some detailing to be done with the ceiling. While the higher ceiling is a statement unto itself, Himani highlighted the lower ceiling in the living area with wooden rafters. Additionally, pair of contemporary chandeliers fill up the space between the floors here. This detailing also showcases the variety of ceiling heights within the living area with dexterity.
Wooden Warmth at Shriram Chirping Woods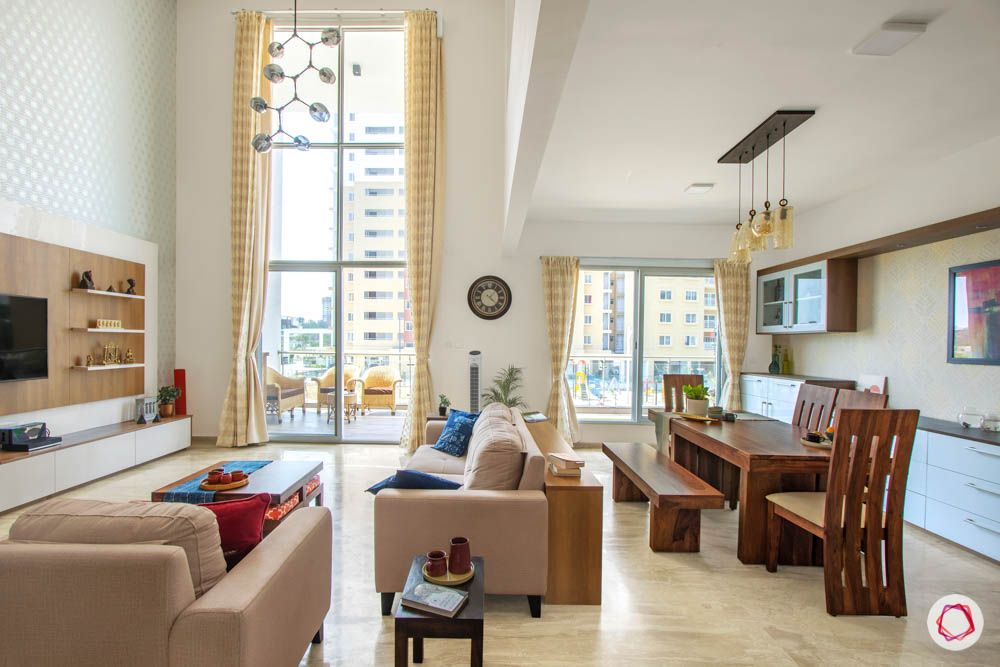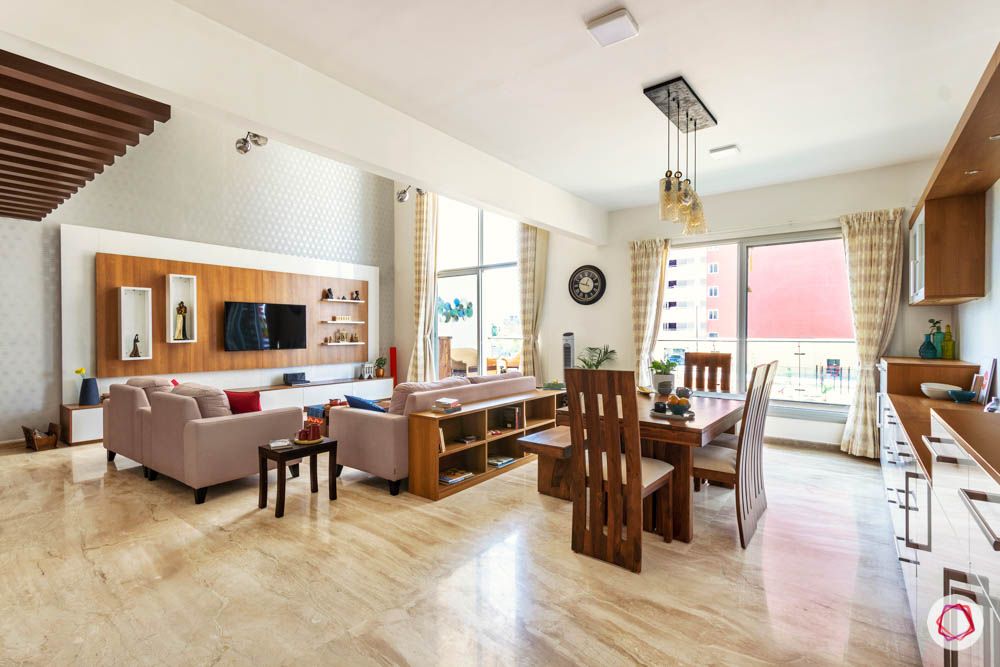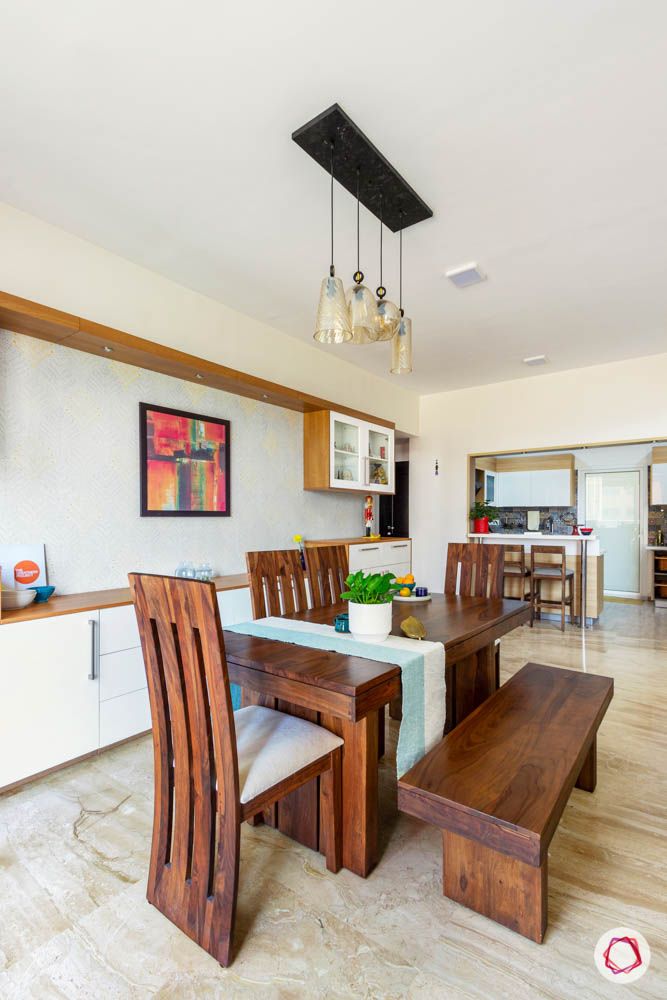 The dining area in this home is feast of warm wooden finishes. We have a dining table here that is a contemporary piece with a bench seating option. Essentially, Himani has used an open cabinet that can be used to store books and magazines as a partition between the living and dining areas. As this 4BHK house plan is expansive, it makes sense to have a partition in living area. However, as the low-height custom unit is placed behind a sofa, it doesn't obstruct the view of the room. Further, the other end of the dining space culminates in a massive crockery-cum-bar unit. This elegant design in white acrylic and brown laminate comes from the Livspace catalogue.
"Home to us is all about 'us' so we didn't want to furnish our home with ideas picked up from different forums. Our designer, Himani, understood that and worked accordingly. The dedication of our designer set Livspace apart from other designing firms and we are happy to say that they have lived up to our expectations."
– Kanchan Chaudhary, Livspace Homeowner
Neutral Notes at Shriram Chirping Woods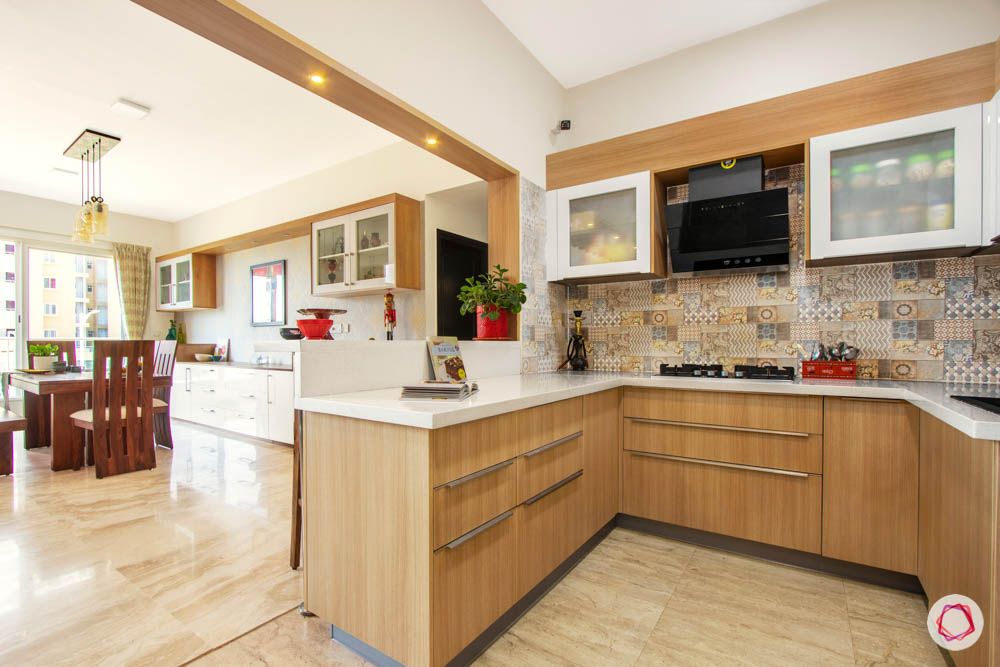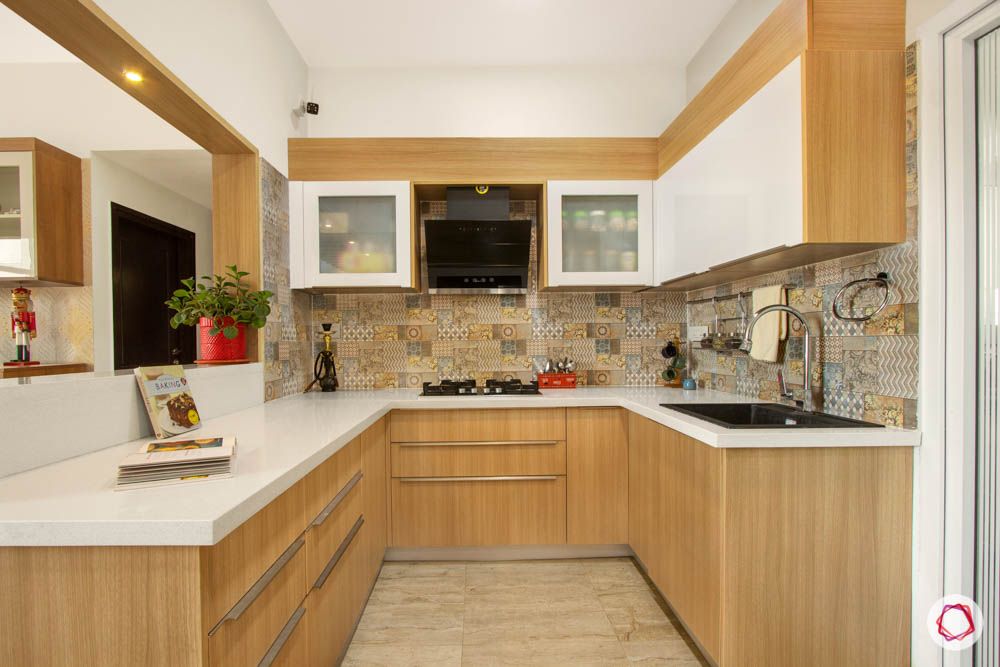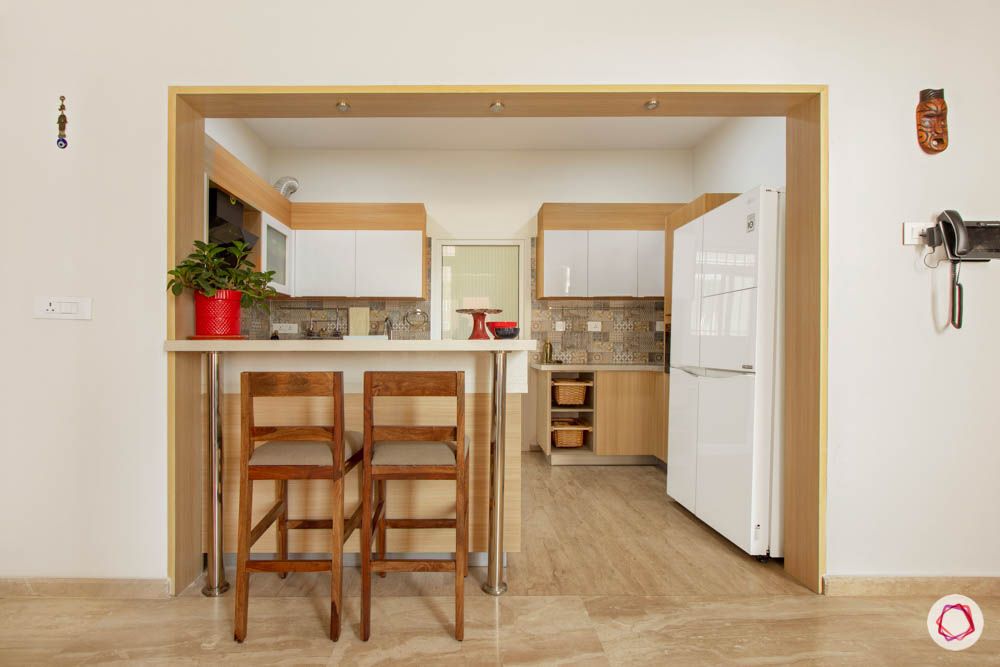 As we have seen so far in this 4BHK house plan, there is a distinct focus on browns and whites. The kitchen is not an exception to this rule. A mix of white acrylic finishes with American Walnut (a lighter shade of brown) laminate adds depth to the kitchen. The white countertop is Kalinga stone that lends a smooth finish to the space. Kanchan mentioned that they do not cook much, but when they cook, it is done together as a family. Hence, having a breakfast counter makes this kitchen more functionally suited to the family's needs.
Boisterous Browns at Shriram Chirping Woods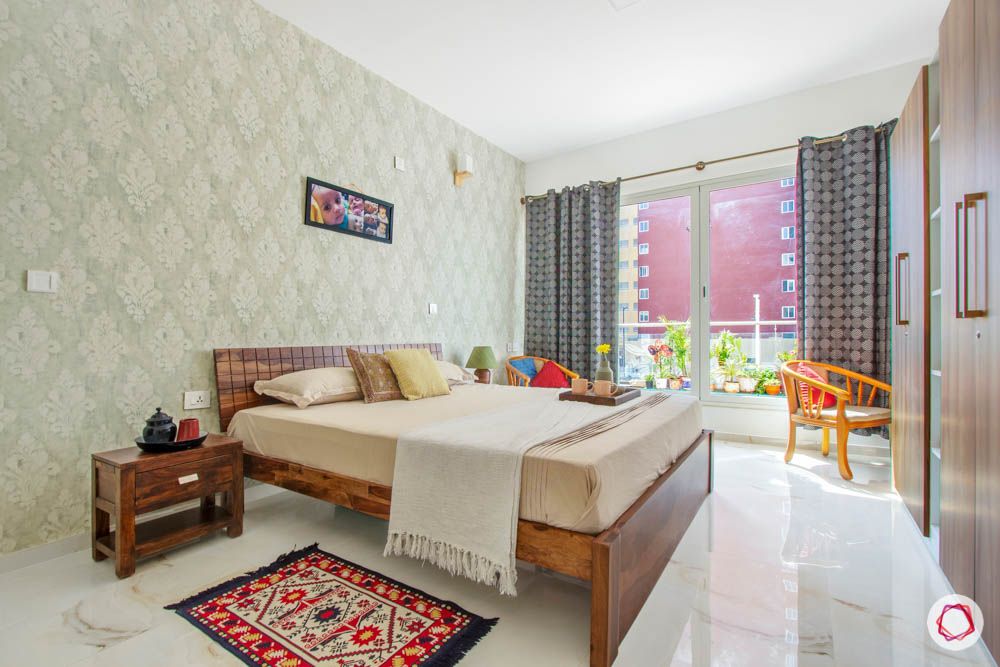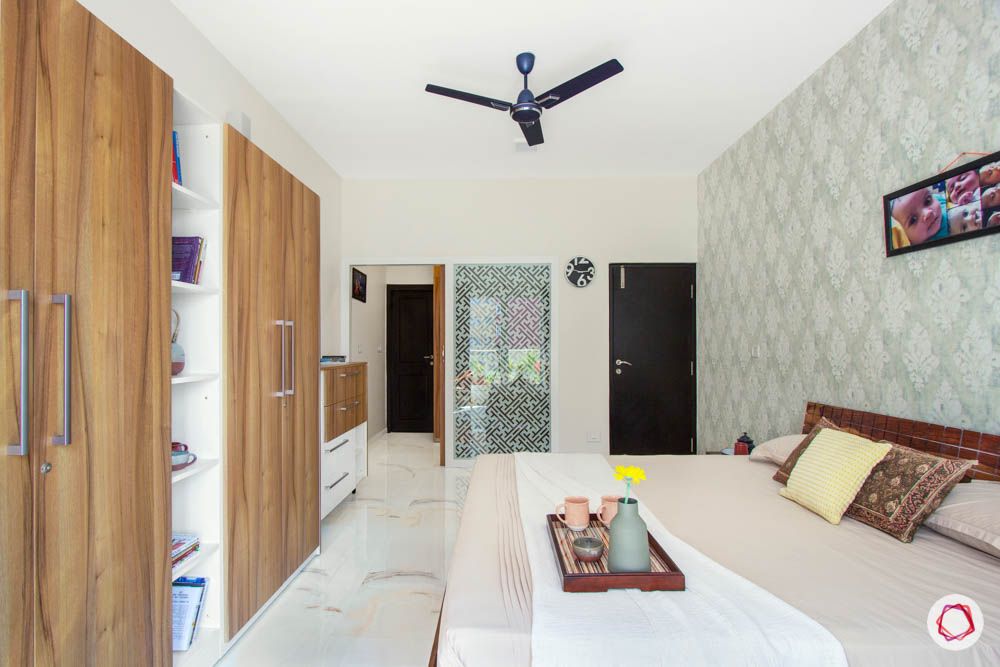 The ground floor of this villament has the living and dining space with an open kitchen as well as the guest bedroom, which opens into the long balcony. Needless to say that this room is bathed in sunlight like the rest of the home. This bedroom has been designed keeping the needs of the couple's parents, who visit often, in mind. We see the same combination of whites and browns here with an interesting mix of open shelves for accessibility. The dressing and sleeping areas in this bedroom are segregated by a glass and wooden partition.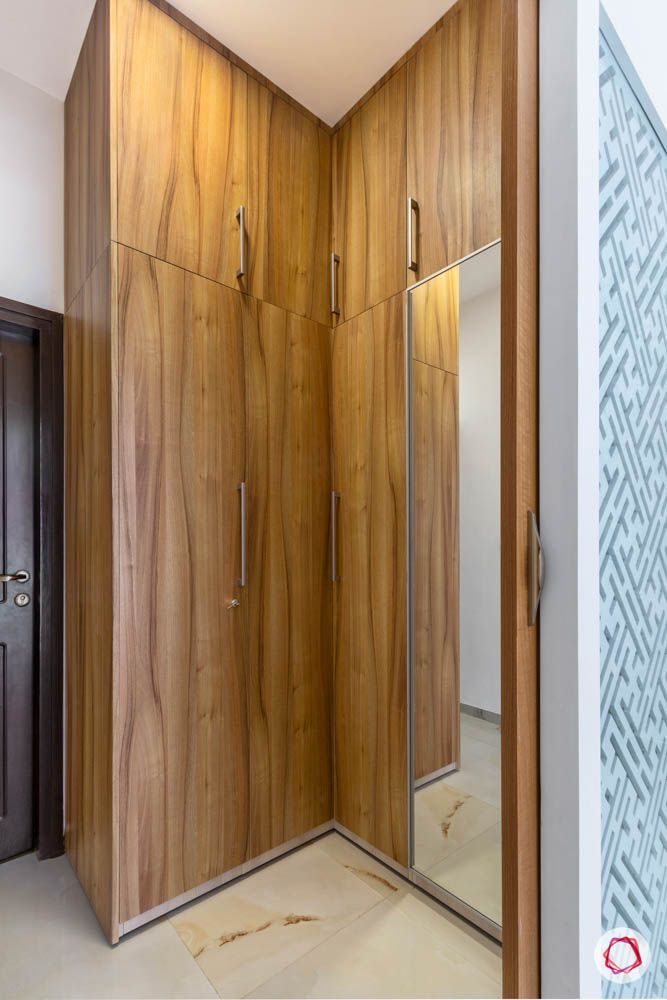 Beyond the partition, Himani has provided more wardrobe space and lofts. Kanchan wanted this extra storage space to accommodate the family's winter wardrobe and Indian clothes.
Breezy Blues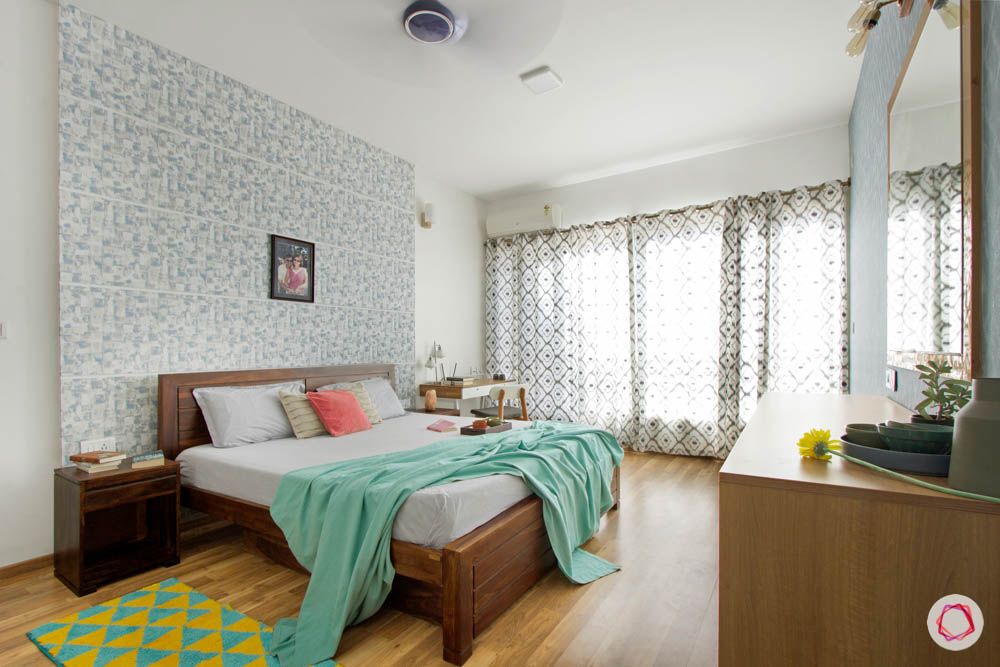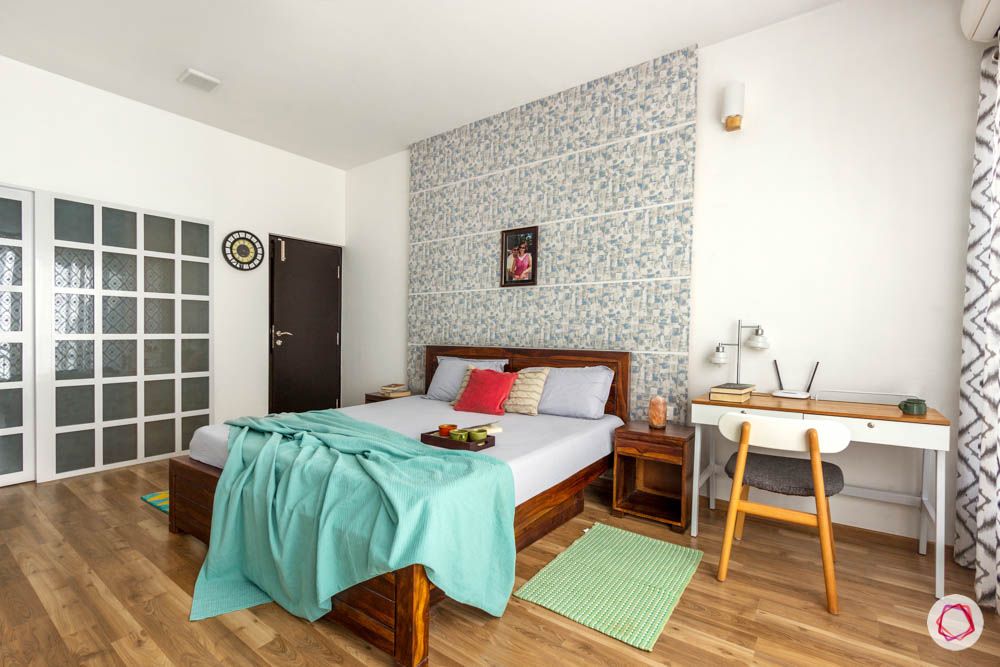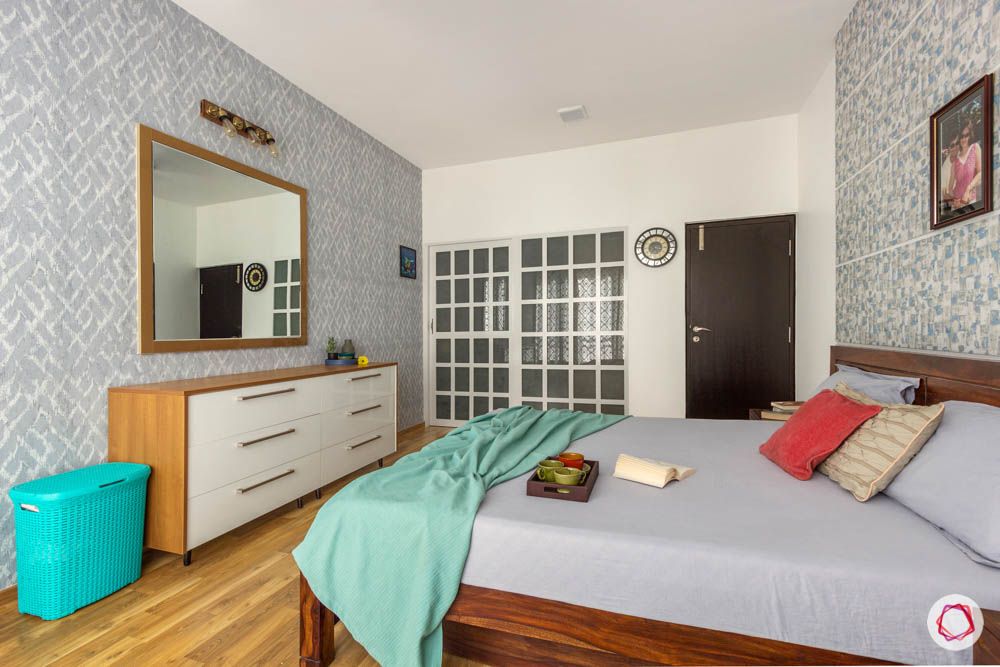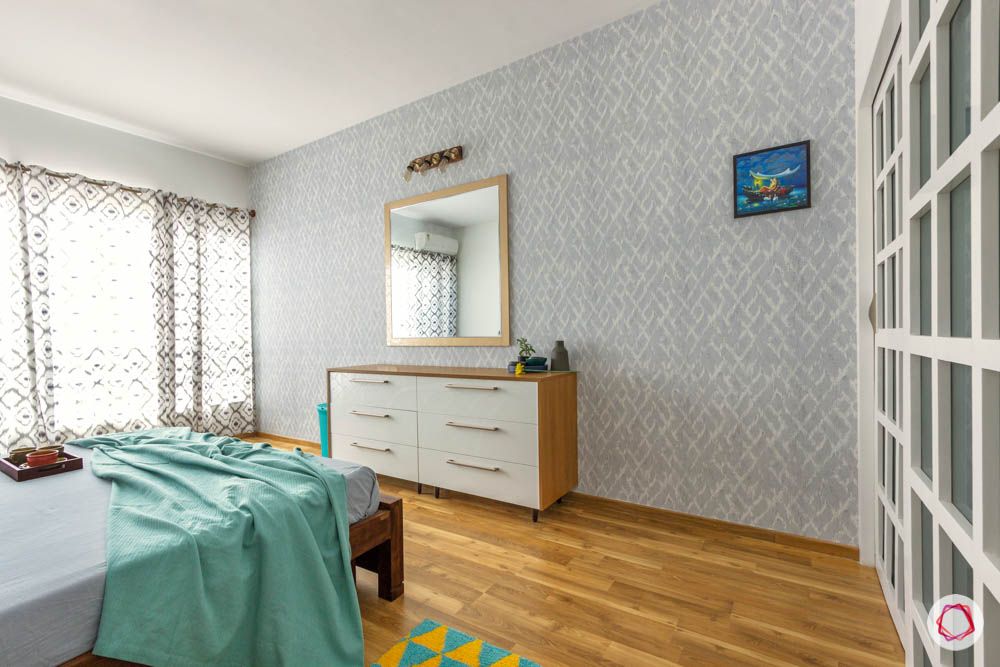 The master bedroom on the second floor resembles the guest bedroom in terms of layout and has been partitioned in the same way. The partition in this bedroom is a Japanese-inspired design of checkered glass panes. The cool tones of the powder blue wallpaper in the couple's bedroom complements the warm wooden flooring. The console here is a smaller version of the one we see in foyer.
Pink Puddles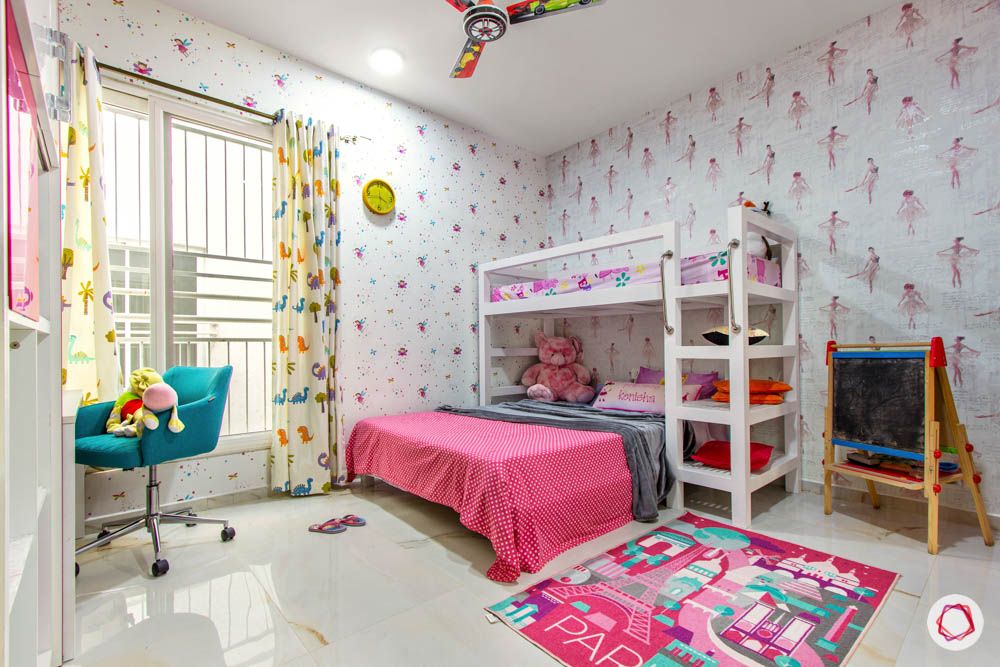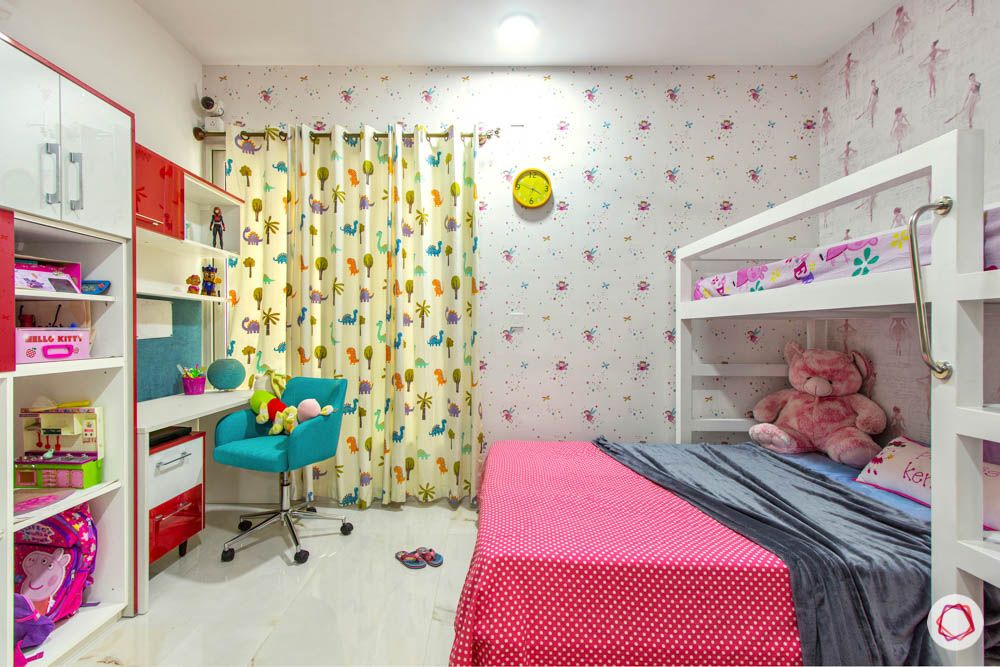 Kanchan and Sumit's daughter Kenisha's bedroom is all rainbows and sunshine. The brightly coloured cabinets in this room go with the playful patterns on the wallpaper. Kanchan insisted on having enough storage in this bedroom as well to ensure that Kenisha can hold on to her childhood treasures even as she grows up!
A Bibliophile's Dream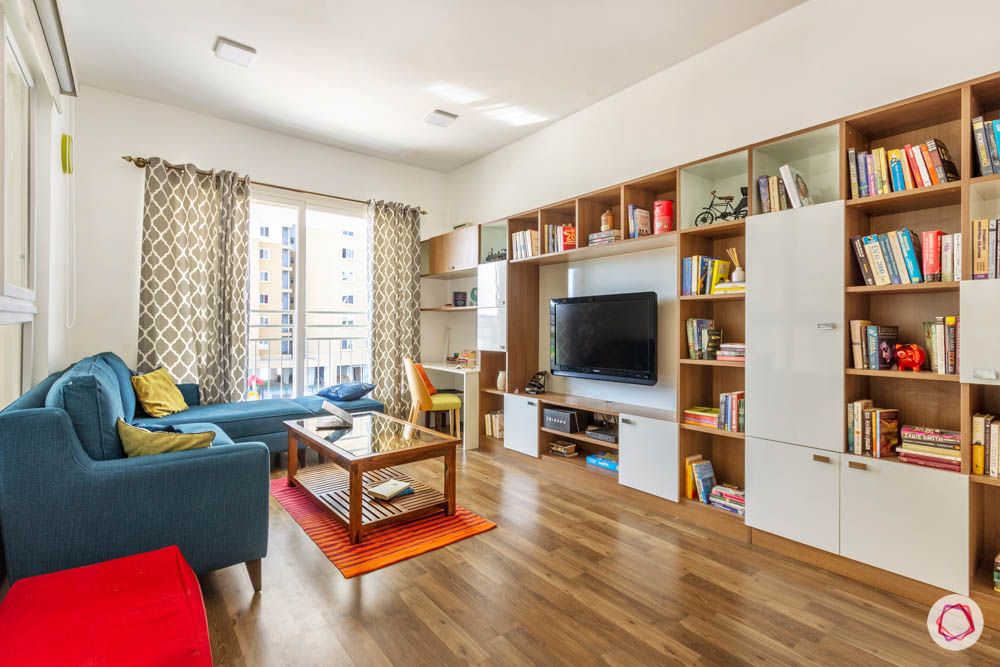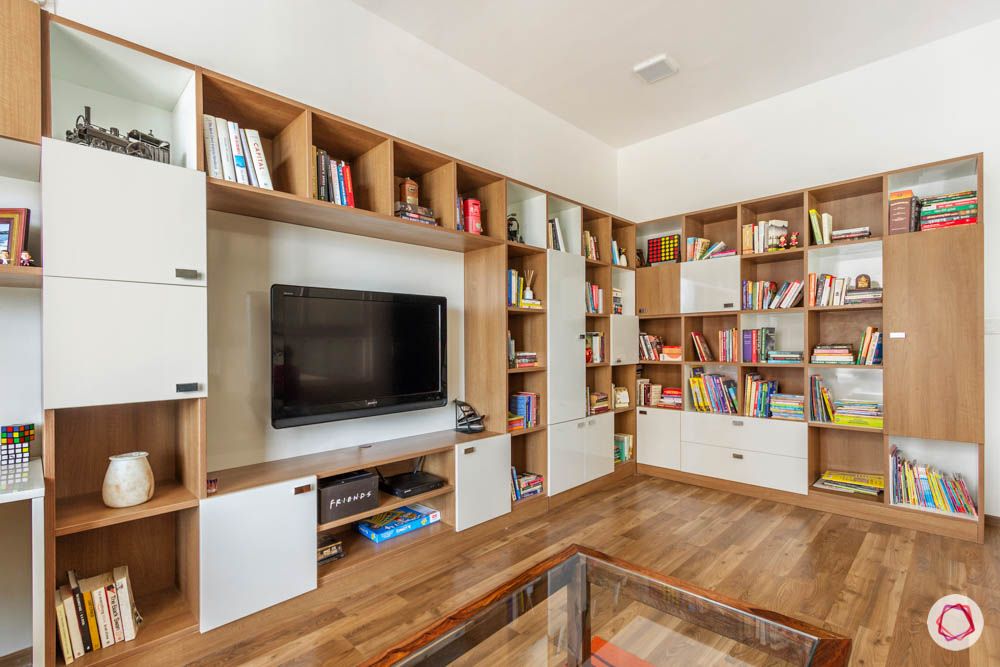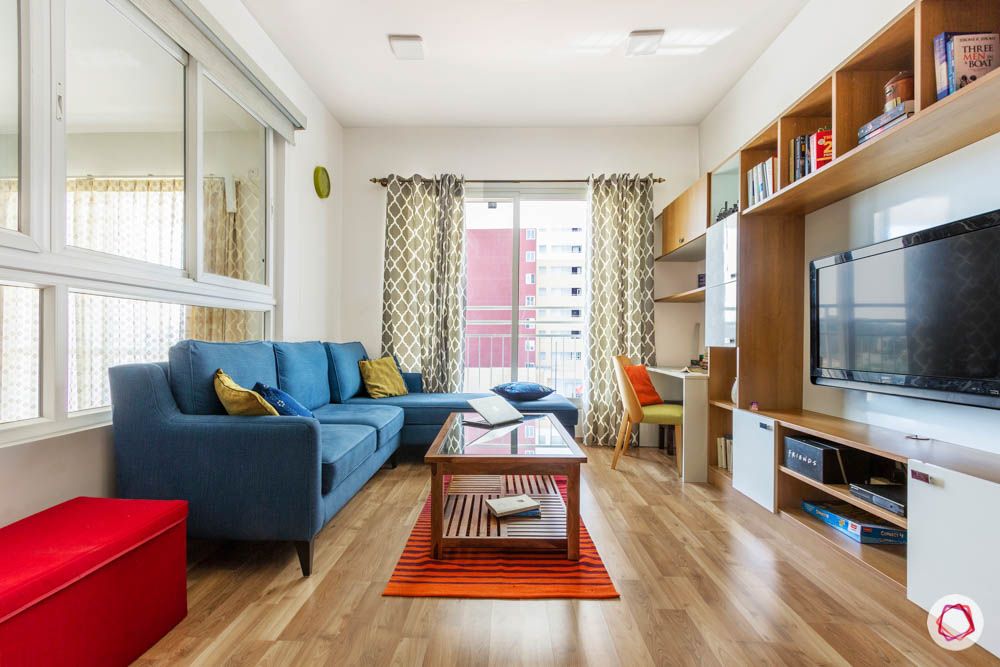 Both Kanchan and Sumit are avid readers and have an enviable collection of books. It is no wonder that they wanted to turn their fourth bedroom into a full-fledged library. Himani has used the same colour combination of white and brown to create a customised L-shaped book rack-cum-media wall. But instead of acrylic, the whites are high-gloss laminate in this unit. This room is essentially a library but the family also uses it as a lounge to get some quality time together. There have kept the furniture to a bare minimum so that their daughter can have enough floor space to spread out wares for arts and crafts.
"Kanchan and Sumit had very refined and well-travelled taste in interiors, which I was able to connect with. This helped me churn out designs that they liked instantly. As their home is massive, we offered them custom options wherever necessary. The result is quite awe-inspiring and they love it, so it is all worth the effort!"
– Himani Kaushal, Interior Designer, Livspace
If you enjoyed reading about the first villament designed by Livspace, also read A Bengaluru Home that Redefines Luxury. You can take a video tour of this home here.
Send in your comments and suggestions.