Just as fashion trends change with the turn of the season, so do interior design trends. However, it does not seem fair to compare your wardrobe (we mean your collection of clothes) with interiors because the latter is a very high-value investment. So even as we appraise you of the 2020 kitchen design trends, we promise to suggest design ideas that will be around for some years at least.
If you are planning to get your new kitchen furnished or your old kitchen requires a revamp, flip through these kitchen trends 2020 suggested by our interior designers and design experts.
2020 Kitchen Design for Colours #1: Colours That Range From Blue to Green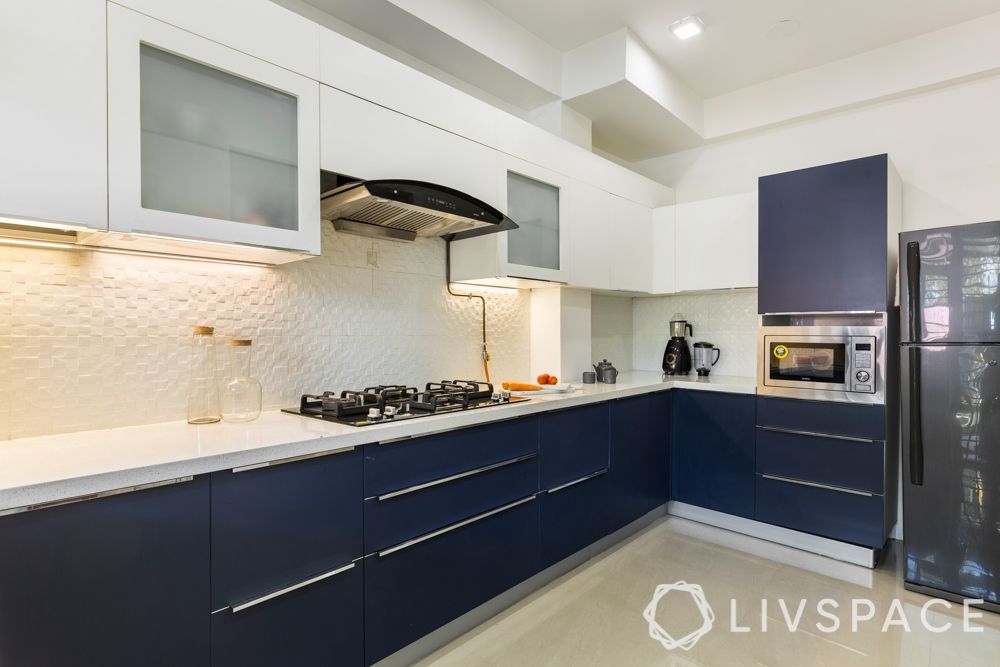 2020 will be a very "blue" year; I mean we knew that when the Pantone colour of the year was announced in December — so classic blue it is. Hence, all shades of this rather familiar blue will be in vogue. In fact, our kitchen trends 2020 expert Nikita Malik says, "the palette for this year will extend from blue to green. Apart from various shades of blue, subtle shades of turquoise and green will also be in. And in the Indian context, wooden grains are always a hot favourite.
We at Livspace are putting our money on this particular navy blue membrane finish you see in the image above. This one will rule the roost in 2020 with its seamless richness!
2020 Kitchen Design for Layout #2: Opening up Kitchens to Have Island Counters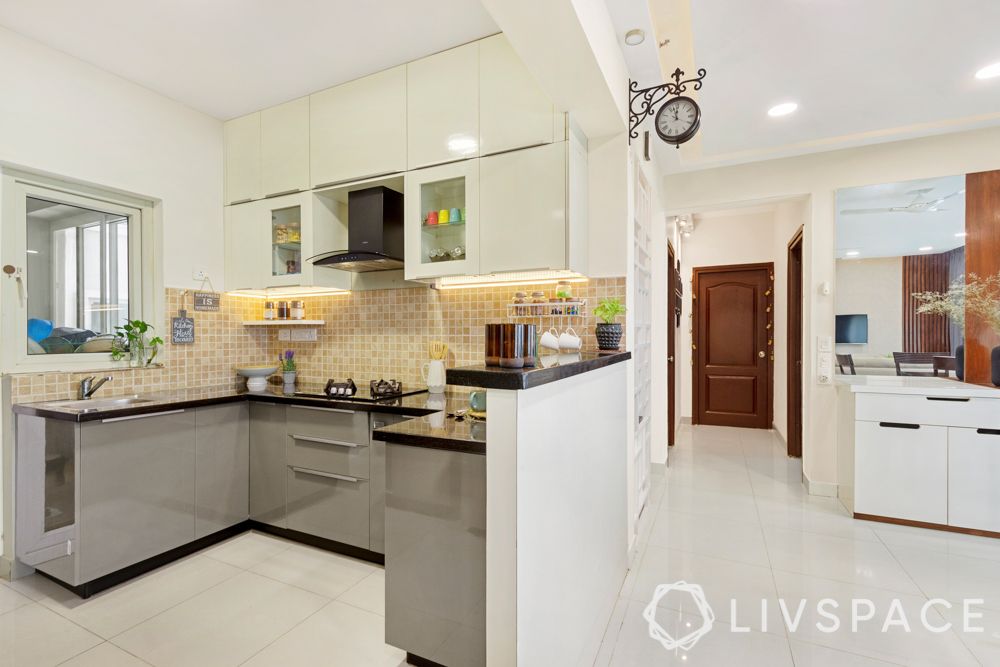 In case of kitchen layouts, most homeowners do not have a choice unless they are building their own house from scratch. In apartments, you have to make do with the kitchen layout given by the builder be it U-shaped or L-shaped. However, our designers tell us that there is a growing trend of demolishing walls to open up kitchens. This could be attributed to two reasons: the kitchen is very small and looks bigger if you open it up or it's a lifestyle related choice.
Livspace interior designer from Delhi, Himanshu Chowdhury elaborates on this as he says, "If a family entertains a lot, it makes sense for them to have an island kitchen. It is easier to serve and engage with your guests. So we see many people opting for island counters by merging their kitchens with their dining rooms."
Want to know more about kitchen layouts? Get a complete analysis here.
2020 Kitchen Design for Finishes #3: Glass Kitchens, for Real?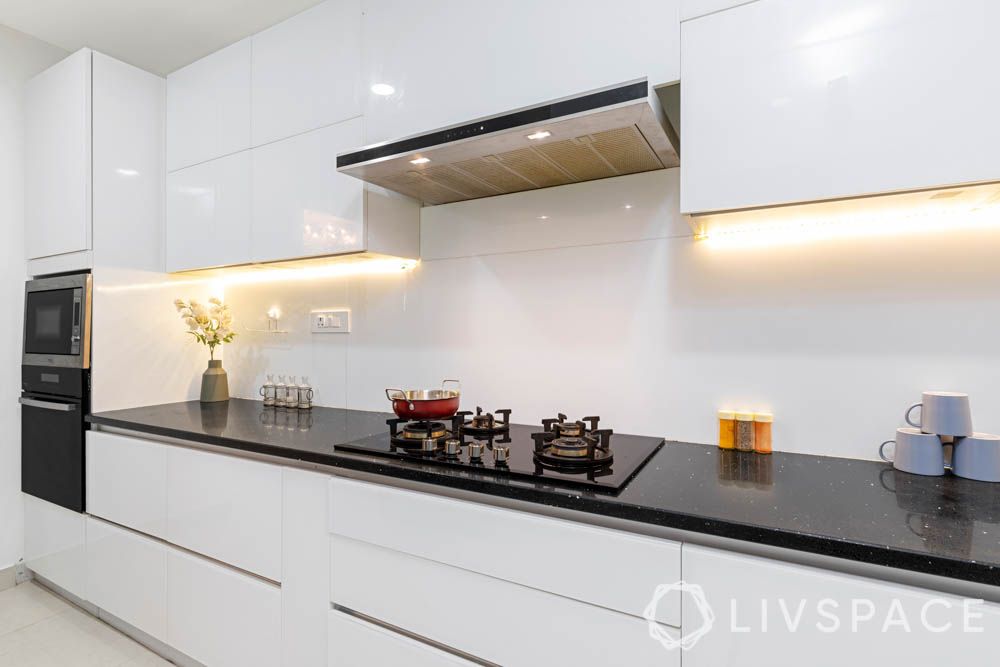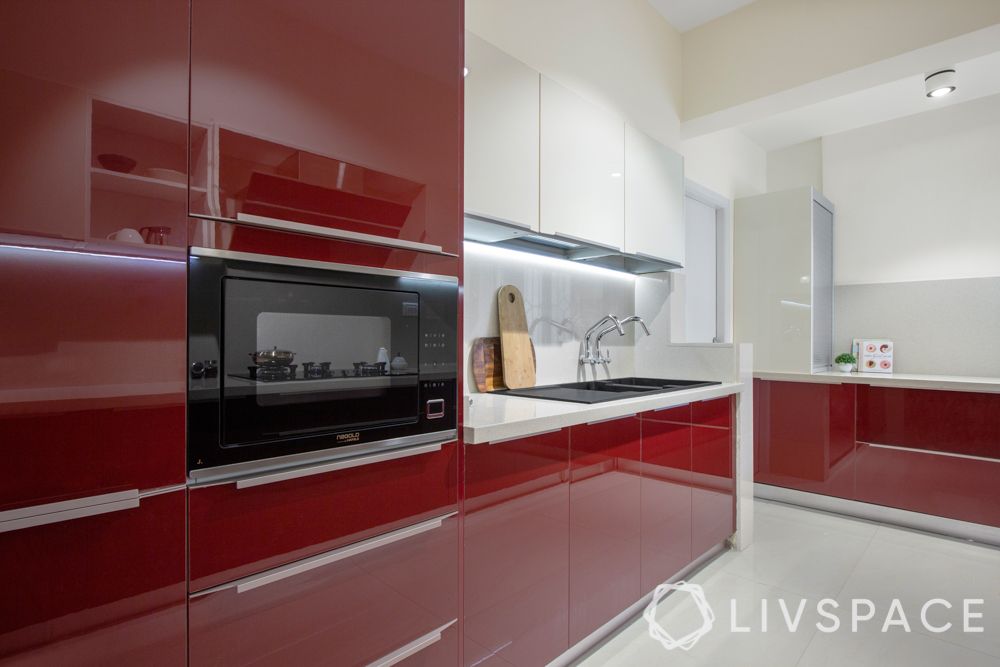 There is something new doing the rounds in the market, and it's a kitchen kitchen cabinet finish. We are talking about back-painted glass shutters of course. It looks like acrylic but is much cheaper. If you seek a glossy finish that is seamless in the truest sense, getting a glass kitchen would be a great idea. In that case, also opt for a lacquered glass backsplash that matches the look and feel of a glass kitchen; plus it's easy to clean too!
But those sleek acrylic finishes aren't going anywhere; they are here to stay. People will continue to opt for acrylic finishes provided they have the budget for it.
Wondering why acrylic is so popular? Find out All About Acrylic Kitchen Cabinets.
2020 Kitchen Design for Cabinets #4: Tall Cabinets for Stocking up & Open Shelves for Easy Access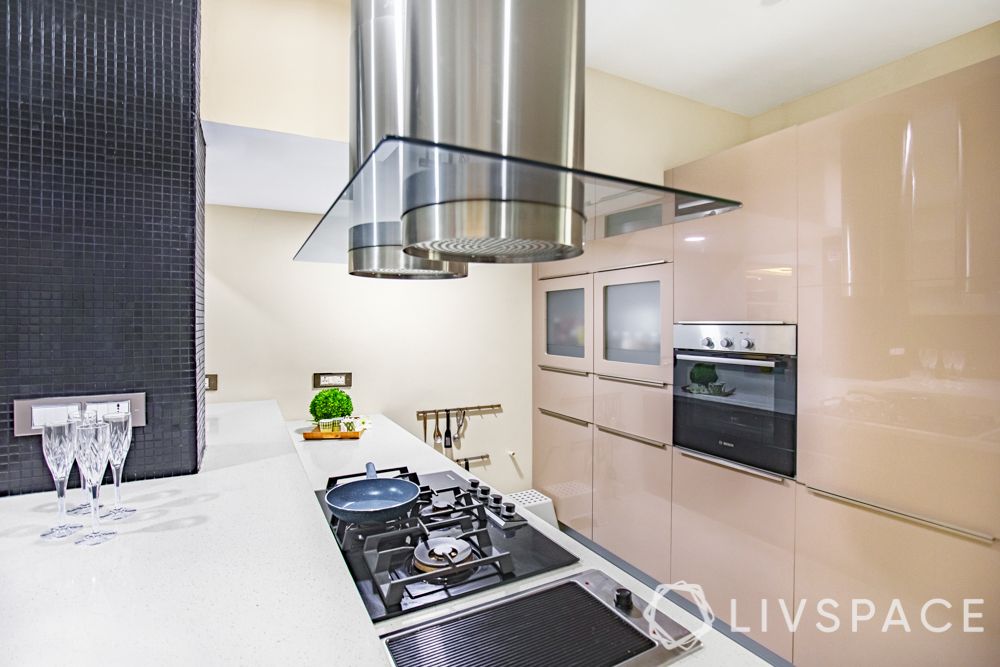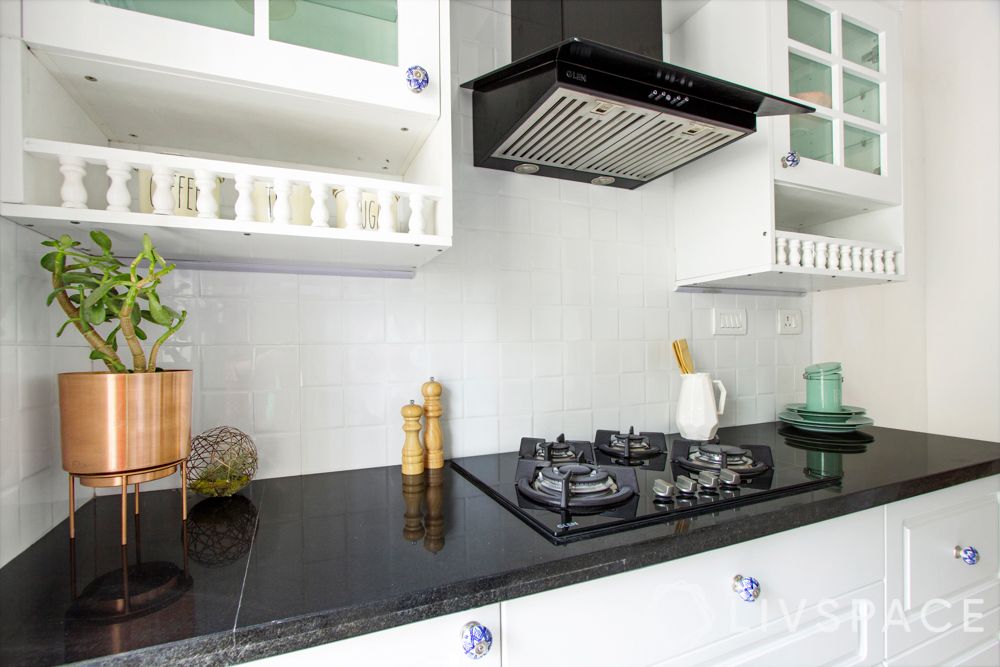 Most people think that a tall unit is a luxury. But it really isn't that simple. Our Noida designer Akash Jindal has a very interesting take on tall cabinets. He says, "I always advise my clients to go for a tall unit if the kitchen is small. You can fit your entire pantry into this unit. Its usefulness trumps its cost" And we guess homeowners are warming up to the tall cabinet and pantry pull-out accessory. And budget versions of these cabinets are also available. Hence, their appearance is no longer restricted to just high-end kitchens.
The popularity of open shelves is on the rise globally. This is primarily because of the easy access that shelves offer. As people have less time to cook, they are picking ease of use over aesthetics. Thus, open shelves replacing wall cabinets features prominently in the kitchen trends 2020.
To find out if your kitchen needs open shelves, take this quiz.

2020 Kitchen Design for Countertop #5: Quartz & Caesarstone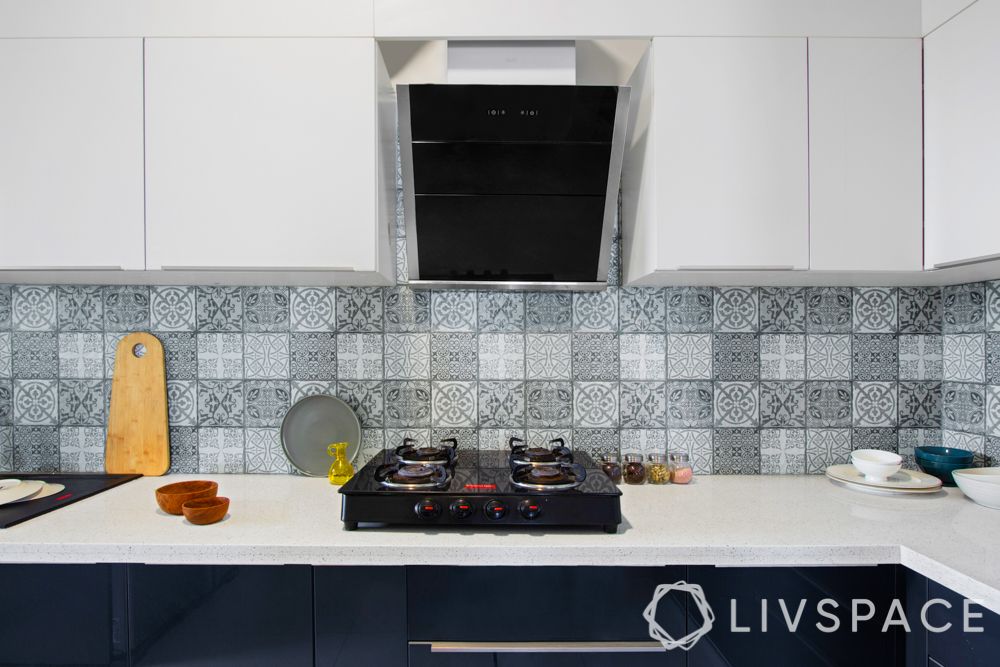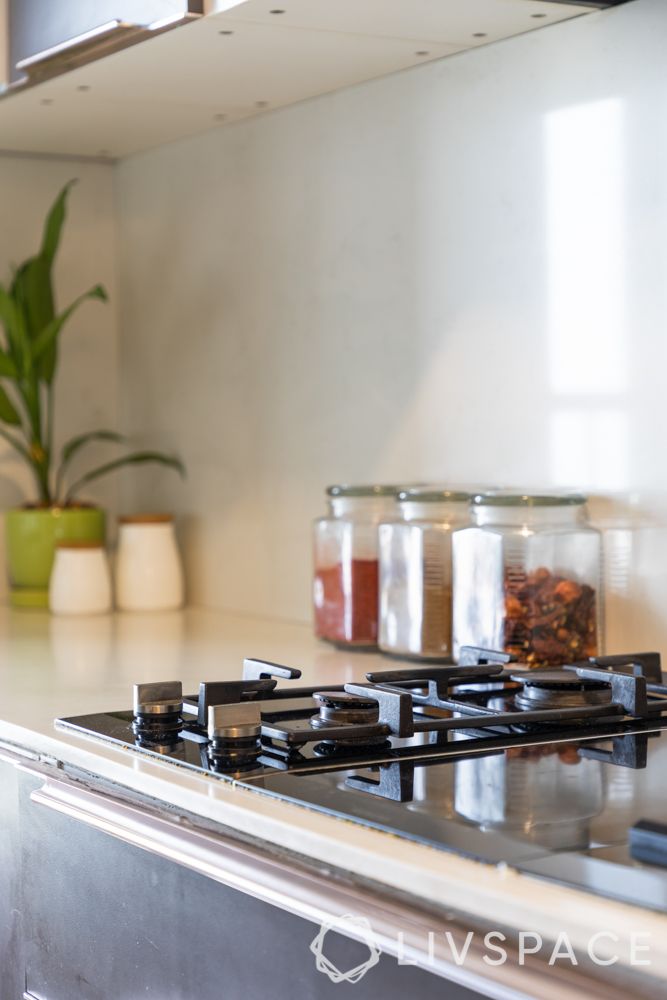 Granite has ruled the market for countertops for over a decade. But now we can see that homeowners are slowly but steadily moving away from this sturdy material. According to Livspace designer Himani Kaushal, who is based out of Bangalore, "Quartz countertops are the new hot favourite with homeowners these days. It's mainly because of the range of colours available as well as the seamless look. Quartz also allows us to mix two colours."
Himani also mentioned Caesarstone for her kitchen trends 2020, but it is pertinent to note that it is a very expensive countertop material. It counts only for people who want a high budget kitchen. If you want to know more about countertops, explore all options here. You could also match your countertops with your kitchen personality to ensure you choose as per your culinary needs.
2020 Kitchen Design for Backsplash #6: Slab Backsplash & Lacquered Glass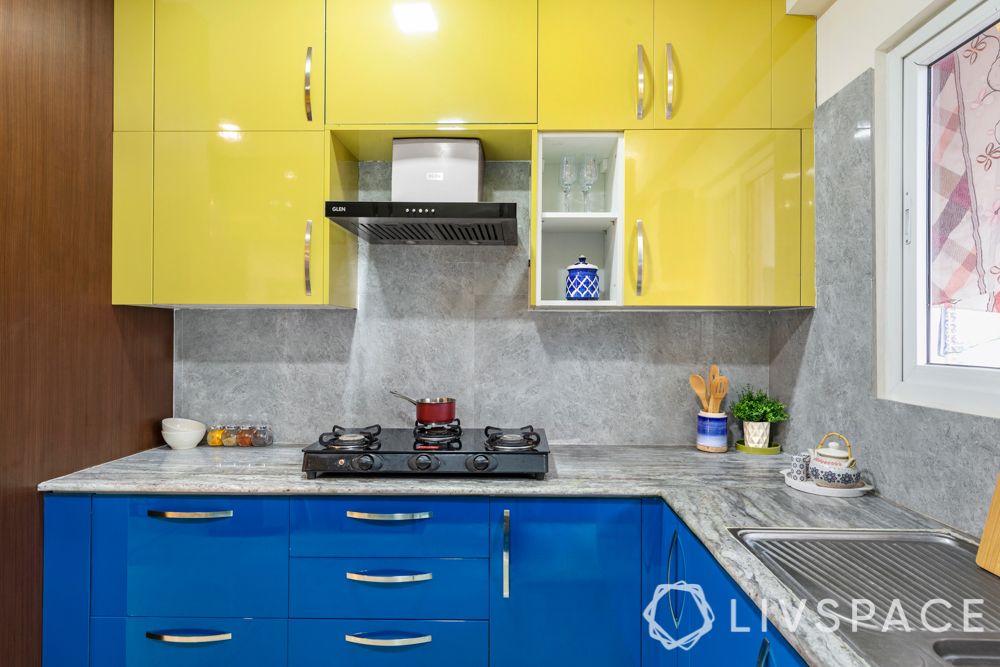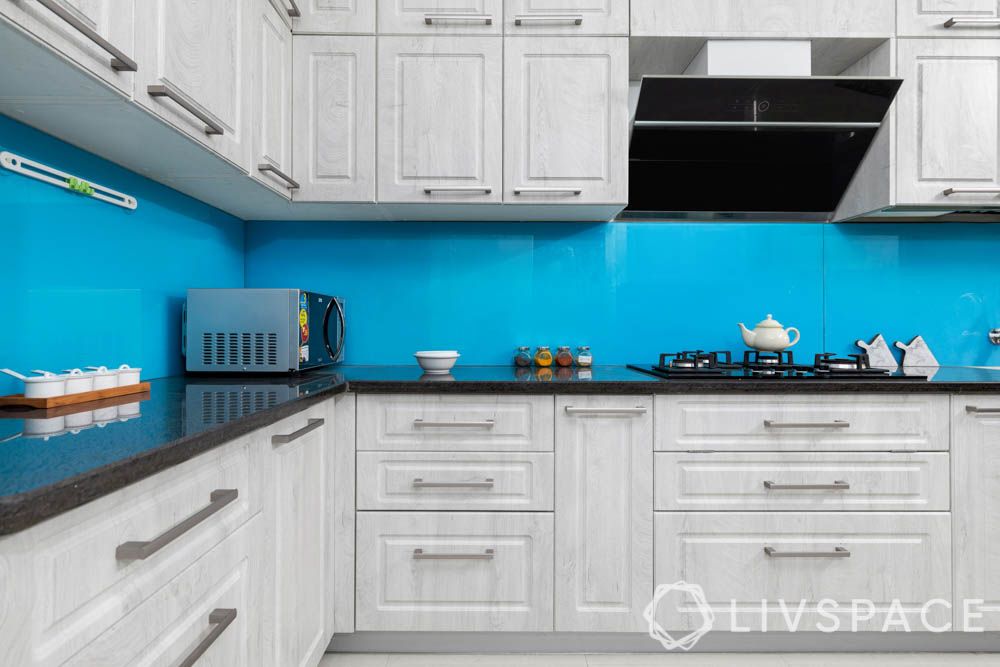 Have you come across kitchens where the slab seems to extend to the backsplash? If you haven't then you will because these are one of the big kitchen trends 2020. Slab backsplashes have an amazing sense of continuity to them; they are also durable and easy to clean. So we are totally backing up this trend for the coming year to get bigger!
Another kitchen trend 2020 that has caught on pace from last year is lacquered glass backsplashes. Again the seamless look works for this material and so does its affordability. Moreover, it is available in a range of pop colours that brightens the kitchen instantly!
Explore all the other options for backsplash materials here.
2020 Kitchen Design for Flooring #7: Onyx Tiles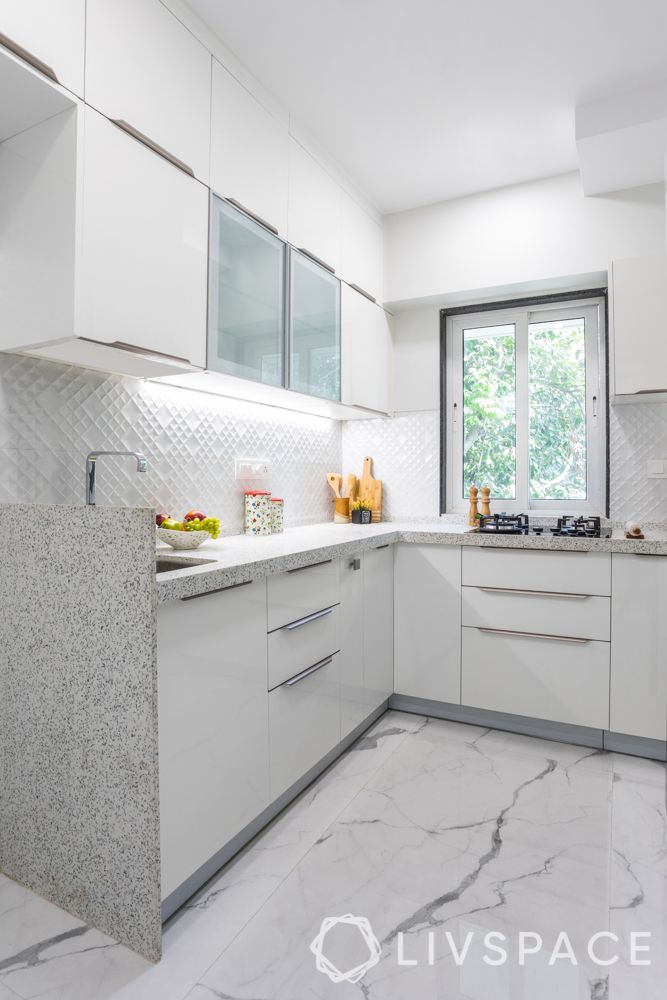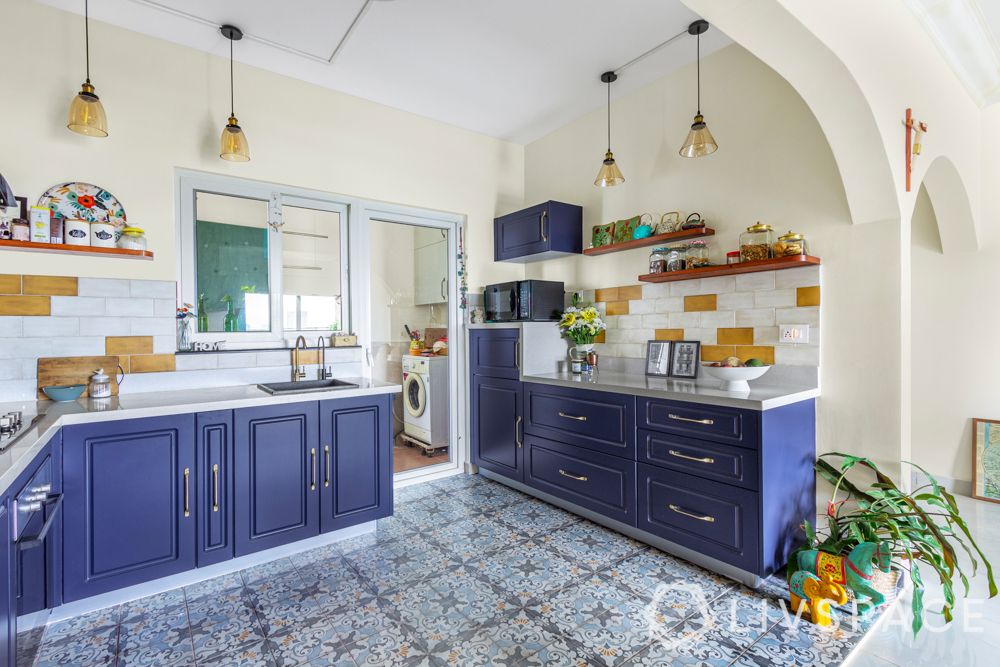 The next big thing on the block for kitchen flooring is onyx tiles. This marble look alike is much more affordable and comes in larger tile dimensions. If you are doing up your kitchen in dark colours, white or neutral coloured onyx tiles are your best bet for kitchens.
Moroccan floor tiles too continue to be a rage among homeowners. It is particularly interesting to note that the typical blue-hued Moroccan tiles go very well with our Pantone colour of the year, classic blue, which is all set to dominate kitchen trends 2020.
You can explore all other kitchen flooring options here.
2020 Kitchen Design #8: Lighting: Task Lighting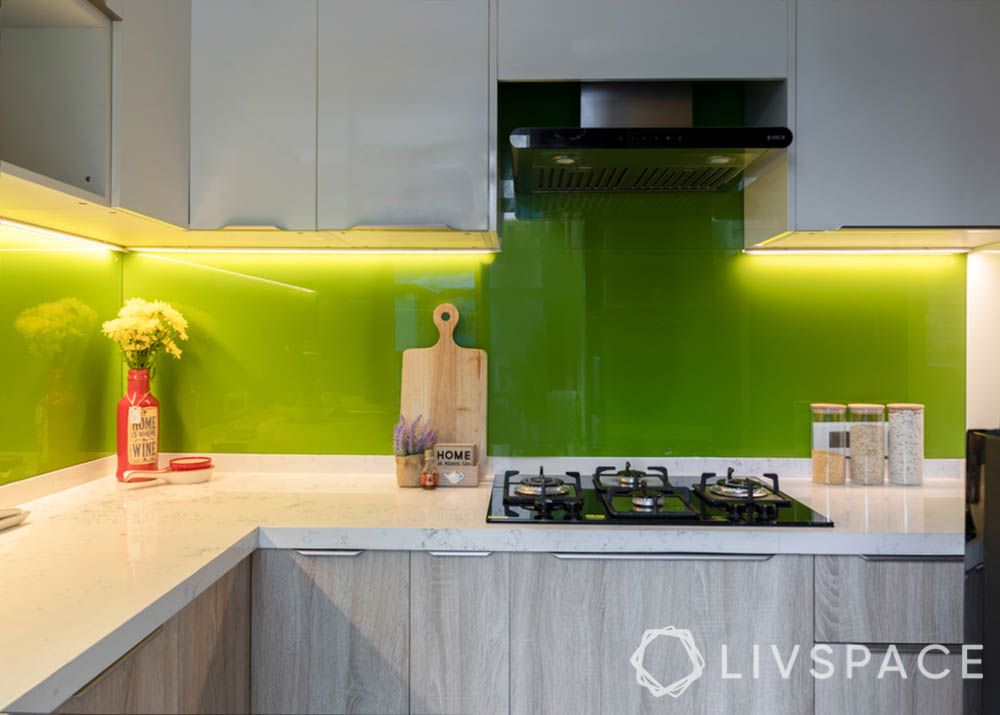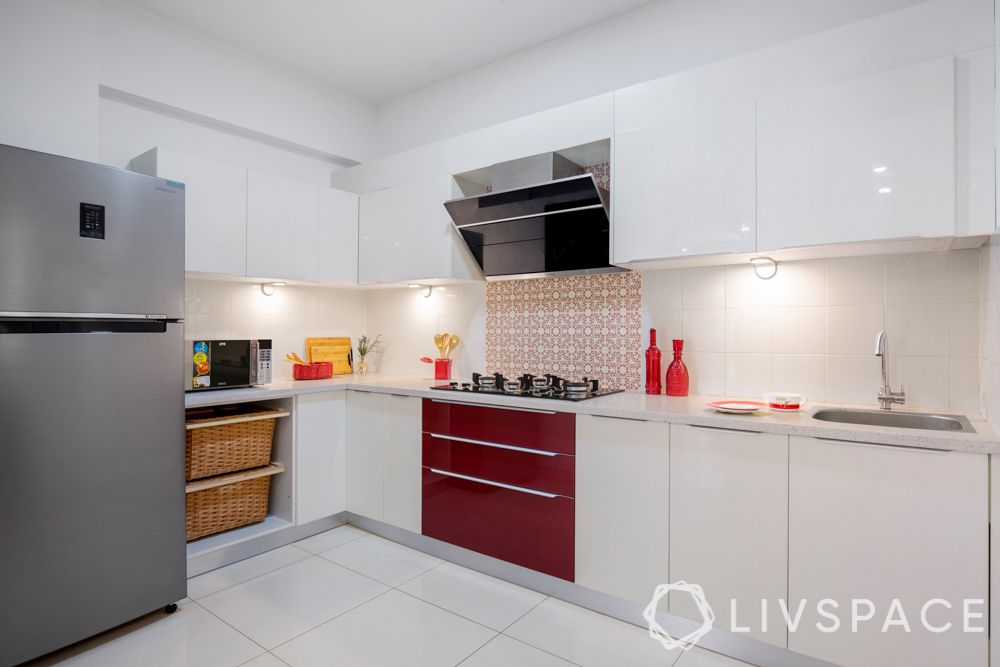 When it comes to kitchen lighting, things just got very interesting for the coming year. Our designers have noticed a marked thrust towards task lighting in kitchens. For instance, under cabinet lighting is very popular among homeowners these days as it lights up the working space on the counter. Also, profile lighting under the cabinets is something that is increasingly capturing the imagination of people.
You can get a detailed breakdown of every kind of kitchen lighting here.
If you enjoyed reading about the kitchen trends that will be coming up in 2020, also explore 20 Interior Design Trends for 2020.
Send in your comments and suggestions.