A unique trend that has been growing in popularity over the recent years, back painted glass is a contemporary addition to your design scheme. You can use this versatile glass style anywhere, from luxe living rooms to stylish bedrooms. Back painted glass kitchen designs are yet another great way to inculcate the material into your home.
What is Back Painted Glass?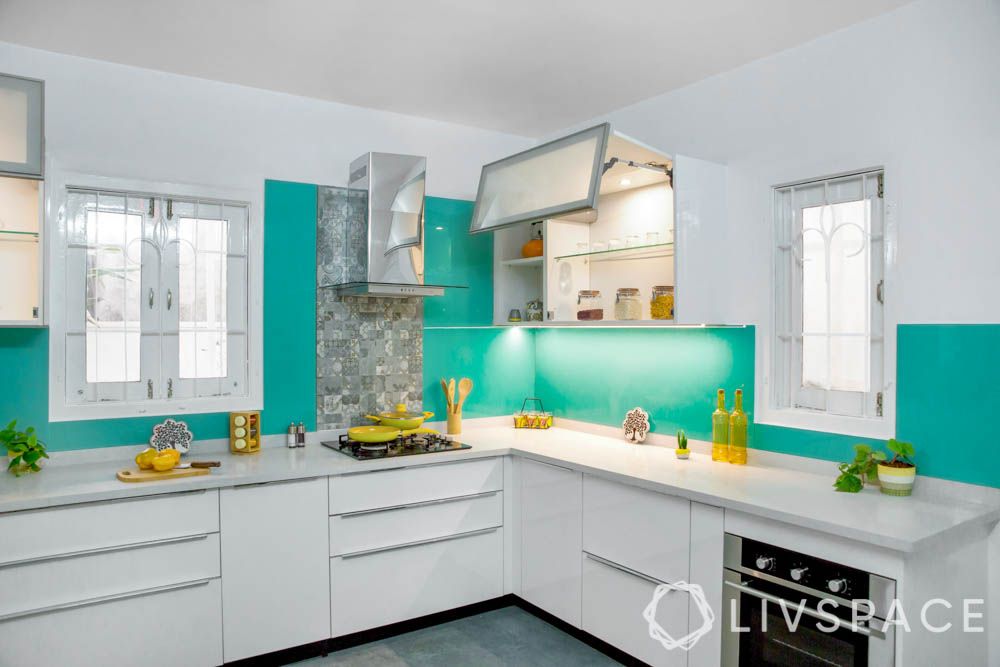 The explanation is in the name– back-painted glass is glass that has been painted on the back. Due to the paint, the effect from the front is that of glass but with a solid colour behind it. Step up the glossy, glass-like appeal with the addition of the colour of your choice.
Where Can You Use It?
Back Painted Glass Kitchen Idea #1: Cabinets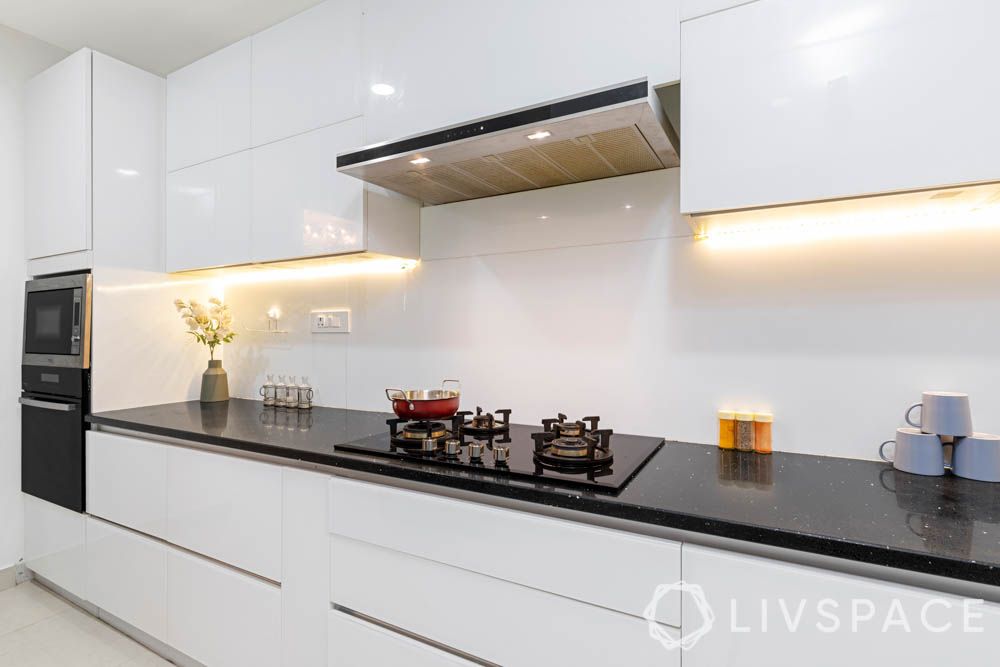 Back painted glass kitchen cabinets translate into a sleek, modern appearance that's perfect for contemporary kitchens. They're easy to wipe down and keep germ-free. If you're hesitating to use back painted glass for all your cabinets, consider installing regular doors and fitting back painted glass for one or two. This breaks up a monochrome palette and adds a welcome pop of colour.
Back Painted Glass Kitchen Idea #2: Backsplashes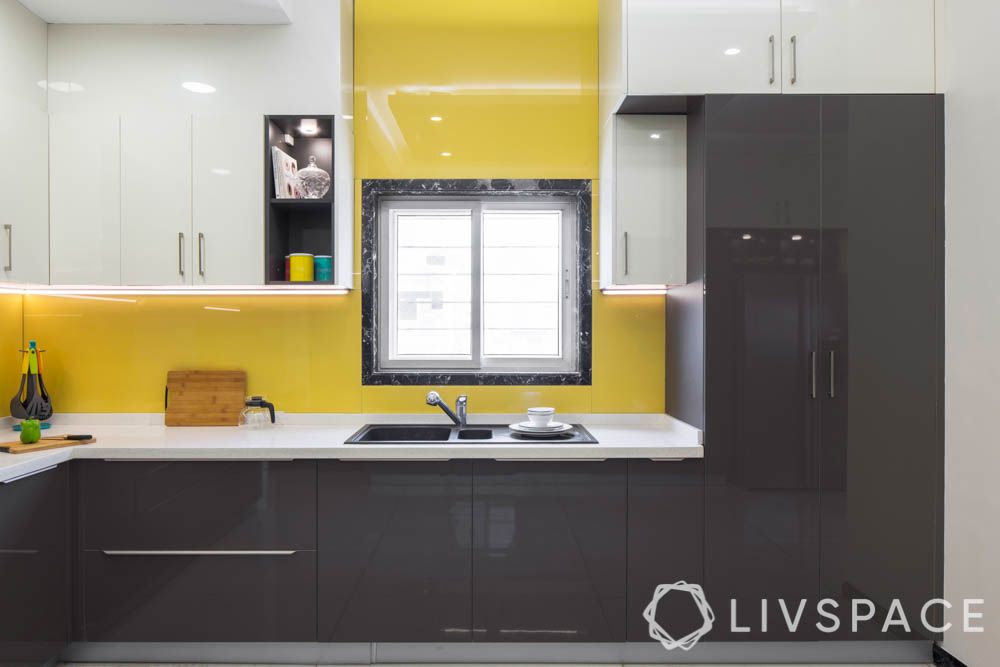 Back painted glass kitchen backsplashes are increasingly common because they take the place of tiles while offering similar benefits. Using back painted glass as a backsplash allows you to add colour to a compact space without going the traditional tiled route. It also makes for easier clean-ups after spills.

Pros and Cons of Back Painted Glass
Pros of Back Painted Glass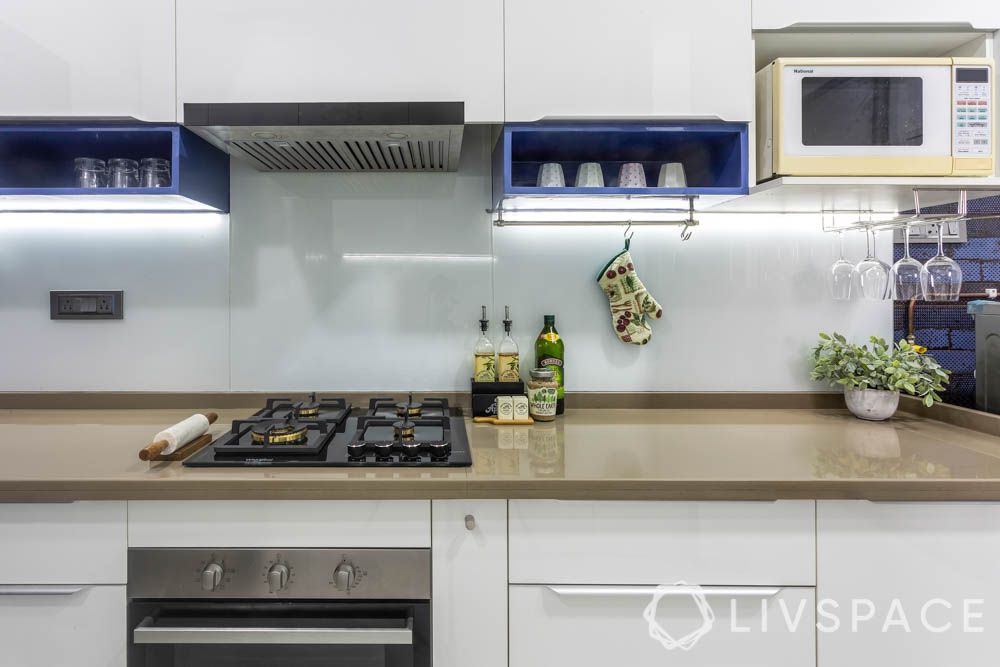 This material is non-porous, which means it won't trap germs or bacteria and will keep your kitchen hygienic. It's also very easy to wipe down and maintain, which is what makes back painted glass kitchen designs popular.
Aside from these pros, the mix of glass and colour helps bring interesting layers into a space no matter its size. This means this glass can be used to reflect light and make a room seem bigger without compromising on colour.
Cons of Back Painted Glass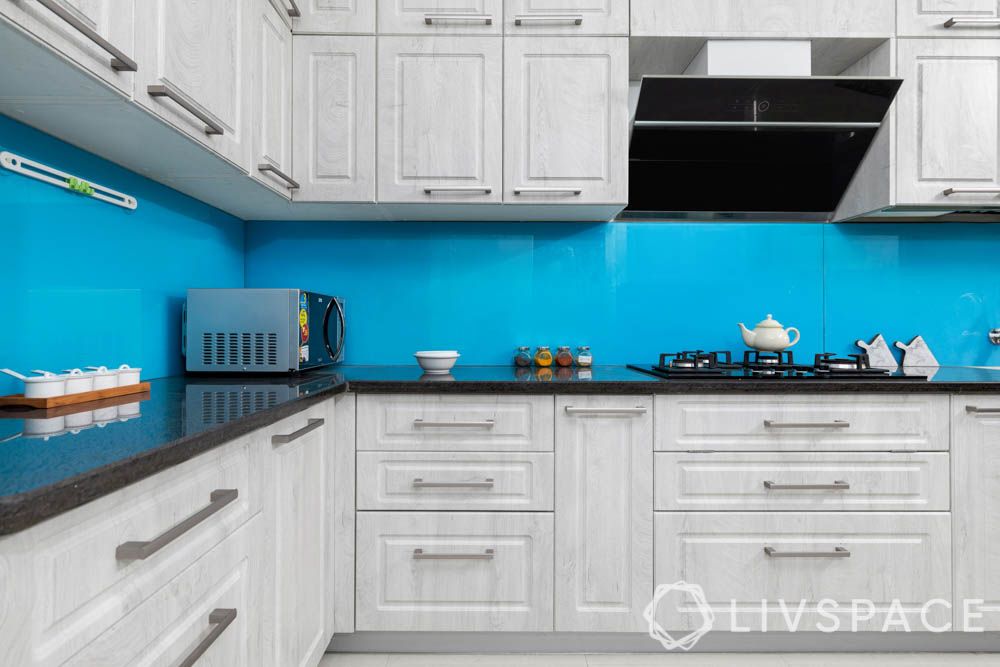 Glass is fragile, which means you need to be extra careful when installing it in high-footfall areas. Once you've committed to a colour, you can't go back on it, which is a difficult decision to make for people who like to switch things up a lot. Fixing or swapping this out is difficult– you may find yourself having to bin all the glass and install fresh ones.
The Cost of Back Painted Glass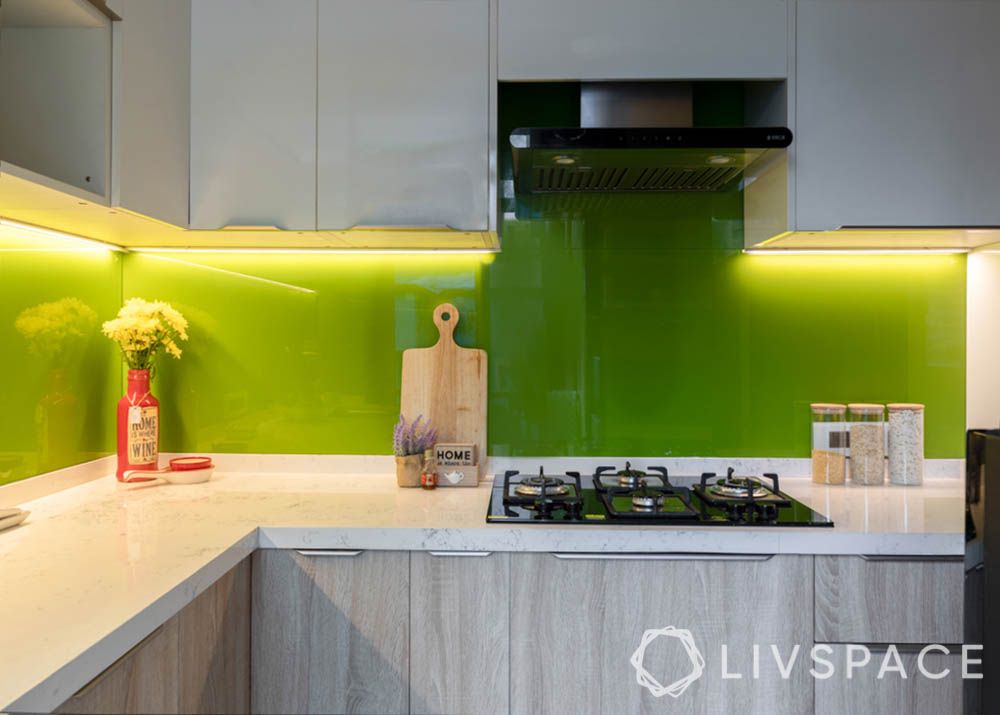 The price of back painted glass varies depending on factors including thickness, weight, size and colour. Your total budget will also need to account for how much area you're planning to cover and the mounts or adhesives that will be used.
It may be tempting to DIY a back painted glass kitchen, but that's a short-term idea that won't hold up. Consider opting for professionals to make and fix your glass so there are no light leaks while painting and no damage while installing.
When balanced out, these pros and cons make back painted glass kitchen ideas a bold choice. Here's where you can use the material in the kitchen:
Back painted glass kitchen setups are contemporary in appeal, richly coloured and quite easy-care, too! Look at this for more inspiration: All About Acrylic Kitchen Cabinets
Check out kitchen designs:
Send in your comments and suggestions.