Some of us can live with a few greasy spots in our kitchen or the occasional curry spills. And then there are those who need their kitchen to be as clean as an operation theatre, 24X7. It's one thing to clean your kitchen regularly and quite another to keep it clean all the time. So we channeled our inner Monica (from Friends), and dang! We figured out that the secret to a clean kitchen that stays clean is in designing it right.
How to Design an Easy-to-Clean Kitchen?
So if you want to keep those OCD attacks at bay by having a clean kitchen at all times, here's what you need to consider in the designing phase.
#1: Opt for acrylic/high-gloss laminate finishes
Glossy finishes are just easier to wipe than matte ones. You have to tread carefully while cleaning a matte finish because you might end up damaging it. But for glossy ones, especially acrylic, it is a clean sweep. So, if you are fussy about cleanliness, opt for glossy finishes.
#2: Plenty of storage frees up space on the countertop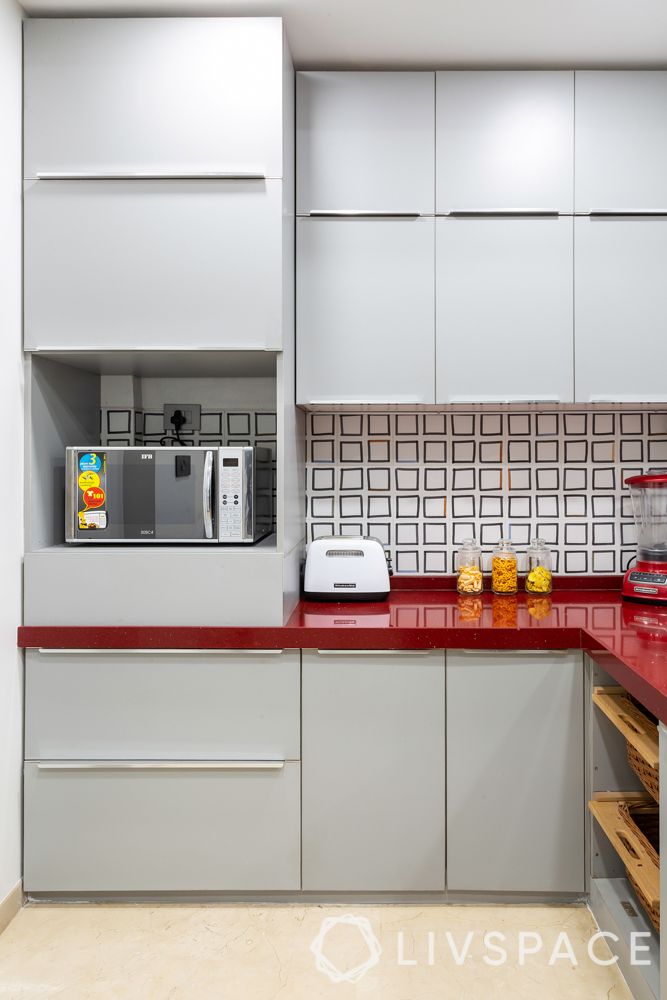 How clean your kitchen looks is also a function of how much 'stuff' is lying around. Typically, these things are miscellaneous items like jars and vessels that consume counter space when they are left lying around. And they lie around because you don't have dedicated storage space for them. Hence, enough storage space for all items in your kitchen would eliminate this problem.
#3: Include a roller shutter unit for appliances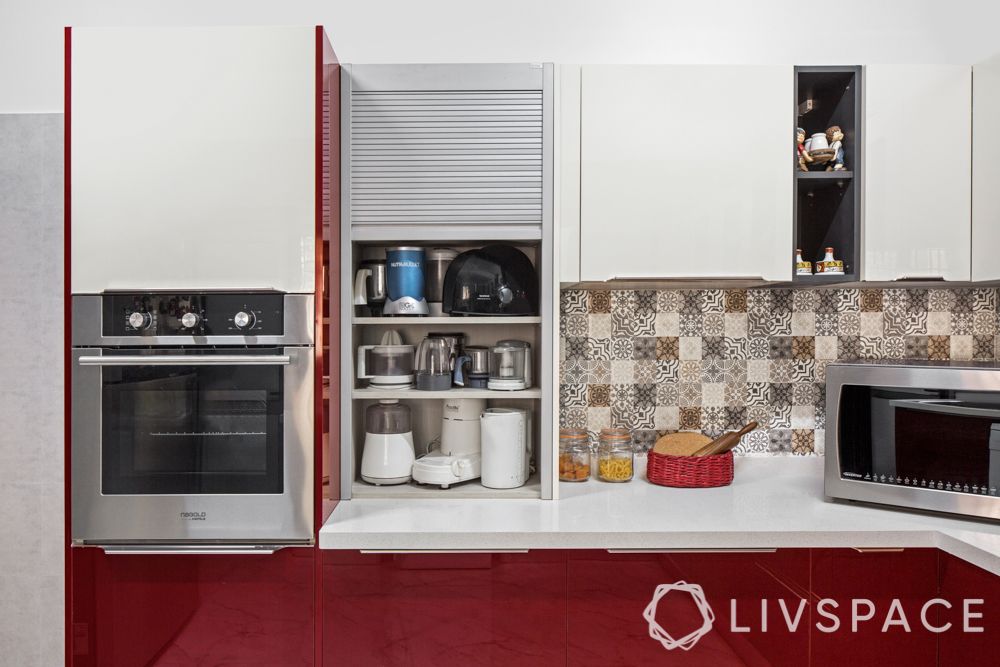 In the same vein, appliances like mixer-grinder or toaster that are used regularly are often not put away everyday. This is mainly because you can't be pulling them out of wall cabinets or lofts; you need them all the time. Thus, it makes sense to have a tambour unit with roller shutter that accommodates these useful appliances and also ensures that they are accessible.
#4: Task lighting throughout makes the kitchen look cleaner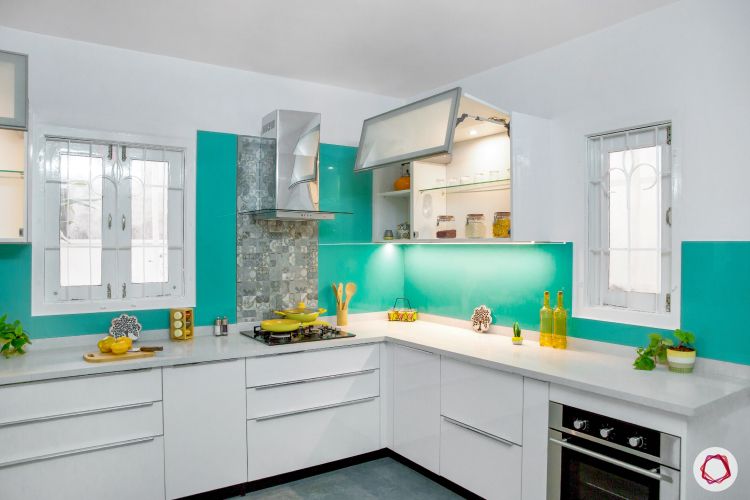 Your kitchen may be all spick and span but what good is it if you can't see it sparkling? Kitchens that have optimum lighting look cleaner simply because of visibility. Task lighting is most helpful in this regard because it focuses on your work areas. Also, you can clean everything down to the last spot only if you can see it.
#5: Have a seamless backsplash with no grout lines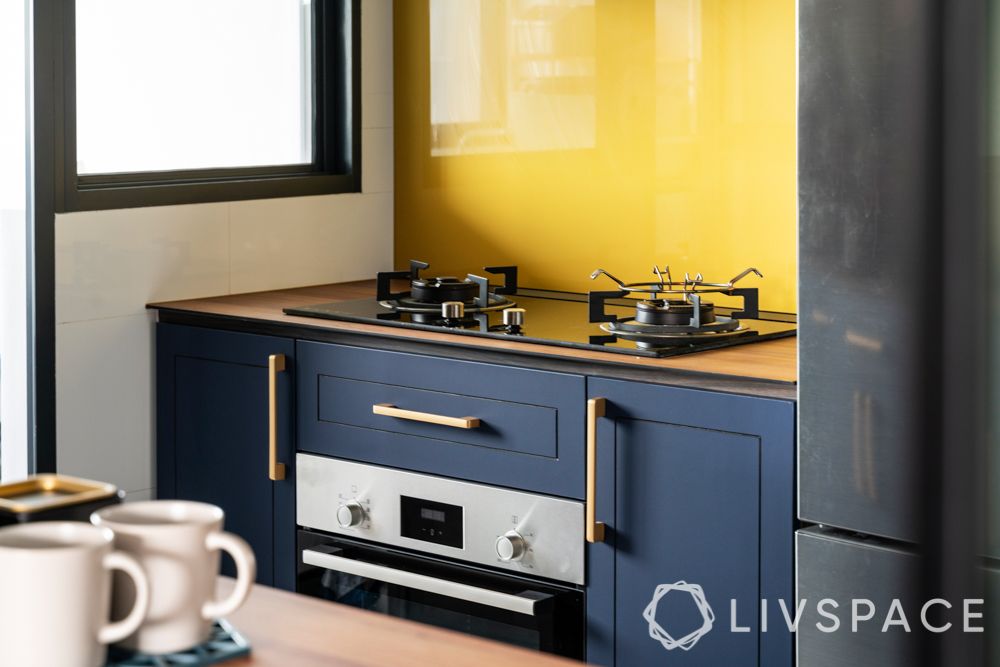 It's official, grout lines are definitely one of the most difficult areas to clean in any space. So instead of breaking your back on them, just do away with them. Seamless backsplashes are in vogue so ditch tiles and go for guilt-free backpainted glass or stone backsplashes. They are just so much easier to clean!

#6: Keep open shelves to a bare minimum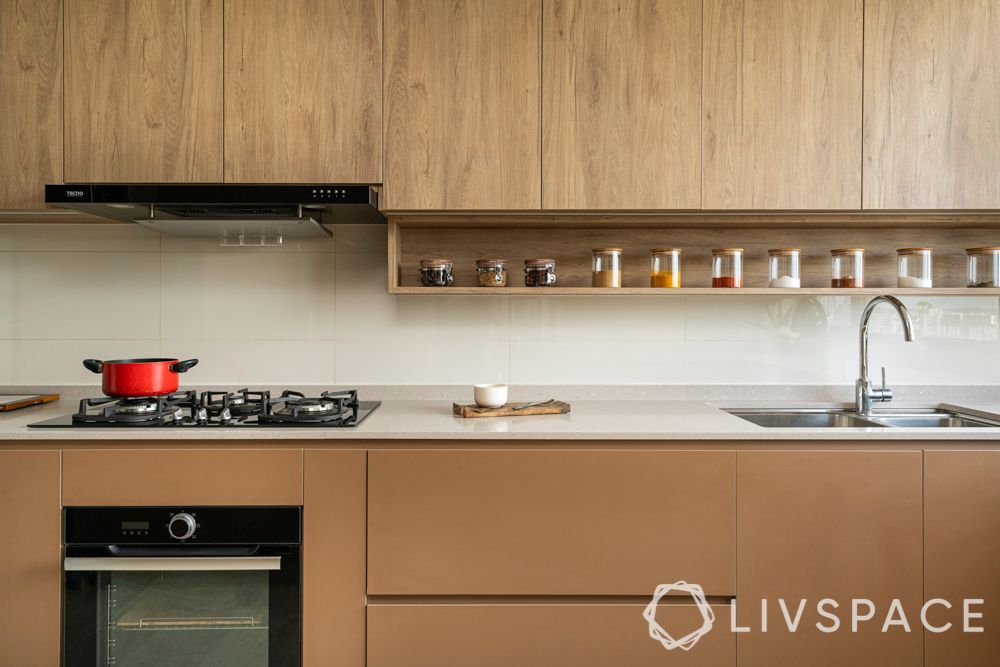 It's a fact that open shelves increase accessibility in your kitchen, but they also increase work. Unlike closed storage, open shelves need to be cleaned every few days (if you are neat) or twice every day (if you are Monica). If you want to have a clean kitchen all the time, it's best to opt for bare minimum open shelves or have none at all. Afterall, you won't just have to clean the shelves but also what you keep on them.
#7: A strong chimney keeps grime away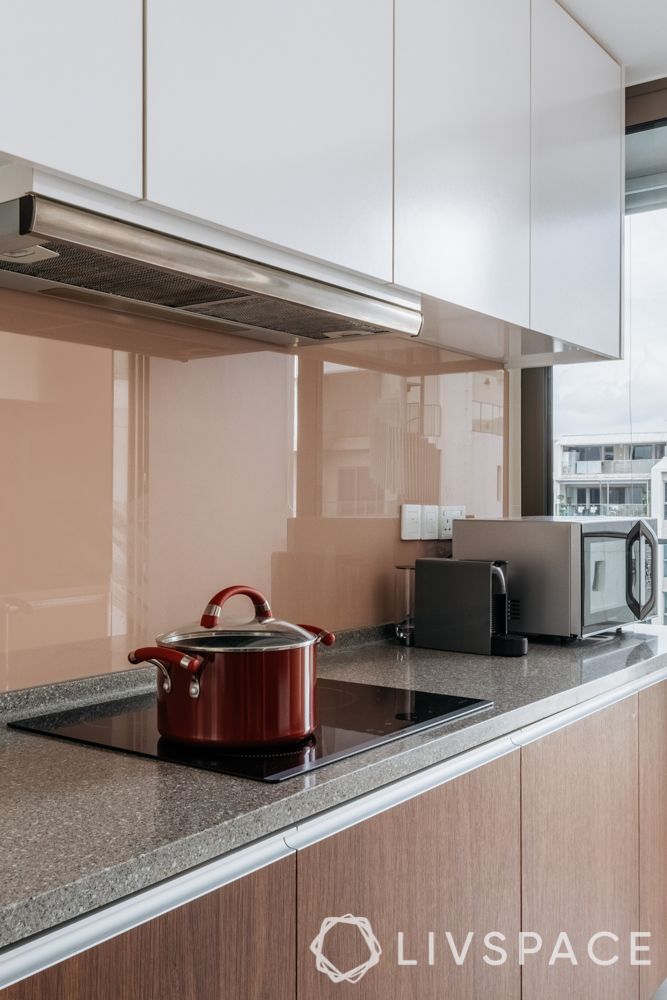 You must have noticed that even when you exercise utmost caution and don't spill anything and keep everything in its place, the kitchen still gets grimy over a period of time. It is because oil and fumes combine to form a layer of stubborn grime on cabinets and the counter. A strong chimney that absorbs the smoke will give you a longer grime cleaning window.
Wondering which chimney to buy? Here's our ultimate chimney buying guide.
#8: Pick a non-porous material for the countertop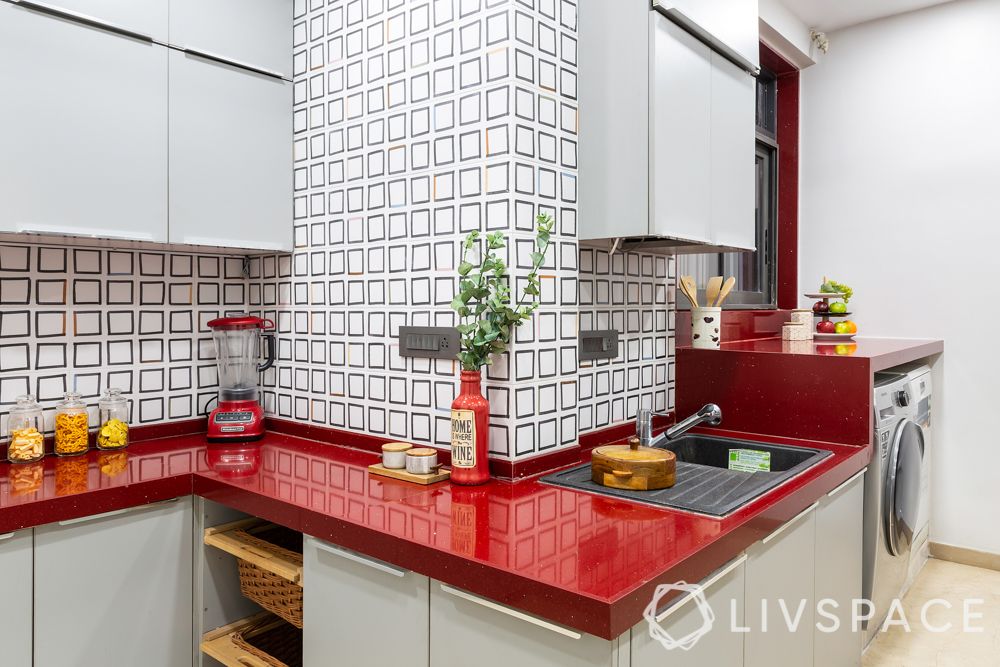 Natural stones are porous and can easily absorb stains. So pick fortified or artificial stone like quartz or Corian stones for your kitchen counter. These stones have higher heat resistance than natural stones like marble and granite. They are also more resistant to stains, particularly oily ones. Darker colours are also better if you are afraid of stubborn stains like turmeric.
You can also learn to get rid of turmeric stains here.
#9: Garbage bin should be under the sink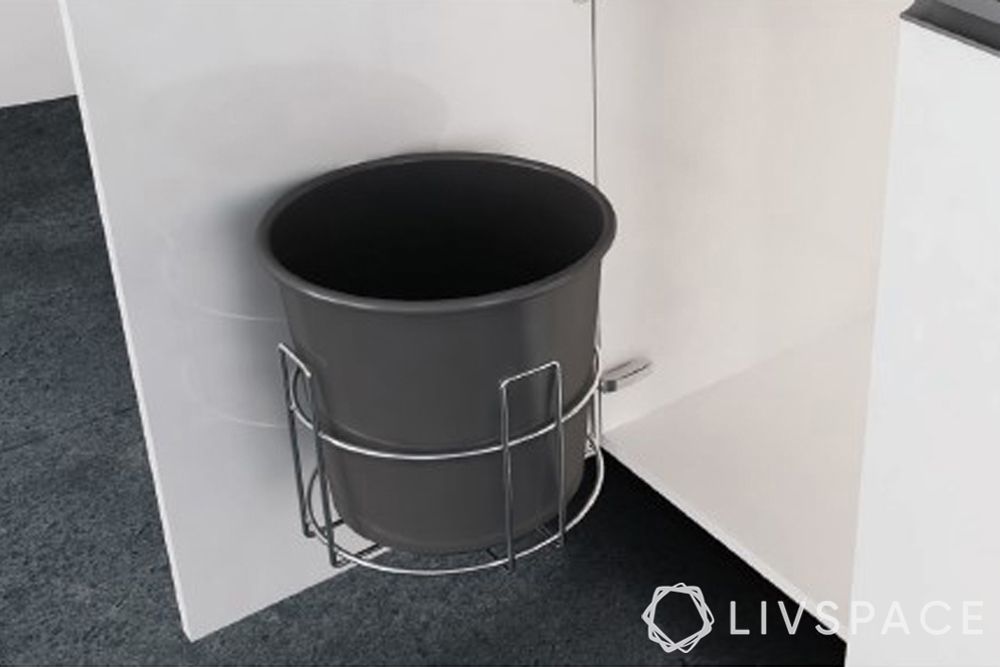 If you have dropped potato peels on the way to the garbage bin in your kitchen, you'll appreciate why it is important to have one close at hand. Install a holder for your garbage bin and keep it under the sink. Also, keep as many garbage cans as you need in your kitchen so that you can have a clean kitchen all the time.
#10: Keep fancy lights away from the hob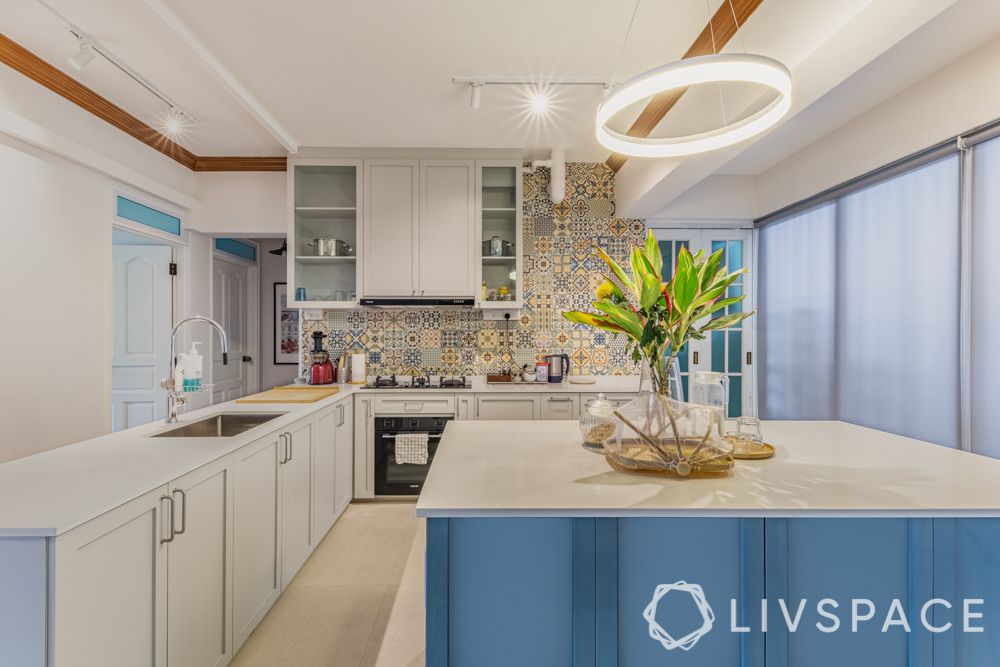 Fancy electrical fixtures like pendant lights add that extra edge to your kitchen. However, they also tend to get really grimy if they are too close to the cooking area. Keep such decorative items away from the hob, and in effect, from the flame.
What else can you do?
Clean after every meal or at least at the end of the day
Create zones in your kitchen and work accordingly; for instance, chop only in the designated area so that you have to clean only that area later
Cover and cook as much as possible
Have a cleaning routine and follow the steps religiously
Have a open house cleaning day every month to be at the top of your game
Now that you know how to design an always-clean kitchen, avoid these Kitchen Design Mistakes too.
Send in your comments and suggestions to editor@livspace.com