More often than not, we find ourselves struggling to cook efficiently when we don't find things in the right place. Burnt tadkas, overheated pans and spilled spices are the results of a poorly organised kitchen. We tend to start our day with a cup of hot coffee brewed in the kitchen and end it by cleaning up the kitchen post-dinner or raiding the kitchen for a midnight snack—most of us doing the latter anyway. A shabbily set up kitchen makes cooking an ordeal; especially when you're on the go and need to whip up something quick. This is where smart kitchen organisation becomes a necessity. Well, fret not because here's a chance for you to set your kitchen just right with 41 genius kitchen organisation ideas.
ALSO READ: 5 Kitchen Zones That Can Make Cooking Easier for You
Kitchen Organisation Tip #1: Buy Dabbas That Fit Into Your Closets and Shelves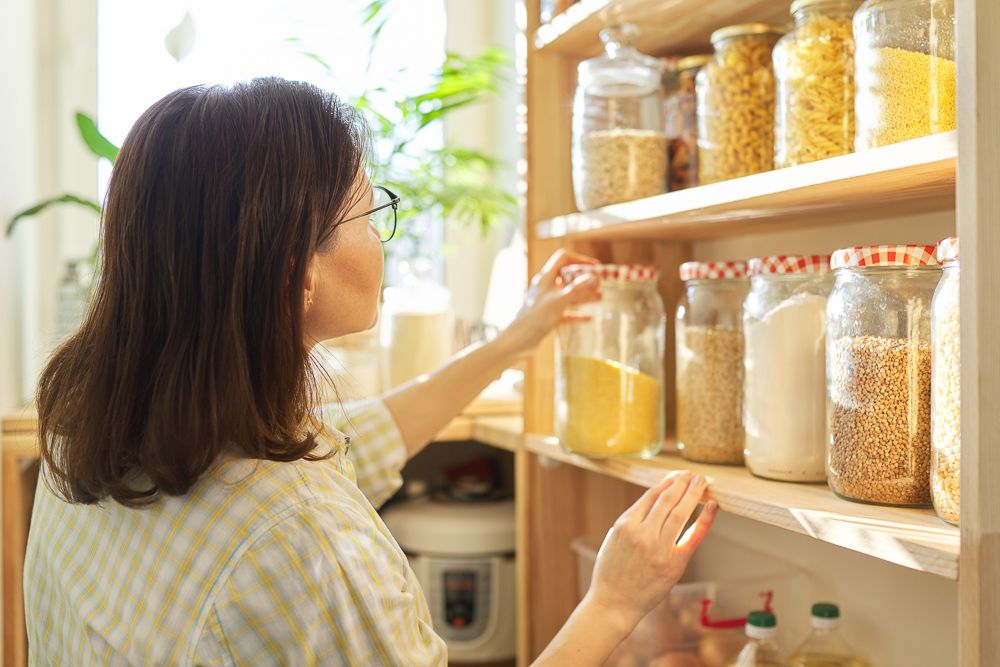 When we go into home organisation mode, it is normal to give in to the impulse and buy containers and boxes to "organise" things. But, often, these bulky dabbas add to your kitchen organisation woes. When you're looking for storage containers, consider the shape and size of your racks, shelves and storage units. If your containers do not fit into these, they tend to end up on the countertops and tables, making things all the more messy.
Kitchen Organiser Tip #2: Invest in Kitchen Organisation Products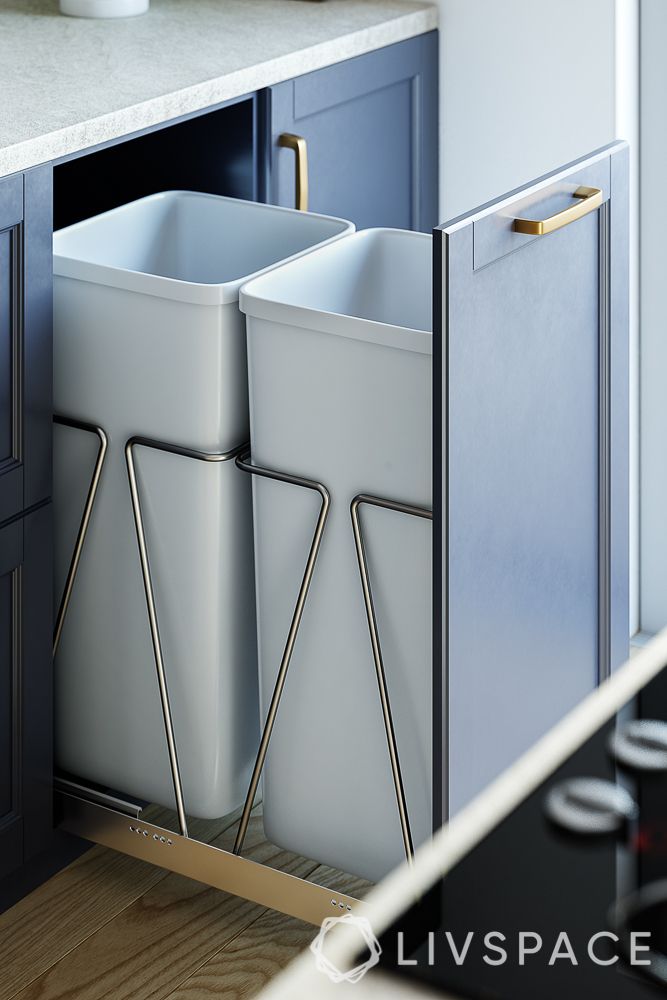 Similar to home organisation products, you can source the kitchen organiser of your choice like spice racks, cutlery storage, pan holders and more. These are easily available online and in stores near you. Even small things like drawer organisers are useful in making things easy for you. This is one of the kitchen organisation ideas you won't regret investing in.
Kitchen Organisation Ideas #3: Keep All Surfaces Clean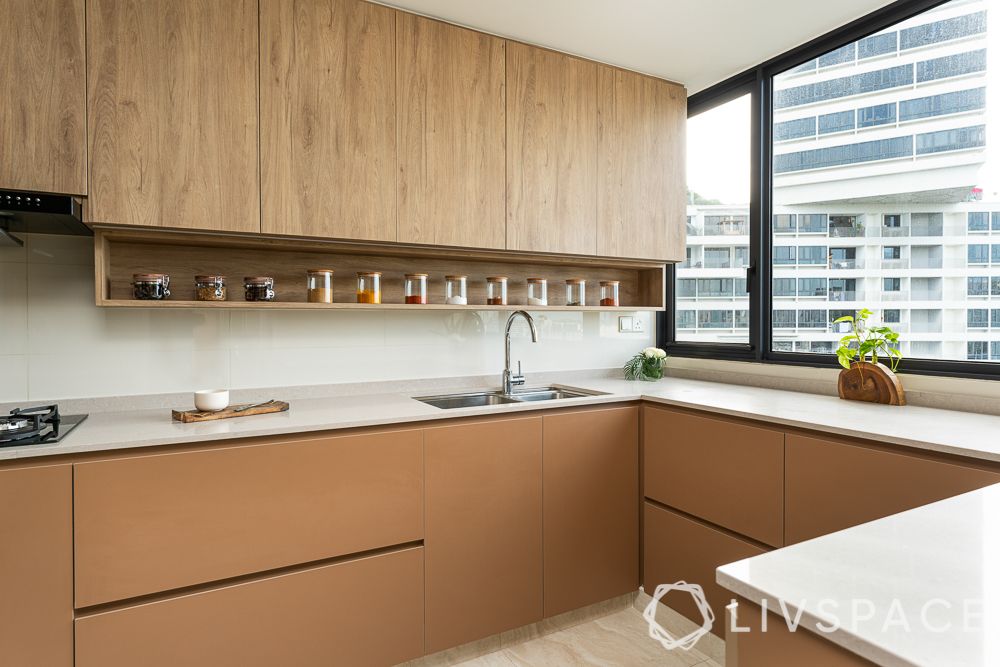 Storing things on open surfaces like the countertop or next to the sink will help you reach them faster when you're cooking in a hurry. Well, that's just a myth! The truth is that they usually get in the way when you're moving around. Imagine holding a hot pan only to find no space on the countertop or, worse, knocking off something while you use the sink. With proper kitchen organisation, you can ensure that everything has its dedicated space and does not overcrowd your countertop. If you're looking for small kitchen organisation ideas, keeping countertops clean is at the top of the list in any article.
Kitchen Storage & Organisation Tip #4: Delegate Space for Every Chore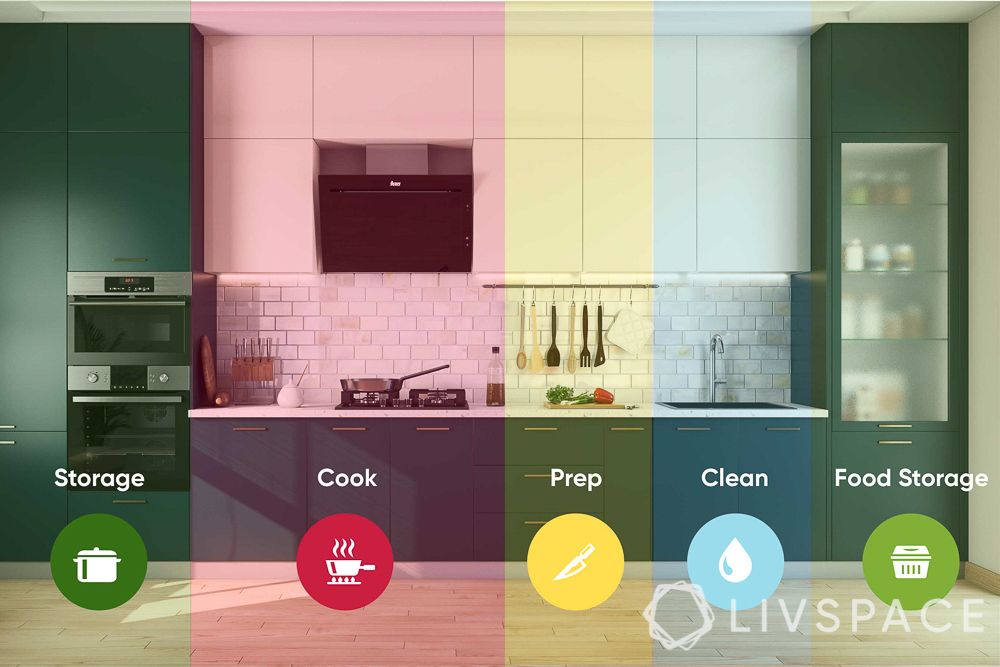 A kitchen designed by professional interior designers usually has dedicated zones—wet areas, dry areas, cooking zones and more. This is to make your cooking a breezy affair. That way, even when you work in a small space, multiple people can work together without bumping into each other. If you're getting your kitchen designed, ask the expert for tips on how to segregate these zones and create the best setup that considers optimal kitchen storage & organisation. Kitchen organisation ideas should start even before designing your kitchen to make it truly efficient.
ALSO READ: 5 Things You Might be Doing Wrong With Your Kitchen Storage
Organising Ideas for Kitchen #5: Never Let Dishes Pile Up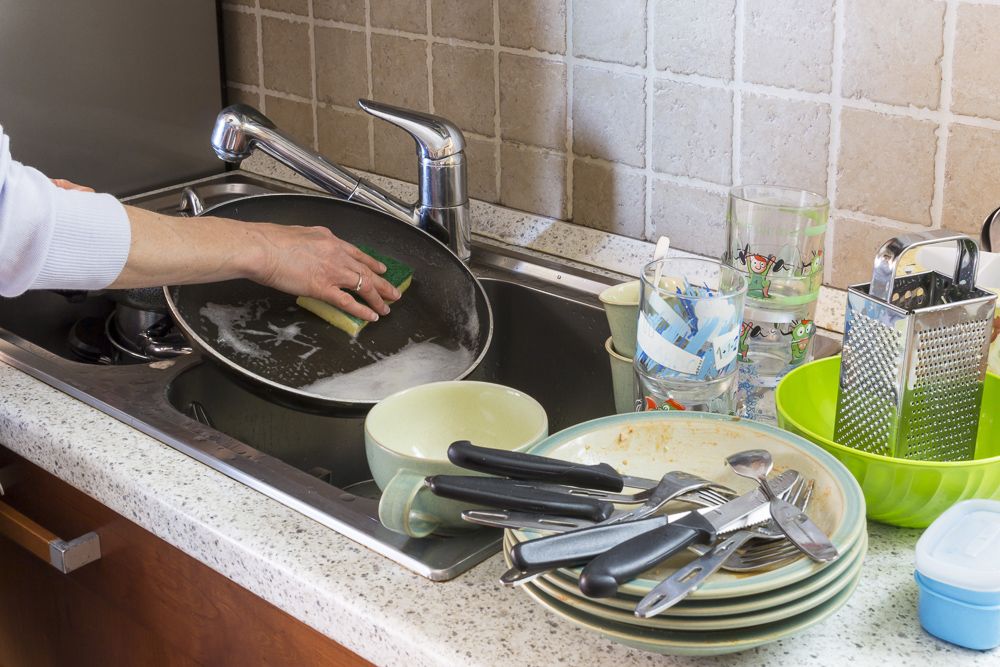 Cooking is fun. Eating the meal is satisfying. But clean up? That's the part that all of us hate. We tend to procrastinate and push it for later. . But if we're considering kitchen organisation ideas, keeping it clean is the way to go. That's because, even in home organisation, decluttering and daily cleaning creates a Zen zone. So, to avoid frustration the first thing in the morning or any time you cook, you should clean up your dishes as and when you are finished. You can also dedicate 15-30 minutes at night just to clean the kitchen once you're done for the day. That way, you're never carrying yesterday's clutter to tomorrow's woes.
Kitchen Organiser Tip #6: Make the Most of Your Base Cabinets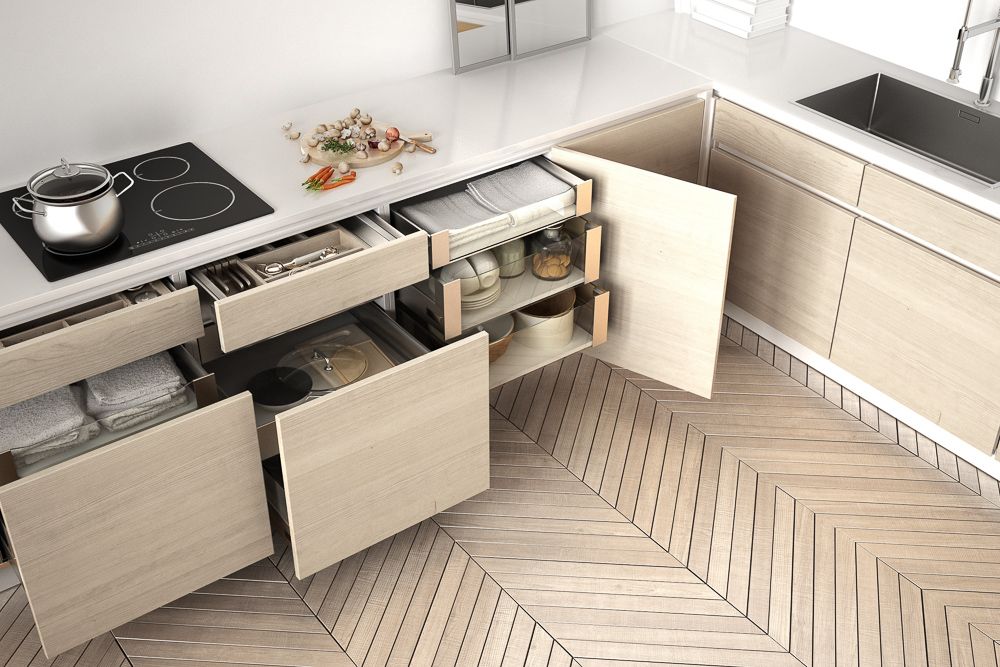 When you're looking for office organisation tips, you know that cabinets make it easy to keep things in order. However, at home, we tend to ignore base cabinets because we might need to bend to access the utensils. But, did you know that base cabinets are built to hold most of your heavy pots, pans and crockery? It is also the safest option as you can avoid accidentally knocking a heavy utensil on your feet when you store it in the bottom cabinets. So, if you are looking for Indian kitchen organisation ideas, ensure that you store all your essentials in the base cabinets.
Kitchen Organisation Ideas #7: Learn the Art of Stacking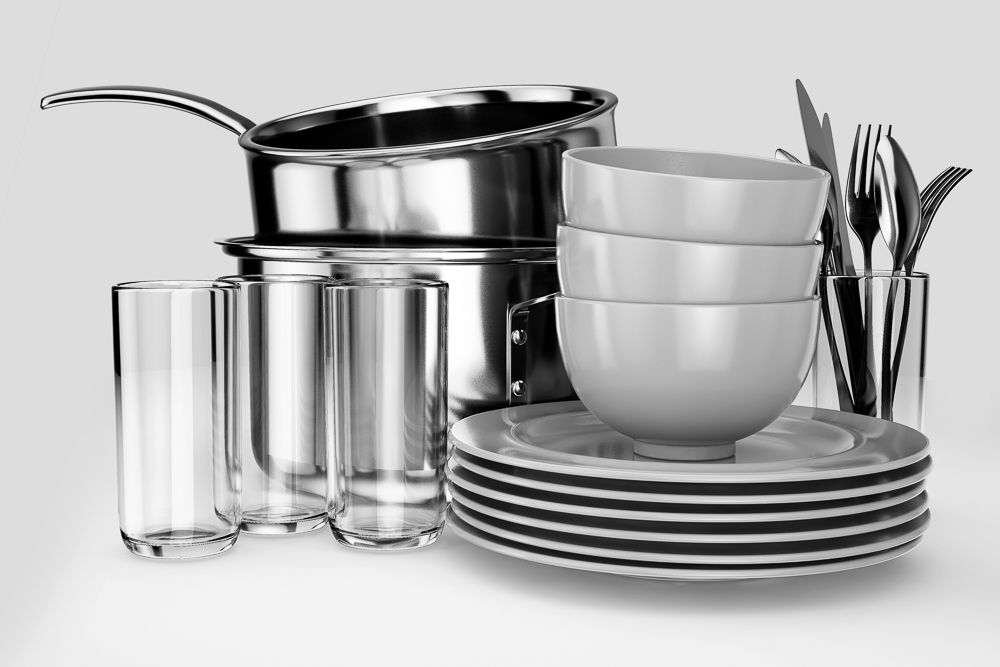 If you want to organise small kitchen, try kitchen organisation ideas that allow stacking of utensils, containers and more. For example, buy containers that stack inside each other. So, when they're not in use, you can combine them and store them instead of finding different places for everything. Even pots and pans can be stacked easily. It also helps in closet organisation to store more utensils in your kitchen cabinets.
Kitchen Organiser Tip #8: Get Your Dustbin Game on Point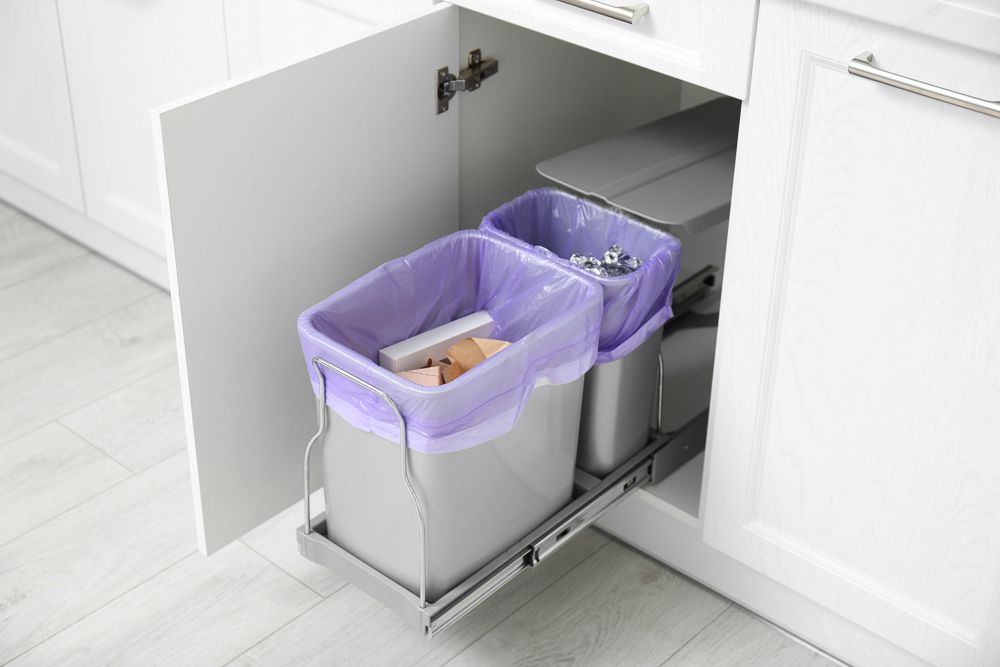 The kitchen produces a lot of waste, and most household rubbish also finds its way into the dustbin, which is often kept in the kitchen. As such, a dustbin is that one kitchen organiser that you must have. Finding the right place to store your rubbish can help avoid bad odour, stop flies from entering your space and ensure there is no obstruction to the smooth flow of your cooking. Ideally, one of the kitchen organisation ideas is to affix dustbins to base cabinet doors or give them their own cabinet. Try to use different dustbins to dispose of dry and wet waste. That'll help you segregate waste better and save the environment.
Kitchen Organisation Tip #9: Choose Storage Products That Double as Decor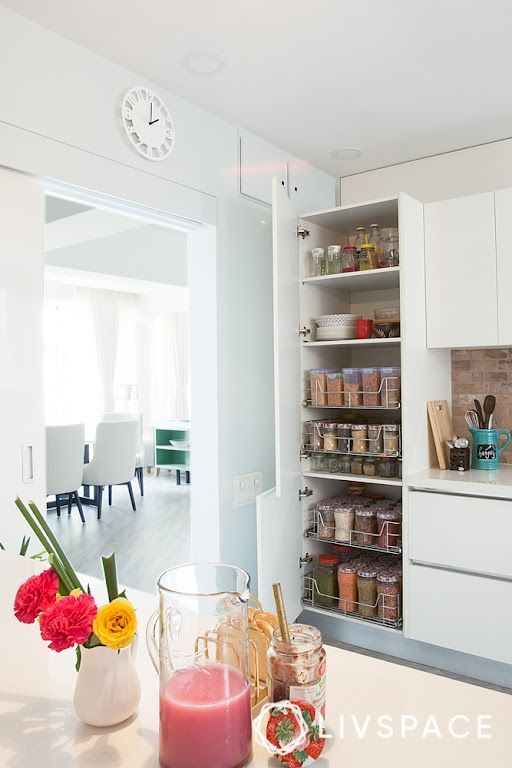 The first step to a clean and organised kitchen is to have ample storage. But if you think storage boxes can look ugly, think again! Kitchen storage & organisation does not have to be boring. Instead of buying plain storage boxes, invest in pretty jars that double up as decor. These are easily available both online and in your nearest decor stores.
Clean Kitchen Tip #10: Start Labelling Your Kitchen Items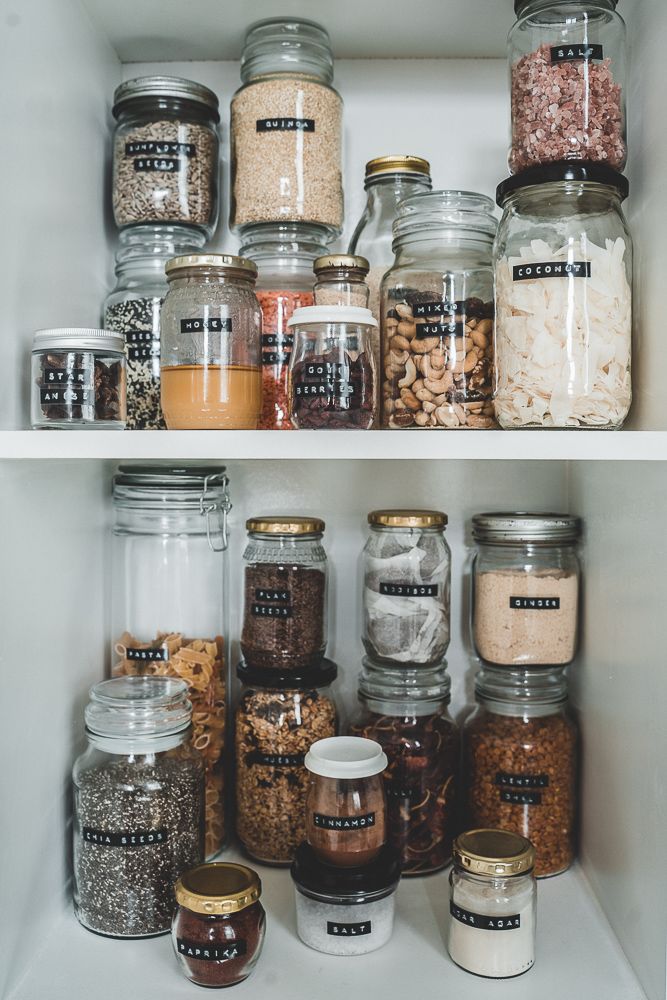 Don't you just hate it when you're in a rush, and you cannot find the salt? A disorganised kitchen, crammed to the brim with jars and pots filled with condiments, can be a pain! The easiest way to save the time you would otherwise spend on searching for grains and other ingredients is by labelling all your storage containers. This will ensure you know exactly where everything is and don't end up putting salt in your tea.
Kitchen Organisation Ideas #11: An Empty Wall Can Serve as Vertical Storage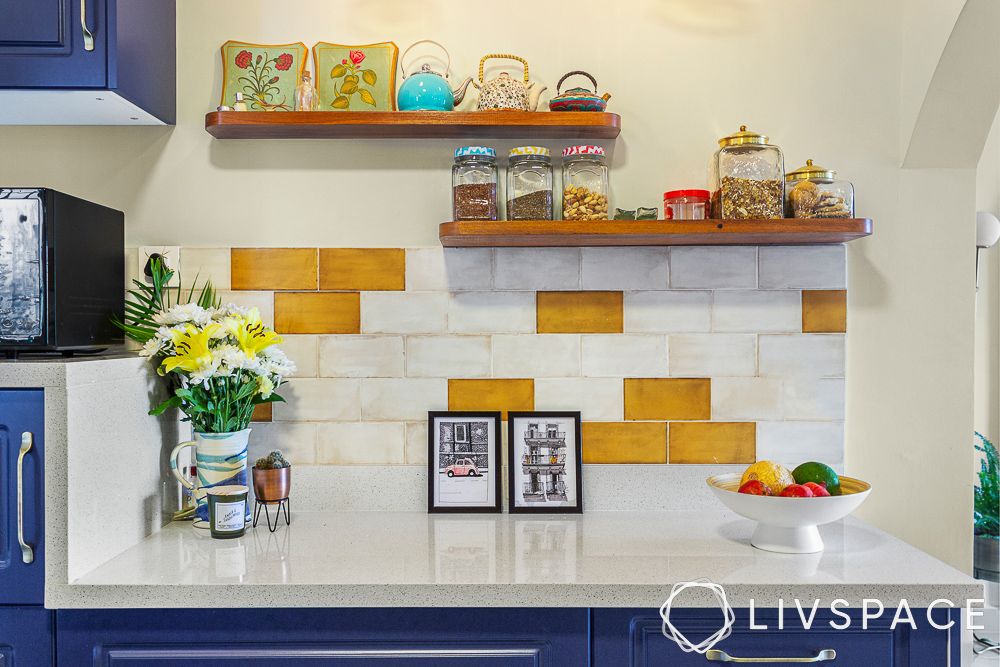 Irrespective of the space available, we all want a well-organised kitchen. If you have a big kitchen space, this doesn't pose a problem, as you can easily add extra cabinetry and counter space. But what if you have a compact kitchen (like most of us)? To organise a small kitchen, look towards your walls. Vertical storage can help you make the most of the space on your walls. If you have an empty wall, add some shelves, and you're good to go!
Kitchen Cabinet Organisation Tip #12: Ensure Your Essentials Are Within Reach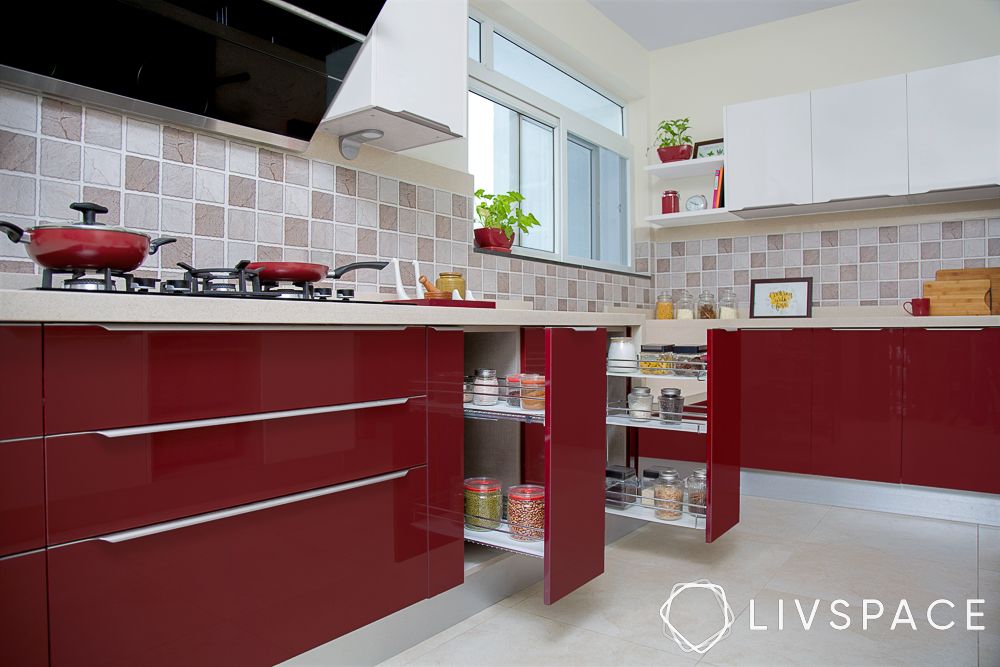 If there is one thing that your kitchen should be, it is easy-to-use. Storing away your salt and sugar containers in the top-most cabinets and that rarely used bottle of paprika at eye-level reeks of bad planning! One of the most important kitchen organisation ideas is to keep things that you use regularly at eye-level. If there is no space near your counters, you can install pull-out racks in your lower cabinets for easy reachability.
Kitchen Organiser Tip #13: Keep Your Fridge Organised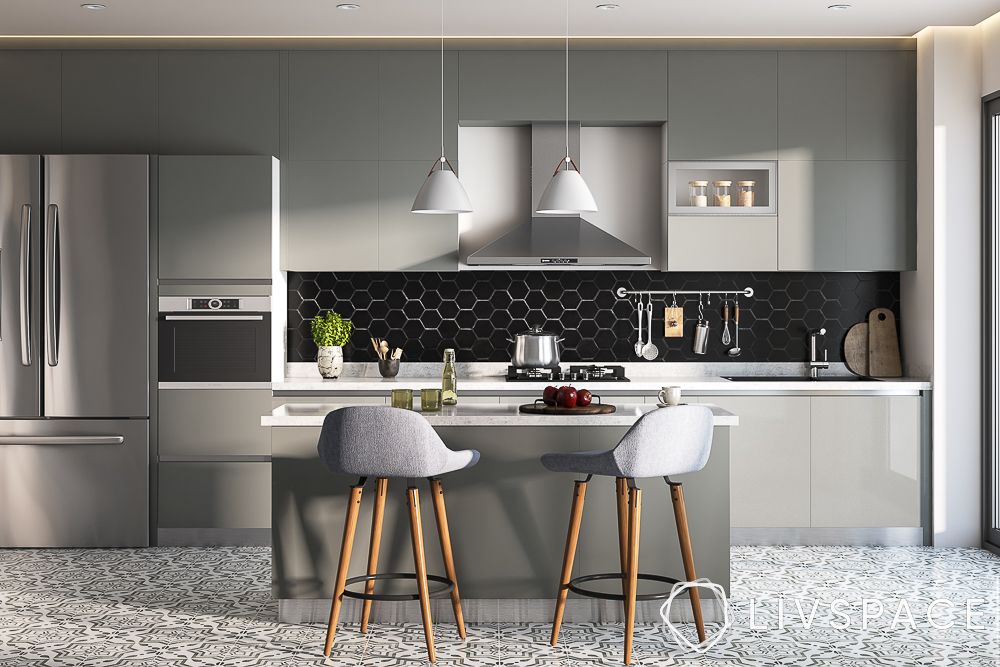 A well-organised kitchen also includes a well-organised fridge. Most of us are prone to throwing our groceries into the refrigerator right after buying them. The best way to avoid a cluttered fridge is to invest in kitchen organiser products like a fridge organiser drawer, adjustable storage baskets and stackable storage bags. This will ensure that you keep all your food items where they belong in the fridge.
Organising Ideas for Kitchen #14: Make Use of Dead Corners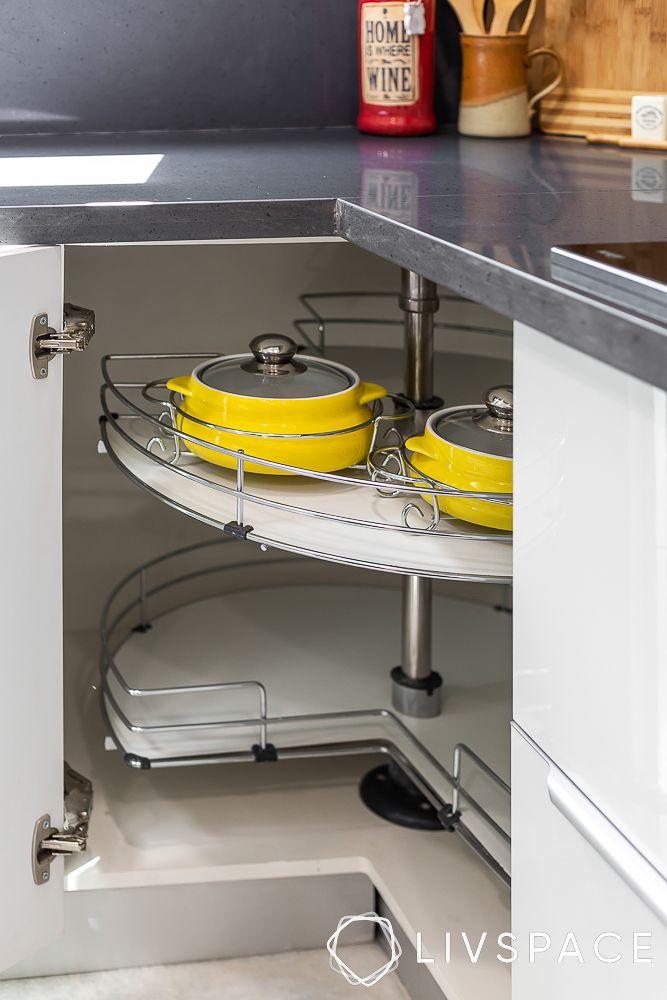 No more space in your kitchen for storage? Think again! The corners at the T-junction between two counters, otherwise considered to be dead space, can also serve as storage. However, before you start using the space for storing your essentials, buy a kitchen organiser like a Le Mans Corner. This will not only give you some extra space, but also make the task of pulling out the unit and taking out your things a straightforward and effortless one.
Kitchen Storage & Organisation Tip #15: Don't Forget the Importance of Organised Drawers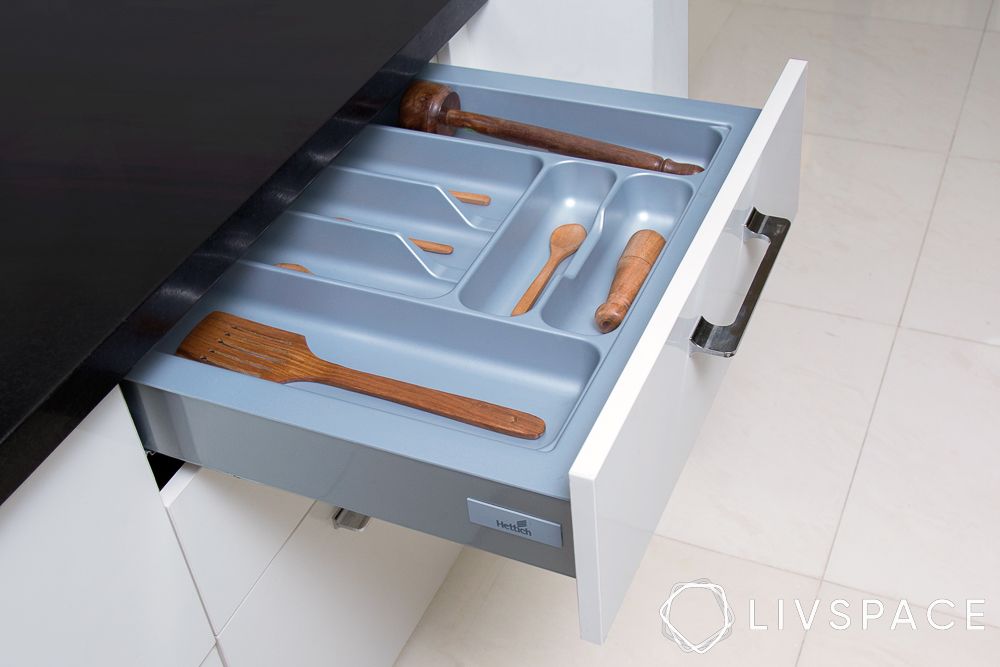 When it comes to kitchen storage & organisation, the kitchen drawers are often neglected. Not only is a cluttered drawer unattractive, but also it can be dangerous if you keep knives and other sharp objects. Have separate drawers for your plates, spoons and other cutlery. You can also install drawer organisers to make it easier to avoid clutter.
Kitchen Organisation Tip #16: Breakfast Bar to the Rescue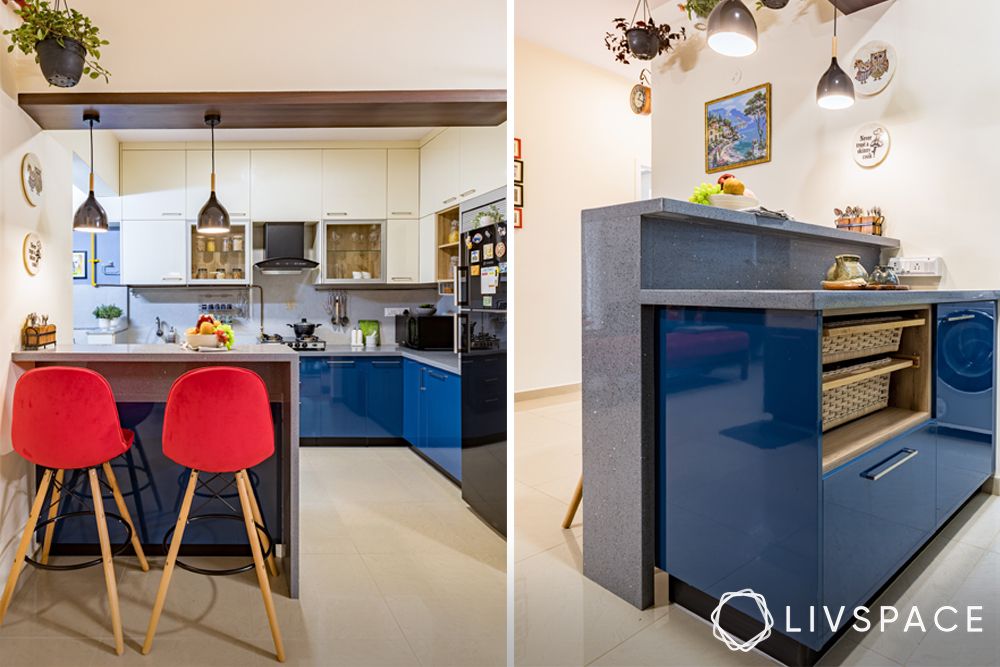 When you want to maximise storage, you need to look towards innovative solutions. If you have a breakfast bar in your kitchen and are looking for organising ideas for kitchen, consider adding a storage unit behind the bar, instead of leaving the space empty. You can use the unit to store things like spoons, cups, breakfast plates, napkins, wicker baskets for fruits etc — things that you would ideally be using while having your breakfast.
Kitchen Counter Organisation Tip #17: Hang Your Daily Use Utensils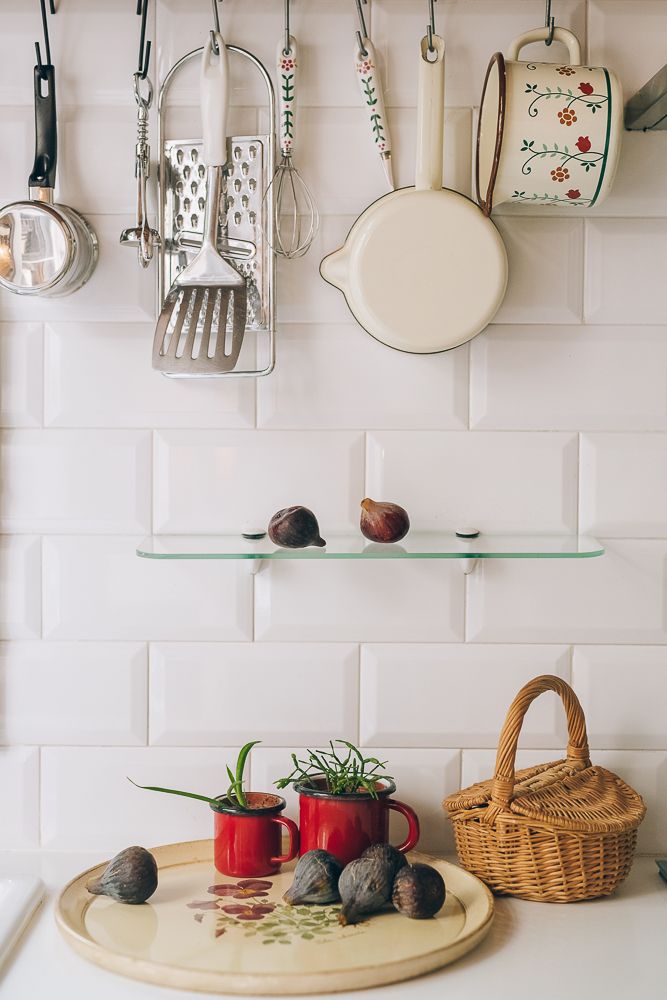 Nothing looks more disorganised than a kitchen counter covered with spoons, bowls, plates and other cutlery. At the same time, keeping your daily use spoons and other cutlery inside cabinets can be very inconvenient. To ensure your kitchen counter organisation game is strong, install some hooks on the wall above your cabinet and hang up the things that you regularly use like a chopping board, a dish towel, or your ladles and spoons.
Kitchen Counter Organisation #18: Use Trays on Countertops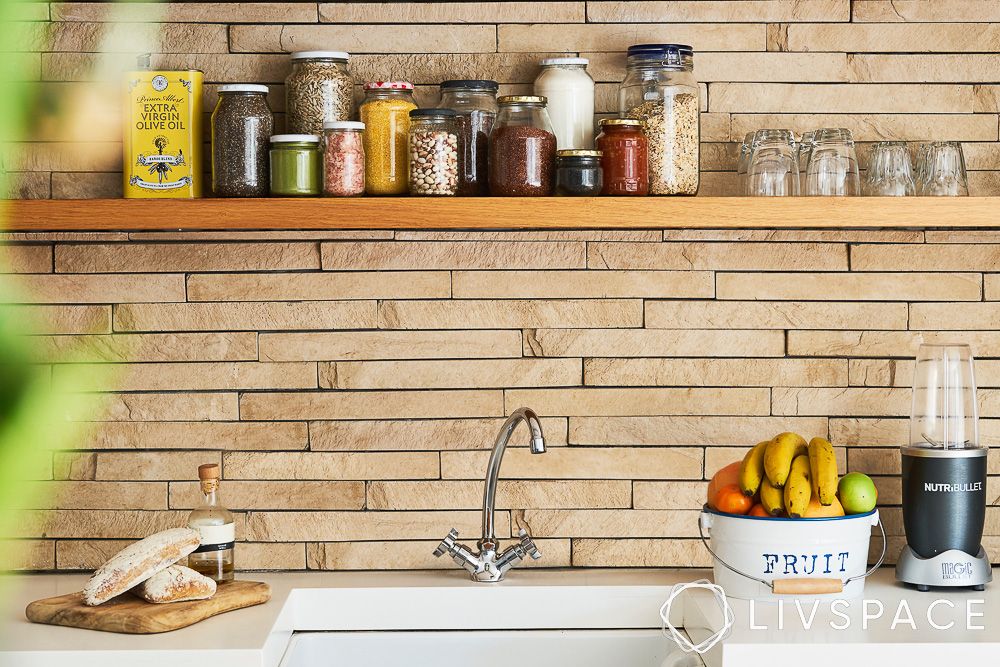 Kitchen counter organisation is an essential part of having a clean and clutter-free kitchen. But no matter how much we try to maintain a clean kitchen, our counters always end up cluttered! To avoid this, place some trays on your counter dedicated to specific things. For instance, you can keep a tray for all your bowls and plates. While this will definitely help you organise, it will also increase the amount of space available.
Kitchen Organiser Tip #19: Use the Space Underneath Kitchen Shelves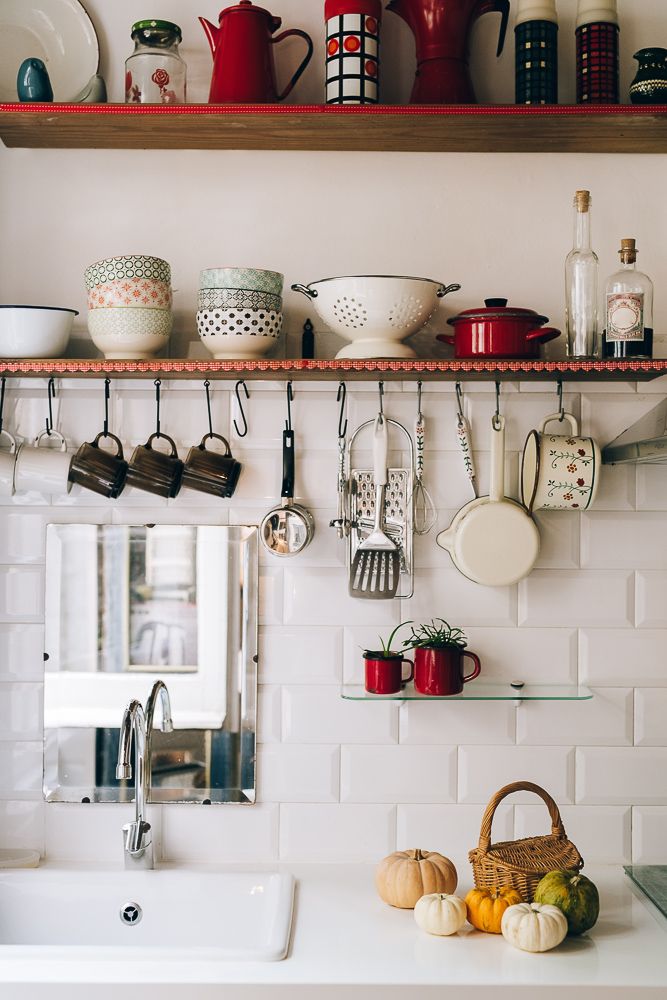 You don't need kitchen organiser products that are too savvy or even a huge budget to have a clean and clutter-free kitchen. You can easily make some minor changes to your existing kitchen furniture. One of the things that you can do, especially if you have a tight budget, is to install some hooks on the space underneath your shelves. And if you're looking to buy some new shelves, look for ones that come with hooks attached underneath.
Organising Ideas for Kitchen #20: Install a Chalkboard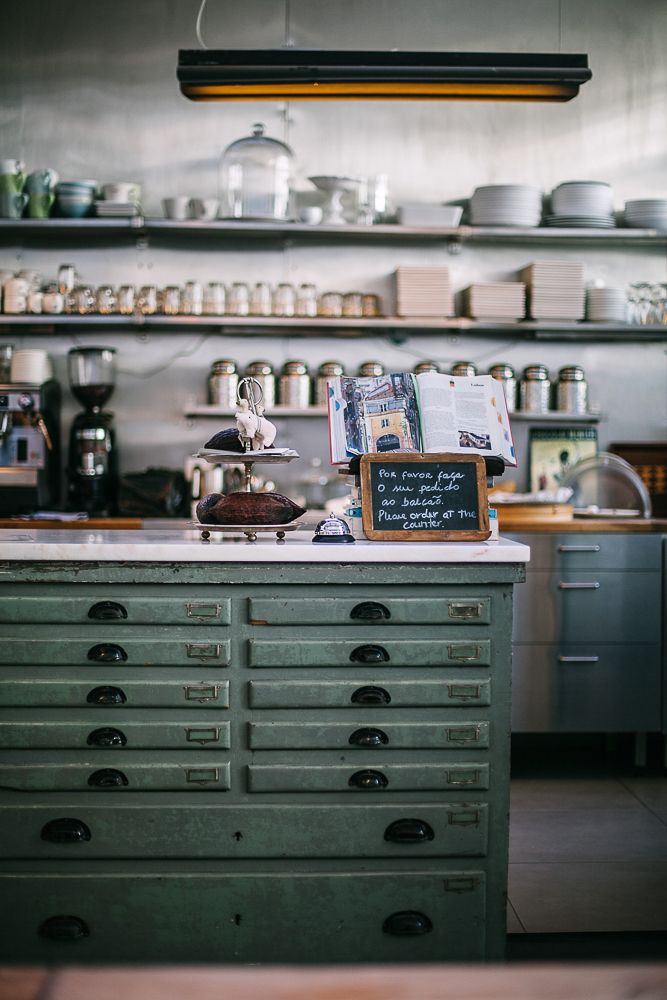 Is your kitchen covered with tiny sticky notes to help you remember all the things that you need to buy? If your answer is yes, then it's high time that you get yourself a chalkboard. You can either install this on an empty wall, cabinetry or on your refrigerator. Having a chalkboard in place will also help you buy the things that you actually need, and not the things that you think you need, thereby saving space.
Kitchen Organiser Tip #21: Organise Cleaning Brushes Properly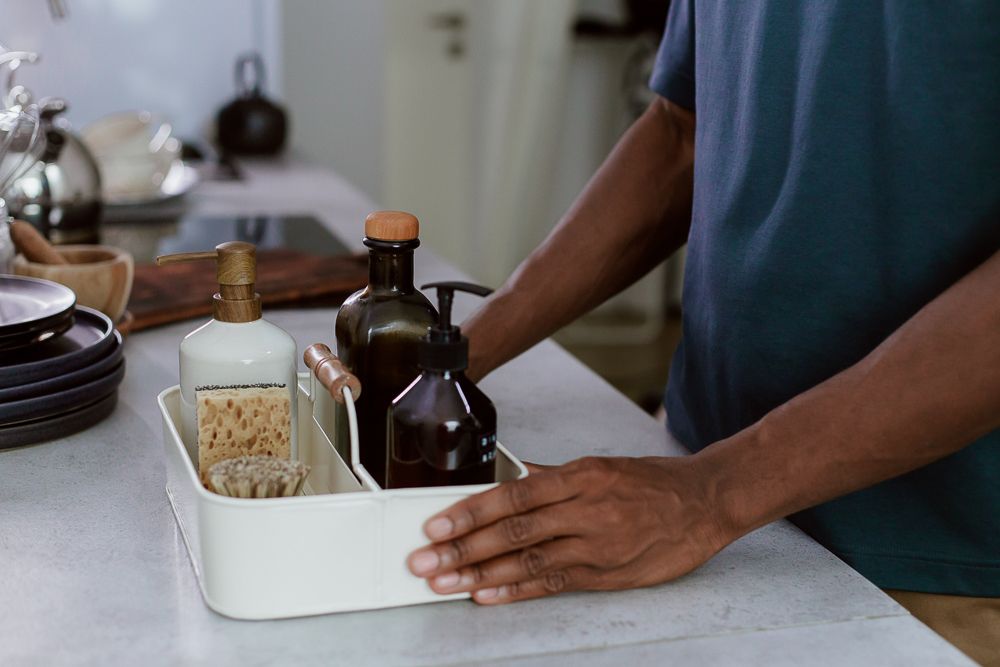 When it comes to kitchen organisation, one thing that you must keep in mind is hygiene. Your wet, cleaning brushes can be a breeding ground for bacteria, if not stored properly. Keep a kitchen organiser like a jar or a container beside your kitchen washbasin and store all your cleaning brushes in that.
Clean Kitchen Ideas #22: Ensure Cooking Essentials Are Well-Organised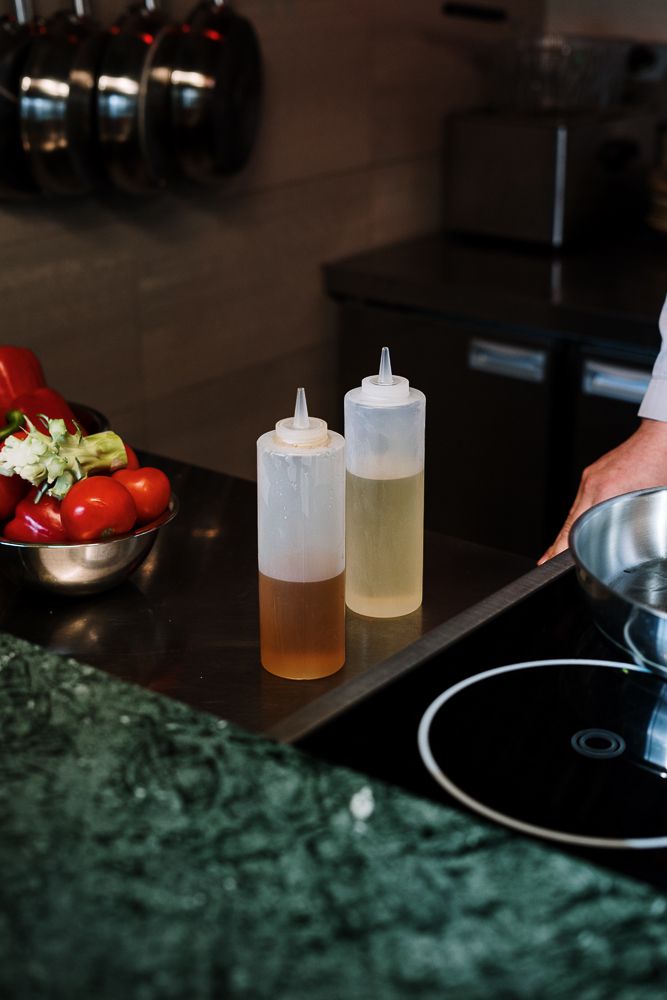 While organising your kitchen, it's best to follow a process. For instance, arrange all your items based on convenience and usability. Keep items like cooking oils, spices etc close to the counter as you would rather not be looking for these in the midst of cooking. On the other hand, things that you don't use everyday can be kept inside cabinets.
Kitchen Counter Organisation Tip #23: Have a Prepping Counter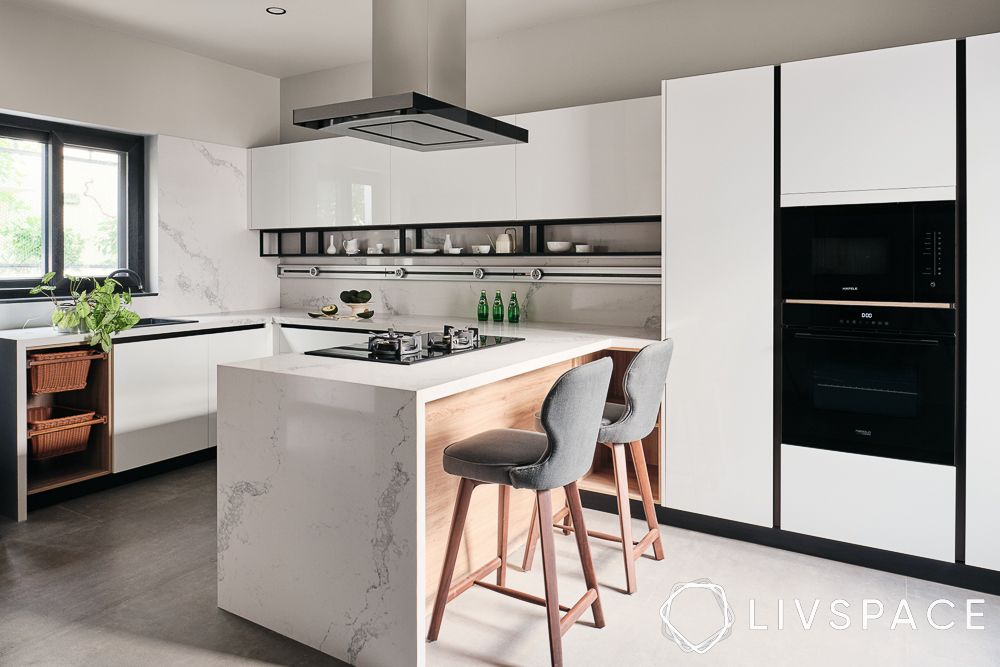 So, why do you even need a separate prep zone? Having a prepping zone in one place ensures that your entire kitchen doesn't get dirty when you are preparing your meal. Ensure that the prepping zone is close to the stove, as this will reduce your cooking and cleaning time.
Indian Kitchen Organisation Ideas #24: Store Seasoning Products by the Stove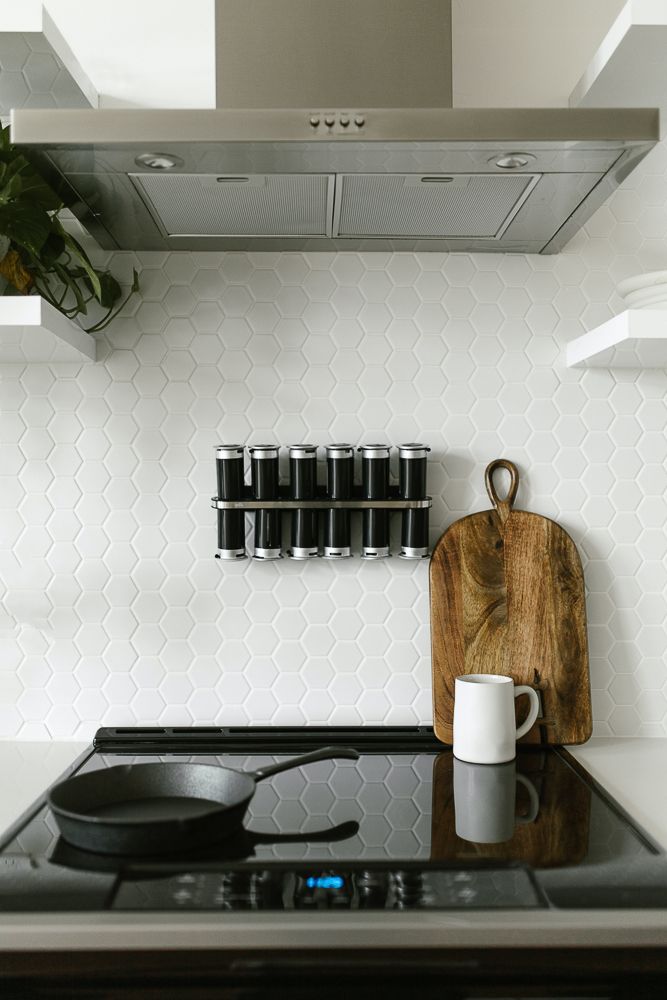 It's when we are cooking that we tend to make a mess. To avoid this and to ensure that your kitchen is always clean and organised, ensure that your spices and condiments are placed right next to the stove. This will not only reduce your cooking time but also help you during cleaning up.
Kitchen Cabinet Organisation Tip #25: Organise Based on Height and Usage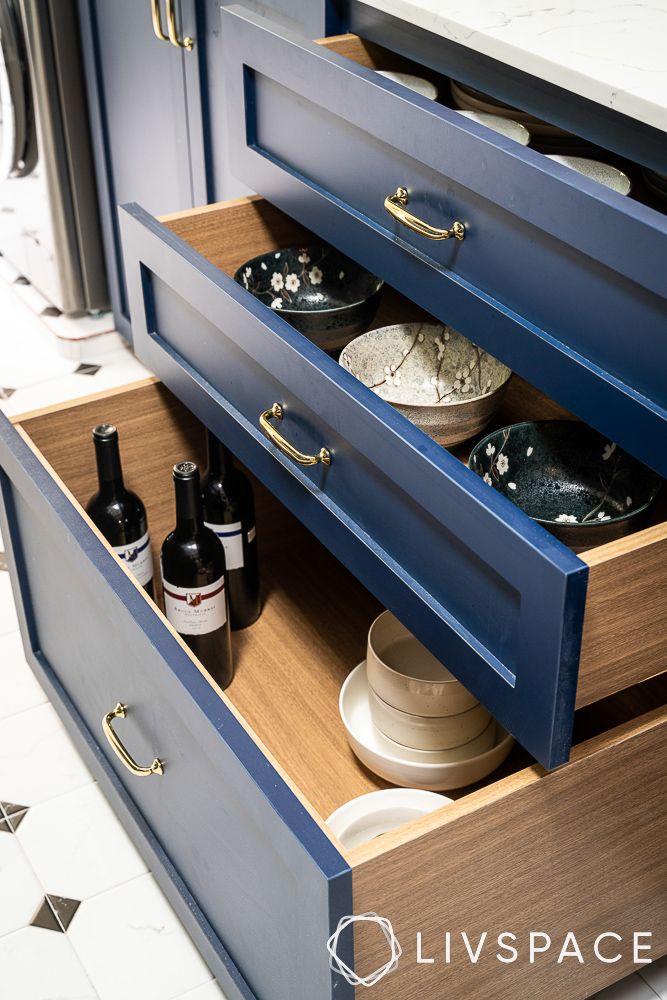 Kitchen cabinet organisation may seem like a complicated task, but it doesn't have to be. The easiest way to organise your cabinets is based on your height and their usage. As mentioned previously, things that you use regularly should be well within your reach. You can stow away your rarely used crockery in the upper cabinets.
Kitchen Organisation Tip #26: Mix Open and Closed Cabinets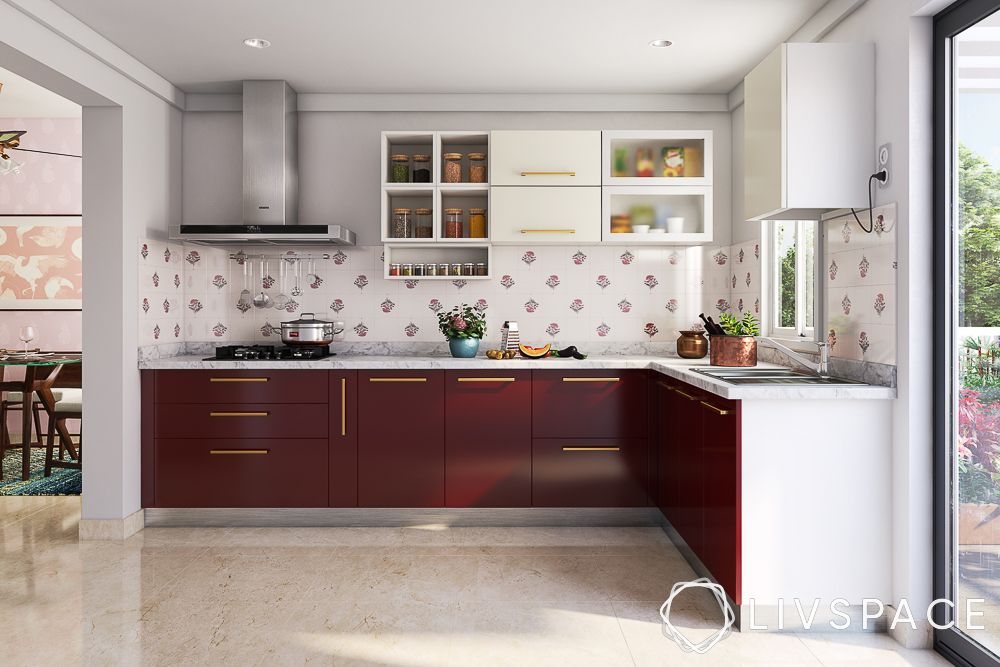 While cleanliness and organisation are important, the layout and design of your kitchen can play a vital role in making your kitchen look cleaner and more spacious than it actually is. The secret here is to mix closed cabinetry with open shelves. Only using closed cabinets can make the space look stuffy, whereas mixing them up with open shelves create a much-needed airy vibe.
Clean Kitchen Ideas #27: Get Hanging Units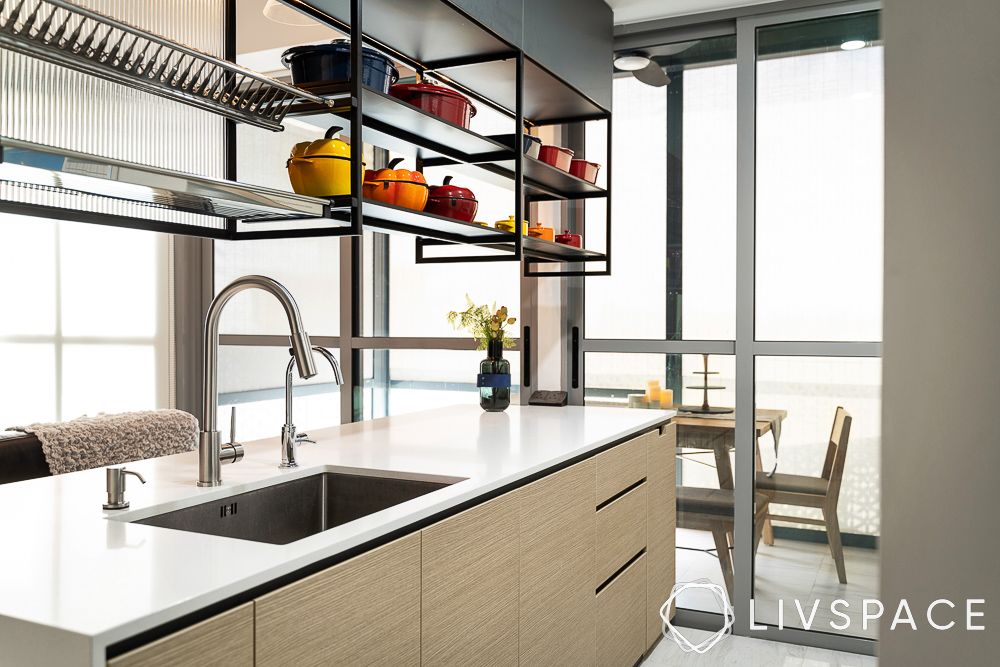 The best way to always have a clean kitchen is to keep minimum things on the countertop. If you do not have enough space in your cabinets or find it inconvenient to bend down or reach up to take out things that you need while cooking, you can install an overhead hanging rack above your countertop. This will give you some extra storage space without cluttering up your kitchen.
Kitchen Organiser Tip #28: Opt for a Wall-mounted Dish Rack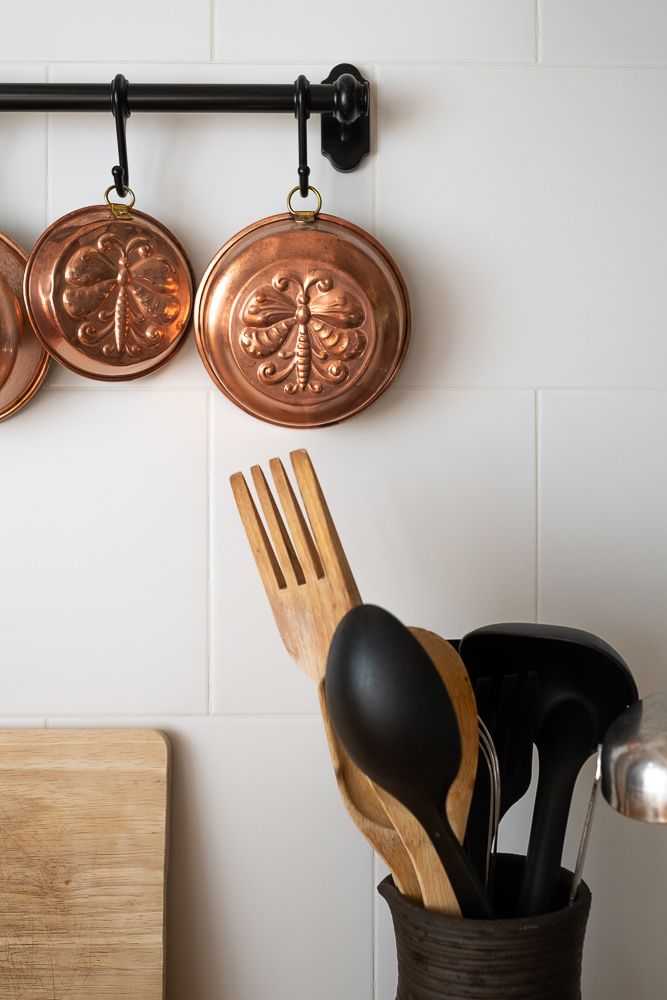 After washing our dishes, most of us tend to keep them on the counter to dry. This is a bad practice as this not only makes your kitchen look messy but also results in moisture damage to your countertops. Instead, you should invest in a kitchen organiser like a wall-mounted dish rack to ensure your dishes are always well-organised.
Kitchen Organisation Ideas #29: Choose an Understated Colour Palette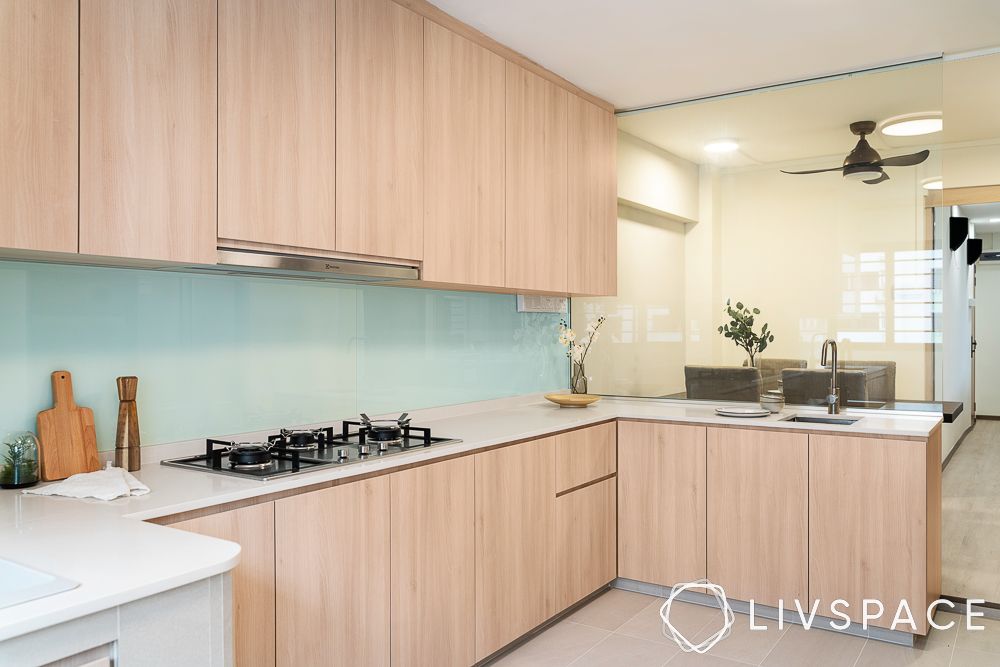 Colours are that magic element that can transform the look of any space. Generally, dark shades can make a space look small. Light and understated colours, on the other hand, open up the room, making it look big and spacious. In addition, a neutral colour palette can also make your kitchen look clean.
Indian Kitchen Organisation Ideas #30: Sleek Kitchen Units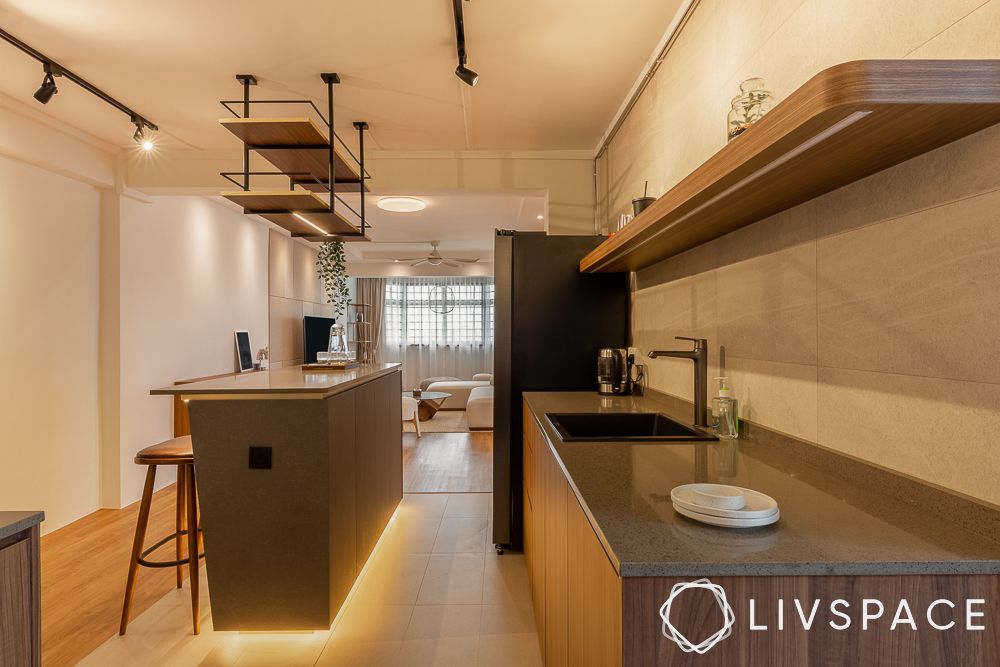 If you want an organised kitchen, always opt for minimal units in your space. While this might not always be possible, especially considering how much we Indians love our food, you can opt for sleek kitchen units. These do not take up too much space, thereby making your kitchen look more spacious and clean.
Kitchen Storage & Organisation #31: A Galley Kitchen for Maximum Storage Space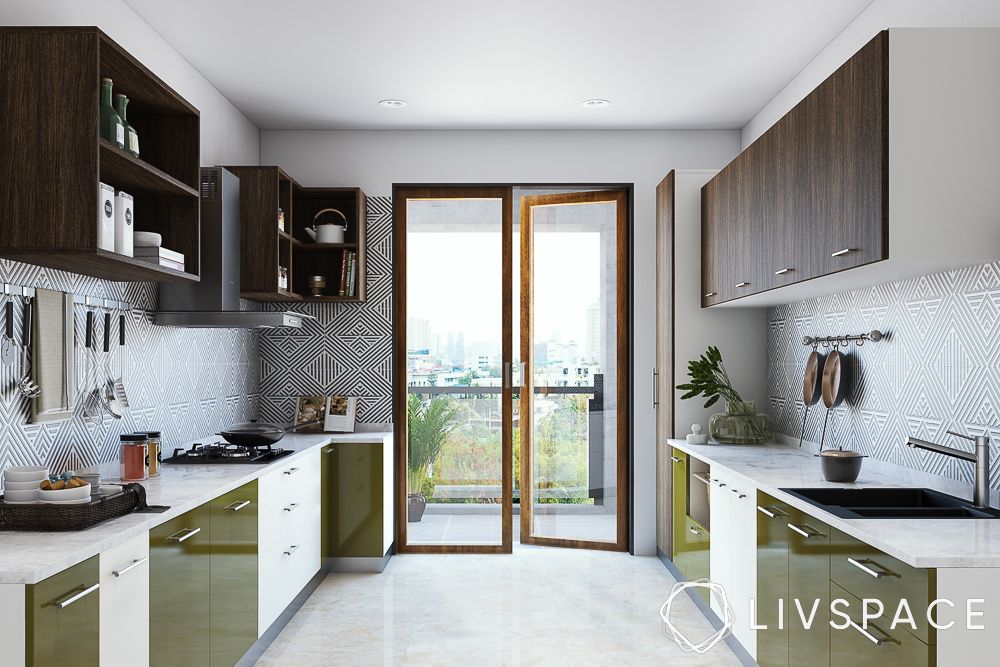 Now, this kitchen organisation tip is only helpful for this who are either moving into a new home or planning on renovating their existing home or kitchen. If you want an organised kitchen, but at the same time have a lot of storage requirements, then a galley layout would be a good option for you. This is because a galley or a parallel layout comes with two sides of both storage units and countertop space. Great, isn't it?
Organising Ideas for Kitchen #32: Opt for an Open Pantry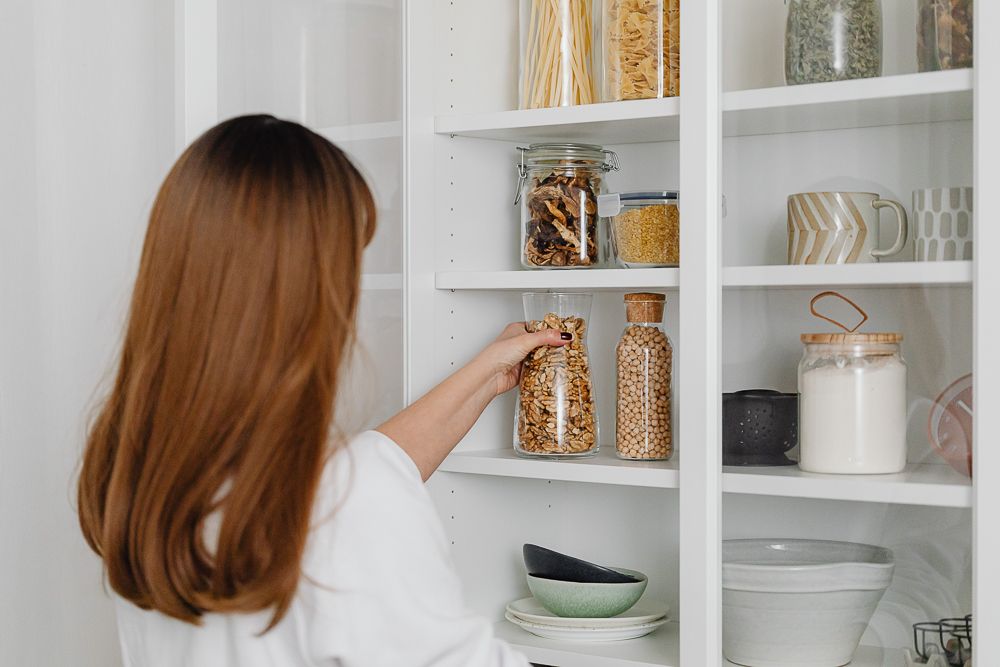 You would most often come across closed pantries. While this makes sense from a maintenance perspective, having an open pantry does have its benefits. First, it can help you find things quickly without messing up your kitchen. Second, pantries are usually very cluttered spaces. Having an open pantry will give you the motivation to keep it clean.
Clean Kitchen Ideas #33: Invest in Clear Storage Containers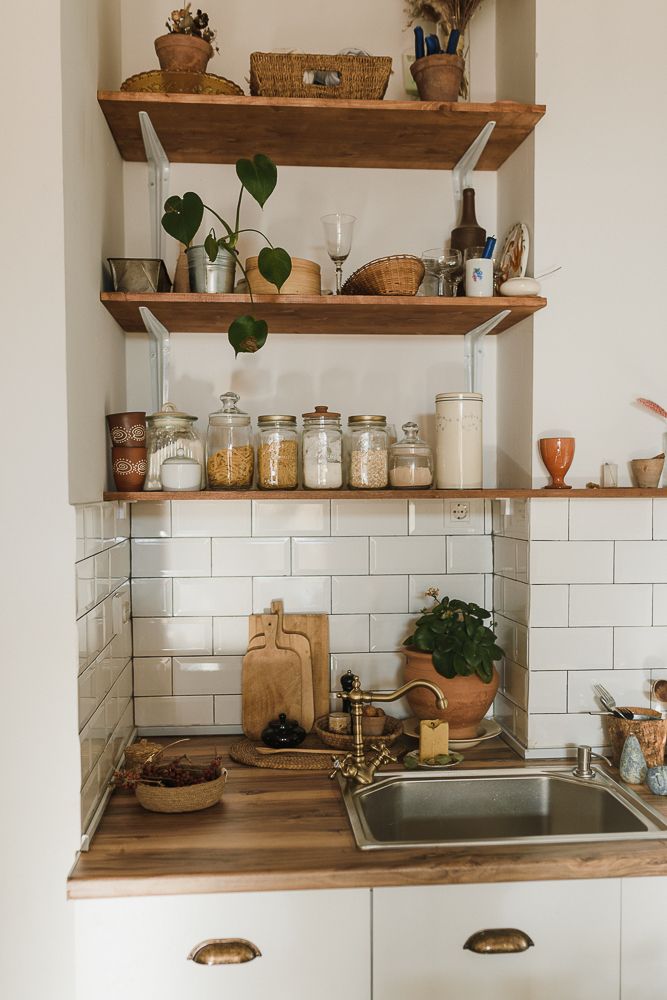 Keeping and maintaining a clean kitchen is just a part of adulting. And while most of us aim to have a reasonably well-organised cooking space, having to hunt for ingredients and condiments in the midst of cooking can prove to be an obstacle against our best intentions. So, always opt for clear plastic or glass containers. These not only look attractive, but also ensure that you can find things quickly.
Organise Small Kitchen Tip #34: Wicker Baskets Can Be a Boon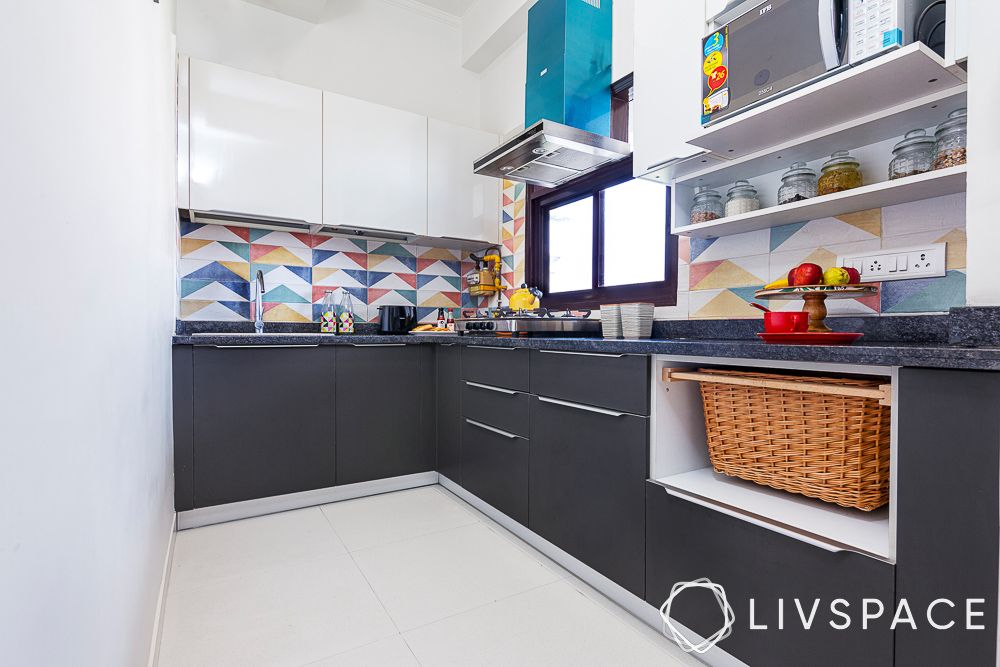 A clean and organised kitchen is one that is fully equipped with all the necessary storage solutions. One of these include the dependable wicker basket. Wicker baskets are generally used to store vegetables like onions and tomatoes. However, you can use these to store your cutlery as well. They look fashionable and are quite useful!
Kitchen Cabinet Organisation Tip #35: Store Large Appliances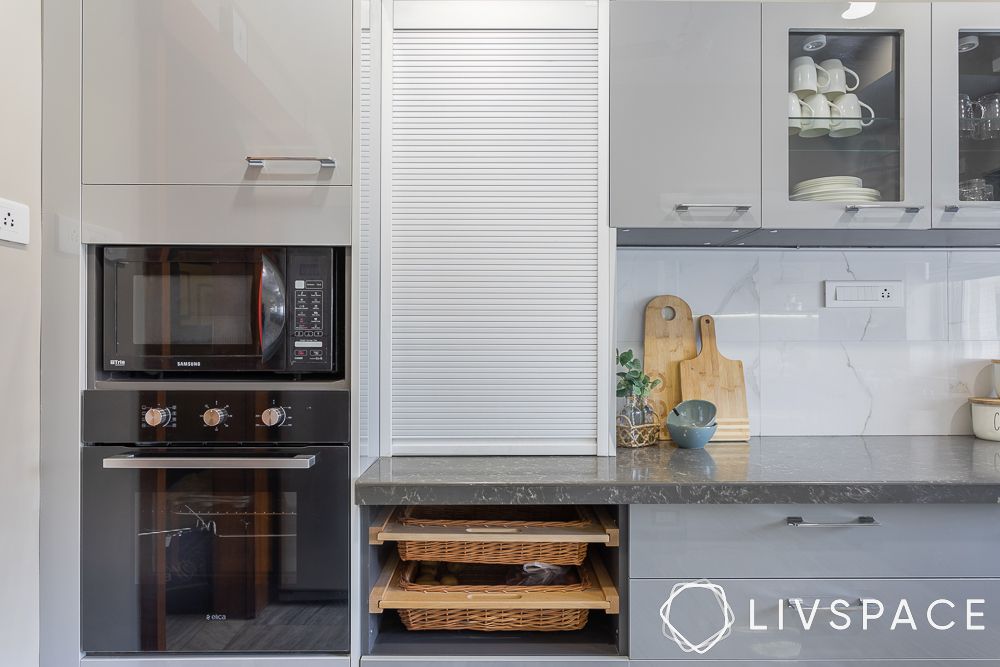 Large utensils take up a lot of space and, if not stored properly, can look very messy. While planning your kitchen storage & organisation, you should ask your designer to create specific units for large utensils and appliances like the microwave, mixer etc. A tambour unit is also very helpful in storing utensils.
Kitchen Organisation Tip #36: Organise Your Dishes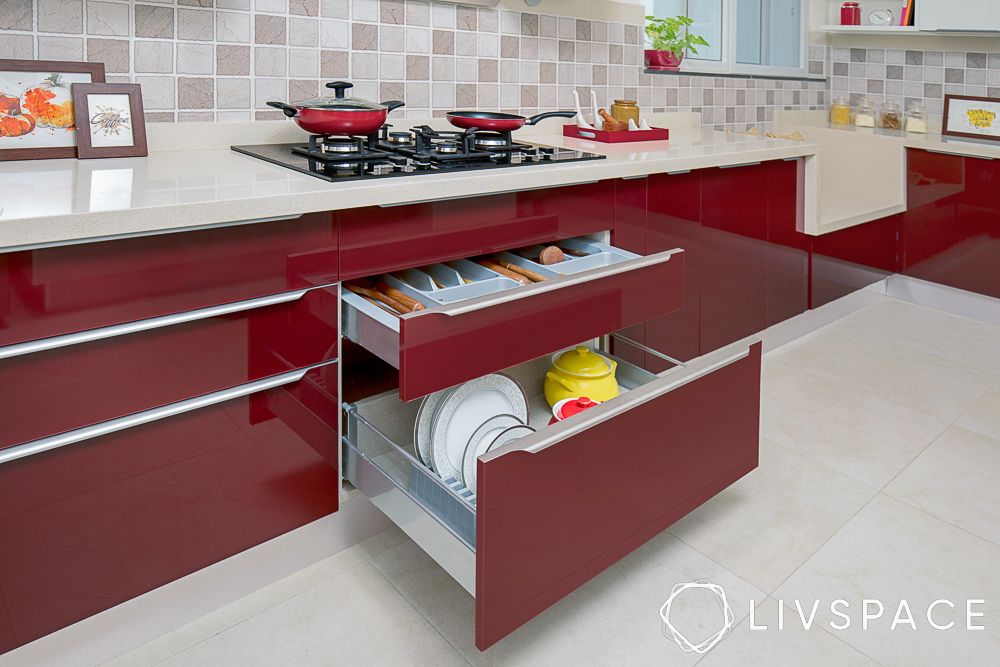 Organised dishes go a long way in making your kitchen look clean. While you can use a dish rack to keep the dishes that you use everyday, you should stow away your extras inside the cabinetry. To make this process more efficient, install a kitchen organiser that will help you segregate your dishes.
Kitchen Counter Organisation Ideas #37: Don't Keep Fruit Bowls on the Kitchen Counter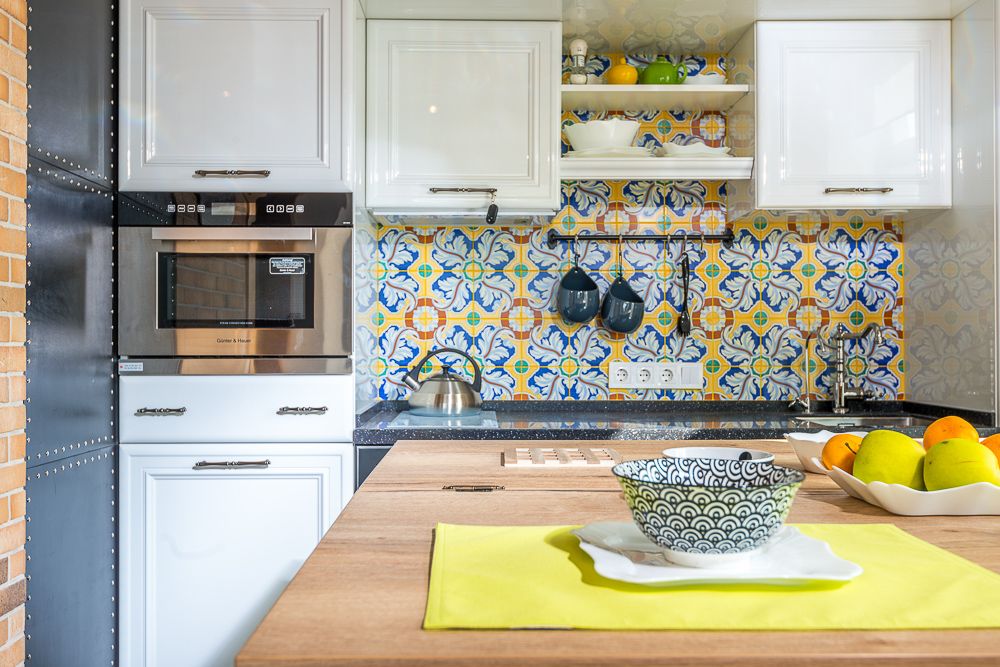 While keeping a bowl of colourful fruits can add a vivid pop of colour to your kitchen, they also take up extra space, hindering you from maintaining a clean and organised kitchen. Instead, store your fruits in the refrigerator or in wicker baskets.
Kitchen Organiser Tip #38: Start Colour Coordinating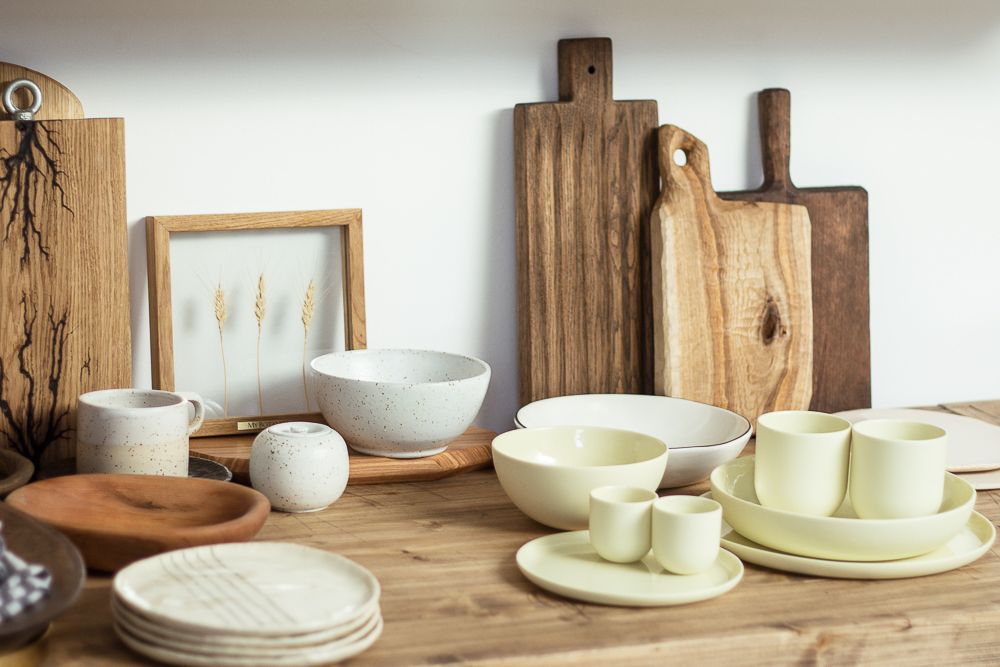 Who said that this age-old trick should only be limited to your clothes? Colour-coordinated dishes look much neater than if everything is mixed together. Moreover, it's also so much easier to find the dishes belonging to the same set when you have guests over, and you want to impress them with your stunning cutlery collection!
Indian Kitchen Organisation Ideas #39: Having a Breakfast Nook > Dining Set in the Kitchen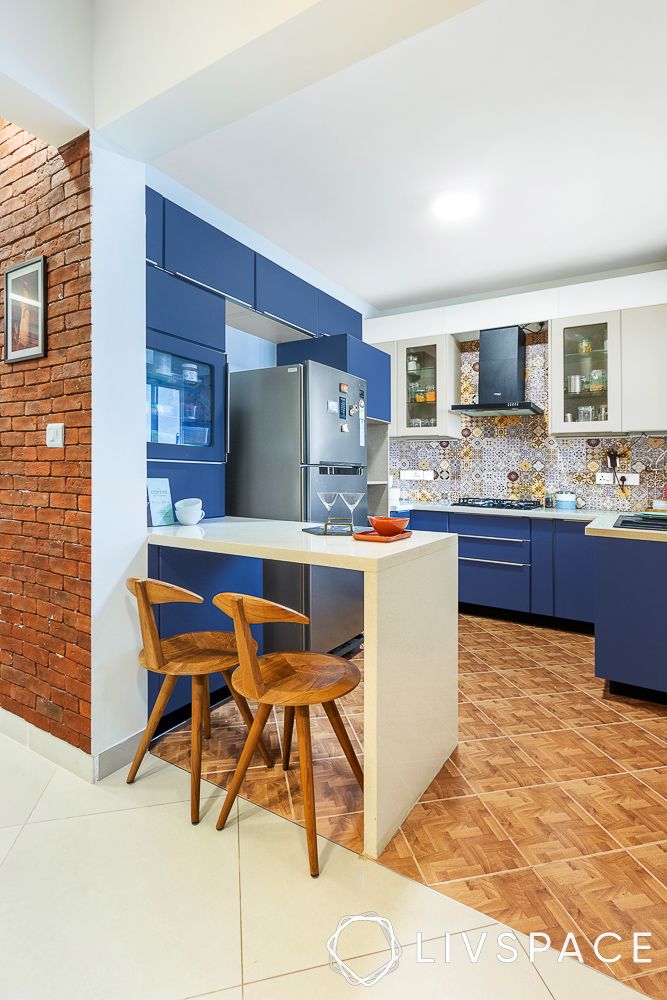 Many of us have a dining set in our homes. But how often do we actually sit there and eat our meals? A dining set will only take up much-needed space, especially if you live in a compact home. A breakfast bar is a much smarter option. These sleek units don't take up too much space and look trendy enough to be the talk of the town.
Kitchen Storage & Organisation Tip #40: Marie Kondo Your Kitchen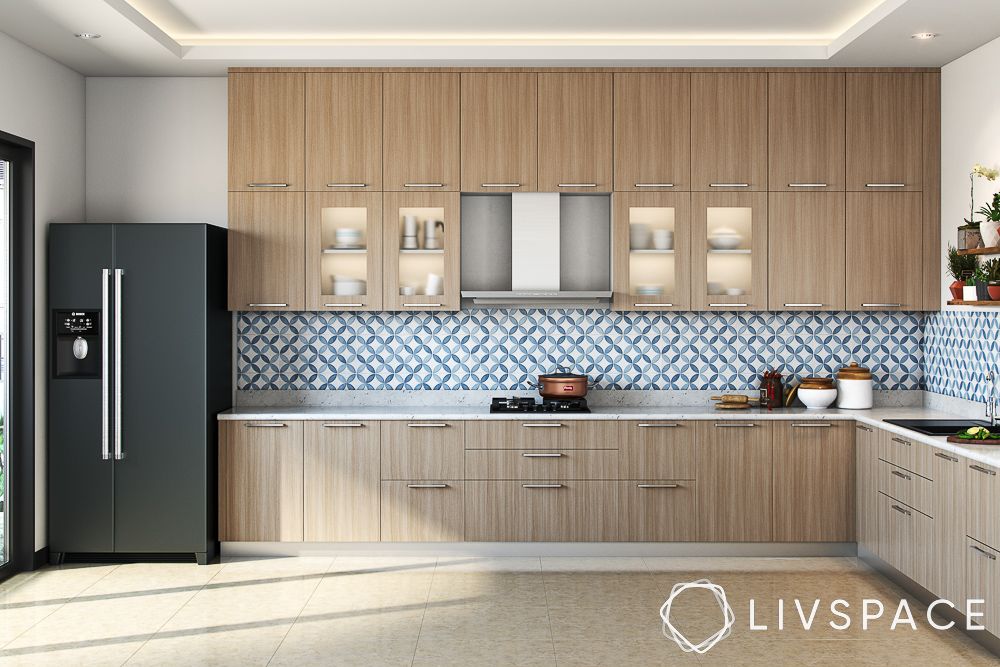 We're sure you've heard of Marie Kondo, the famous Japanese organising expert. And if you want some kitchen organisation ideas, why not take a leaf out of her book? The main principle that she talks about is to avoid hoarding and to throw away things that you haven't used and have no plans of using. This will ensure that your kitchen remains clean and organised for a long time.
Organising Ideas for Kitchen #41: The Right Lighting Can Go a Long Way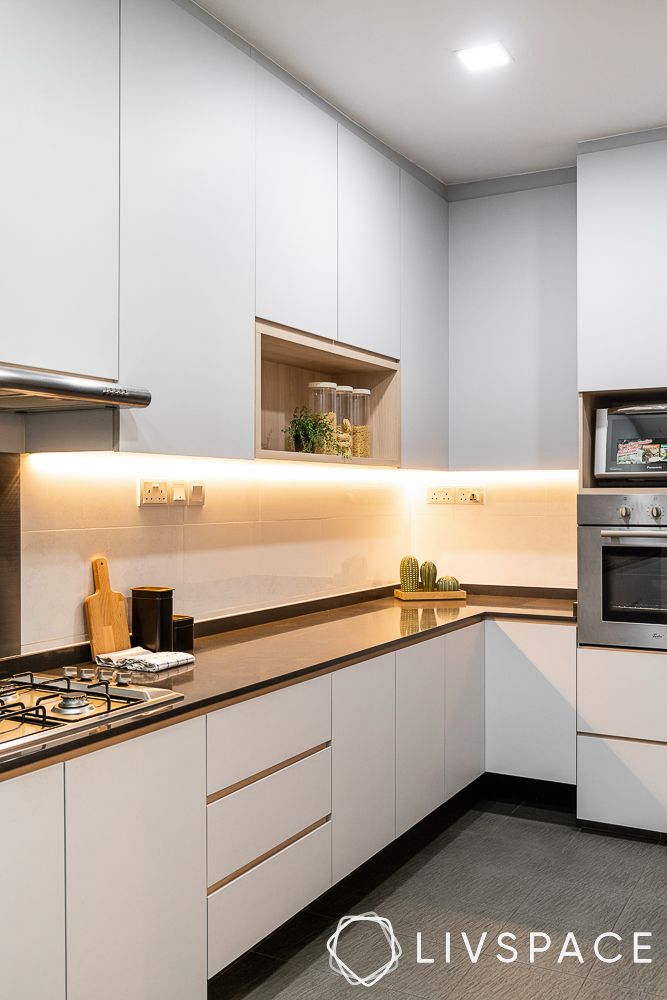 Once you are done cleaning up your kitchen, there are certain extra steps you can take to further make your kitchen look more organised. One of these include lighting. The right lighting can make your kitchen look bright and spacious, thereby ensuring it looks more organised. Profile lights under cabinets can also be helpful for elders who use the kitchen.
Love our hacks? Talk to Livspace designers to get your kitchen professionally designed. Our designers can understand your lifestyle, cooking preferences and family needs to design the ideal kitchen to suit your every need. With that, you will not have to Google more kitchen organization ideas as your kitchen will run efficiently!
Send in your thoughts and suggestions to editor@livspace.com.
Check out kitchen designs:
How Can Livspace Help You?
We hope you found our ideas useful! If you want beautiful interiors for your home, then look no further. Book an online consultation with Livspace today.
Reviews
Wondering how our customers feel about working with Livspace? You can check out the Livspace kitchen reviews here!